BOOM! STUDIOS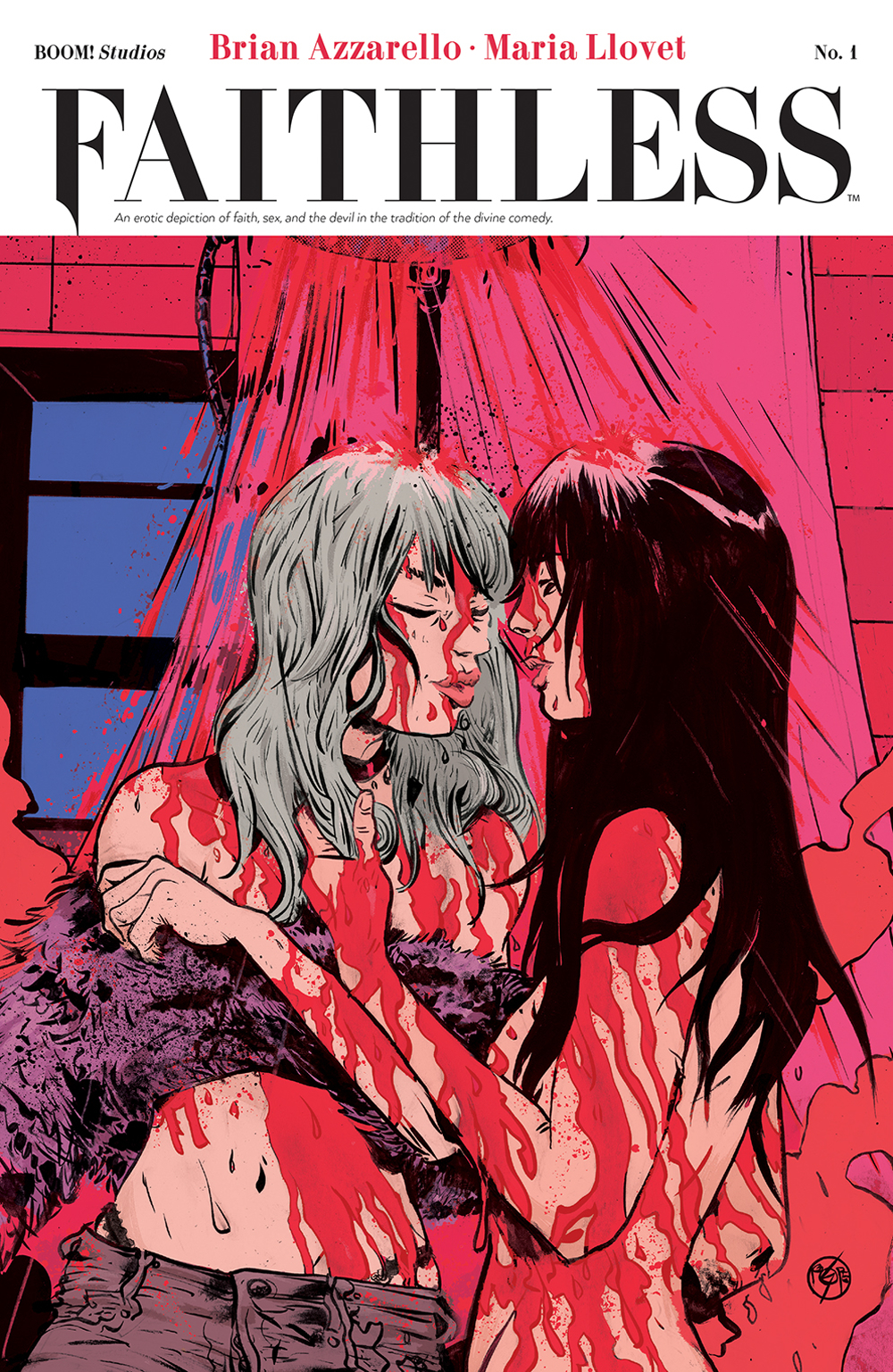 FAITHLESS #1 (OF 5) MAIN CVR POPE (MR)
BOOM! STUDIOS
FEB191249
(W) Brian Azzarello (A) Maria Llovet (CA) Paul Pope
Faith. Sex. The Devil.
Faith likes to dabble with magic. Her friends think it's cute-and not just a little off-putting, but it's part of her charm and her warped search for purpose in a world that makes too much sense. But she's a true believer and knows there is a power within her reach. She's right, of course. It just took a while for that magic, that temptation, that unknowable thing to find her . . .
In short- Faith is bored as hell. And Hell has noticed.
New York Times bestselling writer Brian Azzarello ( 100 Bullets , Batman: Damned ) and artist Maria Llovet ( Loud ) with Eisner Award winning artist Paul Pope on covers coalesce in a story of self-exploration, eroticism, and maybe even love.
In Shops: Apr 10, 2019
SRP: $3.99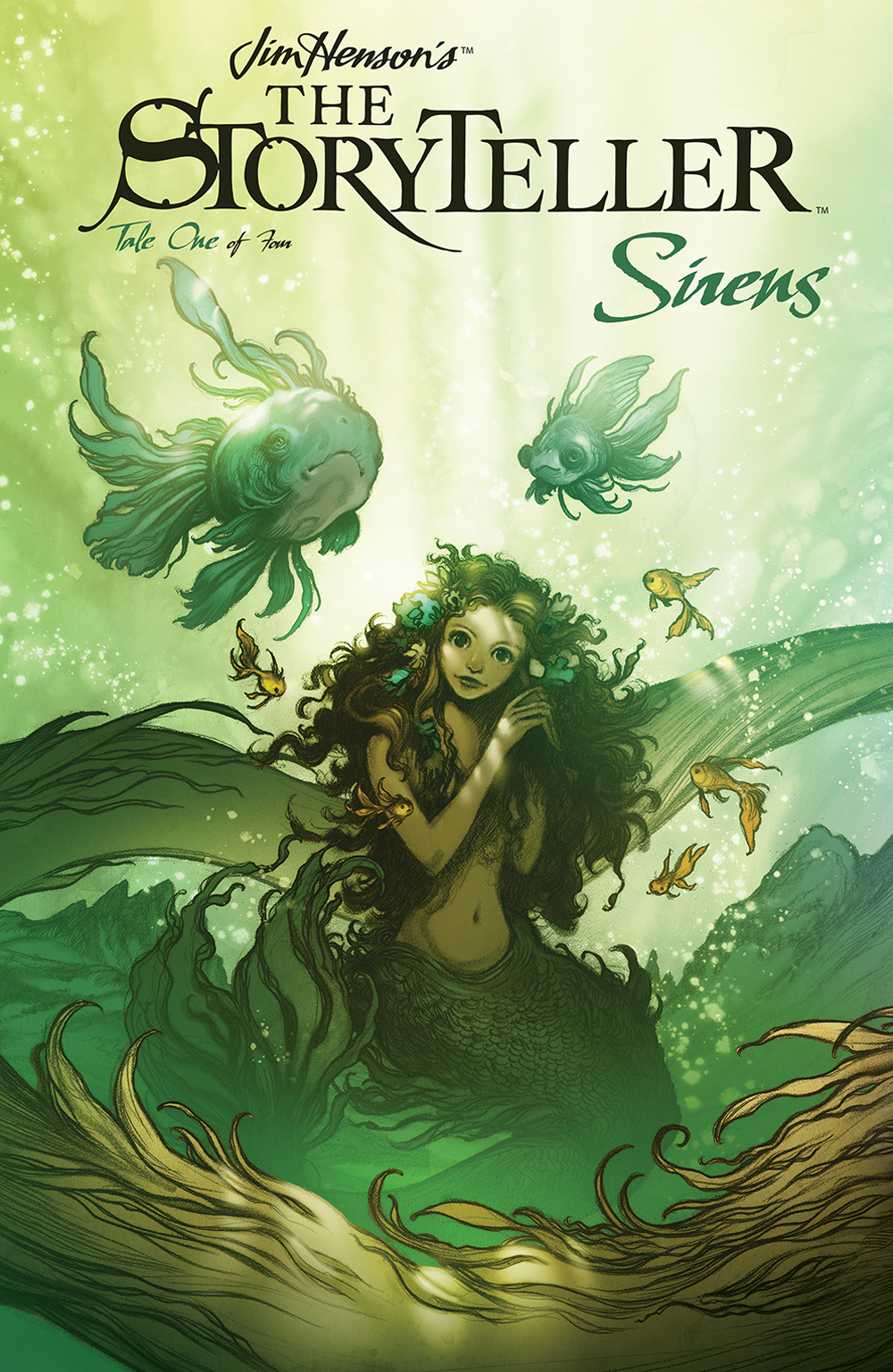 JIM HENSON STORYTELLER SIRENS #1 MAIN CVR
BOOM! STUDIOS
FEB191252
(W) Sztybor Bartosz (A) Jakub Rebelka (CA) Cory Godbey
The critically acclaimed Jim Henson's The Storyteller celebrates four mythic tales of sirens, inspired by folklore from around the world and told in the spirit of Jim Henson's beloved television series.
In this first issue, Polish writer Sztybor Bartosz teams with artist Jakub Rebelka ( Judas ) to reimagine the classic Polish folktale " The Fisherman and the Mermaid".
The fisherman is not happy with his life. He works all the time, struggling to make ends meet rather than spending time with his wife and their daughter. On e day, while fishing, he hears a mermaid singing and the song overwhelms him with joy. He can't stop thinking about this song so he captures the mermaid and imprisons her.
In Shops: Apr 03, 2019
SRP: $3.99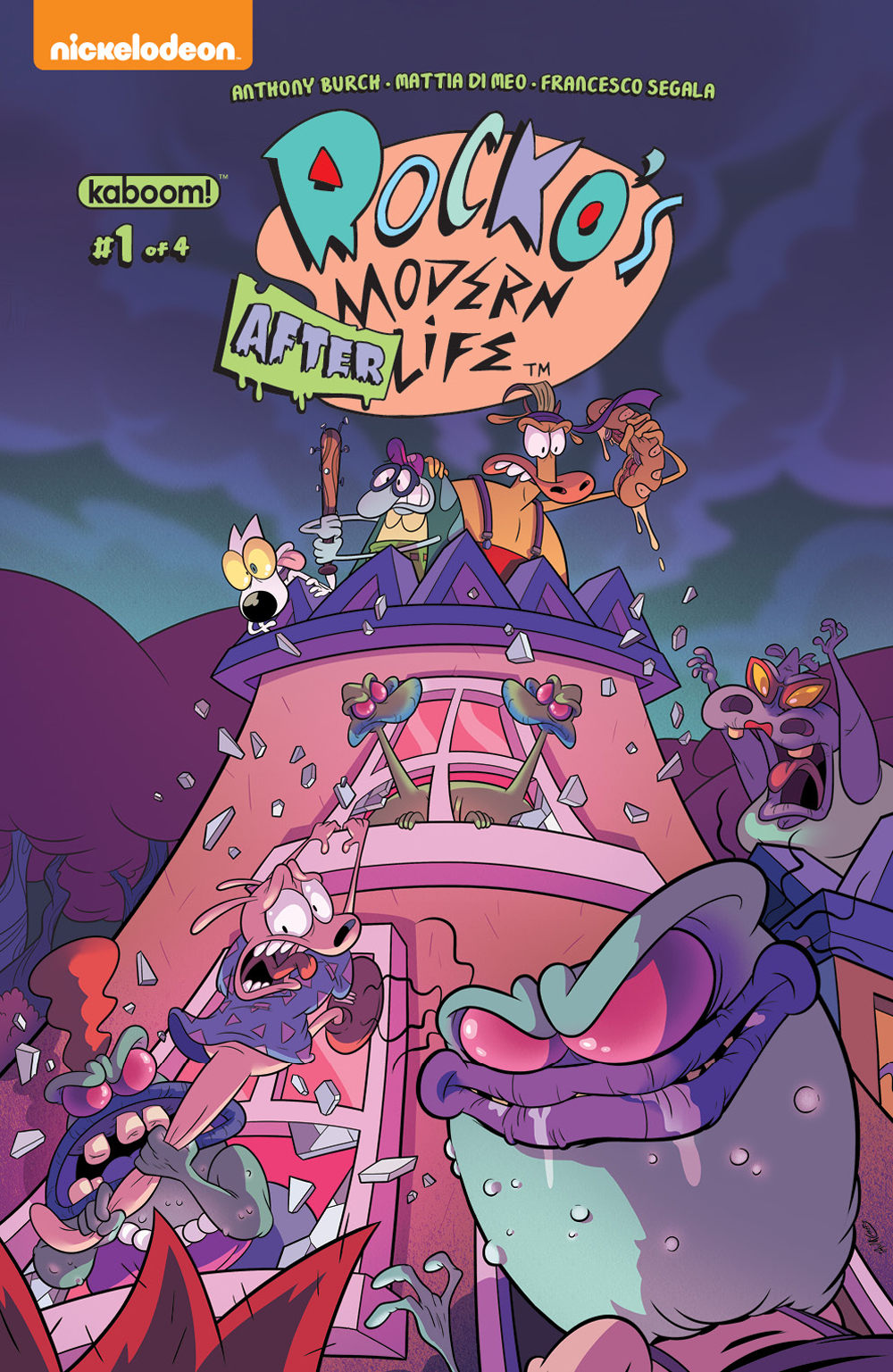 ROCKOS MODERN AFTERLIFE #1 MAIN CVR
BOOM! STUDIOS
FEB191254
(W) Anthony Burch (CA) Ian McGinty
Rocko returns in this new limited series from writer Anthony Burch (Borderlands 2) and Mattia Di Meo (Ben 10: For Science!) for a spooky look at everyone's favorite wallaby!
Something is turning the good people of O-Town into mindless zombies and Rocko wants nothing to do with it. He barricades himself and Spunky in their home and is determined to outlast the hoards outside.
But desperate times calls for desperate measures when Rocko's best friend Heffer becomes infected, Rocko will have to risk it all to save his friends and his city.
In Shops: Apr 03, 2019
SRP: $3.99
DARK HORSE COMICS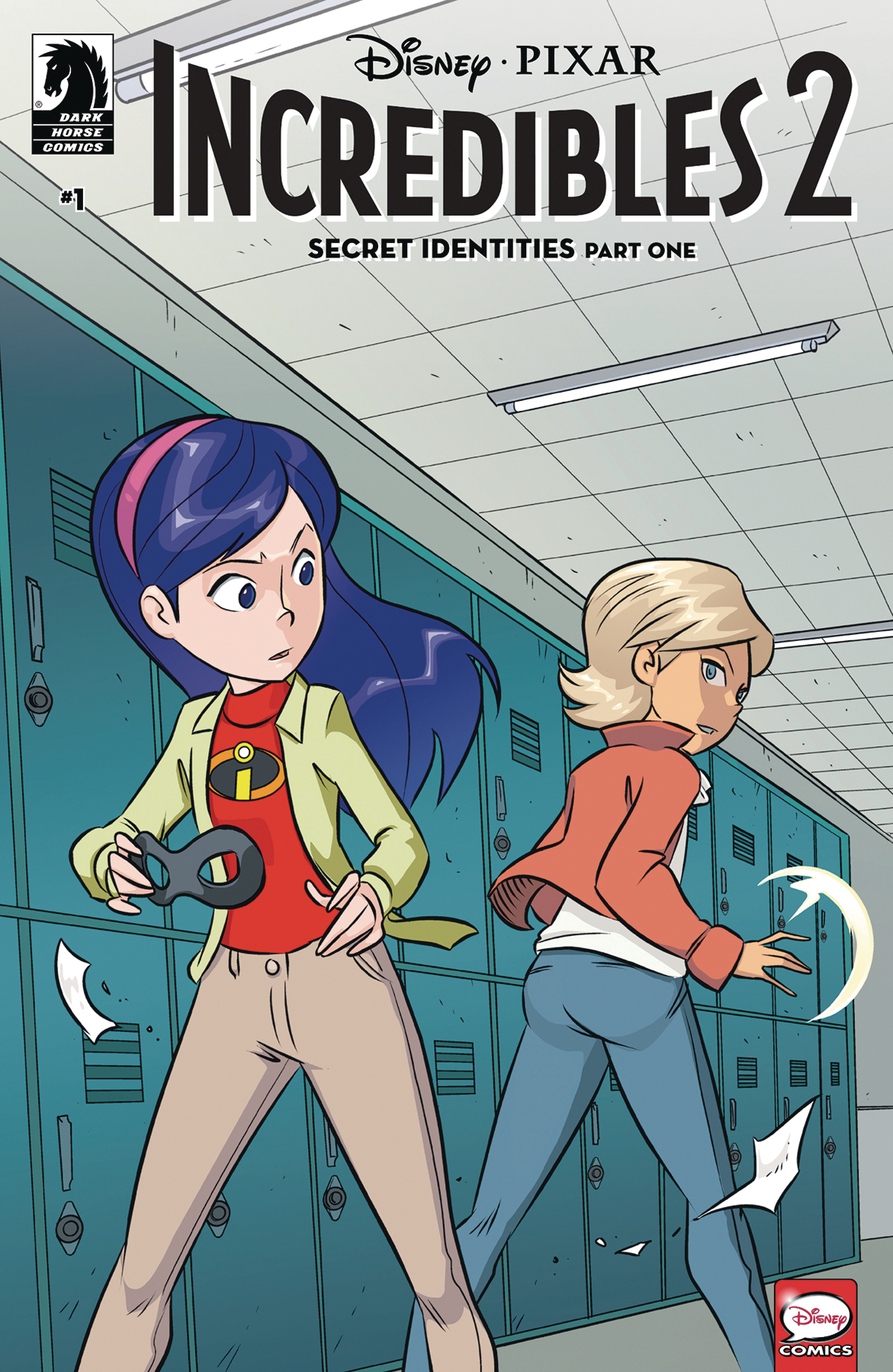 DISNEY INCREDIBLES 2 SECRET IDENTITIES #1 (OF 3) CVR A CLAUD
DARK HORSE COMICS
FEB190334
(W) Christos Gage (A/CA) Jean Claudio-Vinci
It's tough being a teenager, and on top of that, a teenager with super powers! Violet feels out of place at school and doesn't fit in with the kids around her . . . until she meets another girl at school--an outsider with powers just like her! Is this the beginning of a beautiful friendship or are powers not the only thing her friend is keeping secret?
o An original story arc set after DisneyoPixar's Incredibles 2 feature film!
o Written by Christos Gage from Buffy the Vampire Slayer and Amazing Spider-Man!
In Shops: Apr 10, 2019
SRP: $3.99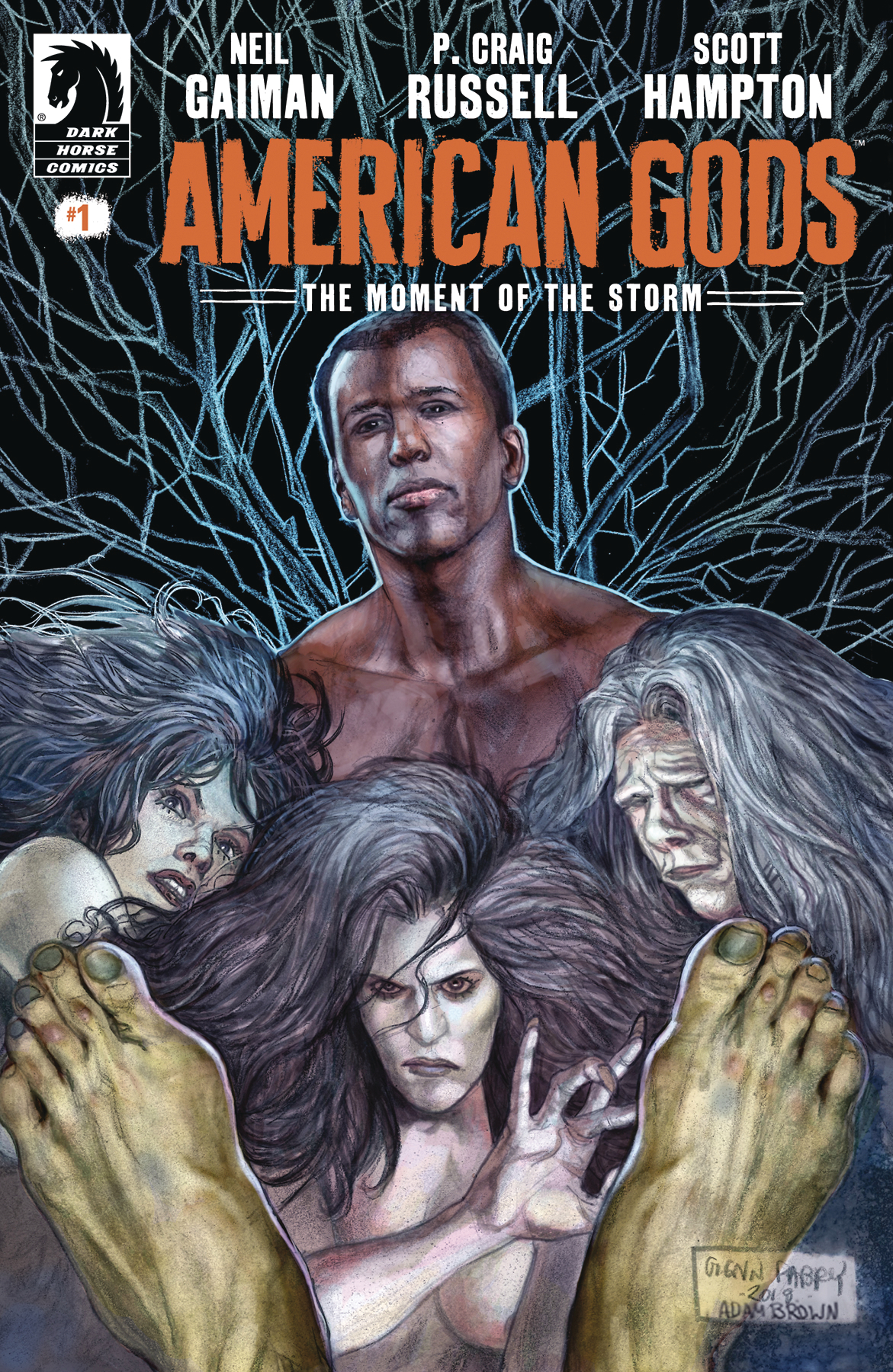 NEIL GAIMAN AMERICAN GODS MOMENT OF STORM #1 CVR A FABRY (MR
DARK HORSE COMICS
FEB190261
(W) Neil Gaiman, P. Craig Russell (A) P. Craig Russell, Scott Hampton (CA) Glenn Fabry
The new and old gods agree to meet in the center of America to exchange the body of the old gods' fallen leader-heading toward the inevitable god war in this final arc of the bestselling comics series! The Hugo, Bram Stoker, Locus, World Fantasy, and Nebula Award-winning novel by Neil Gaiman is adapted as a graphic novel!
In Shops: Apr 17, 2019
SRP: $3.99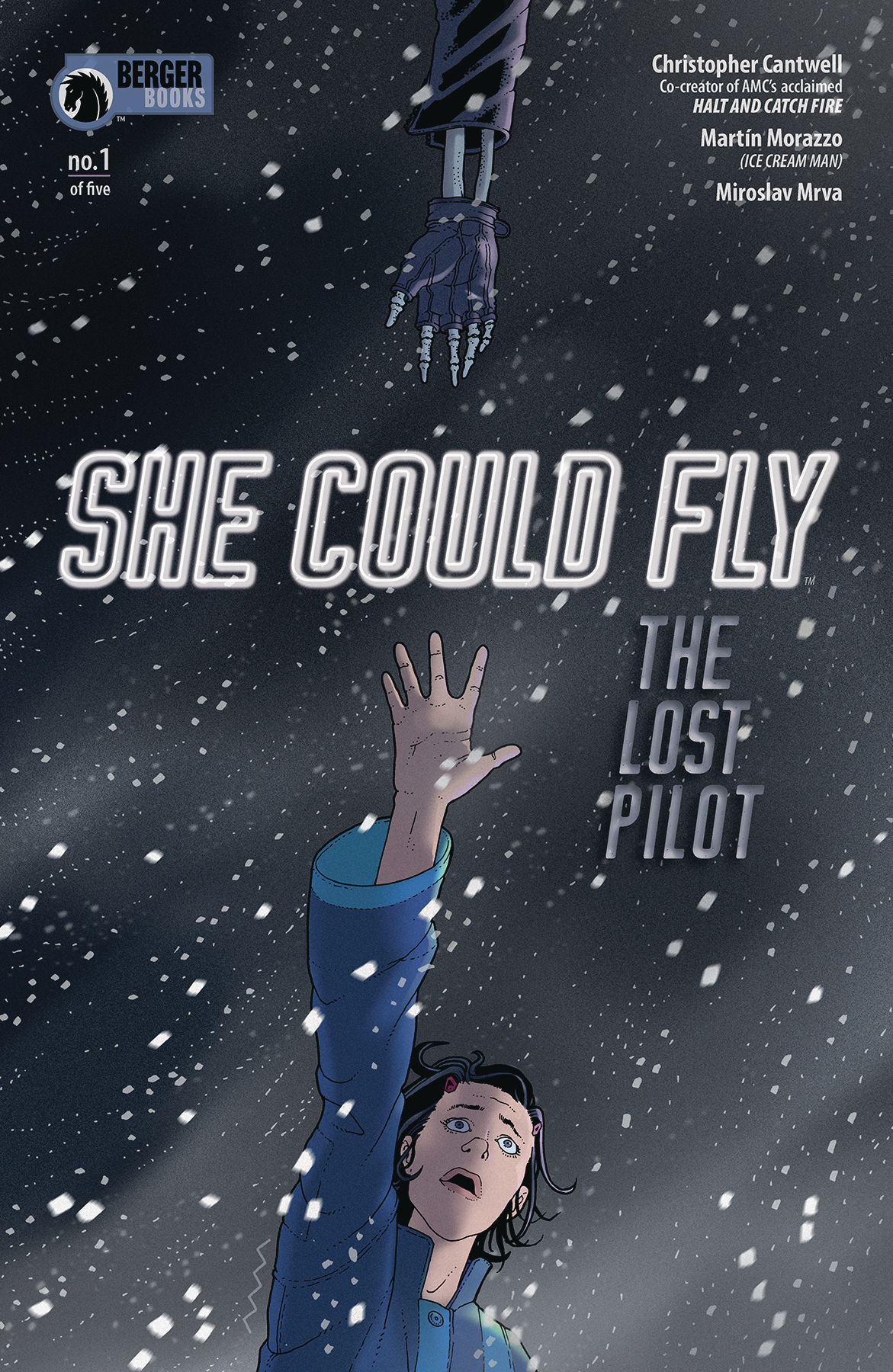 SHE COULD FLY LOST PILOT #1 (OF 5) (MR)
DARK HORSE COMICS
FEB190265
(W) Christopher Cantwell (A) Miroslav Mrva (A/CA) Martin Morazzo
The acclaimed miniseries continues! Luna has crash-landed back into her life after spending a year in a mental institution . . . but that might just mean she's closer to the edge than she's ever been before. After discovering clues about the Flying Woman's missing family, Luna's obsession reignites, threatening to again unravel her fragile mind. Meanwhile, a mysterious guru appears in the sewers of Chicago and a Russian mercenary seeks old secret technology, and the specter of violence begins to loom over everyone once more. Luna begins to wonder . . . will she even survive long enough to go insane?
In Shops: Apr 10, 2019
SRP: $3.99
DYNAMITE ENTERTAINMENT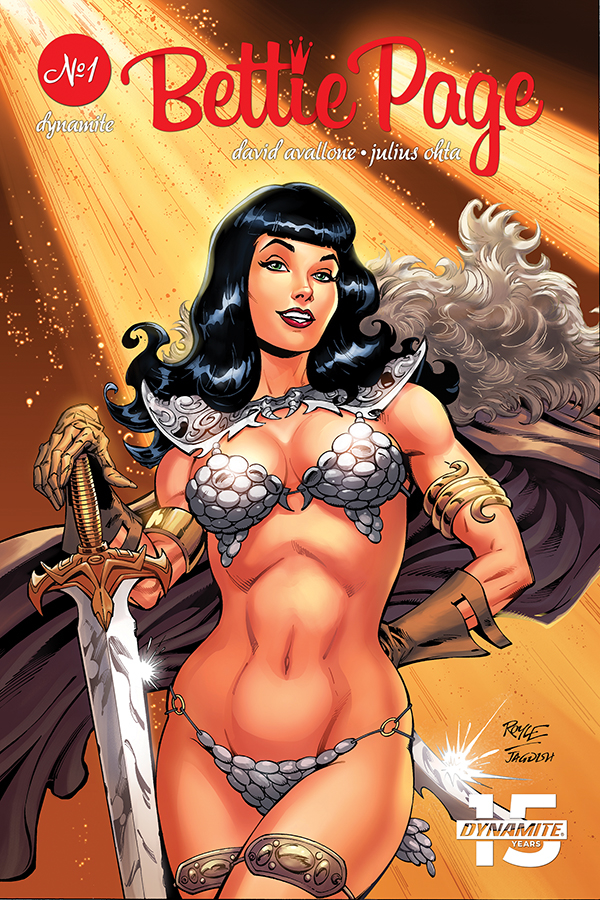 BETTIE PAGE UNBOUND #1 CVR A ROYLE
DYNAMITE
FEB191036
(W) David Avallone (A) Julius Ohta (CA) John Royle
When you step through an inter-dimensional gate the results are unpredictable: sometimes you find yourself in a bikini made of coins with a sword in your hand! Reality is shattering, the gate has been opened for an invasion from the Great Old Ones...and only model spy BETTIE PAGE can save the world in this epic four-part miniseries from David Avallone (ELVIRA: MISTRESS OF THE DARK) and Julius Ohta. The Crisis on Infinite Betties begins in BETTIE PAGE: UNBOUND #1!
In Shops: Apr 24, 2019
SRP: $3.99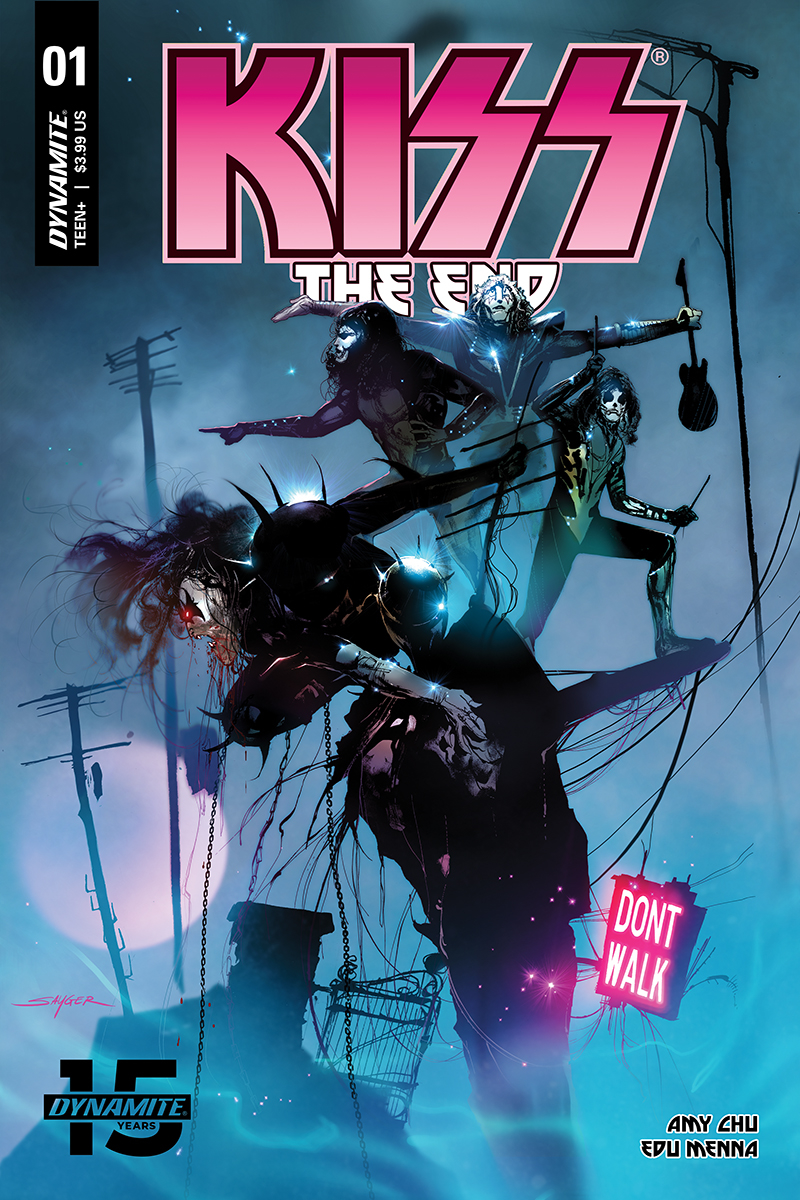 KISS END #1 CVR A SAYGER
DYNAMITE
FEB191054
(W) Amy Chu (A) Edu Menna (CA) Stuart Sayger
What lies beyond our world? Is there a heaven? Is there a hell?
When a young man finds himself on the wrong side of life, he encounters Death itself and is set on a quest to seek out his errant demon offspring in an attempt to make his way back to the world of the living! But there is much peril on the way and the only ones who can help him are KISS!
From writer Amy Chu (Red Sonja, KISS) and artist Edu Menna (Z Nation, Twilight Zone: Shadow & Substance) comes the next chapter in the KISS saga!
In Shops: Apr 10, 2019
SRP: $3.99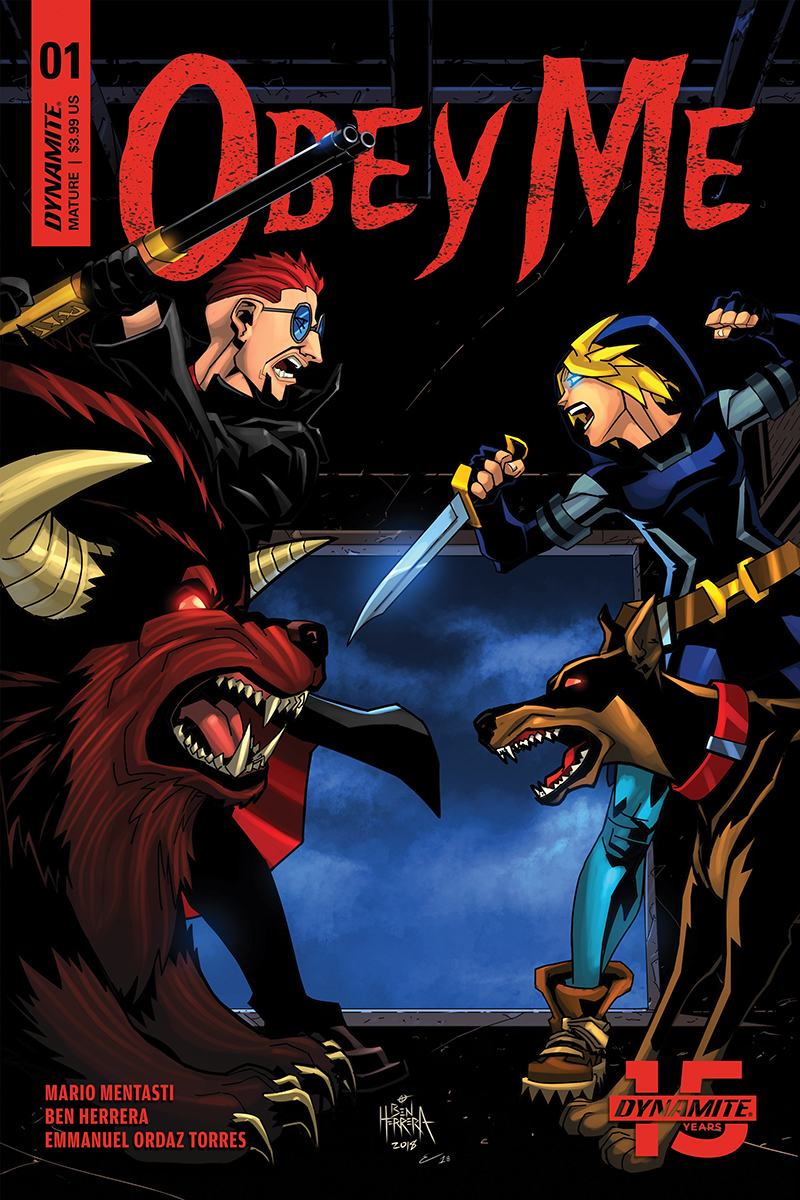 OBEY ME #1 CVR A HERRERA (MR)
DYNAMITE
FEB191127
(W) Mario Mentasti (A) Emmanuel Ordaz Torres (A/CA) Ben Herrera
Sent to retrieve a soul from a debtor, Vanessa & Monty team up again, exploring the dilapidated streets of the Slums, currently taken over by the Vikers, a dangerous gang. This isn't a regular collection job, as it seems this debtor managed to pawn his soul to two powerful demons, so there is a conflict brewing over it. Vanessa and Monty need to stay on their toes, as another Demon + Hellhound duo is on the trail of the target and it seems both duos are on a collision course.
In Shops: Apr 03, 2019
SRP: $3.99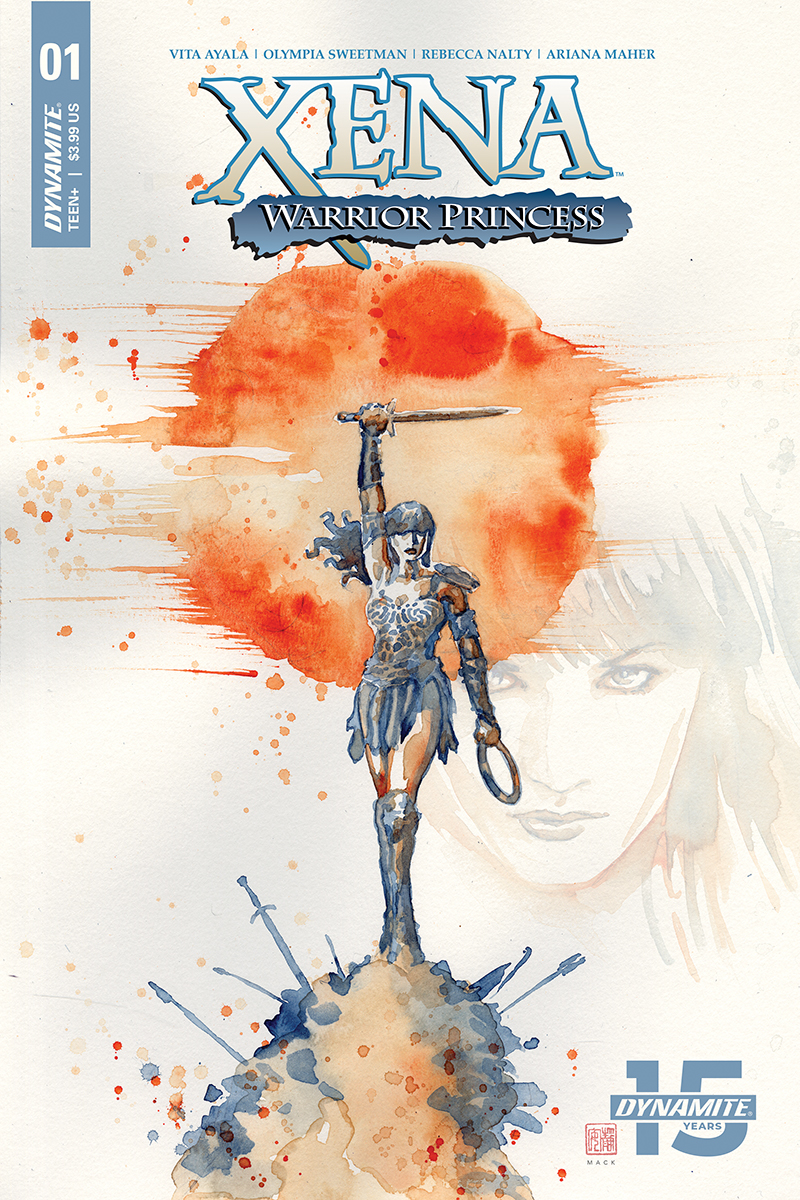 XENA WARRIOR PRINCESS #1 CVR A MACK
DYNAMITE
FEB191016
(W) Vita Ayala (A) Olympia Sweetman (CA) David Mack
In a time of ancient gods, warlords and kings...a land in turmoil called out for a hero! She was XENA, a mighty princess forged in the heat of battle! In this all-new series, writer VITA AYALA (Black Panther, Wonder Woman, The Wilds) and artist OLYMPIA SWEETMAN throw Xena and her companion Gabrielle headfirst into a mysterious adventure. Can Xena discover the secrets of a village full of super-strong children, before jealous and petty GODS get involved?
In Shops: Apr 03, 2019
SRP: $3.99
IDW PUBLISHING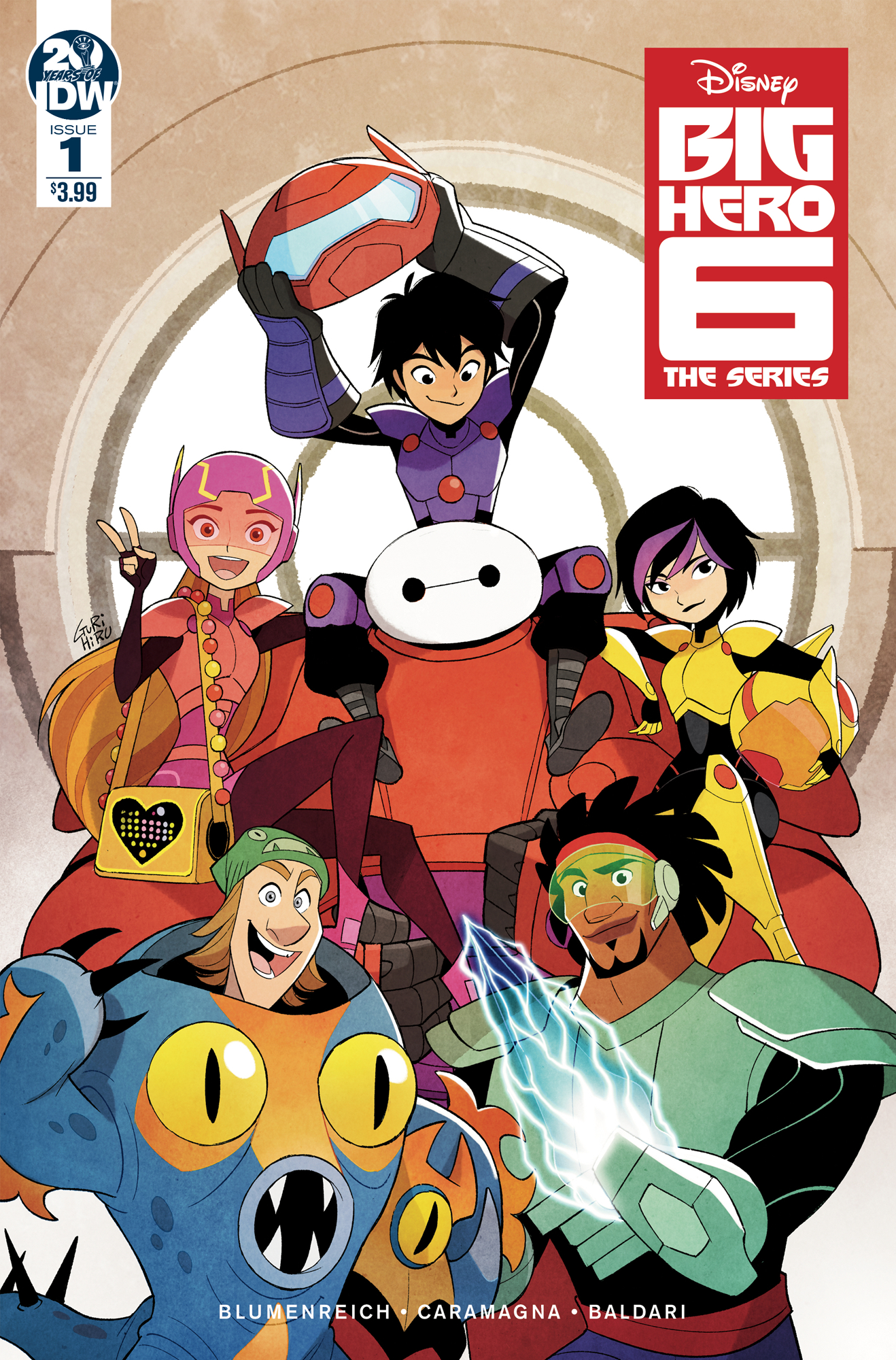 BIG HERO 6 THE SERIES #1 CVR A GURIHIRU (RES)
IDW PUBLISHING
FEB190656
(W) Hannah Blumenreich (A) Nicoletta Baldari (CA) Gurihiru
Based on the hit Disney Channel series! Hiro, Honey Lemon, Wasabi and Go Go are all off on a class trip for the day-leaving Fred at home to defend San Fransokyo! He'd better come up with a strategy, just in case-and what better way to do that than by writing his very own Big Hero 6 comic book!
Join Hiro, Wasabi, Fred, Go Go, Honey Lemon and Baymax for new adventures, new friends, and new adversaries as the Big Hero 6 team continues to fight to protect San Fransokyo!
In Shops: Apr 24, 2019
SRP: $3.99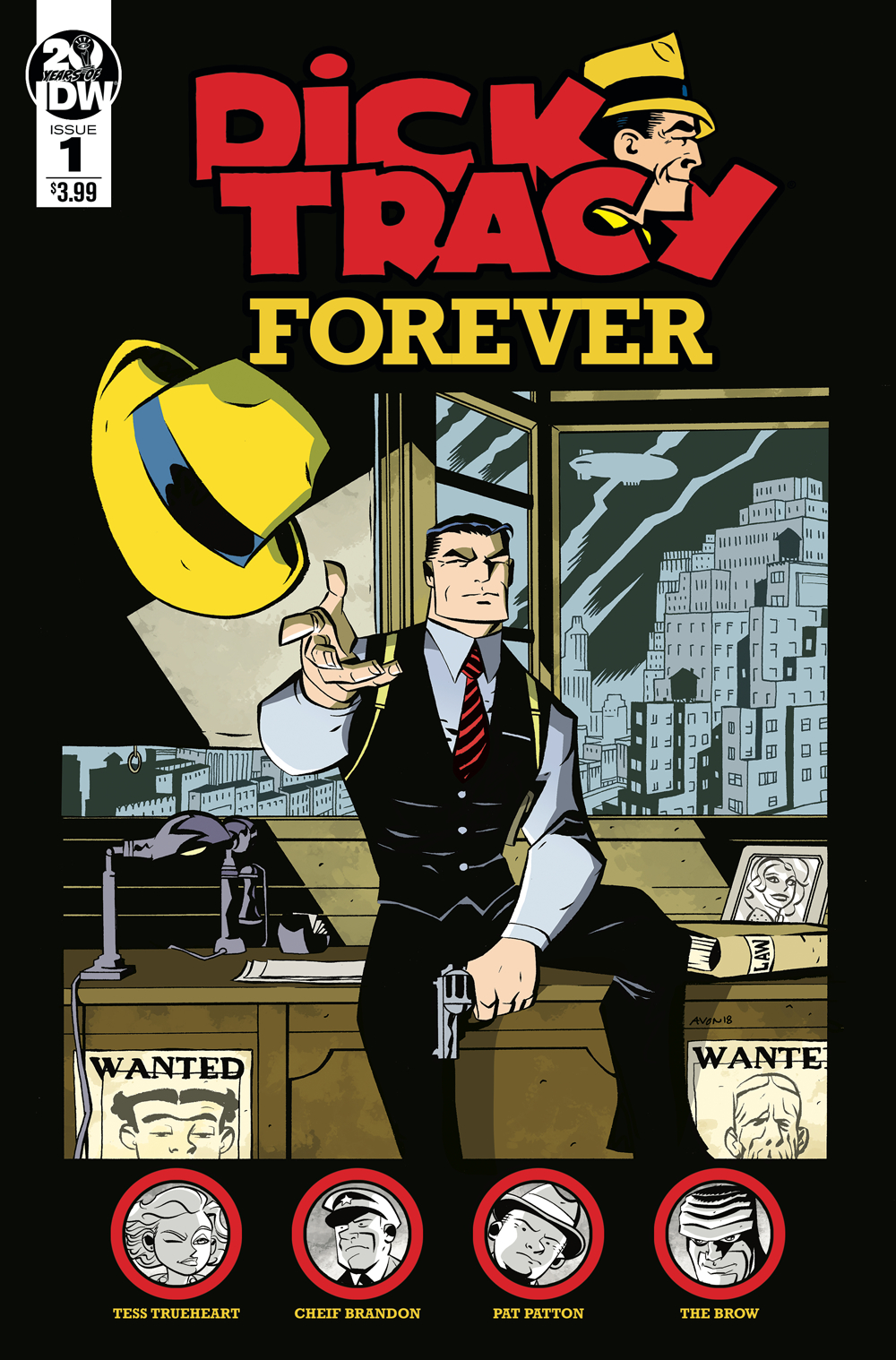 DICK TRACY FOREVER #1 CVR A OEMING
IDW PUBLISHING
FEB190736
(W) Michael Avon Oeming (A/CA) Michael Avon Oeming
Dick Tracy is Sisyphus, pushing the law boulder up the hill as he struggles for reason and order in a world with none. His attempts at law and order are met with crime and chaos, in the form of unpredictable and absurd villains. But Dick Tracy will never give up trying, no matter the era or incarnation. Join Eisner Award-winning creator Michael Avon Oeming on a startling case through time and space! From the mind of Eisner Award winner Michael Avon Oeming, co-creator of Powers! Variant cover by multiple Eisner and Harvey award winner Kyle Baker!
Ask your retailer about the special "noir" variant cover by Michael Avon Oeming!
" Ask your retailer about the special "noir" variant cover by Michael Avon Oeming!
In Shops: Apr 24, 2019
SRP: $3.99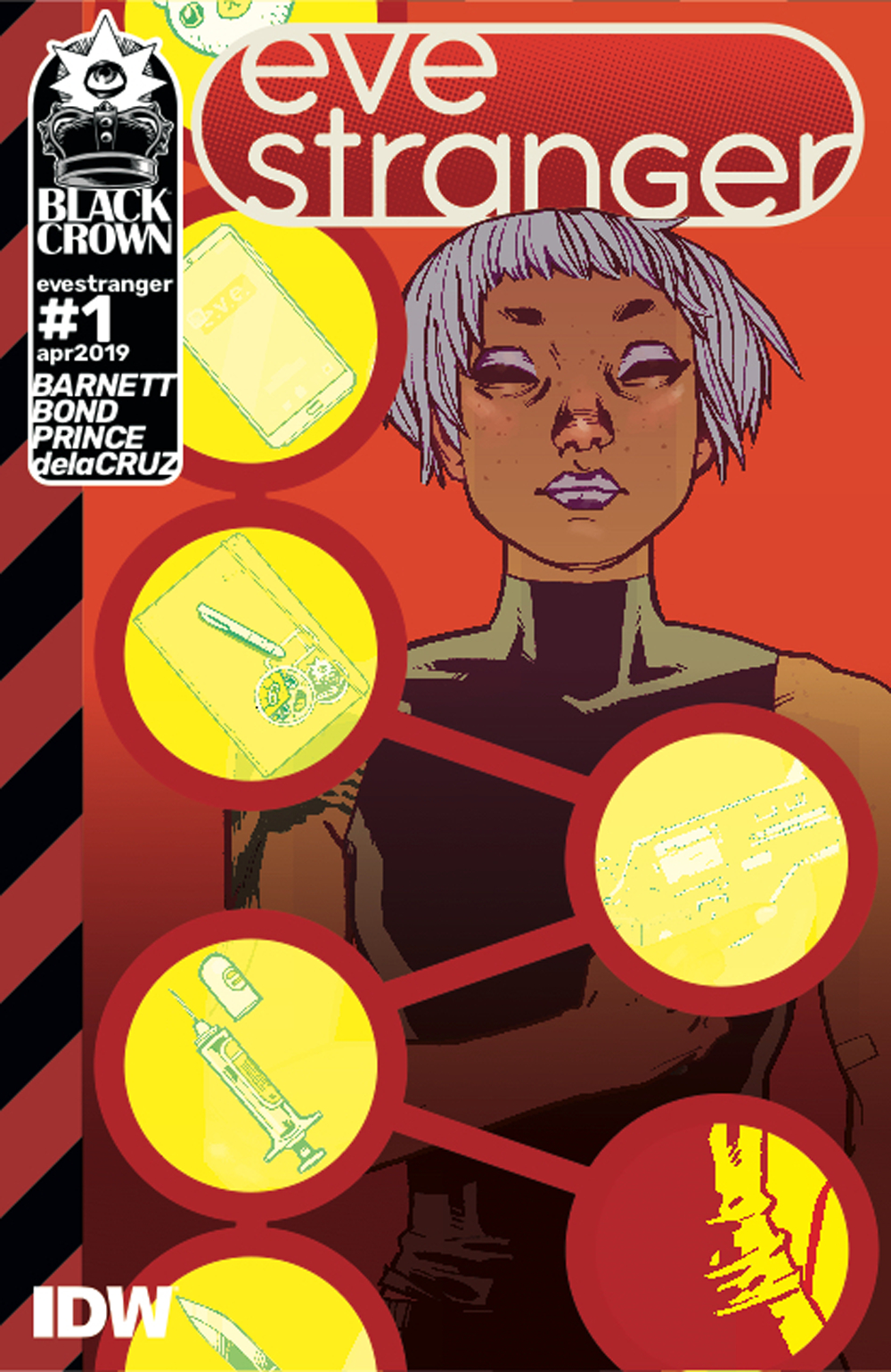 EVE STRANGER #1 CVR A BOND
IDW PUBLISHING
FEB190745
(W) David Barnett (A/CA) Philip Bond
You have unlimited funds, a jet-set lifestyle, and extraordinary abilities. And your bloodstream is filled with nano bombs. The contents of a syringe will deactivate them for a week and also wipe your memory. So what happens when you develop a sneaking suspicion that you're actually working for the bad guys? EVE STRANGER, amnesiac-for-hire.
High-octane thrills!
Impossible missions!
Doomed romance!
In Shops: Apr 24, 2019
SRP: $3.99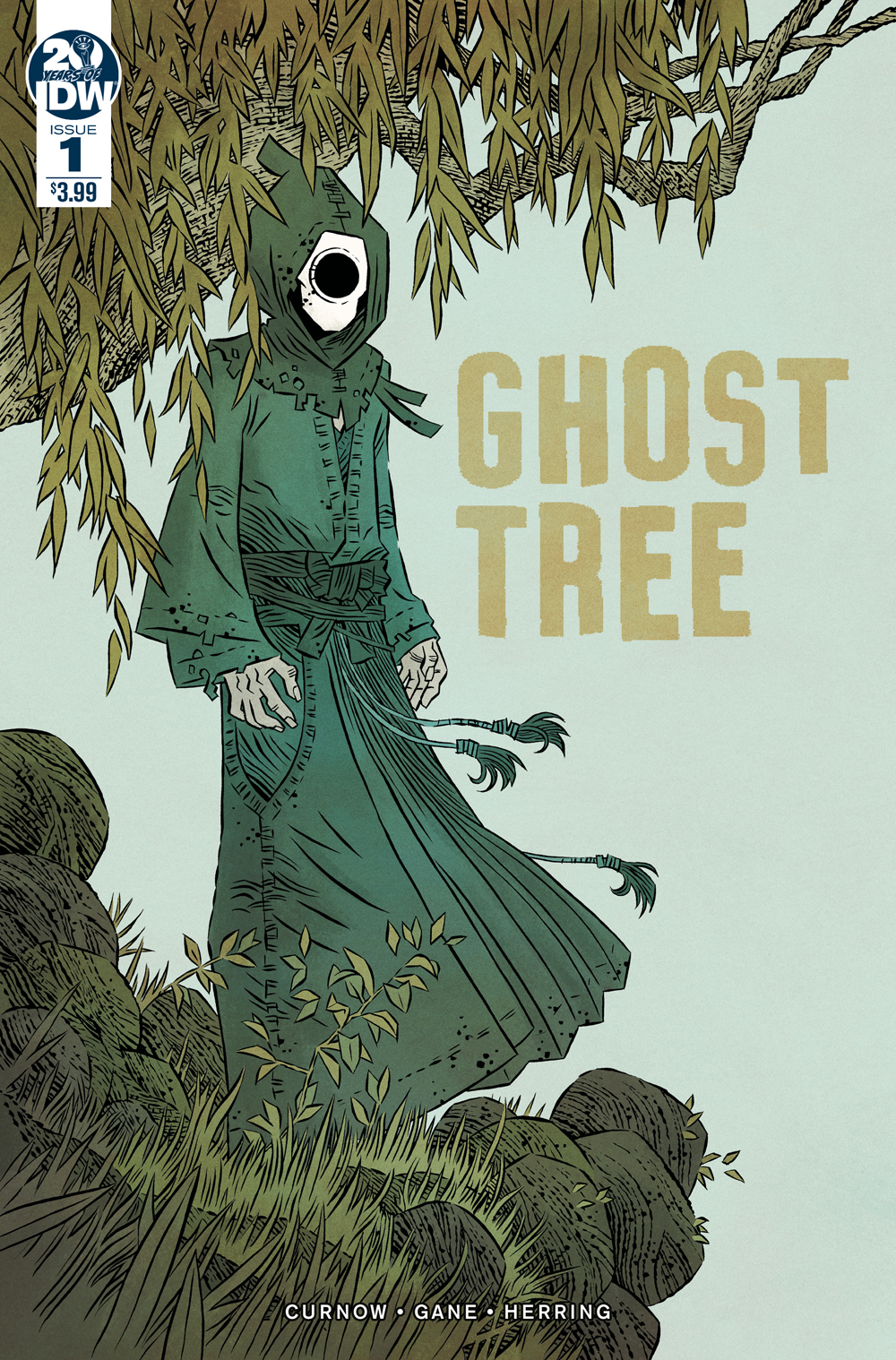 GHOST TREE #1
IDW PUBLISHING
FEB190735
(W) Bobby Curnow (A/CA) Simon Gane
Seeking a refuge from an unhappy life, Brandt returns to his ancestral home in Japan to find a haunted tree and the departed souls that are drawn to it, including his Grandfather. Brandt attempts to heal some of history's wounds but will he be able to find any measure of peace for himself when someone special from his past returns?
From writer Bobby Curnow (Ward's Valley, TMNT) and artist Simon Gane (They're Not Like Us, Godzilla). A touching story about love, loss, and how the past never truly stays dead.
In Shops: Apr 17, 2019
SRP: $3.99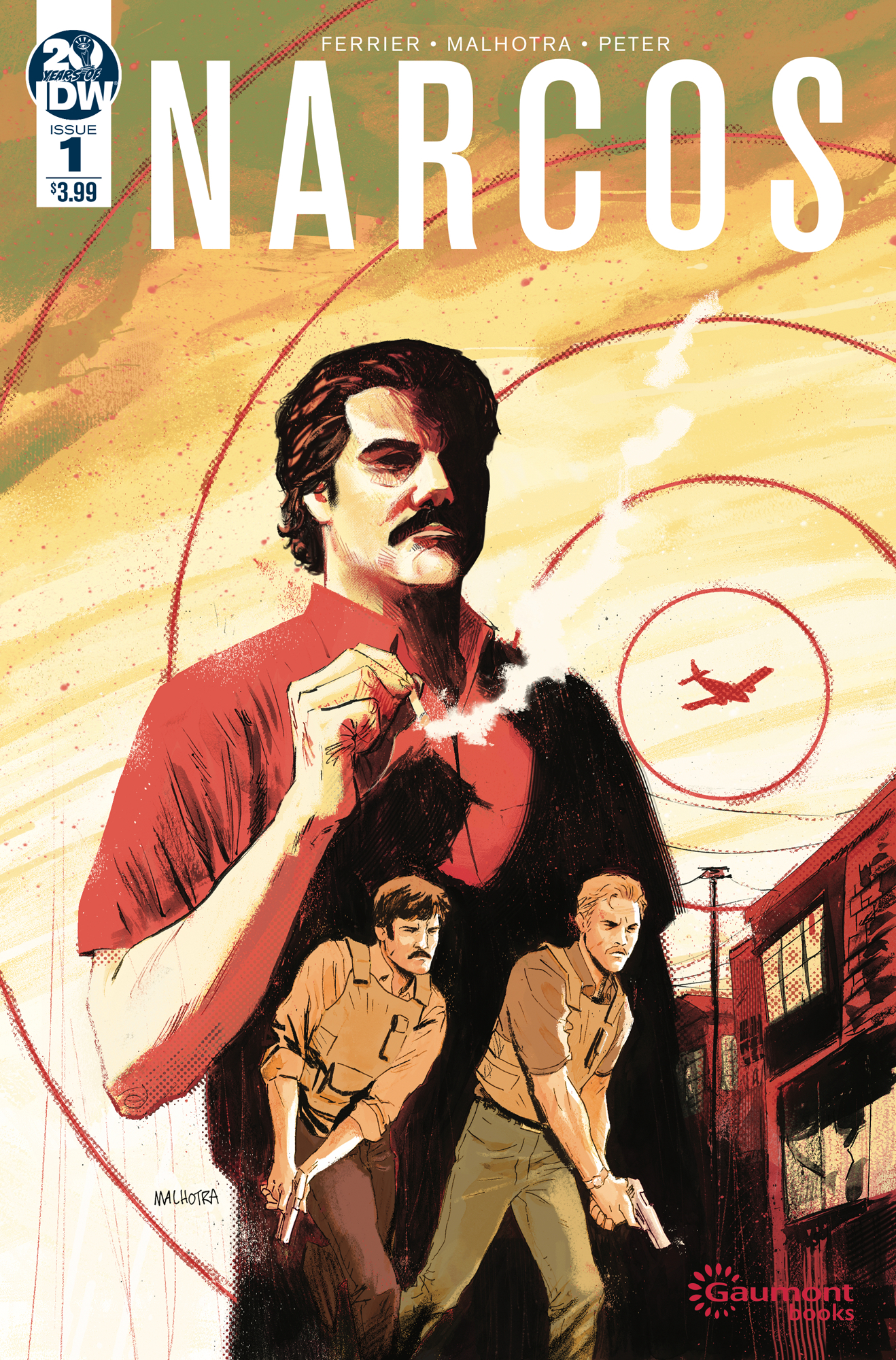 NARCOS #1 CVR A MALHOTRA
IDW PUBLISHING
FEB190722
(W) Ryan Ferrier (A/CA) Vic Mahotra
Spinning out of the hit Netflix original show comes a new four-issue mini-series further detailing the intrigue and danger of the international drug trade of the 1990's! Two new recruits bring danger to DEA agents Murphy and Pena, while Pablo must contend with a dangerous threat to his drug empire! New stories bringing to light the tangled web of power and money in '90s Columbia!
A can't-miss for fans of crime stories inspired by true events!
In Shops: Apr 24, 2019
SRP: $3.99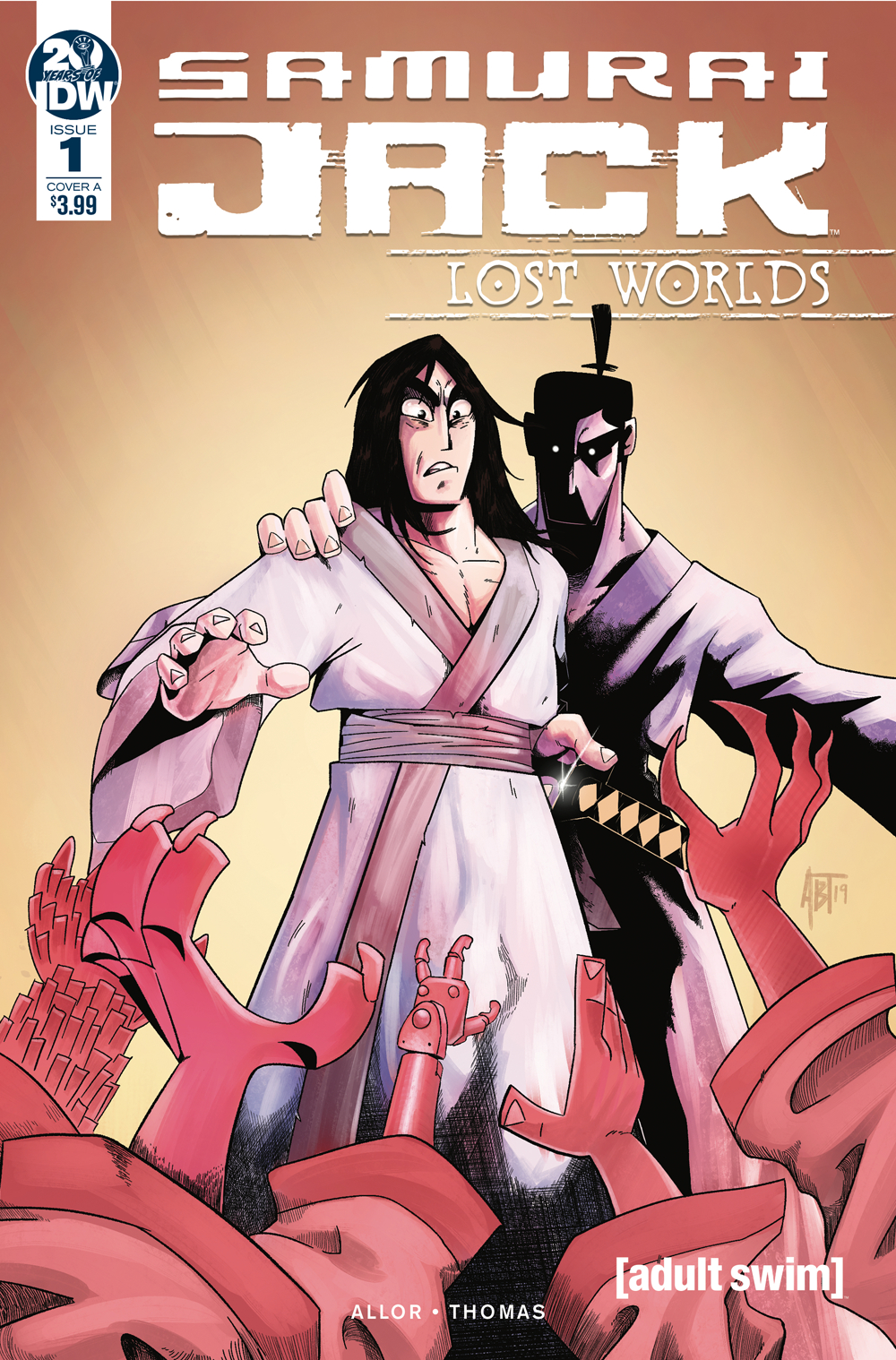 SAMURAI JACK LOST WORLDS #1 CVR A THOMAS
IDW PUBLISHING
FEB190646
(W) Paul Allor (A/CA) Adam Bryce Thomas
"Samurai Jack 2.0"! Under the leadership of the benevolent Samurai Jack, society has prospered-everything is in line with his philosophies, his storied stoicism, and of course his hair. Of course, this is all news to Jack who doesn't much care for this impostor using his name. But which one is the real Samurai Jack?
A bold new miniseries from Paul Allor (Teenage Mutant Ninja Turtles Universe,Clue) and Adam Bryce Thomas (Sonic the Hedgehog)!
A new Samurai Jack adventure in every issue!
In Shops: Apr 24, 2019
SRP: $3.99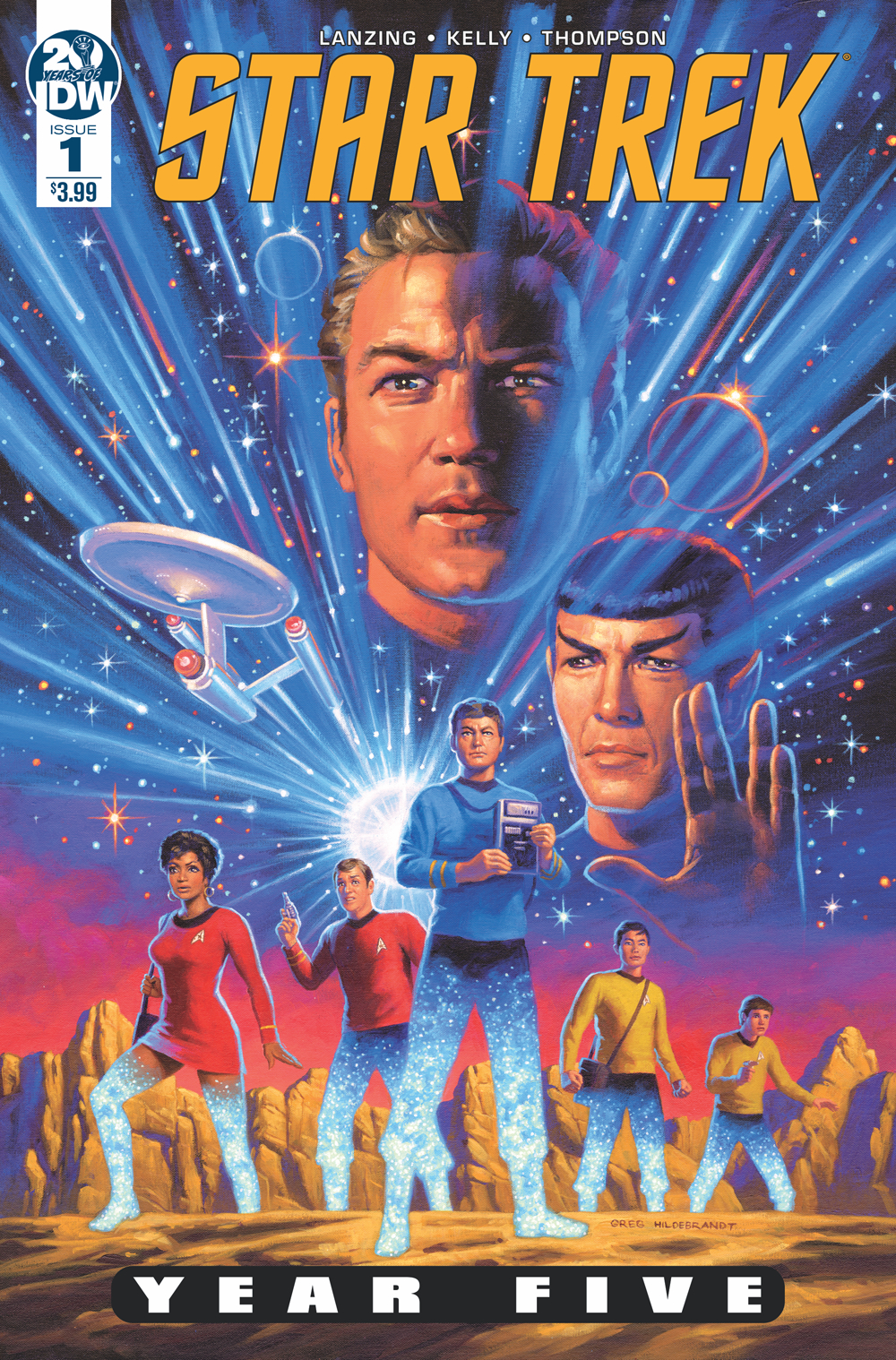 STAR TREK YEAR FIVE #1 HILDABRANDT
IDW PUBLISHING
FEB190633
(W) Jackson Lanzing, Collin Kelly (A) Stephen Thompson (CA) Greg Hildebrandt
The crew of the U.S.S. Enterprise left Earth four years ago. They've traveled to strange new worlds, defeated impossible foes, and made universe-changing decisions. But now, with the end in sight, they'll have to face their biggest challenge yet. Step aboard the Enterprise with Kirk, Spock, Bones, Uhura, Sulu, Scotty, and Chekov as they begin the end of their original Five Year Mission and boldly go into an uncertain future in this new continuing Star Trek series!
A new continuing series about the end of the Five-Year Mission! The classic crew is back in all -new stories featuring your favorite characters from the Original Series! Featuring a new cover by legendary artist Greg Hildebrandt! Ask your retailer about the Greg Hildebrandt retailer incentive sketch cover!
In Shops: Apr 24, 2019
SRP: $3.99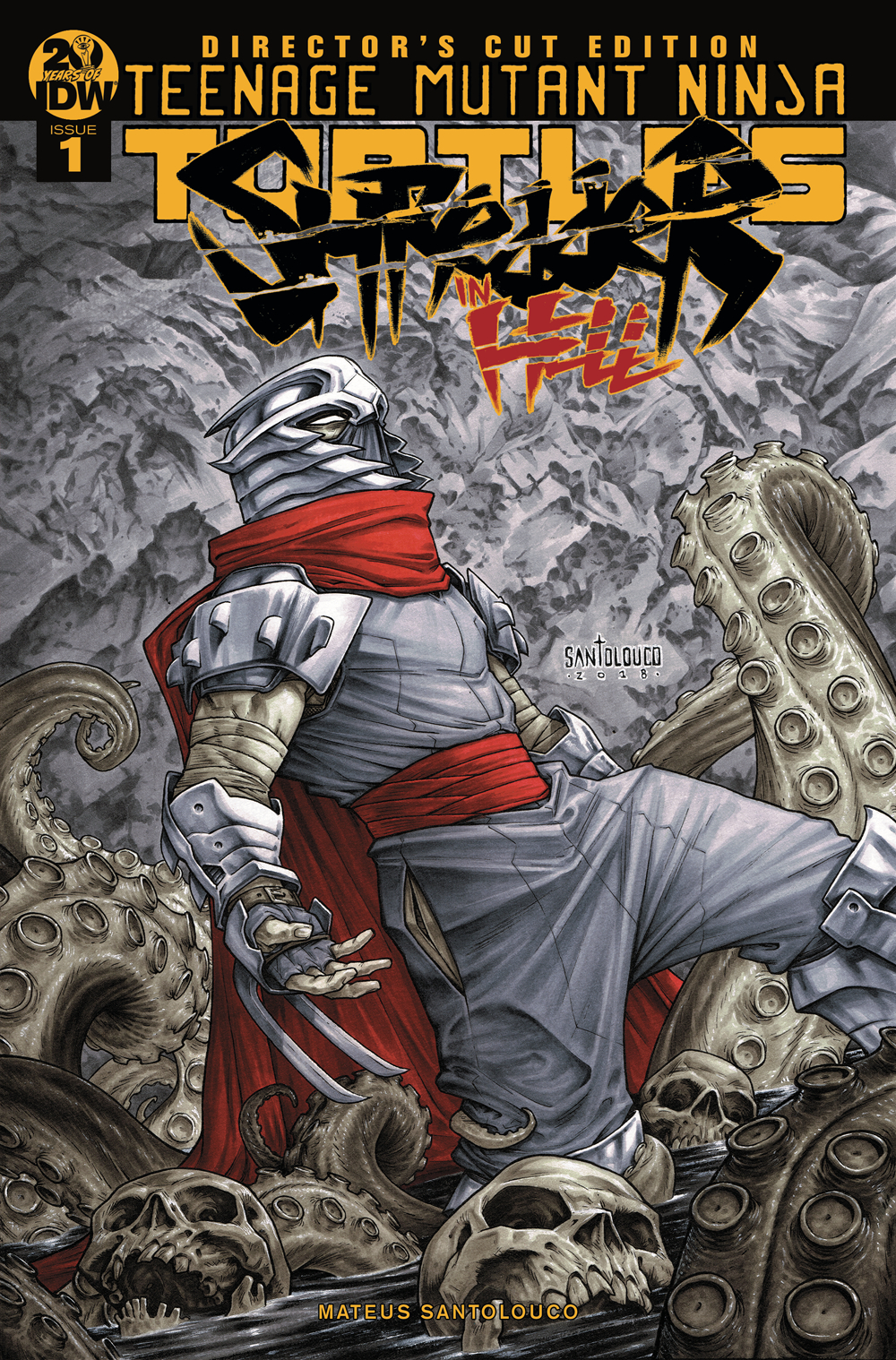 TMNT SHREDDER IN HELL #1 DIRECTORS CUT
IDW PUBLISHING
FEB190699
(W) Mateus Santolouco (A/CA) Mateus Santolouco
Revisit the start to Shredder's journey in the afterlife with a special Director's Cut! Featuring the jaw-dropping inks of Mateus Santolouco as well as annotations and behind-the-scenes development artwork! Fan-favorite artist Mateus Santolouco returns to the world of TMNT! The most infamous villain in the TMNT universe gets his own mini-series.
In Shops: Apr 24, 2019
SRP: $4.99
IMAGE COMICS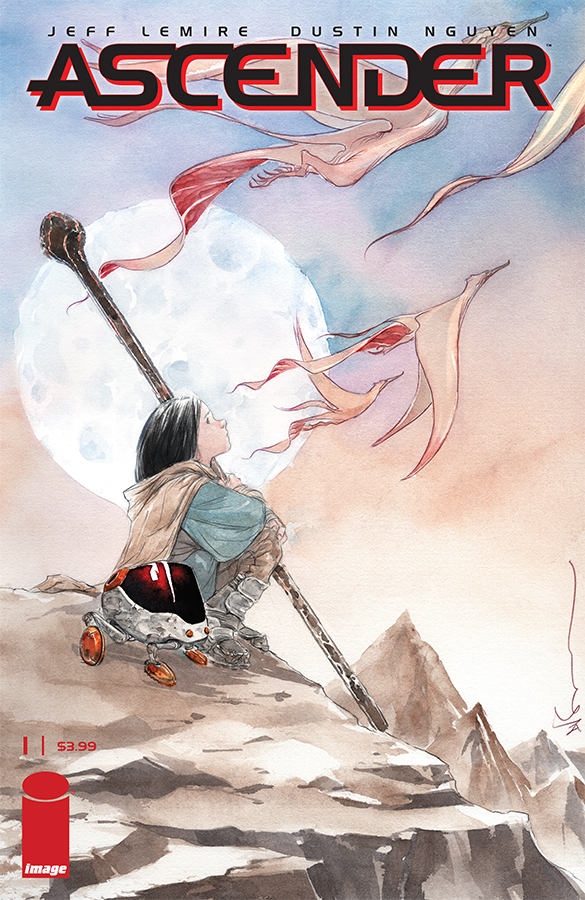 ASCENDER #1 (MR)
IMAGE COMICS
FEB190010
(W) Jeff Lemire (A/CA) Dustin Nguyen
"THE HAUNTED GALAXY," Part One
Powerhouse creative team JEFF LEMIRE and DUSTIN NGUYEN launch an all-new sequel series to DESCENDER with the launch of ASCENDER!
Set ten years after the conclusion of DESCENDER's storyline, magic has taken the place of machinery and the rules are very different indeed... Mila, the daughter of Andy and Effie from DESCENDER, spends her days exploring the lonely wilds of the planet Sampson and trying to stay out of the clutches of the evil disciples of the all-powerful vampire witch known only as Mother. But, like her parents, Mila doesn't like to play by the rules, and when a certain robot pal of her dad's shows up, nothing will ever be the same!
With all the scope and heart of the sci-fi classic DESCENDER, LEMIRE and NGUYEN reunite to take readers on an unforgettable fantasy quest!
In Shops: Apr 24, 2019
SRP: $3.99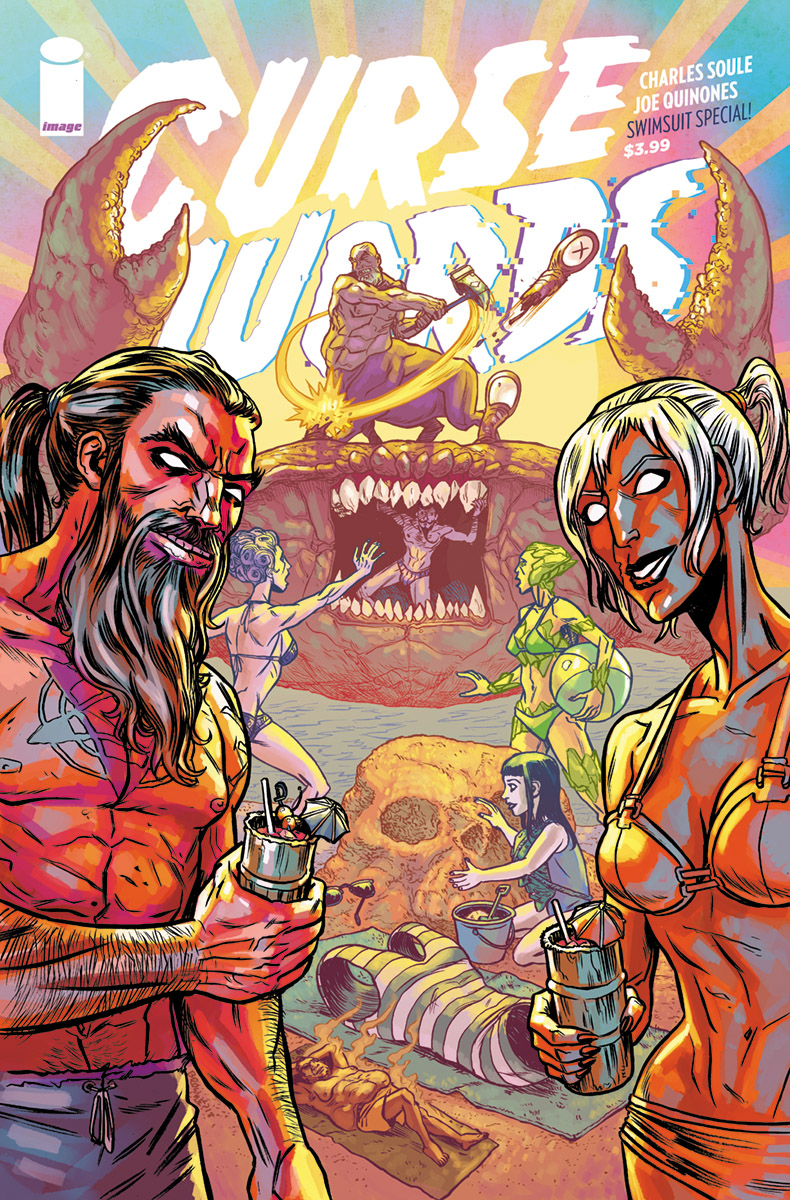 CURSE WORDS SUMMER SPECIAL #1 CVR A BROWNE (ONE-SHOT) (O/A)
IMAGE COMICS
FEB190040
(W) Charles Soule (A) Joe Quinones (CA) Ryan Browne
SEE: Sizzajee's sinister sorcerers sweating their way through the sunny, sultry, summertime season back in the Hole World. SEE: a hogtaur in a Speedo! SEE: an invisible wizard with a sunburn! SEE: such sights! Such glorious sights! JOIN US.
In Shops: Mar 13, 2019
SRP: $3.99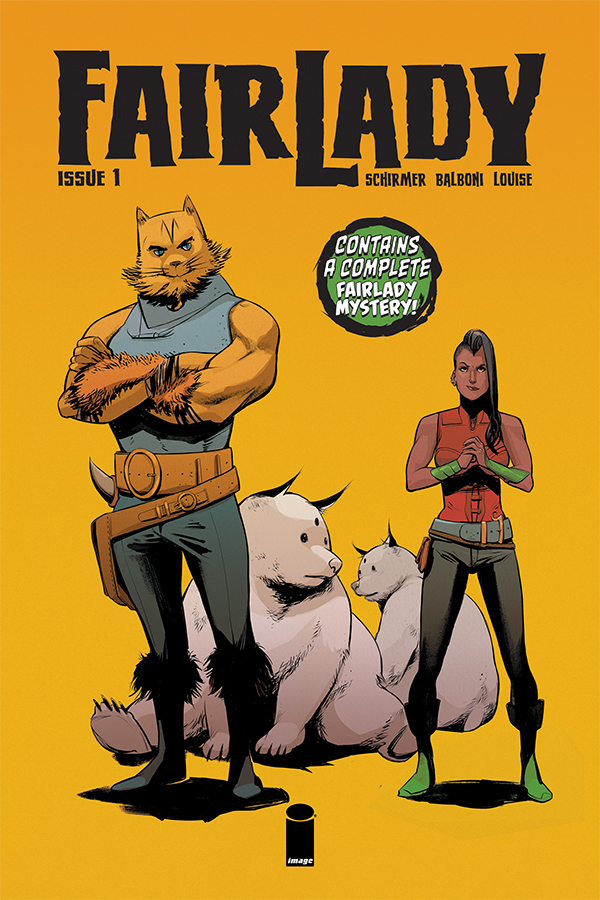 FAIRLADY #1 CVR A BALBONI & LOUISE
IMAGE COMICS
FEB190020
(W) Brian Schirmer (A/CA) Claudia Balboni, Marissa Louise
SERIES PREMIERE
Every fantasy epic ends with a war. But what happens when the war is over?
After posing as a man to join the army, Jenner Faulds returns home to The Feld for a new start as a "Fairman"-a specially licensed private investigator. But sexism didn't end on the battlefield, and as the only "Fairlady," Jenner gets stuck with the cases nobody else wants. Hitting the streets to solve The Feld's overlooked mysteries, Jenner finds that the smallest cases hide the biggest secrets.
Writer Brian Schirmer, artist Claudia Balboni (Star Trek), and colorist Marissa Louise team up for FAIRLADY-an all-new series with the procedural case-solving of Magnum, P.I. and Fables, but set in a vibrant, RAT QUEENS-like high fantasy world.
Plus, this-and every-issue contains a complete 30-page story!
In Shops: Apr 10, 2019
SRP: $3.99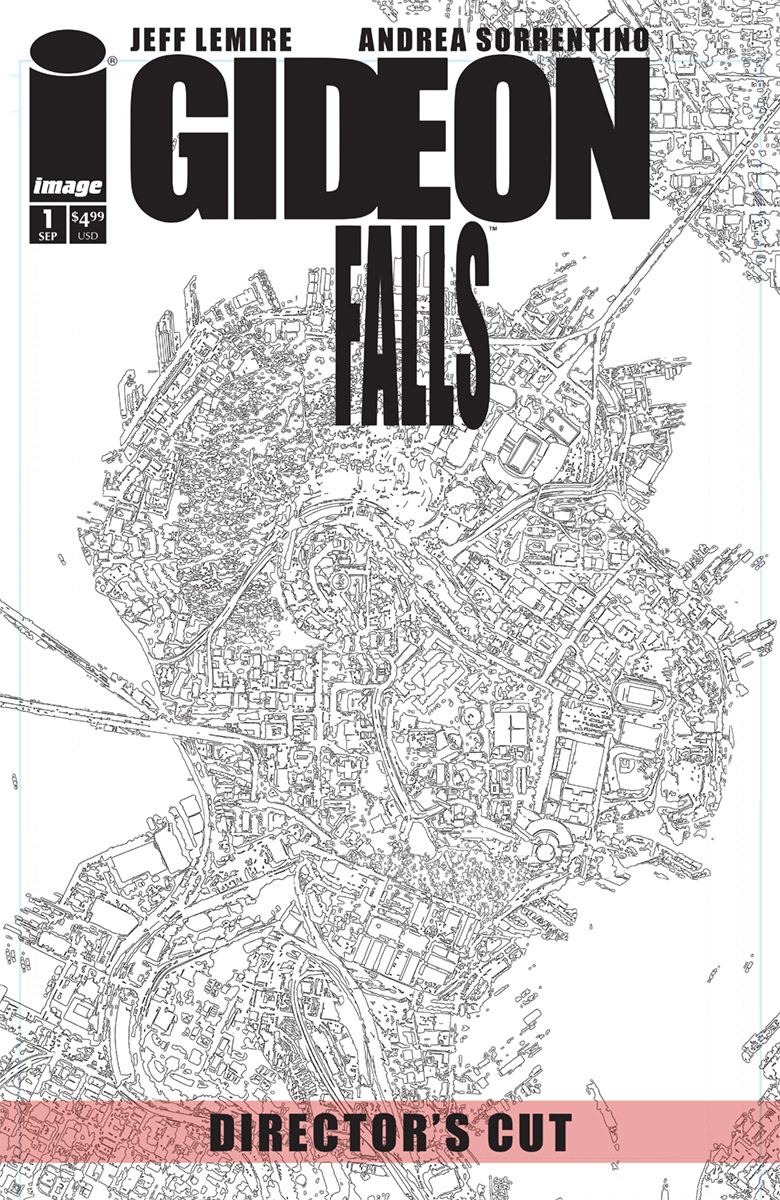 GIDEON FALLS #1 DIRECTORS CUT (O/A) (MR)
IMAGE COMICS
FEB190145
(W) Jeff Lemire (A/CA) Andrea Sorrentino
After selling out multiple print runs, JEFF LEMIRE & ANDREA SORRENTINO's smash-hit thriller GIDEON FALLS gets a special edition of its explosive first issue in glorious black & white! Also collecting the first issue script, this "Director's Cut" is a must-have for fans of one of 2018's hottest new series!
In Shops: Mar 20, 2019
SRP: $4.99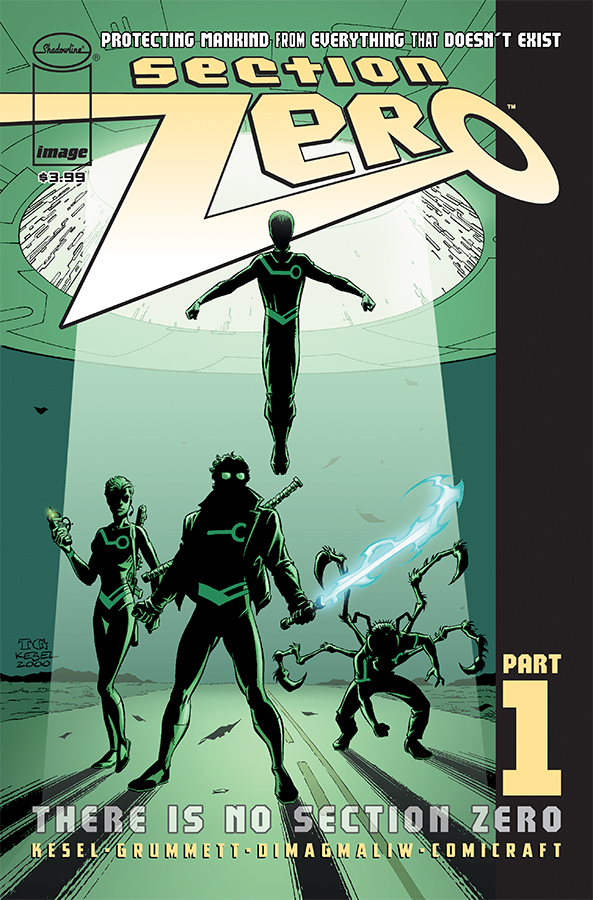 SECTION ZERO #1 (OF 6) CVR A GRUMMETT & KESEL
IMAGE COMICS
FEB190024
(W) Karl Kesel (A/CA) Tom Grummett, Karl Kesel
MINISERIES PREMIERE
"GROUND ZERO," Part One
A team of fearless adventurers uncovers the secrets behind UFOs, MONSTERS, and LOST CIVILIZATIONS! It's "JACK-KIRBY-does-The-X-Files" in this miniseries by one of comics' classic creative teams-KARL KESEL (Harley Quinn, Superboy) and TOM GRUMMETT (The Death of Superman, Superboy)-and some of the greatest alternative cover artists in the industry!
In Shops: Apr 03, 2019
SRP: $3.99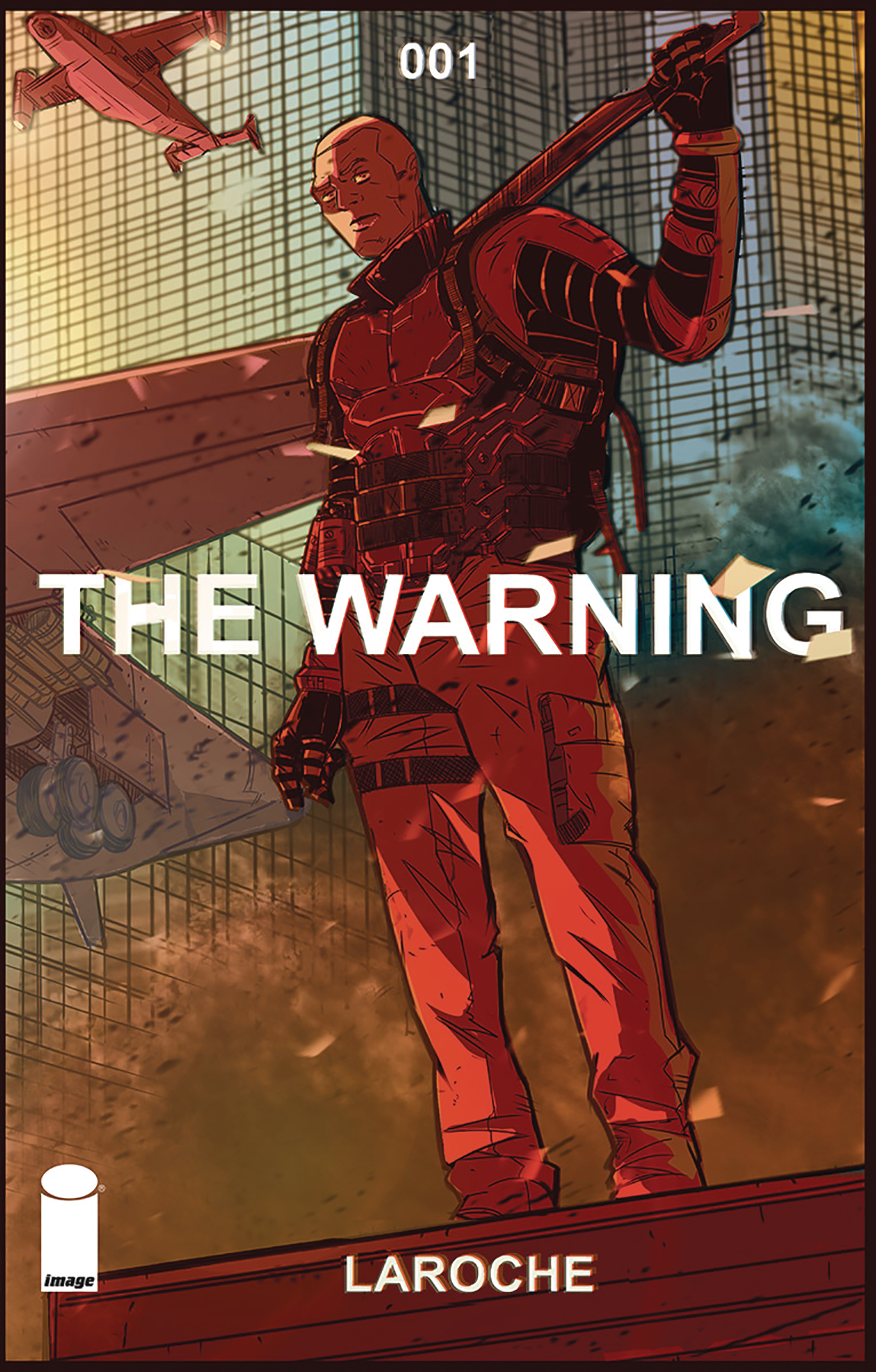 WARNING #1 (O/A) (MR)
IMAGE COMICS
FEB190219
(W) Edward Laroche (A/CA) Edward Laroche
An enormous machine slowly materializes in a major West Coast city. Who sent it-and why-is a mystery, understood only by the malevolent beings gliding silently toward Earth through the inky vastness of space. In response, a multinational combat brigade called Gladiator Two-Six is deployed. Outfitted with next-generation military science and weapons, they're tasked with stopping any extraterrestrial threat that emerges.
In Shops: Mar 20, 2019
SRP: $3.99
MARVEL COMICS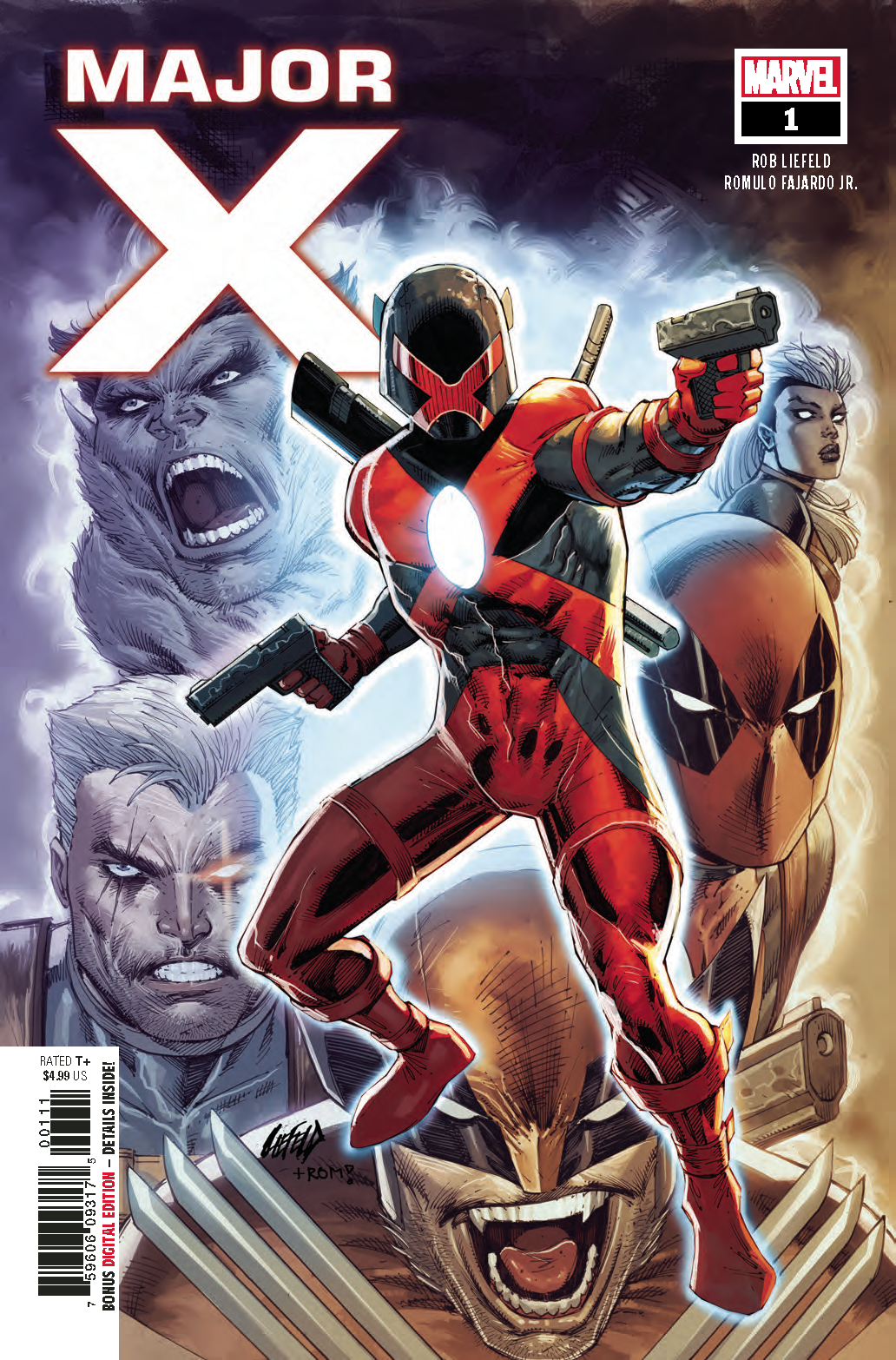 MAJOR X #1 (OF 6)
MARVEL COMICS
FEB190818
(W) Rob Liefeld (A/CA) Rob Liefeld
WHO IS MAJOR X?
• A mysterious new player enters the Marvel Universe and the X-Men are in his crosshairs!
• What is his mission and how can the man known as Cable hope to stop him?
• Writer/artist Rob Liefeld introduces a new wrinkle in the saga of Marvel's Mightiest Mutants!
• The Mystery of MAJOR X continues in issue #2 as he forges a union with Cable - and races against time to save mutantkind from certain devastation!
Rated T+
In Shops: Apr 03, 2019
SRP: $4.99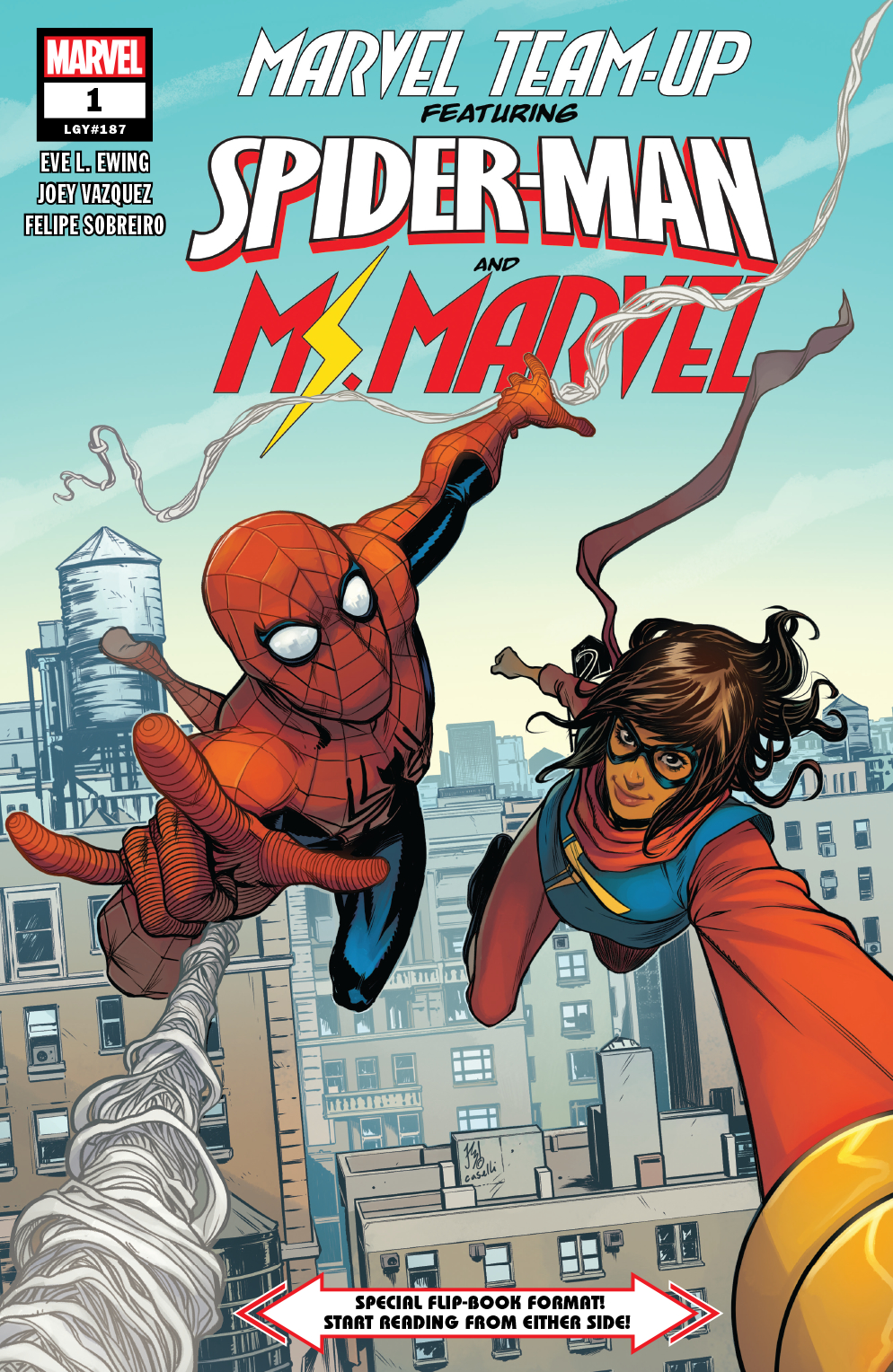 MARVEL TEAM-UP #1
MARVEL COMICS
FEB190840
(W) Eve Ewing (A) Joey Vazquez (CA) Stefano Caselli
THE CLASSIC MARVEL TEAM-UP RETURNS!
• After a science demonstration at Empire State University goes awry, Ms. Marvel and Spider-Man find themselves tangled up in the same chaotic adventure. Is it destiny? Or disaster?!
• Eve L. Ewing (IRONHEART) and Joey Vazquez (SPIDER-GEDDON) team up for the first thrilling arc of a mind-bending and magnificent new series!
Rated T+
In Shops: Apr 03, 2019
SRP: $3.99
STAR WARS GALAXYS EDGE #1 (OF 5)
MARVEL COMICS
FEB190943
(W) Sacks, Ethan (A) Will Sliney (CA) Rod Reis
A CALL TO ADVENTURE ON THE VERY EDGE OF THE GALAXY! THE COMIC TIE-IN TO THE THEME PARK!
BLACK SPIRE OUTPOST has long been frequented by smugglers, merchants and travelers from every corner of the galaxy looking to make their score on the infamous black market - or experience the exotic thrills only the remote world of Batuu has to offer. Beings like the infamous DOK-ONDAR, a proprietor of rare and one-of-a-kind antiquities, thrive on the unique opportunities which abound on the lawless outpost at the very edge of Wild Space! But the evil FIRST ORDER has come to Batuu and the survival of the entire outpost is at stake! The road to Black Spire's possible salvation might begin in the past...with a job HAN SOLO and his partner CHEWBACCA pulled for Dok-Ondar. The newest chapter of the growing Star Wars saga begins this April with ETHAN SACKS (OLD MAN HAWKEYE) AND WILL SLINEY'S (BEN REILLY: SCARLET SPIDER, SOLO: A STAR WARS STORY) GALAXY'S EDGE - the riveting comic adventure tie-in to the theme park.
Rated T
In Shops: Apr 24, 2019
SRP: $3.99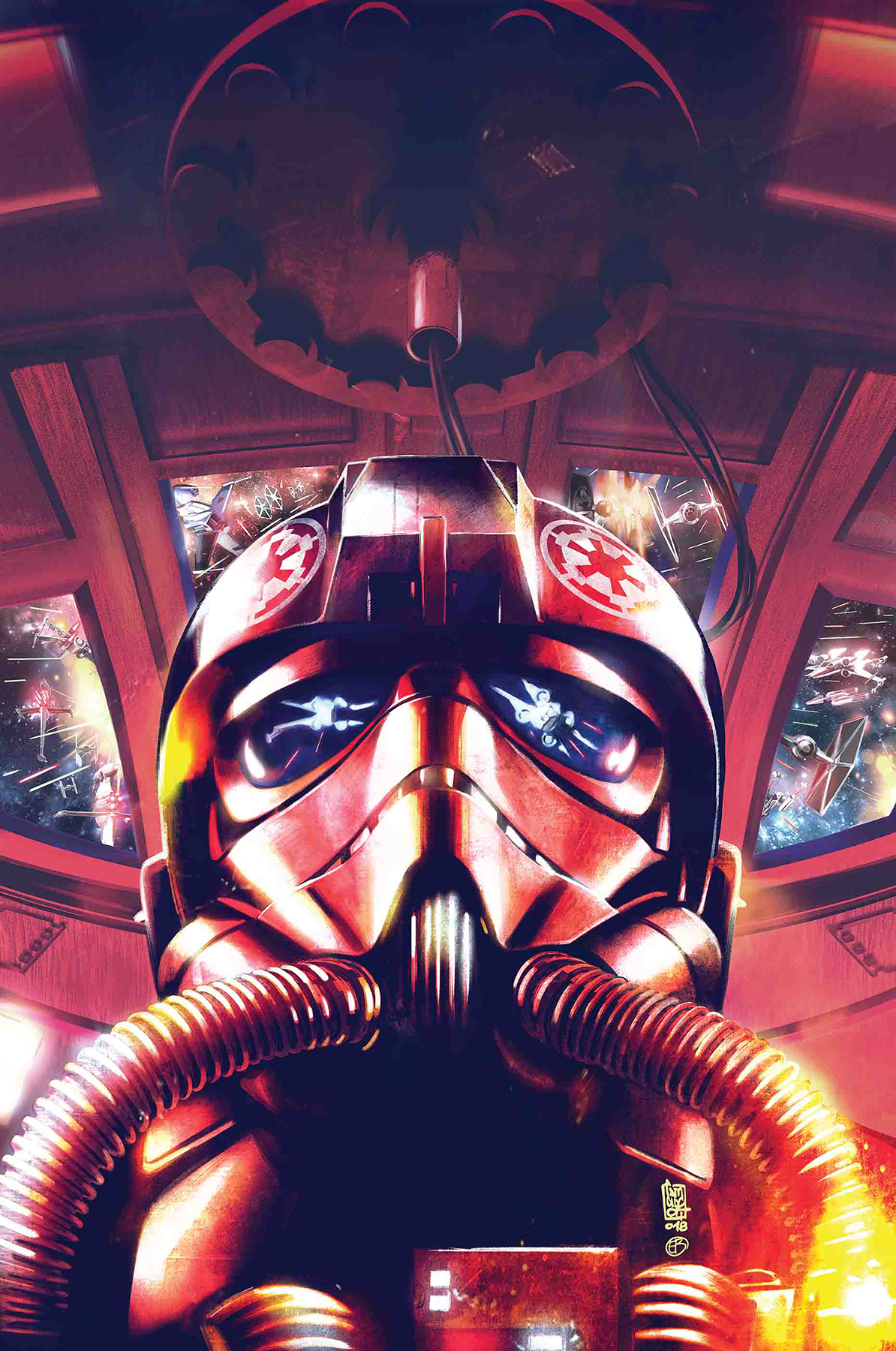 STAR WARS TIE FIGHTER #1 (OF 5)
MARVEL COMICS
FEB190947
(W) Jody Houser (A) Roge Antonia, More (CA) Giuseppe Camuncoli, Elia Bonetti
ENTER SHADOW WING! THE EMPIRE'S SALVATION! THE REBELLION'S DOOM!
As the war against the REBELLION stretches on, it is the innocent people of the GALACTIC EMPIRE who are most at risk. An elite squadron of TIE fighter pilots is assembled to help protect Imperial interests and hammer the Emperor's fury down upon the treasonous and violent Rebel Alliance. But how far is this untested team willing to go to preserve law and order? And are the pilots of SHADOW WING as loyal to the Empire as they seem? This April, JODY HOUSER (THRAWN, AGE OF REPUBLIC) and ROGÊ ANT NIO's (X-MEN RED) TIE fighter tale chronicles the struggles and triumphs of the heroes of the Empire in the last days of civil war - but what about the heroes of the Rebellion? Be sure to pick up the first book of TIE FIGHTER's sister novel series, STAR WARS: ALPHABET SQUAD by Alexander Freed. From Del Rey Books, on sale this June.
Rated T
In Shops: Apr 17, 2019
SRP: $3.99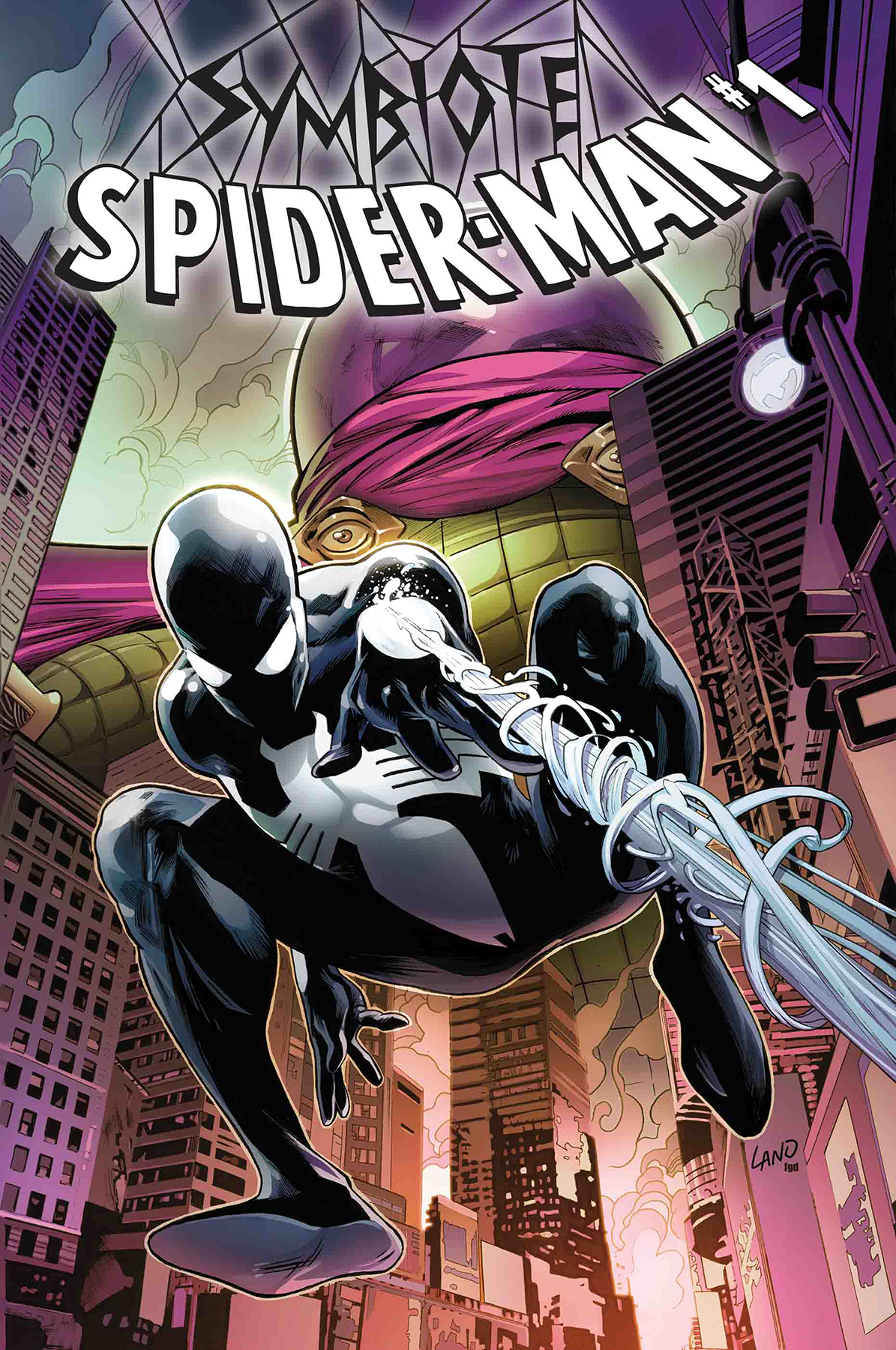 SYMBIOTE SPIDER-MAN #1
MARVEL COMICS
FEB190822
(W) Peter David (A/CA) Greg Land
Everyone knows that Spider-Man's infamous black suit would someday become the wicked web-slinger called Venom - but what happened BEFORE Peter Parker discovered the black suit's sinister secret? Find out in this dynamic tale from comics legends PETER DAVID and GREG LAND!
Set during the original "Black Suit Saga," this is an all-new tale that pits the wall-crawling wonder against that most mystifying of menaces...MYSTERIO!
Rated T
In Shops: Apr 10, 2019
SRP: $4.99
THANOS #1 (OF 6)
MARVEL COMICS
FEB190810
(W) Tini Howard (A) Ariel Olivetti (CA) Jeff Dekal
THANOS IS DEAD!
Executed by the deadliest assassin in the galaxy...his daughter, Gamora. But before their relationship came to a bloody end, how did it begin? Find out in this all new miniseries by Tini Howard (MARVEL KNIGHTS 20TH and AGE OF CONAN: BELIT) and Ariel Olivetti (DEATH OF THE INHUMANS)!
Parental Advisory
In Shops: Apr 24, 2019
SRP: $4.99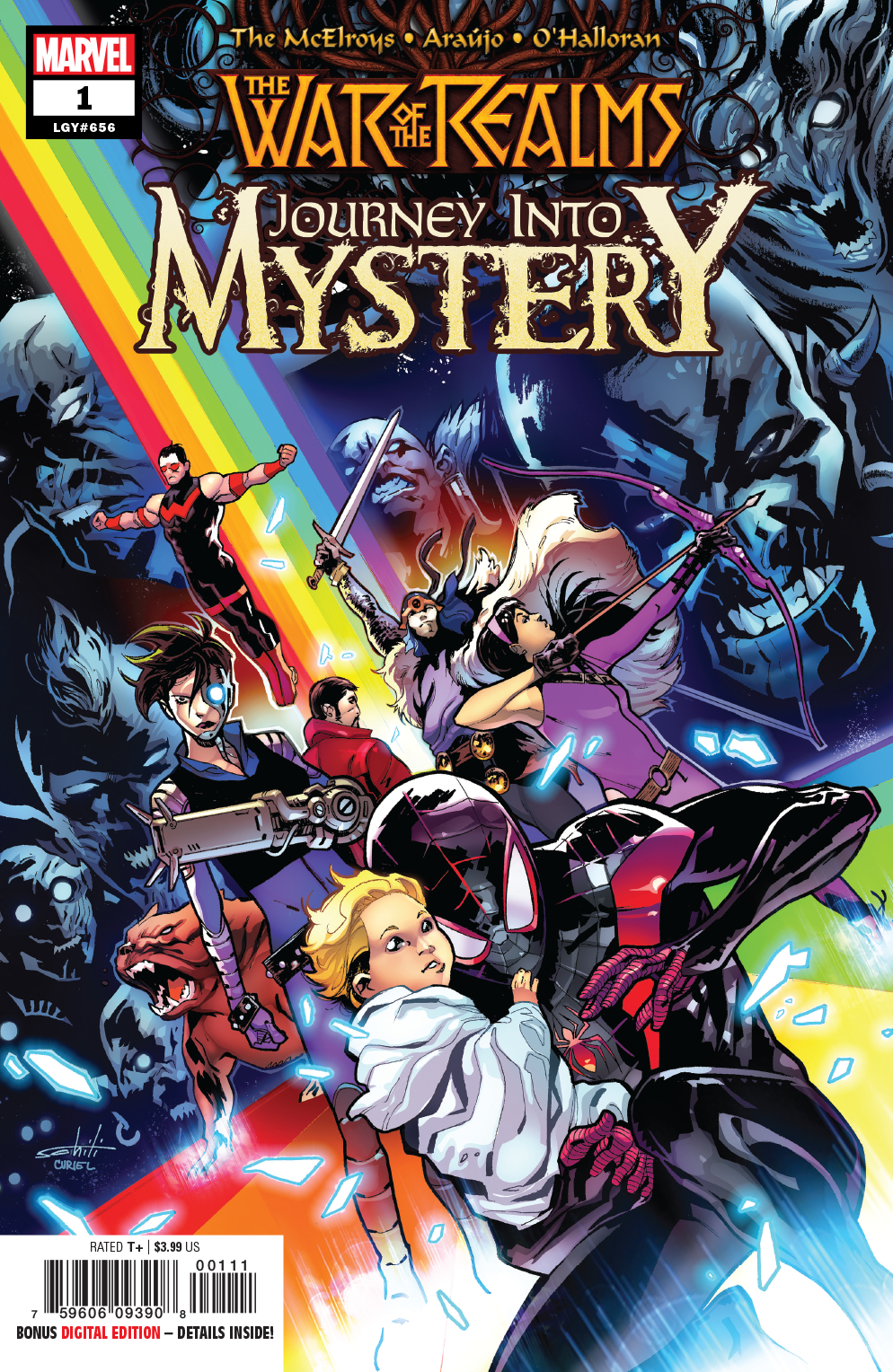 WAR OF REALMS JOURNEY INTO MYSTERY #1 (OF 5) WR
MARVEL COMICS
FEB190767
(W) Clint McElroy, Justin McElroy, More (A) Andre Araujo (CA) Valerio Schiti, David Curiel
The creators of the blockbuster podcast The Adventure Zone bring their talents to Marvel for a wild romp through THE WAR OF THE REALMS!
Earth is at war, besieged by an army of Frost Giants, Trolls and Fire Goblins - and the mighty Thor is nowhere to be found! But could it be that the key to turning the tide is...Thor's baby sister? Journey into Mystery with Spider-Man (Miles Morales), Hawkeye (Kate Bishop), Wonder Man, and Balder the Brave as they go on an epic quest to save Earth's only hope! (And, yes, deal with diaper duty.)
Rated T+
In Shops: Apr 10, 2019
SRP: $3.99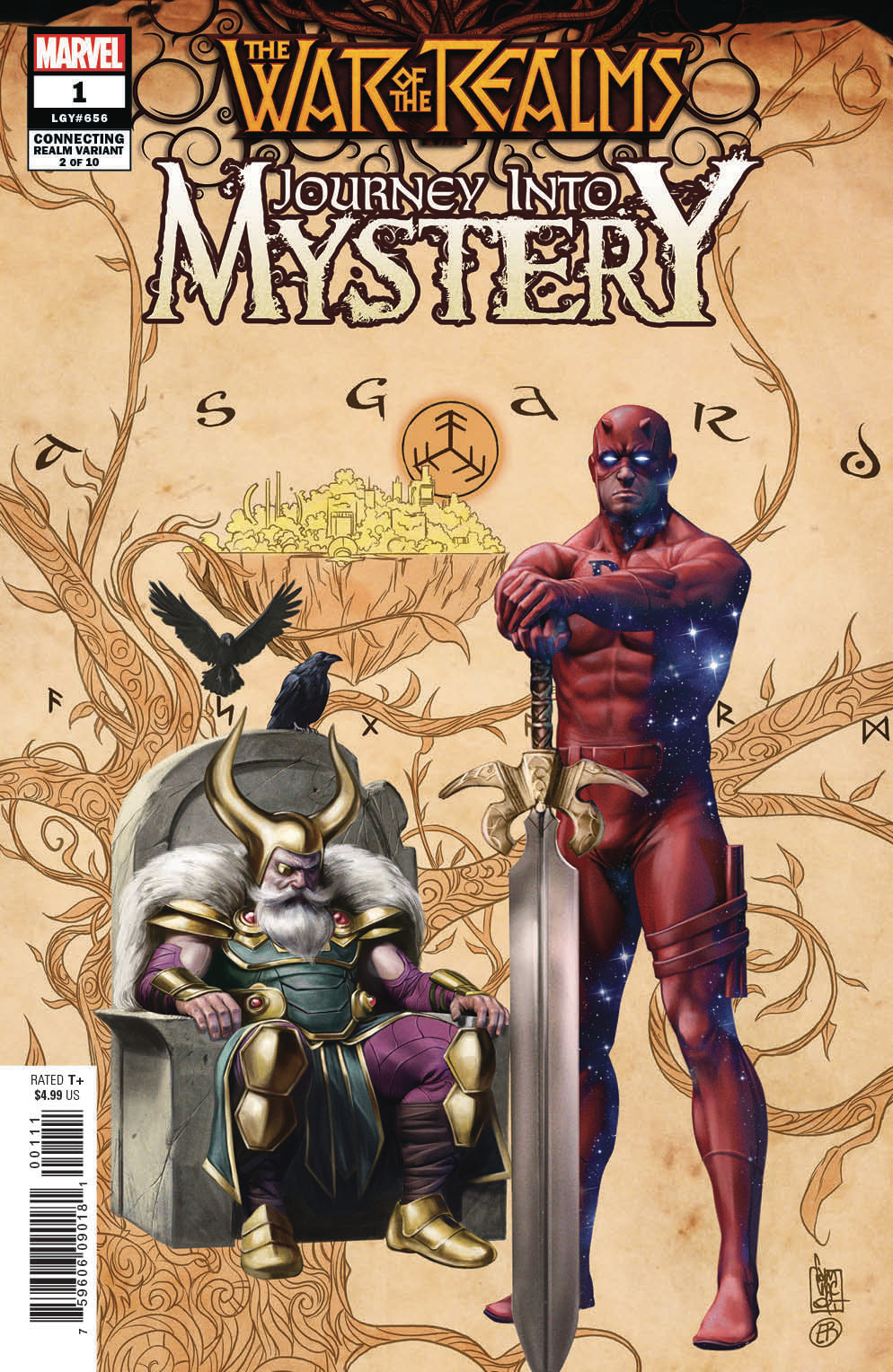 WAR OF REALMS JOURNEY INTO MYSTERY #1 (OF 5) DJURDJEVIC CONN
MARVEL COMICS
FEB190768
(W) Clint McElroy, Justin McElroy, More (A) Andre Araujo (CA) Marko Djurdjevic
The creators of the blockbuster podcast The Adventure Zone bring their talents to Marvel for a wild romp through THE WAR OF THE REALMS!
Earth is at war, besieged by an army of Frost Giants, Trolls and Fire Goblins - and the mighty Thor is nowhere to be found! But could it be that the key to turning the tide is...Thor's baby sister? Journey into Mystery with Spider-Man (Miles Morales), Hawkeye (Kate Bishop), Wonder Man, and Balder the Brave as they go on an epic quest to save Earth's only hope! (And, yes, deal with diaper duty.)
Rated T+
In Shops: Apr 10, 2019
SRP: $3.99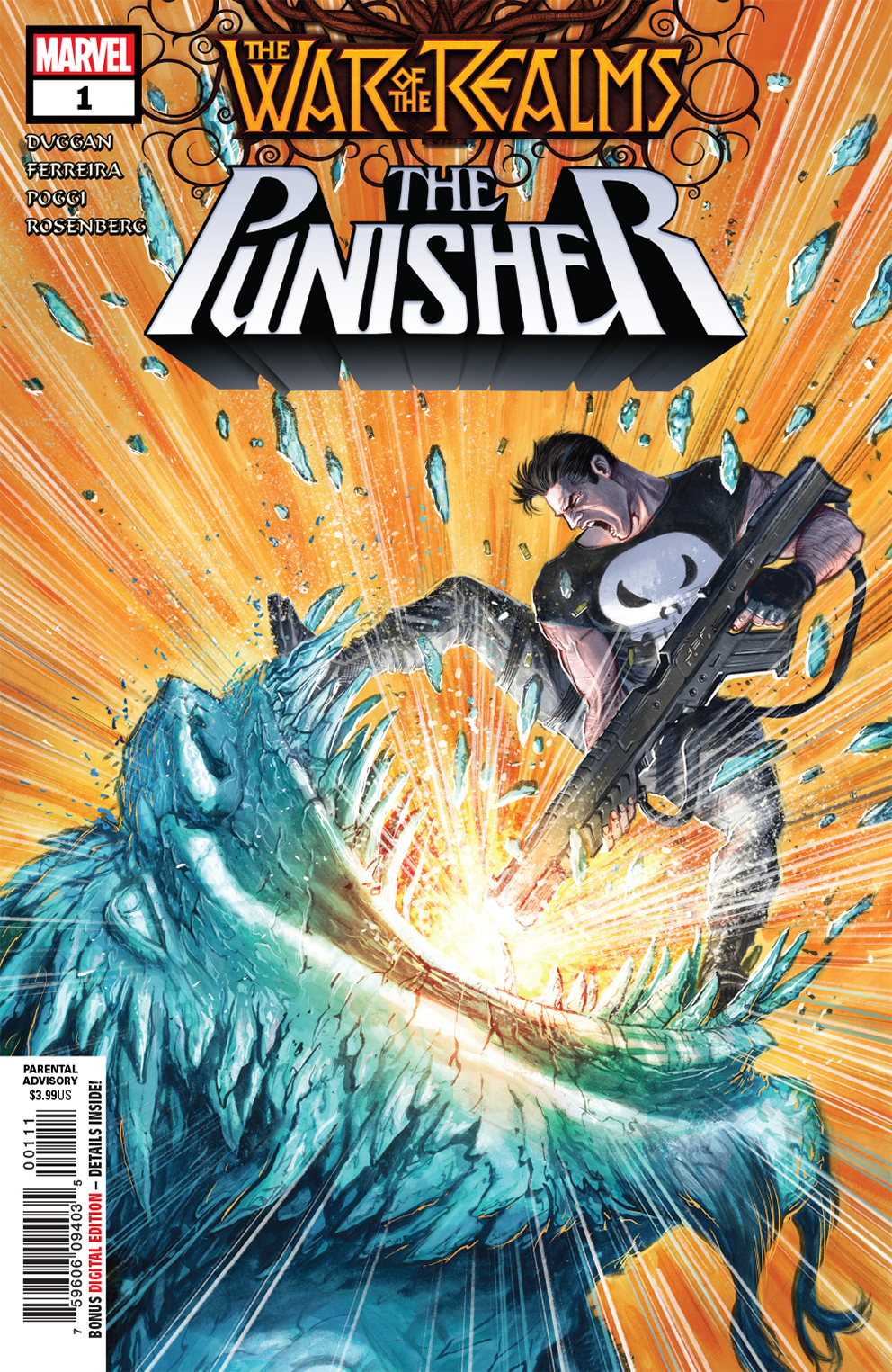 WAR OF REALMS PUNISHER #1 (OF 3) WR
MARVEL COMICS
FEB190784
(W) Gerry Duggan (A) Marcelo Ferreira (CA) Juan Ferreyra
PUNISHER: AVENGER OF MIDGARD!
The War of The Realms has brought monsters to the streets of New York City, but New York has a monster all its own...Frank Castle, A.K.A. THE PUNISHER! And he'll be damned to Hel if he's going to let a bunch of Ten Realms tin-pot tyrants terrorize his town. But given he's one man against an army of monsters, Hel might soon have him! The War of Realms is about to meet Marvel's One Man Army. Expect Punishment!
Rated T+
In Shops: Apr 17, 2019
SRP: $3.99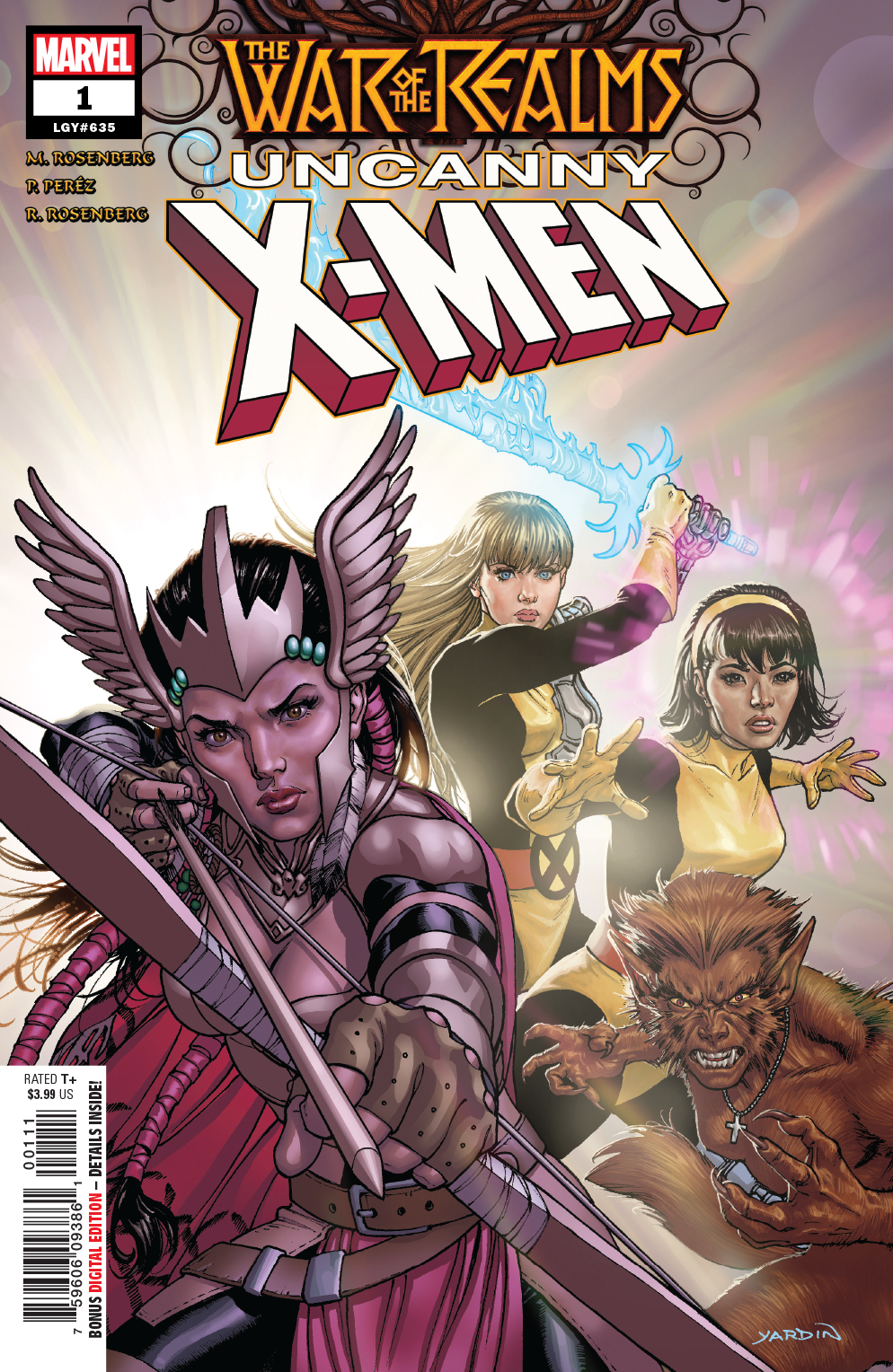 WAR OF REALMS UNCANNY X-MEN #1 (OF 3) WR
MARVEL COMICS
FEB190774
(W) Matthew Rosenberg (A) Pere Perez (CA) David Yardin
The War of the Realms has come to Midgard...and Westchester! Malekith's forces are invading Earth, and the heroes of Earth are joining with the heroes of Asgard to fight them back! Who better to lead the X-Men into that war than their very own Valkyrie, Dani Moonstar?
LEGACY #635
Rated T+
In Shops: Apr 24, 2019
SRP: $3.99
WAR OF REALMS WAR SCROLLS #1 (OF 3) WR
MARVEL COMICS
FEB190780
(W) Jason Aaron, Chip Zdarsky, Josh Trujillo (A) Andrea Sorrentino, Joe Quinones, More (CA) Alan Davis, Mark Farmer, Matt Hollingsworth
THE MUST-READ COMPANION TO WAR OF THE REALMS!
Gifted the sight of the Bifrost, Daredevil watches all Midgard burn under Malekith's invasion. How will the Guardian of Hell's Kitchen...guard an entire Earth turned to Hell? Find out in a story by Jason Aaron & Andrea Sorrentino! All this and more (including a new Howard the Duck story by Chip Zdarsky & Joe Quinones!), straight from the battlefield of WAR OF THE REALMS!
Rated T+
In Shops: Apr 10, 2019
SRP: $4.99
INDIE VYDAVATEĽSTVÁ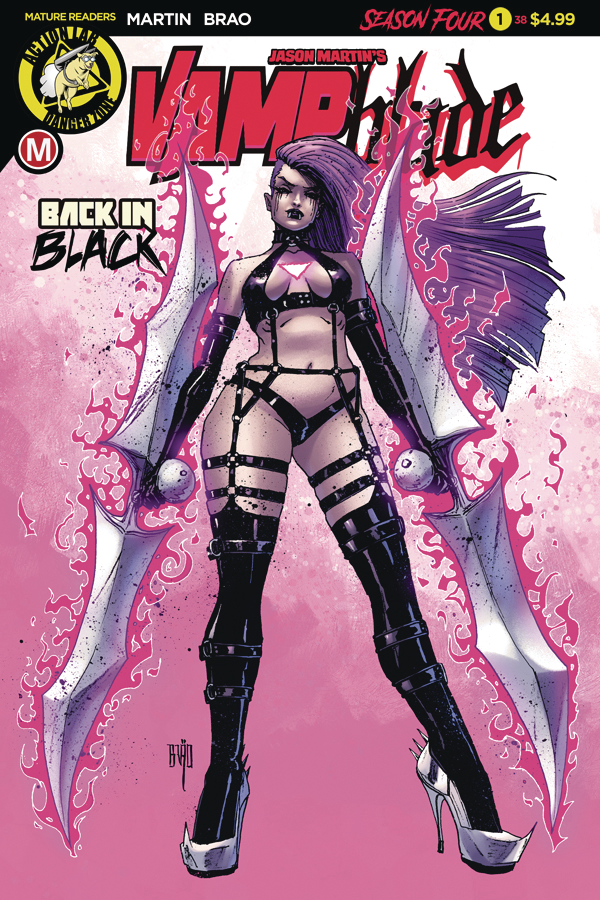 VAMPBLADE SEASON 4 #1 CVR A BRAO (MR)
ACTION LAB - DANGER ZONE
FEB191324
(W) Jason Martin (A/CA) Brao
New season! New artist! New costume! Katie Carva is back! Back from an alternate Earth, back from hell, and back to running a comic shop by day, and wielding other-dimensional-parasite slaying bloodthirsty blades by night! Features 3 regular and risqué variants, plus Dan Mendoza (Zombie Tramp, DollFace) plus special incentive and super limited virgin variants! Now with legacy (#38) numbering.
In Shops: Apr 24, 2019
SRP: $4.99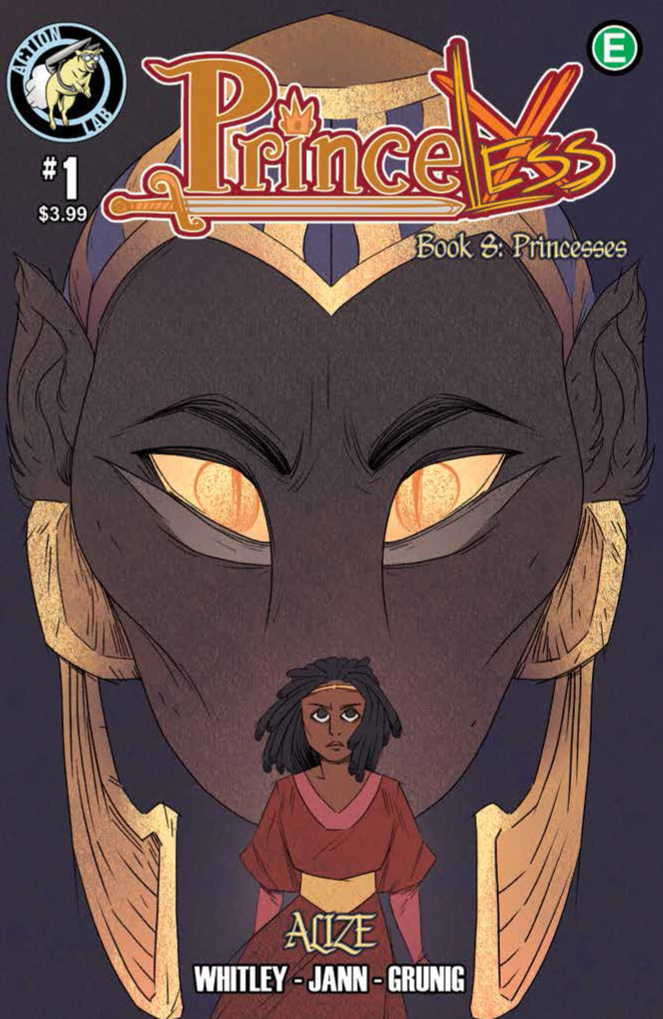 PRINCELESS BOOK 8 PRINCESSES #1
ACTION LAB ENTERTAINMENT
FEB191305
(W) Jeremy Whitley (A) Brett Grunig (A/CA) Jackie Crofts
Angelica is and has been the most beautiful princess in all of Ashland... but what does she do with that? Ever since Adrienne's visit she's been determined to find a calling and to do something more than just sit around and look cute. And she's been failing, miserably. But when a new game becomes popular among her followers, Angelica discovers that there's more to this game than meets the eye and that she might be really good at something after all!
In Shops: Apr 24, 2019
SRP: $3.99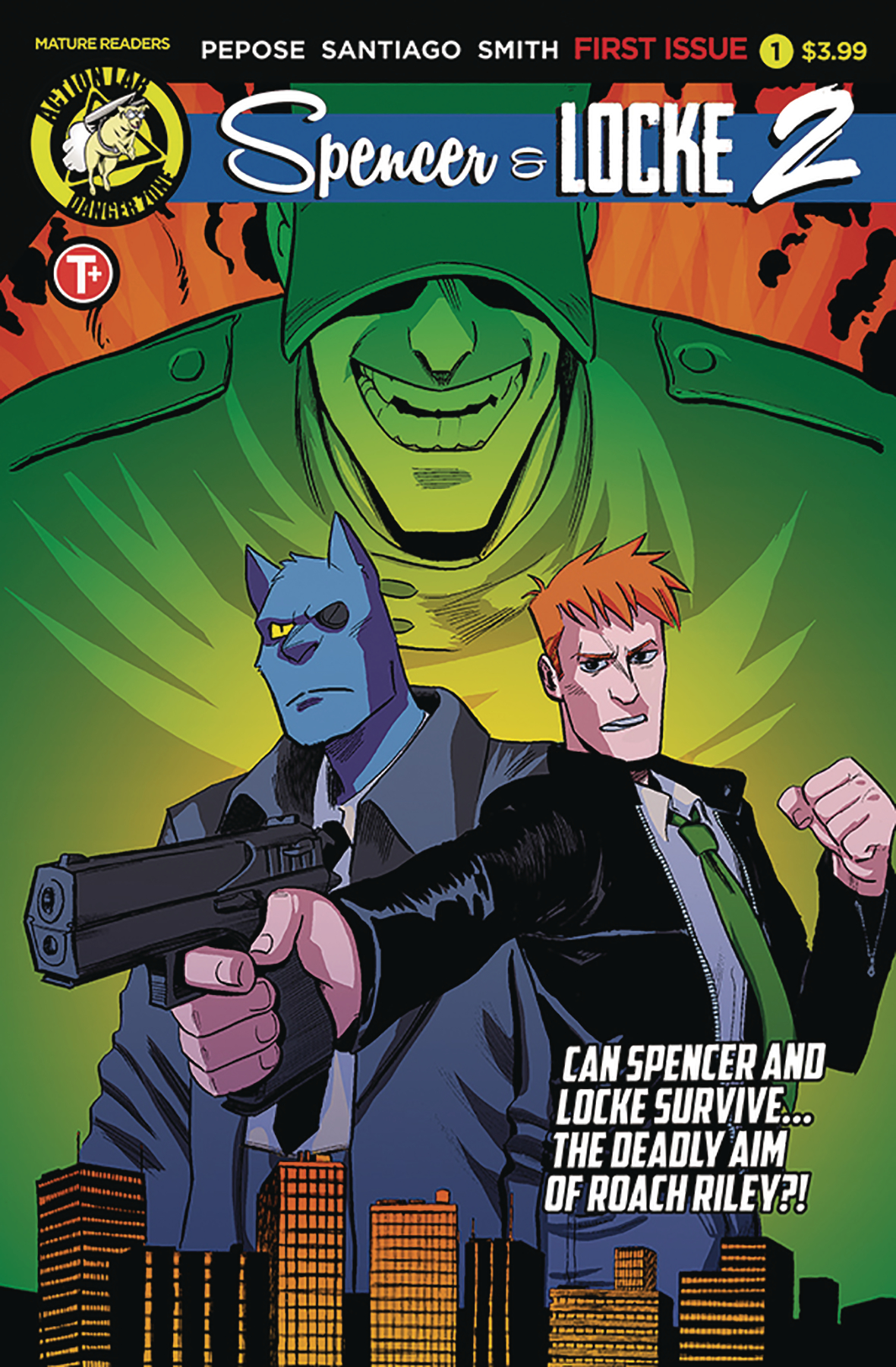 SPENCER AND LOCKE 2 #1 CVR A SANTIAGO
ACTION LAB - DANGER ZONE
FEB191309
(W) David Pepose (A) Jasen Smith (A/CA) Jorge Santiago, Jr.
Suspended by Internal Affairs, Detective Locke grapples with the demons of his past alongside his trusty partner, his childhood imaginary panther Spencer. But when Spencer and Locke face a scarred soldier named Roach Riley, will this unlikely pair finally meet their match?
In Shops: Apr 24, 2019
SRP: $3.99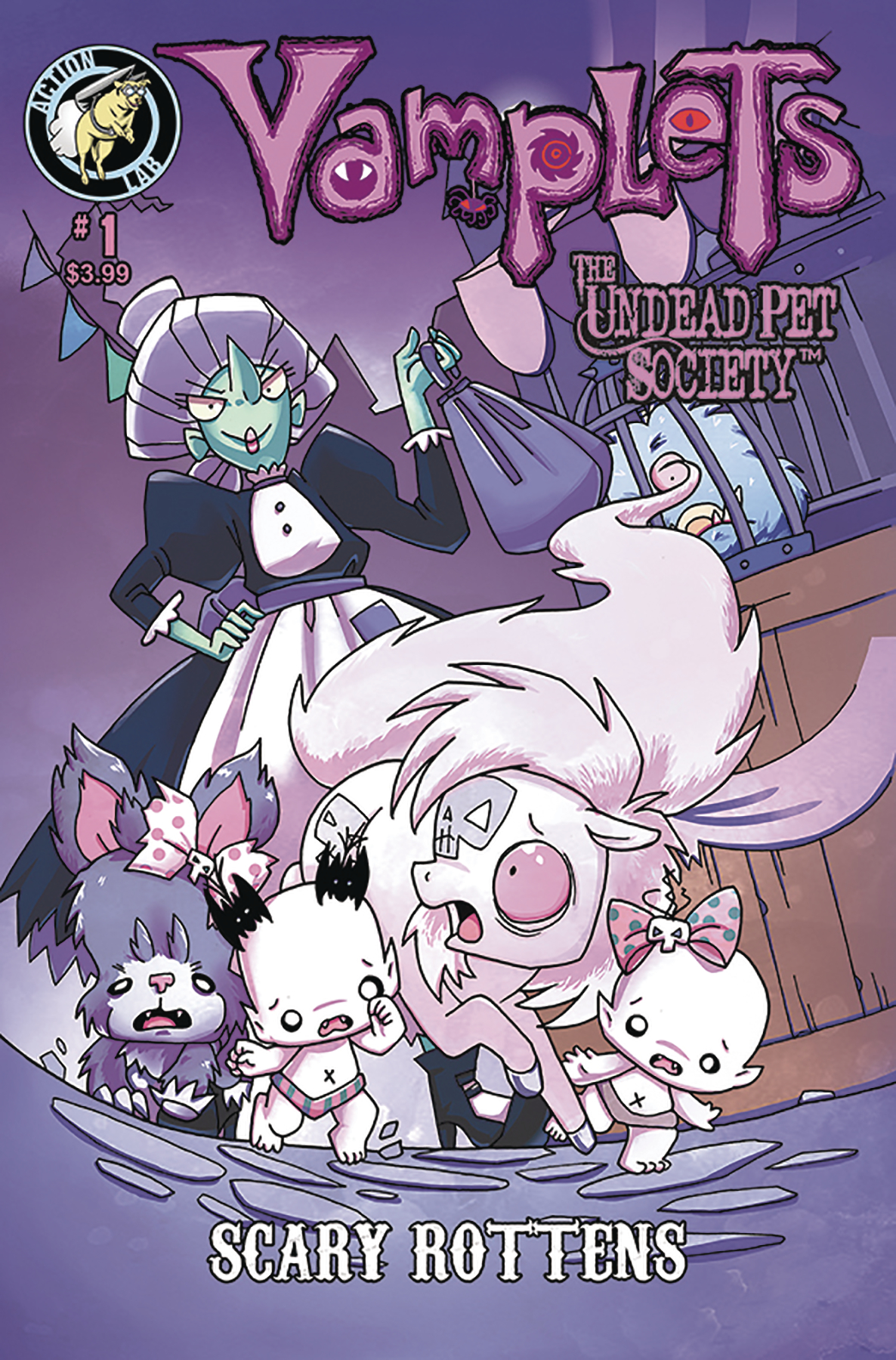 VAMPLETS UNDEAD PET SOCIETY #1 SCARY ROTTENS CVR A CORONADO
ACTION LAB ENTERTAINMENT
FEB191307
(W) Gayle Middleton (A/CA) Amanda Coronado
Vamplets have always been obsessed with their pets, but now who can save the Ponies from a new villain? Someone is capturing the different Pony's all over Gloomvania, causing chaos in their wake. Who will be able to stop them, and what secret connection do they have to the elusive Ghost Pony?
In Shops: Apr 24, 2019
SRP: $3.99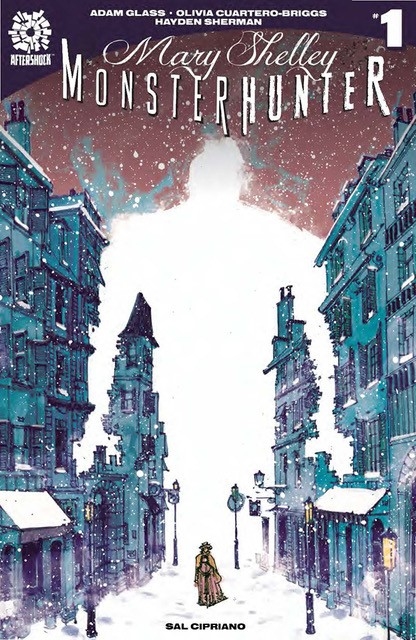 MARY SHELLEY MONSTER HUNTER #1 SHERMAN CVR
AFTERSHOCK COMICS
FEB191342
(W) Adam Glass, Olivia Cuartero-Briggs (A/CA) Hayden Sherman
For nearly two centuries, scholars have wondered how on earth Mary Shelley, a nineteen-year-old girl, was able to conjure one of the most frightening and enduring horror stories of all-time: Frankenstein.
But with the recent discovery of Mary Shelley's secret memoir, the truth is finally revealed: Mary Shelley didn't just write Frankenstein, she lived it. Traveling back to that historic Geneva winter of 1816, Mary, her fiancé Percy, sisters Claire and Fanny, and the celebrated poet Lord Byron, find themselves guests of the eerie Frankenstein Estate. The macabre and frightening events that follow lead Mary to both a gruesome and shocking discovery. Their mysterious host is not at all what they expected, and their intentions will change the course of Mary's life for-ever.
Brought to life by Adam Glass (ROUGH RIDERS, THE NORMALS, THE LOLLIPOP KIDS) and Olivia Cuartero-Briggs (E TV's The Arrangement) with art by Hayden Sherman (COLD WAR, The Few, Wasted Space), Mary Shelley: Monster Hunter is historical fiction at its most (After)shocking!
In Shops: Apr 17, 2019
SRP: $3.99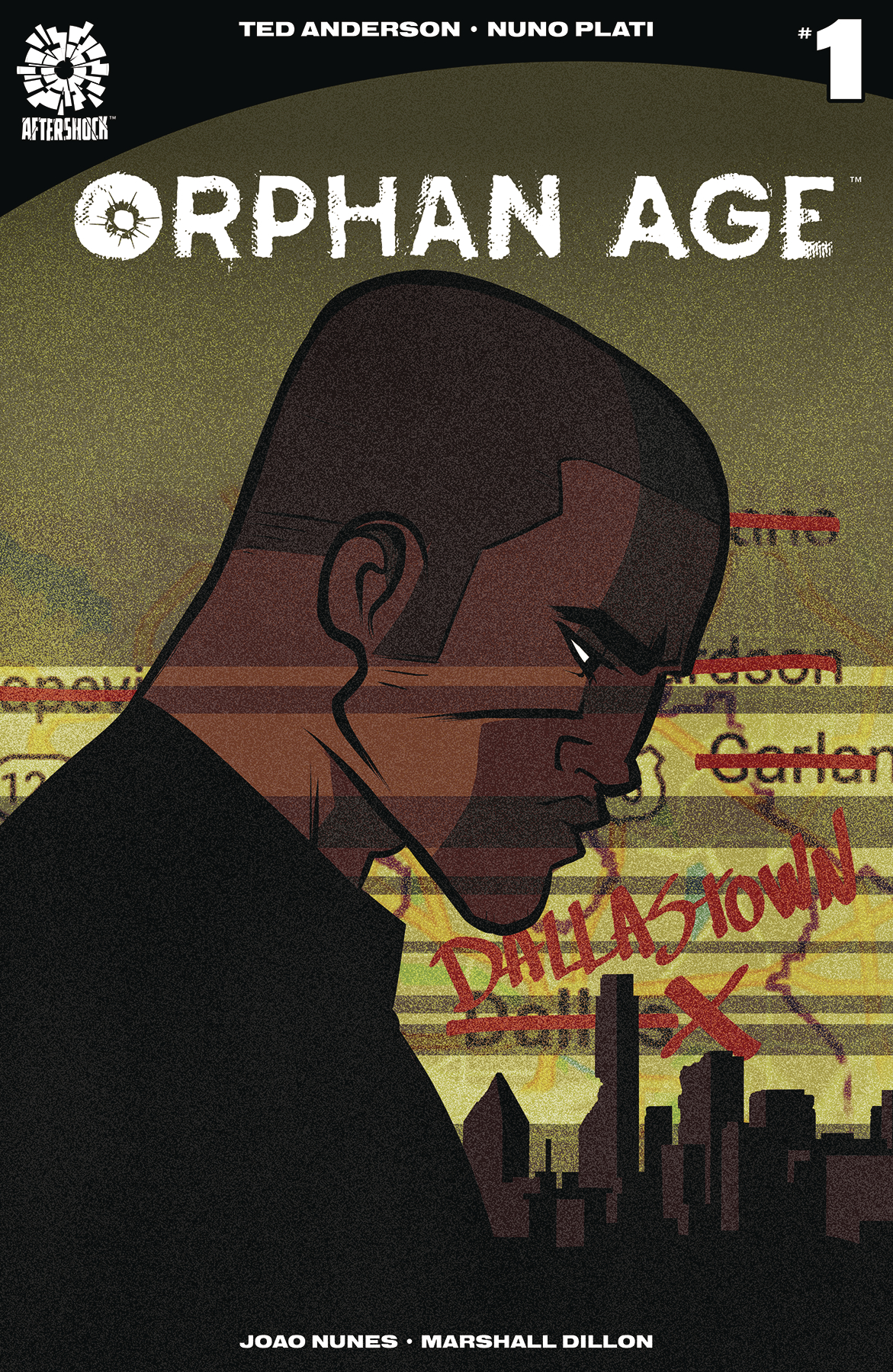 ORPHAN AGE #1 PLATI CVR
AFTERSHOCK COMICS
FEB191344
(W) Ted Anderson (A/CA) Nuno Plati
One day all the adults died, all over the world, at the same time.
Now it's twenty years later, and the children - all grown up - are still rebuilding the world. Horses and caravans are the only thin lines connecting tiny, scattered settlements - little sparks in the great dark night. Gasoline is gone, phones long-dead, television a memory. The only power in America is the New Church, the religion of the angry children, that blames the destruction of the old world on the dead adults.
In the settlement of Dallastown, a stranger comes riding in one day, telling a story of escape from the New Church's unstoppable Firemen. The Church is on the march, and the world might burn again - and the only hope might be a scared teenage girl, a gunslinger keeping his se-crets, and a woman of few words and long knives. Welcome to the Orphan Age.
Written by Ted Anderson (MOTH & WHISPER, My Little Pony, Adventure Time) with art by Nuno Plati (Alpha: Big Time, Marvel Girl).
In Shops: Apr 10, 2019
SRP: $3.99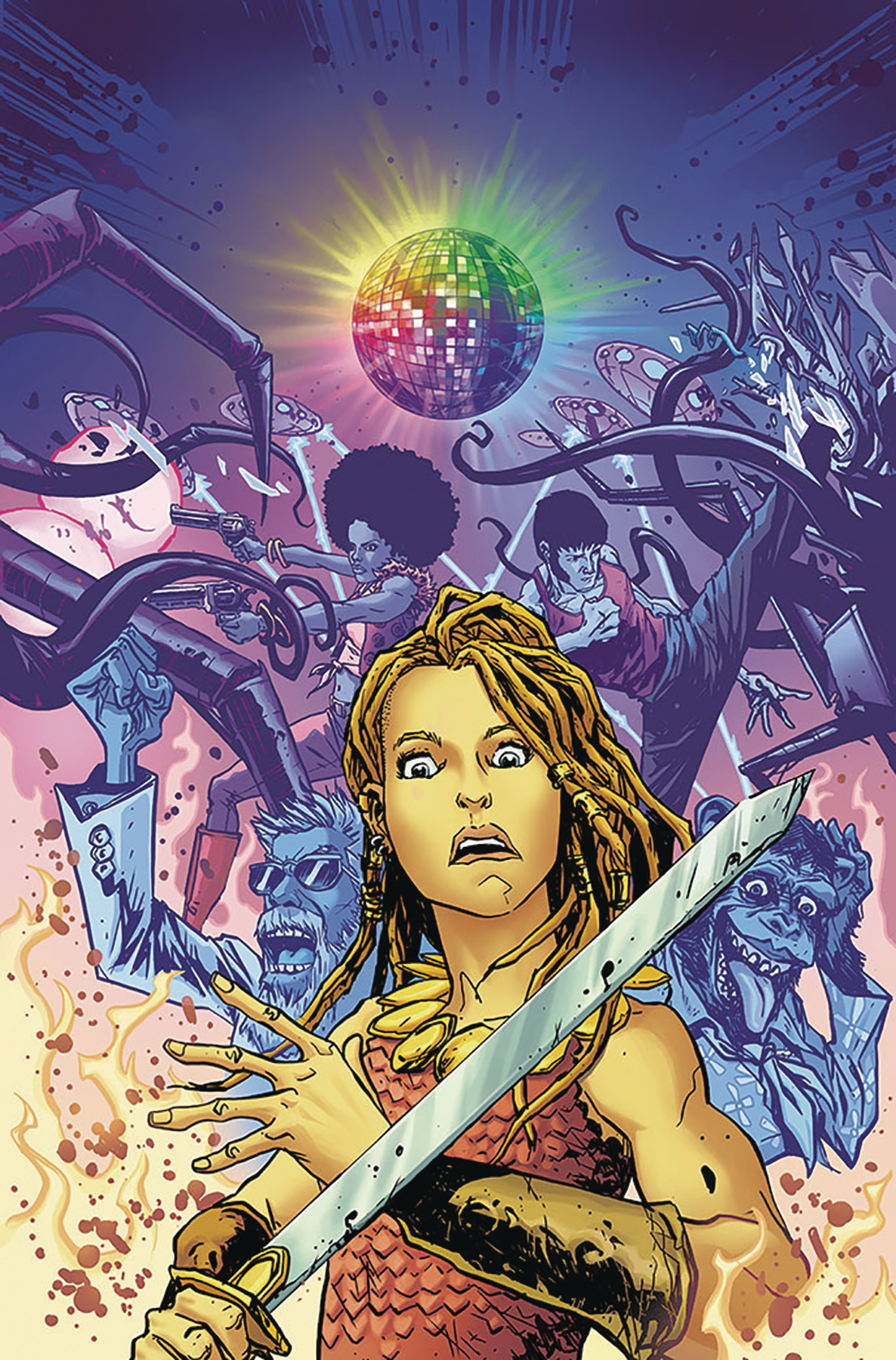 BRONZE AGE BOOGIE #1
AHOY COMICS
FEB191352
(W) Stuart Moore, Tyrone Finch (A) Alain Mauricet (A/CA) Alberto Ponticelli
AHOY Wave Two begins!
What do you get when you combine all the best-loved comics genres of the 1970s: apes, monsters, Kung Fu, sword-and-sorcery, and cosmic adventure? You get
Bronze Age Boogie
, an intense, character-based action-fest with plenty of style! In this collector's item first issue, young barbarian princess Brita Constantina finds herself battling a Martian invasion in both 1975 AD
and
BC! Back-feature: Meet Major Ursa, the first bear in space. But will he be a hero or a villain? Plus the usual assortment of AHOY extra text stories!
In Shops: Apr 03, 2019
SRP: $3.99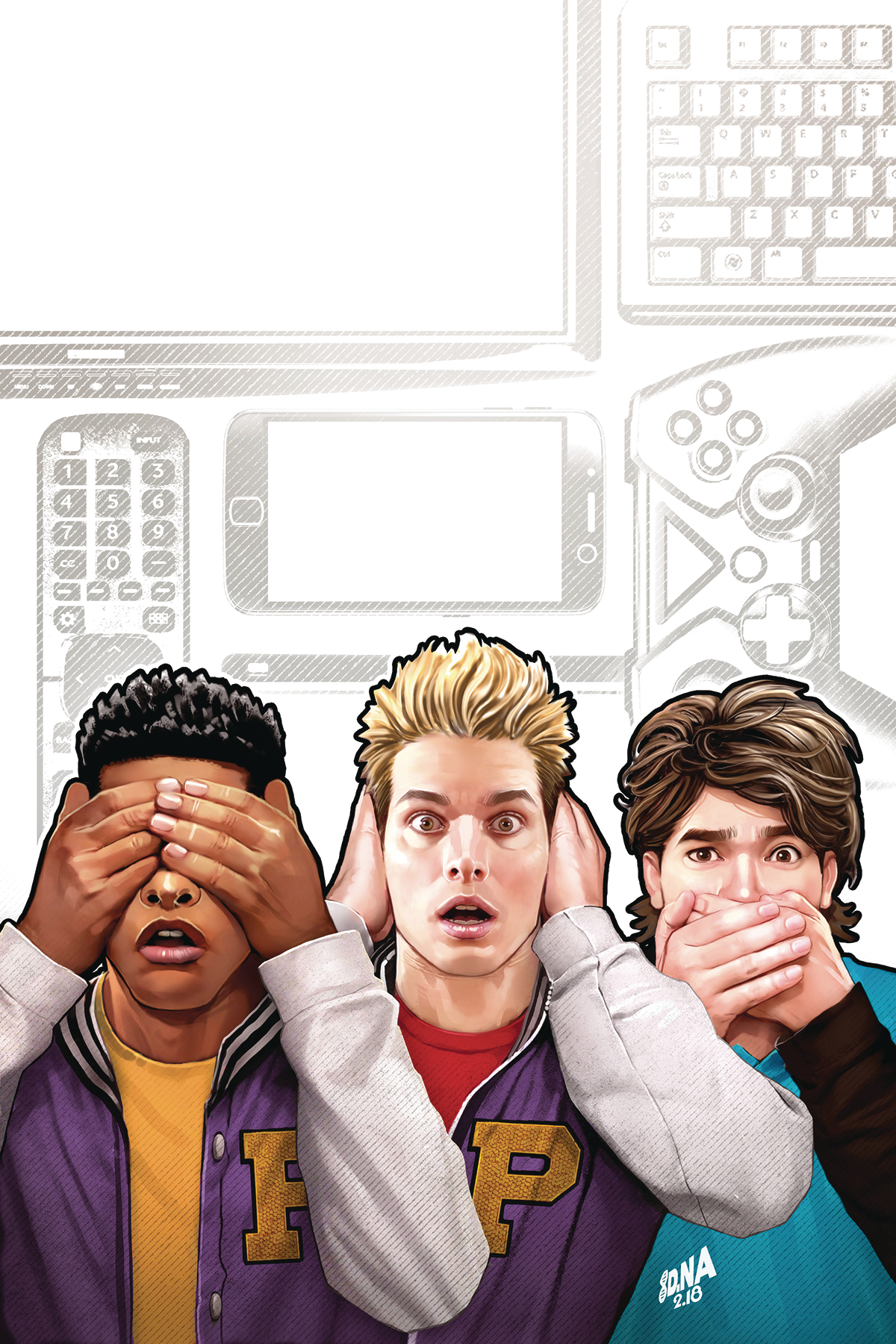 PLANET OF THE NERDS #1
AHOY COMICS
FEB191353
(W) Paul Constant (A) Alan Robinson, Randy Elliott (CA) David Nakayama
AHOY Wave Two continues! Three high school jocks in the 1980s are accidentally frozen by an experimental cryogenics device, only to be revived in the computer-driven, superhero movie-loving world of 2019, an era ruled by nerds! Plus! A backup series explores the characters' origins. Eztra! Prose and pictures by the finest talens in and out of the comics industry!
In Shops: Apr 17, 2019
SRP: $3.99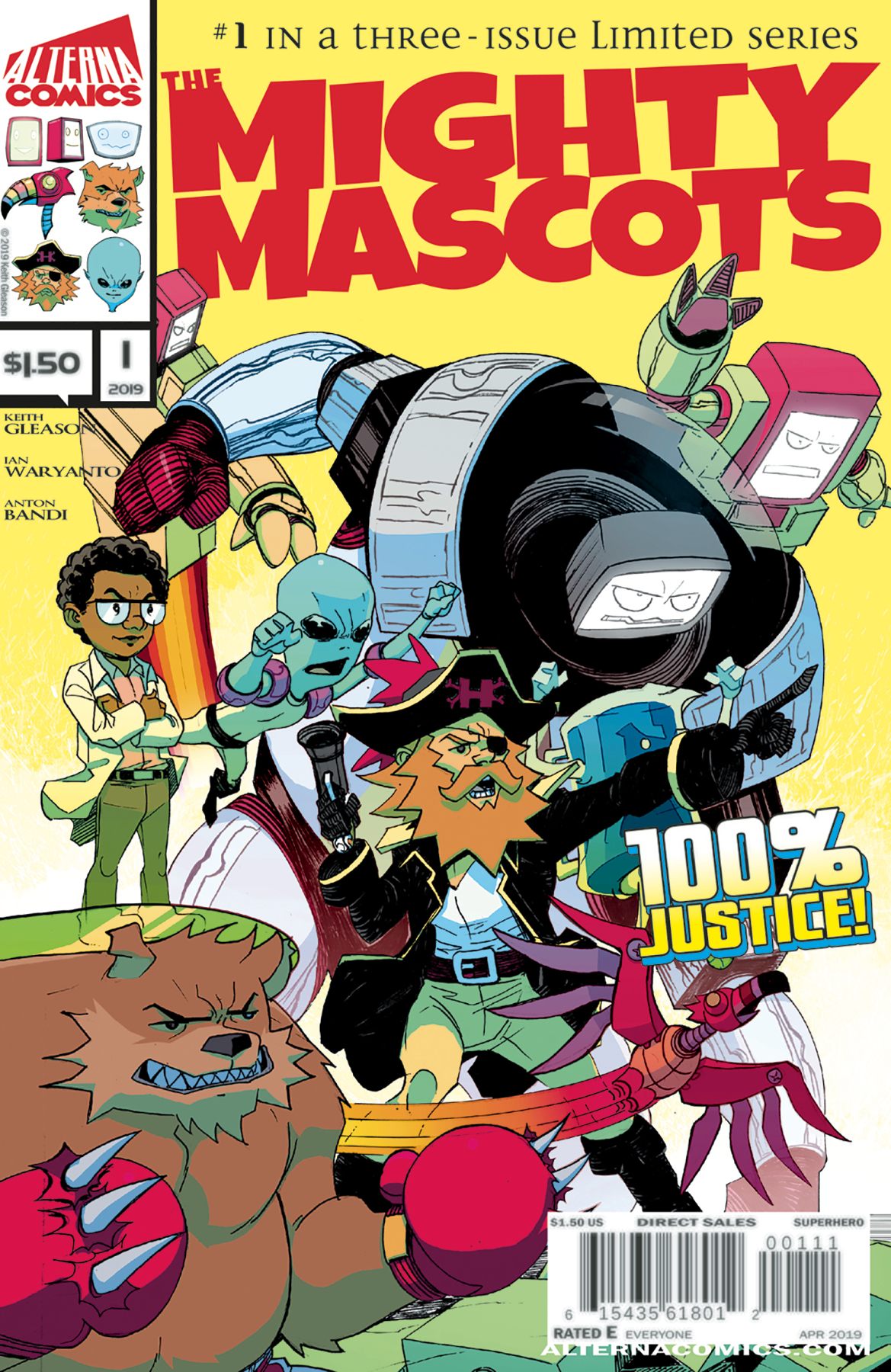 MIGHTY MASCOTS #1 (OF 3)
ALTERNA COMICS
FEB191362
(W) Keith Gleason (A) Ian Waryanto (CA) Anton Bandi
Say hello to the weirdest superhero group to ever grace a four-color panel! When a local supermarket becomes ground zero for an evil experiment, the Mighty Mascots race to the scene, but what they find there may bring a quick end to their newfound heroics!
In Shops: Apr 24, 2019
SRP: $1.50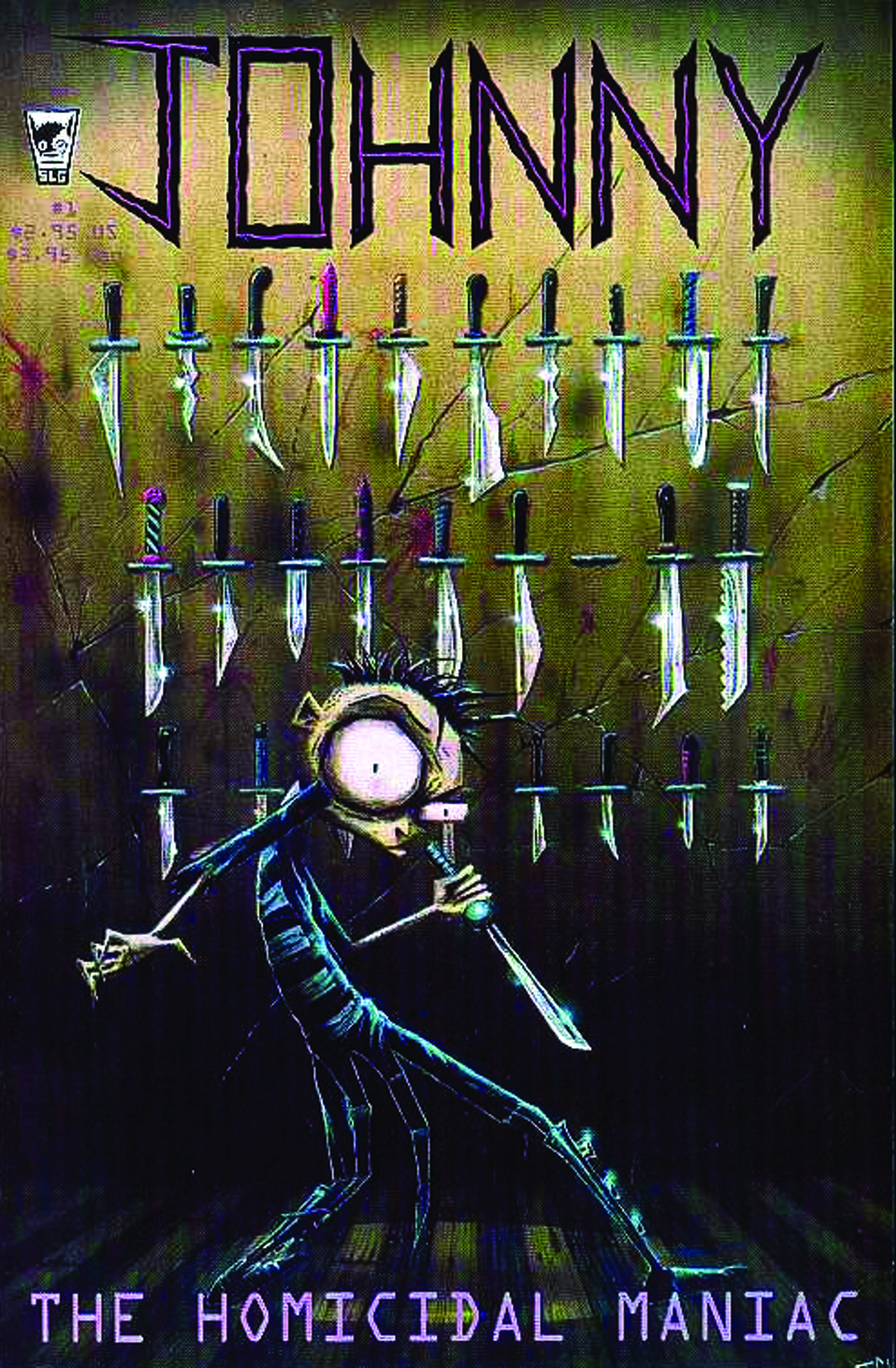 JOHNNY THE HOMICIDAL MANIAC #1 NEW PTG (O/A)
AMAZE INK (SLAVE LABOR GRAPHICS)
FEB191363
(W) Jhonen Vasquez (A/CA) Jhonen Vasquez
Enter the dark corners of the human psyche in these hilarious and thought-provoking episodes in the life of one spindly, black-clad young homicidal maniac, as well as his terrified neighbor boy Squee, the unfortunately superior Wobble Headed Bob, a blood-drinking wall, cavernous basement torture rooms, and Johnny's own comic, Happy Noodle Boy.
In Shops: Mar 20, 2019
SRP: $3.50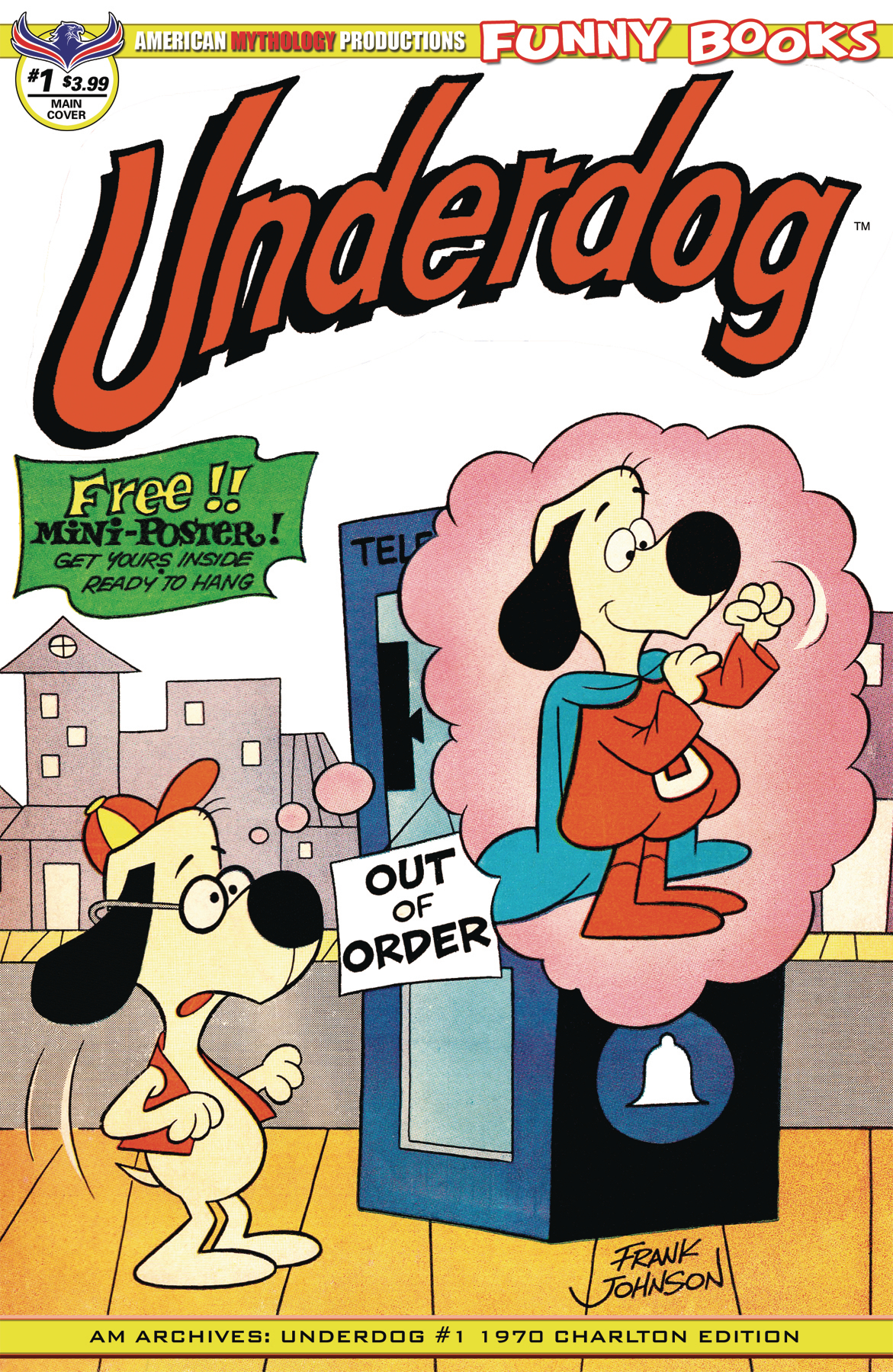 AM ARCHIVES UNDERDOG #1 CHARLTON ED
AMERICAN MYTHOLOGY PRODUCTIONS
FEB191381
(W) Frank Johnson (A/CA) Frank Johnson
There's no need to fear! The impossible-to-find Charlton Comics first-ever issue of UNDERDOG is here! Reprinted in its entirety for the first time since July of 1970-holdy cow, that almost 50 years ago! Come with us bacl to the age of Saturday morning cartoons with one of the all-time favorites, Underdog! Classic tales like "Planet Zot" and "Twinkles Winkles & Tinkles" by master artist Frank Johnson are waiting for you to pull up a comfy chair and grab a bowl of cereal!
In Shops: Apr 03, 2019
SRP: $3.99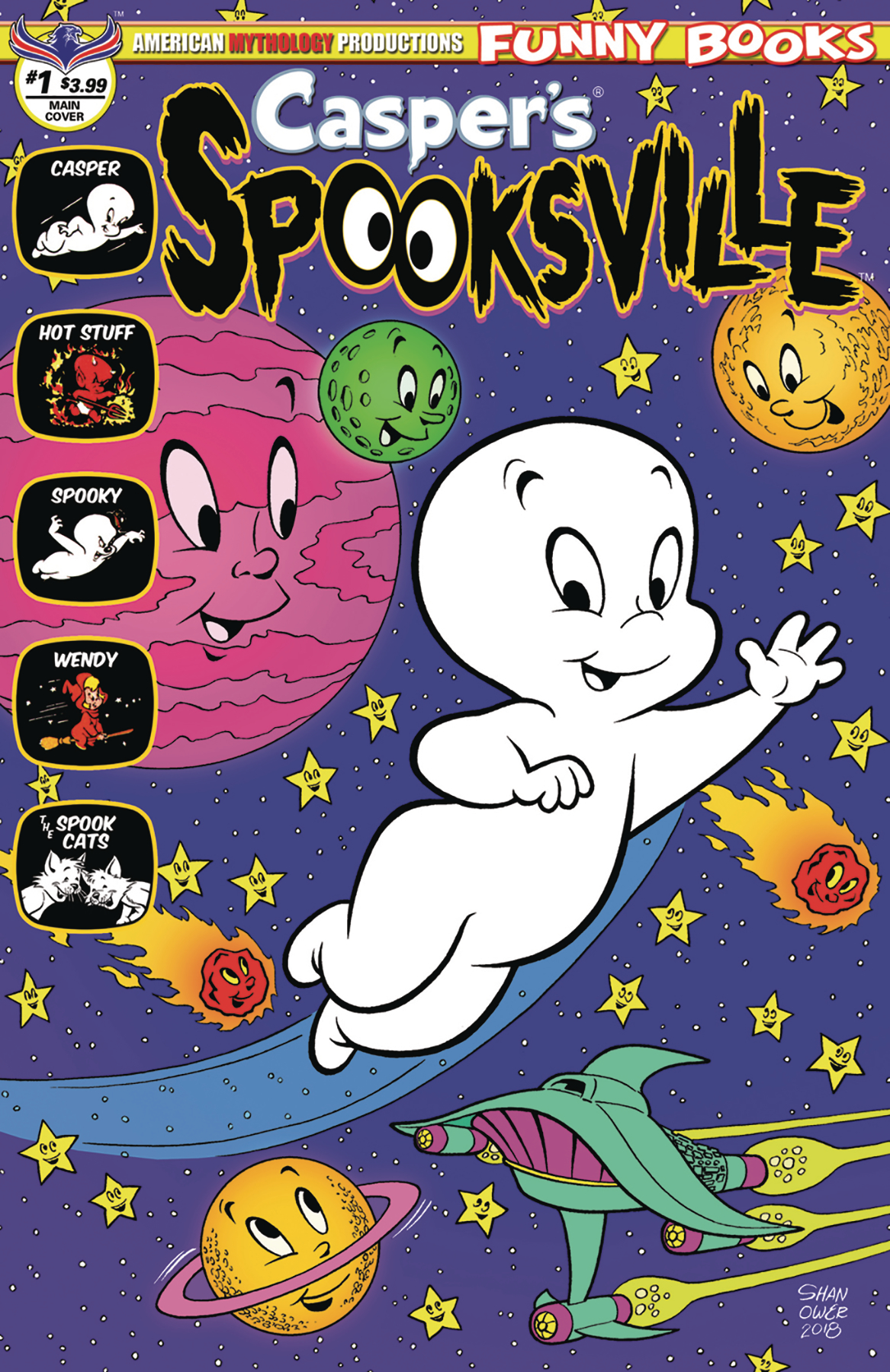 CASPERS SPOOKSVILLE #1 (OF 4) SHANOWER MAIN CVR
AMERICAN MYTHOLOGY PRODUCTIONS
FEB191378
(W) Mike Wolfer, Rodolfo Mutuverria (A/CA) Eric Shanowar
Welcome, friends - to a brand new monthly Casper series featuring all of your favorite pals: Hot Stuff, Wendy, Spooky, The Ghostly Trio, and of course, Casper! These are new tales in the Harvey style you grew up with and love. And they are lovingly crafted by artists and writers that are huge fans of Casper and his friends. Come with us to the Enchanted Forest where magic and mischief abound with new and classic stories. Share Casper's Spooksville #1 with a new friend as this issue will be in stores before Free Comic Book Day and ties in to our fun FCBD issue! Casper's Spooksville #1 comes with three covers - Main by Eisner Award winning artist Eric Shanower, Spook the Moon by Jeff Scherer, and a nostalgic Retro Animation Limited Edition Cover!
In Shops: Apr 10, 2019
SRP: $3.99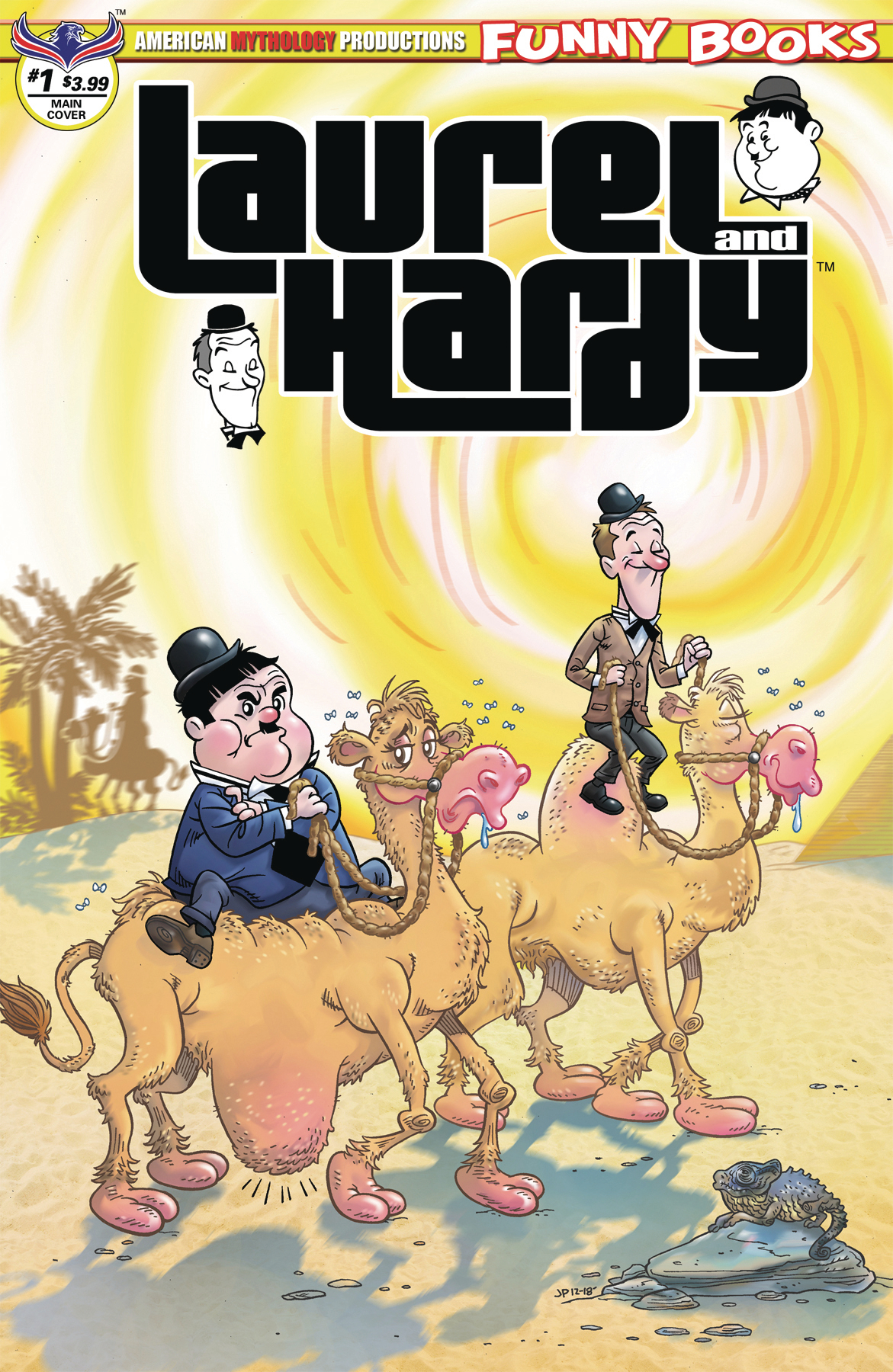 LAUREL & HARDY #1 PACHECO MAIN CVR
AMERICAN MYTHOLOGY PRODUCTIONS
FEB191367
(W) Jordan Gershowitz (A) Jorge Pacheco
LEGENDARY COMEDY DUO LAUREL & HARDY JOIN OUR NOSTALGIA COMEDY LINE!
Laurel & Hardy are back with brand new nostalgic adventures based on their fan-favorite comedy! The magic of Stan Laurel and Oliver Hardy was recently reintroduced through the
Stan & Ollie
film starring John C. Reilly and Steve Coogan!
Jorge Pacheco returns to Laurel & Hardy for the first time in 30 years, delivering beautiful interior and cover art!
Laurel & Hardy #1
comes in two covers: Main and Limited Edition by Pacheco! But don't let comic book history pass you by! Grab a copy of our special B&W 350-copy limited edition
Laurel & Hardy
comic book while they're still available!
In Shops: Apr 17, 2019
SRP: $3.99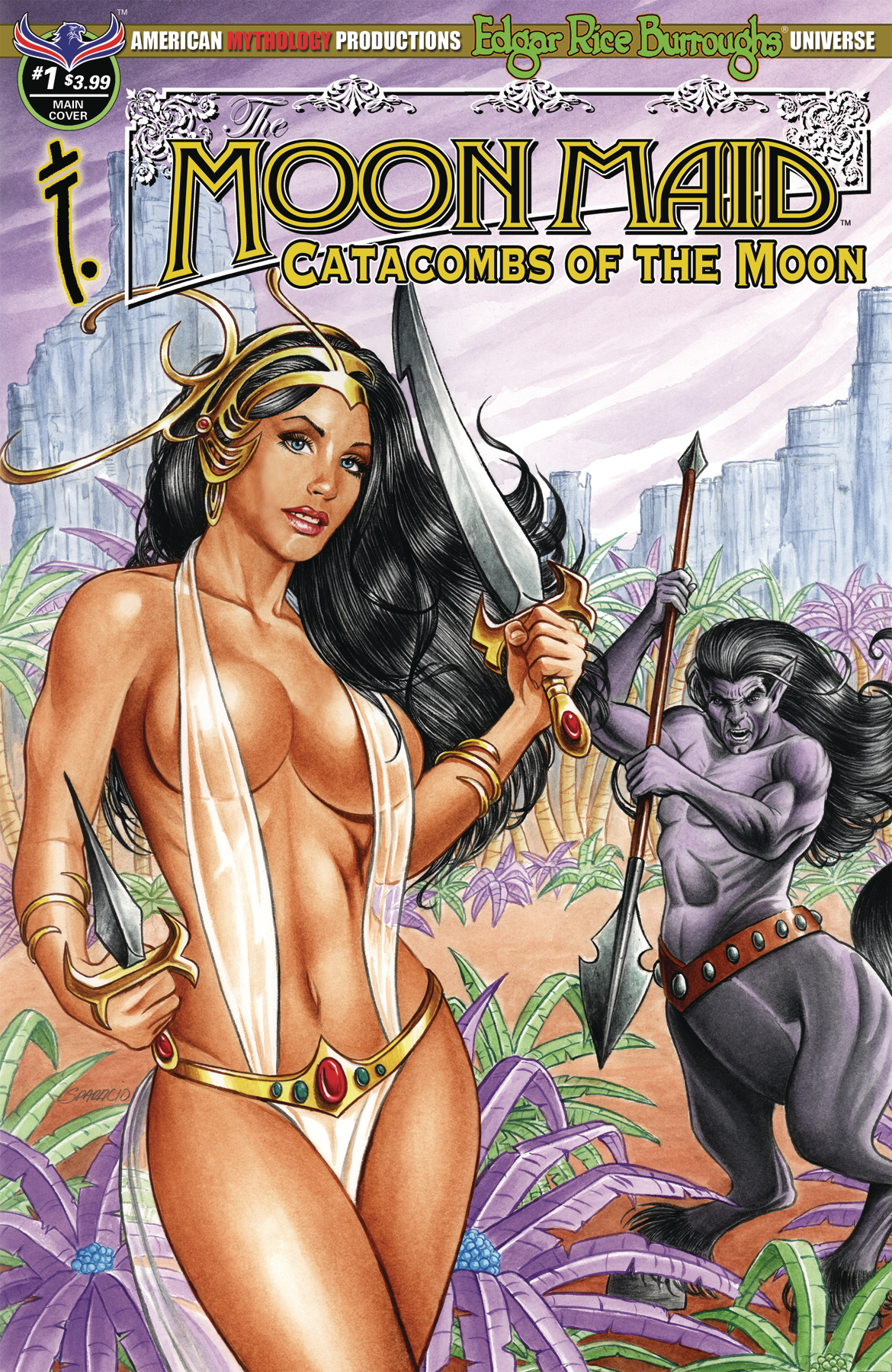 MOON MAID #1 MAIN SPARACIO CVR
AMERICAN MYTHOLOGY PRODUCTIONS
FEB191369
(W) Christopher Mills (A) Gabriel Rearte (CA) Mark Sparacio
The first full series of THE MOON MAID is here at last! Picking up after the end of the "Fear on Four Worlds" introduction issue, we return to the ancient subterranean world on the Moon where primal savagery rules and only the strong survie. Nah-ee-lah must find her way home, but to do so she must survive a vile catacomn of horrors filled with monsters and peril. This is Edgar Rice Burroughs' adventure at its finest! THE MOON MAID: CATACOMBS OF THE MOON comes with three covers: Main by painter Mark Sparacio (Chelsea Dagger), "Fury of the Moon Maid" by Puis Calzada (Hatchet), and a 350-copy limited edition Virgin Art cover also by Sparacio.
In Shops: Apr 24, 2019
SRP: $3.99
PINK PANTHER 55TH ANNIVERSARY SPECIAL #1 MAIN CUESTA CVR (O/
AMERICAN MYTHOLOGY PRODUCTIONS
FEB191385
(W) Todd Livingston, Anne Toole (A) Bill Glavan (CA) Jazz dela Cuesta
The first Pink Panther movie debuted in 1963, an amazing 55 years ago, and introduced the world to the coolest animated cat ever, the Pink Panther! Since then we've enjoyed this feisty feline's antics in movies, cartoons, and of course, comic books! Come celebrate this milestone with brand new Pink Panther adventures and hijinks as he confounds The Little Man and tickles your funny bone. The Pink Panther 55th Anniversary Special comes with three covers - Main by Jazz Dela Cuesta, Pink Hijinks by Bill Galvan, and a 55th Anniversary Retro Limited Edition Cover.
In Shops: Mar 20, 2019
SRP: $3.99
PINK PANTHER CARTOON HOUR SPEC #1 MAIN CVR (O/A)
AMERICAN MYTHOLOGY PRODUCTIONS
FEB191387
(W) S.A. Check, Adrian Ropp (A) Bill Galvan, Adrian Ropp (CA) S. L. Gallant
Did you grow up watching The Pink Panther on Saturday morning cartoons? We did! This awesome new special brings back Pink and all his pals in brand new comics! Welcome back the Texas Toads, Misterjaw & Catfish, The Ant and the Aardvark, and many more! Now grab a bowl of cereal and rush to the comic shop to enjoy that nostalgic mix of hilarious hijinks again! Main Wraparound cover by S.L. Gallant, Subscription cover by Adrian Ropp, Pink HiJinks cover by Bill Galvan, and a special Retro Animation Incentive Cover.
In Shops: Mar 20, 2019
SRP: $4.99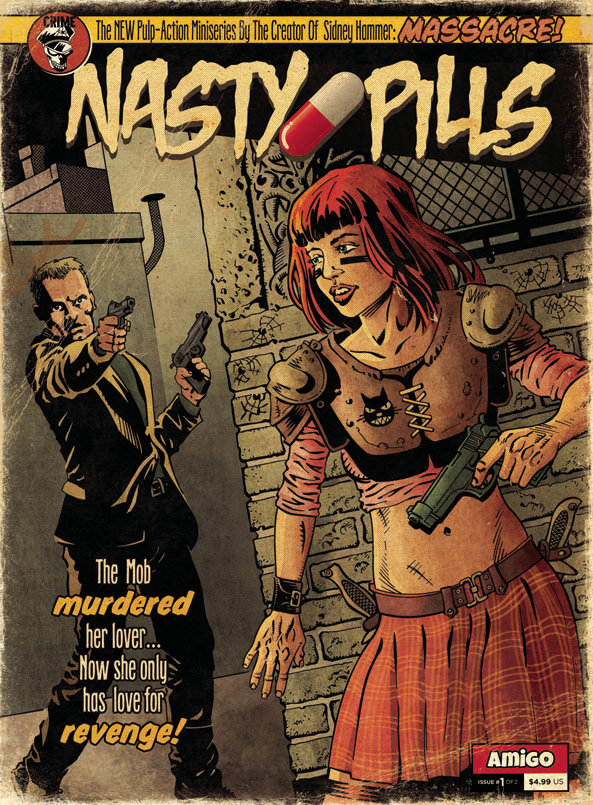 NASTY PILLS #1 (OF 2) (MR)
AMIGO COMICS
FEB191402
(W) Massacre (A) Dani Seijas (A/CA) Massacre
She's on a wild rampage after her lover's death. Driven by drugs and thirst of revenge, May Campbell has a plan and won't let anyone stop her. But what does she want? What does she seek? Justice, revenge, or a painful and confusing mix of the two? Nasty Pills is the new action thriller by indie creator Massacre!
In Shops: Apr 24, 2019
SRP: $4.99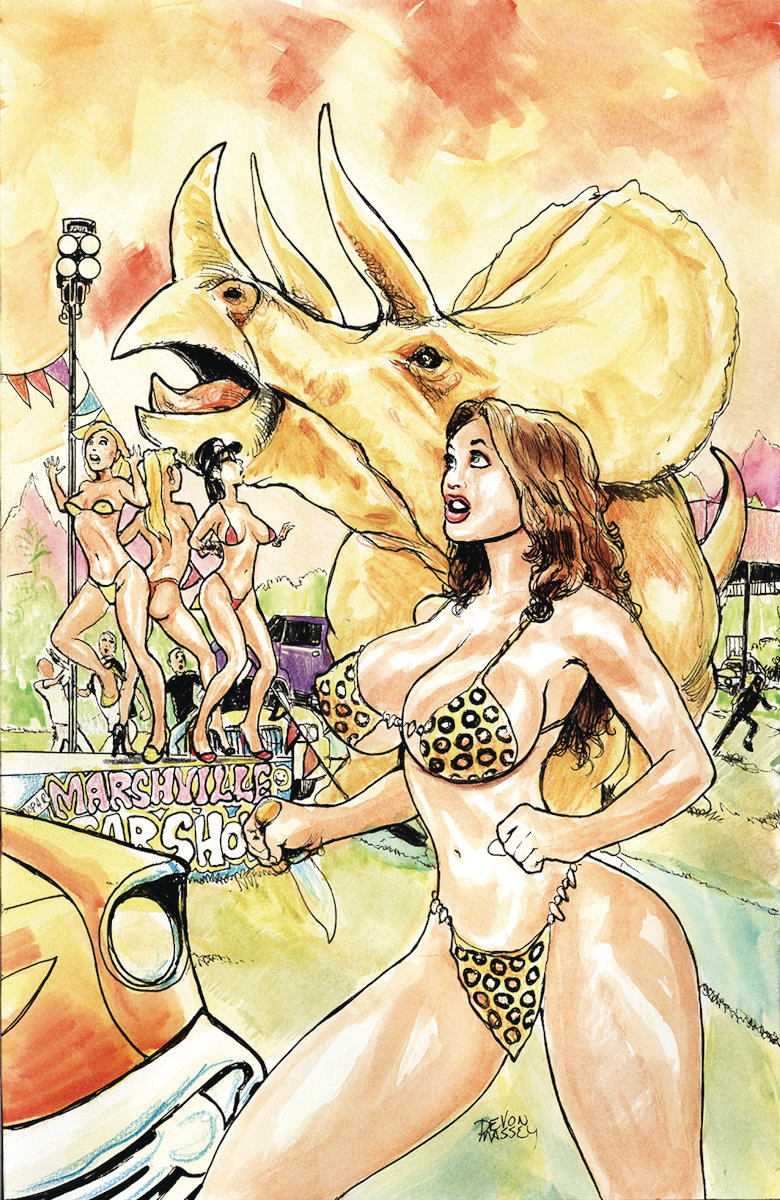 CAVEWOMAN PANDEMONIUM ONE SHOT #1 (OF 1) CVR A MASSEY (MR)
AMRYL ENTERTAINMENT
FEB191406
(W) Devon Massey (A/CA) Devon Massey
Join us at the county fairgrounds for the annual Marshville Car Show. The whole town turns up to enjoy the festivities: classic and custom cars and bikes, corn dogs, funnels cakes, and everyone's favorite, - the teeny bikini contest. It's the perfect summer day until a huge a triceratops crashes the party and as usual its up to Meriem and friends to stop the carnage! A very cool story along with 4 pages of truly awesome pinups of bikini girl contestants.
In Shops: Apr 24, 2019
SRP: $3.99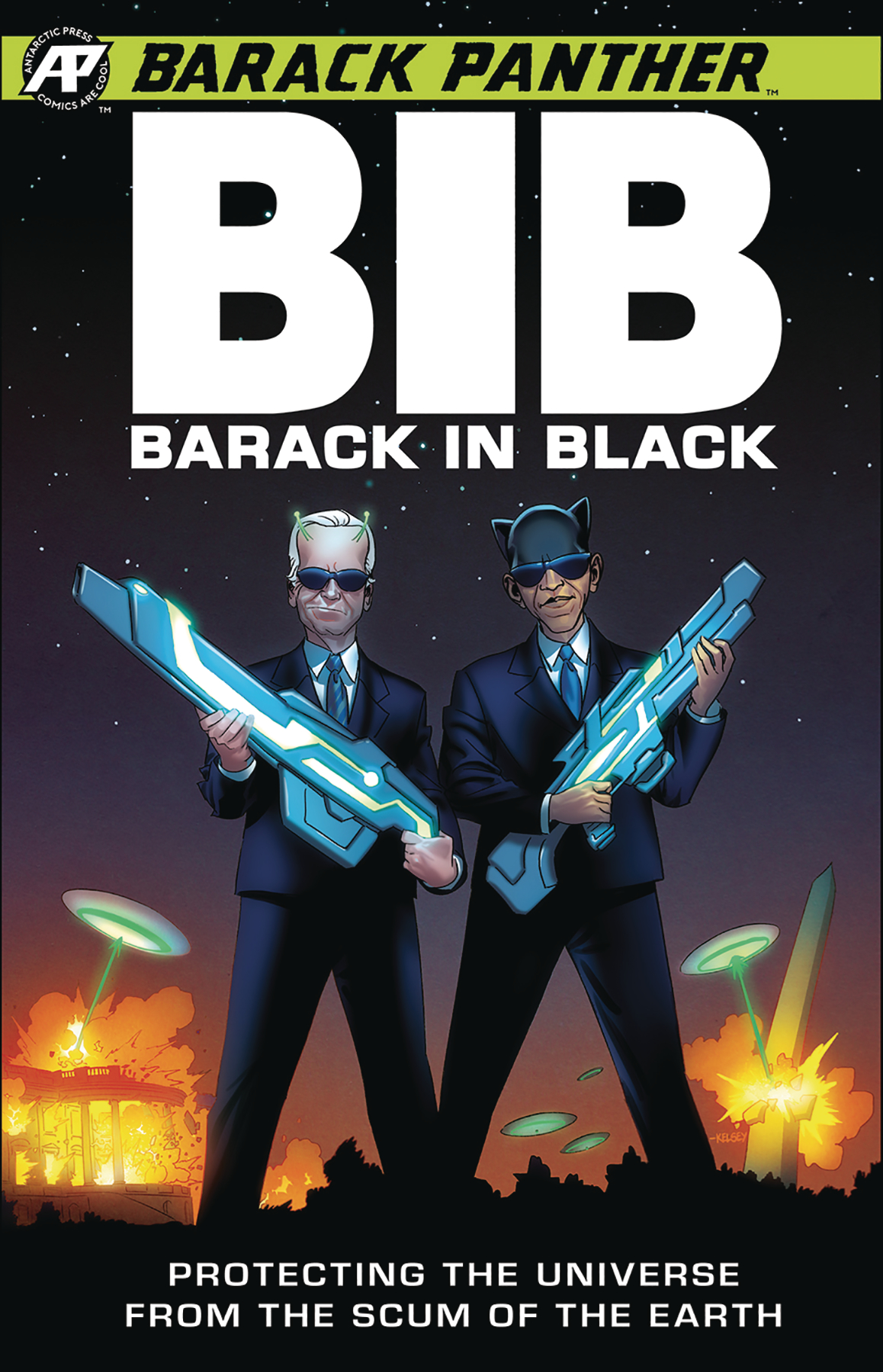 BARACK PANTHER BARACK IN BLACK #1
ANTARCTIC PRESS
FEB191419
(W) Kelsey Shannon (A) Kelsey Shannon
Agents O (Barack "Barack Panther" Obama) and K (Joe Biden) work for the Pols in Black, an unofficial government agency that provides immigration services and regulation of all things alien on Earth. Well, that's how it used to be, but administration changes have cut off much of their resources at a time they need them most. Now an alien visitor to Earth needs to "phone home" to get back, and until he can, O and K need to keep him from being "put on ICE"!
In Shops: Apr 24, 2019
SRP: $4.99 ARCHIE MILESTONES DIGEST #1 (NOV188449)
ARCHIE COMIC PUBLICATIONS
FEB191443
(W) Various (A) Various (CA) George Frese
Archie Comics has been around for over 75 years, and we've had our finger on the pulse of pop culture the entire time! This new digest series will highlight some of the biggest trends in each decade of Archie-including special cameos, fashion fads and historical moments! This series will not only spotlight trends in American culture, but also milestones within the comics, featuring characters' first appearances, landmark stories and more!
In Shops: N/A
SRP: $6.99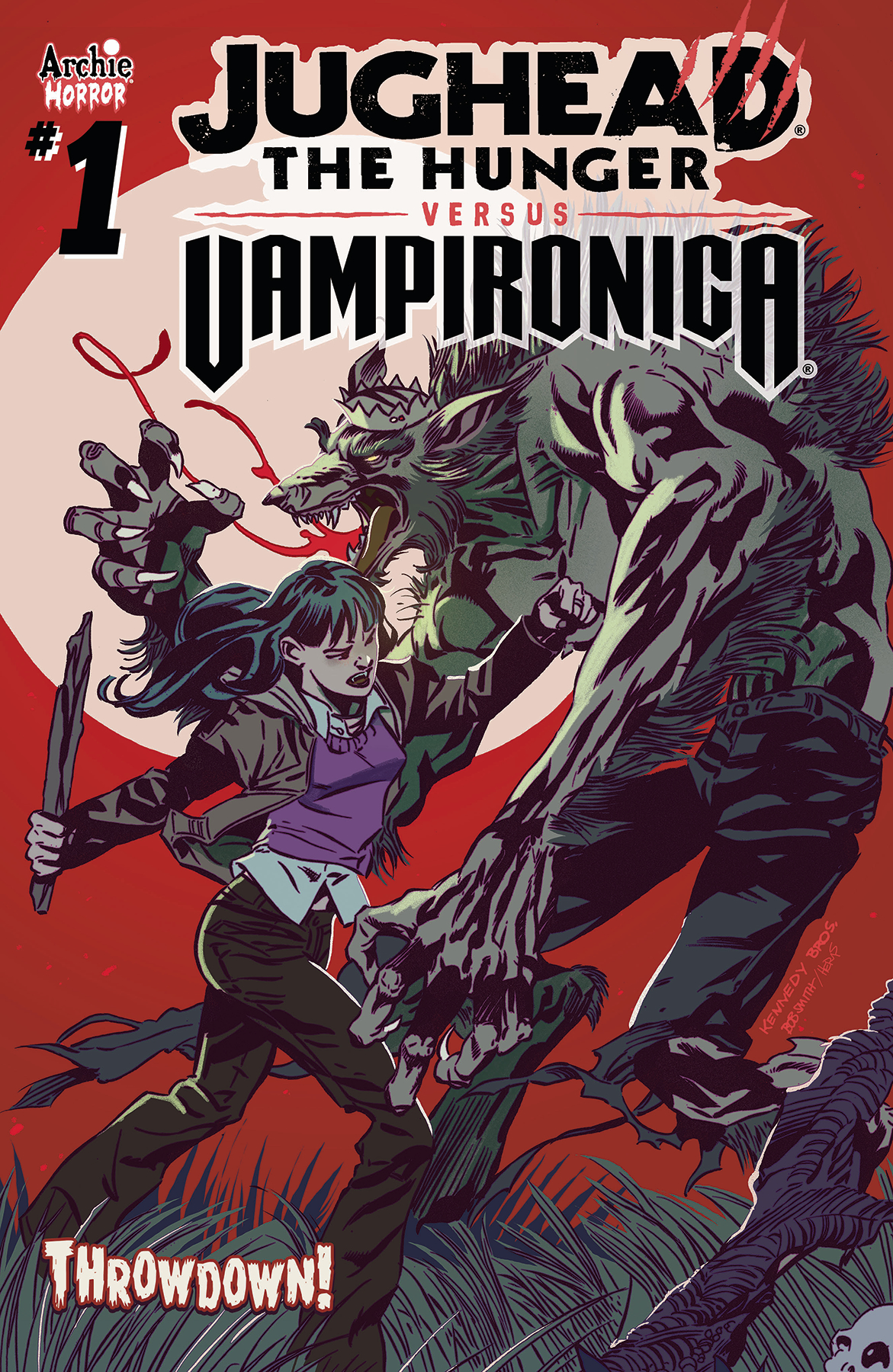 JUGHEAD HUNGER VS VAMPIRONICA #1 CVR A PAT & TIM KENNEDY (MR
ARCHIE COMIC PUBLICATIONS
FEB191424
(W) Frank Tieri (A) Pat & Tim Kennedy (CA) Pat Kennedy, Tim Kennedy
In the world of JUGHEAD THE HUNGER, there are no vampires, having been wiped out in their great war with the werewolves. In the VAMPIRONICA universe, the opposite is the case, as it was the vampires who were the victors. So what happens when these two eternal enemies are brought together again? Whatever it is, it can't be good for poor ol' Jug and Vampironica, you can count on that much...
In Shops: Apr 10, 2019
SRP: $3.99 ASPEN UNIVERSE DECIMATION TP VOL 01 (O/A)
ASPEN MLT INC
FEB191457
(W) Vince Hernandez (A) Marco Renna
The time for Revelations has ended. The time for Decimation has begun...
Following the groundbreaking events of Aspen Universe: Revelations, the world of Aspen's pre-eminent heroes is torn apart by a force far greater than any they have ever faced-the collective might of Aspen's most powerful anti-heroines! Together, this super group of dark ladies have a plan so catastrophic for the future of the Aspen Universe, that NO character is safe from their clutches!
From writer Vince Hernandez (Fathom: Kiani) with art by Marco Renna (Fathom) comes Aspen's deadliest crossover event ever!
The long sold out Kiani volume 3 series is collected in its entirety, including a comprehensive cover gallery and a whole lot more!
In Shops: N/A
SRP: $14.99
HELLWITCH HELLBOURNE #1 STANDARD CVR (MR)
COFFIN COMICS
FEB191659
(W) Brian Pulido, Mike MacLean (A) Diego Bernard (CA) Elias Chatzoudis
Hell. Present day. Hellwitch wasn't always the dominant Hellbourne leader that she is today, able to rival Lady Death in battle. Hellwitch began life as a lowly hatchling, the lowest caste in the magnificent Hellhive, destined forever to be a pit slave. But through sheer drive and determination she rises through the castes to become a warrior, to take a lover, to gain respect. But the hive queen takes notice and makes Hellwitch's life an unbearable Hell. Can a lowly rebel pit slave topple a mighty hierarchy out to crush her? Find out! Contains explicit content.
In Shops: Apr 24, 2019
SRP: $7.99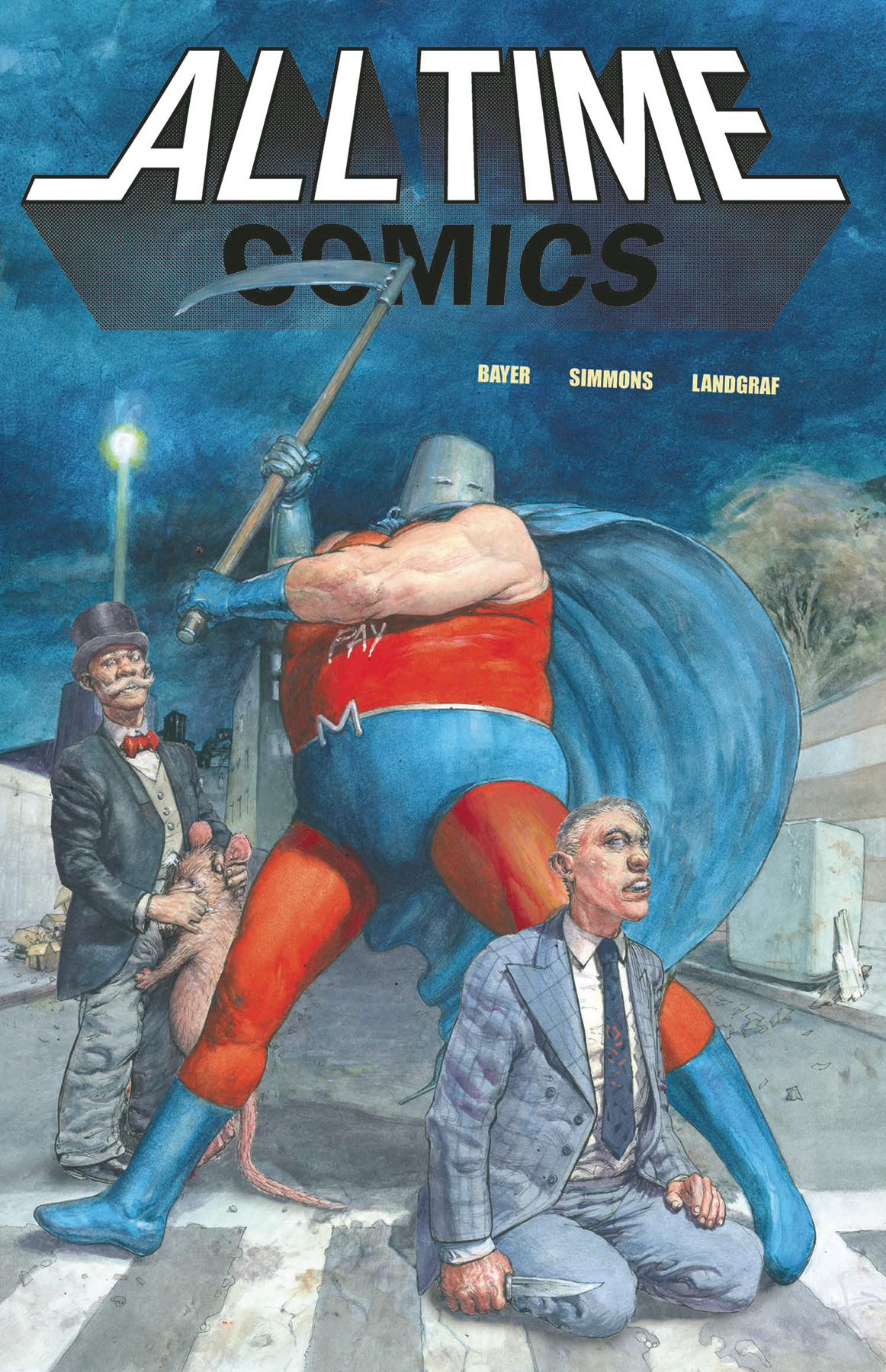 ALL TIME COMICS ZEROSIS DEATHSCAPE #0 (MR)
FLOATING WORLD COMICS
FEB191770
(W) Josh Bayer, Josh Simmons (A) Josh Simmons, Ken Landgraf (CA) Das Pastorus
All Time Comics
is back with the epic, 5 issue miniseries, Zerosis Deathscape! Written by Josh Bayer and Josh Simmons, featuring artwork by Bronze Age mavericks (Trevor Von Eeden!) in collaboration with fearless indie cartoonists (Gabrielle Bell!). This zero issue is the perfect intro to the new wave of
ATC
and it's the first appearance of The Red Maniac!
In Shops: Apr 24, 2019
SRP: $3.99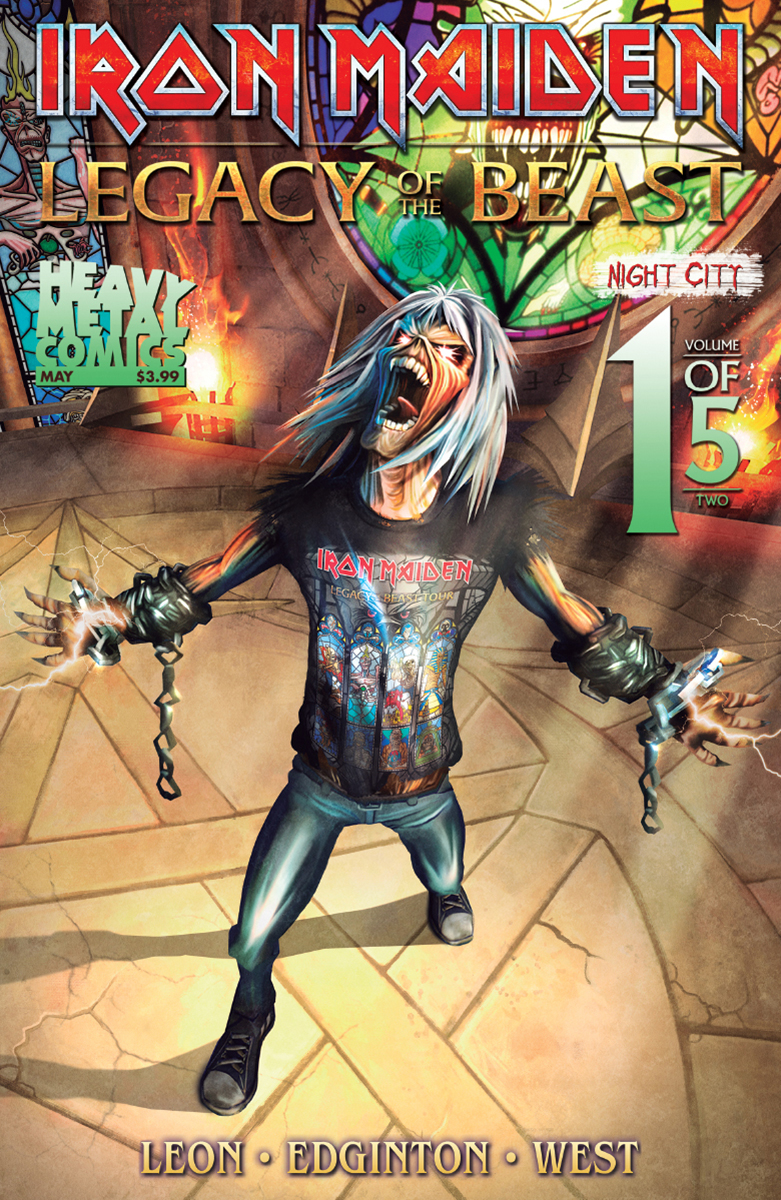 IRON MAIDEN LEGACY O/T BEAST VOL 2 NIGHT CITY #1 CVR A CASAS
HEAVY METAL MAGAZINE
FEB191790
(W) Llexi Leon, Ian Edington (A) Kevin West (CA) Santi Casas
Iron Maiden's Eddie once again battles evil in a city of eternal night, but he can't do it alone.
Teaming up with edgy rocker, Charlotte, togther they will fight an all powerful force threatening the world and maybe even the fabric of the universe.
In Shops: Apr 24, 2019
SRP: $3.99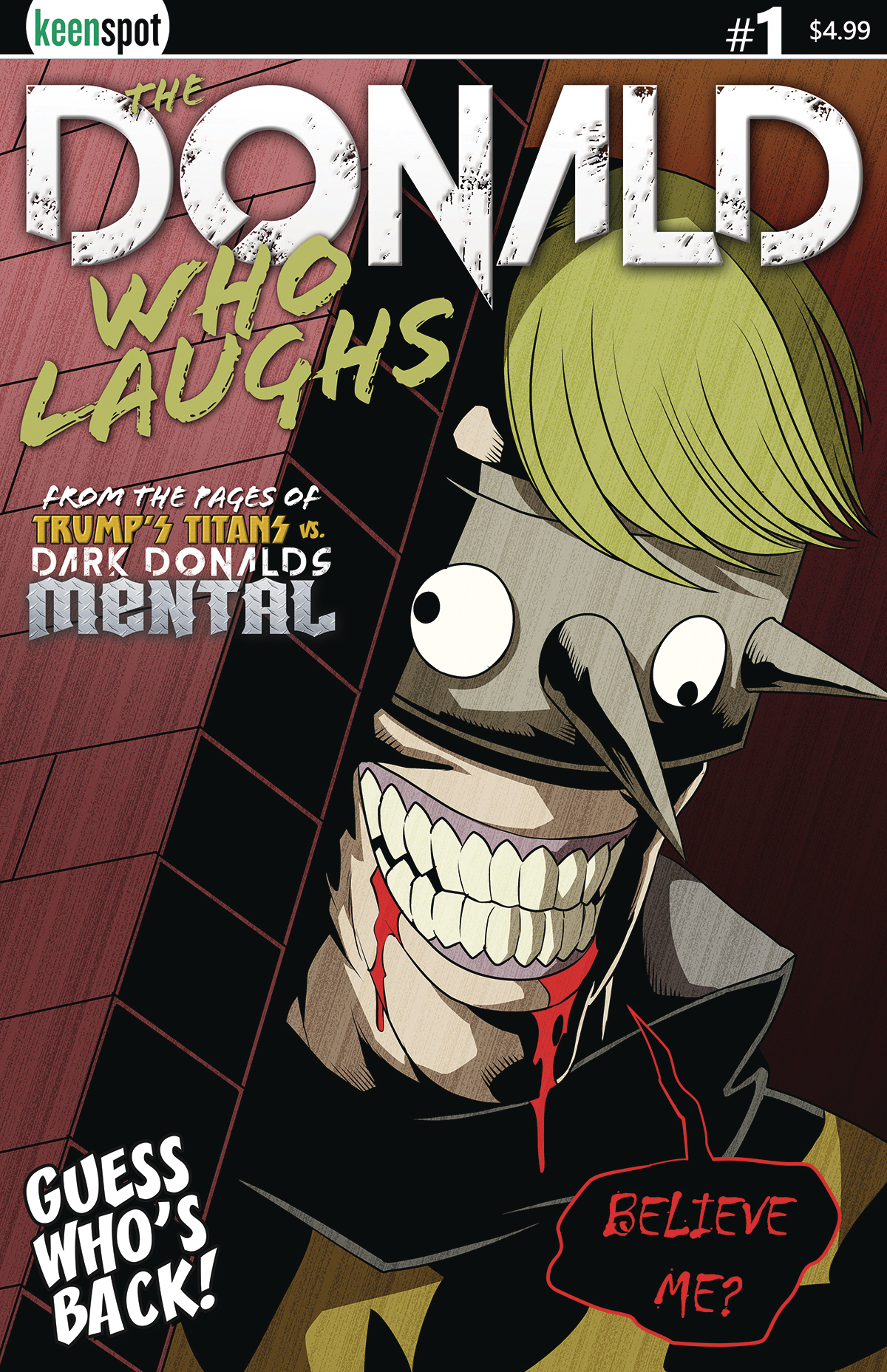 DONALD WHO LAUGHS #1 CVR A MAIN
KEENSPOT ENTERTAINMENT
FEB191828
(W) John Barron (A/CA) Shawn Remulac
President Donald J. Trump, the most powerful superhero in the universe and the leader of the greatest super team in history, has been defeated by the only person who ever could... himself! Following the events of
Dark Donalds: Mental
, it looked as though The Donald Who Laughs was gone forever. Surprise surprise surprise, he was too popular to not survive! The Trump's Titans saga continues in an all-new #1, because #9s are for losers, and The Donald Who Laughs can't lose!
In Shops: Apr 24, 2019
SRP: $4.99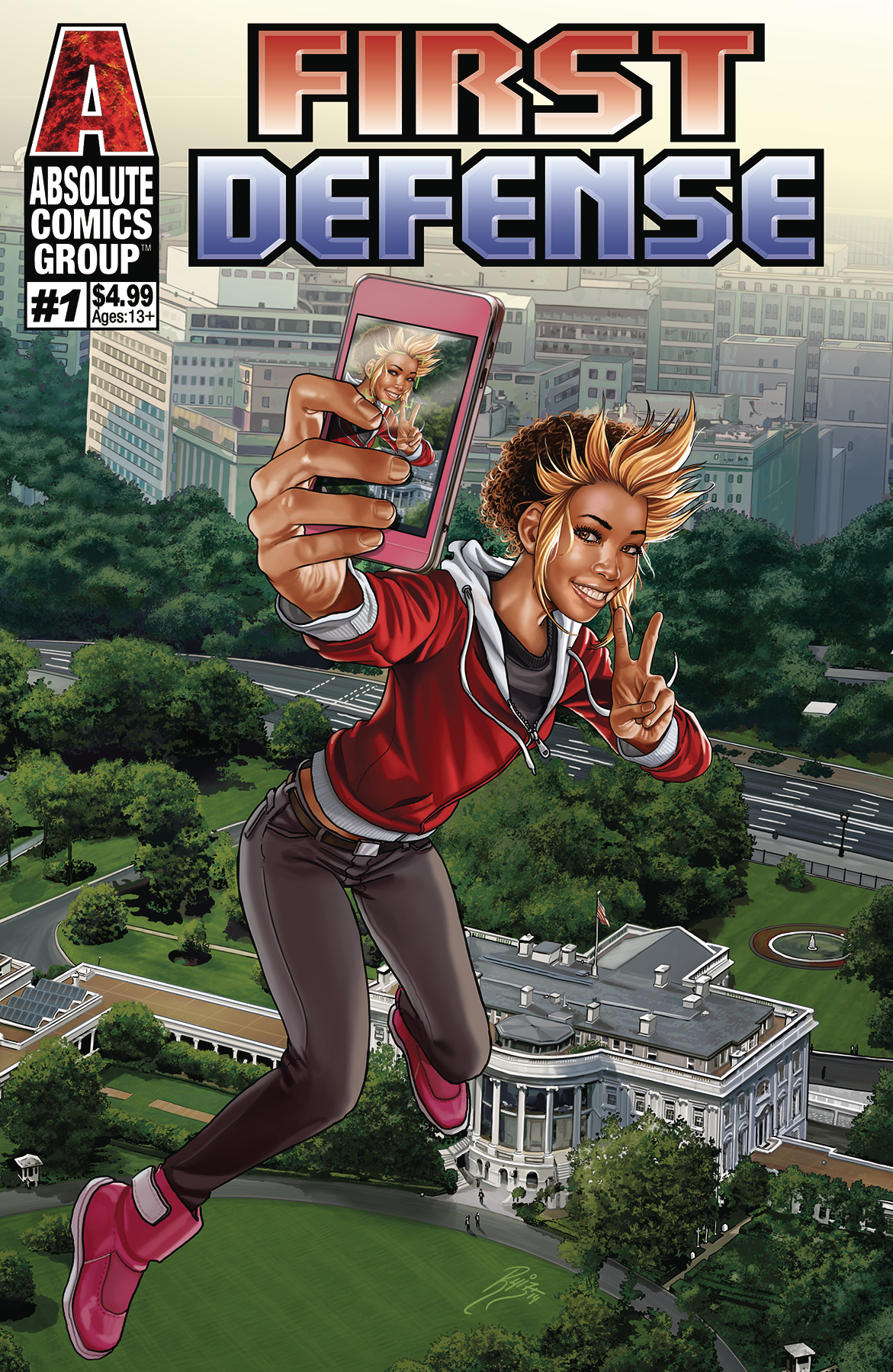 FIRST DEFENSE #1 CVR A
RED GIANT ENTERTAINMENT
FEB191925
(W) Chris Crosby, Mike Rosenzweig (A) Tina Francisco (CA) Ruiz Burgos
The President's daughter, Tasha Tasker, learns her destiny when she is pulled into a secret, supernatural enclave beneath the White House. She's just the latest in a long line of "First Children" who were granted powers and have lain in stasis. Now they are waking up and she must lead them to combat a threat from beyond the stars!
In Shops: May 29, 2019
SRP: $4.99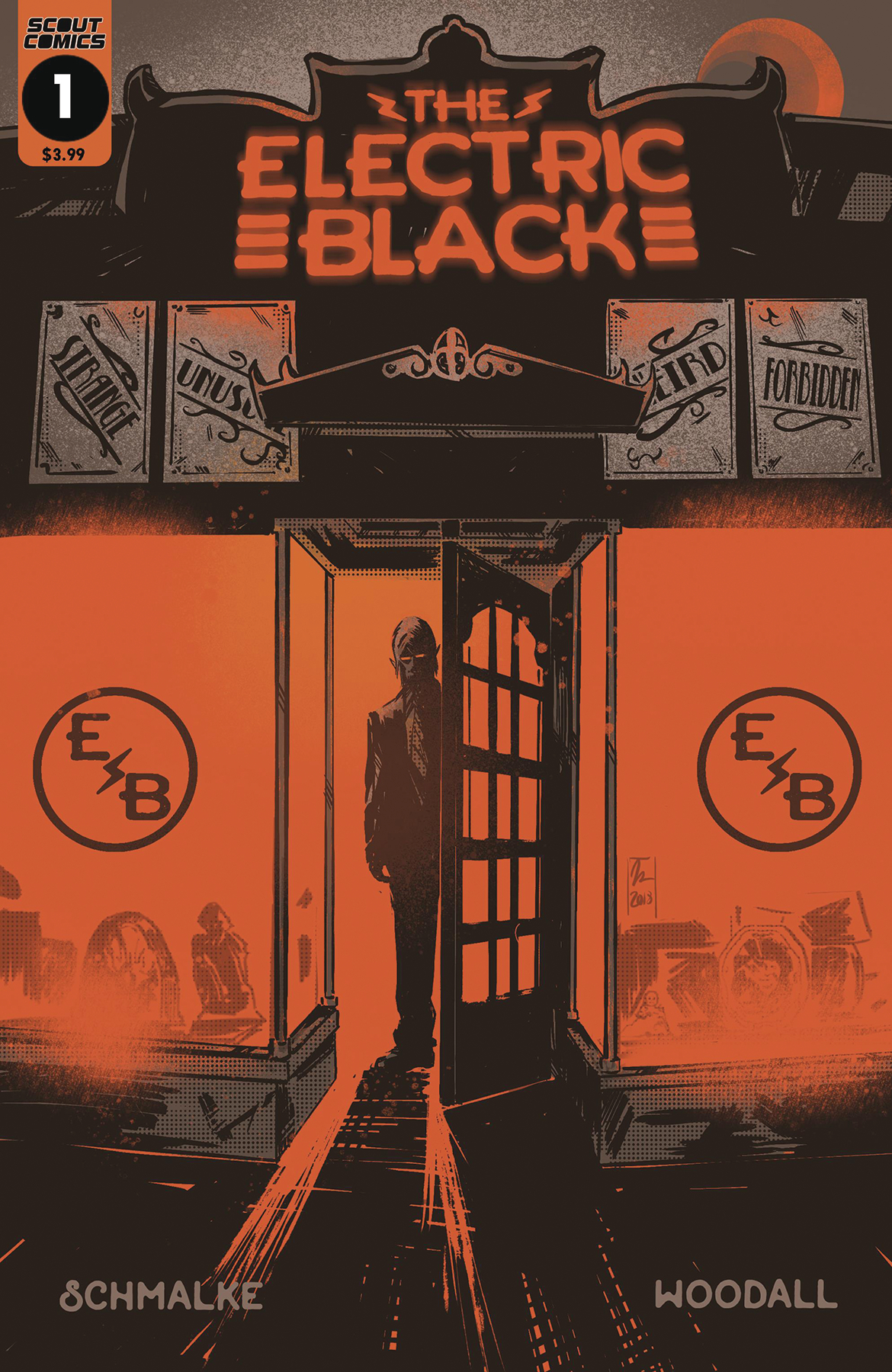 ELECTRIC BLACK #1
SCOUT COMICS
FEB191946
(W) Joseph Schmalke (A) Rich Woodall
The Electric Black is a cursed antique shop, appearing in any time or space, soliciting customers it hungers to corrupt or devour. The mysterious Julius Black is the store's demonic proprietor and narrator. He, along with his psychopathic employees, regularly manipulates patrons for their own devious purposes. Inside the eerie emporium, all of the forbidden objects have secrets to unlock. The poor souls that enter never leave without something. Its dark light will shine on macabre mysteries, grisly murders, and other frightful occurrences. Dare you step within its sinister halls?
In Shops: Apr 24, 2019
SRP: $3.99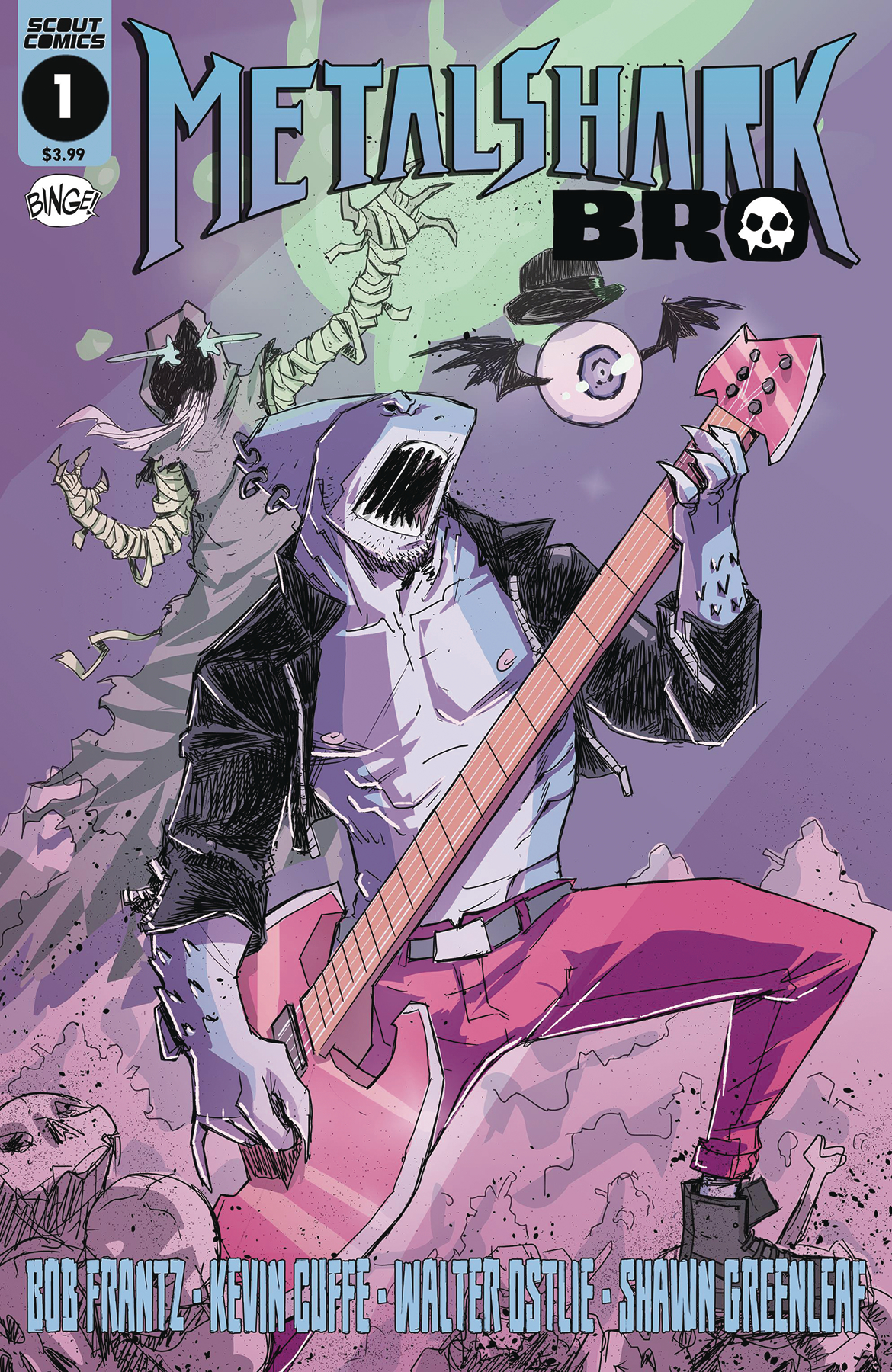 METALSHARK BRO #1
SCOUT COMICS
FEB191949
(W) Bob Frantz, Kevin Cuffe (A/CA) Walt Ostlie
The next entry in the new BINGE! Imprint where Scout releases a World Premiere issue followed by the entire story a few months later in one volume. What the Fin is a Metalshark Bro? Well, here's the liner notes summary: a traditional shark stumbles upon Satan's nephew and is forcibly given anthropomorphic qualities. With his newfound human physique and propensity for violence, he's tasked with collecting the souls of those that have sworn allegiance to Satan. The only problem? He just wants to be a normal shark again! Naturally, he swears bloody vengeance and, uh, a whole lot of death ensues!
Metalshark Bro!
is perfect for fans of
Aqua Teen Hunger Force
,
Tenacious D
, and
Rick and Morty
.
In Shops: Apr 24, 2019
SRP: $3.99
ACHILLES INC #1 (MR)
SOURCE POINT PRESS
FEB191968
(W) Andy Schmidt (A) Daniel Maine
Ten years ago, a sliver of the world's population was granted super powers in an instant. Since then, these "Boosters" have turned the planets socio-economic systems on their ear. Instead of dressing up in colorful costumes and beating each other up, they formed a union - called Power Corps - and replaced the blue collar workforces across the globe. The world is in despair. Jobs are scarce and we "duds" are nearly powerless to fight back. That's where Ransom and his Achilles Incorporated team come in. This firm that exploits the weaknesses of Boosters has taken on big case. The fuse is lit!
In Shops: Apr 24, 2019
SRP: $3.99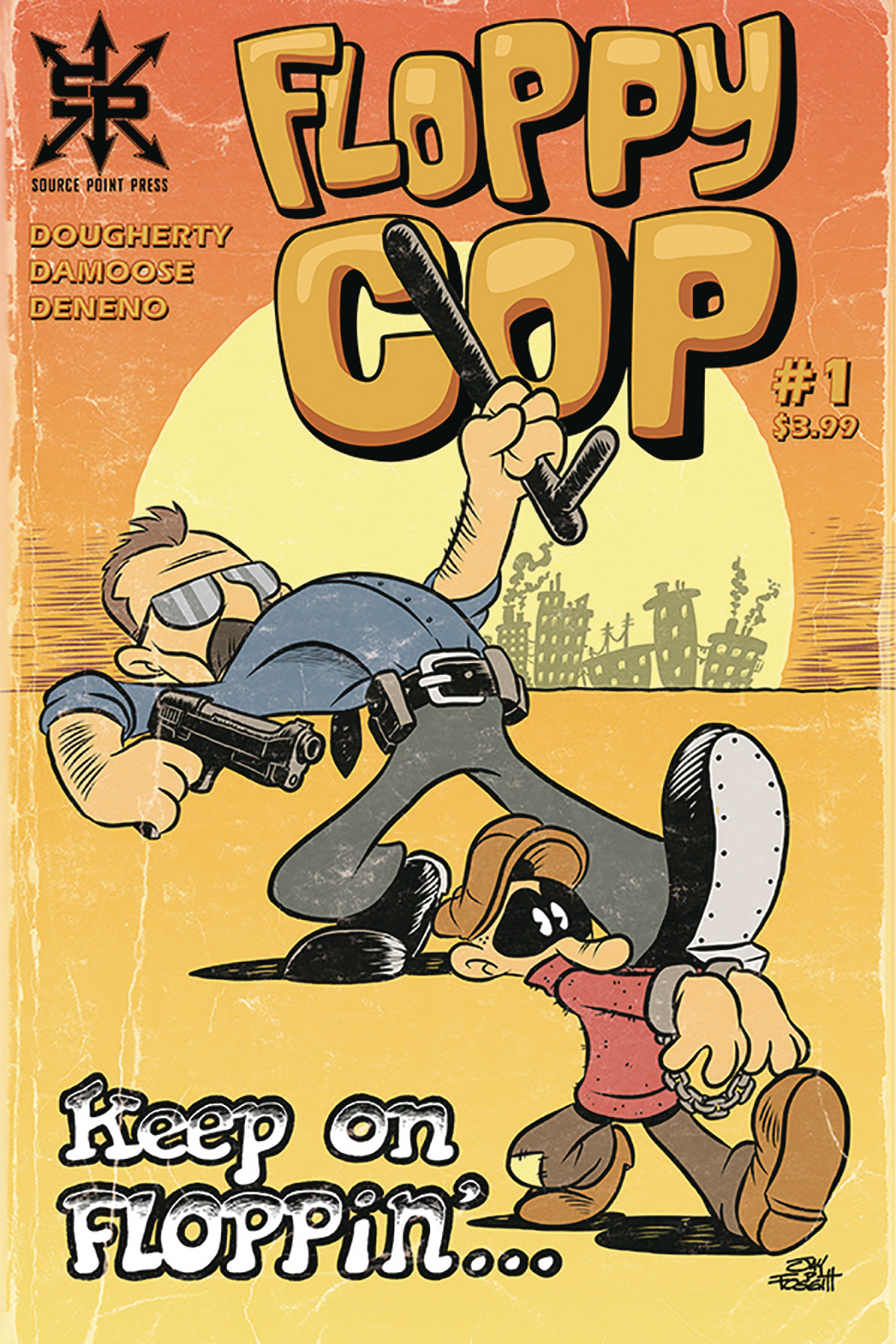 FLOPPY COP #1 (MR)
SOURCE POINT PRESS
FEB191969
(W) Dan Dougherty (A) Seth Damoose (CA) Jay P. Fosgitt
Join in on the absurd adventures of a cop who is bending over backwards for justice, mostly because he has no spine in his body! But as Floppy Cop always says, "you don't need to have a spine to have guts!" Together with a colorful cast of funny characters, Floppy has to solve the puzzles of a new criminal Crossword or Christmas might be ruined in the town of White Trickle Falls!
In Shops: Apr 24, 2019
SRP: $3.99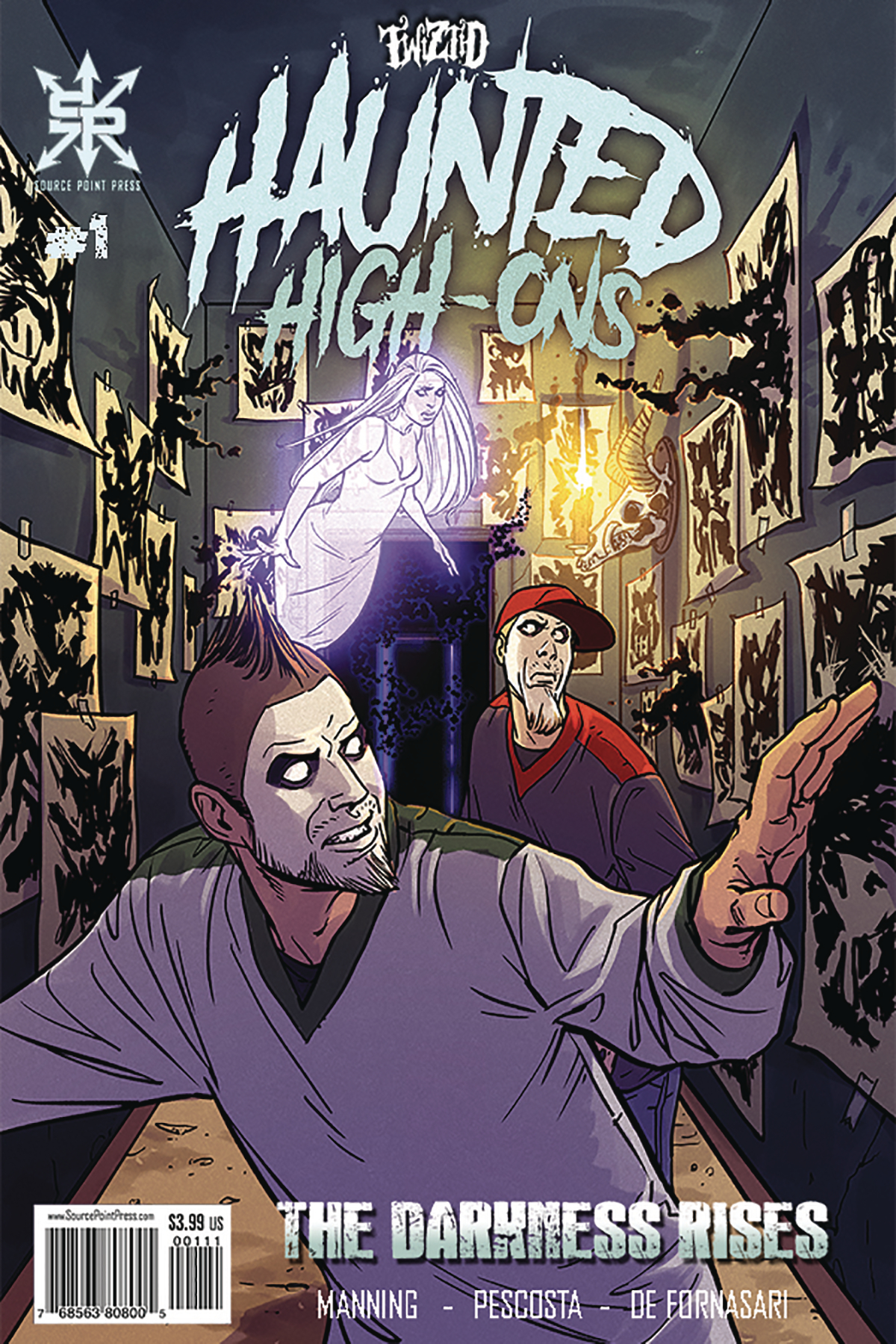 TWIZTID HAUNTED HIGH ONS DARKNESS RISES #1 (MR)
SOURCE POINT PRESS
FEB191970
(W) Dirk Manning, Twiztid (A) Marianna Pescosta
Upon learning that ghosts and demons are real, rap stars Madrox and Monoxide (collectively known as Twiztid) have begun to take the idea of ghost hunting with their new spirit companion Felicia a lot more seriously... or at least as seriously as the two fun-loving jokesters can. However, as The Darkness rises around them on a house call gone wrong, they quickly find what's happening is no laughing matter!
In Shops: Apr 24, 2019
SRP: $3.99
STREET FIGHTER WRESTLEPALOOZA #1 CVR A PANZER
UDON ENTERTAINMENT INC
FEB192154
(W) Ken Siu-Chong (A/CA) Panzer
Get ready for top-rope-jumping, metal-chair-flinging, suplex-slamming action in Metro City! Awakened talent Alex and Mayor Mike Haggar enter the ring together to take on the remnants of the Mad Gear gang - wrestling style!
In Shops: Apr 24, 2019
SRP: $3.99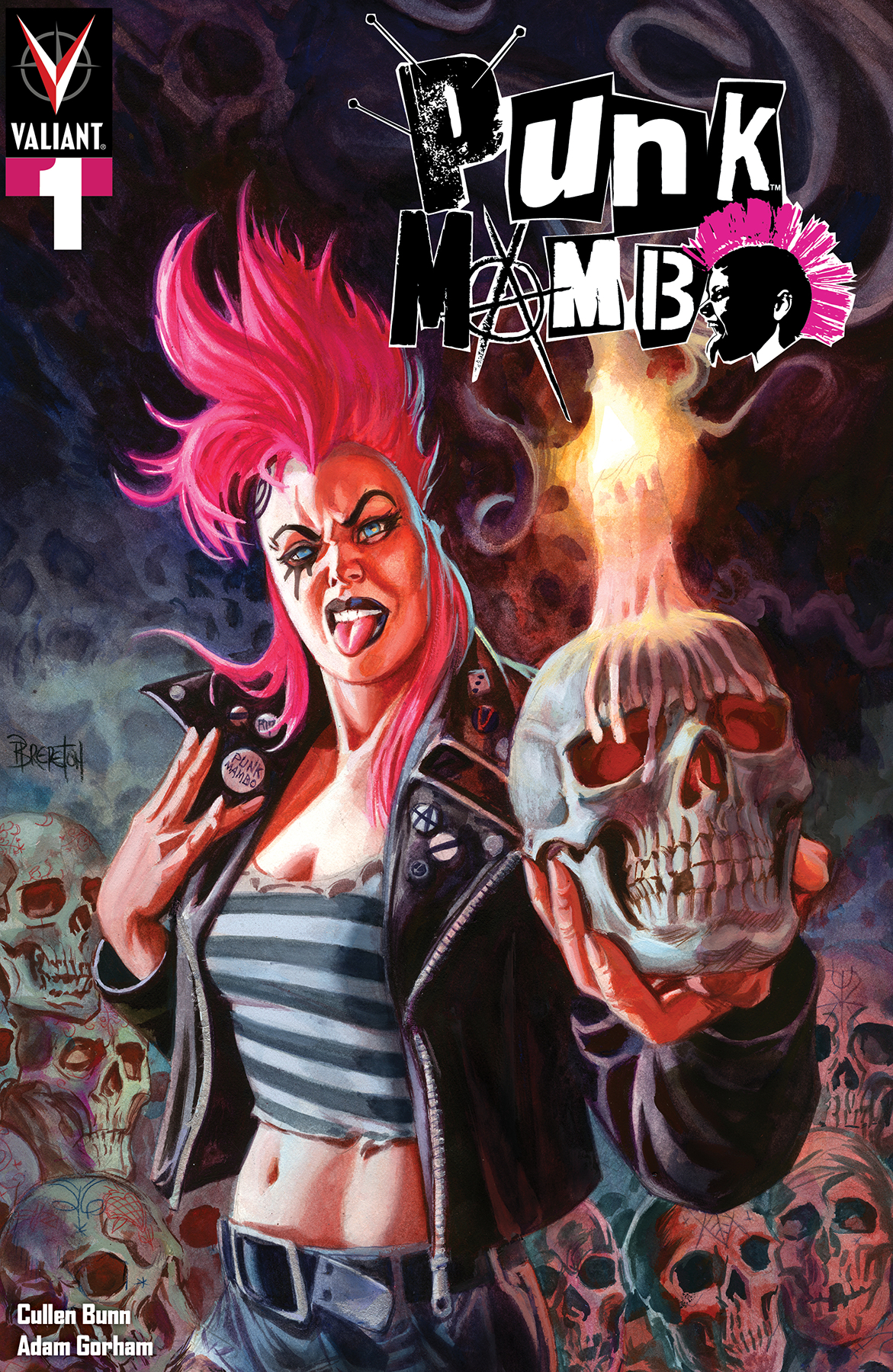 PUNK MAMBO #1 (OF 5) CVR A BRERETON
VALIANT ENTERTAINMENT LLC
FEB192039
(W) Cullen Bunn (A) Adam Gorham (CA) Daniel Brereton
Punk Mambo is a hard-living voodoo priestess who grew up in London, then relocated to the Bayou. Now, she's a mystical mercenary for hire.
In her first-ever solo series, Punk Mambo investigates a series of abductions in the New Orleans Gutter Punk scene, stumbling upon a deadlier mystery that takes her to the haunted shores of Haiti.
From writer Cullen Bunn (Venom) and artist Adam Gorham (X-Force) comes this hilariously horrifying tale.
New characters, new places, same Punk attitude!
Great for fans of Dead at 17 and Buffy the Vampire Slayer
In Shops: Apr 24, 2019
SRP: $3.99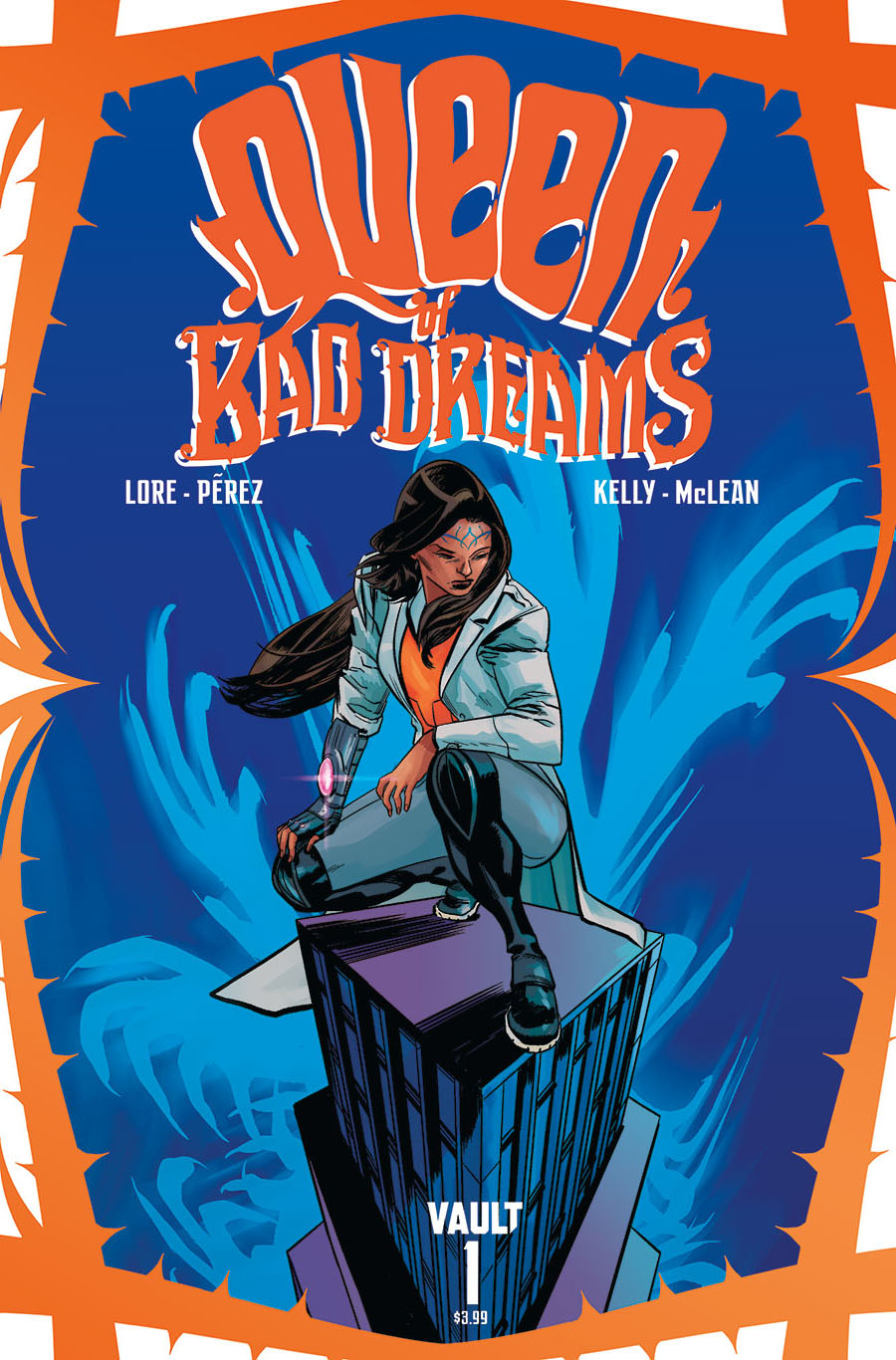 QUEEN OF BAD DREAMS #1 CVR A (RES) (MR)
VAULT COMICS
FEB192076
(W) Danny Lore (A/CA) Jordi Perez
When a dream entity known as a figment emerges from a dreamer's mind, it's Daher's job as an IJ to track them down and make the call: reinsert the figment, or grant them agency in our world. After an especially powerful figment escapes the dreams of an even more powerful politician's son, Daher is pulled headlong into an investigation that traces all the way back to the incident that sent dreams, even nightmares, spilling into our reality.
In Shops: Apr 24, 2019
SRP: $3.99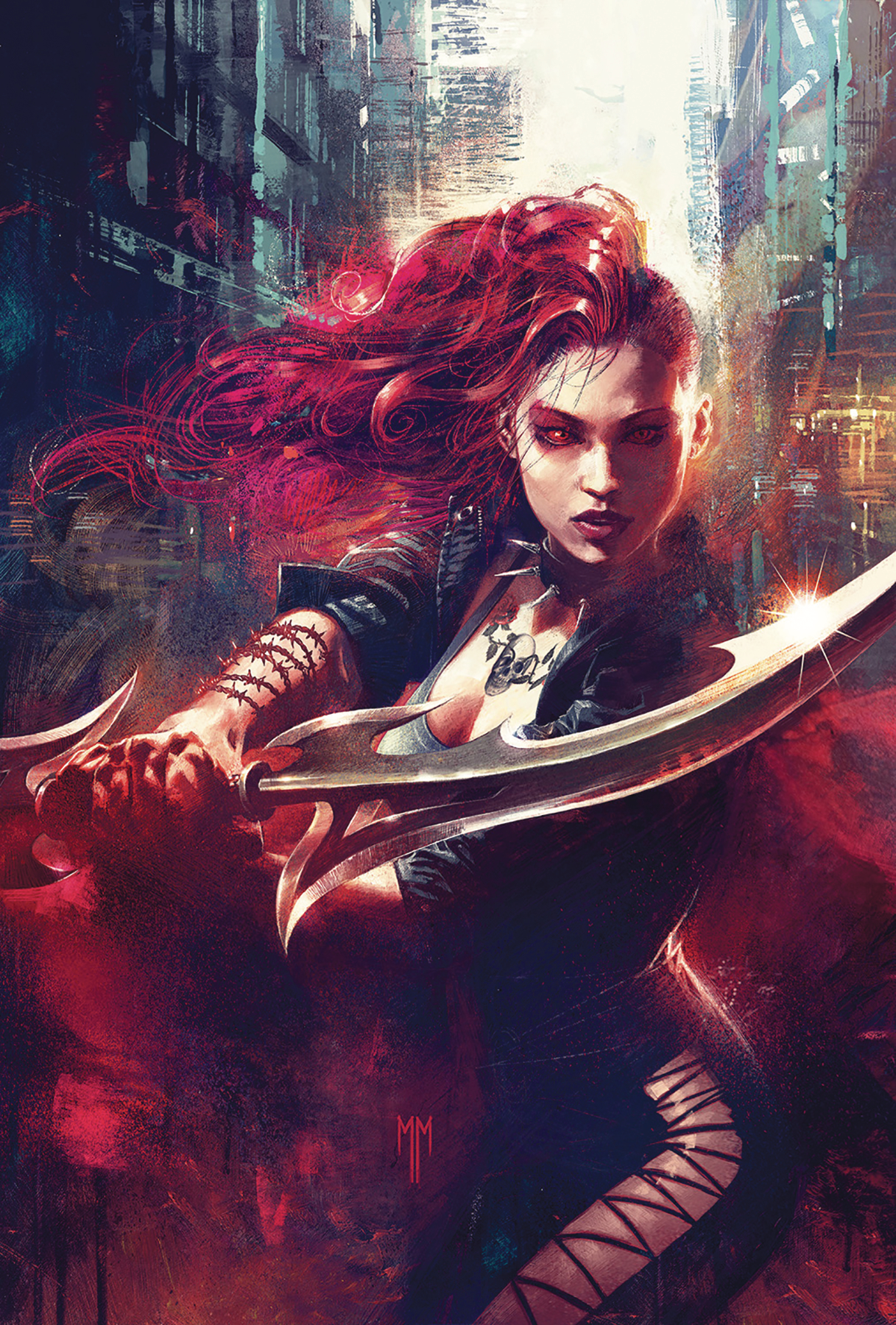 HELLCHILD BLOOD MONEY #1 (OF 4) CVR A MASTRAZZO
ZENESCOPE ENTERTAINMENT INC
FEB192094
(W) Ralph Tedesco (CA) Marco Mastrazzo
Angelica Blackstone aka "Hellchild" takes a high paying gig as a bodyguard for the lowlife son of a wealthy politician. But some jobs aren't worth the money as Angelica soon finds that the men after her client are involved in something so disturbing that she can't help but get pulled in. John Wick meets Jessica Jones in this explosive, action-packed new series from Zenescope!
In Shops: Apr 03, 2019
SRP: $3.99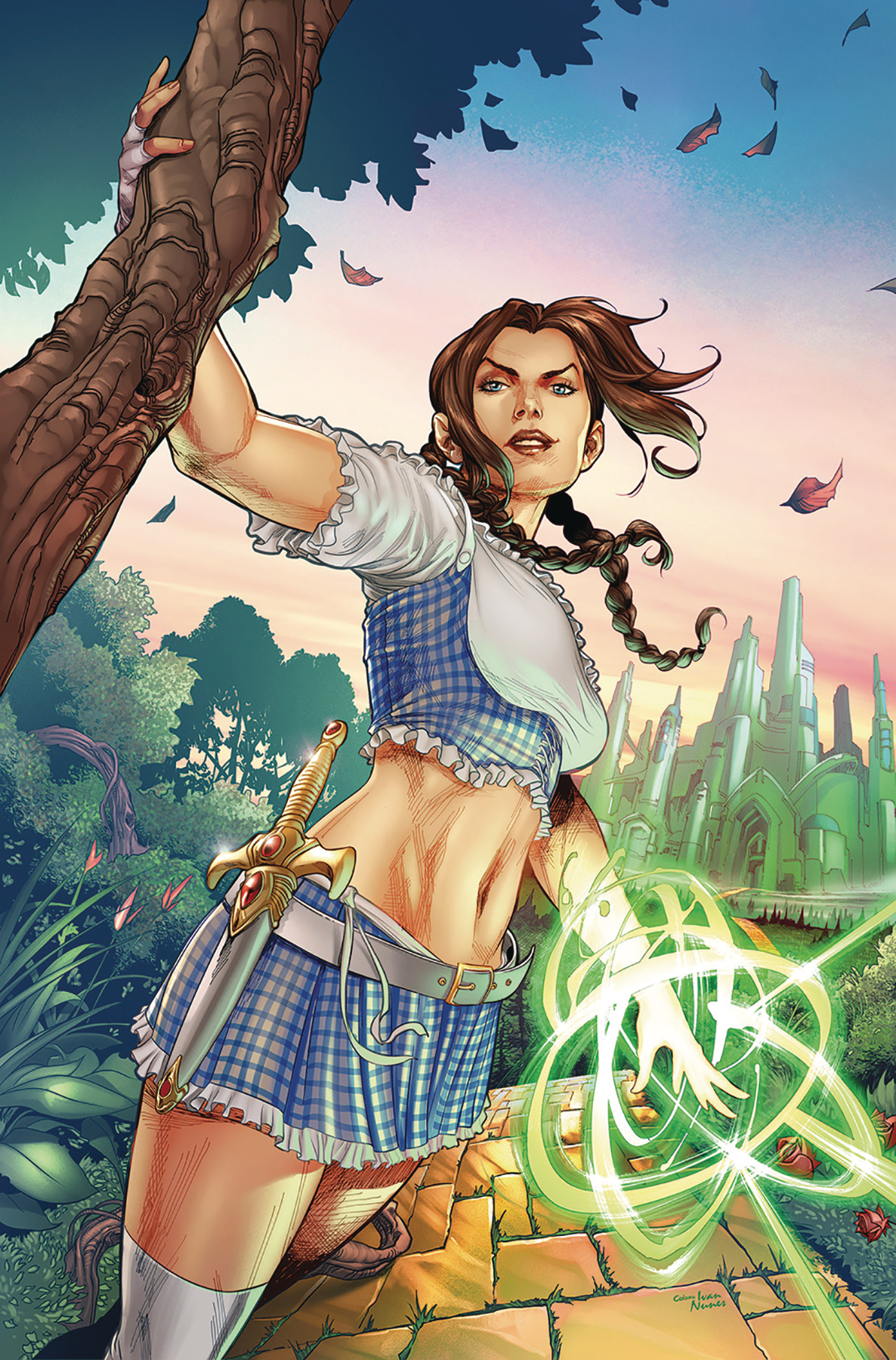 OZ HEART OF MAGIC #1 (OF 5) CVR A COCCOLO
ZENESCOPE ENTERTAINMENT INC
FEB192100
(W) Terry Kavanagh (A) Marcelo Mueller (CA) Martin Coccolo
The Realm of Oz is back!
Last we saw Dorothy she was trapped in a body that isn't hers by the evil Wizard of Oz, cut off from most of her loyal followers and exiled from the Emerald City. Now on the run through increasingly forbidding lands, with the very heart of the realm itself on the line, will she be able to protect herself and more importantly the people who rely on her? Find out here, in the first issue of this soon-to-be-legendary tale!
In Shops: Apr 17, 2019
SRP: $3.99