BOOM! STUDIOS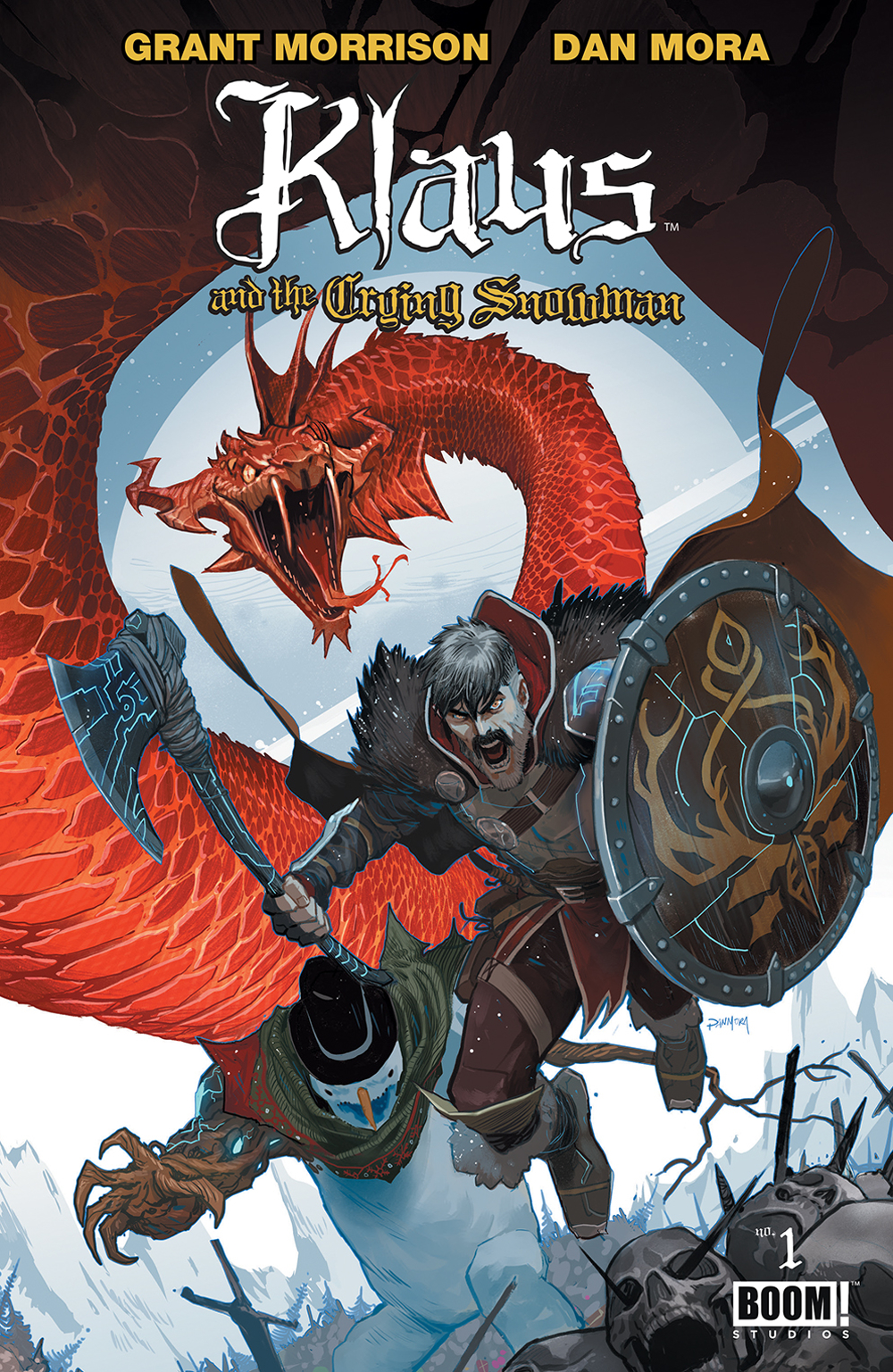 KLAUS AND CRYING SNOWMAN #1 MAIN
BOOM! STUDIOS
OCT181241
(W) Grant Morrison (A/CA) Dan Mora
The best holiday tradition in comics returns in the next chapter of the epic Santa saga by visionary Grant Morrison and Eisner Award-nominated artist Dan Mora!
Klaus has to help an absentee dad-turned-snowman make amends before melting away for good. And probably before he's defeated by a pantheon of Norse Gods and their minions. All in a day's work for Santa Claus.
In Shops: Dec 19, 2018
SRP: $7.99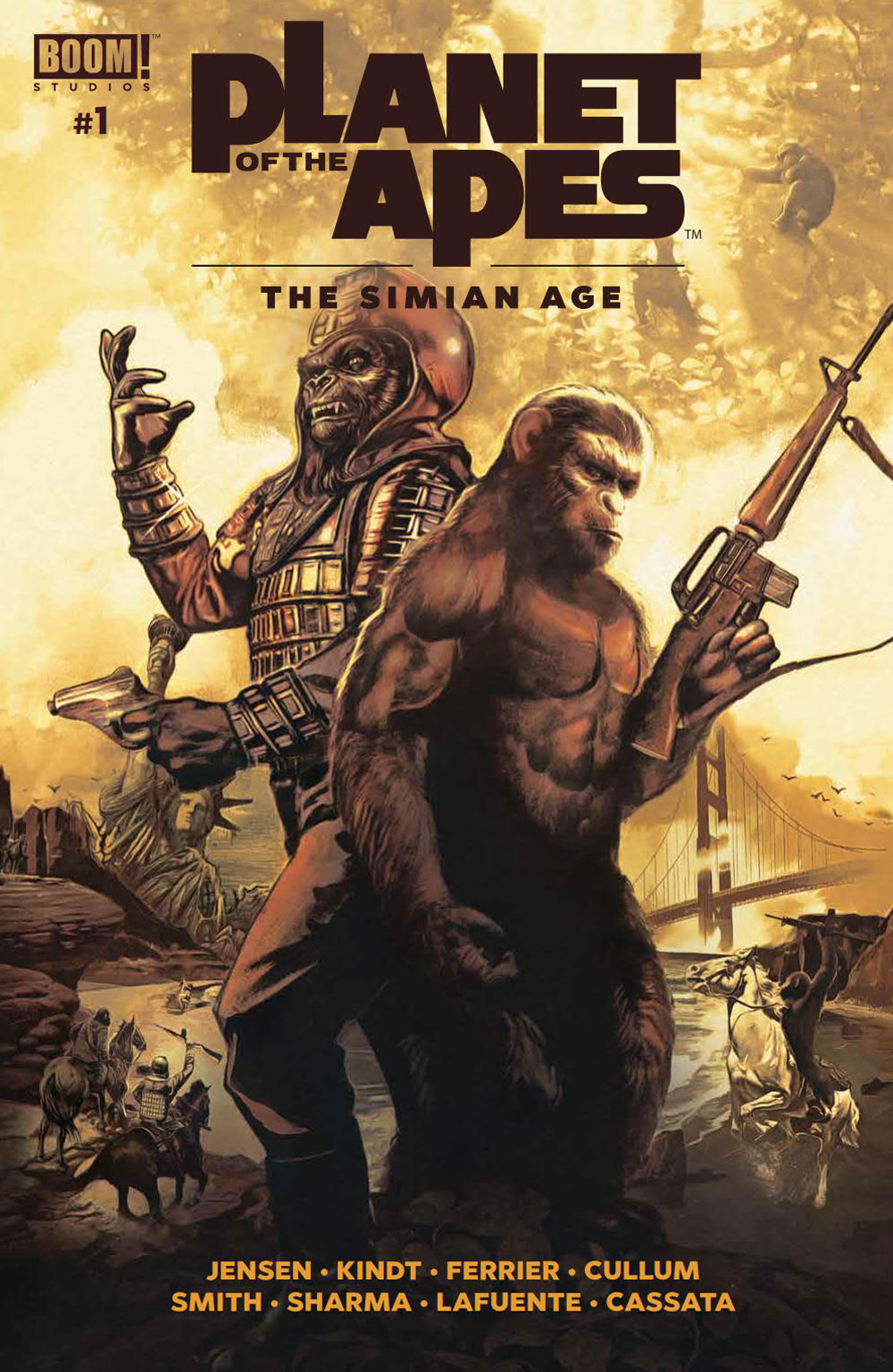 PLANET OF APES SIMIAN AGE #1 MAIN
BOOM! STUDIOS
OCT181260
(W) Matt Kindt, Jeff Jensen (A) Matt Smith, Jared Cullum (CA) Fay Dalton
Celebrate over 50 years of one of cinema's most influential franchises with this one-shot collection of stories highlighting the simian citizens of the world of
Planet of the Apes
! Featuring stories from both the original films and new series canon, including the life of an Ape Soldier in General Ursus's army, and a story set before
Dawn of the Planet of the Apes
, revealing Koba's early struggles to remain loyal to Caesar.
In Shops: Dec 26, 2018
SRP: $7.99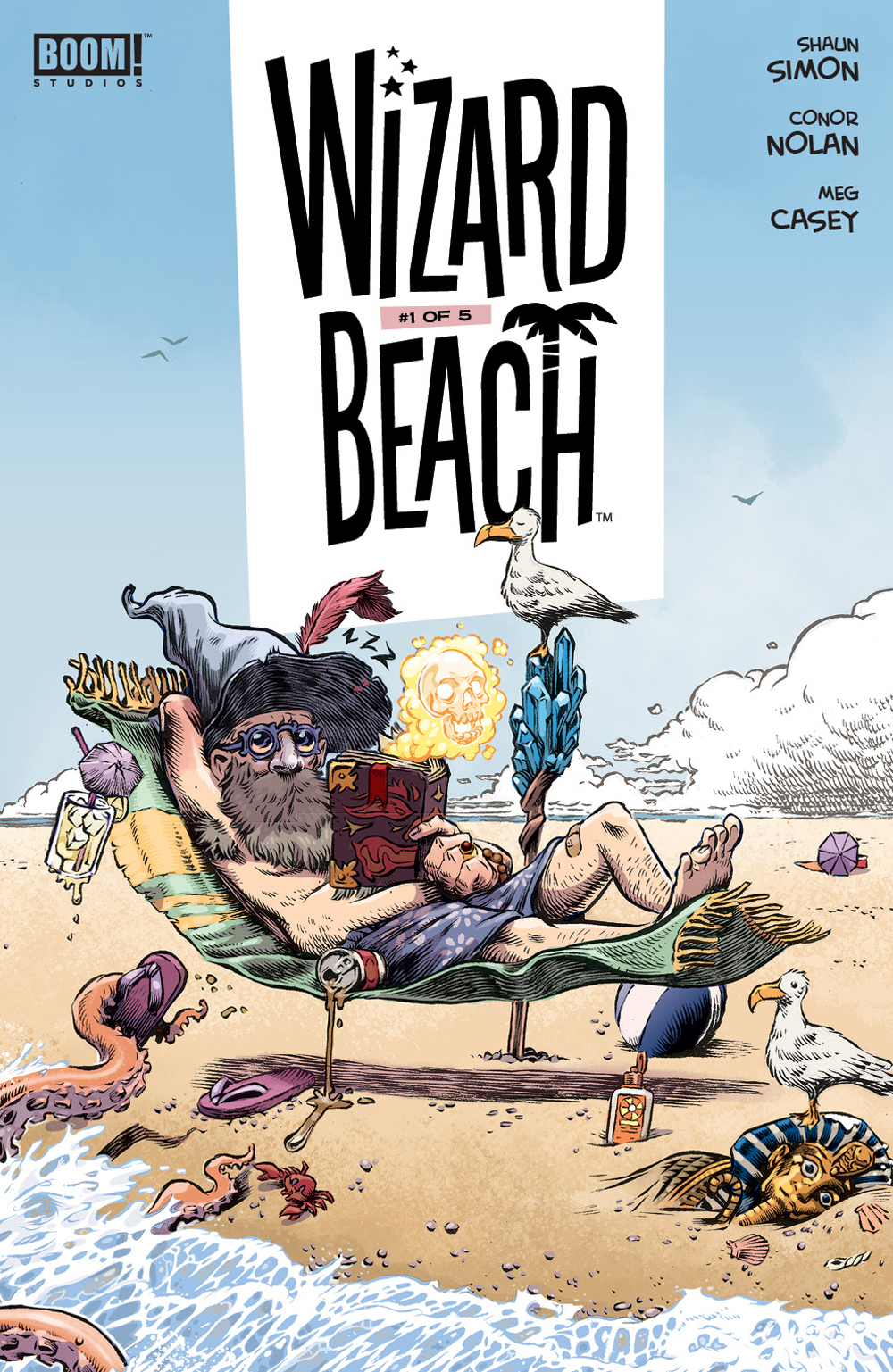 WIZARD BEACH #1 MAIN
BOOM! STUDIOS
OCT181247
(W) Shaun Simon (A/CA) Conor Nolan
When Hexley Daggard Ragbottom sets off to find his Uncle Salazar, he expects to find the most powerful wizard of the modern age. Instead, he finds Uncle "Sally" only wants to kick back, relax, and stay clear of any kind of wizard politics. So how is Hex supposed to become a great wizard if all the adults are too lazy to teach him? Shaun Simon (The True Lives of the Fabulous Killjoys) and Conor Nolan (Jim Henson's The Storyteller: Giants) present a humorous look at magic, family and just kicking back.
In Shops: Dec 05, 2018
SRP: $3.99
GIANT DAYS WOMEN GLOW MEN PLUNDER #1
BOOM! STUDIOS
OCT181278
(W) John Allison (A/CA) John Allison
Stop the presses! Ed Gemmel has a girlfriend. With Christmas looming, it's time to meet her family - in Australia. Which is fine. Who cares that they're all Manly Men! Ed once... did something manly. That one time. It happened. It's going to be fine.
In Shops: Nov 28, 2018
SRP: $7.99
DARK HORSE COMICS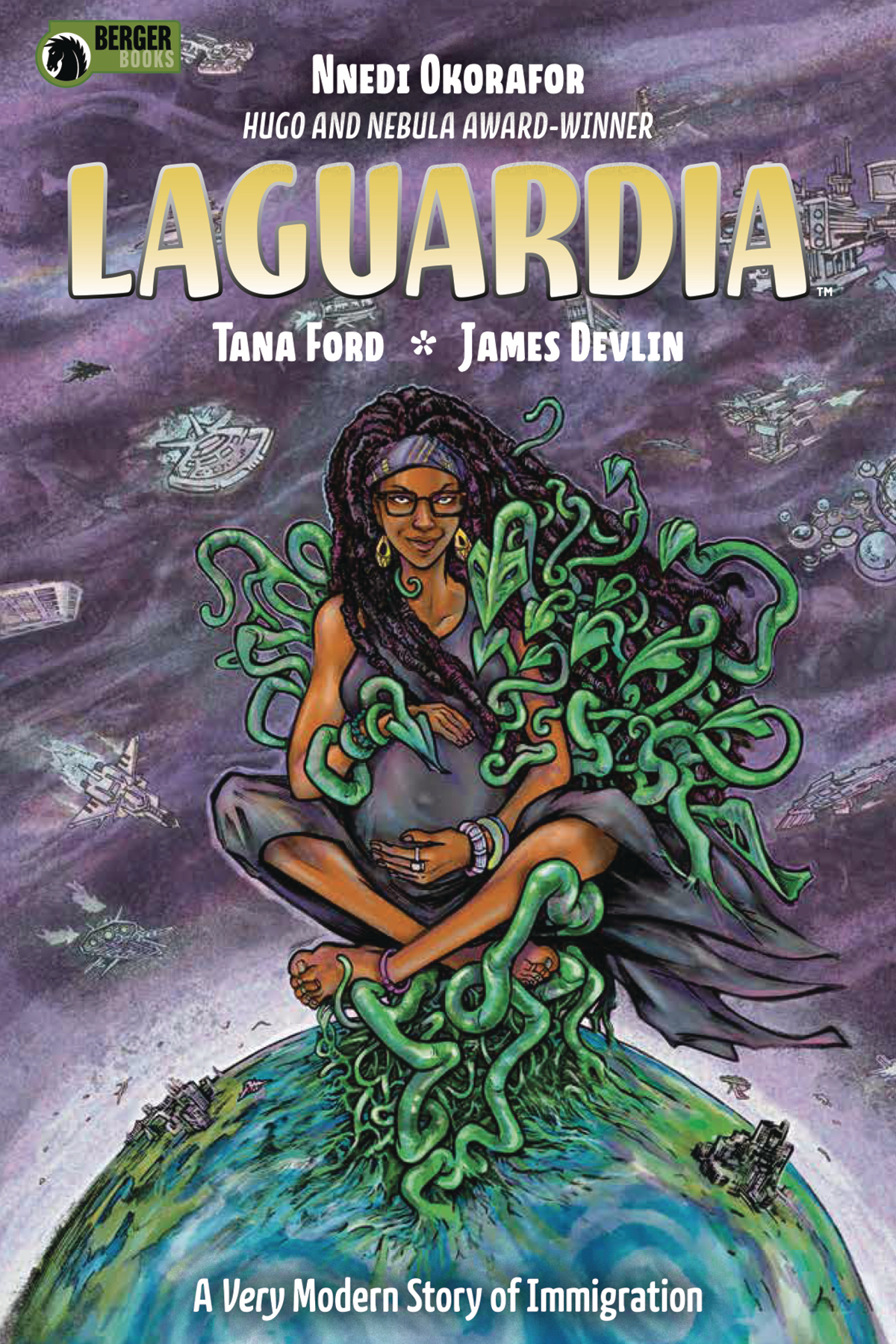 LAGUARDIA #1 (MR)
DARK HORSE COMICS
OCT180292
(W) Nnedi Okorafor (A/CA) Tana Ford
Set in an alternative world where aliens have come to Earth and integrated with society, LaGuardia revolves around a pregnant Nigerian-American doctor, Future Nwafor Chukwuebuka who has just returned to NYC under mysterious conditions. After smuggling an illegal alien plant named "Letme Live" through LaGuardia International and Interstellar Airport's customs and security, she arrives at her grandmother's tenement, the New Hope Apartments in the South Bronx.
There, she and Letme become part of a growing population of mostly African and shape-shifting alien immigrants, battling against interrogation, discrimination and travel bans, as they try to make it in a new land. But, as the birth of her child nears, future begins to change. What dark secret is she hiding?
Written by Nnedi Okorafor, Hugo, Nebula and World Fantasy Award winner (Who Fears Death, Binti, Akata series) and illustrated by Tana Ford (Silk, Duck!), the team behind Black Panther: Long Live the King #6.
In Shops: Dec 05, 2018
SRP: $4.99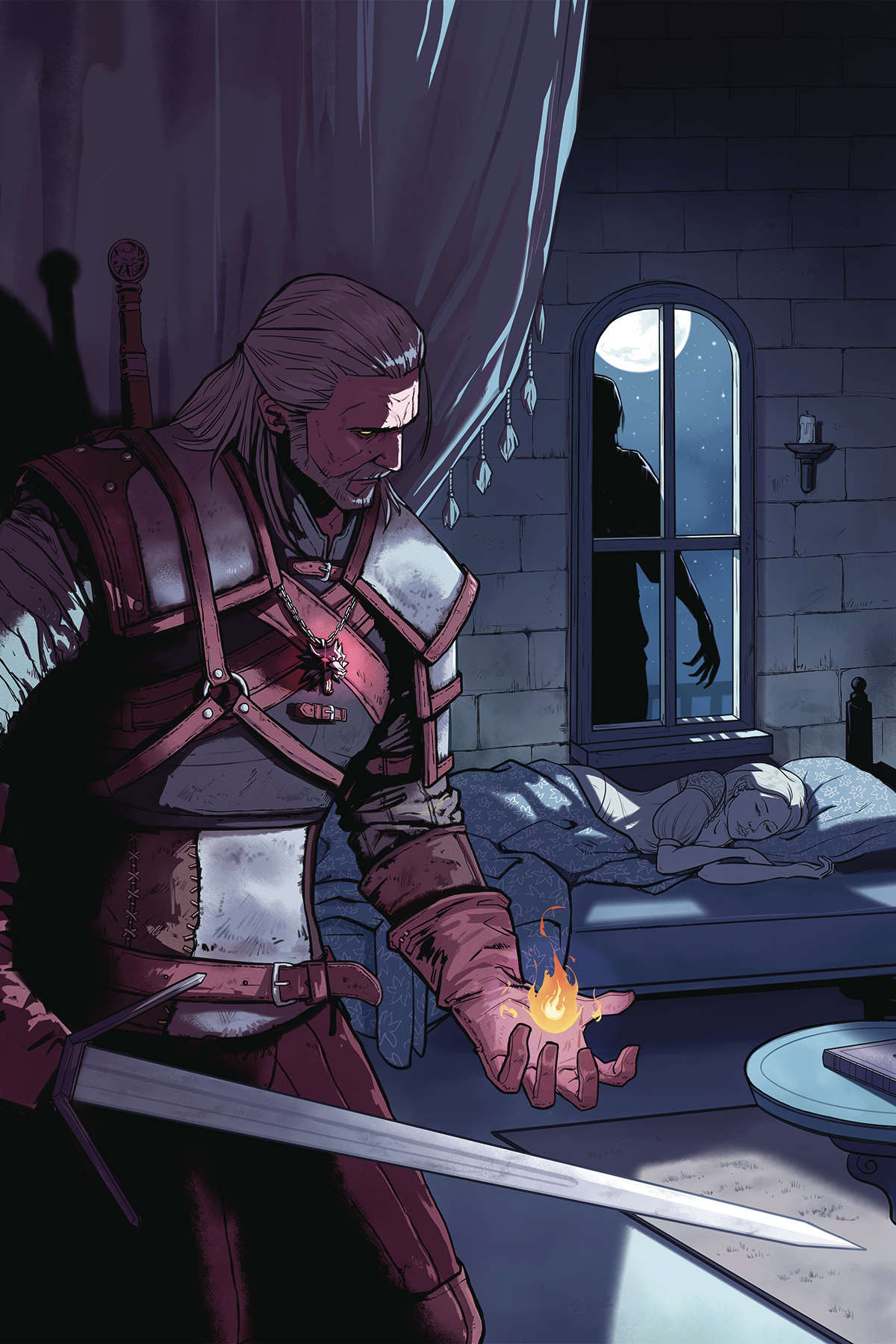 WITCHER #1 OF FLESH & FLAME
DARK HORSE COMICS
OCT180337
(W) Aleksandra Motyka (A/CA) Marianna Strychowska
Geralt is summoned by an old friend to help solve a mystery involving his daughter. Upon arriving to investigate however, Geralt is surprised by another friend from the past and he soon finds himself transported to regions beyond his original expectations.
In Shops: Dec 19, 2018
SRP: $3.99
DC COMICS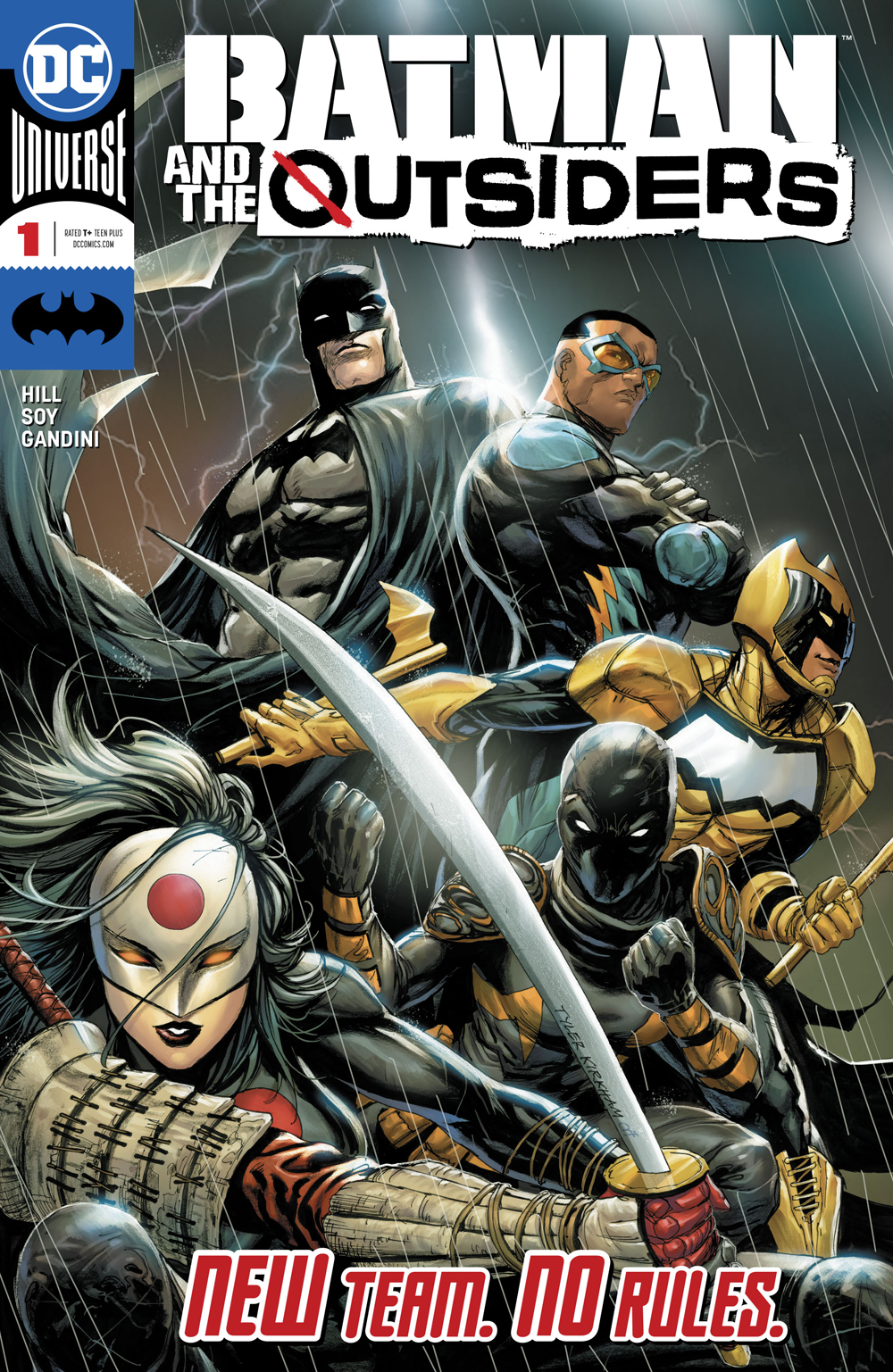 BATMAN AND THE OUTSIDERS #1
DC COMICS
OCT180467
(W) Bryan Hill (A) Dexter Soy (CA) Tyler Kirkham
When the quest for justice drives Batman into some morally ambiguous areas, he calls in the most moral man he knows: Jefferson Pierce, a.k.a. Black Lightning, and his team of operatives known as the Outsiders! Several years ago Batman personally put the Barrera family into hiding after they suffered through terrible experiments at the hands of an organization called the Ark. Now all but one of them has turned up dead...and Batman needs to locate Sofia Barrera before the wrong people get their hands on her-and her surprising power! But it wouldn't be Batman without a hidden agenda, would it? And when Black Lightning, Katana, the Signal and Orphan find out what Batman is really up to, their every loyalty will be called into question!
In Shops: Dec 19, 2018
SRP: $3.99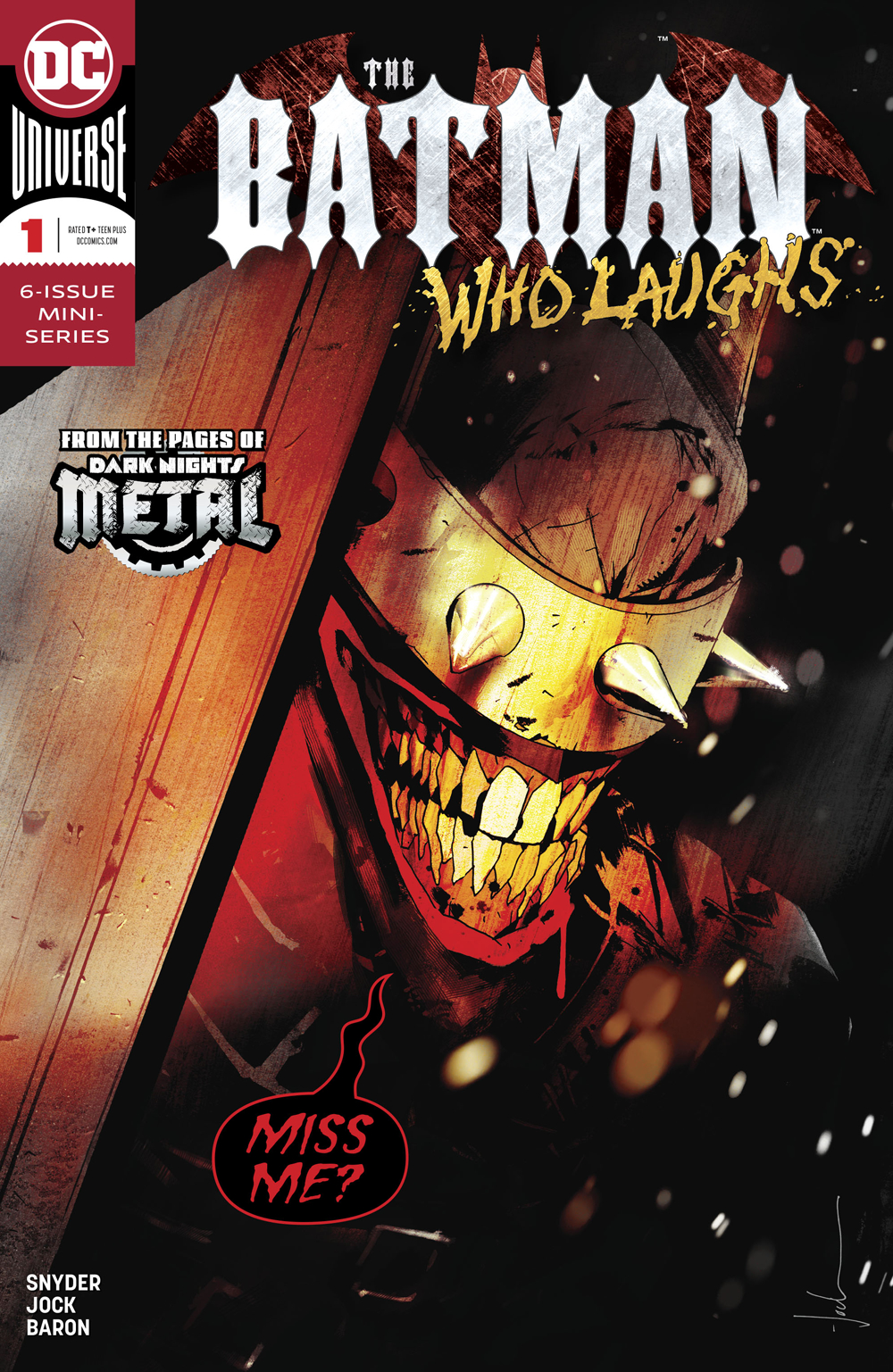 BATMAN WHO LAUGHS #1 (OF 6)
DC COMICS
OCT180464
(W) Scott Snyder (A/CA) Jock
Left rattled by the events of DARK NIGHTS: METAL, Bruce Wayne must come face to face with the nightmares spawned from the Dark Multiverse. But even though evil devoured evil in the collapse of Challengers Mountain, the Dark Knight still has his doubts. He discovers that the Batman Who Laughs not only survived the fight with The Joker at the end of METAL, but now he is enacting a sinister plan across the Multiverse-something both terrifying and oddly familiar. But when Bruce Wayne realizes the only way to stop this madman is to kill him, he must consider violating the very rule Batman won't break...the same rule that created this insatiable villain-the Batman Who Laughs!
In Shops: Dec 12, 2018
SRP: $4.99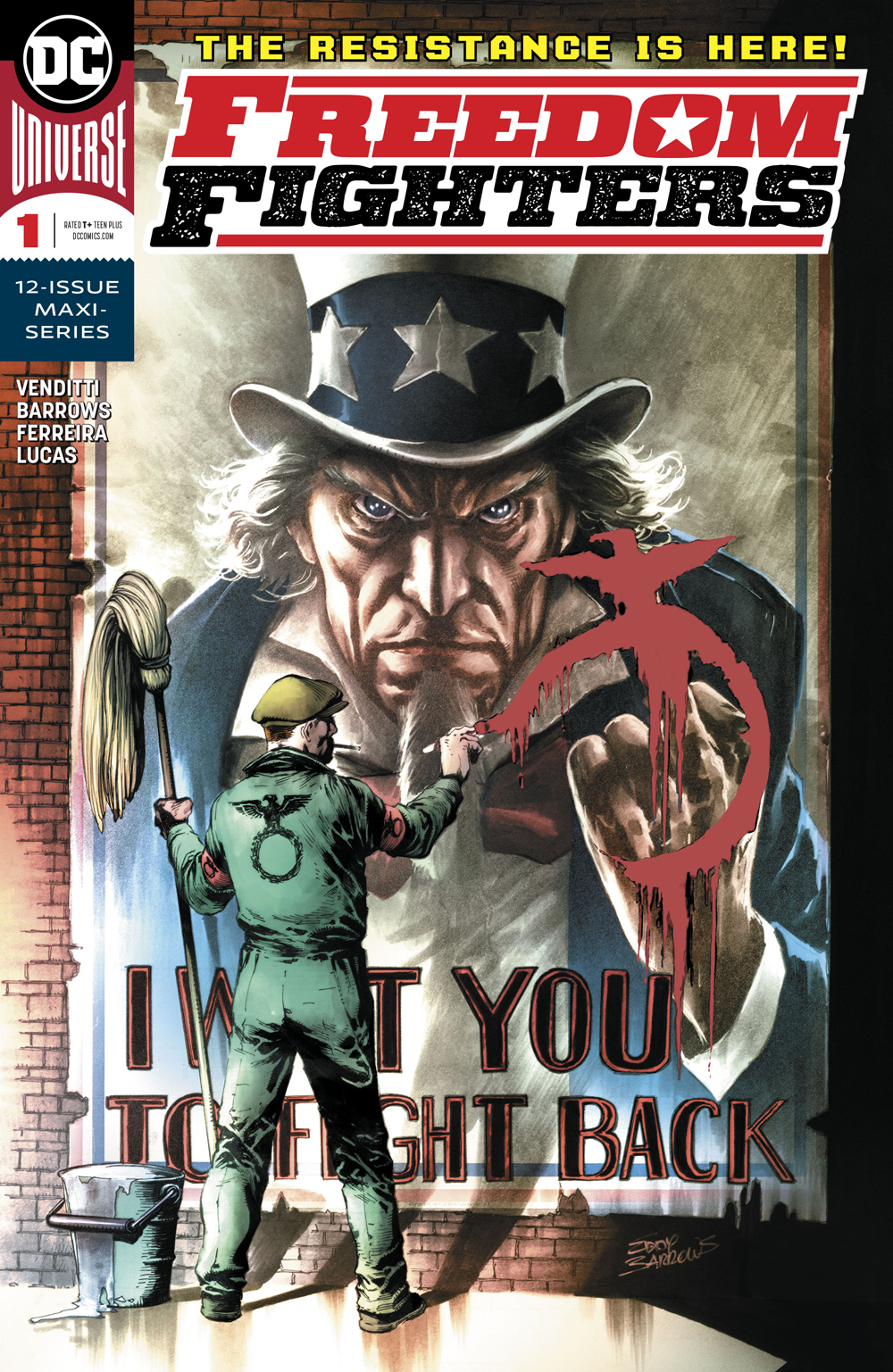 FREEDOM FIGHTERS #1
DC COMICS
OCT180470
(W) Robert Venditti (A/CA) Eddy Barrows
Line up for this all-new maxiseries set on Earth X, where the Nazis won World War II! Twenty years after invading and occupying America, Germany wiped out all metahuman resistance, including the original Freedom Fighters.
Fast-forward to the present day, and a new team of Freedom Fighters emerges to challenge the Nazi occupation once again. But if they're to have any chance of victory, they're going to need Uncle Sam-who disappeared after his original team was killed. The 12-part epic "Death of a Nation" storyline kicks off here!
In Shops: Dec 19, 2018
SRP: $3.99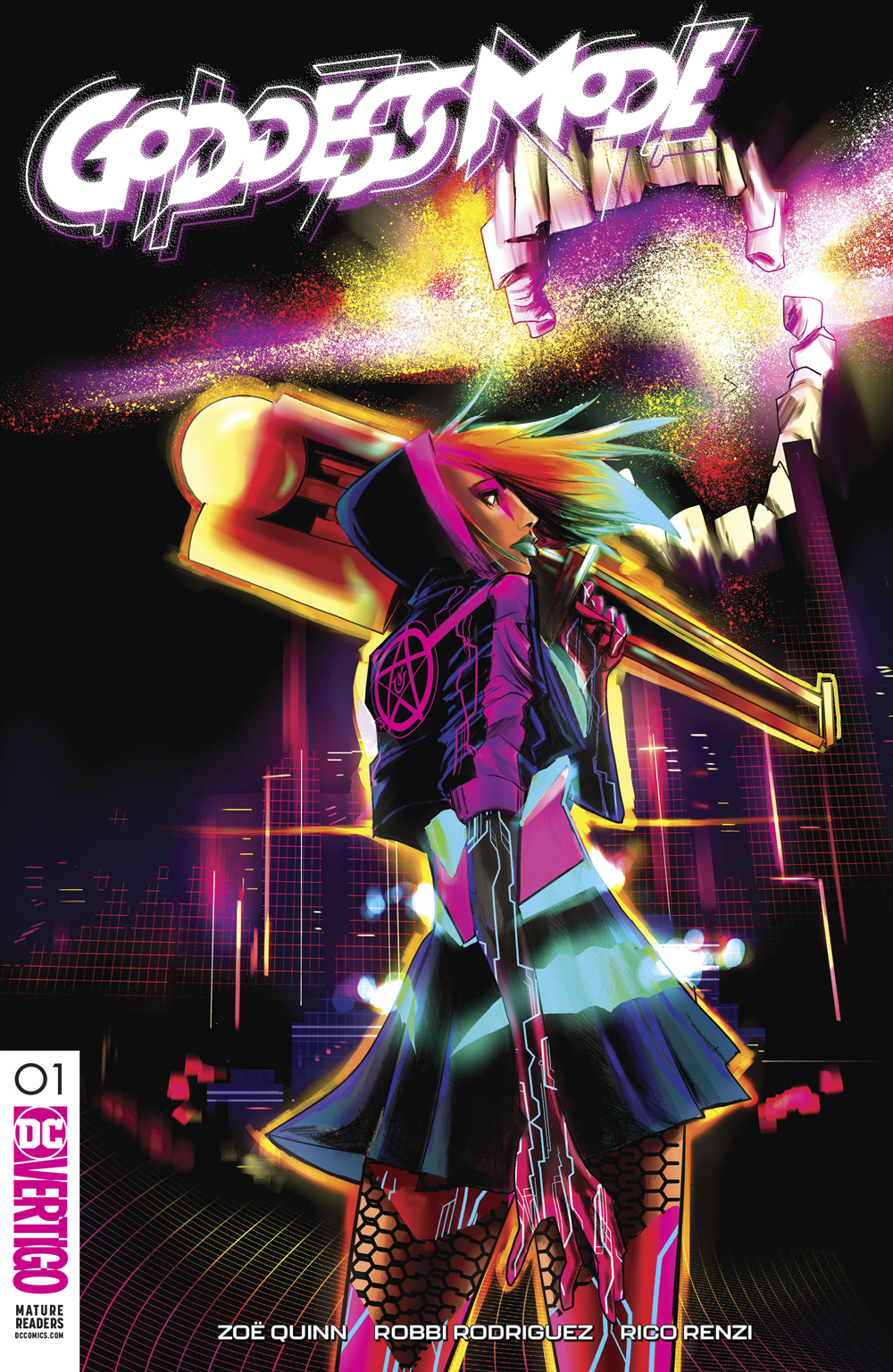 GODDESS MODE #1 (MR)
DC COMICS
OCT180472
(W) Zoe Quinn (A/CA) Robbi Rodriguez
Don't miss the start of a new series by Hugo Award nominee Zoë Quinn and Spider-Gwen co-creator Robbi Rodriguez!
In a near future where humanity's needs are provided for by a godlike A.I., it's one young woman's horrible job to do tech support on it. But Cassandra Price's life changes forever when she discovers a hidden digital world beneath our own, one where a group of super-powered women are locked in a secret war for the cheat codes to reality.
In Shops: Dec 12, 2018
SRP: $3.99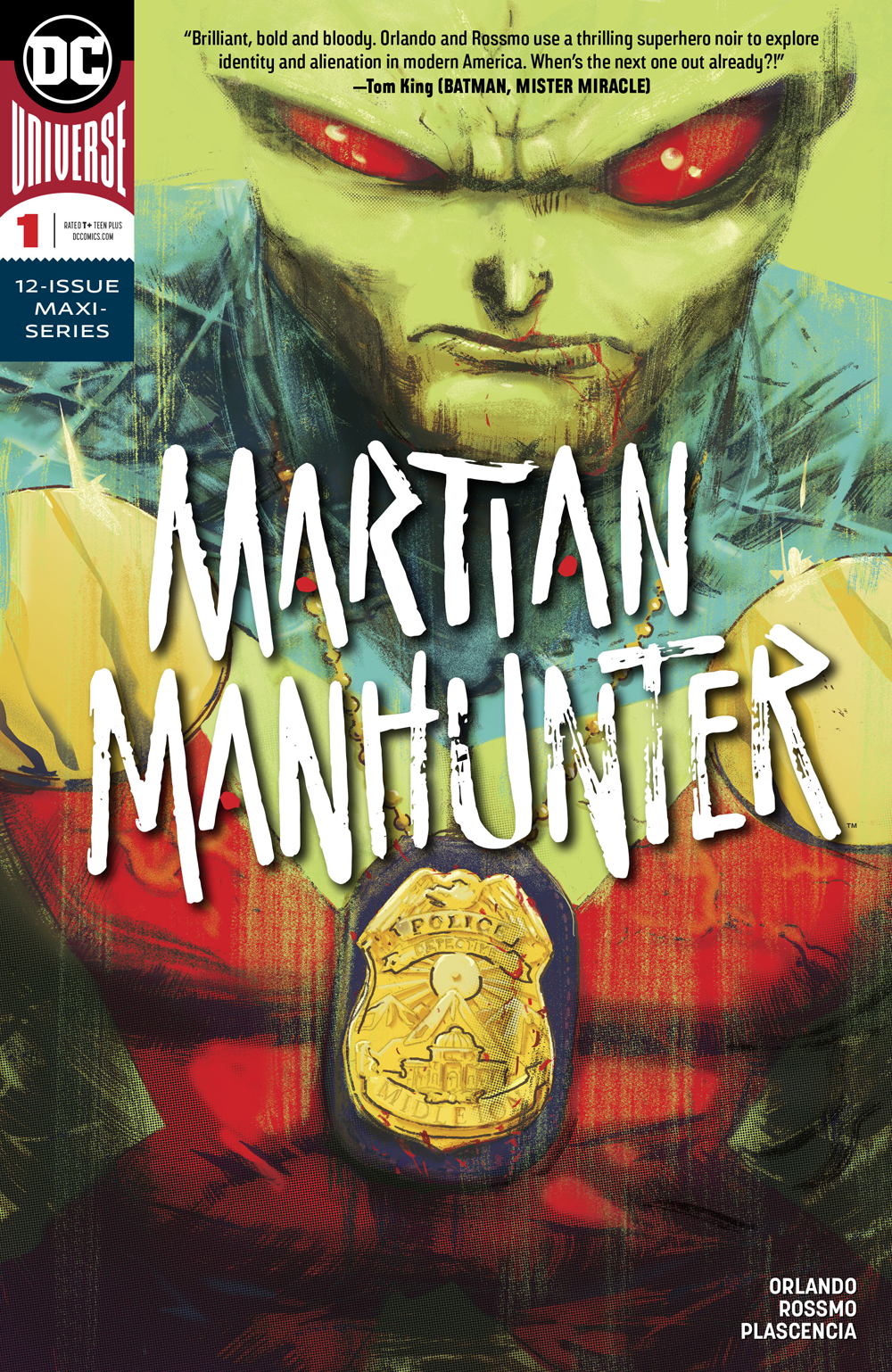 MARTIAN MANHUNTER #1 (OF 12)
DC COMICS
OCT180474
(W) Steve Orlando (A/CA) Riley Rossmo
No matter what you know about J'onn J'onnz, you're not prepared for this! The acclaimed team of writer Steve Orlando and artist Riley Rossmo (BATMAN/ THE SHADOW, BATMAN: NIGHT OF THE MONSTER MEN) reteam for a reinvention of the Manhunter from Mars in this twisted, unexpected series. Back on Mars, J'onn was about as corrupt as a law officer can be, and when a reckoning comes for his entire society, he'll get a second chance he doesn't want or deserve! One shocking murder, and an unexpected fragment of the Mars he lost, will change his life-and the course of the Earth-forever!
In Shops: Dec 05, 2018
SRP: $3.99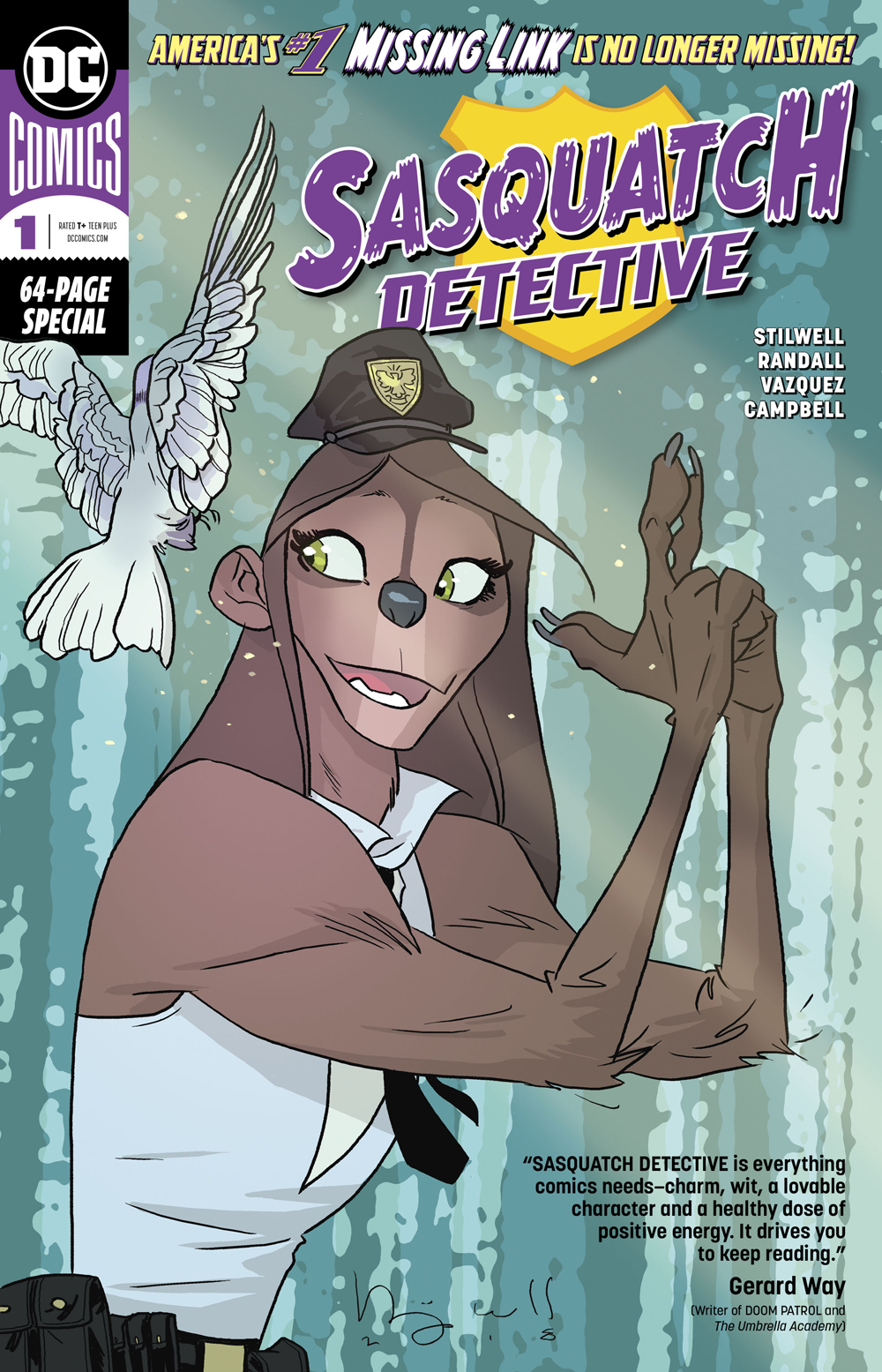 SASQUATCH DETECTIVE #1
DC COMICS
OCT180478
(W) Brandee Stillwell (A) Ron Randall, Gus Vazquez (CA) Ben Caldwell
Before Tonya Lightfoot became Los Angeles' most decorated detective, she was a wee sasquatch roaming the Appalachian mountains, fed a steady diet of tennis and golf (as both of her parents are pros at the local country club) and CSI episodes. But her idyllic life of pranking campers and squatching around the local golf course hits a bump in the fire road when Bigfoot hunters come to the dense forest. Would Tonya back down in the face of adversity? Not yeti! But experiencing this abominable anti-sasquatch sentiment gives her the determination to leave her home behind-she heads to the dangers of the city. After all, it's hard to fight un-conscious bias, but crime is something America's sassiest sasquatch is ready to tackle.
This special features a new 30-page lead story plus the backup stories from EXIT STAGE LEFT: THE SNAGGLEPUSS CHRONICLES #2-6.
In Shops: Dec 12, 2018
SRP: $7.99
NEW TALENT SHOWCASE 2018 #1
DC COMICS
OCT180477
(W) Philip Kennedy Johnson, Joey Esposito, Sanya Anwar, Ryan Cady, Magdalene Visaggio, Robert Jeffrey Ii
The latest graduates from the DC Talent Development Workshops show off their skills by telling stories about some of DC's greatest characters including Batman, Catwoman, John Constantine, Wonder Woman, Zatanna and more!
In Shops: Dec 12, 2018
SRP: $7.99
DYNAMITE ENTERTAINMENT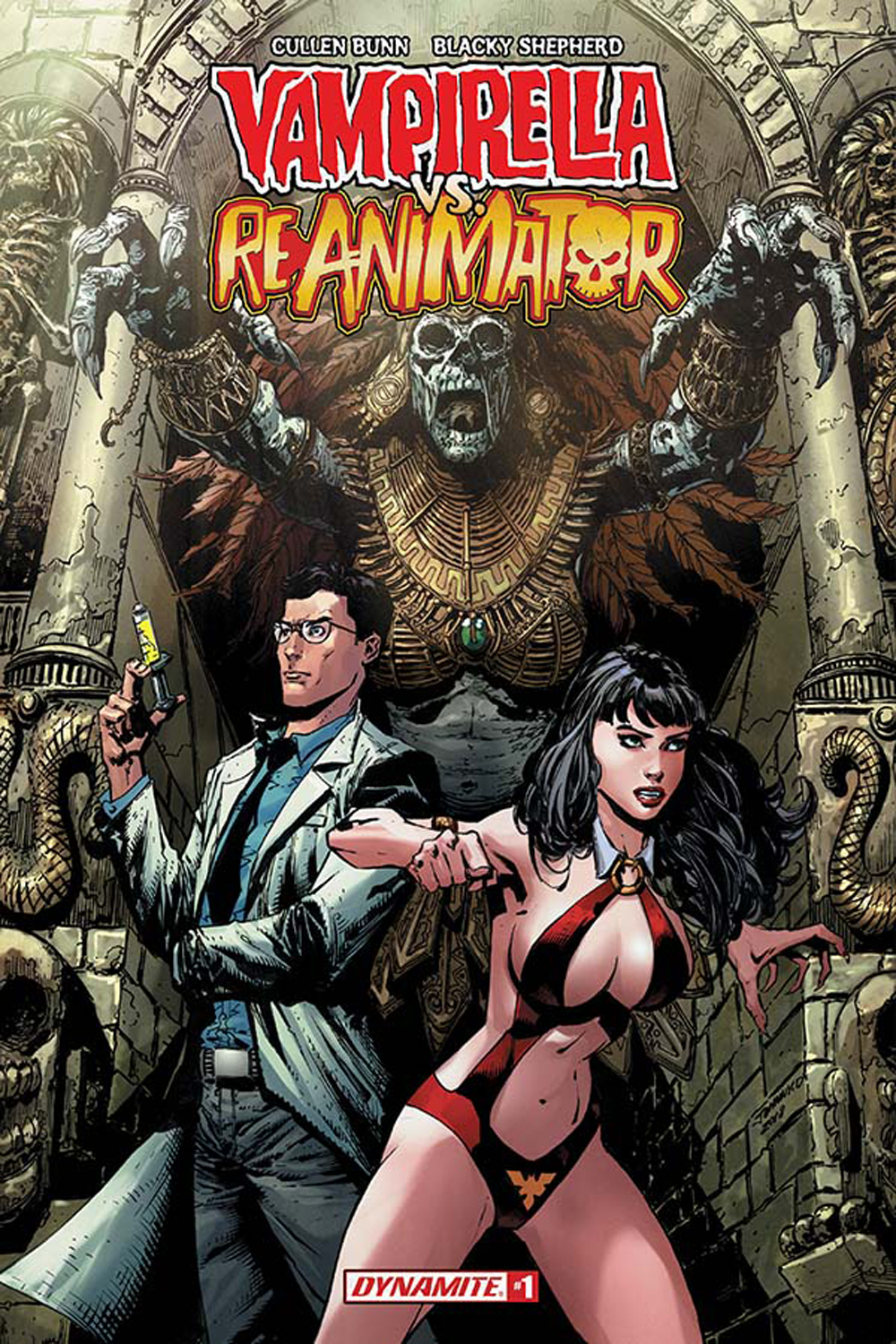 VAMPIRELLA REANIMATOR #1 CVR A DESJARDINS
D. E.
OCT181045
(W) Cullen Bunn (A) Blacky Shepherd (CA) Johnny Desjardins
It's the big question of 2018: How could Vampirella and the Reanimator not have met before now?!!?! Herbert West--the Reanimator--has long sought the secret to perfecting his reagent and break death's hold on mankind once and for all. The key to his success lies in only one place--the forbidden tomb of the Aztec god of death! But disturbing sleeping gods is as troubling (to put it mildly) as raising the uncontrollable, murderous dead... especially when this deity is an ancient enemy of Vampirella of Drakulon! It's vampire versus mad scientist in a battle that threatens to tear the gates of the underworld asunder!
In Shops: Dec 12, 2018
SRP: $3.99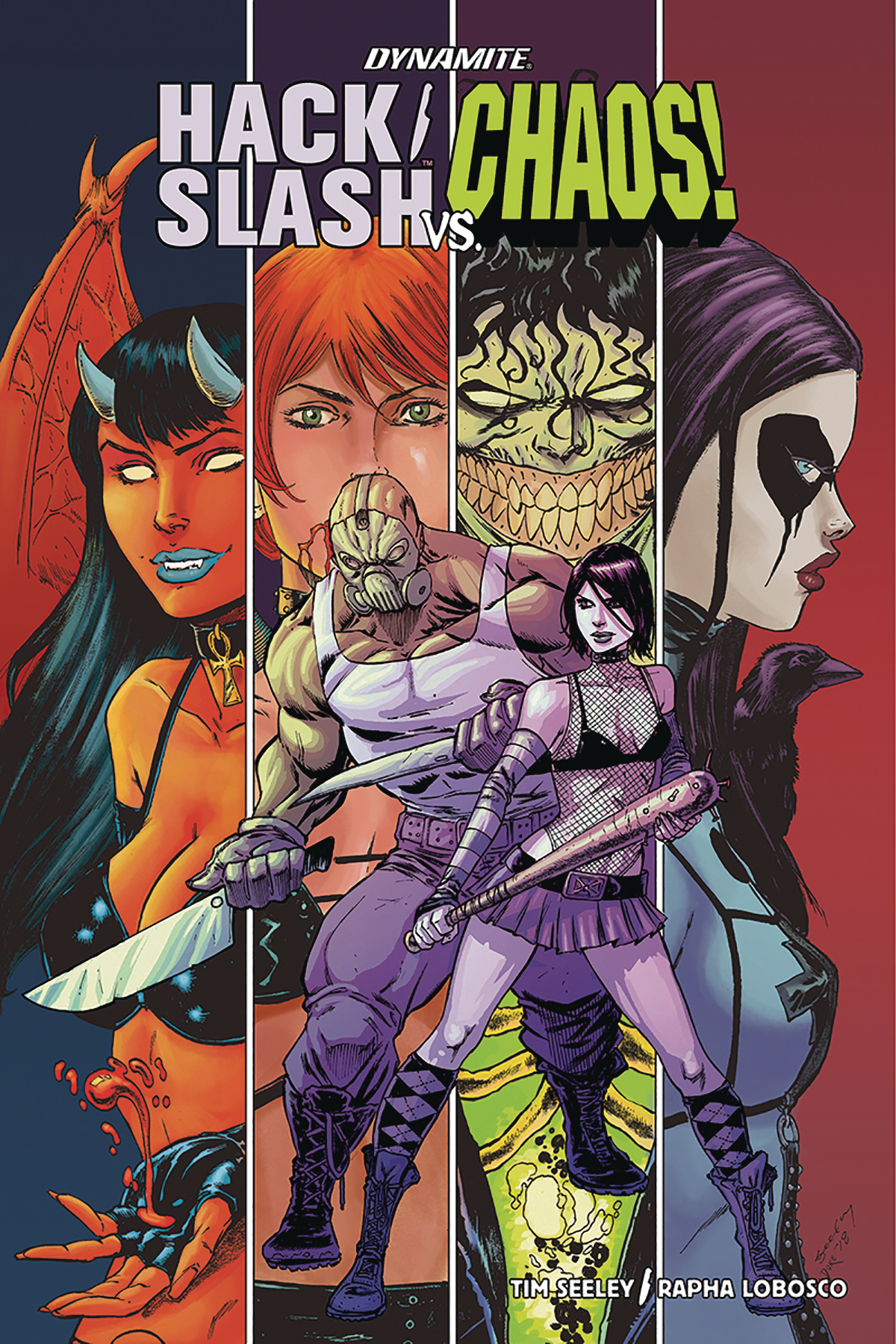 HACK SLASH VS CHAOS #1 CVR A SEELEY (MR)
D. E.
OCT181062
(W) Tim Seeley (A) Rapha Lobosco (CA) Tim Seeley
Cassie Hack, Slasher Hunter Supreme, thought she'd gotten rid of those teenager-perforating undead menaces. But now they're suddenly springing back to life! Cassie and Vlad are going to have to team up with megadeath dispenser Evil Ernie to stop the slaughter, putting them on a path that appears to lead through Chastity, the Chosen, and Purgatori! Tim Seeley returns to his beloved creations to pit them against the world's greatest horror universe and brings back some of the series' most beloved slashers!
In Shops: Dec 05, 2018
SRP: $3.99
IDW PUBLISHING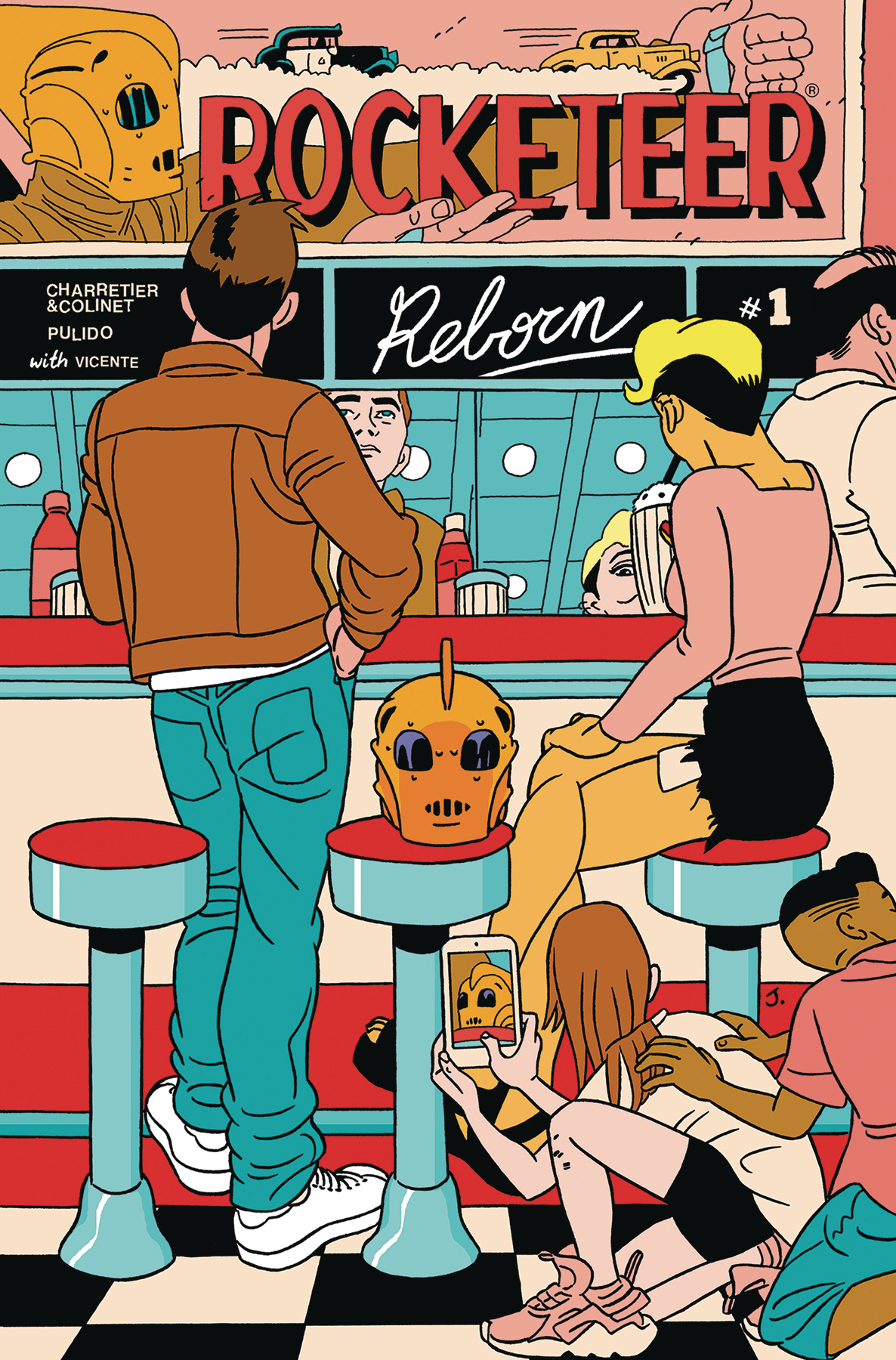 ROCKETEER REBORN #1 PULIDO CVR
IDW PUBLISHING
OCT180677
(W) Elsa Charretier, Pierrick Colinet (A/CA) Javier Pulido
A Rocketeer for a new century!
It's been 80 years since Cliff Secord first found an experimental jet pack and soared through the skies as The Rocketeer, becoming a hero along the way.
Now, decades later, The Rocketeer is all but forgotten, a legend of a bygone era-until Cliff's jet pack is found, but in a most unexpected way-one that causes conflict for several people, each of whom are drawn to the jet pack... some for good and some for evil!
A pulp-inspired modern-day adventure!
First female Rocketeer!
In Shops: Dec 26, 2018
SRP: $3.99
IMAGE COMICS
DIE #1 CVR A HANS (MR)
IMAGE COMICS
OCT180012
(W) Kieron Gillen (A) Stephanie Hans, Stephanie Hans
THE WICKED + THE DIVINE writer KIERON GILLEN teams up with artist supernova STEPHANIE HANS (THE WICKED + THE DIVINE 1831, Journey Into Mystery) for her first ongoing comic! DIE is a pitch-black fantasy where a group of forty-something adults have to deal with the returning unearthly horror they barely survived as teenage role-players. If Kieron's in a rush, he describes it as "Goth Jumanji." That only captures a sliver of what you'll find in oversized debut issue-where fantasy gets all too real.
In Shops: Dec 05, 2018
SRP: $3.99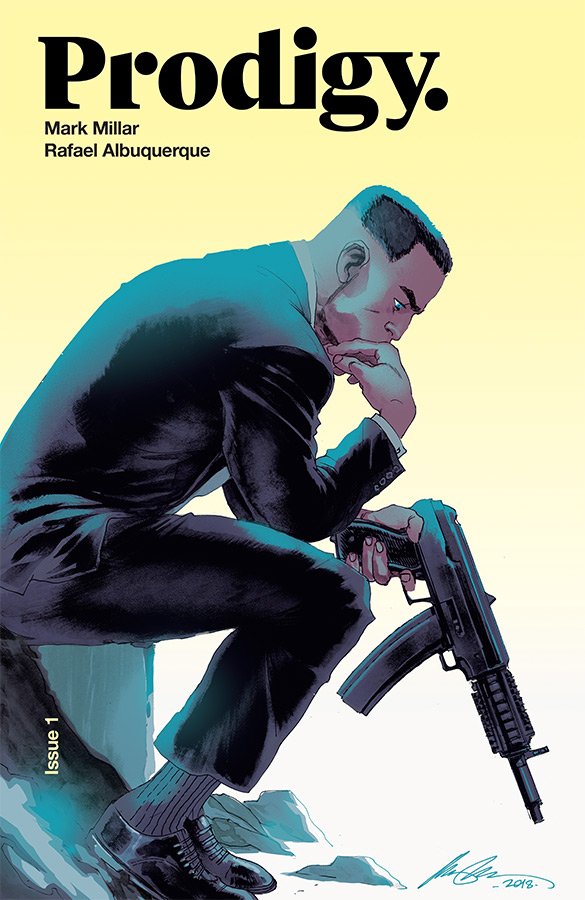 PRODIGY #1 (OF 6) CVR A ALBUQUERQUE (MR)
IMAGE COMICS
OCT180018
(W) Mark Millar (A/CA) Rafael Albuquerque
Edison Crane's not content being the world's smartest man and most successful businessman-his brilliant mind needs to be constantly challenged. He's a Nobel Prize-winning scientist, genius composer, Olympic athlete, an expert in the occult, and now international governments are calling on him to fix problems they just can't handle.
In Shops: Dec 05, 2018
SRP: $3.99
FREEZE #1
IMAGE COMICS
OCT180028
(W) Dan Wickline (A/CA) Phil Sevy
SERIES PREMIERE! The entire human population is frozen by a mysterious global event... all except Ray, and only he has the power to unfreeze them. Now with the fate of the world in his hands, he must figure out what is going on, how to set things right again, and answer the question: does everyone deserve to be saved?
In Shops: Dec 05, 2018
SRP: $3.99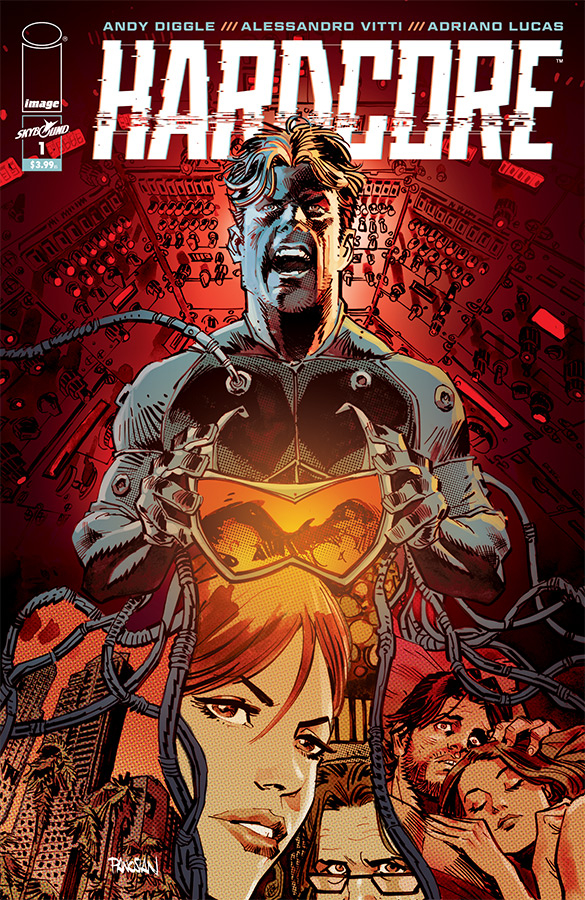 HARDCORE #1 (MR)
IMAGE COMICS
OCT180031
(W) Andy Diggle (A) Alessandro Vitti, Adriano Lucas (CA) Dan Panosian
SERIES PREMIERE! Imagine being able to take over the body of anyone on Earth. Sound crazy? Not for Agent Drake and the Hardcore Program. They can turn any person into a human drone to get to targets that normal soldiers can't. Drake is the best soldier Hardcore has to offer. But when he gets stranded in a body with only 72 hours to discover who's hijacked the Program, he'll have to pull out all the stops against an enemy who could be literally anyone.
From the creative minds of ROBERT KIRKMAN and MARC SILVESTRI, and presented by ANDY DIGGLE (THIEF OF THIEVES, Losers) and ALESSANDRO VITTI (Secret Warriors), comes a new Skybound Original that shows you how to save the world without getting your hands dirty.
In Shops: Dec 19, 2018
SRP: $3.99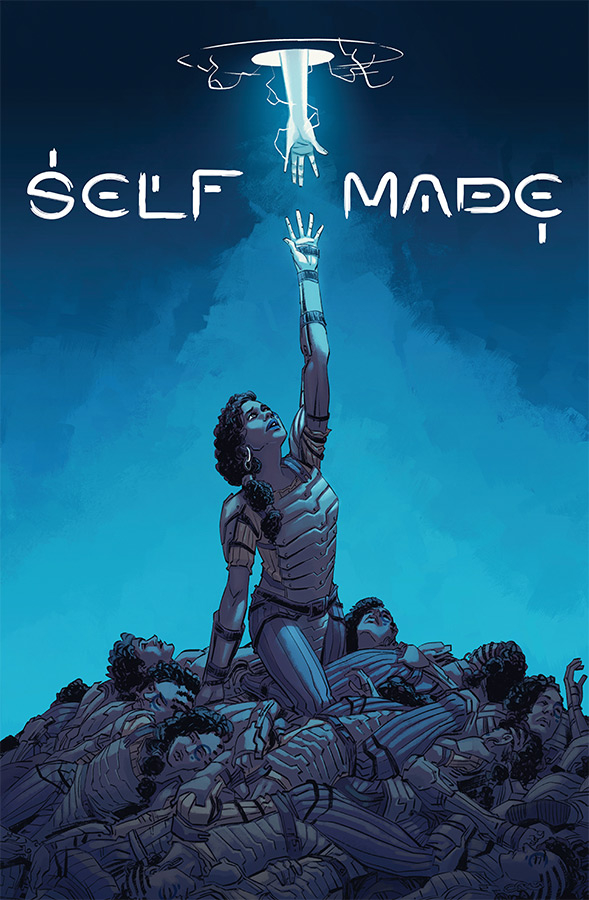 SELF MADE #1 (MR)
IMAGE COMICS
OCT180039
(W) Matt Groom (A/CA) Eduardo Ferigato, Marcello Costa
SERIES PREMIERE! Introducing a new creative team everyone will be talking about-superstar talent writer MAT GROOM and artist EDUARDO FERIGATO. When chaos besieges the kingdom of Arcadia, warrior Amala Citlali sees it as her chance to escape her clearly-defined role-and to change her destiny. But she could never have predicted that it would also be her chance to confront her God. In his debut editorial role, comics veteran KYLE HIGGINS guides this intimate, worlds-spanning story of self-discovery.
In Shops: Dec 05, 2018
SRP: $3.99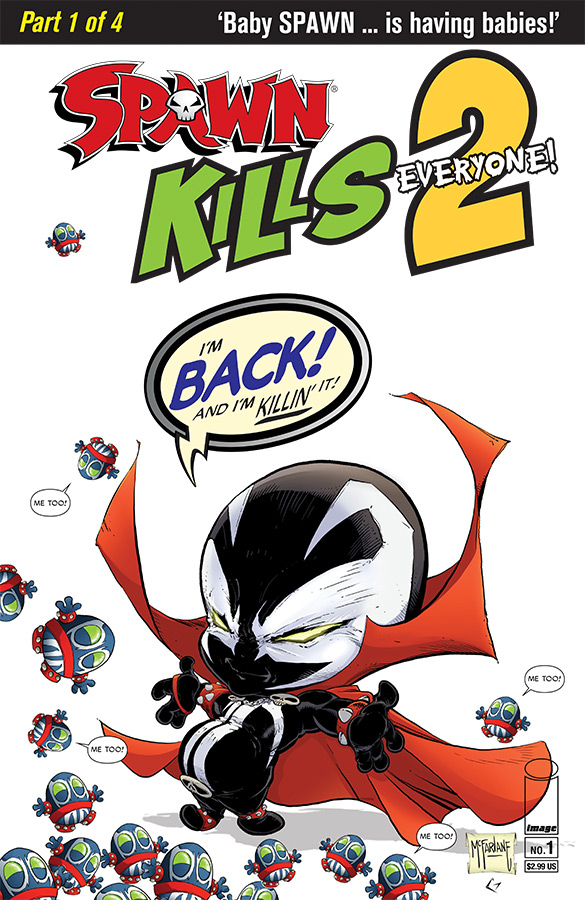 SPAWN KILLS EVERYONE TOO #1 (OF 4) CVR A CLEAN MCFARLANE
IMAGE COMICS
OCT180048
(W) Todd McFarlane (A) Will Robson (CA) Todd McFarlane
SPAWN KILLS EVERYONE is back in this four-part miniseries! MORE CUTENESS, MORE KILLING, MORE ISSUES!
In Shops: Dec 19, 2018
SRP: $3.99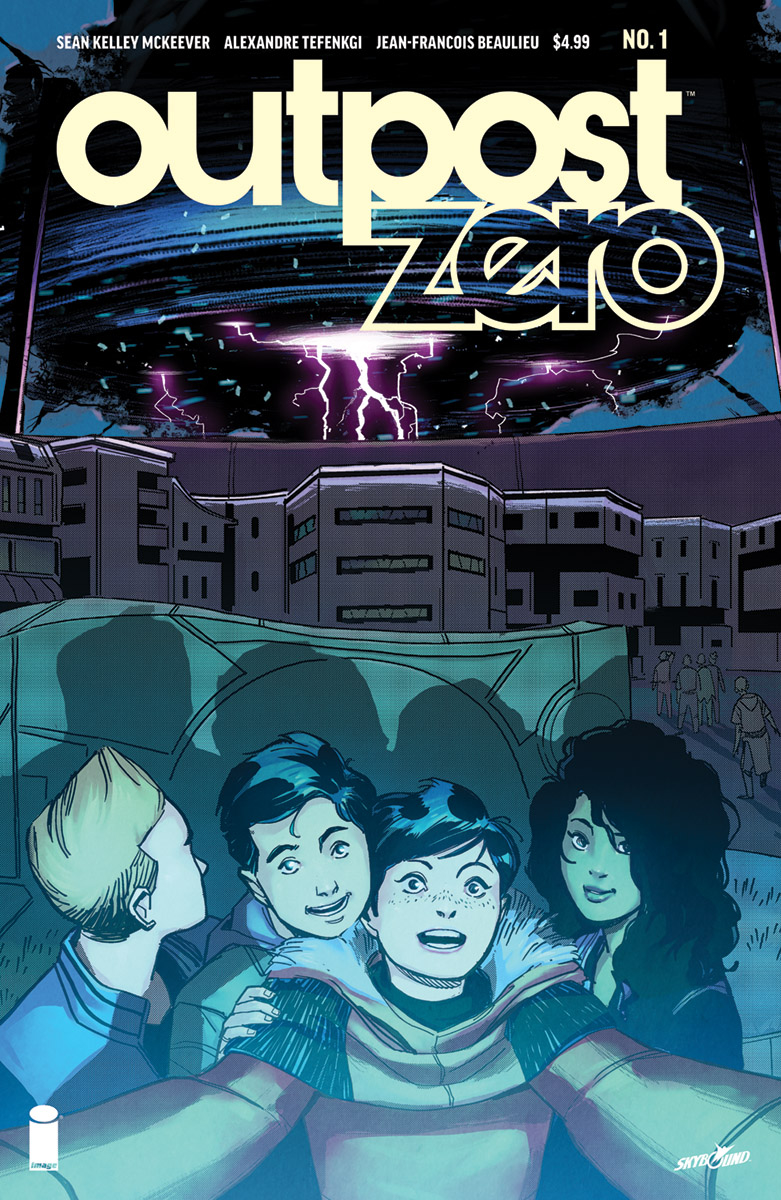 OUTPOST ZERO #1 (O/A)
IMAGE COMICS
OCT180236
(W) Sean McKeever (A/CA) Alexandre Tefenkgi
SERIES PREMIERE!
Welcome to Outpost Zero, the smallest town in the universe. The people there work the land, go to the fights every Friday night, and tuck their children into bed-but the Outpost is no place for dreams or aspirations. To survive is ambitious enough. As Alea and her friends graduate to adulthood on a frozen world never meant to support human life, something stirs. Something sees...
Explore the mysteries and wonder of the Frost in this oversized debut issue by Eisner-winning writer SEAN KELLEY McKEEVER, artist ALEXANDRE TEFENKGI, and colorist JEAN-FRANCOIS BEAULIEU.
In Shops: Nov 07, 2018
SRP: $4.99
MARVEL COMICS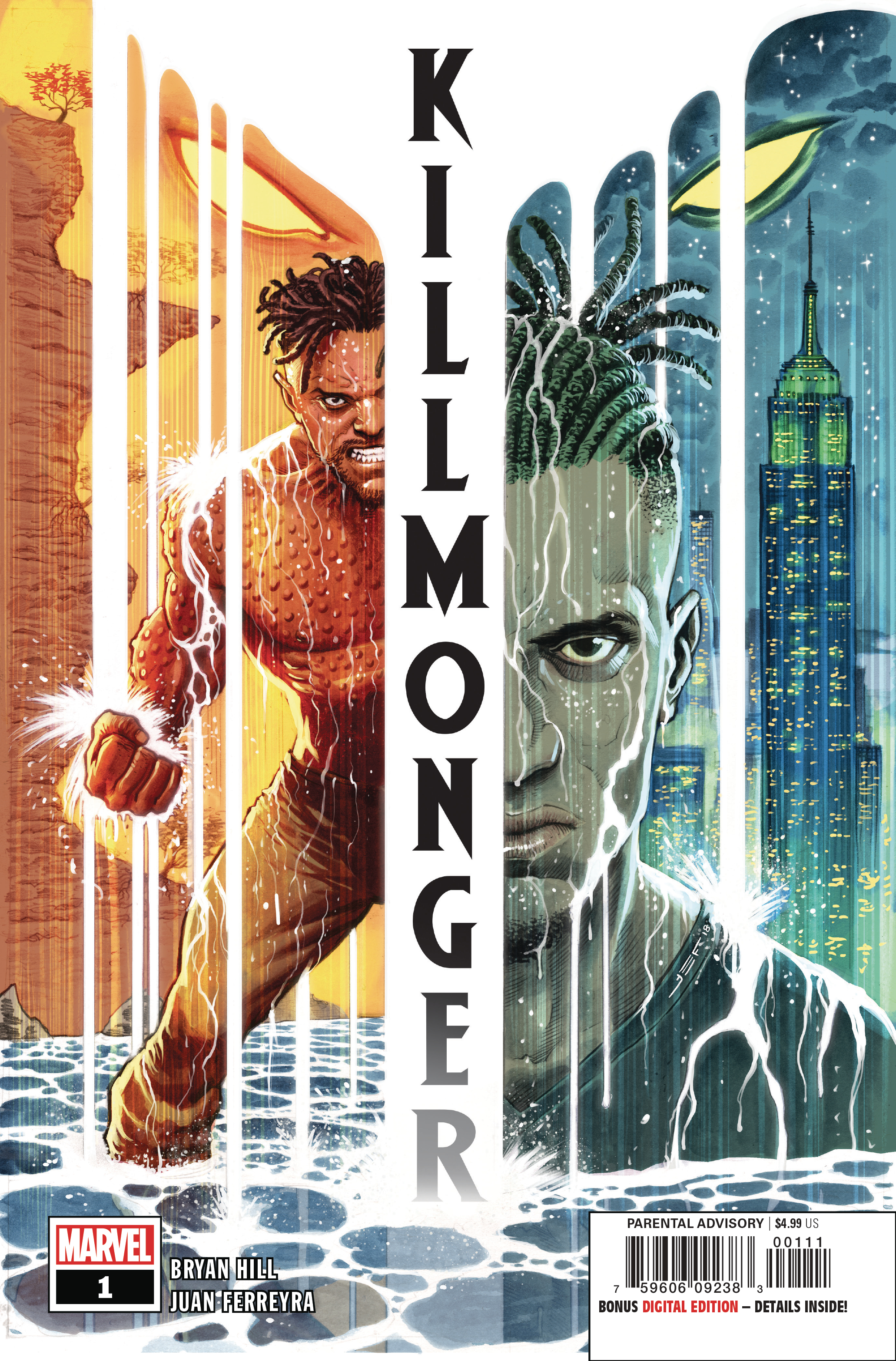 KILLMONGER #1 (OF 5)
MARVEL COMICS
OCT180803
(W) Bryan Edward Hill (A/CA) Juan Ferreyra
THE BRUTAL TALE OF A MAN WHO WILL STOP AT NOTHING FOR FREEDOM...
One day, Erik Killmonger will rise up and attempt to steal the throne of Wakanda. The throne he believes he is owed. But long before he became "Killmonger," there was a boy known as N'Jadaka. A boy who was stolen from his home and taught only the world's cruelties. A boy who knew the Black Panther only as a fairy tale, a whisper from strangers. This is the story of a man who driven by revenge. This is the legend of Killmonger.
PARENTAL ADVISORY
In Shops: Dec 05, 2018
SRP: $4.99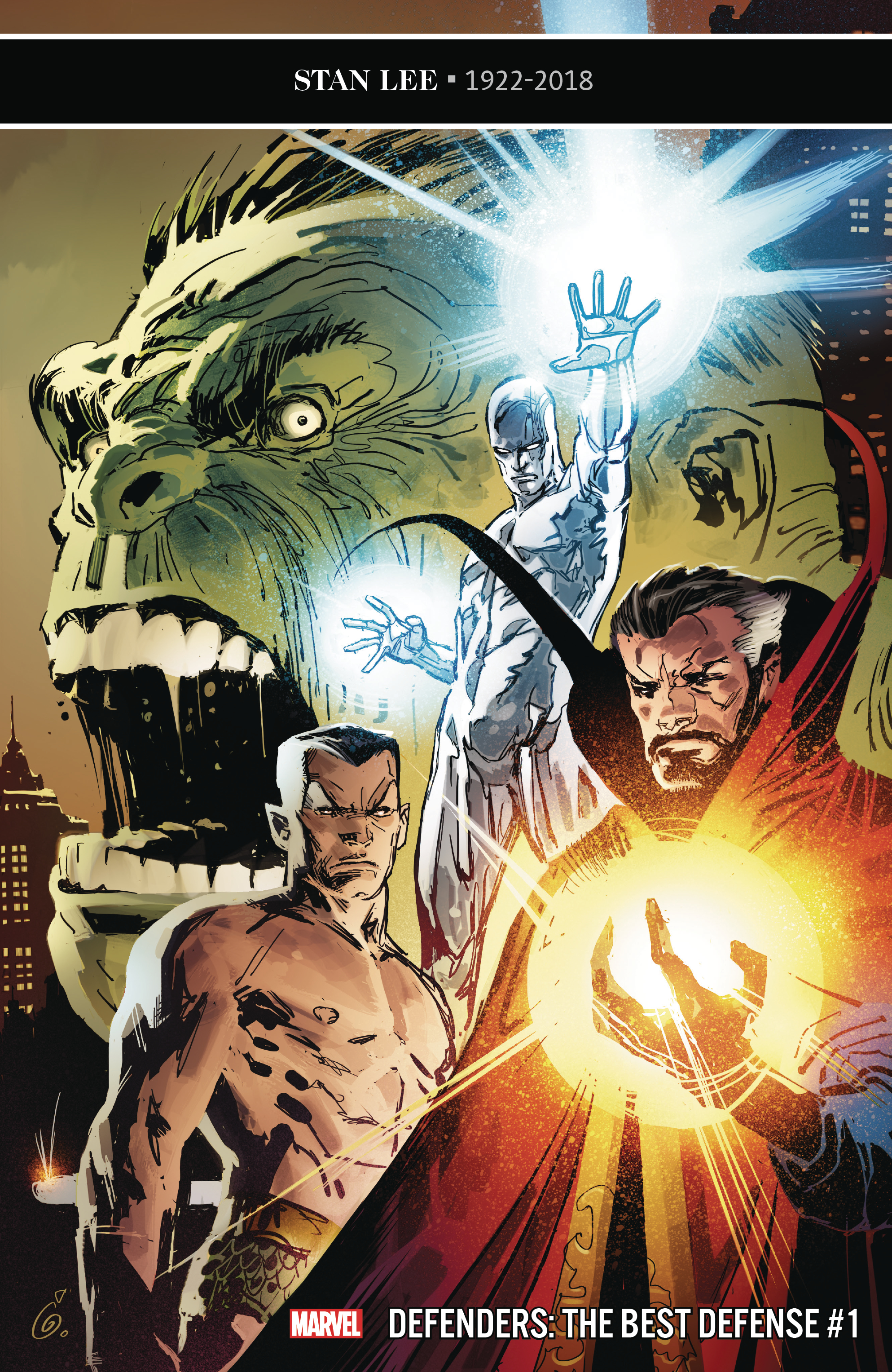 DEFENDERS BEST DEFENSE #1
MARVEL COMICS
OCT180835
(W) Al Ewing (A) Joe Bennett (CA) Ron Garney
"THE BEST DEFENSE" FINALE!
• The lost Atlanteans. The Train. The bedsheet man. Dead Steve. The Stock Exchange of Souls. Trust us, it all makes sense.
• In fact, it makes enough sense to destroy our entire solar system... Unless four very different heroes can come together to stop it.
Rated T+
In Shops: Dec 19, 2018
SRP: $4.99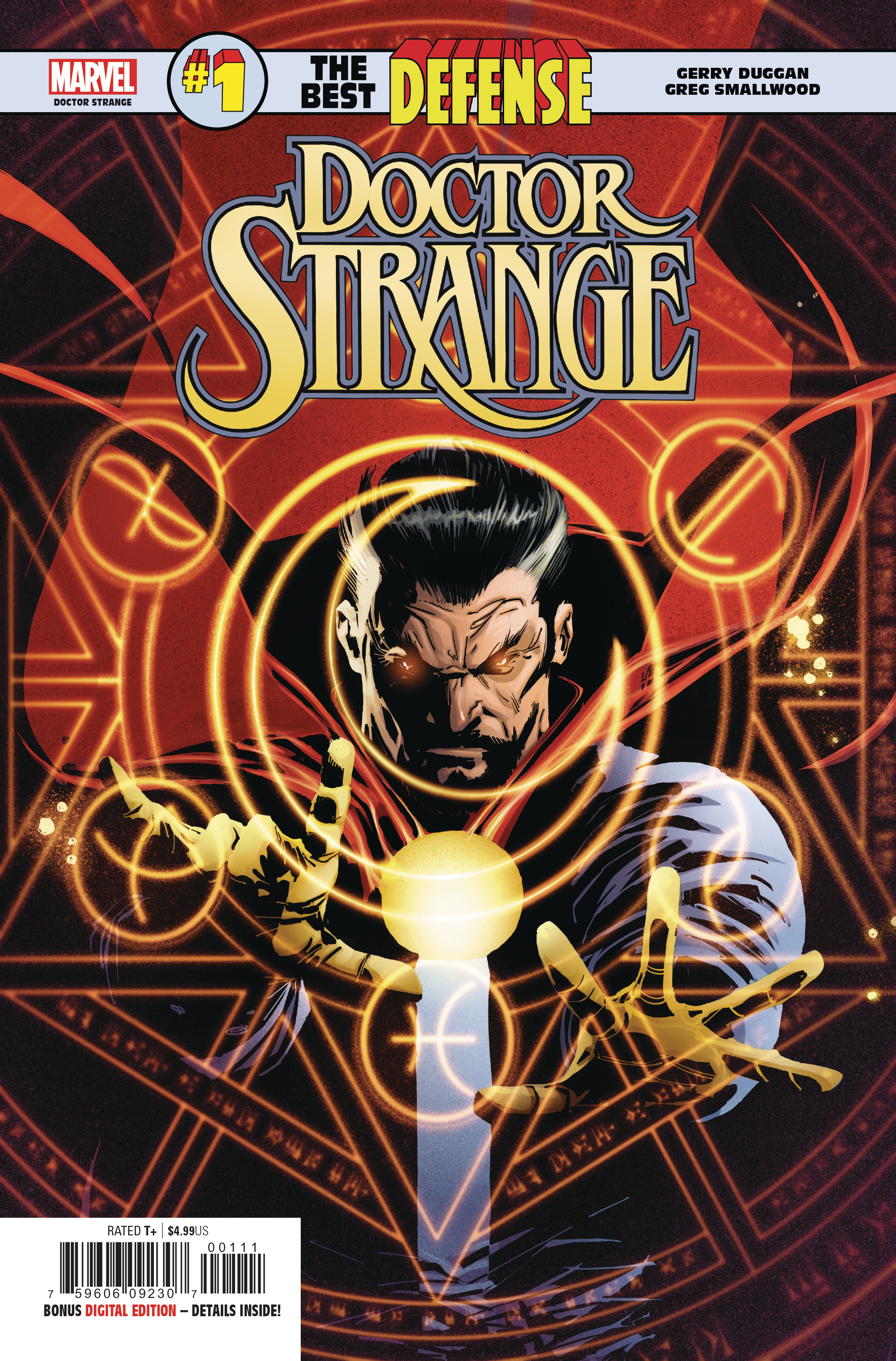 DEFENDERS DOCTOR STRANGE #1
MARVEL COMICS
OCT180825
(W) Gerry Duggan (A) Greg Smallwood (CA) Ron Garney
"THE BEST DEFENSE" PART THREE!
• In a desolate, barren landscape, the Master of the Mystic Arts fights what may well prove to be his final battle-alone, unaided, friendless...
• Except...what's in that bag that Stephen Strange is carrying with him?
Rated T+
In Shops: Dec 12, 2018
SRP: $4.99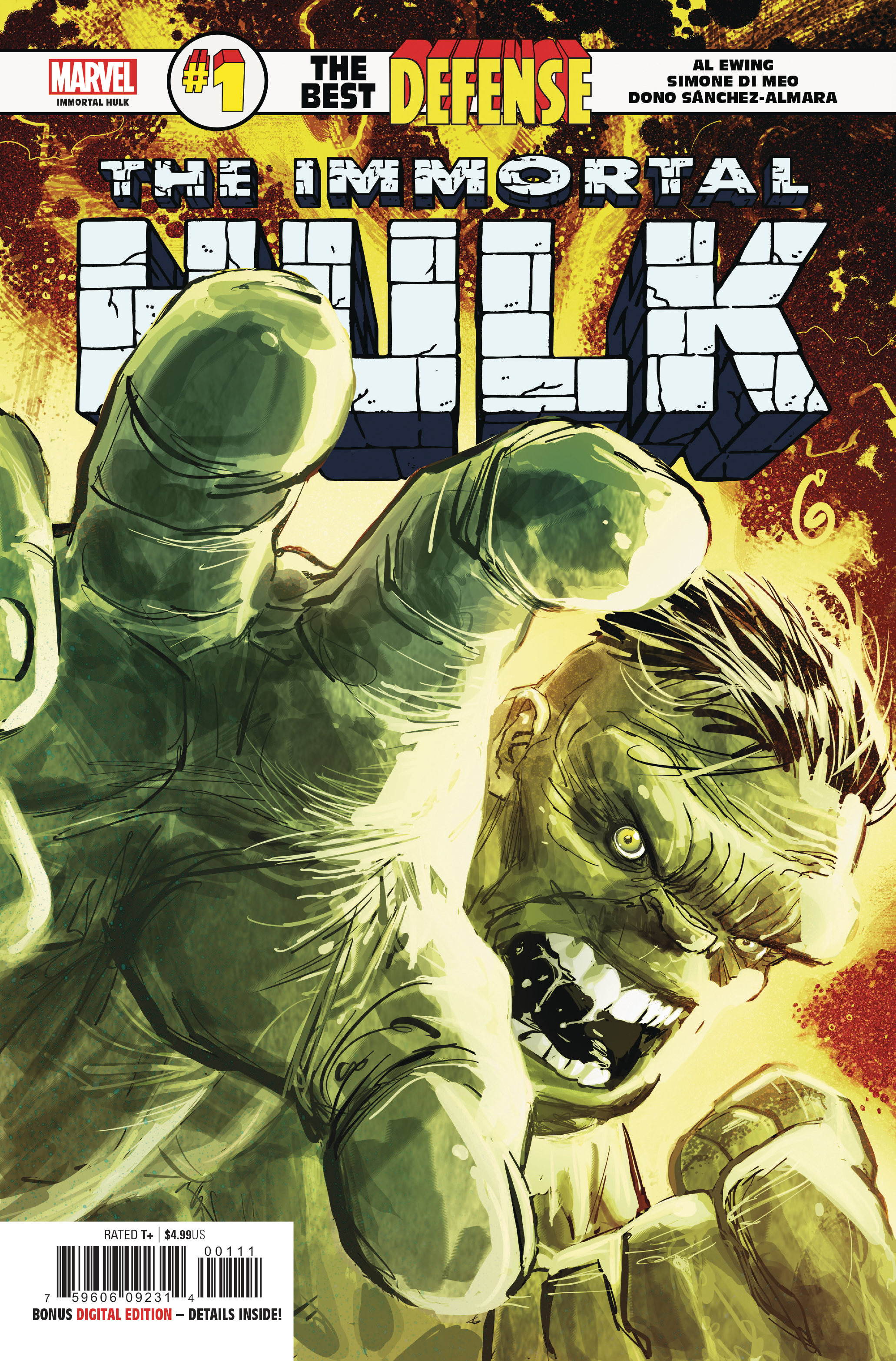 DEFENDERS IMMORTAL HULK #1
MARVEL COMICS
OCT180815
(W) Al Ewing (A) Simone Di Meo (CA) Ron Garney
"THE BEST DEFENSE" STARTS HERE!
• Stephen Strange is dead. A charred skeleton in an abandoned barn on the edge of a deserted town.
• Bruce Banner wants to know why. And he won't stop until he has the truth in his hands...
• ...with or without THE IMMORTAL HULK.
Rated T+
In Shops: Dec 05, 2018
SRP: $4.99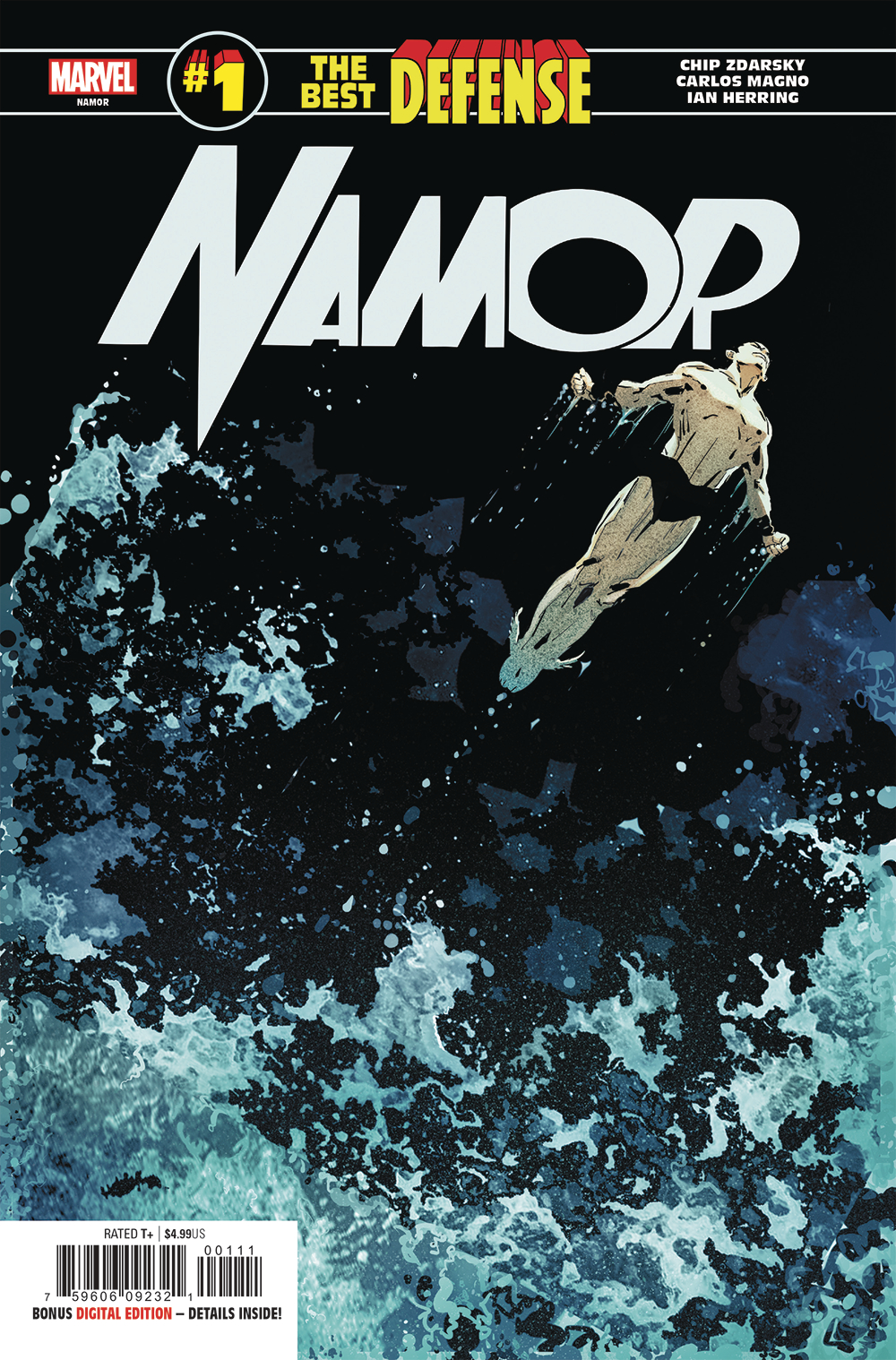 DEFENDERS NAMOR #1
MARVEL COMICS
OCT180820
(W) Chip Zdarsky (A) Carlos Magno (CA) Ron Garney
"THE BEST DEFENSE" PART TWO!
• The Monarch of the Oceans has declared war once more on the surface world in the pages of AVENGERS. And if this is a war that Namor means to win, he is going to need allies to stand beside him!
• The Sub-Mariner's quest for a lost tribe of sea-dwellers carries him further than he ever thought possible-and to a reckoning both strange and wonderful!
• And hey, what's up with that weird apparition in the sheet, anyway?
Rated T+
In Shops: Dec 05, 2018
SRP: $4.99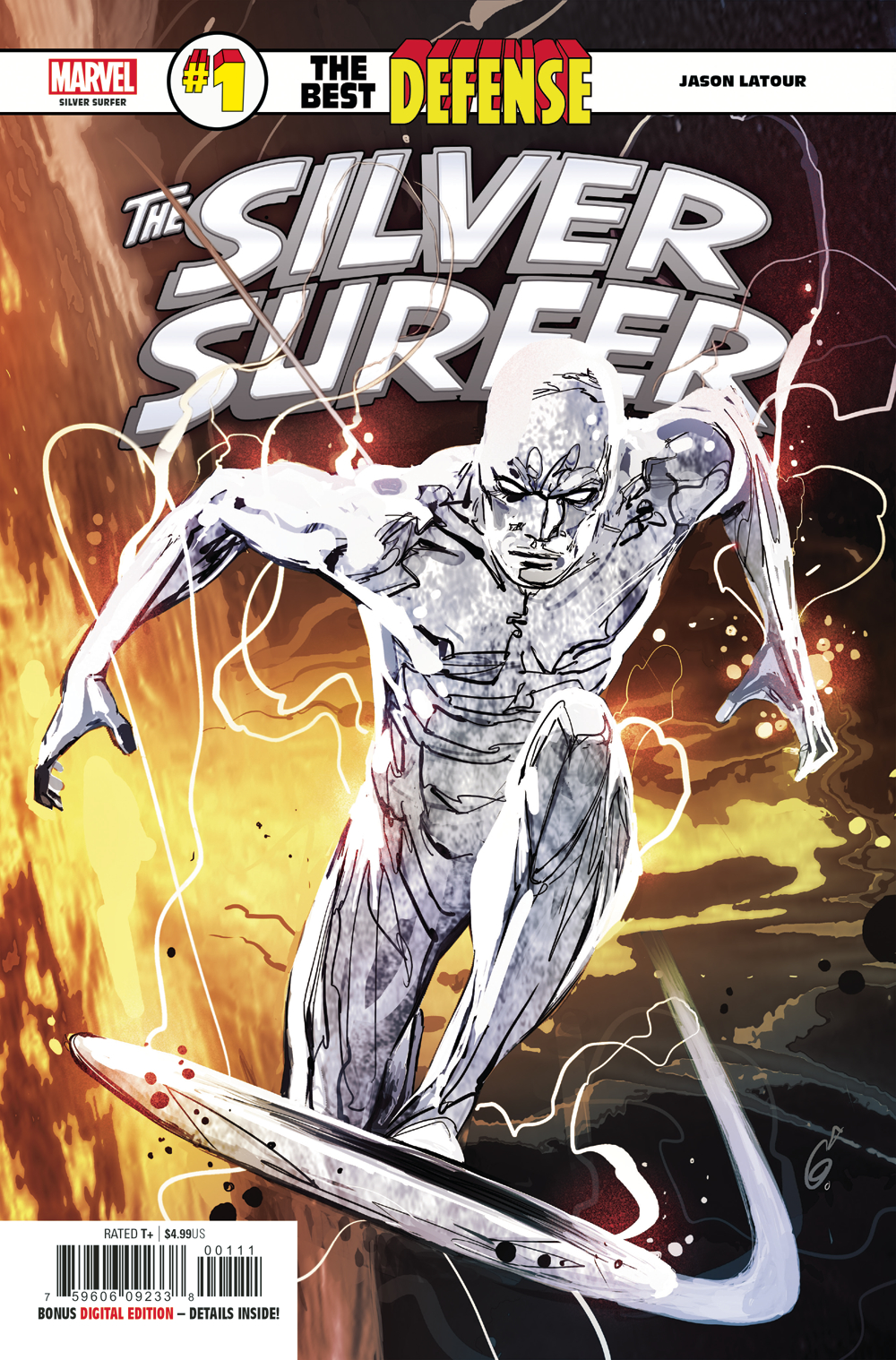 DEFENDERS SILVER SURFER #1
MARVEL COMICS
OCT180830
(W) Jason Latour (A) Jason Latour (CA) Ron Garney
"THE BEST DEFENSE" PART FOUR!
• Shall not the Judge of All the Earths do right?
• Norrin Radd is not so certain.
• But it falls to him who is the Silver Surfer to decide which planets will live...and which will feed the unending hunger of the world-devouring Galactus!
• A single honest person can tip the balance...if only the Surfer can find one in time!
• And the Train rolls on...
Rated T+
In Shops: Dec 12, 2018
SRP: $4.99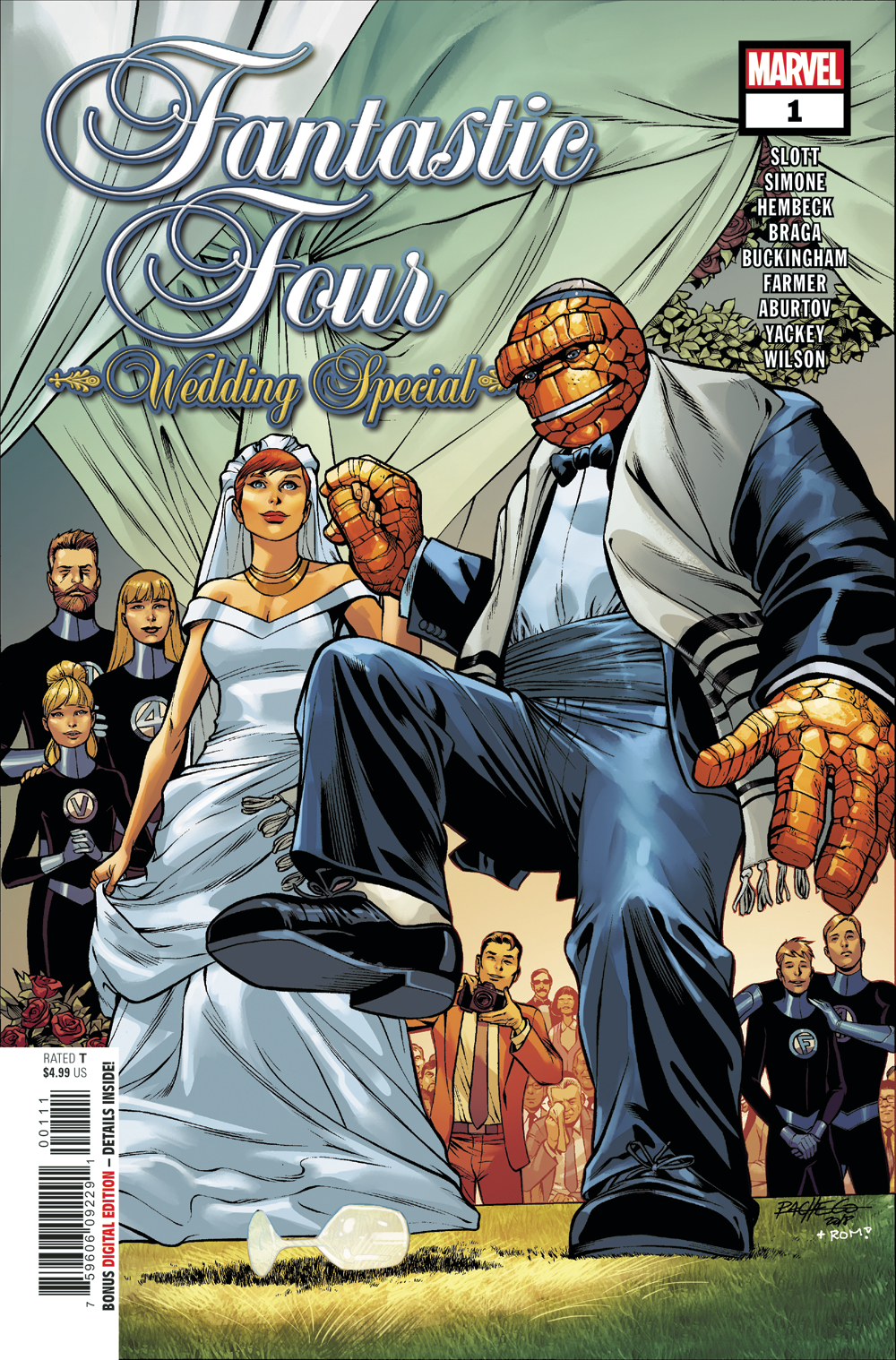 FANTASTIC FOUR WEDDING SPECIAL #1
MARVEL COMICS
OCT180778
(W) Gail Simone, Dan Slott (A) Laura Braga (CA) Carlos Pacheco
Come and celebrate the impending nuptials of the Thing and Alicia Masters with a Ladies Night Out as only the First Family of Comics can do it! Guest-starring She-Hulk, Medusa, Crystal and more, it's the bachelorette party Alicia never expected-and one whose ribaldry will be interrupted by the arrival of a Surprise Super Villain! (And no, we don't mean Johnny Storm!) Meanwhile, the Thing has an unexpected meeting with his future father-in-law, the Puppet Master! Plus, Hembeck! The Fantastic Four family tree! And more! R.S.V.P. at your local comics retailer this December, and don't forget to kiss the bride!
Rated T
In Shops: Dec 12, 2018
SRP: $4.99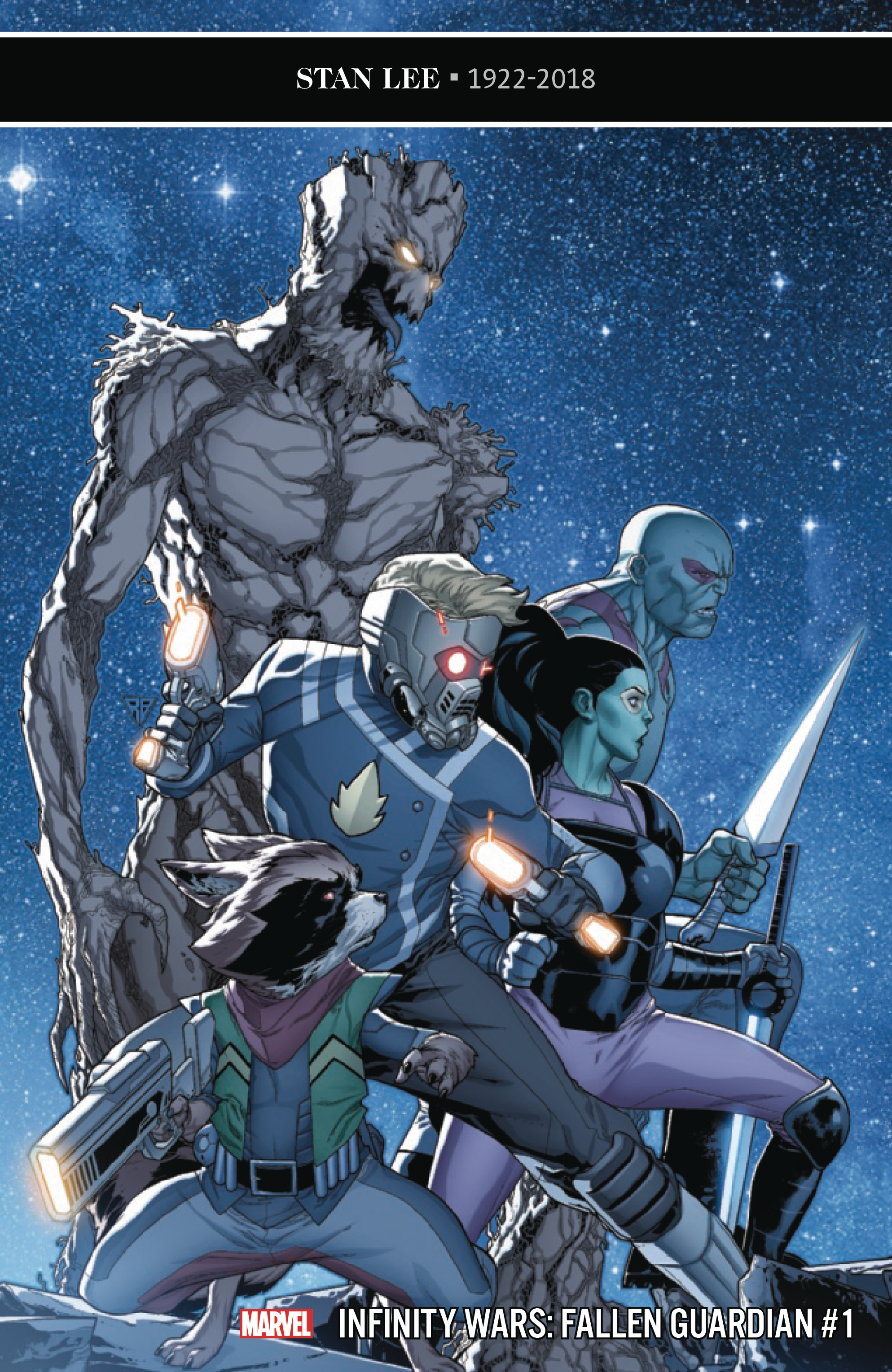 INFINITY WARS FALLEN GUARDIAN #1
MARVEL COMICS
OCT180870
(W) Gerry Duggan (A) Andy MacDonald (CA) R. B. Silva
In the stunning climax of INFINITY WARS, one of the Guardians of the Galaxy makes the ultimate sacrifice. Look back at the life of a fallen Guardian and the empty space they leave behind in what's left of the universe.
Rated T+
In Shops: Dec 19, 2018
SRP: $4.99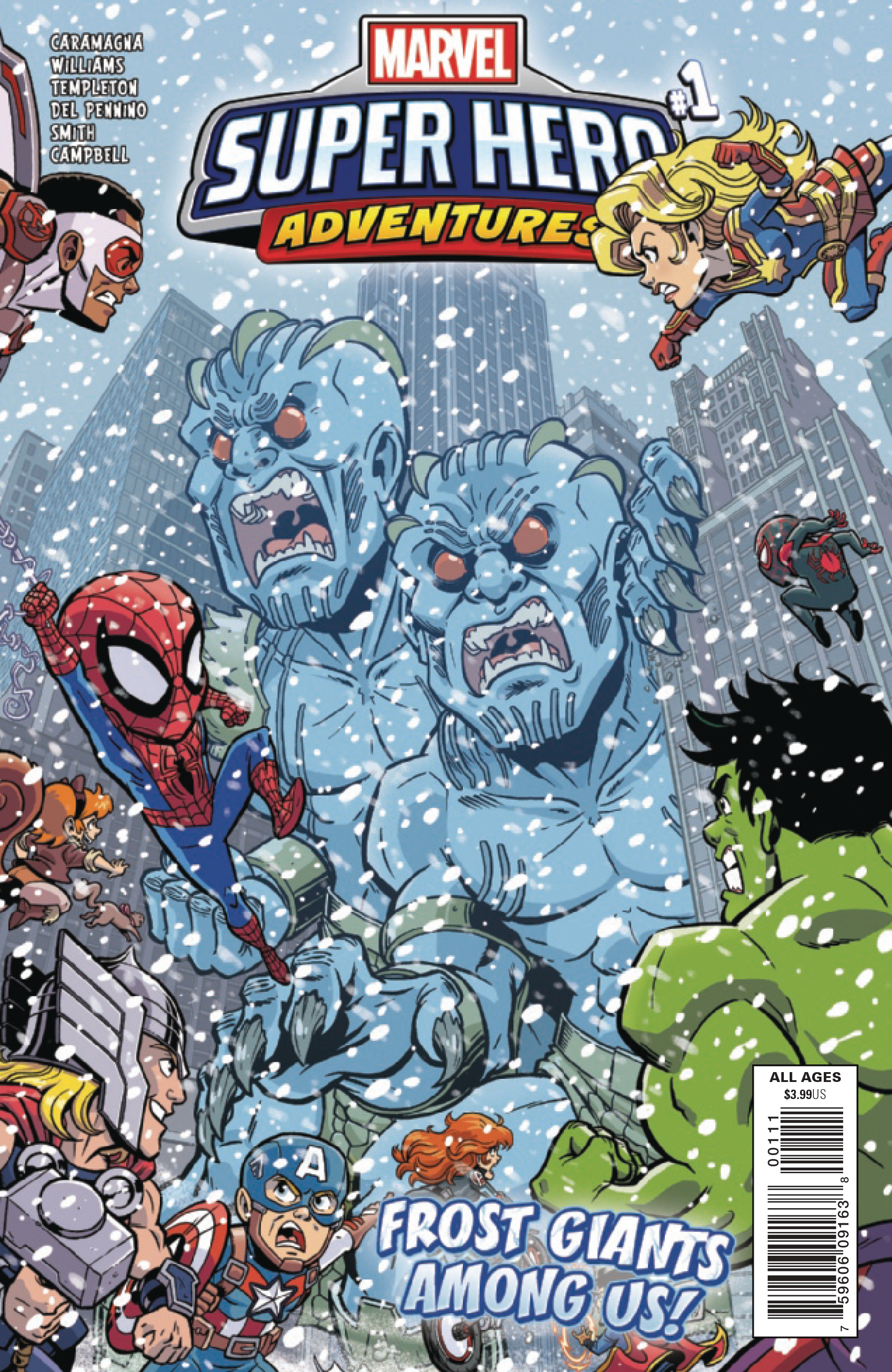 MARVEL SH ADVENTURES CAPTAIN MARVEL FROST GIANTS #1
MARVEL COMICS
OCT181001
(W) Leah Williams, Joe Caramagna (A) Ty Templeton (CA) Jacob Chabot
• It's the middle of winter in New York City, which means all your favorite heroes and villains are trying to beat the cold!
• But this time the cold beats back, when a group of fearsome FROST GIANTS make themselves right at home in the city, leaving the heroes of the Marvel Universe no choice but to bundle up and stand against the ice-hearted interlopers!
All Ages
In Shops: Dec 19, 2018
SRP: $3.99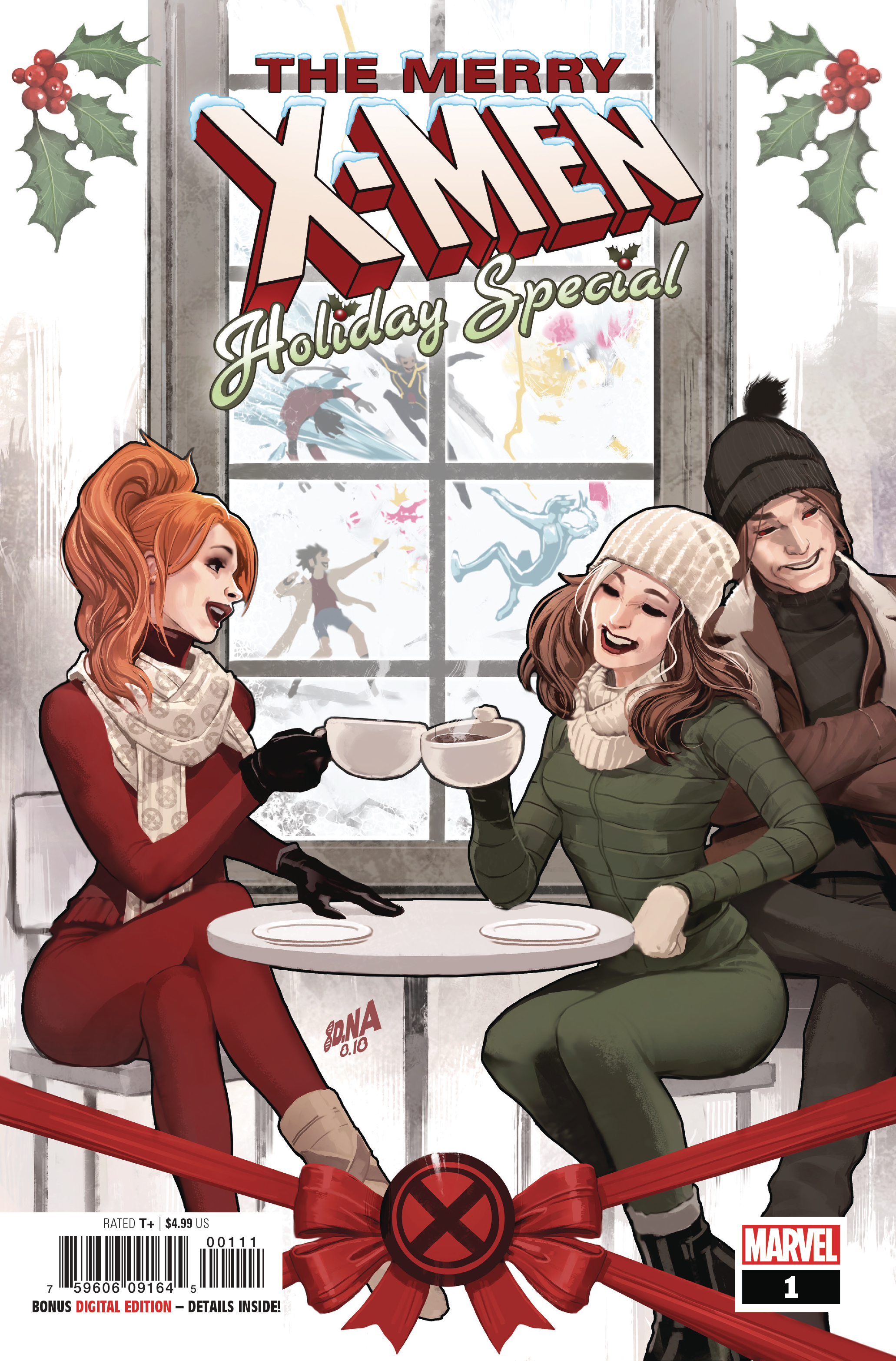 MERRY X-MEN HOLIDAY SPECIAL #1
MARVEL COMICS
OCT180911
(W) Charlamagne Tha God , Chris Sims, Various (A) Marco Failla, Kris Anka, More (CA) David Nakayama
Twenty-five holiday tales of merry mutants, one for each day of December 1 through December 25! What does Magneto do for Hanukkah? What's Rogue and Gambit's first married Christmas like? Is Jubilee truly the master of navigating malls during the holidays? These questions and more are answered as all your favorite X-Men and more creators than you can shake a jingle bell at come together for a holiday celebration to last all month long!
Rated T+
In Shops: Dec 05, 2018
SRP: $4.99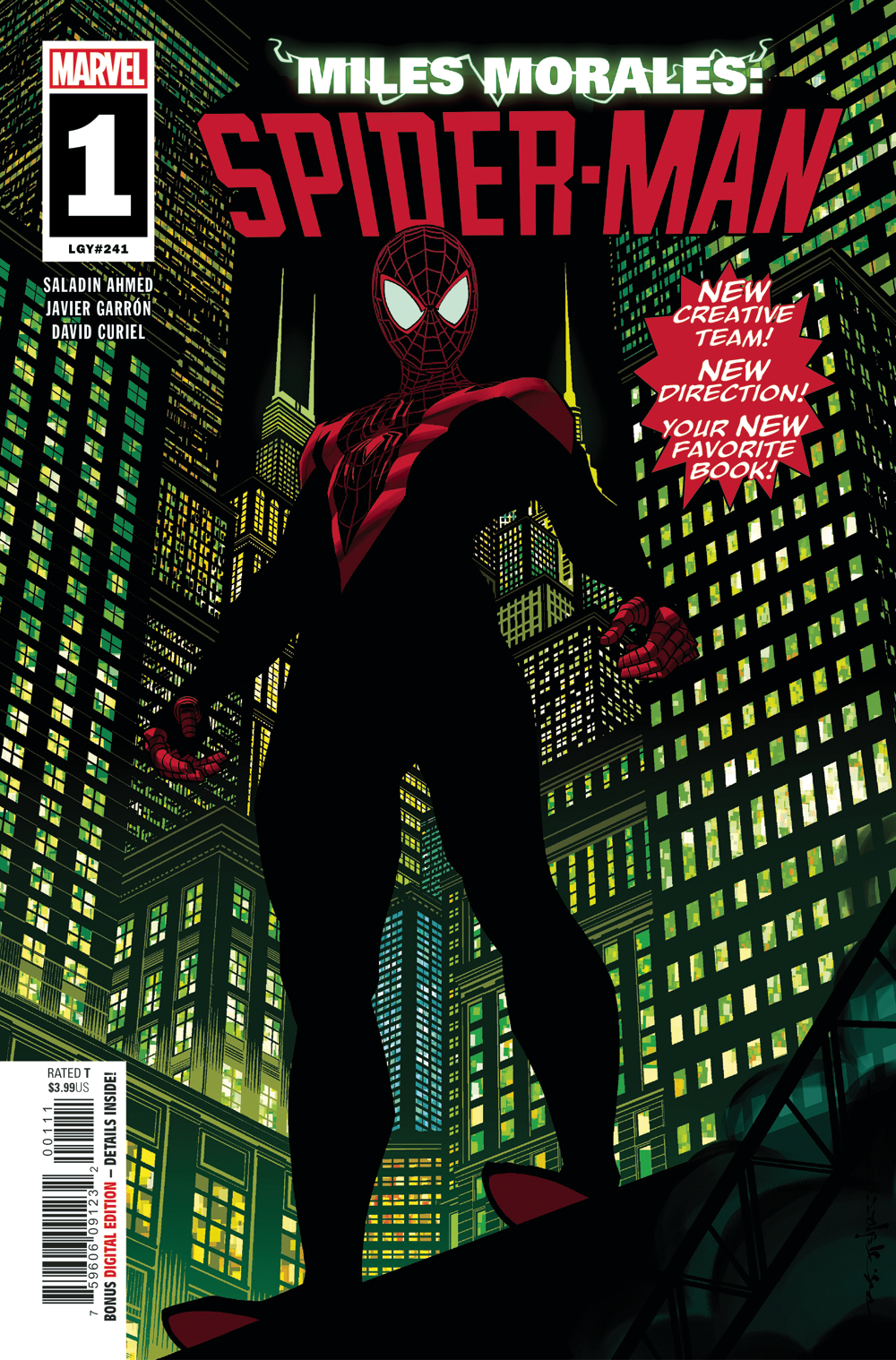 MILES MORALES SPIDER-MAN #1
MARVEL COMICS
OCT180846
(W) Saladin Ahmed (A) Javi Garron (CA) Brian Stelfreeze
Balancing his normal life, school, parents, etc...and super-heroing has never been easy, but when the Rhino and a cadre of mysterious criminals start plaguing Brooklyn, things take a dark turn. And Miles doesn't even know the half of it yet. Eisner Award-winner Saladin Ahmed (BLACK BOLT) and Young Gun Javier Garrón (ANT-MAN & THE WASP) bring you the latest incarnation of the coolest character in the Marvel Universe!
Rated T
In Shops: Dec 12, 2018
SRP: $3.99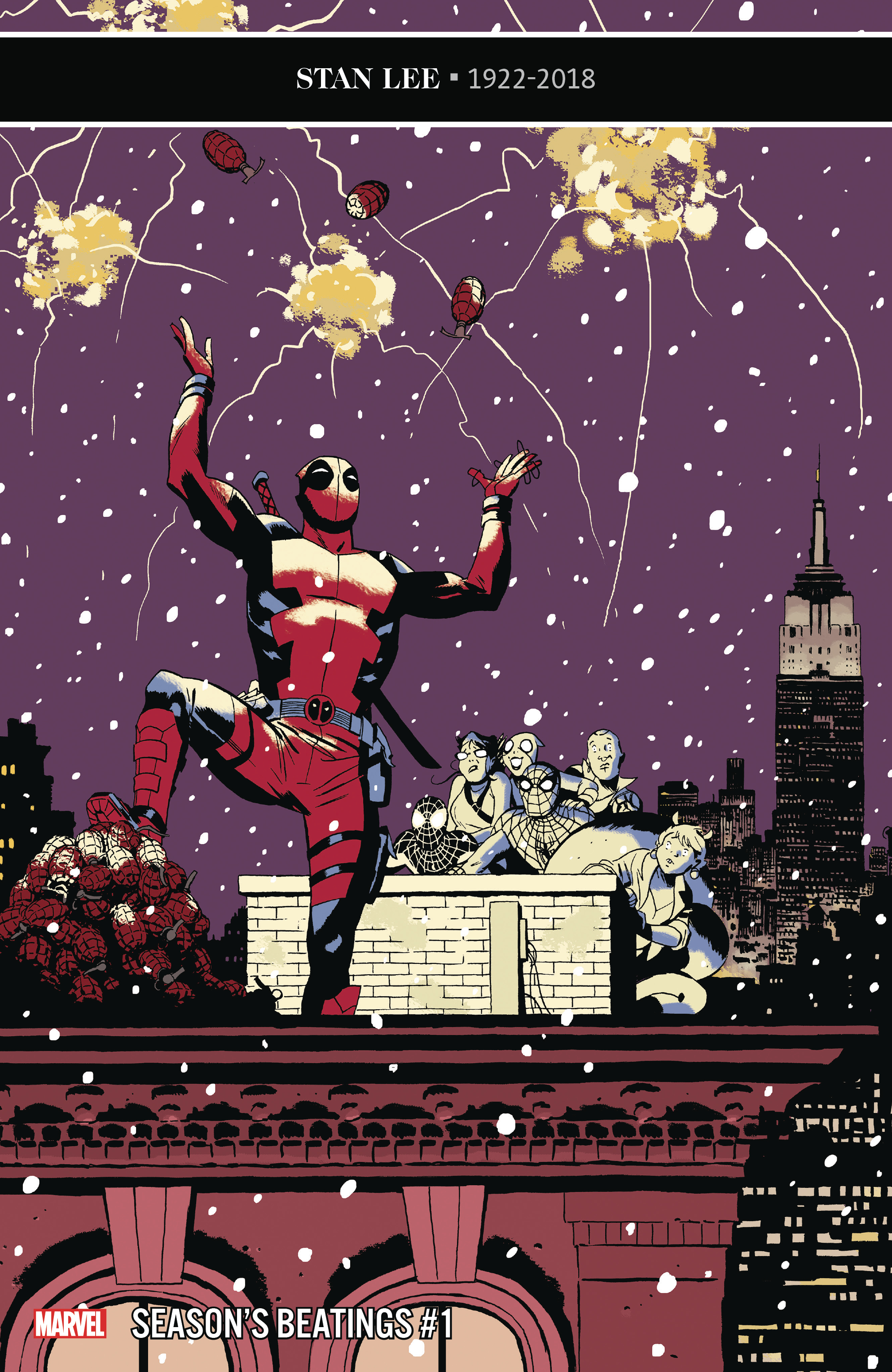 SEASONS BEATINGS #1
MARVEL COMICS
OCT180809
(W) Jason Latour
It's the most wonderful time of the year! And certainly the most eventful, as this cast of Marvel heroes soon find out as they engage in wacky hijinks to save the holiday season!
Rated T+
In Shops: Dec 19, 2018
SRP: $4.99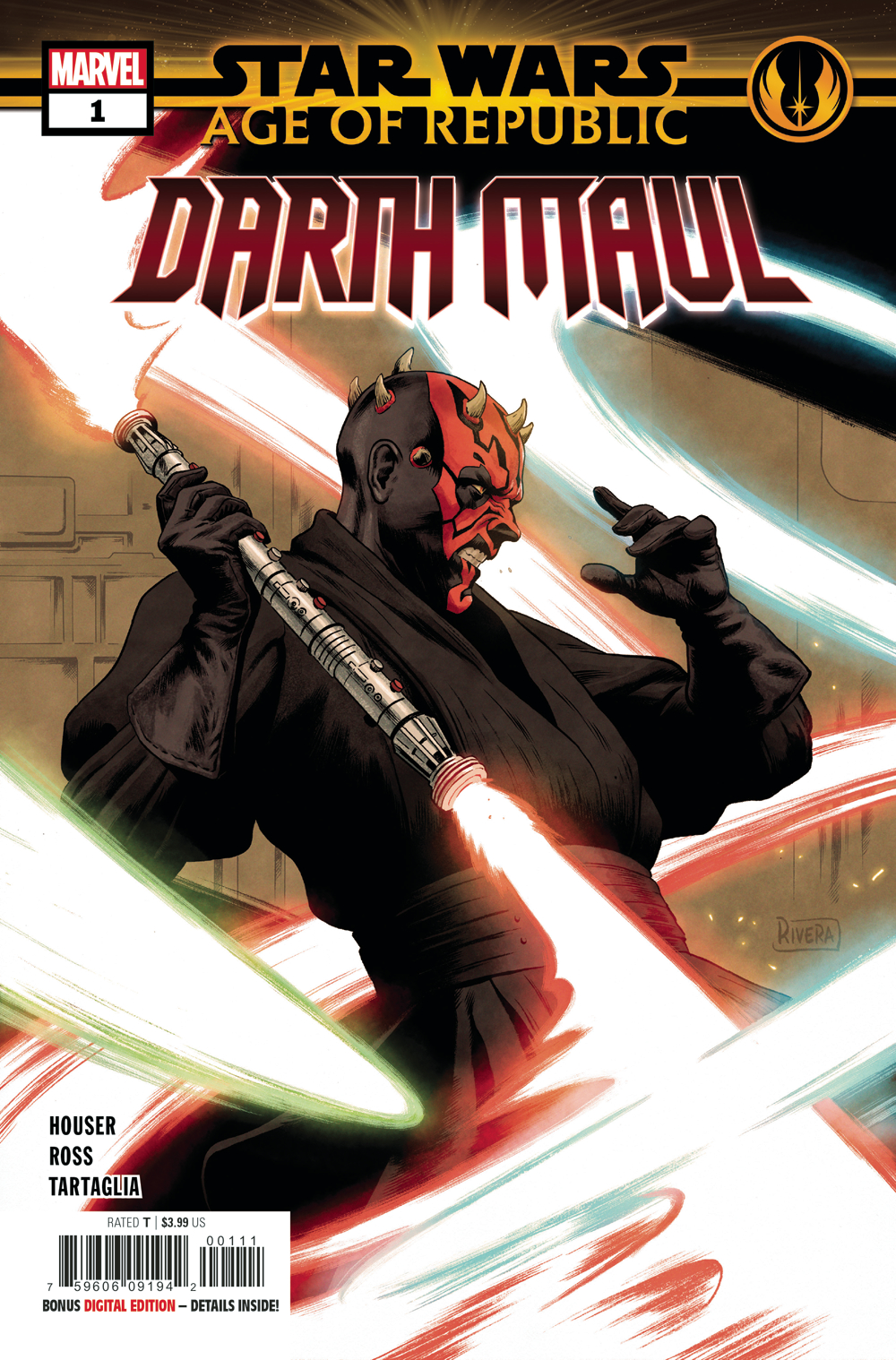 STAR WARS AGE REPUBLIC DARTH MAUL #1
MARVEL COMICS
OCT180982
(W) Jody Houser (A) Luke Ross (CA) Paolo Rivera
RISE OF THE SITH!
A living weapon of rage and bloodthirst, DARTH MAUL has stayed in the shadows of CORUSCANT waiting for his chance to strike against the JEDI ORDER! However, since tasting his first blood, the SITH lord struggles to contain his desire for destruction and questions the wishes of his methodically plotting master. Could Maul have had another path in life, or was he always fated to follow a dark road? Guest-starring DARTH SIDIOUS!
Rated T
In Shops: Dec 12, 2018
SRP: $3.99
STAR WARS AGE REPUBLIC QUI-GON JINN #1
MARVEL COMICS
OCT180987
(W) Jody Houser (A) Cory Smith (CA) Paolo Rivera
JEDI ORDER...OR CHAOS?
Considered one of the greatest Jedi Knights or the one who led them to their doom, maverick QUI-GON JINN is one of STAR WARS' most controversial heroes. The JEDI MASTER is known to bend the rules and it's gotten him into plenty of trouble with the COUNCIL. Now, in the face of a mission that goes awry, he's forced to confront his conflicting beliefs. What will Qui-Gon uncover about his loyalty to the Jedi vs his loyalty to the FORCE? Guest-starring MASTER YODA!
Rated T
In Shops: Dec 05, 2018
SRP: $3.99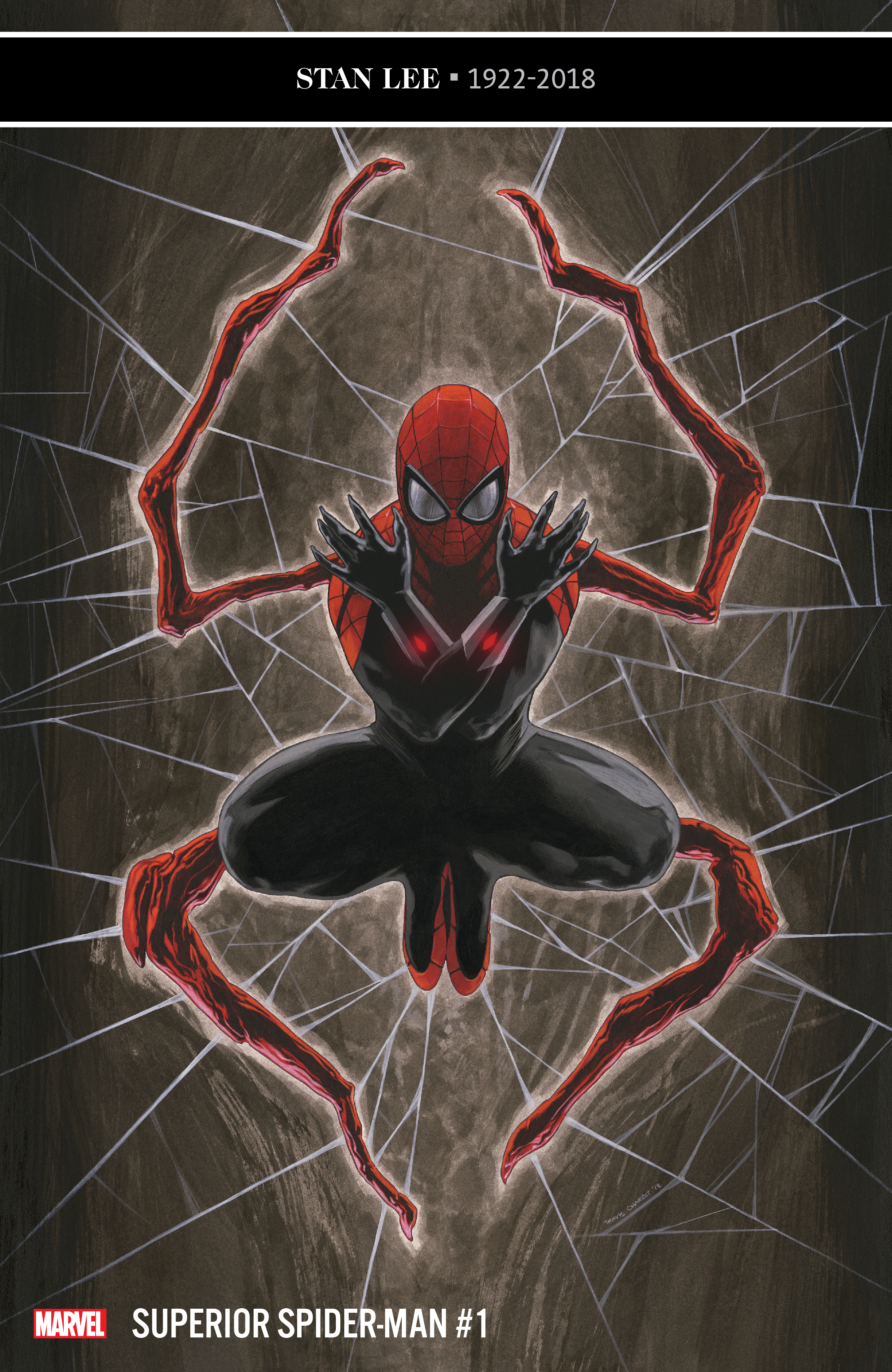 SUPERIOR SPIDER-MAN #1 SG
MARVEL COMICS
OCT180840
(W) Christos Gage (A) Mike Hawthorne (CA) Travis Charest
A SPIDER-GEDDON TIE-IN!
Otto Octavius leaves the moniker of Doctor Octopus behind and once again becomes THE SUPERIOR SPIDER-MAN! If you think you've already read the most intense and surprisingly heartbreaking Superior Spider-Man story, prepare to be wrong. Otto is going to prove to the world that he's the most effective and (to him at least) the best super hero in the world. But when a villain that overpowers him by so much shows up in San Francisco, there's no way Ock can win, right? Can you see Otto smirking from where you're reading this?
Rated T
In Shops: Dec 26, 2018
SRP: $3.99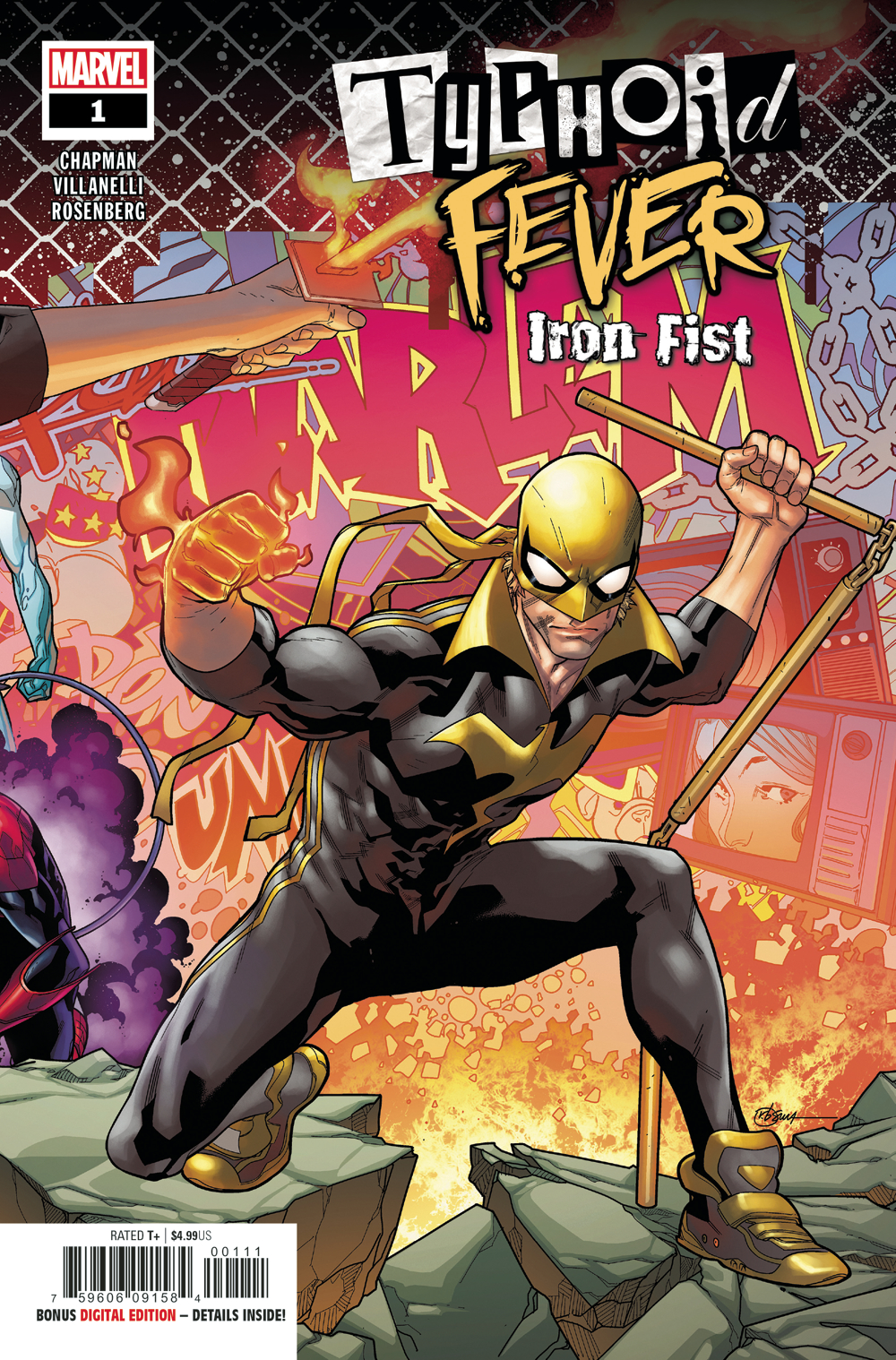 TYPHOID FEVER IRON FIST #1
MARVEL COMICS
OCT180863
(W) Clay McLeod Chapman (A) Paolo Villanelli (CA) R. B. Silva
• Typhoid Mary is stronger than ever, and Spider-Man and the X-Men know that better than anyone as they've been forced to fight among themselves.
• As her powers grow stronger, it's only a matter of time before Typhoid Mary turns Manhattan into her own personal playground - if not her own personal ashtray.
• Luckily, IRON FIST is in town and willing to lend a hand...er...fist. But will the Master of Kung Fu be able to stop the flames from spreading, or will he just add fuel to the fire?
Rated T+
In Shops: Dec 12, 2018
SRP: $4.99
WINTER SOLDIER #1
MARVEL COMICS
OCT180812
(W) Kyle Higgins (A/CA) Rod Reis
Bucky Barnes believes in second chances.
Having escaped death, the loss of identity, and a life of murder, the man known as the Winter Soldier has worked hard to atone for his sins. But now...he's going to go one step further. What do you do when you've found redemption? You help others do the same.
From KYLE HIGGINS (Nightwing, Power Rangers, C.O.W.L.) and ROD REIS (SECRET EMPIRE, DOCTOR STRANGE: DAMNATION, C.O.W.L.) comes the next chapter in the saga of the Winter Soldier. He's becoming a "fixer," working to help others leave behind lives of crime. It's Bucky's way of channeling his own pain in a productive, personal way...by helping others find the redemption that he found. However, as Bucky is going to learn, not all paths are the same...and not everyone can be "saved."
Rated T+
In Shops: Dec 05, 2018
SRP: $3.99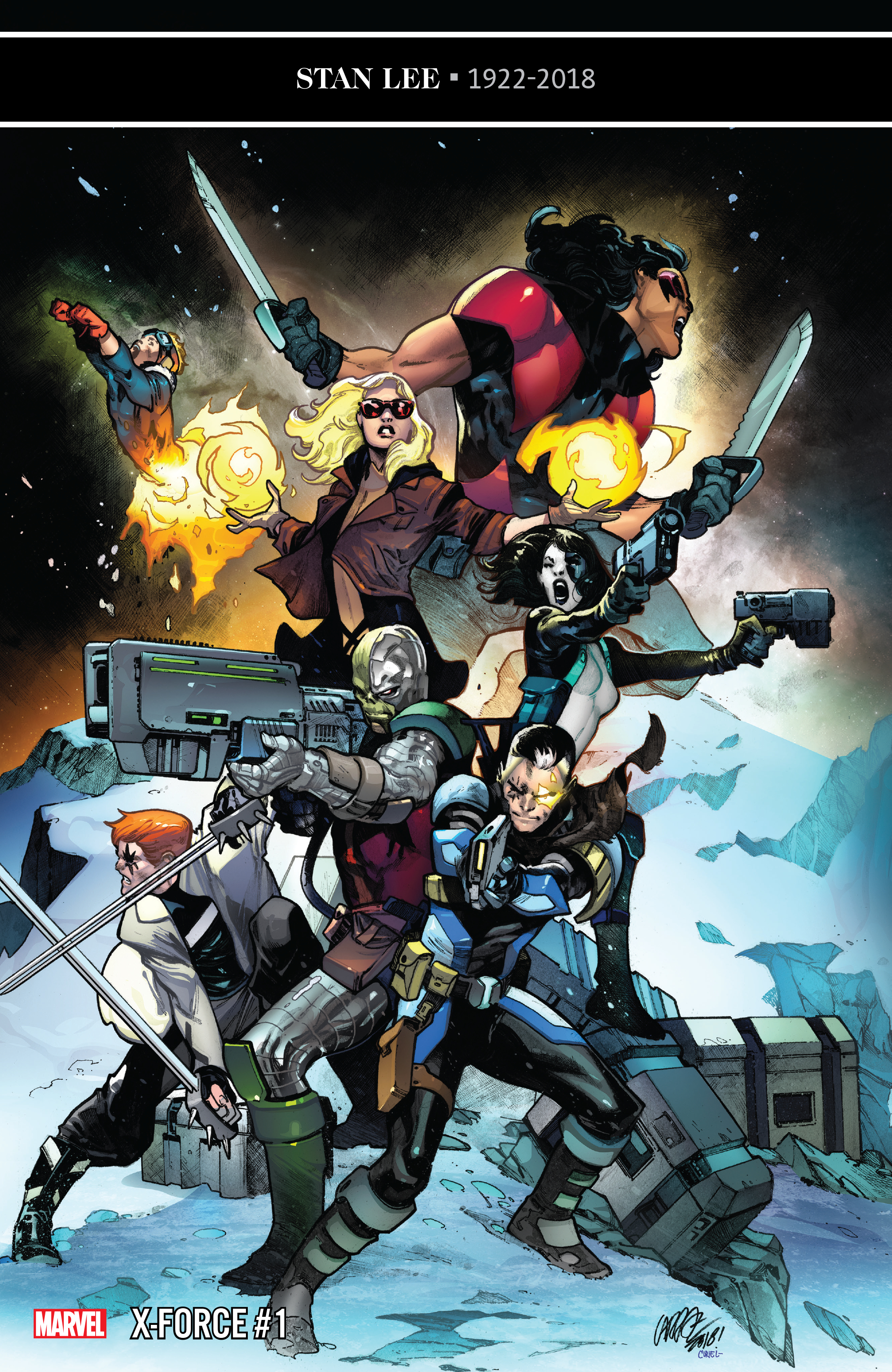 X-FORCE #1
MARVEL COMICS
OCT180795
(W) Ed Brisson (A) Dylan Burnett (CA) Pepe Larraz
FROM THE ASHES OF EXTERMINATION!
Cable is dead...and now, the original X-Force team of Domino, Cannonball, Shatterstar, Boom Boom and Warpath. must hunt down the murderer of their former leader! The mutant militia are hot for blood...but when their target is the time-traveling younger version of their fallen mentor, is there a line they absolutely cannot cross? And what does Deathlok have to do with all of it? From Ed Brisson (EXTERMINATION, OLD MAN LOGAN) and Dylan Burnett (COSMIC GHOST RIDER), comes an all-new, high-octane mutant adventure! A reckoning will come!
Parental Advisory
In Shops: Dec 26, 2018
SRP: $4.99
X-MEN EXTERMINATED #1
MARVEL COMICS
OCT180763
(W) Zac Thompson, Lonnie Nadler, Chris Claremont (A) Neil Edwards, More (CA) Geoff Shaw
EXTERMINATION AFTERMATH!
A Death in the Family!
In the aftermath of Extermination, the X-Men mourn for their fallen brother, Cable. But no one is taking it harder than his adopted daughter, Hope Summers. Will Hope be able to cope with the loss, or will she be led down a dark path that she won't be able to return from? Only Jean Grey can save Hope from herself! Plus, celebrate the life of Nathan Summers with a story from his past by Chris Claremont!
Rated T+
In Shops: Dec 05, 2018
SRP: $4.99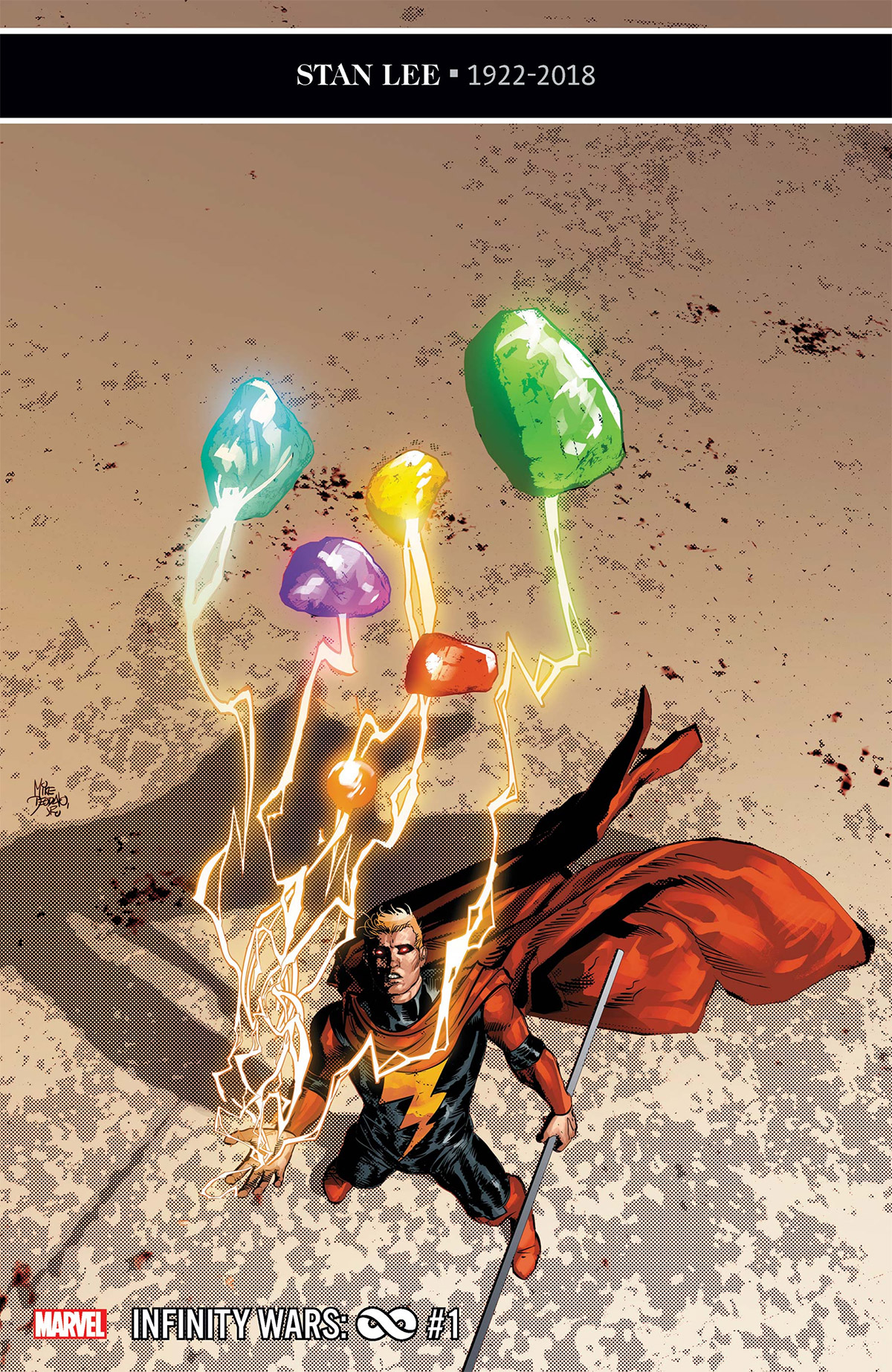 INFINITY WARS INFINITY #1
MARVEL COMICS
OCT180876
(W) Gerry Duggan (A) Mark Bagley (CA) Mike Deodato
What comes AFTER infinity?
Rated T+
In Shops: Dec 26, 2018
SRP: $3.99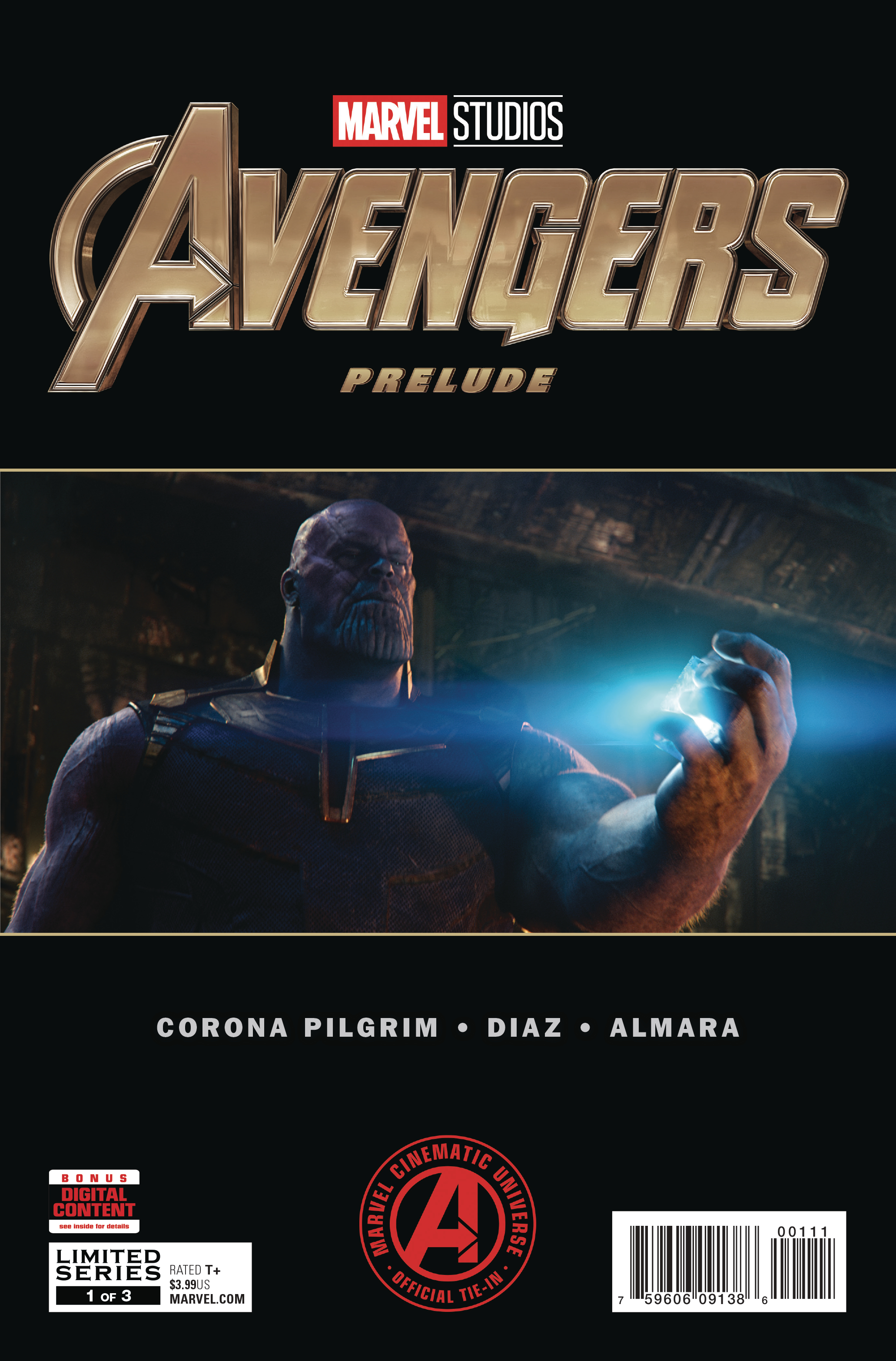 MARVELS AVENGERS UNTITLED PRELUDE #1 (OF 3)
MARVEL COMICS
OCT180914
(W) Will Pilgrim (A) Paco Diaz
A COSMIC CALAMITY!
From the dawn of the universe came six INFINITY STONES, each in control of an essential aspect of existence: space, reality, power, soul, mind and time. Now, THANOS strives to collect them all to further his mad plan of wiping out half the universe's population. Standing between him and his goal: the AVENGERS, the GUARDIANS OF THE GALAXY, SPIDER-MAN, and more! But with one Infinity Stone already in Thanos' possession, will even the combined might of the Marvel Universe be enough to stop him?
Rated T+
In Shops: Dec 05, 2018
SRP: $3.99
INDIE VYDAVATEĽSTVÁ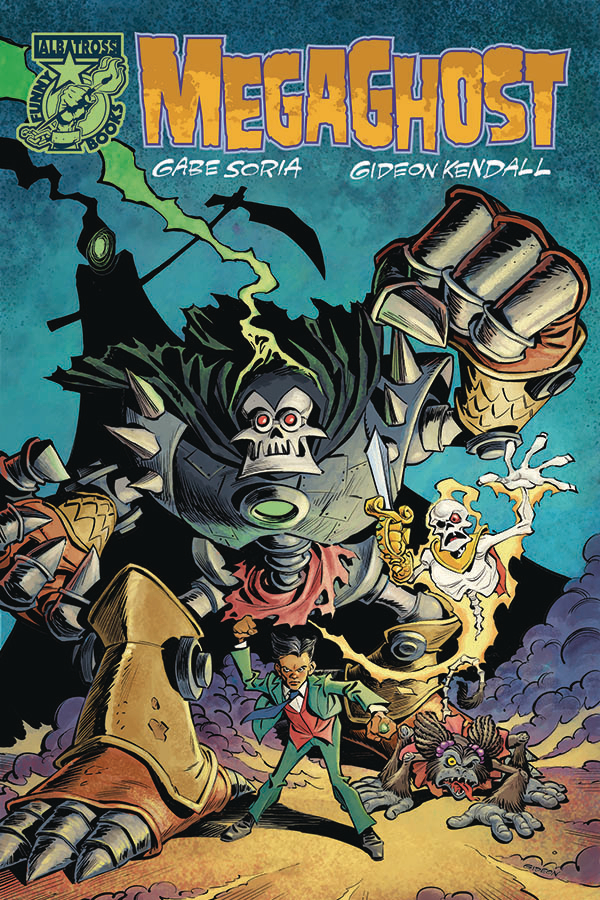 MEGA GHOST #1 (OF 5) REG CVR
ALBATROSS FUNNYBOOKS
OCT181348
(W) Gabe Soria (A/CA) Gideon Kendall
Can life get any weirder for junior occultist Martin Magus? Living in the haunted city of Dunwich Heights is strange enough for a kid investigating the unknown, but when he comes into possession of a bewitched ring, he discovers that he now has the power to summon Megaghost, a giant supernatural robot sworn to defend the world against the creepy things that go
smash
in the night!
In Shops: Dec 12, 2018
SRP: $3.99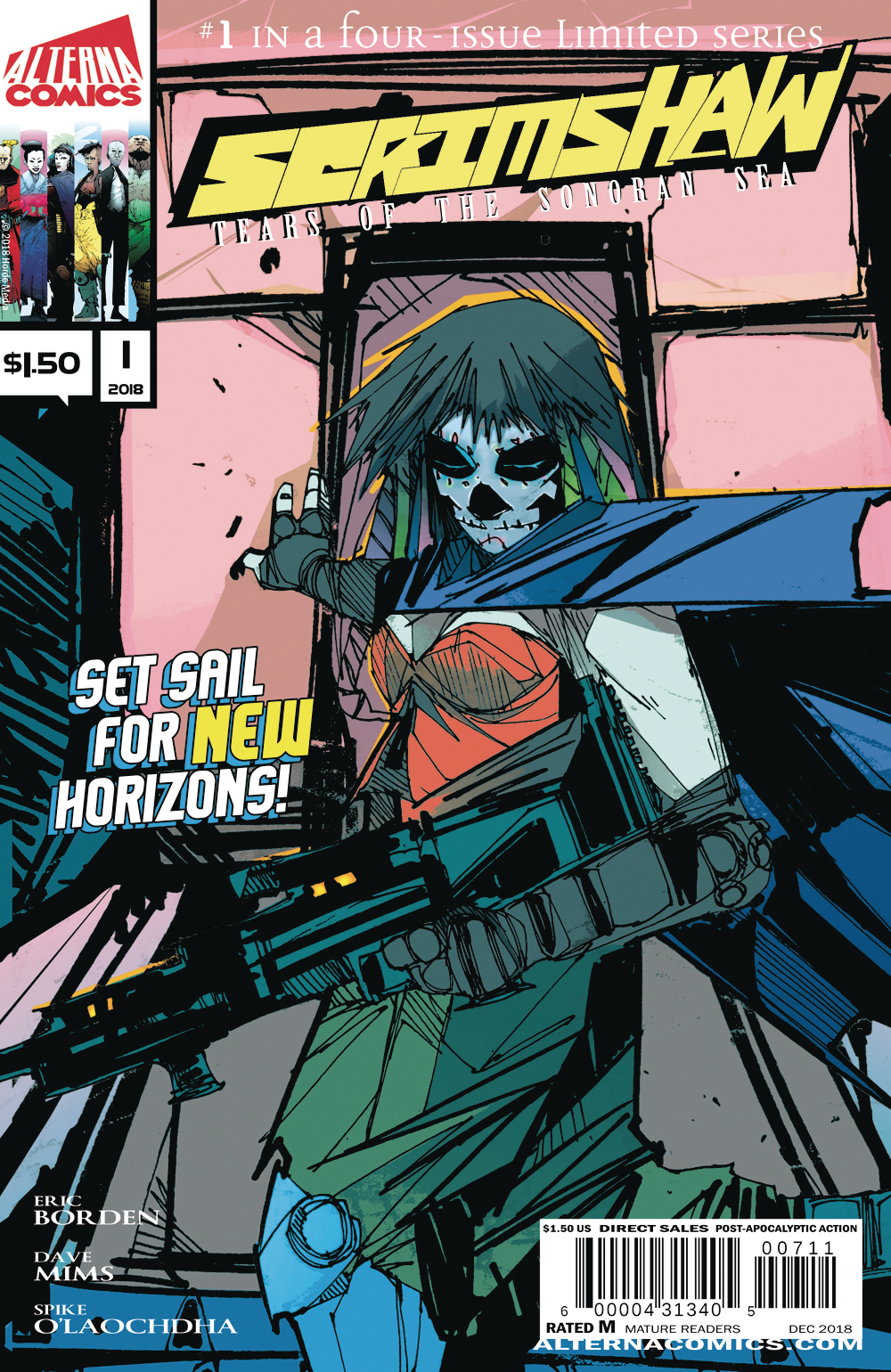 SCRIMSHAW VOL 2 #1 (OF 4)
ALTERNA COMICS
OCT181354
(W) Eric Borden (A/CA) Dave Mims
The
Scrimshaw
saga continues with a brand-new mini-series and the perfect jumping-on point for new readers! Hans and the crew of the Runaway Horse set sail for America. Their new mission: break into the fortified military installation at Nuevo Alamo and take the head of the New Republic of Texas.
In Shops: Dec 19, 2018
SRP: $1.50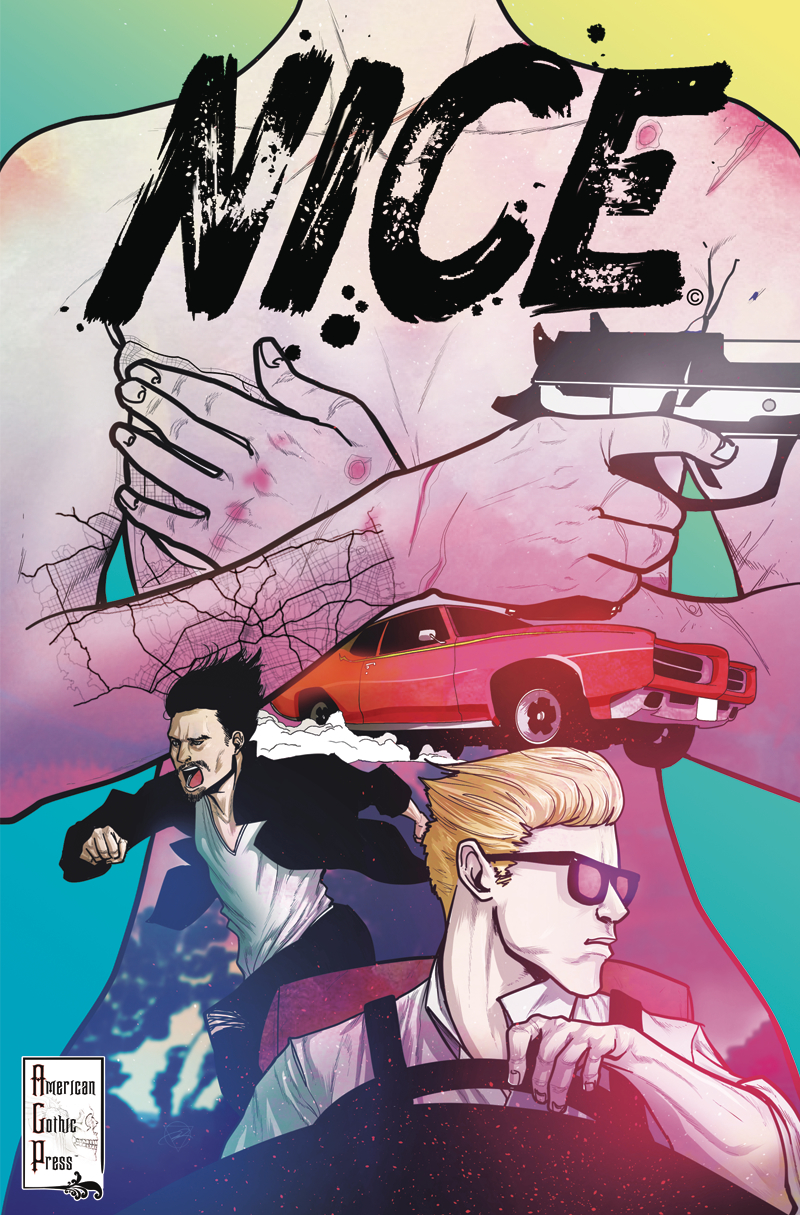 NICE #1 (OF 4) MAIN CVR (MR)
AMERICAN GOTHIC PRESS
OCT181357
(W) Dagen Walker, Joseph Ettiner (A/CA) Marc Rene
It's a nice day for a murder... American Gothic Press's first series collaboration with Echo Lake Entertainment begins here! Kevin and Jose are twenty-something hipsters crusing through life in a fancy car, drinking at bars and chatting about nothing, except when their mysterious employer sends them on errands that may involve killling people. More often they're expected to just clean up after the excitement is over. But a deranged cop's personal investment in the organization they work for is about to change everything.
In Shops: Dec 05, 2018
SRP: $3.99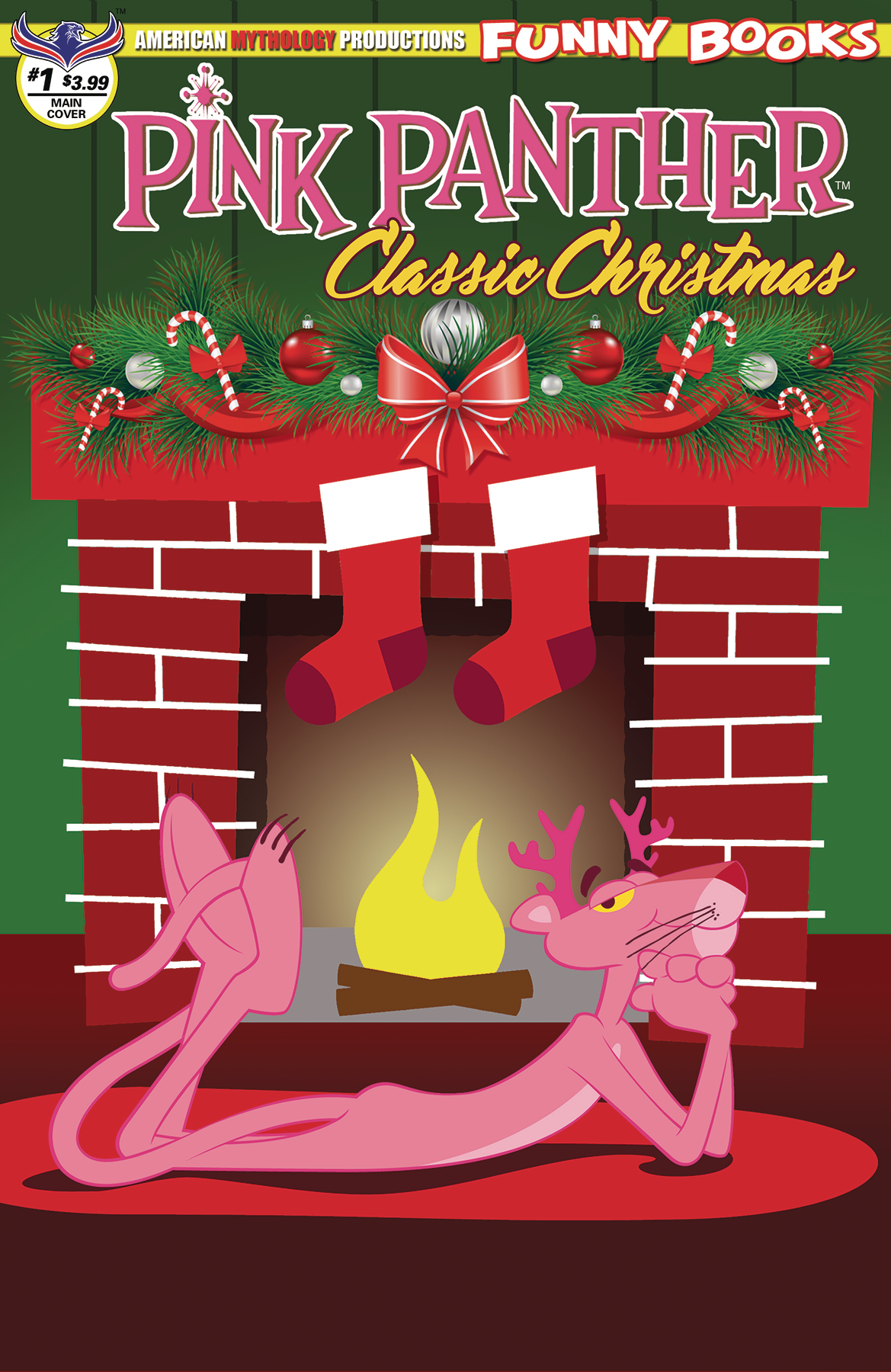 PINK PANTHER CLASSIC CHRISTMAS #1 MAIN CVR
AMERICAN MYTHOLOGY PRODUCTIONS
OCT181399
(W) Warren Tufts (A) Warren Tufts (CA) Jorge Pacheco
American Mythology is proud to deliver a Pink Panther classic in time for the holidays! This issue is a wonderful re-presentation of a lost holiday treasure that was originally published back in 1979. "Pink Christmas" is a timeless tale that is perfect to stuff in a stocking this holiday season. Pink Panther Classic Christmas comes with two covers - Main and Limited-Edition Retro Animation cover.
In Shops: Dec 19, 2018
SRP: $3.99 ROCKY BULLWINKLE BEST BORIS NATASHA #1 MAIN CVR
AMERICAN MYTHOLOGY PRODUCTIONS
OCT181397
(W) Various (A) Al Kilgore
Russian baddies Boris and Natasha along with their nogoodnik comrades are causing trouble for Moose and Squirrel for nearly 50 years. Now you can relive some of their most daring plots with a wonderful collection of classic reprint capers featuring your favorite Rocky & Bullwinkle characters! Rocky & Bullwinkle Present - The Best of Boris & Natasha comes with two covers - Main and Limited-Edition Retro Animation cover.
In Shops: Dec 19, 2018
SRP: $3.99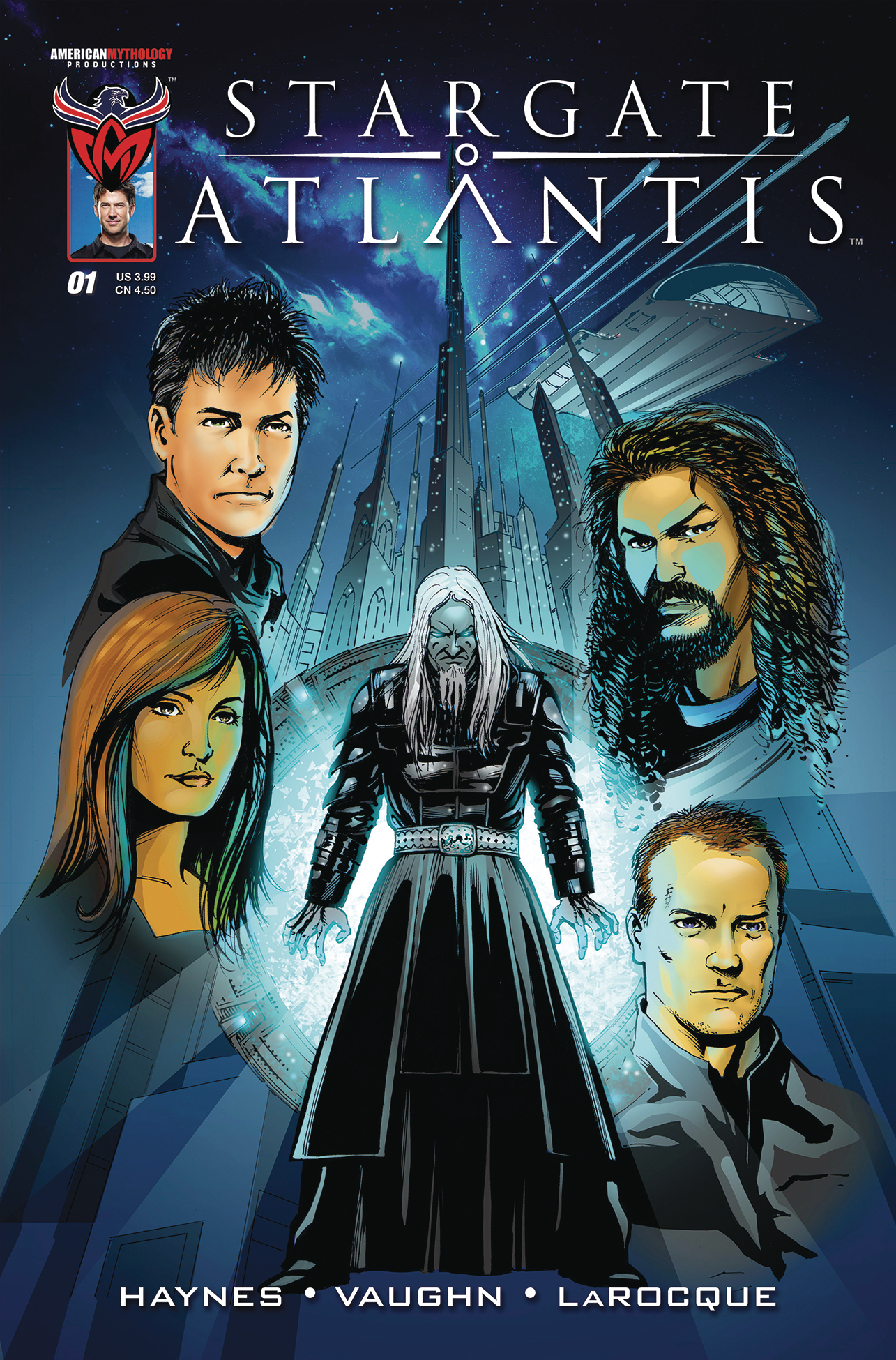 STARGATE ATLANTIS BACK TO PEGASUS #1 MAIN CVR (O/A)
AMERICAN MYTHOLOGY PRODUCTIONS
OCT181370
(W) Mark L. Haynes, J. C. Vaughn (A/CA) Greg LaRocque
Stargate: Atlantis is back with a brand new monthly comic book series that continues the television series continuity and is jam packed with fun extras! Comic illustrating legend, Greg LaRocque (Flash Return of Barry Allen, Web of Spider-Man), joins the team of Mark L. Haynes and J.C. Vaughn (Fox's 24) to deliver the next official chapter in Stargate: Atlantis mythology. Following the destruction of the Super Hive ship, Atlantis and her crew find themselves stranded on Earth. But a startling discovery sends the team in search of a new Gate system and reveals that the horrors of the Pegasus Galaxy are not far away. A new threat rises to challenge the crew and stop the city from returning to its rightful place. Come with us on this new comic book season of Stargate Atlantis and join the fight to get #BackToPegasus!
In Shops: Nov 07, 2018
SRP: $3.99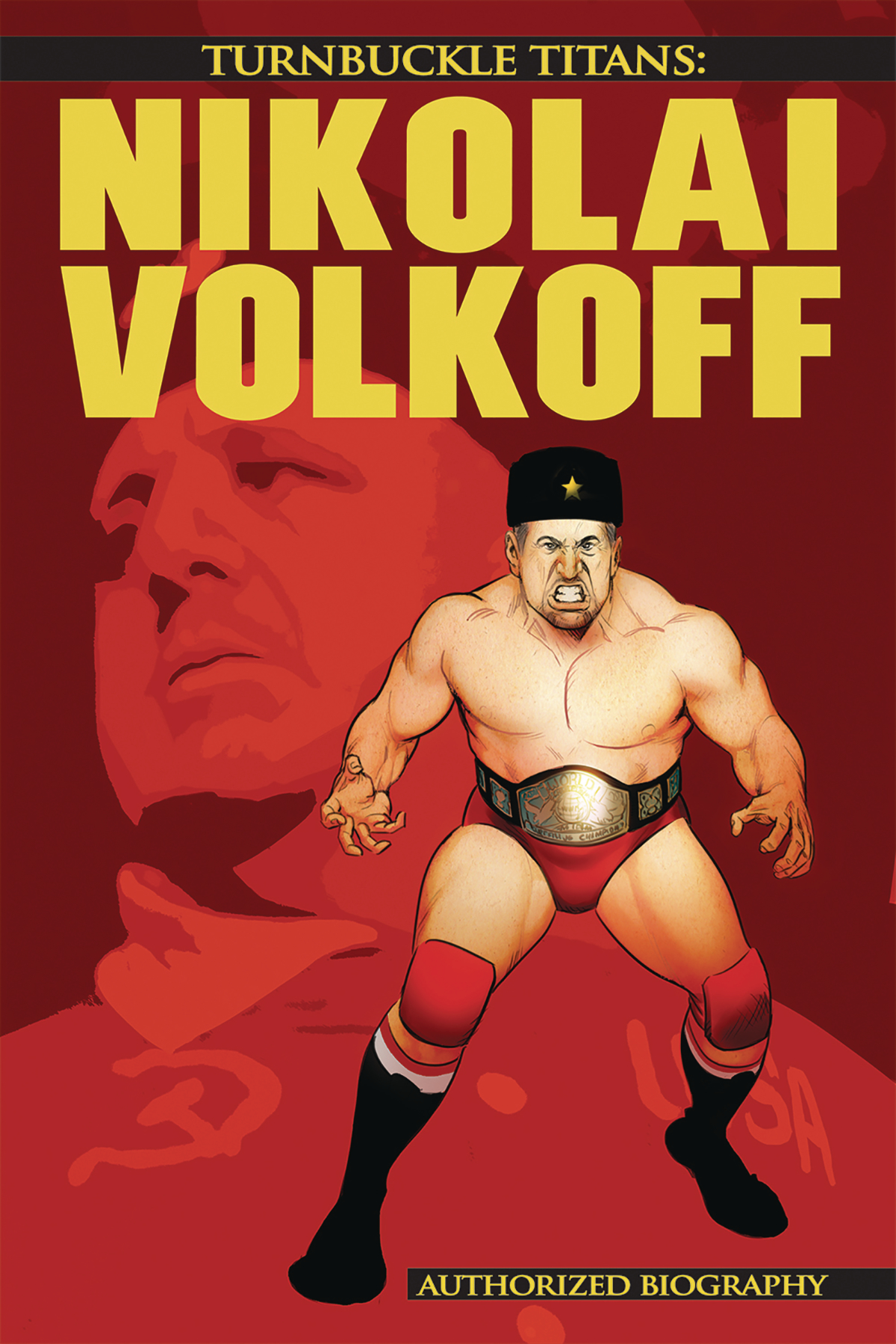 TURNBUCKLE TITANS #1 NIKOLAI VOLKOFF
ANTARCTIC PRESS
OCT181419
(W) John Crowther (A/CA) Dell Barras
Presenting Round One of Antarctic Press's new series on the Lords of the Ring: the authorized comic biography of Croation wrestling legend, Nikolai Volkoff, 2005 WWE Hall of Famer, former WWF Tag Team Champion, and former partner of the Iron Sheik! Written by John Crowther (
Rochelle
), this story of Nikolai's life is based on in-depth interviews and intimate conversations between the writer and the wrestler. It's one bear-hug of a heartfelt tribute!
In Shops: Dec 19, 2018
SRP: $3.99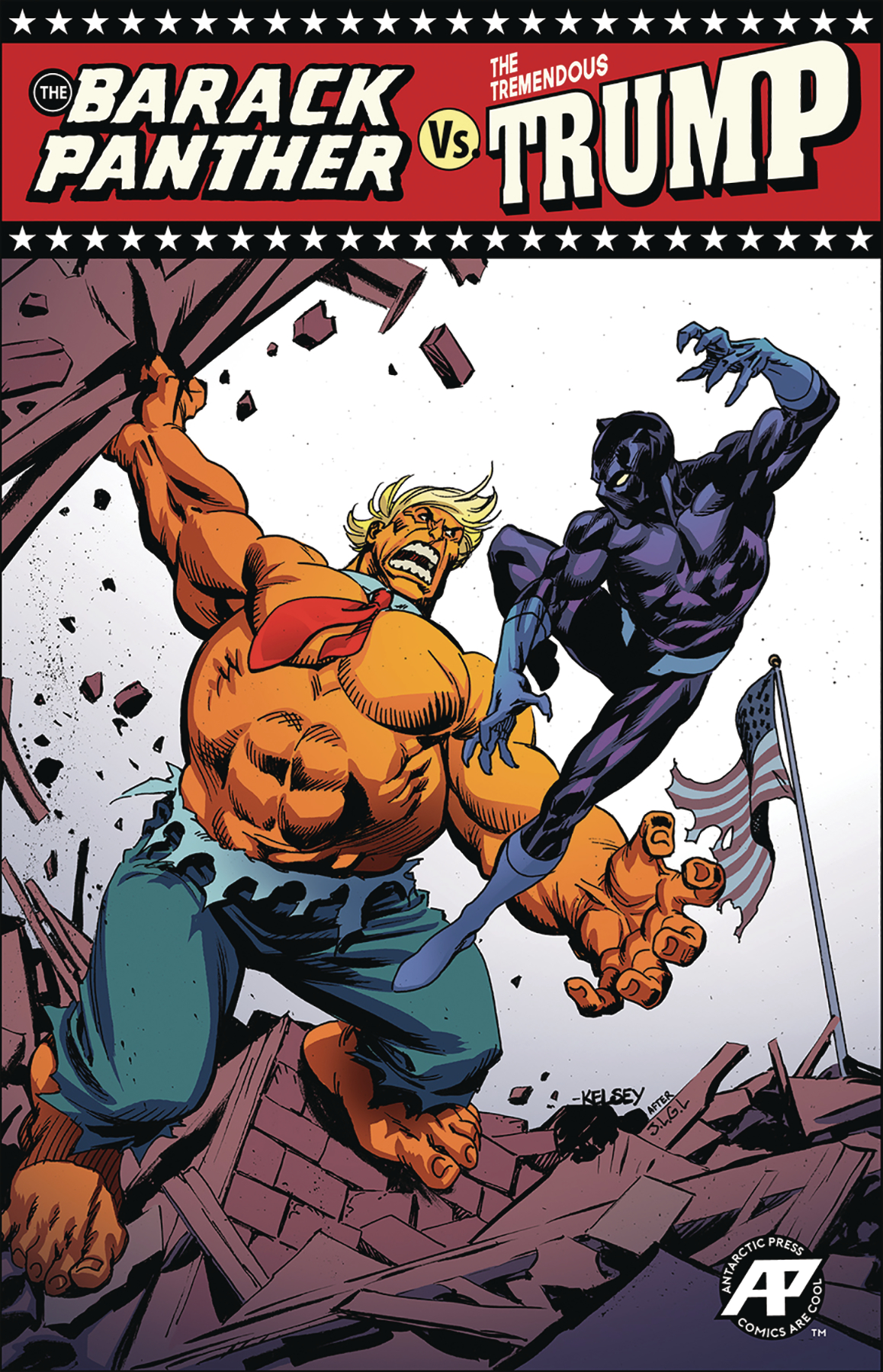 BARACK PANTHER VS TREMENDOUS TRUMP #1 (OF 1) RED TRIUMPH
ANTARCTIC PRESS
OCT181418
(W) Kelsey Shannon (A/CA) Kelsey Shannon
It's the ballot box battle of the century! With the fate of a nation-even the world-at stake, the Obsidian O-bomb-er takes on the Tangerine Titan in a presidential punch-out that'll leave only one man standing-if he's lucky! No pay-per-view, no limited seating! Two possible outcomes, so no matter who you root for, YOU come out a winner! You can even get both without any penalty of stuffing your subscription box (or mallbox)! This December treat will have you saying "Merry Christmas" (or the holiday of your choice) again! Can we Make Comics Great Again? Yes, We-kanda!
In Shops: Dec 19, 2018
SRP: $4.99
ARCHIES CHRISTMAS SPECTACULAR #1
ARCHIE COMIC PUBLICATIONS
OCT181446
(W) Various (A) Various (CA) Dan Parent
Have a holly, jolly Christmas in this spectacular featuring some of Archie's most merry stories!
In Shops: Dec 12, 2018
SRP: $2.99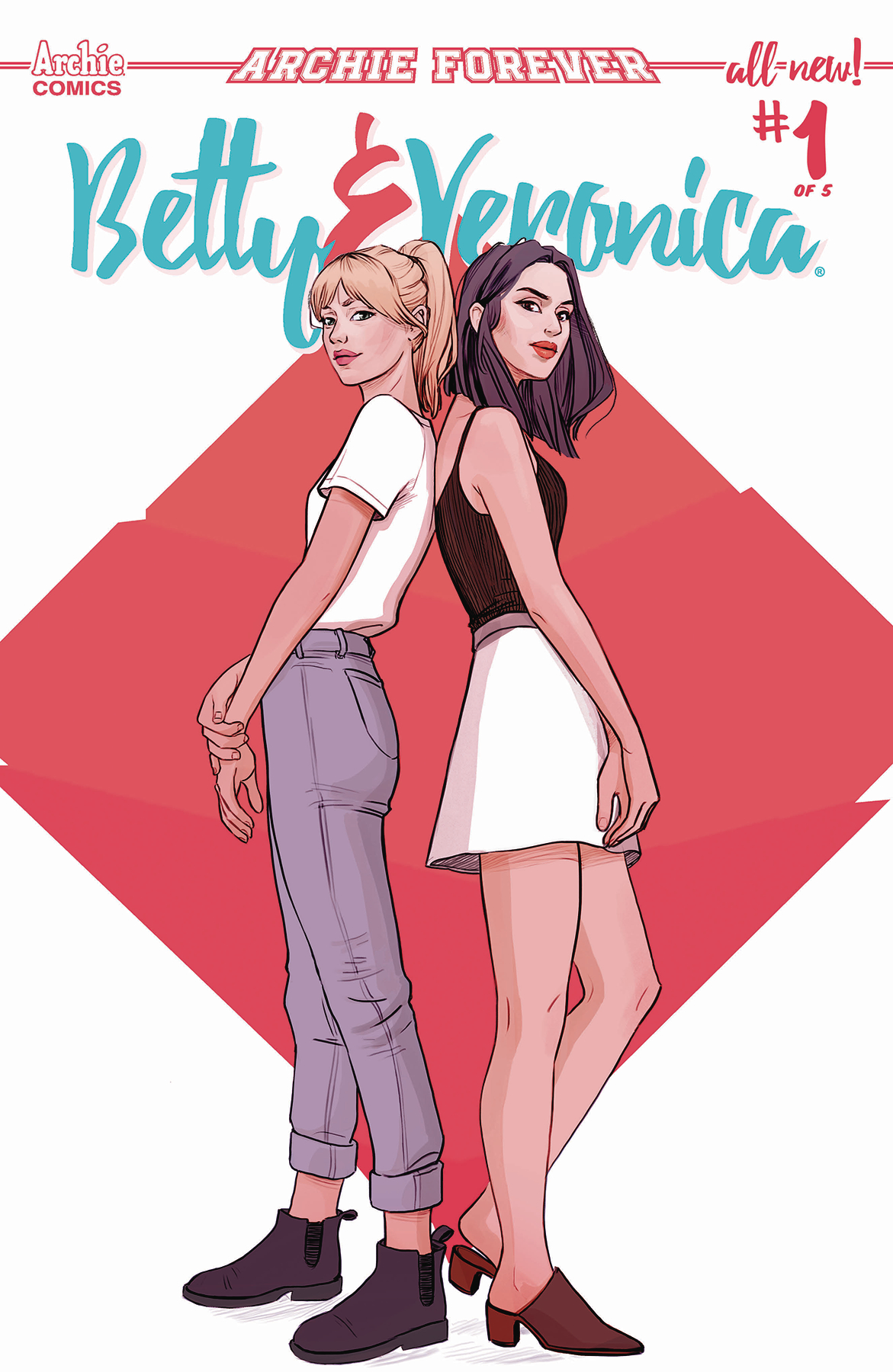 BETTY & VERONICA #1 (OF 5) CVR A LANZ
ARCHIE COMIC PUBLICATIONS
OCT181424
(W) Jamie L Rotante (A) Kelly Fitzpatrick (A/CA) Sandra Lanz
BRAND NEW SERIES! "Senior Year, Pt. 1: Summer" - Betty and Veronica go where they've never gone before-their senior year of high school! Only one school year stands between them and freedom, but when the two BFFs think they'll be attending the same college in the fall find out that their plans have changed, their senior year-and their friendship-is put to the test!
In Shops: Dec 19, 2018
SRP: $3.99
BLACK AF DEVILS DYE #1 (OF 4) (MR)
BLACK MASK COMICS
OCT181536
(W) Vita Ayala (A) Liana Kangas (CA) Maika Sozo
A brand new BLACK [AF] mini-series by breakout star Vita Ayala (The Wilds, Supergirl, Bitch Planet, Livewire, Marvel Knights) and your next favorite artist Liana Kangas.
When a new drug called VANTA hits the streets, word is it's the hottest thing since Ecstacy. For regular people, it has all the highs and none of the lows of traditional drugs. There is some fine print, however - for empowered Black folks, the drug causes a total and violent loss of control.
The Project sends Indigo to investigate, and it soon becomes apparent that this is more than just a new designer distraction for the masses.
Indigo, together with former Detective Ellen Waters race to find the source of the substance poisoning their people, before it's too late!
The superhero universe where only black people have super powers continues to expand, for the first time with a new creative team building onto the exciting world created by Kwanza Osajyefo, Tim Smith 3, Jamal Igle & Khary Randolph.
In Shops: Dec 19, 2018
SRP: $3.99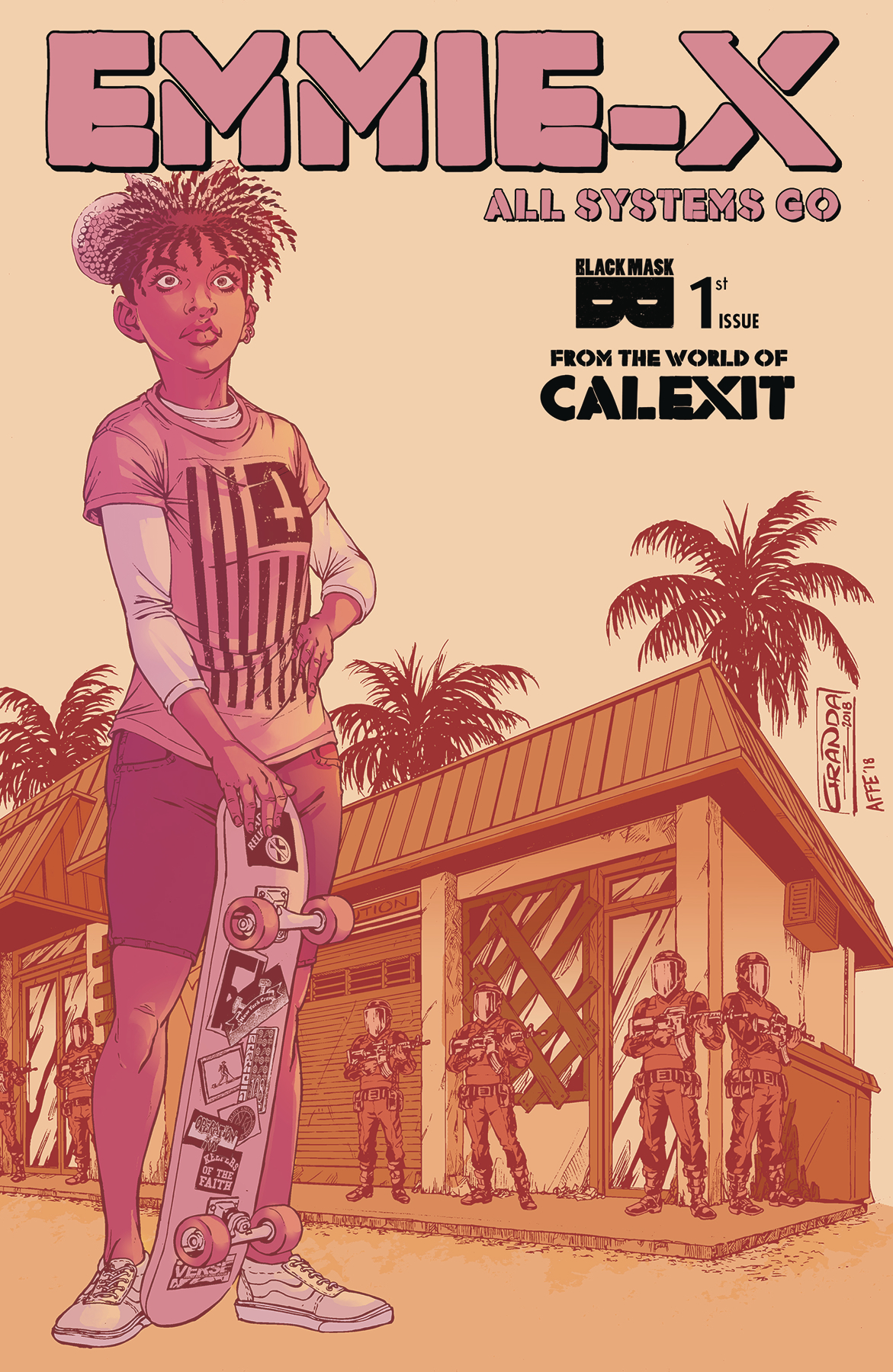 EMMIE X ALL SYSTEMS GO #1 (OF 4) CVR A GRANDA
BLACK MASK COMICS
OCT181531
(W) Matteo Pizzolo (A/CA) Carlos Granda
Teenage skaterat Emmie runs a punk record shop in an abandoned strip mall during the CALEXIT military occupation. When Homeland Security turns the strip mall into a detention center, Emmie realizes she must fight the power. Originally published as a limited edition one-shot at Comic Con to raise money for immigrant families separated at the border, readers demanded more of Emmie's story. This new edition of #1 launches Emmie into her own mini-series.
In Shops: Dec 19, 2018
SRP: $3.99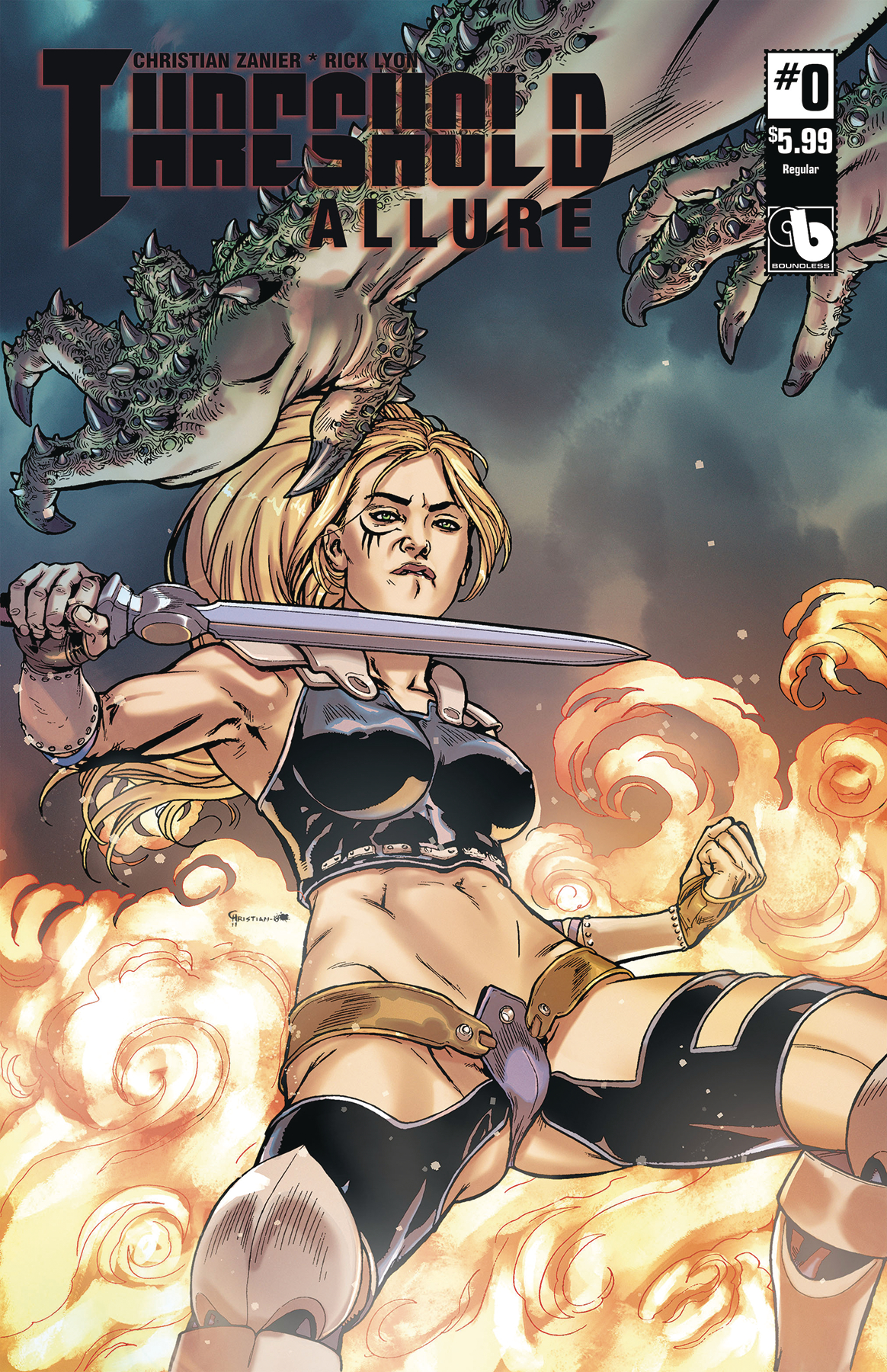 THRESHOLD ALLURE #0 (MR)
BOUNDLESS COMICS
OCT181538
(A) Rick Lyon (A/CA) Christian Zanier
The legendary title Threshold returns featuring not only our classic characters, but brand new ones! This series, Allure, features an all-new character Praxi! She's the Greek goddess of justice, Praxidike, now inhabiting a new body, and reunited with Pandora for adventures, as they have throughout time! This series features art from Rick Lyon, previously lost by the sands of time, but now finished and joined with new chapters from Christian Zanier! It's all topped off by the full story also Beautified in the back, for that extra sexy zest!
Available with these sexy covers: Regular (& Nude, Adult) + Wraparound (& Nude, Adult) + Pandora ( & Nude, Adult) + Catfight ( & Nude, Adult) all by Christian Zanier - Stunning (& Nude) by Ron Adrian - Rebel (& Nude) + Beastly (& Nude) by Renato Camilo - Luscious (& Nude, Adult) + Bondage (& Nude, Adult) by Matt Martin - Primal (& Nude) + Goddess (& Nude, Adult) by Nahuel Lopez, Pandora Rio Nude by Al Rio, Pandora Finch Nude by David Finch, Fifty Shades Nude by Camilo (lmt to 50 copies) and Fifty Shades Adult by Waller (lmt to 50 copies). To see the uncensored covers, please visit www.boundlesscomics.com.
In Shops: Dec 19, 2018
SRP: $5.99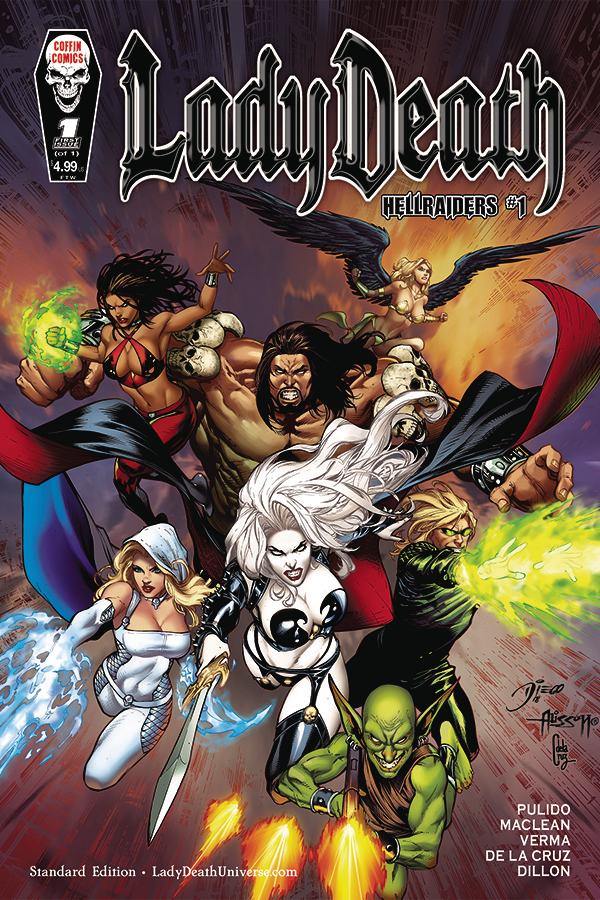 LADY DEATH HELLRAIDERS #1 (OF 1) STANDARD CVR (MR)
COFFIN COMICS
OCT181593
(W) Brian Pulido, Mike MacLean (A) Dheeraj Verma (CA) Diego Bernard
The Trinity triggers an extinction level supernatural event that threatens the earth. Rada, a technology manipulating voodoo priestess, is leader of a clandestine group of "unnaturals" who safeguard humanity. She has a vision that Lady Death is the key to defeating the menace. Rada must assemble a team with specific powers and abilities to raid hell and convince Lady Death to save the planet she detests. Is this even possible? The answer may surprise you! Featuring Coffin characters War Angel, Caprice, Wargoth, Hellslinger, Brock, Atticus Marrow, Chaotica, and Thanatos.
In Shops: Dec 19, 2018
SRP: $4.99
LOVE TOWN #1
DEVILS DUE /1FIRST COMICS, LLC
OCT181611
(W) Matt Yuan, Josh Yuan (A/CA) Matt Yuan, Josh Yuan
When famed artist Fillmore Hauser is killed at one of his infamous soirees, Detective Saxon must find the murderer. Despite the house being full of guests, nobody saw a thing. Is this Love Town's code of silence at play or is there a more sinister explanation? A supernatural noir thriller created by actors John and Matthew Yuan (
It's Always Sunny in Philadelphia, Arrested Development
), this month's issue #1 follows on the heels of issue #0, released in November.
In Shops: Dec 19, 2018
SRP: $4.99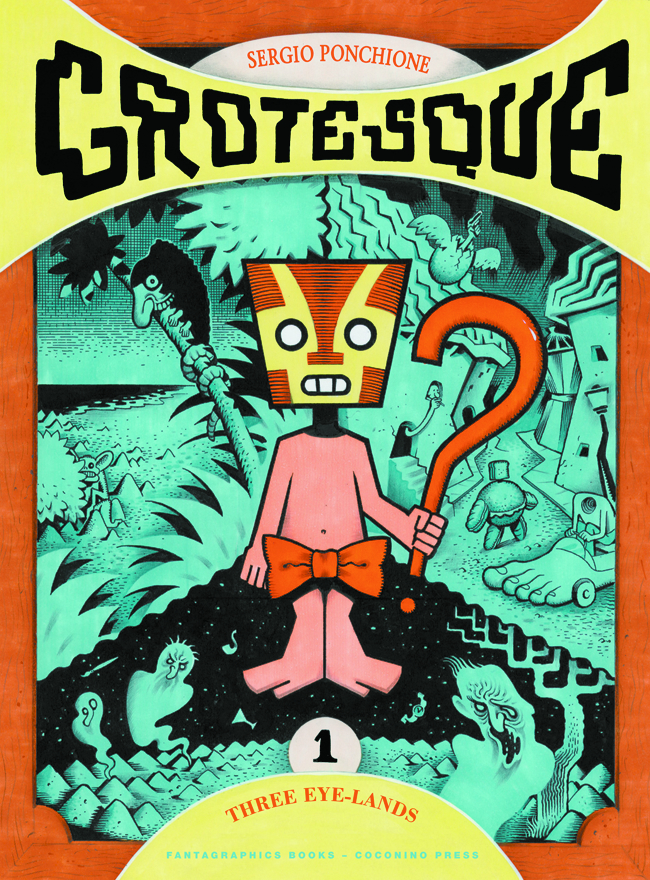 GROTESQUE #1 (O/A)
FANTAGRAPHICS BOOKS
OCT181695
(W) Sergio Ponchione (A/CA) Sergio Ponchione
Three men become aware of the existence of a mysterious island that may or may not be the sum total of all the information stored in their mind. Did they decide to seek it out. or were they brought there by the mysterious "Mr. O'Blique"? With an art style that's half European-classic and half Roger Langridge-surreal, Sergio Ponchione offers up one eye-popping moment after another as we plunge down the rabbit hole of
Grotesque
!
In Shops: Nov 14, 2018
SRP: $7.95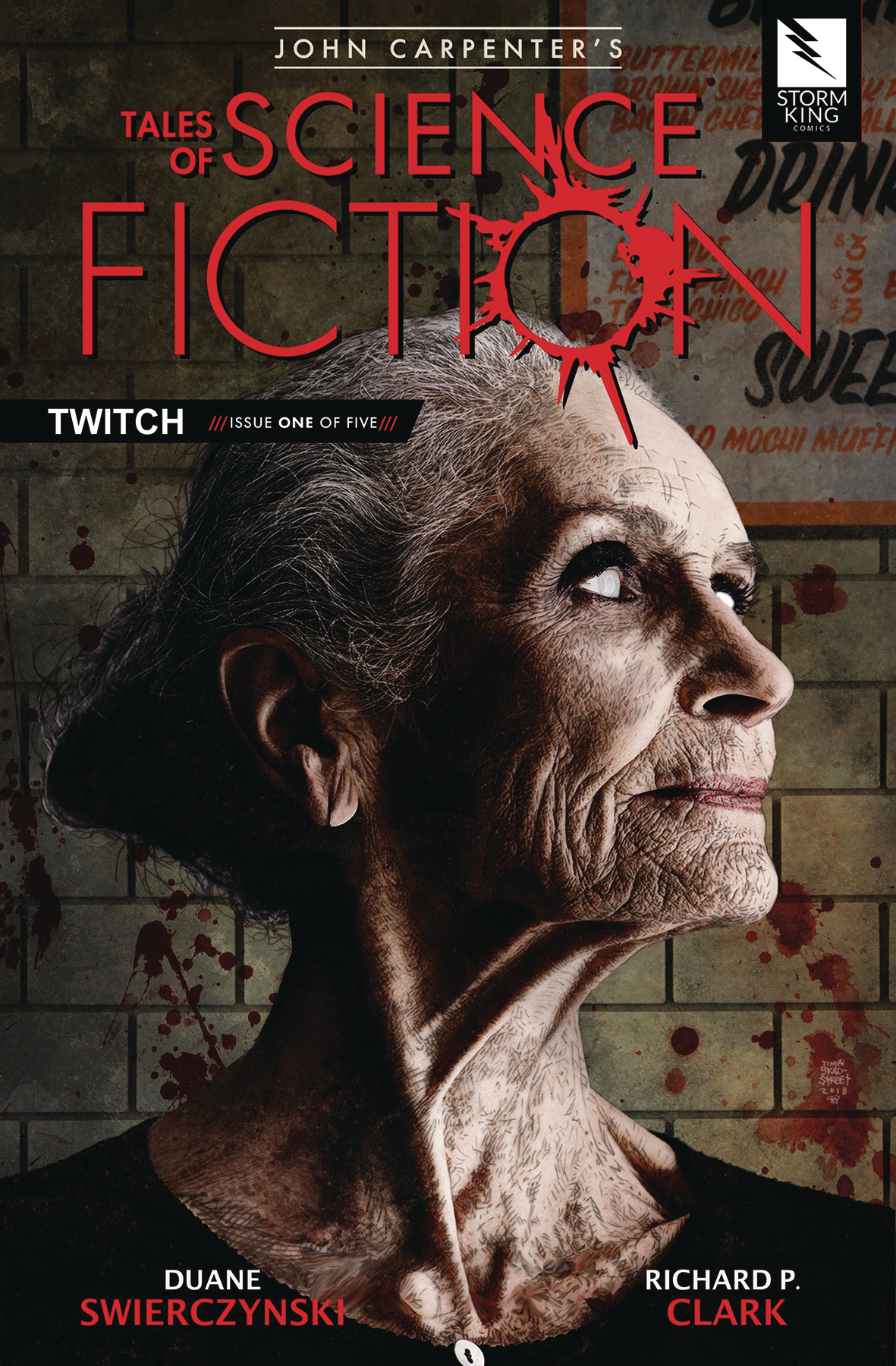 JOHN CARPENTER TALES OF SCI FI TWITCH #1 (OF 5) (MR)
STORM KING PRODUCTIONS, INC
OCT181909
(W) Duane Swierczynski (A) Richard Clark
The desert above Los Angeles is a harsh, unforgiving place. The heat does something to people's brains - or so thinks Lieutenant Ron Pinkerton, who is investigating a series of shockingly violent crimes perpetrated by the most unlikely suspects. Meanwhile, just a few miles away, astrophysicists at the Mount Wilson Observatory are grappling with another kind of threat, one that threatens to extinguish humanity in the time it takes for your eye to twitch.
In Shops: Dec 19, 2018
SRP: $3.99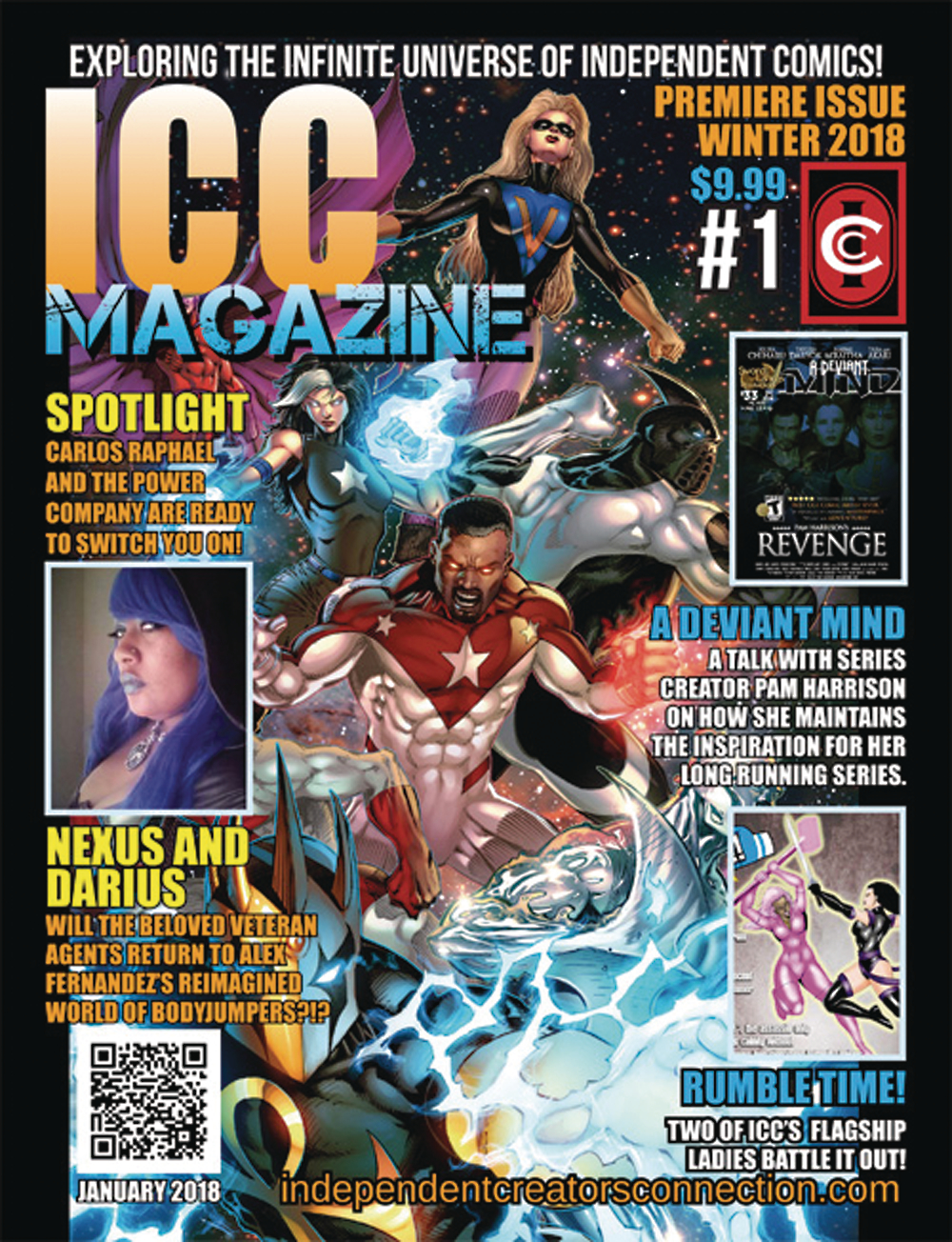 ICC MAGAZINE #1
SWORD AND LABRYS PRODUCTIONS
OCT181910
Join
ICC Magazine
as we showcase the best and brightest stars in Independent Comics, offer tips and advice for upcoming artists from the pros. If you thought there was no inspirational material or resources for Independent Comic artists, let us be your guide! Independent Creators Connection is your creative nexus!
In Shops: Dec 05, 2018
SRP: $9.99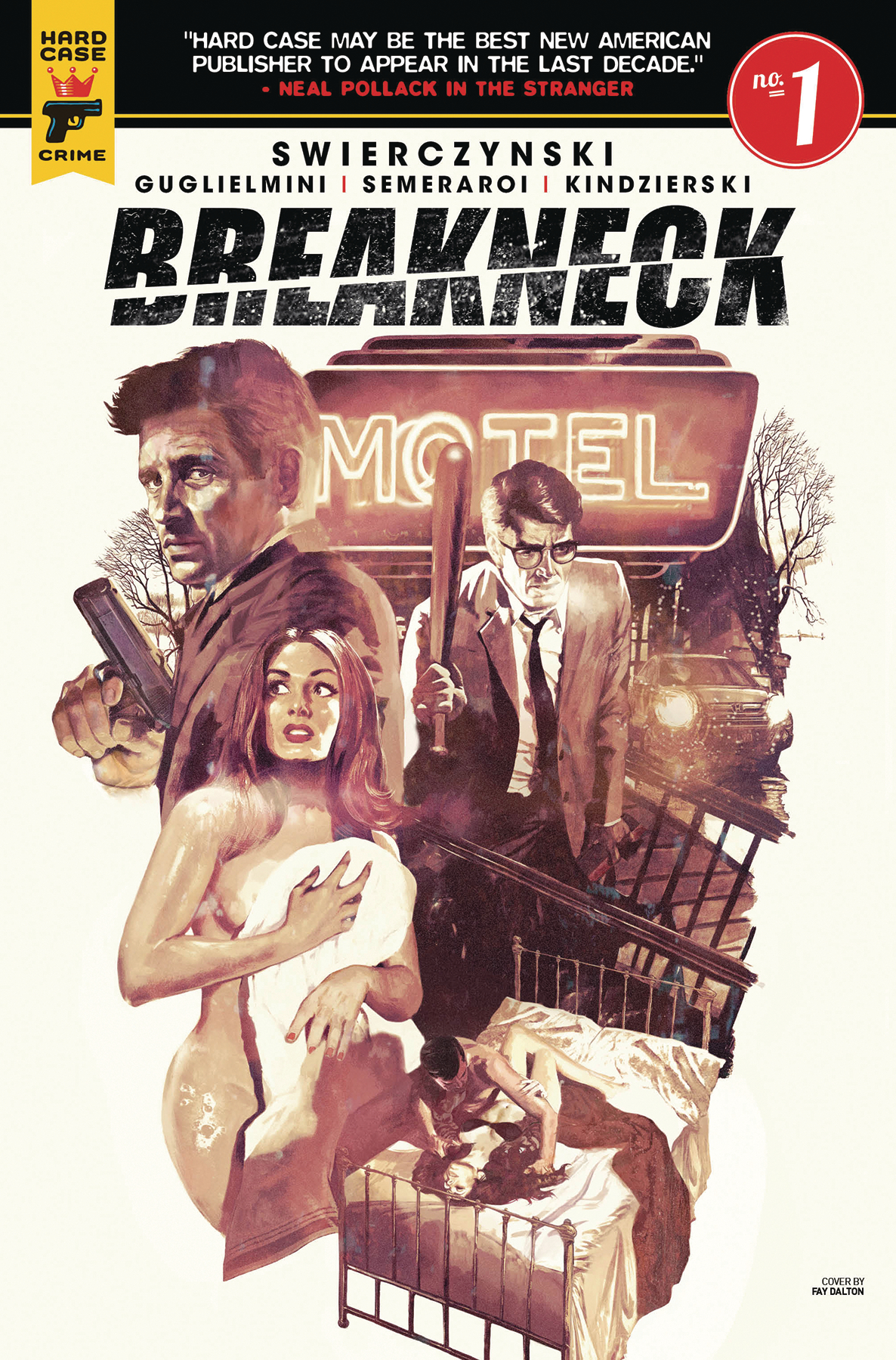 BREAKNECK #1 (OF 5) CVR A DALTON
TITAN COMICS
OCT181916
(W) Duane Swierczynski (A) Simone Guglielmini, Raffaele Semeraro, Lovern Kindzierski (CA) Fay Dalton
A gritty countdown crime thriller in modern-day Philadelphia, Breakneck is an all-new suspense comic from celebrated crime and comics author Duane Swierczynski (Deadpool, The Punisher, Severance Package, The Wheelman)!
When white-collar everyman Joe Hayward confronts his cheating wife, he's plunged headfirst into a terrorist plot that will bring Philadelphia to its knees! With two hours to go, Joe will need all the help he can get - including the government agent his wife may be sleeping with!
A perfect thriller for fans of 24, Homeland, and Falling Down, illustrated with every seedy detail by Simone Guglielmini (Near Death), Raffaele Semeraro (Zombie With A Shotgun), and Lovern Kindzierski (Hellblazer, Animal Man).
In Shops: Dec 05, 2018
SRP: $5.99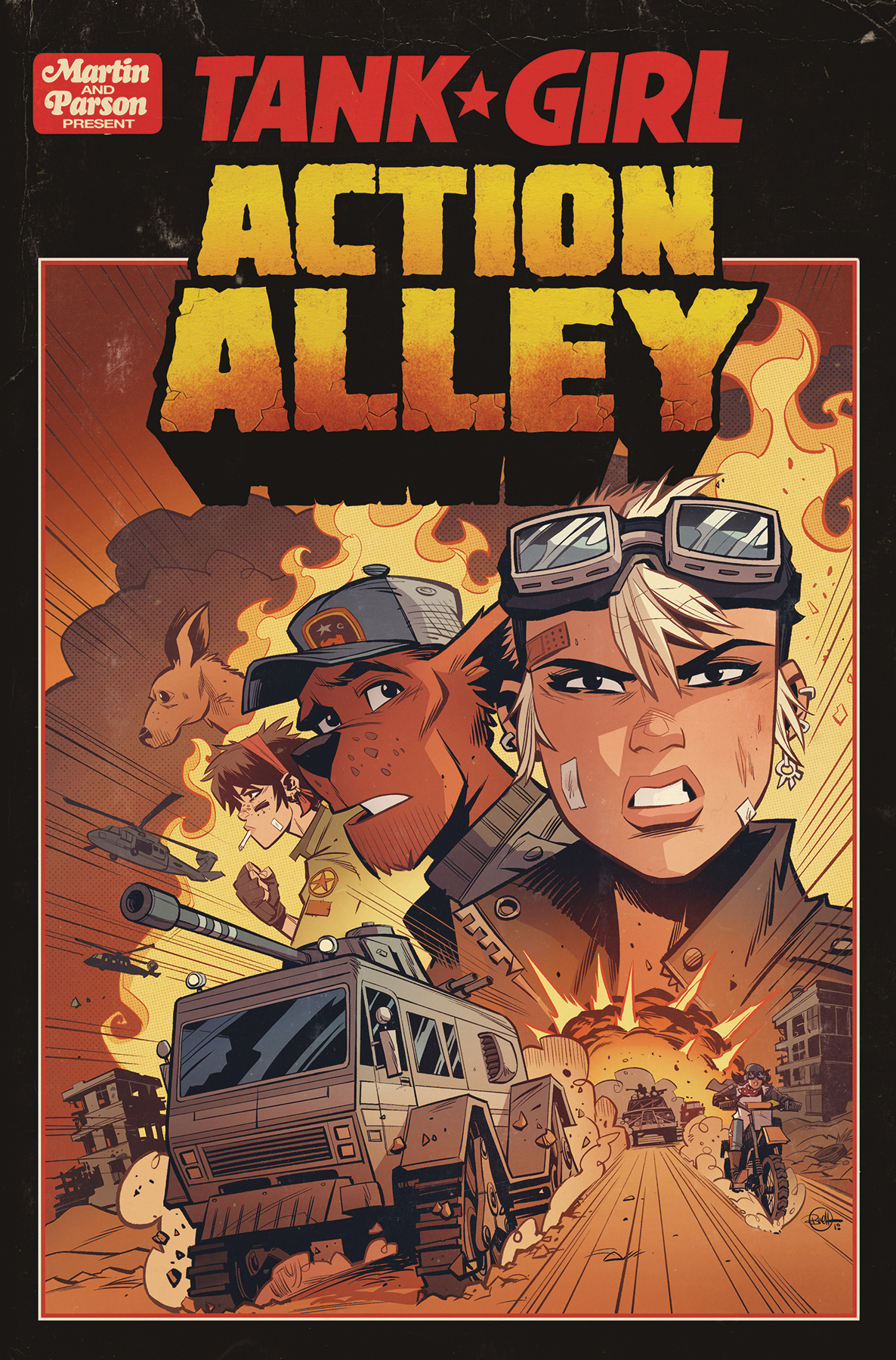 TANK GIRL ACTION ALLEY #1 CVR A PARSON
TITAN COMICS
OCT181922
(W) Alan Martin (A/CA) Brett Parson
TANK GIRL'S FIRST ONGOING IN 30 YEARS!
Original creator ALAN MARTIN and fan-favorite artist BRETT PARSON bring Tank Girl into a whole new era!
THE TANK GIRL UNIVERSE BEGINS HERE!
Explore the backstories and secrets behind the world of the post-apocalyptic punk icon!
THE ORIGINS OF THE MUTANT KANGAROOS and Booga himself, revealed in this first arc!
Summer Holiday meets Damnation Alley!
In Shops: Dec 19, 2018
SRP: $3.99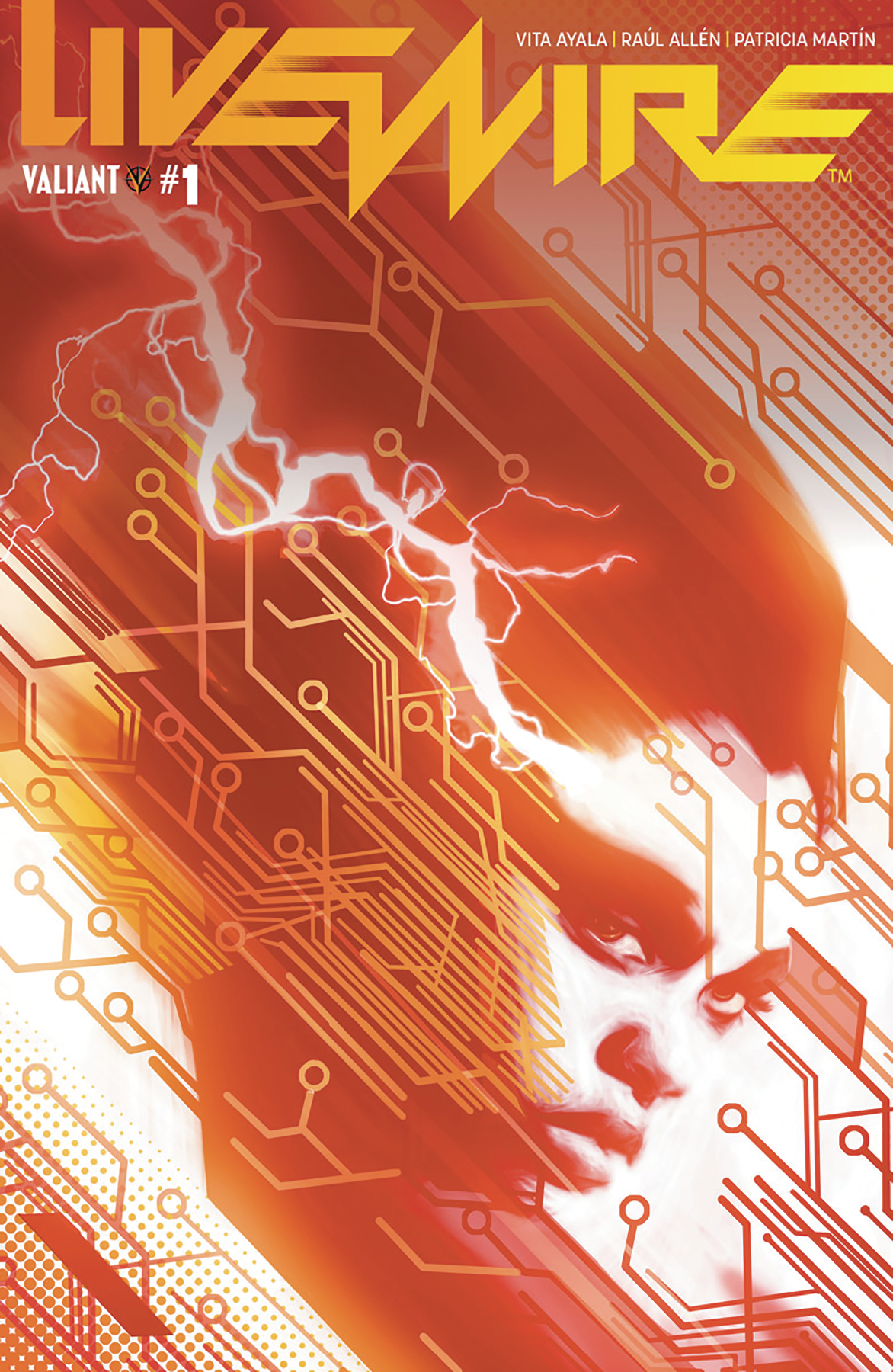 LIVEWIRE #1 CVR A POLLINA
VALIANT ENTERTAINMENT LLC
OCT181980
(W) Vita Ayala (A) Raul Allen, Patricia Martin (CA) Adam Pollina
ALL-NEW ONGOING SERIES! FOR THE FIRST TIME, LIVEWIRE TAKES CENTER STAGE!
Accomplice. Mentor. Savior. And now, Enemy of the State. Seeking to protect other vulnerable super-powered psiots like herself, Livewire plunged the United States into a nationwide blackout with her technopathic abilities, causing untold devastation. After choosing the few over the many, she must now outrun the government she served - and those she once called allies. With the whole world hunting her, what kind of hero will Livewire be...or will she be one at all?
From rising star Vita Ayala (Supergirl) and astounding artists Raúl Allén and Patricia Martín (SECRET WEAPONS) comes an electrifying new series that will launch the Valiant Universe into a new age of champions!
In Shops: Dec 19, 2018
SRP: $3.99