BOOM! STUDIOS
AMAZING WORLD GUMBALL SPRING BREAK SMASH #1 MAIN
BOOM! STUDIOS
DEC181384
(W) Mirka Andolfo, Lucie Ebrey, Chelsey Furedi, Caleb Goellner, Julia Prescott (A) George Mager (CA) Mirka Andolfo
It's spring break in Elmore. Let the vacations begin! Tobias is planning an epic house party, Hot Dog Guy is looking for love, the Watterson's turn their house into a resort, and more!
In Shops: Feb 13, 2019
SRP: $7.99
DARK HORSE COMICS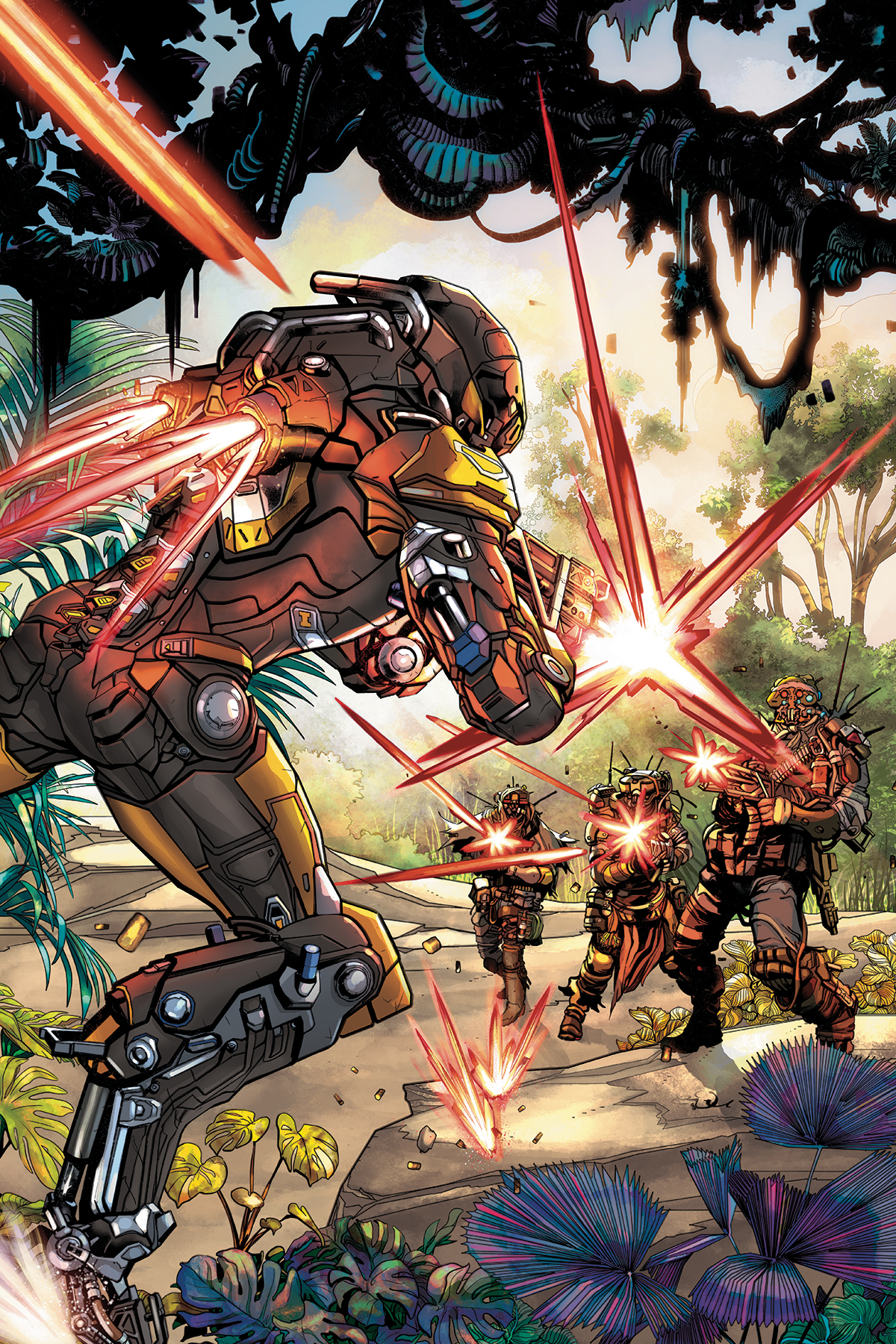 ANTHEM #1
DARK HORSE COMICS
DEC180372
(W) Alexander Freed, Mac Walters (A) Michael Atiyeh (A/CA) Eduardo Francisco
When Kismet's family is ambushed while traveling between settlements, the young boy is rescued by one of the exosuit-clad warriors known as Freelancers. Now an orphan, it's up to him, and his adoptive sister Jani, to build a future for themselves-and humanity-on a planet filled with danger.
In Shops: Feb 27, 2019
SRP: $3.99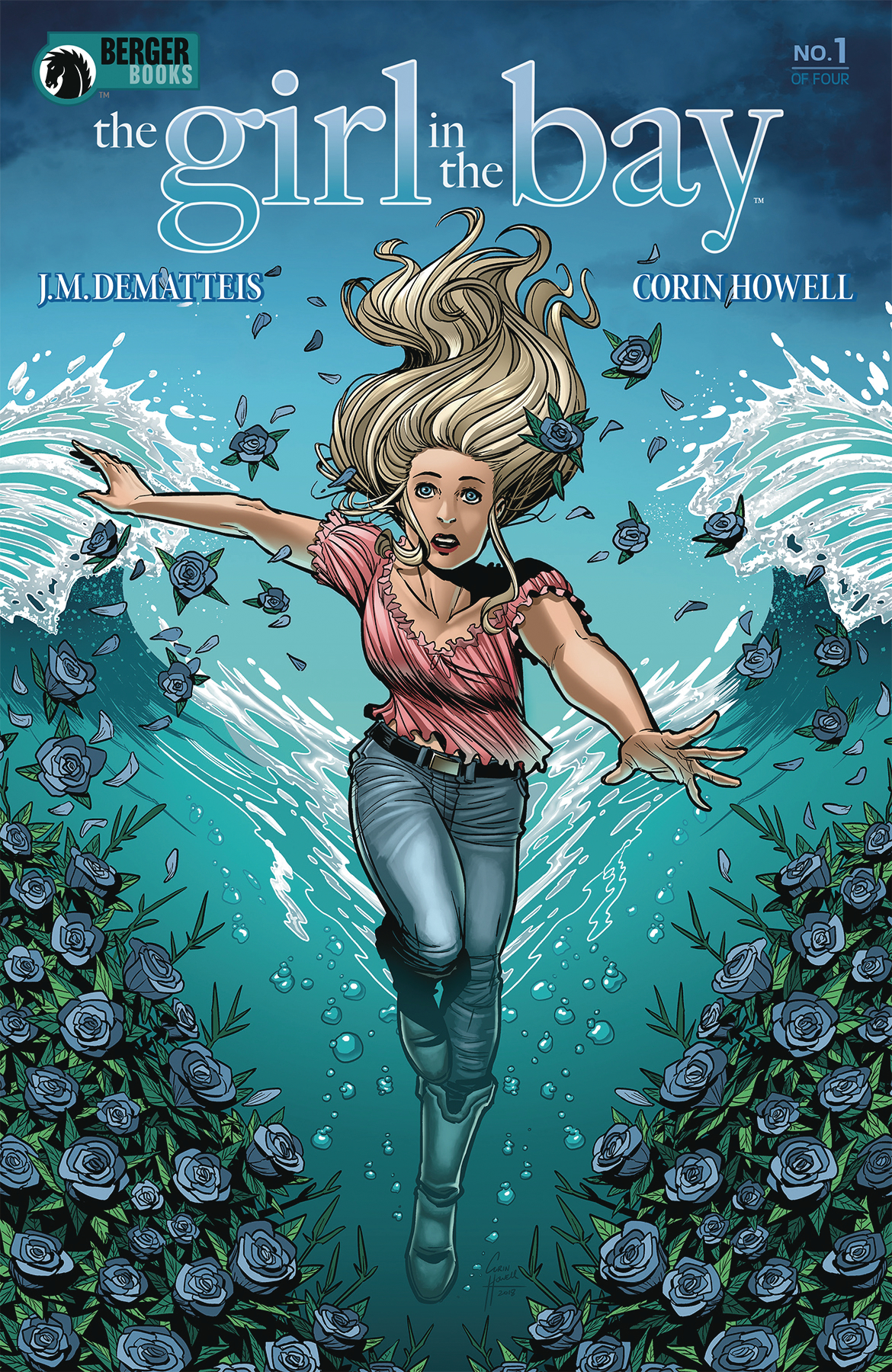 GIRL IN THE BAY #1 (MR)
DARK HORSE COMICS
DEC180403
(W) J. M. DeMatteis (A/CA) Corin Howell
In 1969, seventeen-year-old Kathy Sartori was brutally attacked, her body hurled into Brooklyn's Sheepshead Bay. Miraculously, she survives, fights her way back to the surface, only to discover that 50 years have passed, and an eerie doppelganger has lived out an entire life in her place. Kathy soon confronts not just this strange double, but the madman who "murdered" her five decades earlier. Will he, and the dark entity that lives inside him, hold the key to Kathy's missing years? Or will Kathy become a ghost of herself and be forced to live out what remains of her life on the edge of the world that she desperately wants to be a part of?
In Shops: Feb 06, 2019
SRP: $3.99
DC COMICS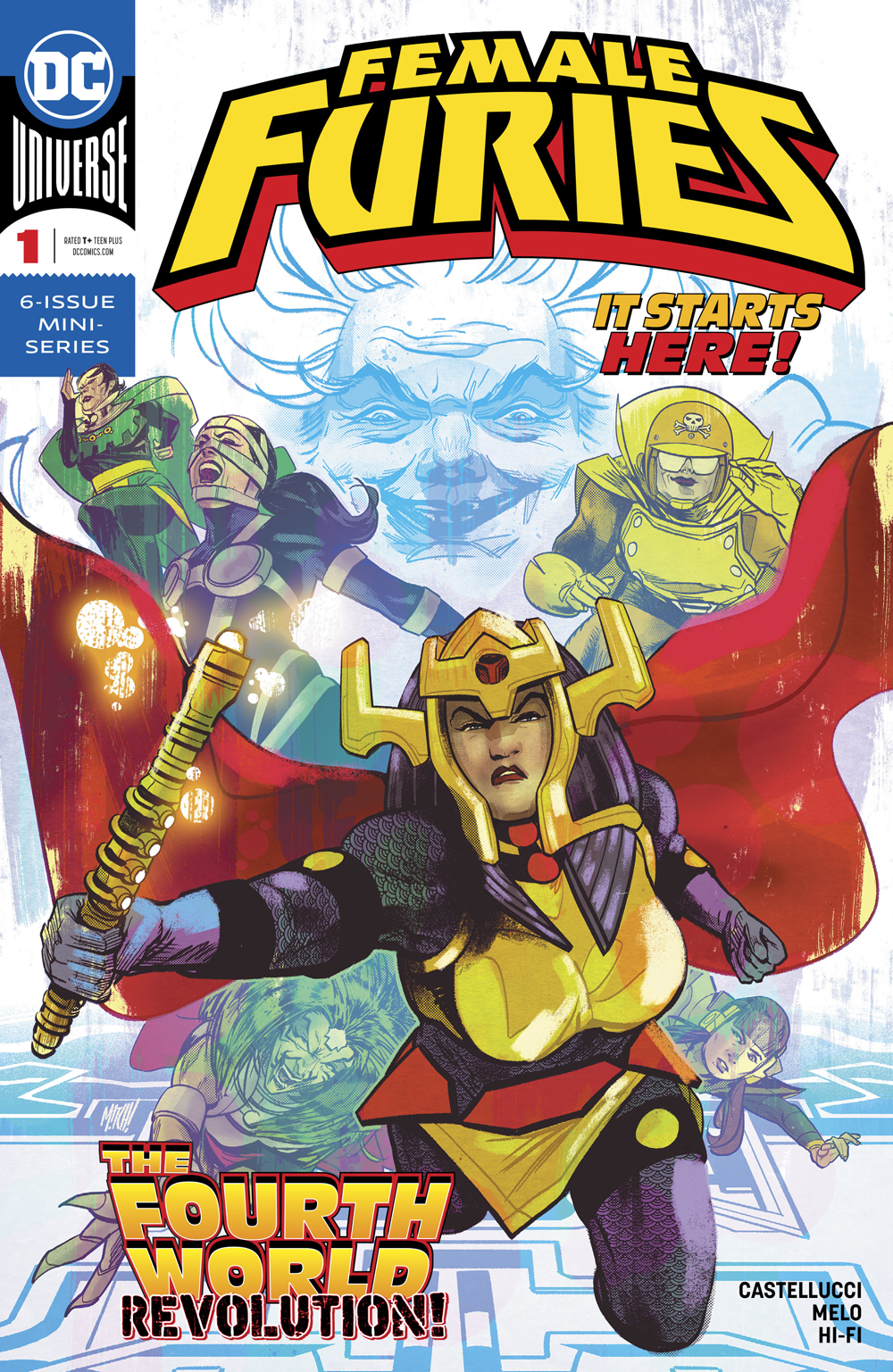 FEMALE FURIES #1 (OF 6)
DC COMICS
DEC180519
(W) Cecil Castellucci (A) Adriana Melo (CA) Mitch Gerads
All their lives the Female Furies have been raised to be the meanest, most cunning and most ruthless fighting force on all of Apokolips. So why are Granny Goodness' girls left behind every time the men go to war? With the might of New Genesis hanging over the planet, and the Forever People making mincemeat out of Darkseid's army, Granny thinks it's about time that changed.
And so, Big Barda, Aurelie, Mad Harriet, Lashina, Bernadeth and Stompa set out to beat the boys at their own game. Little do they know the game is rigged-and one accidental murder could spell disaster for them all!
FEMALE FURIES is an exciting new miniseries starring some of Jack Kirby's coolest Fourth World characters by the writer of SHADE, THE CHANGING GIRL and the artist of PLASTIC MAN!
RATED T+
In Shops: Feb 06, 2019
SRP: $3.99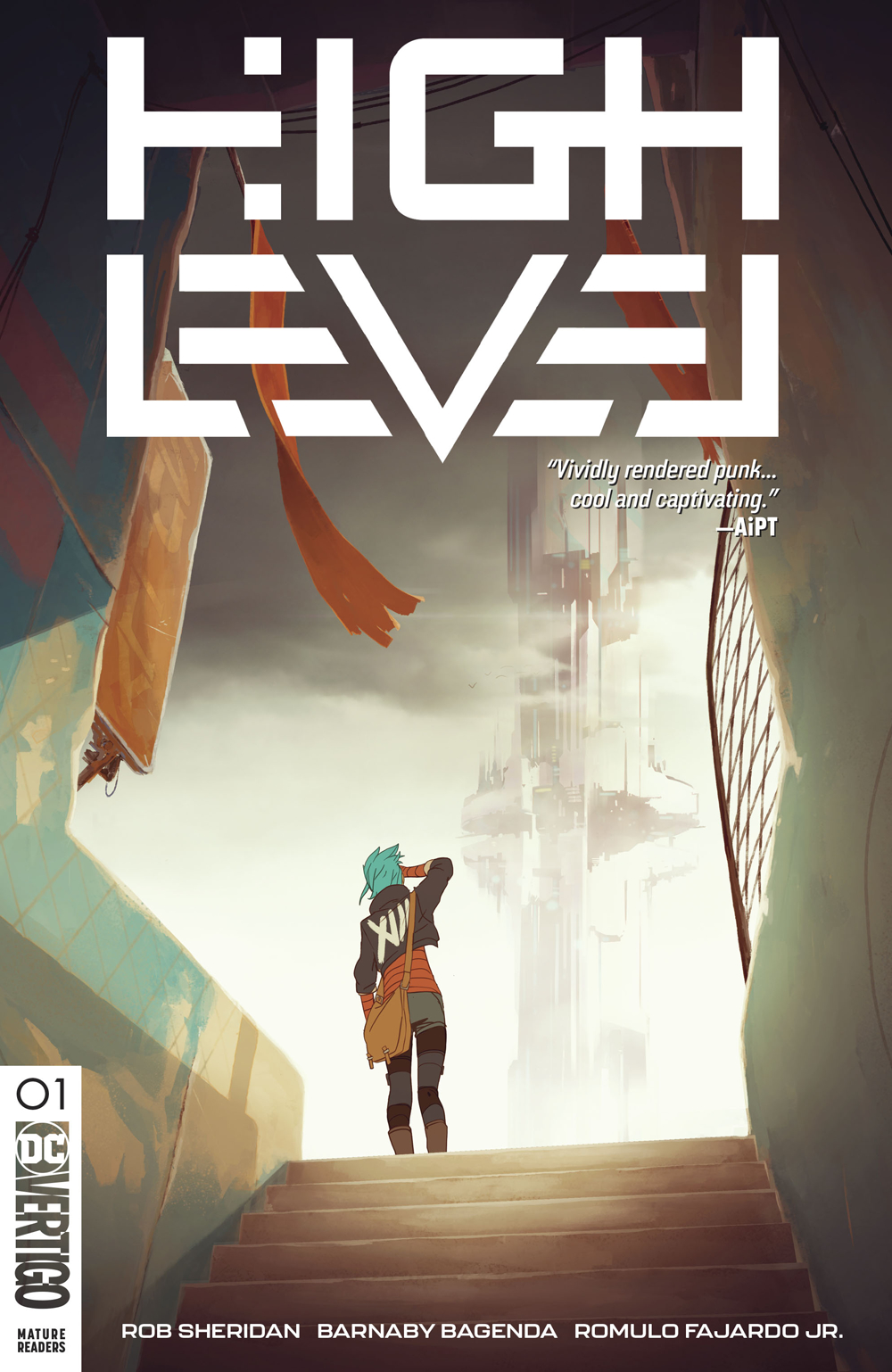 HIGH LEVEL #1 (MR)
DC COMICS
DEC180523
(W) Rob Sheridan (A) Barnaby Bagenda, Romulo Fajardo (CA) Guillaume Ospital
Hundreds of years after the world ended and human society was rebuilt from scratch, a self-interested smuggler is forced to traverse a new continent of danger and mystery to deliver a child messiah to High Level, a mythical city at the top of the world from which no one has ever returned. Don't miss the start of a new series from writer Rob Sheridan, co-creator of Nine Inch Nails' groundbreaking Year Zero alternate-reality game!
MATURE READERS
In Shops: Feb 20, 2019
SRP: $3.99
WONDER TWINS #1 (OF 6)
DC COMICS
DEC180525
(W) Mark Russell (A/CA) Stephen Byrne
Exiled from their home planet, alien heroes Zan and Jayna must navigate life as teens on Earth at South Metropolis High School, where they're even bigger outsiders than the typical awkward young adults. Under the watchful eye of Superman, the brother and sister pull monitor duty at the Hall of Justice as interns, while also trying to overcome the pitfalls of Zan's brash confidence and Jayna's shy but streetwise persona. If you think you know the Wonder Twins, think again-this book takes the form of the unexpected.
RATED T
In Shops: Feb 13, 2019
SRP: $3.99
DYNAMITE ENTERTAINMENT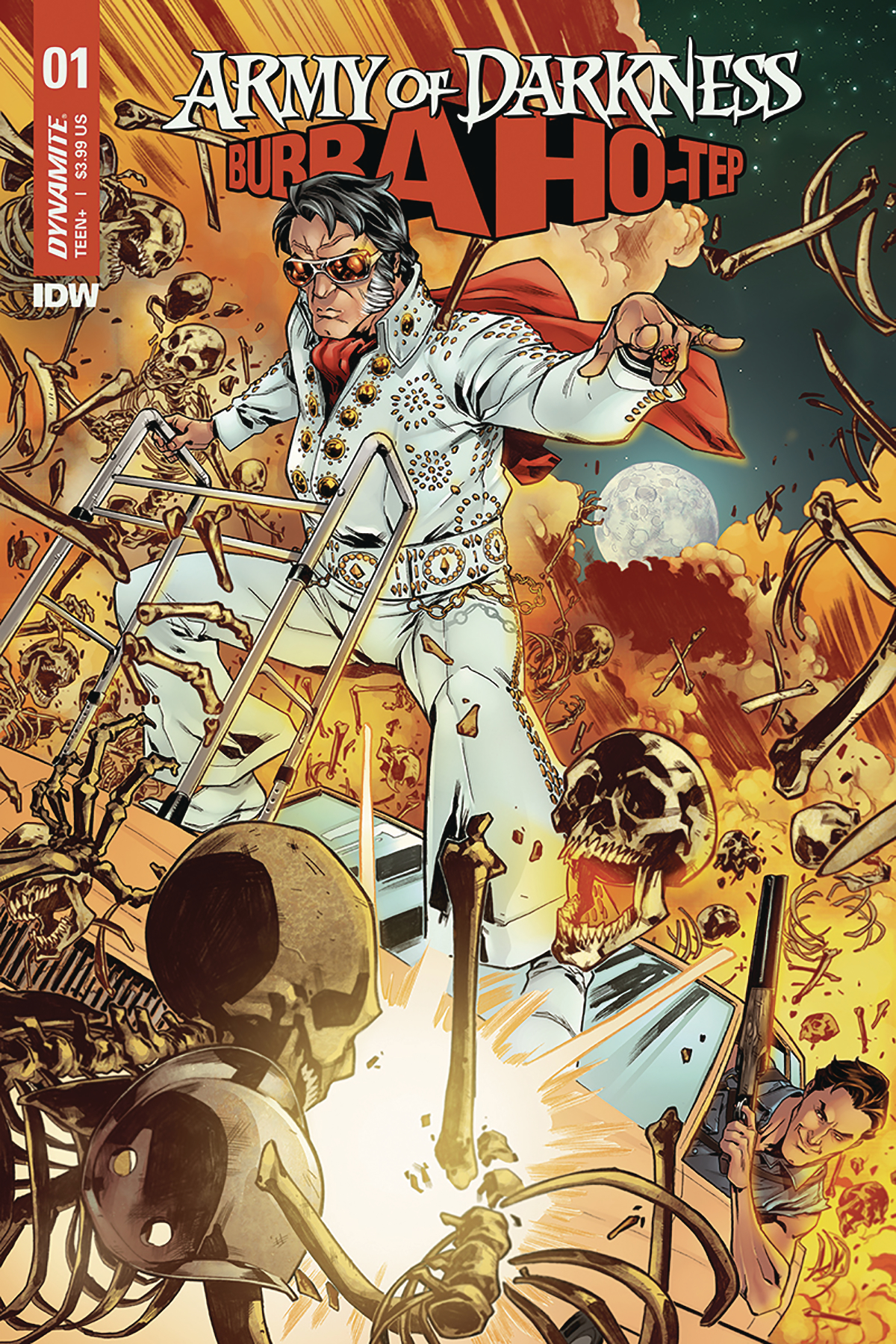 ARMY OF DARKNESS BUBBA HOTEP #1 CVR A GOMEZ
DYNAMITE
DEC181088
(W) Scott Duvall (A) Vincenzo Federici (CA) Carlos E. Gomez
Two cult classics clash for the first time in an epic crossover miniseries: ARMY OF DARKNESS VS. BUBBA HO-TEP. Ash embarks on a soul-searching road trip to Texas on a hunch that Elvis Presley may still be alive and kicking (and supposedly vanquished a mummy)! What follows is a series of universe-spanning events that involve an Elvis jumpsuit with special time-travel abilities, a trip to 70's Vegas, plus the reveal of an evil new Book of the Dead, the Necronomicon Ho-Tep. Has Ash met his ultimate match when trading barbs with a 4,000-year-old, foul-mouthed mummy who sucks souls? Can his idol Elvis mentor him through a mid-life crisis before it becomes his final crisis? Join the adventure in a road-tripping, time-hopping groovy tale!
In Shops: Feb 13, 2019
SRP: $3.99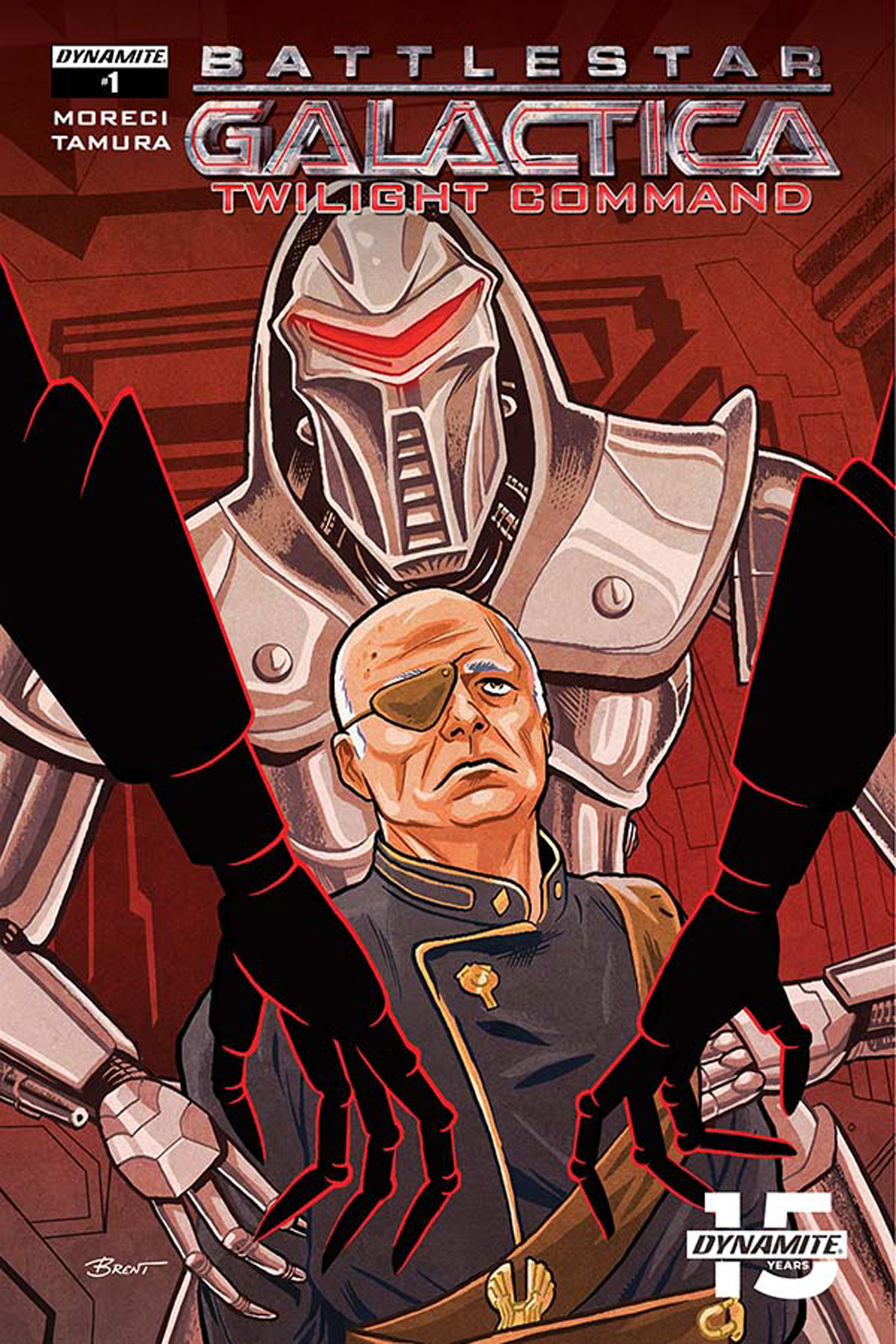 BATTLESTAR GALACTICA TWILIGHT COMMAND #1 CVR A SCHOONOVER
DYNAMITE
DEC181109
(W) Michael Moreci (A) Breno Tamura (CA) Brent Schoonover
It's a dangerous time for the last remaining humans. Captured by the Cylons on New Caprica, the colonists live in fear of what every new day will bring. As the Cylons press their oppressive-and life-threatening agenda-the survivors grow more desperate to reclaim their freedom. But there's hope. Out in the wilds of New Caprica, beyond the Cylon boundaries, is a band of human freedom fighters. They answer to no one. They fear no Cylons. They are Twilight Command--and they have a plan. From writer Michael Moreci (Wasted Space, Archie Meets Batman '66) and artist Breno Tamura (Batgirl and the Birds of Prey) comes the untold tale of Twilight Command!
In Shops: Feb 06, 2019
SRP: $3.99
CRACKDOWN #1 CVR A JAIME
DYNAMITE
DEC181115
(W) Jonathan David Goff (A/CA) Ricardo Jaime
The hyper-powered world of Crackdown (Xbox) has made its way to the comic page! In the not-so-distant future, civilized society is more plugged-in and interconnected than ever - but criminal organizations are growing more connected as well, forming unholy alliances, and plotting for an unprecedented campaign against the world. When a series of devastating blackout attacks plunge major metropolitan areas into darkness and chaos, the global population is terrified, traditional law enforcement is overwhelmed - and it's up to The Agency, an elite international crime-fighting task force, to restore peace and deliver justice, by any means necessary.
In Shops: Feb 20, 2019
SRP: $3.99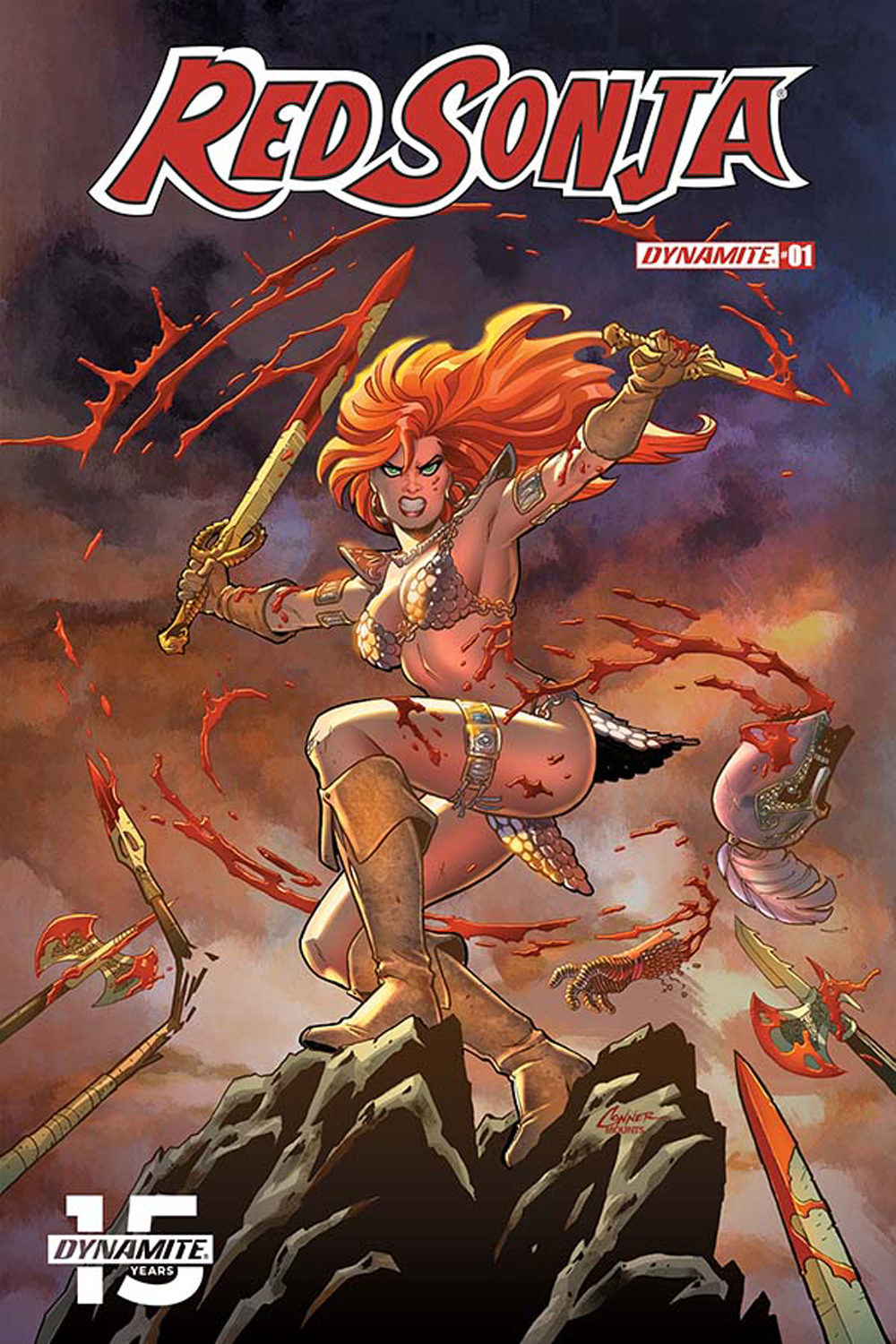 RED SONJA #1 CVR A CONNER
DYNAMITE
DEC181072
(W) Mark Russell (A) Mirko Colak (CA) Amanda Conner
No man knows the place of her birth, nor where she learned to wield a sword to shame many a male. They know only that she is called The She-Devil of The Hyrkanian Steppes. That, and RED SONJA. MARK RUSSELL (The Flintstones) and MIRKO COLAK (Conan) bring a savage tale of metal and blood. A world conqueror possesses a massive army and a fatal prophecy. A bastard sorceress craves revenge. And a fearsome red-haired warrior is made wartime ruler of a homeland set for decimation.
In Shops: Feb 06, 2019
SRP: $3.99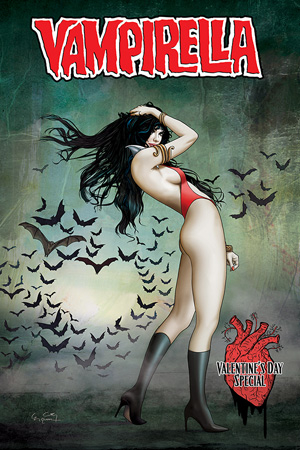 VAMPIRELLA VALENTINES DAY SPECIAL #1 CVR A GUNDUZ
DYNAMITE
DEC181226
(W) Leah Williams (A) Maria Sanapo (CA) Ergun Gunduz
Mardi Gras may still be a couple weeks away, but that doesn't mean spirits aren't stirring! Valentine's Day is New Orlean's version of Halloween-the one day a year that's a supernatural free-for-all, when all the ghosts and ghoulies come out to feast on the spirits and flesh of horny tourists. Let's just say there's going to be big trouble in the Big Easy!
In Shops: Feb 13, 2019
SRP: $4.99
IDW PUBLISHING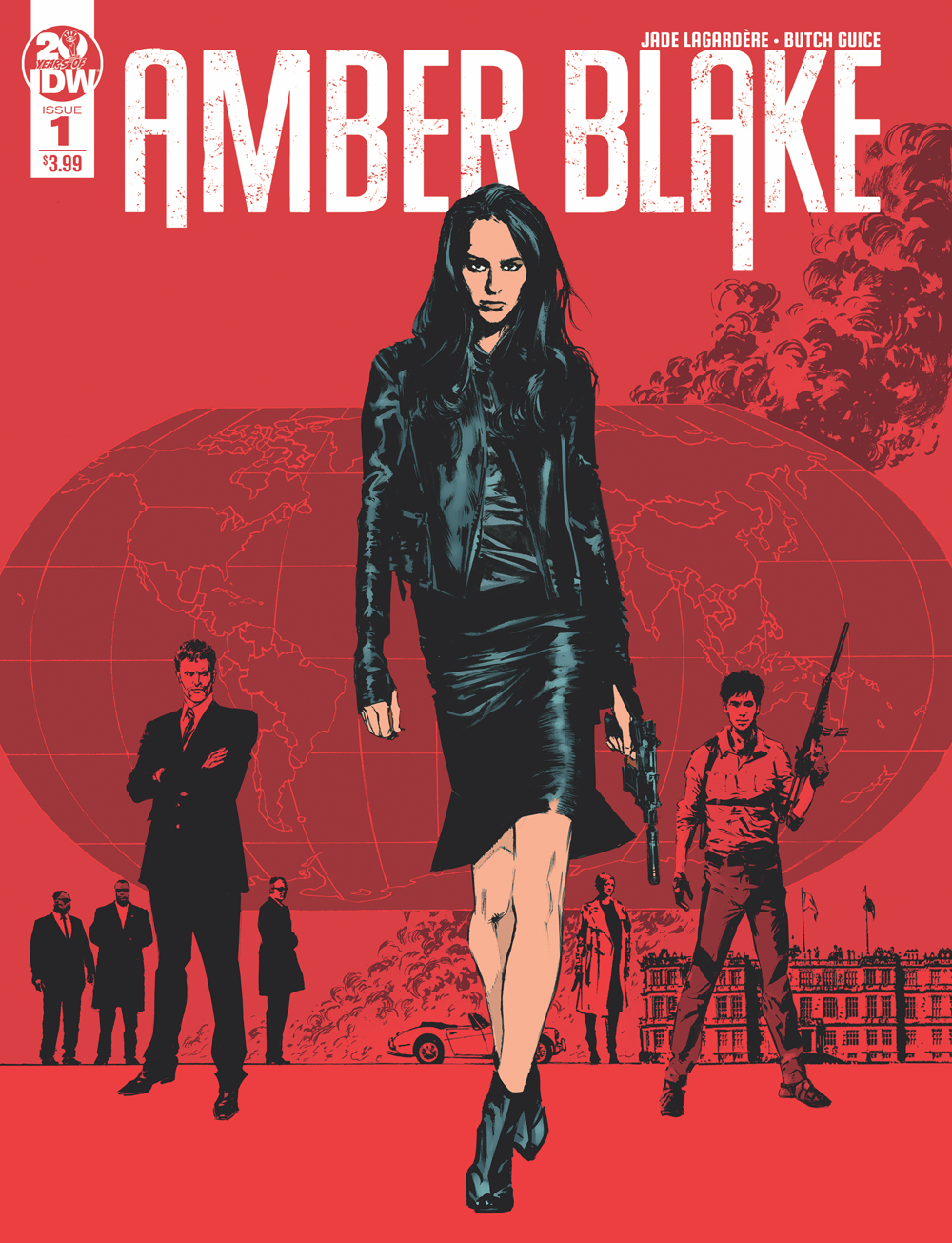 AMBER BLAKE #1 GUICE
IDW PUBLISHING
DEC180788
(W) Jade Lagard?re (A/CA) Butch Guice
Amber Blake was only a child when she was recruited to the Cleverland Institute, a school for gifted children. But predators hide in the school's administration, abusing the children they're meant to protect, and, on the verge of exposing them, Amber finds herself fleeing for her life from the very man who recruited her. But she's not dead yet-and she's not the only one who wants to see Cleverland's leaders burn.
In Shops: Feb 27, 2019
SRP: $3.99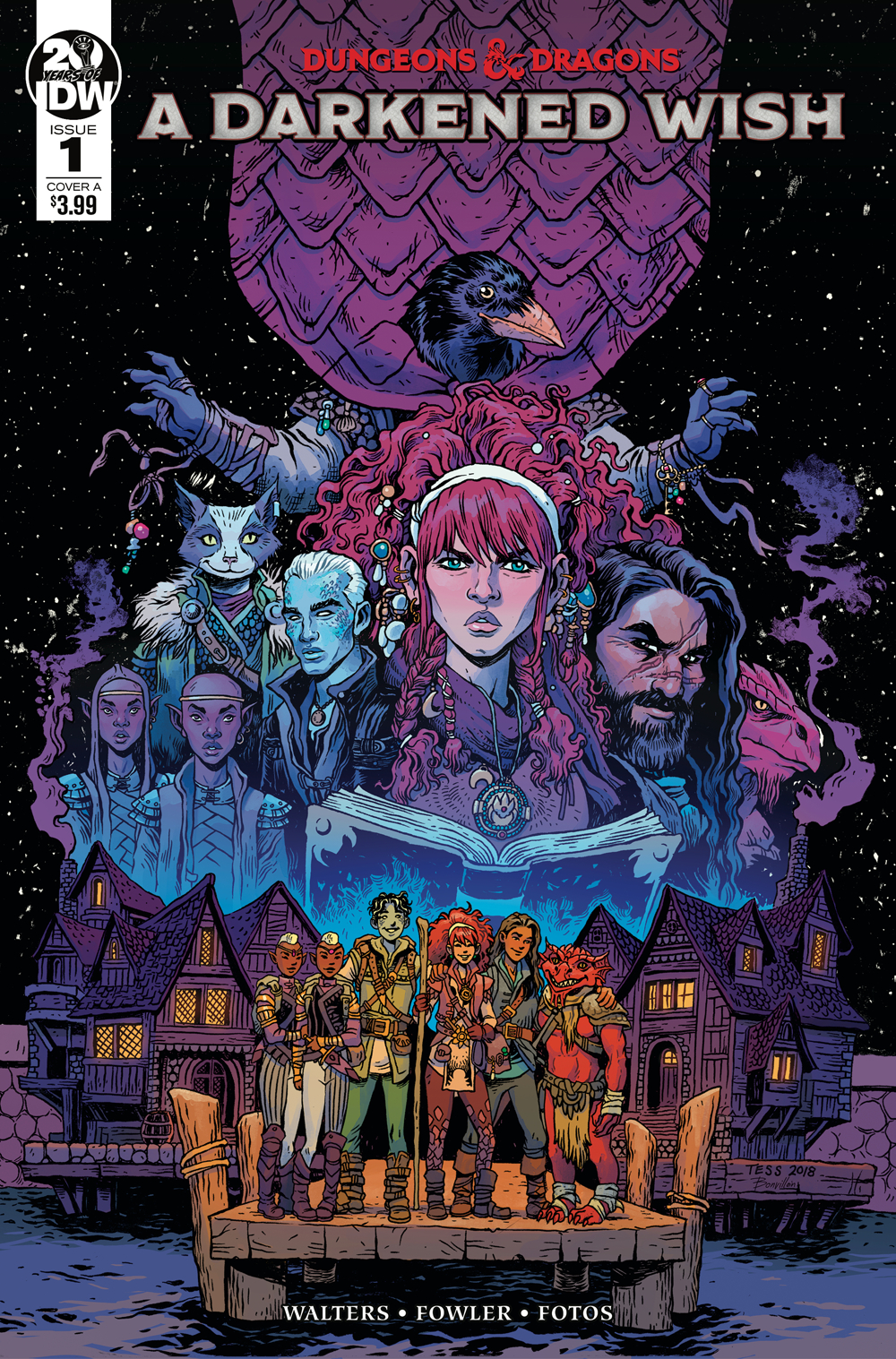 DUNGEONS & DRAGONS A DARKENED WISH #1 CVR A FOWLER
IDW PUBLISHING
DEC180772
(W) B Dave Walters (A/CA) Tess Fowler
When war threatens the Moonshae Isles, legendary heroes return to defeat the forces of an unthinkable foe. The Forgotten Realms are changed forever as young wizard Helene and her friends grow from raw recruits on the streets of Mintarn into powerful warriors. Creators B. Dave Walters (Stream of Many Eyes, Geek & Sundry, The Rundown) and Tess Fowler (Kid Lobotomy, Critter) join forces to bring you an all-new D&D adventure of epic scope and flair!
Dungeons & Dragons 5th Edition sales continue to explode! With millions of copies sold around the world, D&D has returned as a cultural force!
In Shops: Feb 27, 2019
SRP: $3.99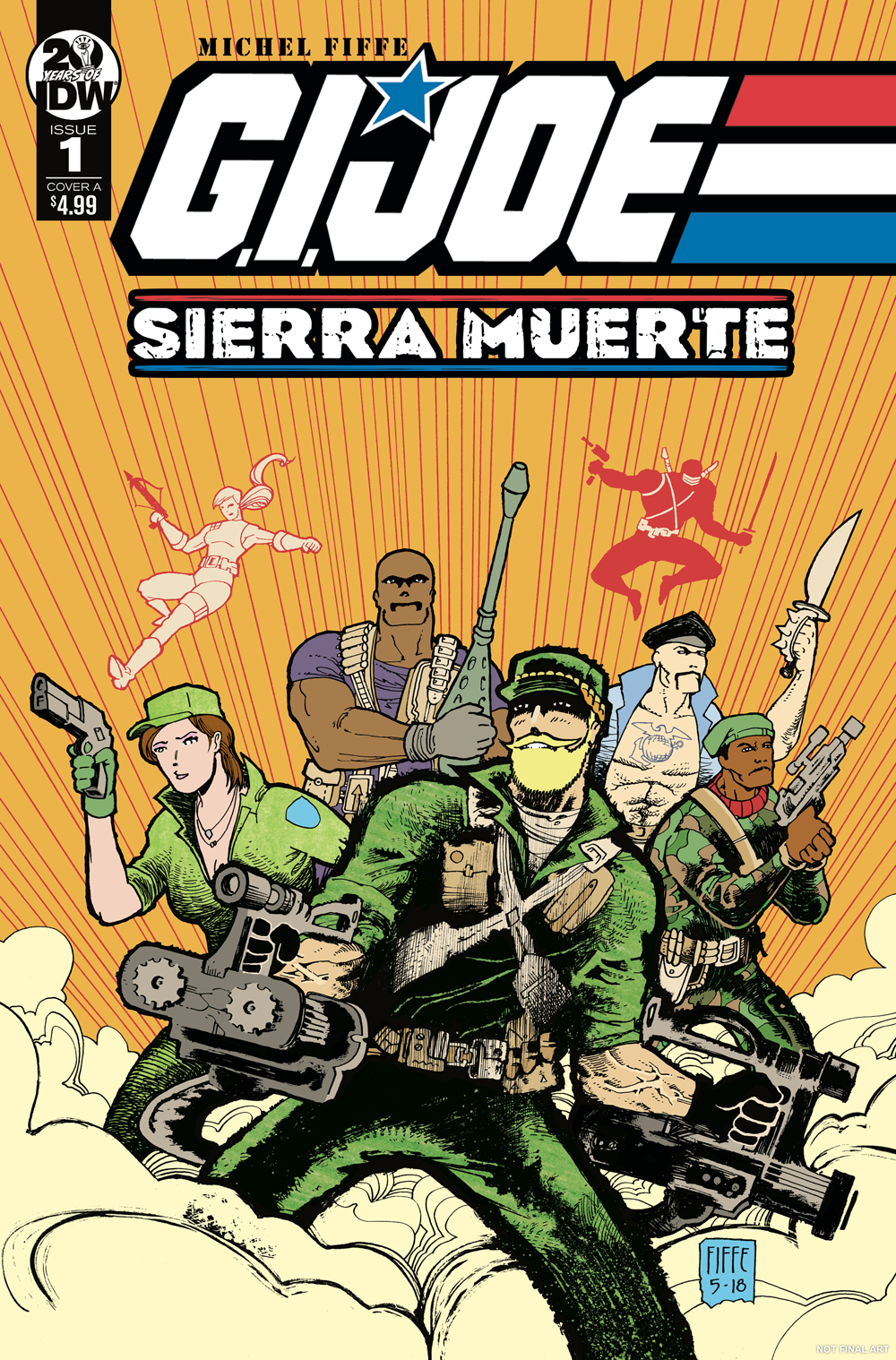 GI JOE SIERRA MUERTE #1 CVR A FIFFE
IDW PUBLISHING
DEC180755
(W) Michel Fiffe (A/CA) Michel Fiffe
From the mind of comic book auteur Michel Fiffe comes a brilliant, contemporary and loving homage to all things G.I. Joe! Eccentric soldiers dominating bizarre terrorists are showcased in this bombastic account of G.I. Joe's quintessential mission against Cobra! Through a beachside ambush, a compromised manhunt, and a revenge plan that backfires, America's fighting elite risk life, love, and honor in this brutal globe-spanning adventure. From the creative mind that brought you COPRA! Visionary creator Michel Fiffe unleashes his imagination on the thrilling, amazing, and wonderful world of G.I. Joe! Each extra-length issue features an in-depth exploration of Larry Hama's G.I. Joe: A Real American Hero comic book series, including an interview with Larry Hama himself! All conducted by former Youngblood and current Sleepwalker scribe, Chad Bowers!
In Shops: Feb 13, 2019
SRP: $4.99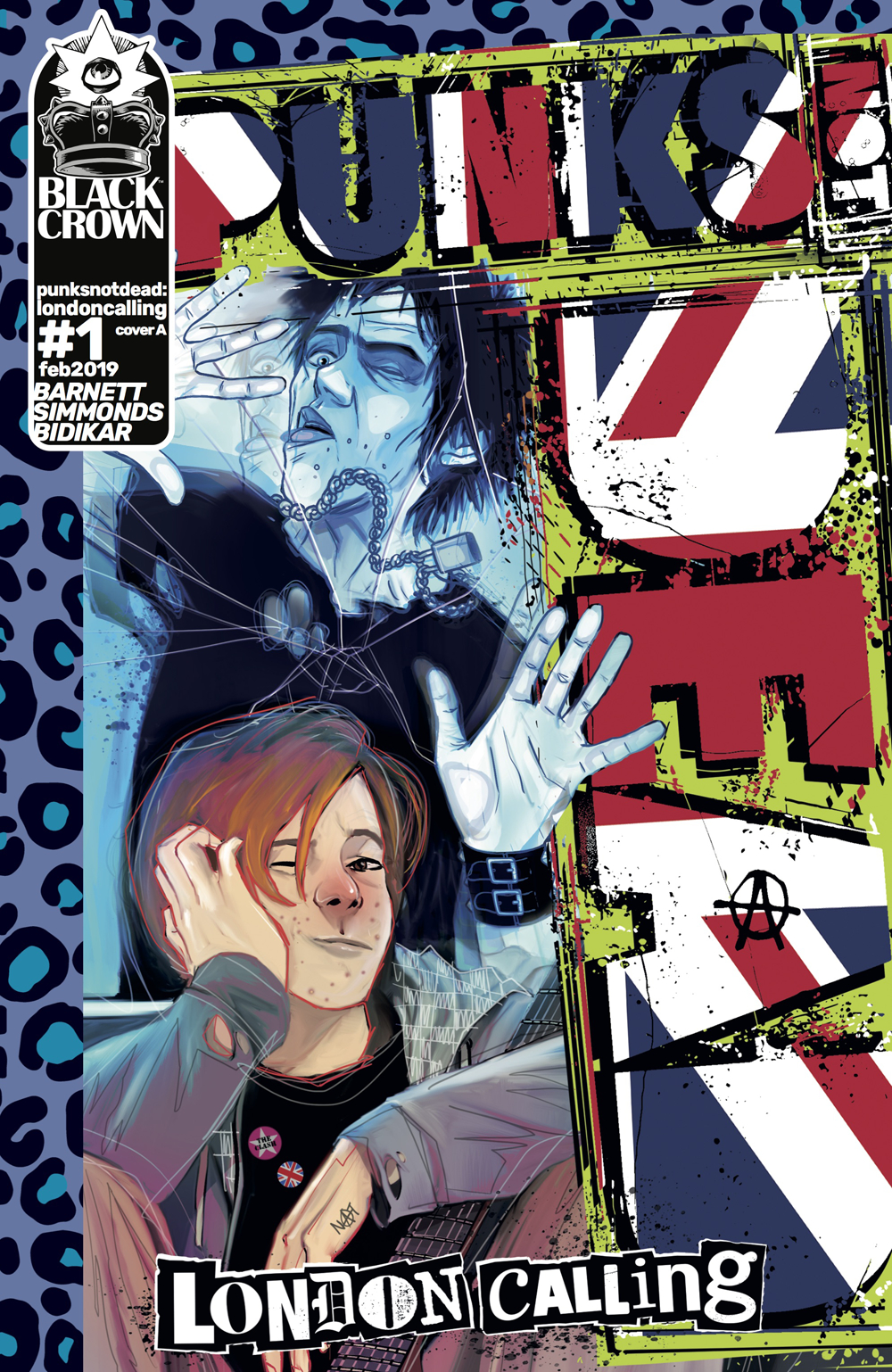 PUNKS NOT DEAD LONDON CALLING #1 CVR A SIMMONDS
IDW PUBLISHING
DEC180803
(W) David Barnett (A/CA) Martin Simmonds
Teenage geek Fergie Ferguson and his BF Sid, the ghost of a punk rocker who only Fergie can see or hear, are on the lam for a murder they didn't exactly commit. They've made it to London but on their tail are the police, the quirky paranormal investigation agency the Department of Extra-Usual Affairs, and some really freaky magpie monsters, so there's not (much) time for sightseeing.
While Fergie tracks down his long-absent father to get answers about his powerful new "abilities" (Sid calls them "psychic grenades"), DfEUA's old-school mod super spy Dorothy Culpepper and her sensible young partner Asif Baig uncover evidence that links Fergie to the underworld. Fergie's mum Julie and his not-a-girlfriend Natalie also join forces to save Fergie from life in prison... but with a psychopathic serial killer showing an interest, everybody might soon be running out of time.
How does any of this connect to a visually searing three-chord apocalypse? Never mind the bollocks-another season of the critical darling PUNKS NOT DEAD is here with endless pints of anarchy and social distortion!
PUNKS NOT DEAD: LONDON CALLING is a five-issue miniseries written by David Barnett (Calling Major Tom) and illustrated by Martin Simmonds (Friendo, Marvel: Jessica Jones, and Quicksilver covers). Featuring a variant cover by fan-favorite Rafael Albuquerque (Batgirl, A Study in Emerald).
In Shops: Jan 16, 2019
SRP: $3.99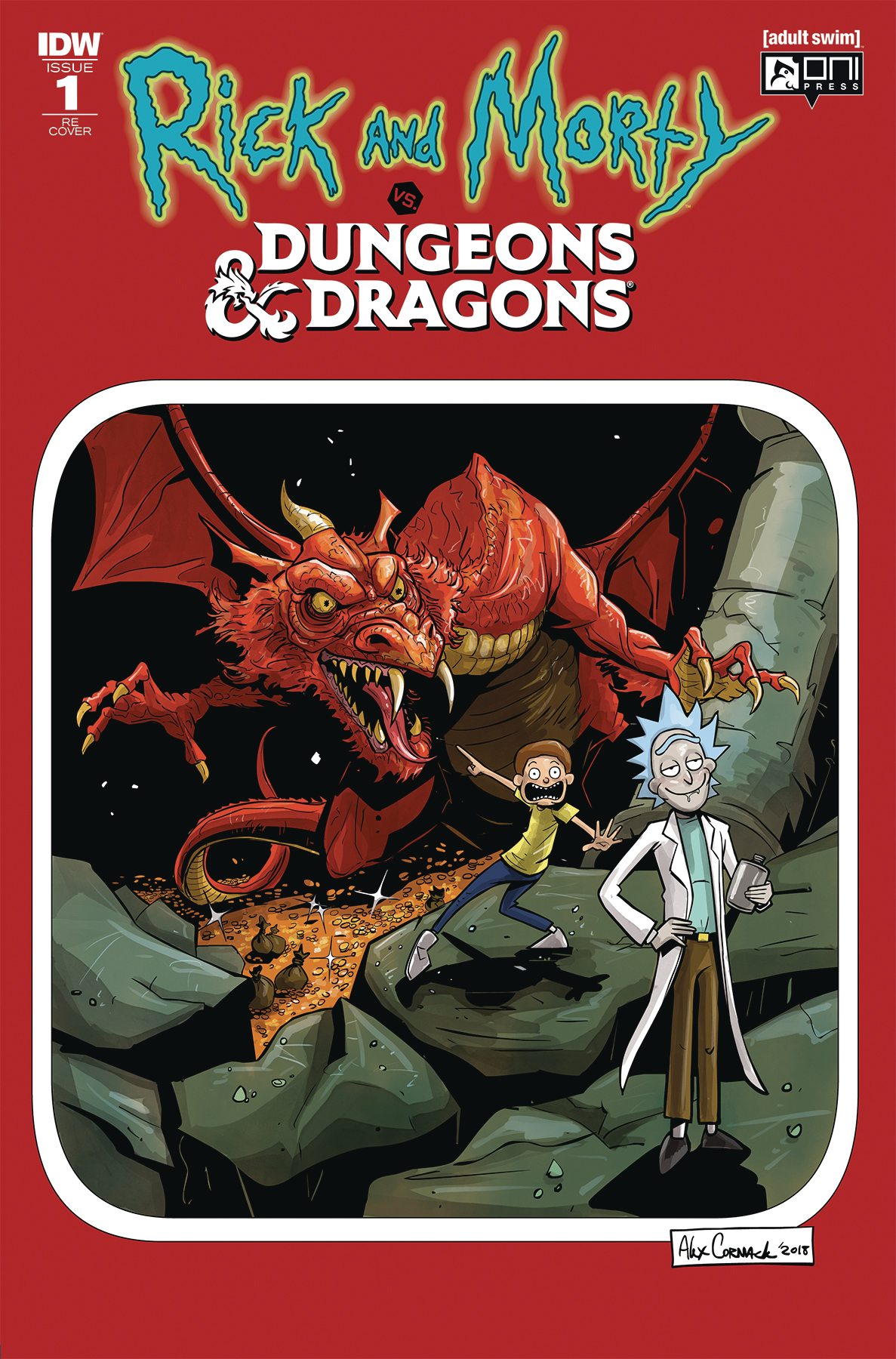 RICK & MORTY VS DUNGEONS & DRAGONS DIR CUT #1
IDW PUBLISHING
DEC180777
(W) Jim Zub, Patrick Rothfuss (A) Troy Little (CA) Alex Cormack
Re-presenting the sold-out first issue in deluxe format! This special edition includes excerpts from Patrick Rothfuss and Jim Zub's original script, work-in-progress process pages from the art table of Troy Little, and a section of some of the rare and hard-to-find covers! Presented in conjunction with Oni Press! Patrick Rothfuss, the multiple award-winning, bestselling author of The Kingkiller Chronicle series, joins Dungeons & Dragons fan-favorite Jim Zub (Avengers, Wayward) on a tri-dimensional fantasy adventure!
In Shops: Feb 20, 2019
SRP: $4.99
IMAGE COMICS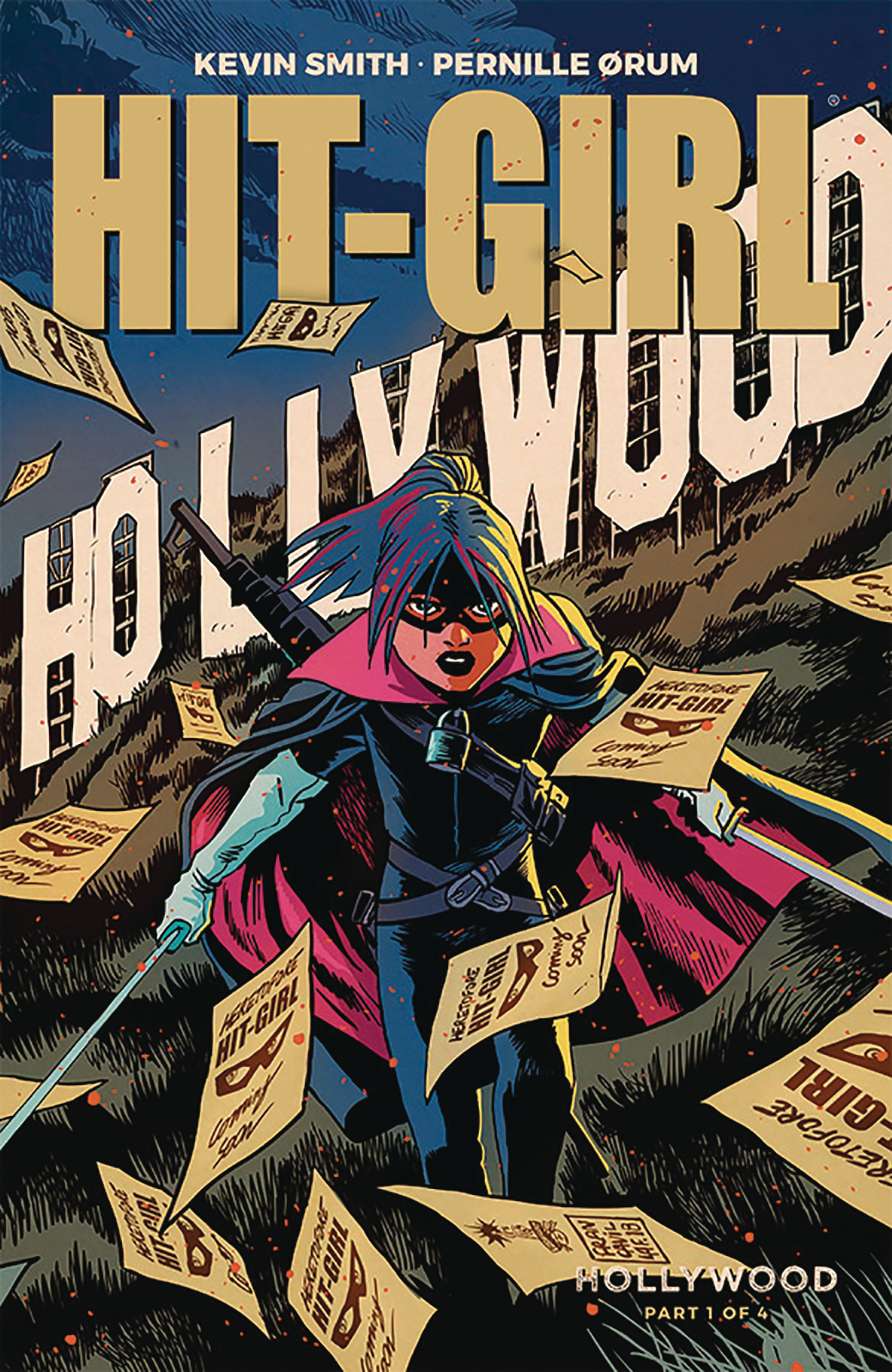 HIT-GIRL SEASON TWO #1 CVR A FRANCAVILLA (MR)
IMAGE COMICS
DEC180057
(W) Kevin Smith (A) Pernille Orum (CA) Francesco Francavilla
NEW STORY ARC!
"THE SILENT ERA," Part One
Join film, podcast, and comics legend KEVIN SMITH (Green Arrow, Daredevil) and animation/illustration virtuoso PERNILLE RUM (DC Superhero Girls, Blush, Coral) for the glitz and gore of this all-new chapter of HIT-GIRL!
Our favorite adolescent assassin tears Tinsel Town a new one when she realizes her life's being dramatized for the silver screen. Hit-Girl storms sets, wages war on fat-cat movie bosses, and lures old enemies out of hiding in this Californian bloodbath.
In Shops: Feb 13, 2019
SRP: $3.99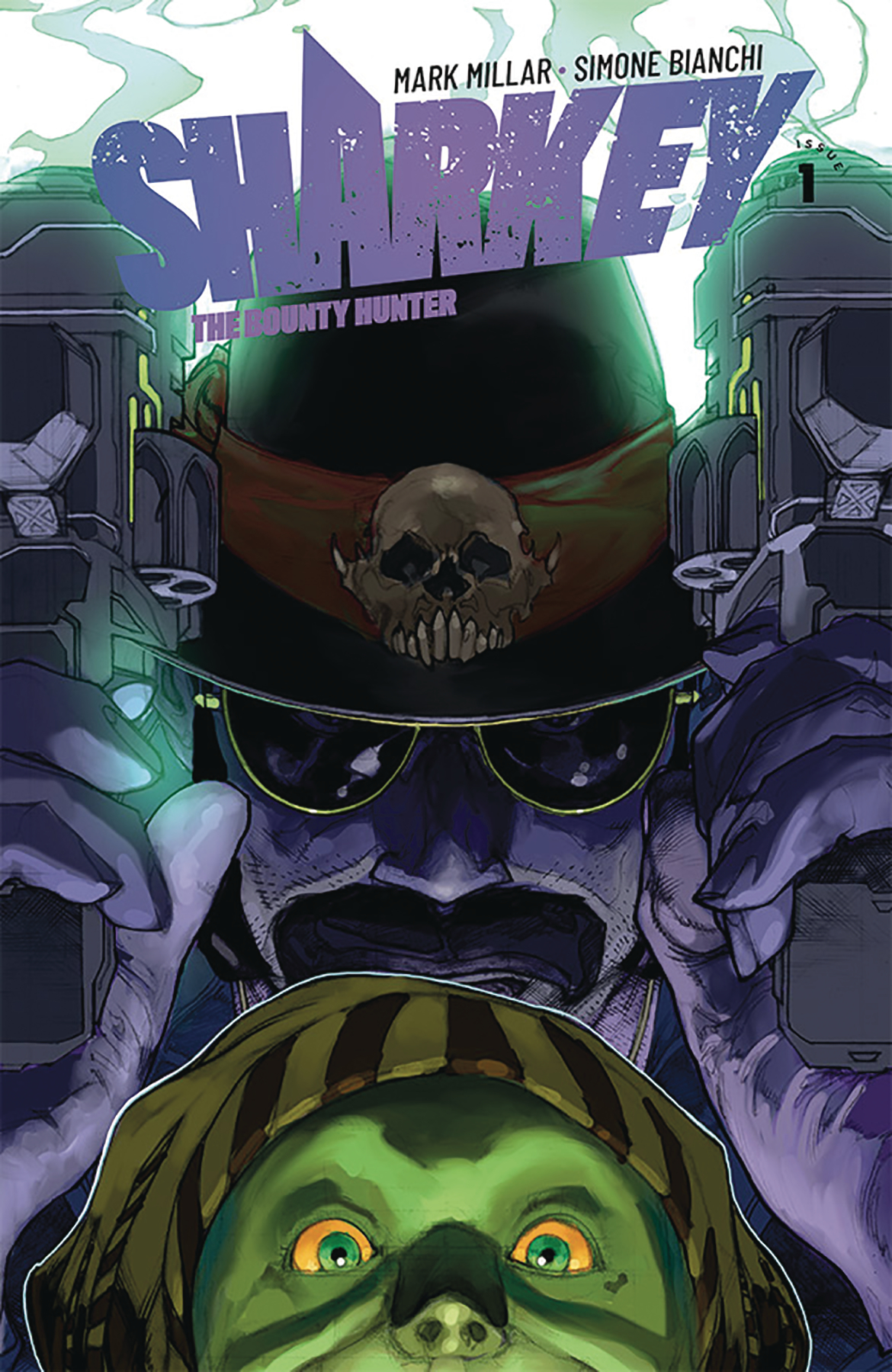 SHARKEY BOUNTY HUNTER #1 (OF 6) CVR A BIANCHI (MR)
IMAGE COMICS
DEC180050
(W) Mark Millar (A/CA) Simone Bianchi
MINISERIES PREMIERE
Set in a brilliant new sci-fi universe, Sharkey is a blue-collar bounty hunter who tracks criminals across the galaxy in his converted, rocket-powered ice-cream truck. Aided and abetted by his ten-year-old partner, he's out for the biggest bounty of his career.
In Shops: Feb 20, 2019
SRP: $3.99
MARVEL COMICS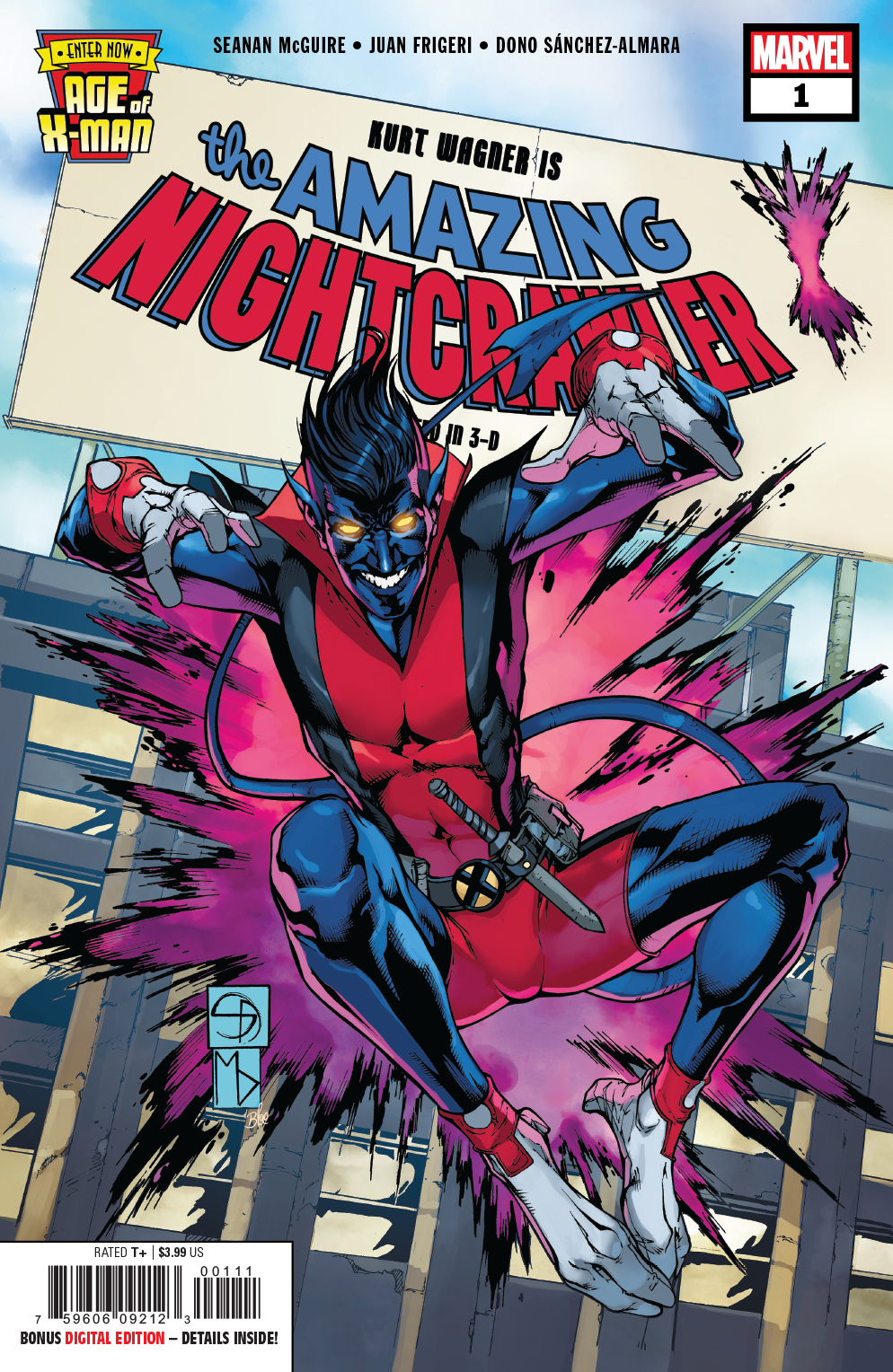 AGE OF X-MAN AMAZING NIGHTCRAWLER #1 (OF 5)
MARVEL COMICS
DEC180888
(W) Sean McGuire (A) Juan Frigeri (CA) Shane Davis, Michelle Delecki, Federico Blee
ENTER THE AGE OF X-MAN!
• From the Munich circus to Hollywood Boulevard, Nightcrawler is starring in his own solo series!
• Kurt Wagner is the biggest celebrity slash super hero since Dwayne Johnson!
• Juggling Kurt's responsibilities as one of the X-Men and a slate of summer blockbusters would be tough without the best support staff in the business: Stunt coordinator Magma! Personal trainer Kylun! And of course, his leading lady Meggan!
• But there's something rotten in Tinseltown...
Rated T+
In Shops: Feb 20, 2019
SRP: $3.99
AGE OF X-MAN MARVELOUS X-MEN #1 (OF 5)
MARVEL COMICS
DEC180879
(W) Lonnie Nadler, Zac Thompson (A) Marco Failla (CA) Phil Noto
ENTER THE AGE OF X-MAN!
The perfect heroes for a perfect world! The X-Men have helped make the world into a utopia where living in fear and hatred is a thing of the past. All people are united under the banner of mutantkind, and all of mutantkind idolizes the X-Men. Jean Grey! Colossus! Storm! X-23! X-Man! Nature Girl! Magneto! And of course, the amazing Nightcrawler! When danger threatens the world, the Marvelous X-Men set things right for the good of all. And no one dares say otherwise.
Rated T+
In Shops: Feb 06, 2019
SRP: $3.99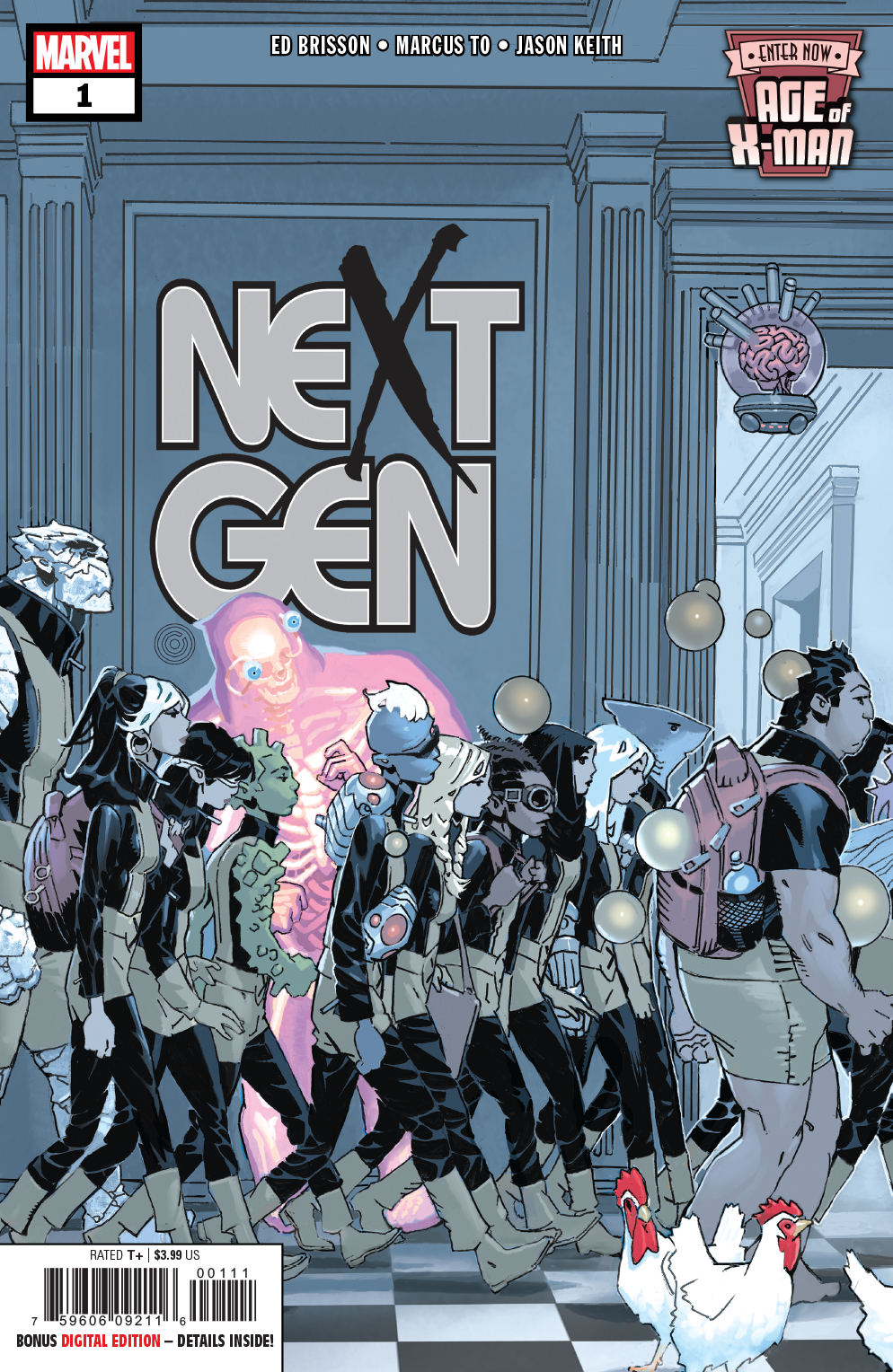 AGE OF X-MAN NEXTGEN #1 (OF 5)
MARVEL COMICS
DEC180884
(W) Ed Brisson (A) Marcus To (CA) Chris Bachalo
ENTER THE AGE OF X-MAN!
In an age of utopia, the Summers Institute for Higher Learning is the premiere school for the mutant community across the globe. Attendance is mandatory for all mutant children, as they learn to become the next generation of marvelous X-Men. But even in a utopian society, teenagers will always find a way to rebel... Follow Glob, Armor, Anole and Rockslide as they discover what it really means to live in an age of peace and harmony!
Rated T+
In Shops: Feb 13, 2019
SRP: $3.99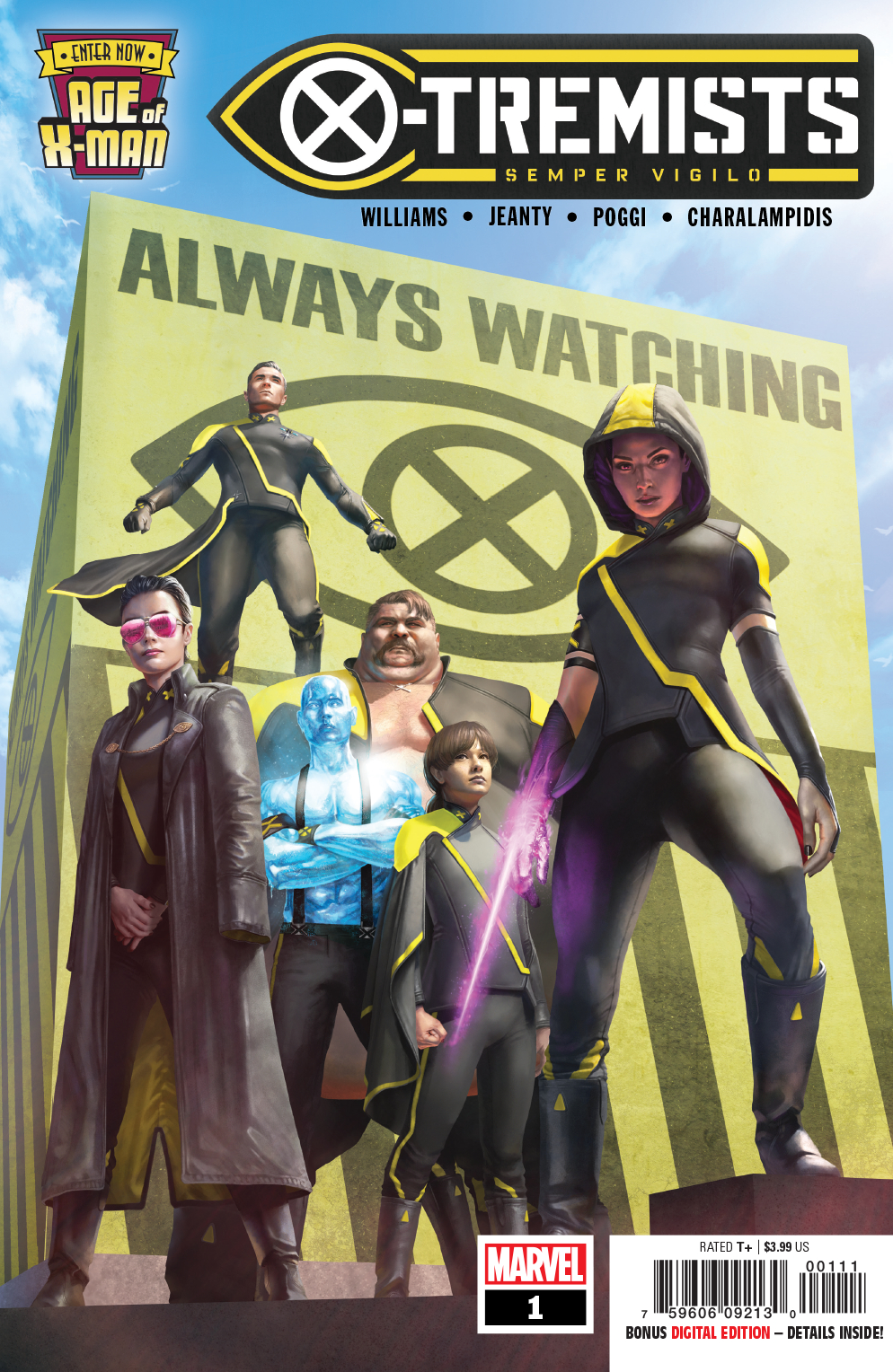 AGE OF X-MAN X-TREMISTS #1 (OF 5)
MARVEL COMICS
DEC180892
(W) Leah Williams (A) Georges Jeanty (CA) Rahzzah
ENTER THE AGE OF X-MAN!
A perfect world doesn't just...happen. It needs to be cultivated. That's where the X-Tremists come in. Psylocke, Iceman, Northstar, Blob, Jubilee and Moneta protect people from threats they won't even know existed, including the most insidious threat of all - love.
Rated T+
In Shops: Feb 27, 2019
SRP: $3.99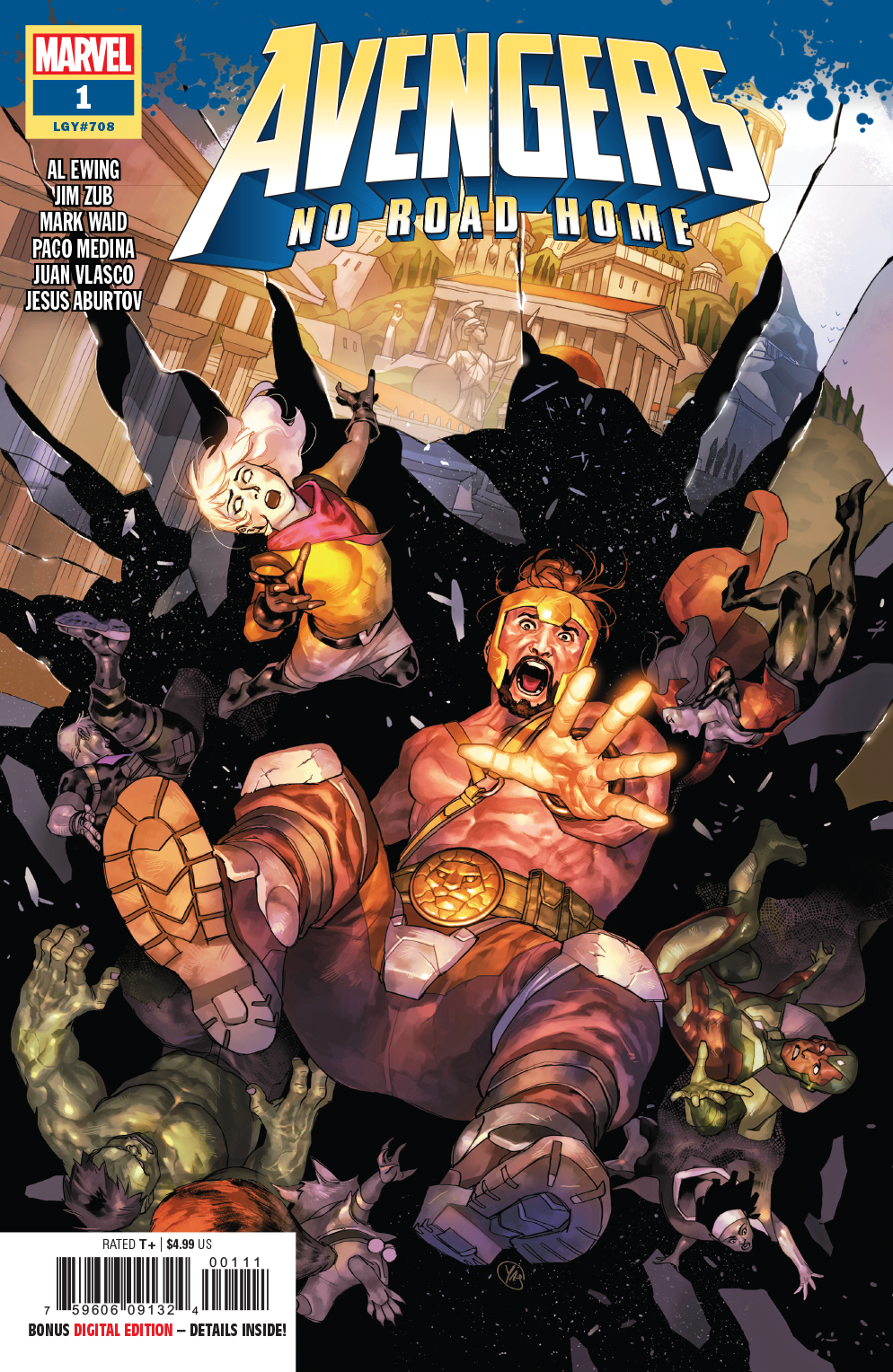 AVENGERS NO ROAD HOME #1 (OF 10)
MARVEL COMICS
DEC180831
(W) Al Ewing, Jim Zub, Mark Waid (A) Paco Medina (CA) Yasmine Putri
The team that brought you AVENGERS: NO SURRENDER REUNITES for an all-new weekly AVENGERS adventure!
Night has fallen across the universe. Now seven Avengers - and one new addition - journey forth to bring back the light. But when the threat they face has destroyed even the gods...will anyone make it home?
LEGACY #708
Rated T+
In Shops: Feb 13, 2019
SRP: $4.99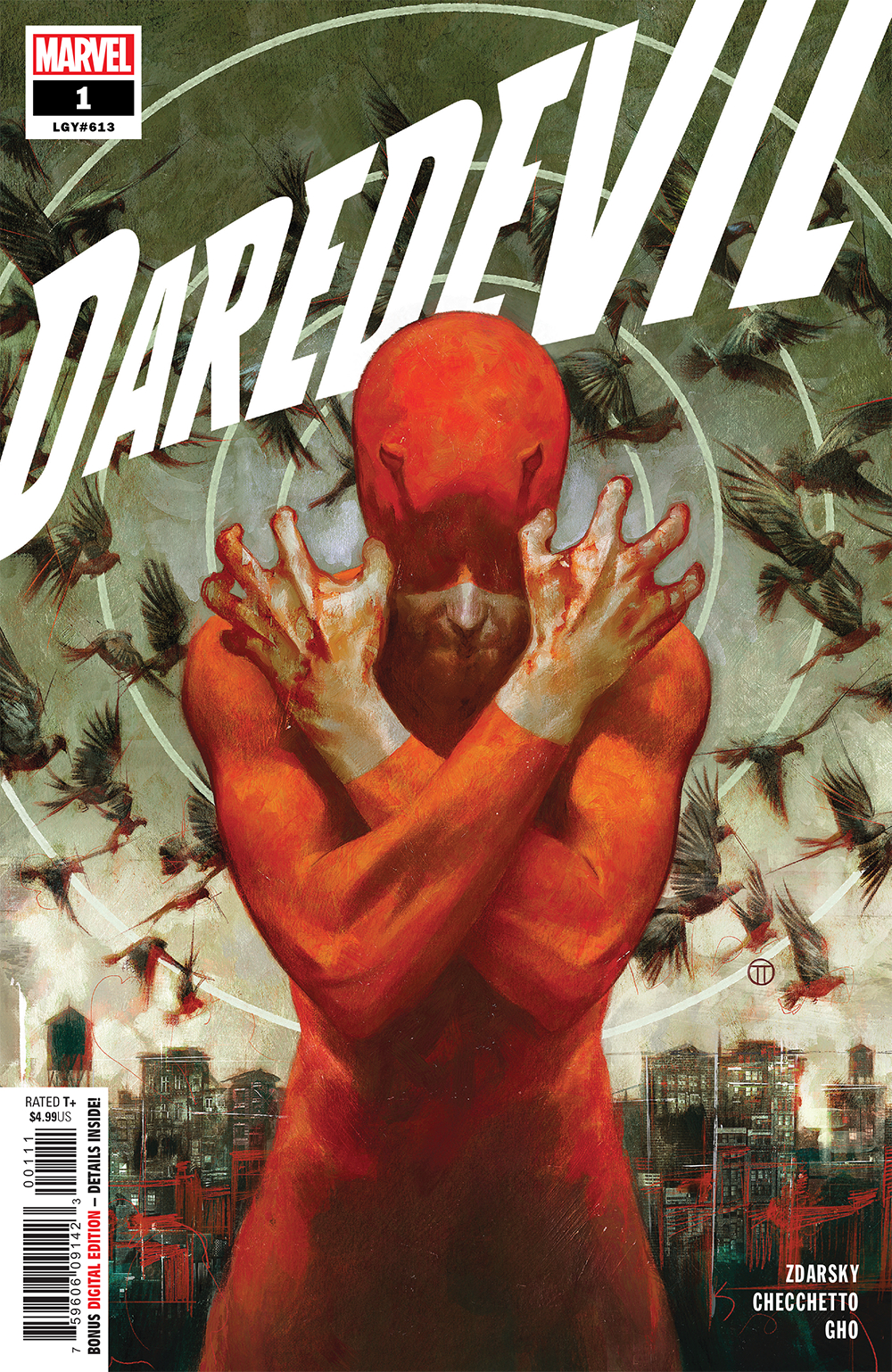 DAREDEVIL #1
MARVEL COMICS
DEC180841
(W) Chip Zdarsky (A) Marco Checchetto (CA) Julian Totino Tedesco
CLASSIFIED
Rated T+
In Shops: Feb 06, 2019
SRP: $4.99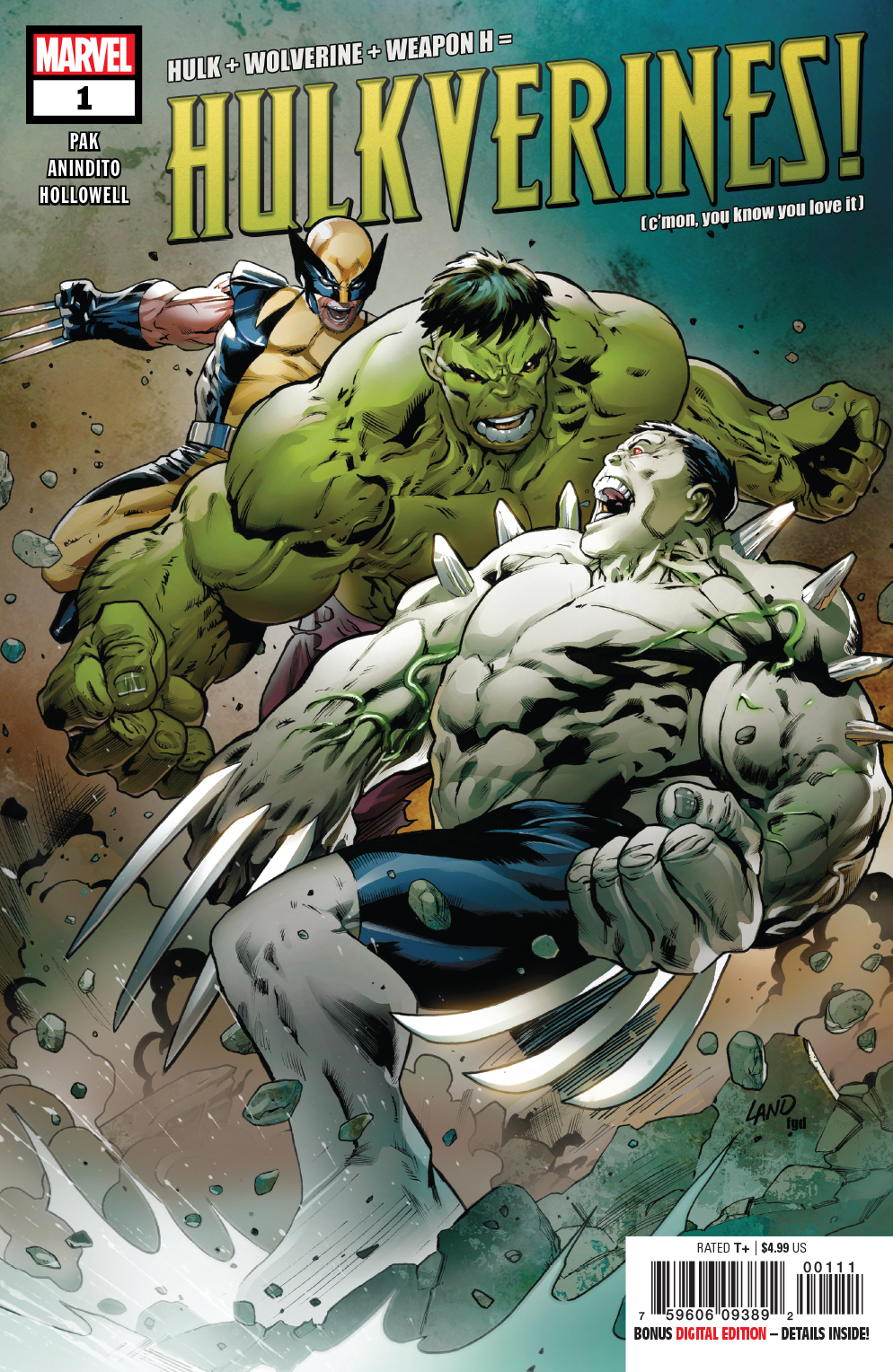 HULKVERINES #1 (OF 3)
MARVEL COMICS
DEC180908
(W) Greg Pak (A) Ario Anindito (CA) Greg Land, D'Armata, Frank
THE CLASH YOU'VE BEEN WAITING FOR!
At last! It's Weapon H versus his predecessors-Wolverine and the Hulk! Once, the Weapon X program sought to recreate the world's two greatest hunters. They ended up with Weapon H, a man of Adamantium claws and gamma-juiced blood. Now, Wolverine and the Hulk are back in action - and coming after the dangerous creation made in their name!
Rated T+
In Shops: Feb 20, 2019
SRP: $4.99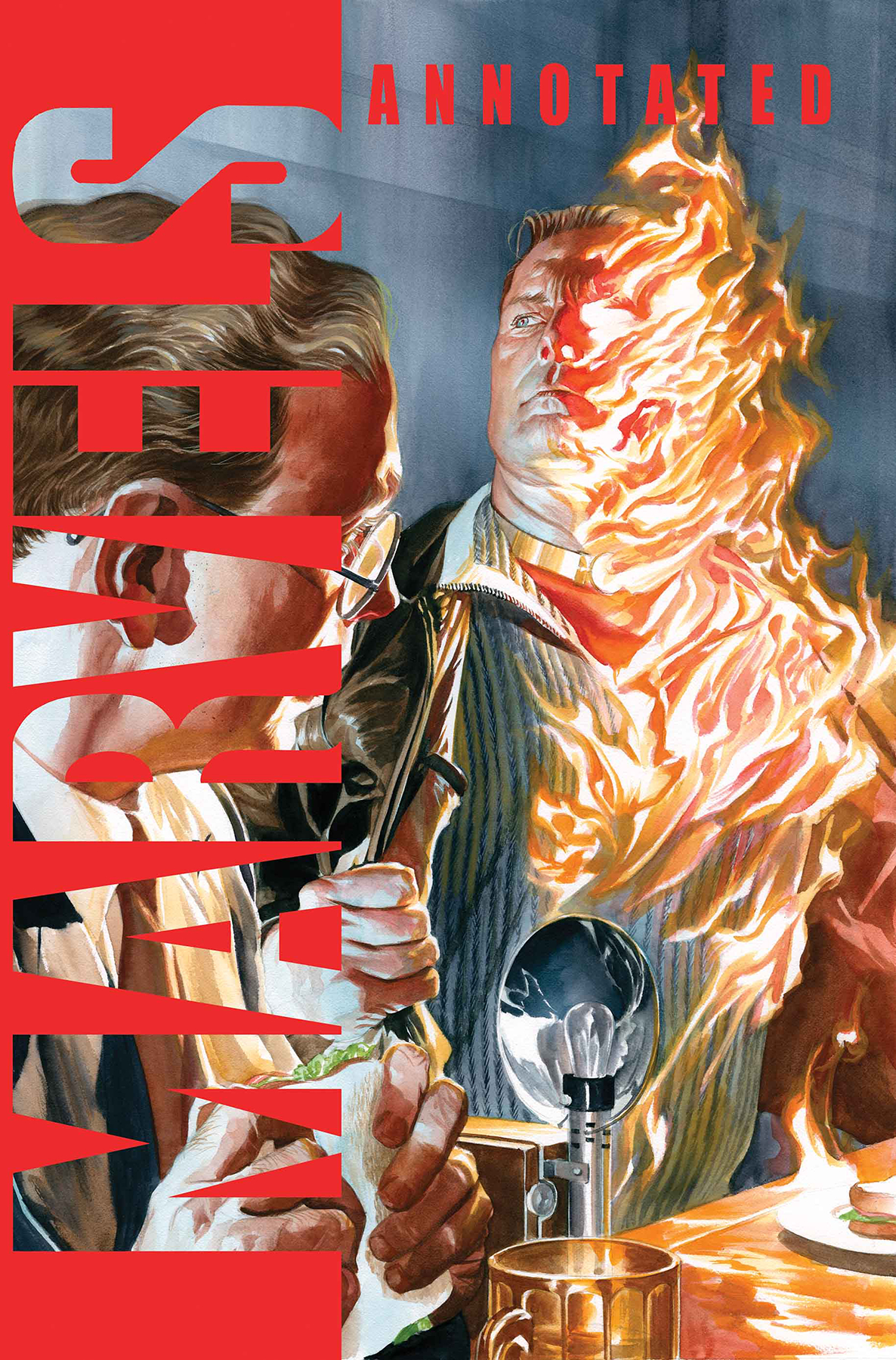 MARVELS ANNOTATED #1
MARVEL COMICS
DEC180812
(W) Alex Ross, Kurt Busiek (A/CA) Alex Ross
Celebrating the 25th anniversary of the series that changed the way we look at super heroes, the landmark MARVELS is back! In the year 1939, young photojournalist Phil Sheldon attends the sensational unveiling of the fiery android Human Torch - little knowing he is witnessing the dawn of the Age of Marvels! Prepare to relive Marvel's Golden Age from a whole new point of view as Phil covers the superhuman sightings of the 1930s and 1940s - from the terror caused by the Human Torch's epic clash with the Sub-Mariner to the patriotism stirred by the debut of Captain America and more! Packed with extras and completely remastered, you don't want to miss this unique look back at the MARVELS phenomenon! Collecting MARVELS #0-1.
RATED T
In Shops: Feb 13, 2019
SRP: $7.99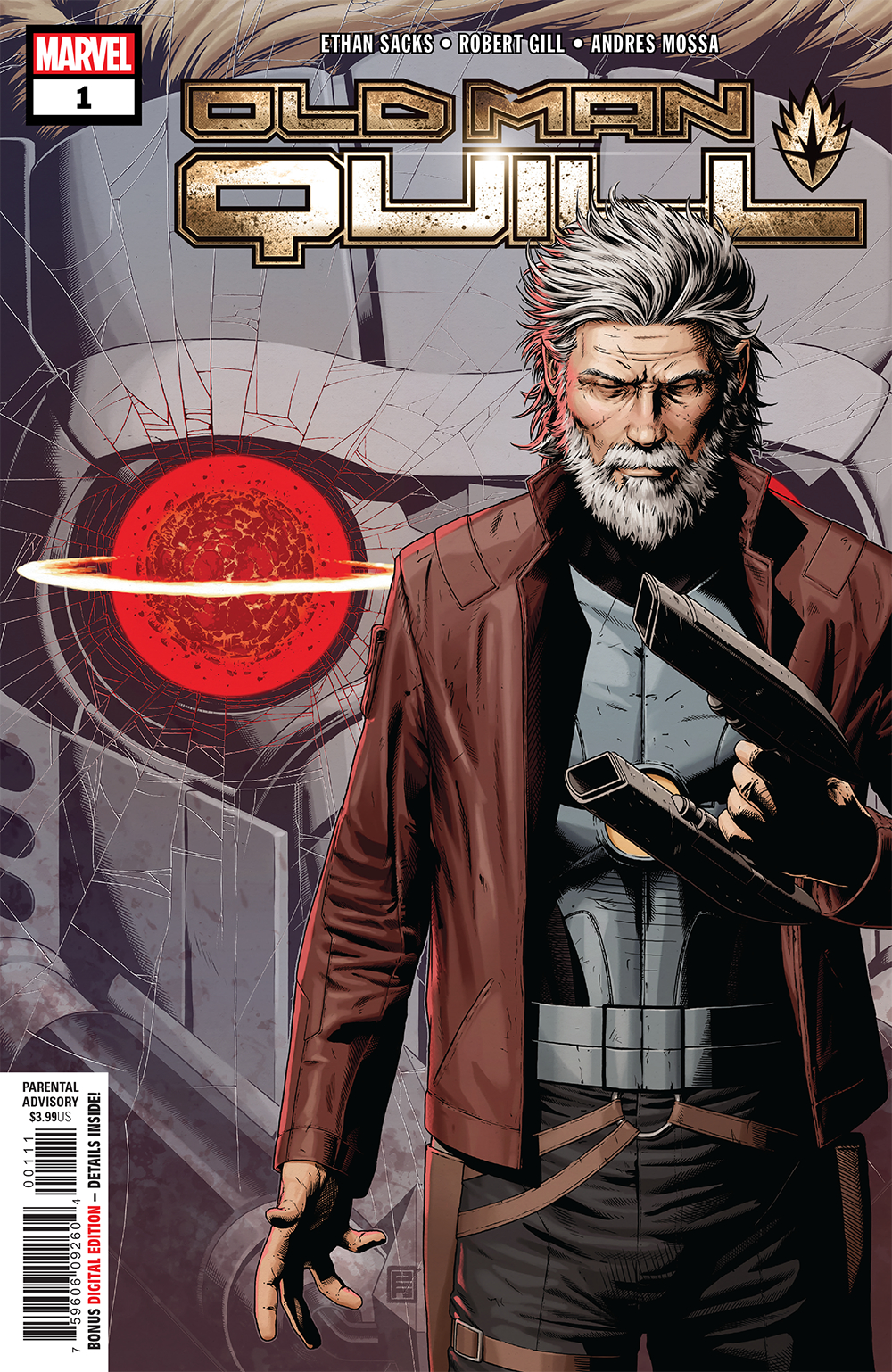 OLD MAN QUILL #1 (OF 12)
MARVEL COMICS
DEC180871
(W) Sacks, Ethan (A) Robert Gill (CA) John Tyler Christopher
THE FAR-FLUNG SAGA OF THE ONCE AND FUTURE STAR-LORD BEGINS!
Meet Peter Quill. He used to be Star-Lord - you know, the legendary outlaw - but it's been quite some time since he's gone by that name. Taking over for his father as the Emperor of Spartax, Quill put the life of spacefaring adventure behind him for one of leadership and responsibility. Quill grew up. But things didn't go as planned. Decades have passed, and Peter is haunted by tragedy. Down and out, Quill's existence means nothing...until the former GUARDIANS OF THE GALAXY drag Peter out of his funk for one last mission! The heist of a lifetime - and Quill's harrowing quest for redemption - begins here!
Parental Advisory
In Shops: Feb 06, 2019
SRP: $3.99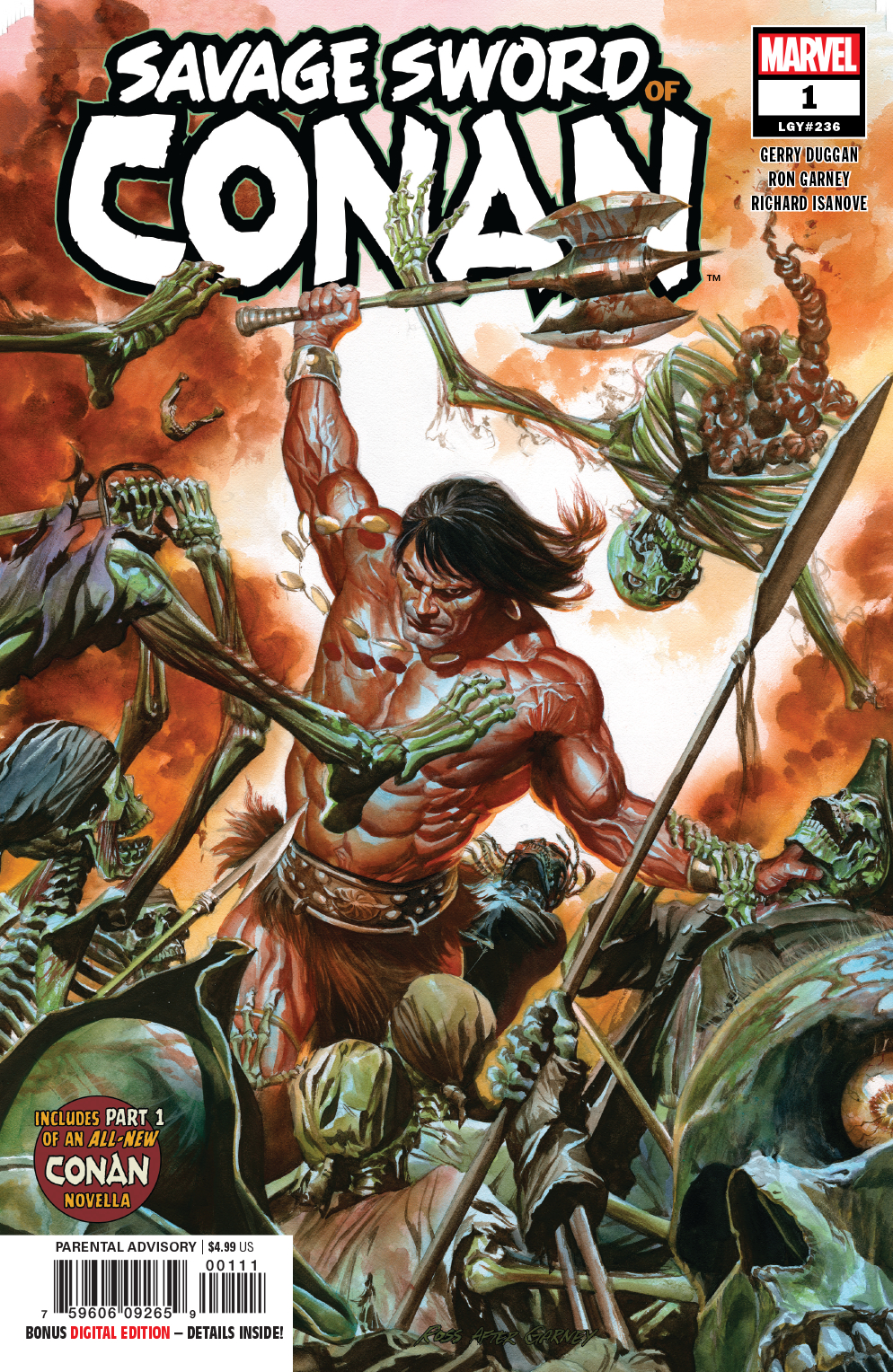 SAVAGE SWORD OF CONAN #1
MARVEL COMICS
DEC180815
(W) Gerry Duggan (A) Ron Garney (CA) Alex Ross
THE ANCIENT CULT OF KOGA THUN. A MYSTICAL TREASURE.
AND THE ONLY MAN WHO CAN SAVE THE HYBORIAN AGE!
Adrift at sea. No food. No weapons. Death surely awaits him. But the lionhearted CONAN is not so easily subdued, by Crom! When Conan finds himself captured, he unleashes his might on an unsuspecting pirate crew...one whose dark secrets will plunge Conan on the trail of an ancient treasure that may prove to be his undoing!
An all-new age of SAVAGE SWORD OF CONAN begins with a five-part tale of swords and sorcery by Gerry Duggan (DEADPOOL, INFINITY WARS) and illustrated by legendary artist Ron Garney (DAREDEVIL, THOR: GOD OF THUNDER) with covers by the incomparable Alex Ross, and breathtaking variant covers by Garney, Rahzzah, comics legend George Perez, and Teenage Mutant Ninja Turtles co-creator Kevin Eastman!
Welcome to the deadly Hyborian Age-hope you survive the experience!
Parental Advisory
In Shops: Feb 13, 2019
SRP: $4.99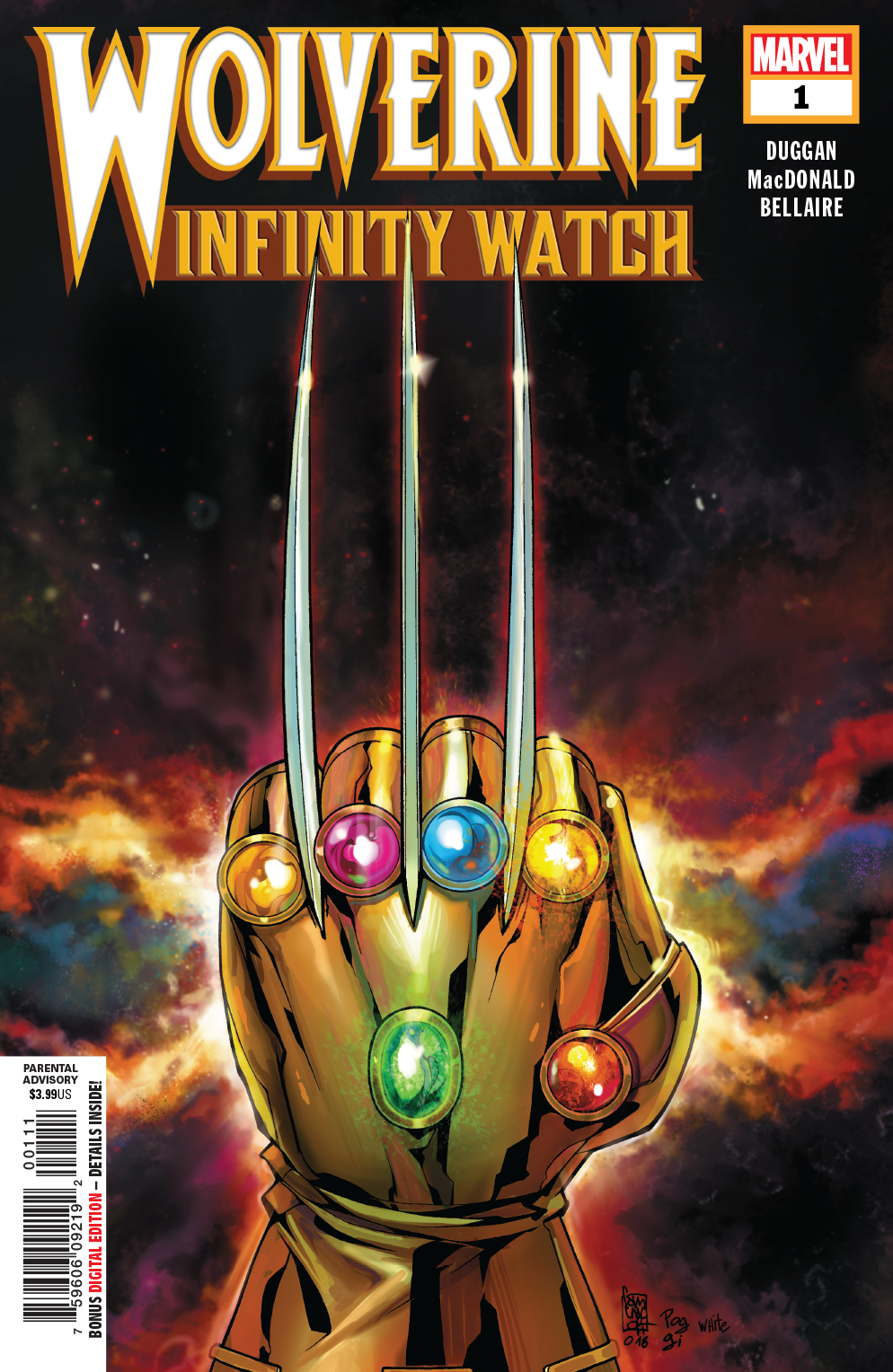 WOLVERINE INFINITY WATCH #1 (OF 5)
MARVEL COMICS
DEC180867
(W) Gerry Duggan (A) Andy MacDonald (CA) Giuseppe Camuncoli
Wolverine has finally returned, disentwined from the evil clutches of Soteira...but hang on, didn't he have an Infinity Stone? How did THAT happen?! And wasn't he popping up all over the place for a little while? The answers you seek are finally revealed as Logan goes cosmic alongside everyone's favorite god of lies and stories, Loki Laufeyson!
Parental Advisory
In Shops: Feb 20, 2019
SRP: $3.99
INDIE VYDAVATEĽSTVÁ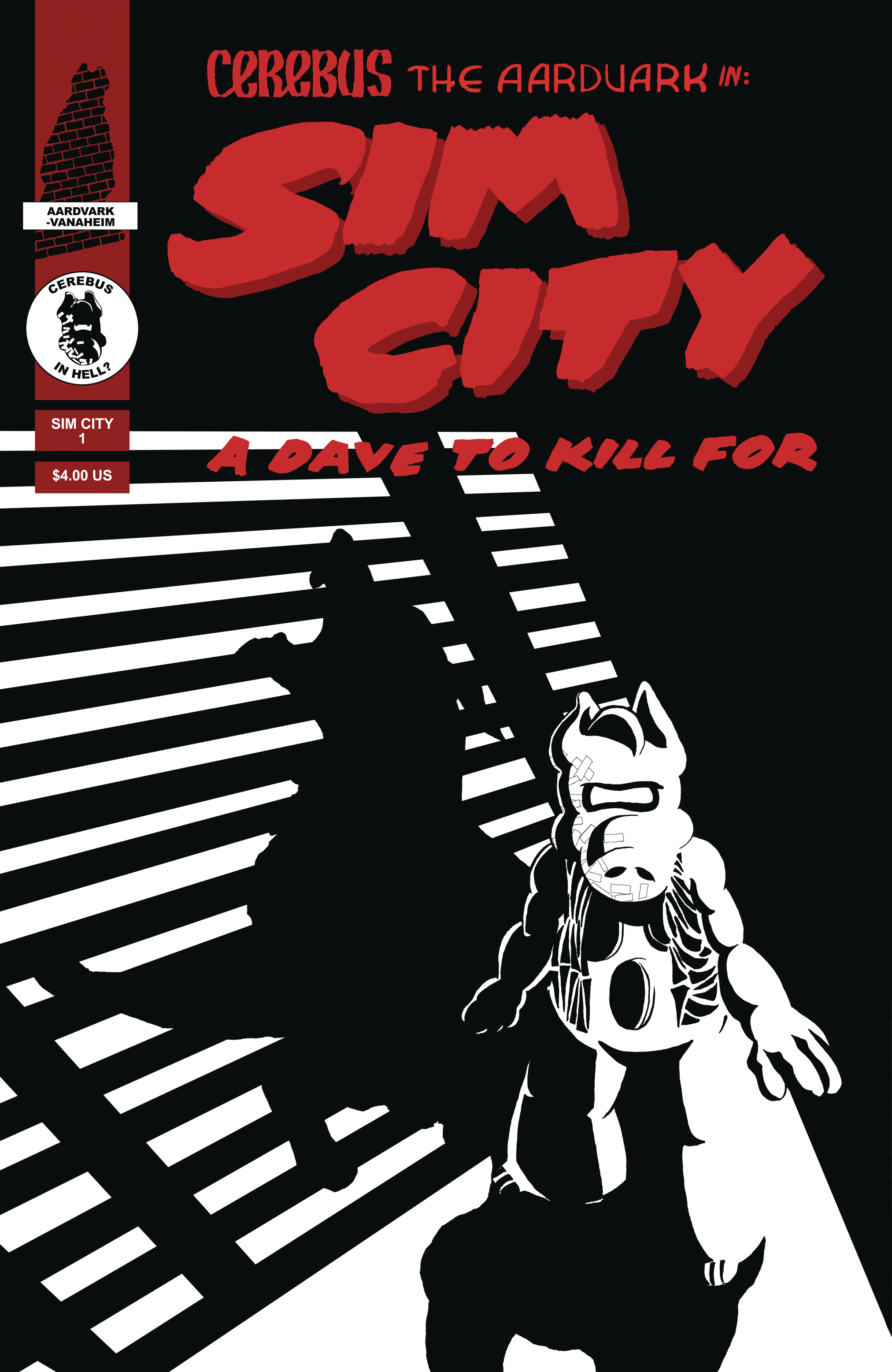 SIM CITY #1 (OF 1) DAVE TO KILL FOR
AARDVARK VANAHEIM
DEC181397
(W) Dave Sim (A) Benjamin Hobbs (CA) Bob Hobbs, Gary Boyarski
Now with no reprints! Epic-length all-in-one 24-page issue! 29% new art! Waves of heavily-armed Spartans pouring out of the Santa Monica Mountains onto the northbound collector lanes of Highway 405; equally heavily-armed Persians streaming south from the vicinity of Van Nuys Airport. And what's up with all the little-flesh colored band-aids on Cerebus' face? Thrill to the off-panel Battle of the San Fernando Valley! Snore through the 9-volt electric battery powered motorcycle chase between Cerebus and King Leonidas! Try to guess whose surprise 100th birthday party it's all leading up to! (hint) Ayn Rand, Joe Gill, and Ray Gill are among the celebrity-studded guest list.
In Shops: Feb 27, 2019
SRP: $4.00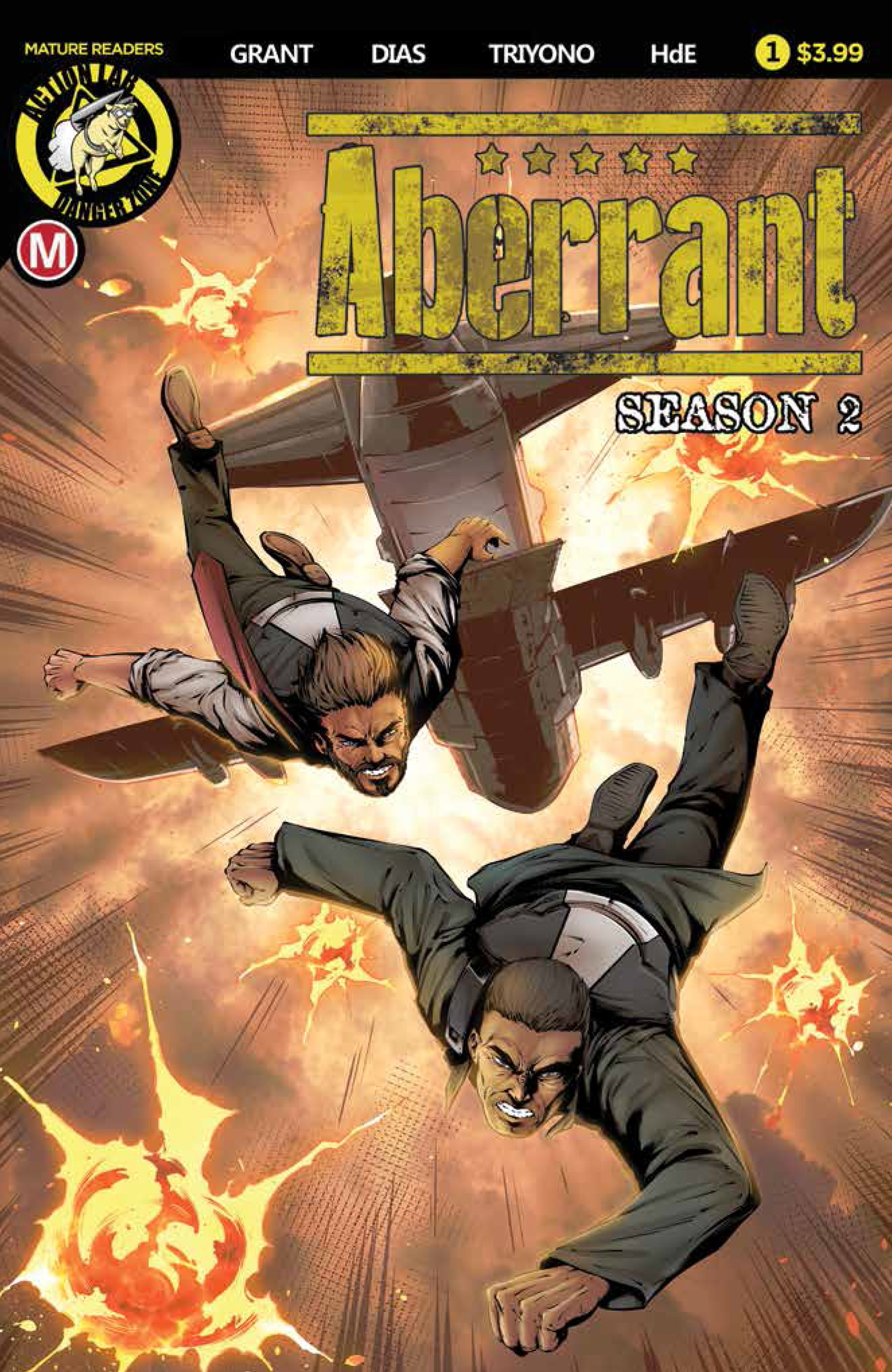 ABERRANT SEASON 2 #1 (OF 5) CVR A LEON DIAS (MR)
ACTION LAB - DANGER ZONE
DEC181412
(W) Rylend Grant (A/CA) Davi Leon Dias
Chapter 1: "I Need A Hero." As a wholly new and delightfully twisted story arc begins, David is forced to team with the man he hates most (and trusts the least) to complete a key mission. Disgraced former superhero Lance Cordrey wonders if he has one last save-the-world push left in him.
In Shops: Feb 27, 2019
SRP: $3.99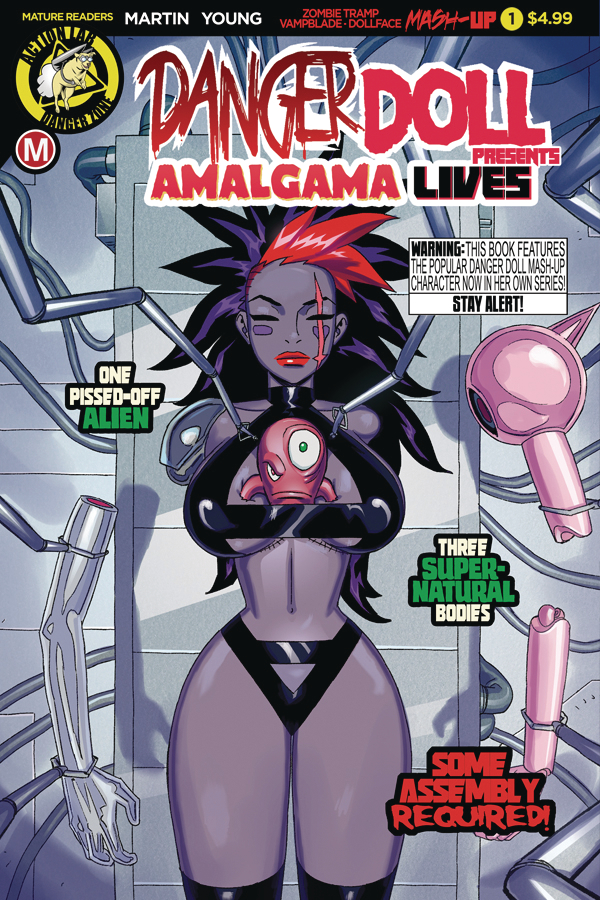 DANGER DOLL SQUAD PRESENTS AMALGAMA LIVES #1 CVR A YOUNG (MR
ACTION LAB - DANGER ZONE
DEC181414
(W) Jason Martin (A/CA) Winston Young
Featured in Halloween Comic Fest and spinning out of the events of the last
Danger Doll Squad
series, it's the solo debut of the all-new fan-favorite mash-up character (featuring the powers of Zombie Tramp, Vampblade, and DollFace combined) in her own cosmic adventure!
In Shops: Feb 27, 2019
SRP: $3.99
SWEETIE #1
ACTION LAB ENTERTAINMENT
DEC181411
(W) Sean Dillon, Steven Petrivelli (A/CA) Sean Dillon
Maggie isn't your typical comic book, cartoon, and action movie fangirl. Through keen observation and unbending determination, she has taught herself all the death-defying stunts and fighting styles of her favorite action stars and superheroes! Unfortunately, Maggie has kept her eccentric hobby to herself, ever since it earned her the label of "nerd" among her classmates. After all, superheroes and evil villains are all kid stuff... right? Wrong! The day before she begins high school, Maggie has a run-in with an evil mastermind and his sinister mercenary group. After years of training, it's up to Maggie to be the self-taught superhero the city needs! But with bad guys crawling out of the woodwork and the daunting unknown of a high school ahead of her, can she really take on the world alone?
In Shops: Feb 27, 2019
SRP: $3.99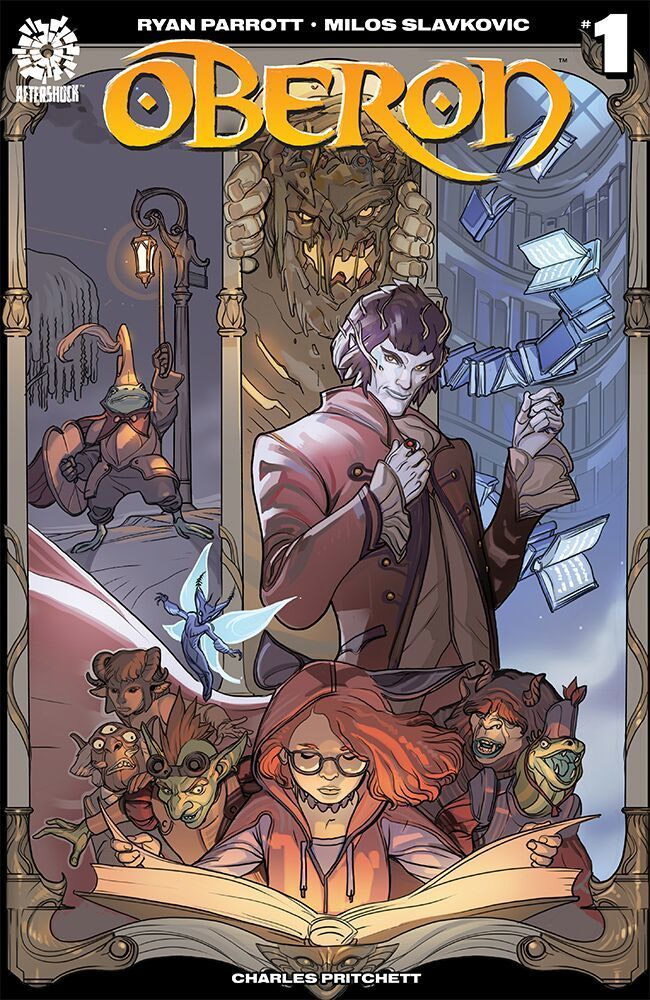 OBERON #1
AFTERSHOCK COMICS
DEC181441
(W) Ryan Parrott (A/CA) Milos Slavkovic
Betrayed by his people and exiled to Earth, Lord Oberon, the former king of the fairies, seeks out an innocent prophesied child in order to manipulate her into becoming his ultimate weapon so that he can reclaim his rightful throne.
From writer Ryan Parrot (VOLITION) and artist Milos Slavkovic (T/K), Oberon is a new supernatural adventure proving once and for all that fairies should never be trusted.
In Shops: Feb 06, 2019
SRP: $3.99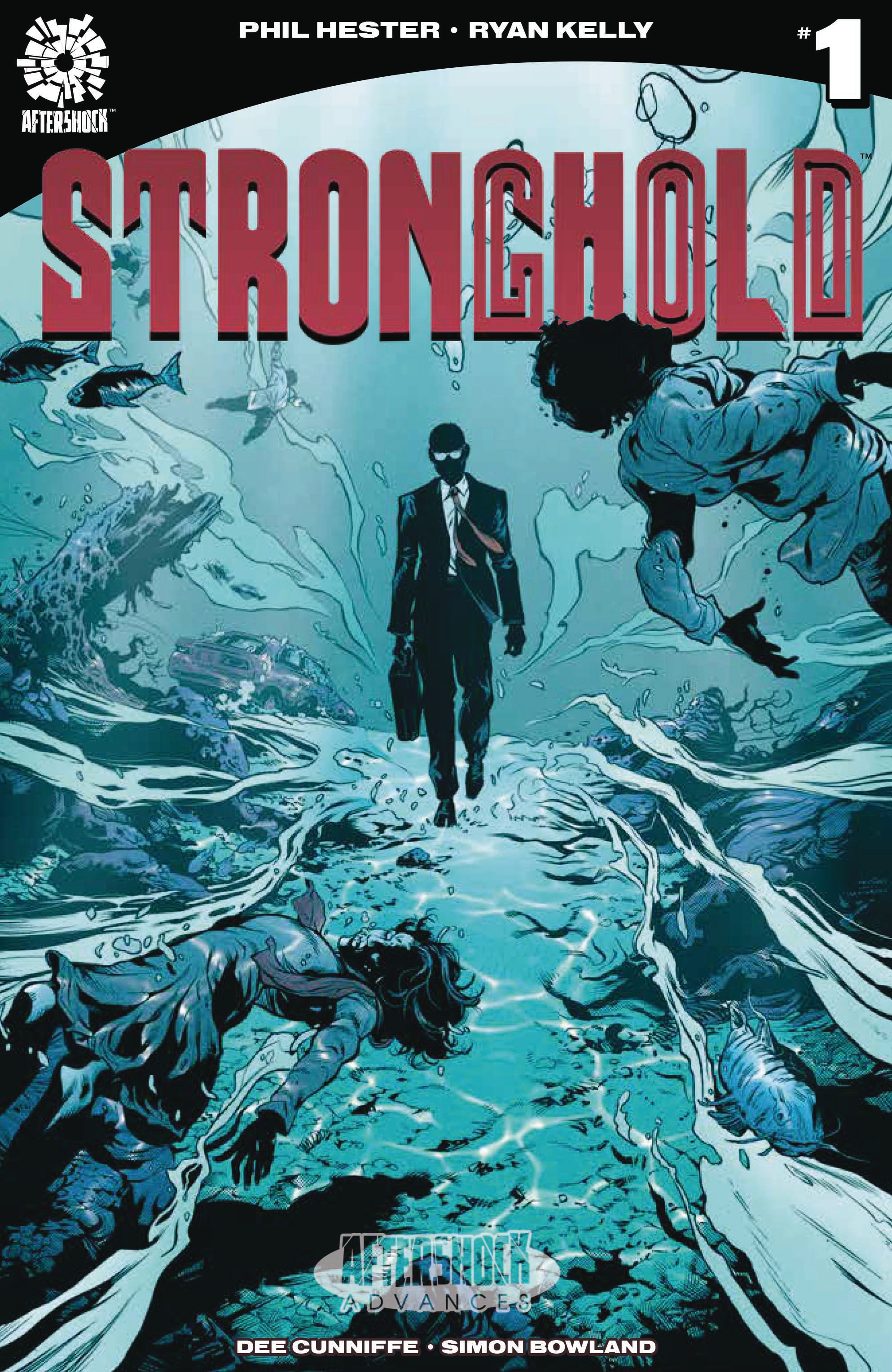 STRONGHOLD #1
AFTERSHOCK COMICS
DEC181439
(W) Phil Hester (A/CA) Ryan Kelly
Our planet is actually a prison designed to both trap and shelter an amnesiac alien entity of incalculable power. Now known as Michael Grey, this cosmic angel of destruction currently believes himself to be an ordinary, midwestern insurance underwriter, who belongs to a global secret society dedicated to making sure he never discovers the truth about his past.
To make matters worse, our hero has fallen in love with Michael Grey. And for their love to be born, Earth must die.
Phil Hester (The Coffin, Deathstroke, The Darkness, SHIPWRECK) and Ryan Kelly (The Wicked & The Divine, Lucifer, Saucer Country) weave a tale of cosmic horror, high adventure and tragic romance unlike anything else in comics.
In Shops: Feb 20, 2019
SRP: $3.99
WICKED RIGHTEOUS VOL 2 #1 (OF 6) (MR)
ALTERNA COMICS
DEC181503
(W) Terry Mayo (A/CA) Lucas Romero, Chris Hall
Lucas Goodspeed and his family have made it out of San Diego and are journeying through the wastelands of Southern California. But trouble follows close behind and the group discovers that the grass isn't always greener... even in Orange County. Continuing after the first story arc, this issues offers a great jumping-on point!
In Shops: Feb 27, 2019
SRP: $1.50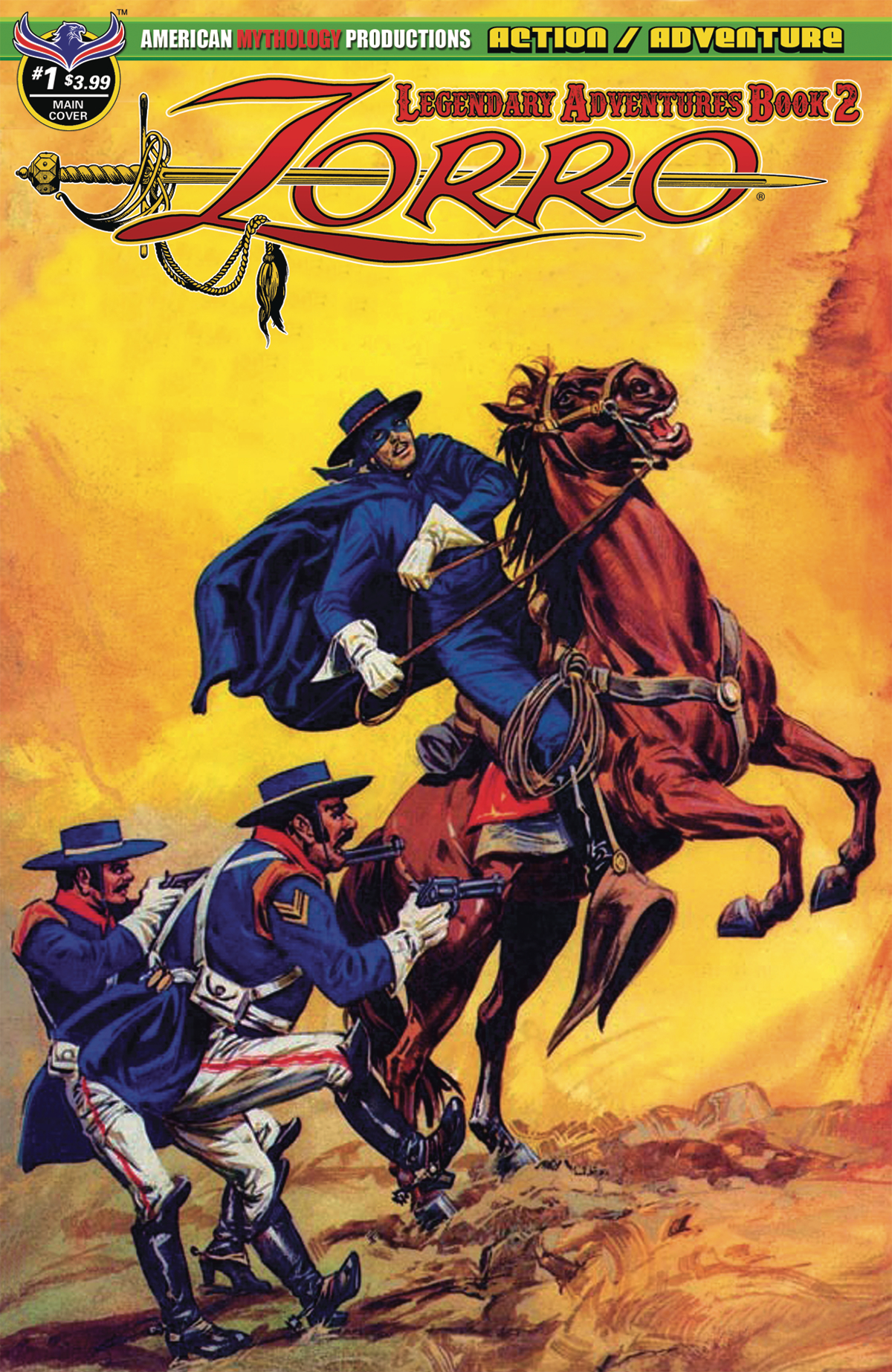 ZORRO LEGENDARY ADVENTURES BOOK 2 #1 MAIN CVR
AMERICAN MYTHOLOGY PRODUCTIONS
DEC181508
(W) Jean-Marie Nadaud (A) Robert Rigot (CA) Francisco Cueto
Celebrate 100 years of Zorro with a new chapter of classic swashbuckling adventure never seen in English! We've scoured the world for the most exciting Zorro comics and are delivering them for the first time to fans through the Legendary Adventures line. These are classic tales of action and intrigue that are timeless and beautifully illustrated by Europe's most talented artists. Zorro Legendary Adventures #1 Book 2 comes with two covers - Main and Limited-Edition Blazing Blades of Zorro by Francisco Cueto.
In Shops: Feb 27, 2019
SRP: $3.99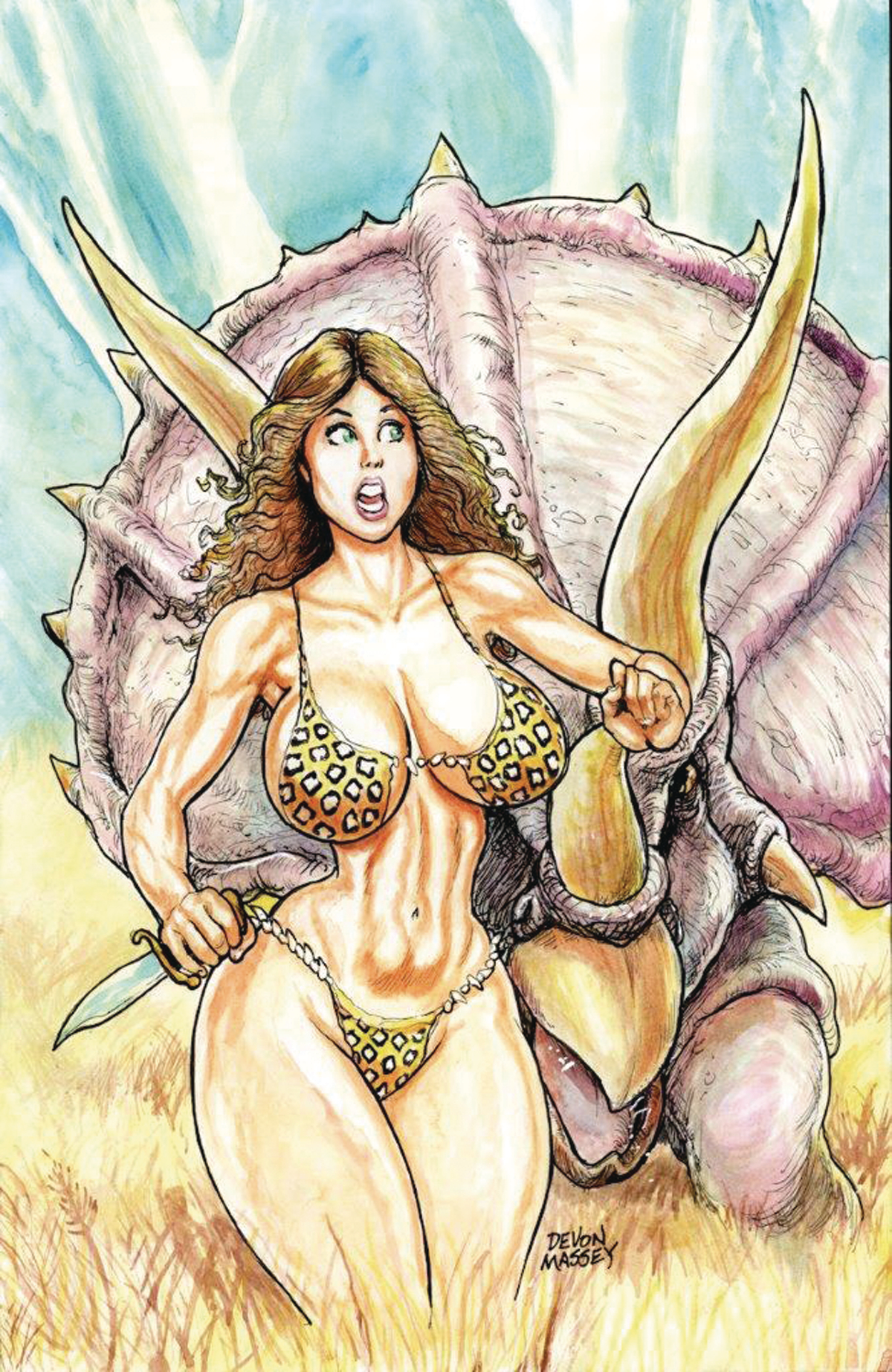 CAVEWOMAN LOST #1 CVR A MASSEY (MR)
AMRYL ENTERTAINMENT
DEC181544
(W) Devon Massey (A/CA) Devon Massey
Meriem gets knocked out in a lightning storm while fishing and drifts downstream, waking up miles from home. As Meriem is pursued by a huge Triceratops as she blindly tries to find her way home, Lonny Ravenwood is in town putting a bounty on Bruce to see if anyone can tempt him away from his girlfriend...
In Shops: Feb 27, 2019
SRP: $3.99
CAVEWOMAN RAZORS RUN #1 (OF 1) CVR A MAGNUM (MR)
AMRYL ENTERTAINMENT
DEC181551
(W) Andrew Magnum, Dave Kopecki (A/CA) Andrew Magnum
Unique circumstances bring Meriem face to face with the deadly Razor, who has traveled across time seeking her help with a future Armageddon. Razor and her comrades are preparing for the coming war between humans and demons, and the key to their salvation may just be in the prehistoric past. Is our Cavewoman up to the challenge?
In Shops: Feb 27, 2019
SRP: $3.99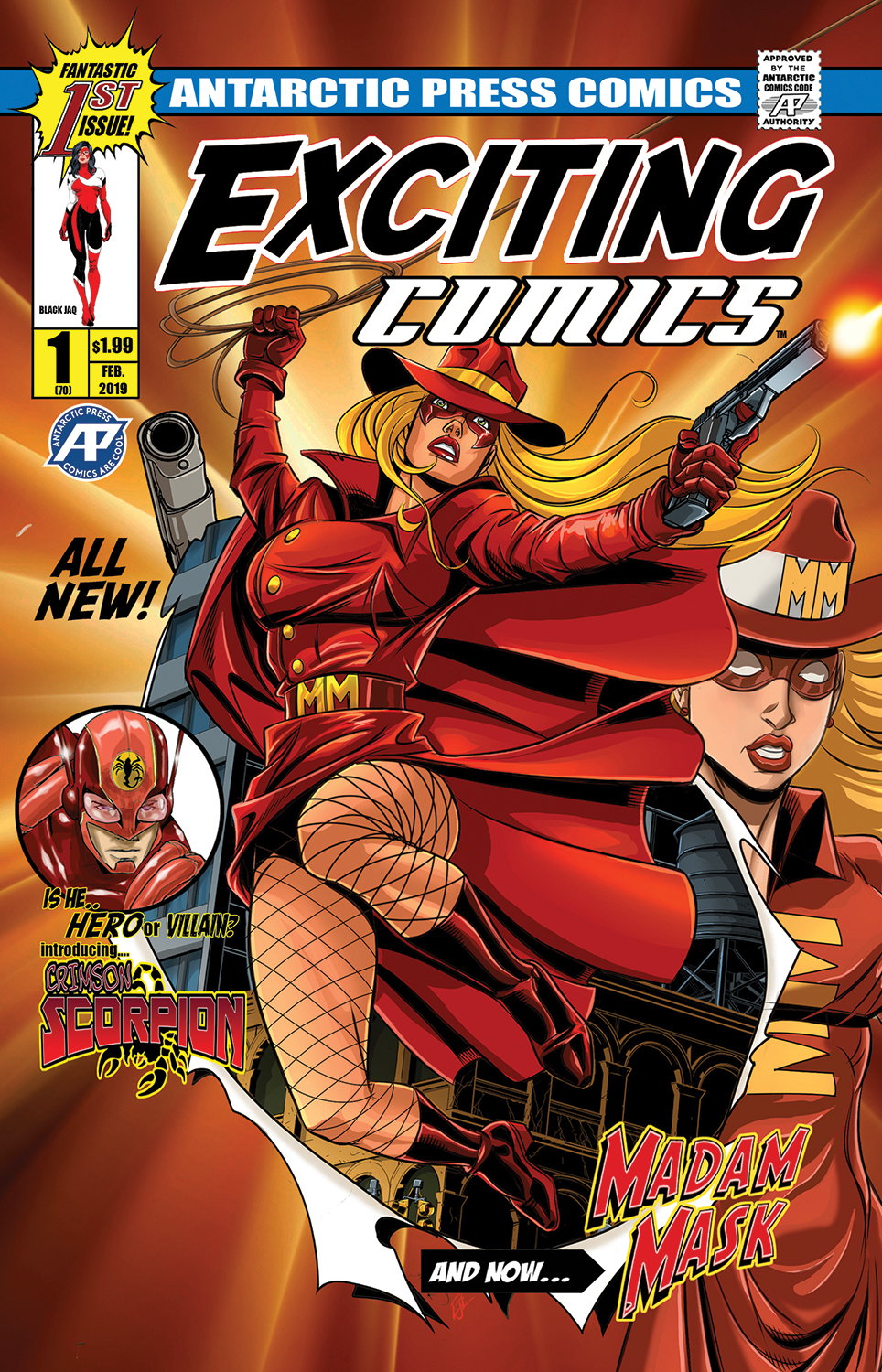 EXCITING COMICS #1 MAIN CVR
ANTARCTIC PRESS
DEC181565
For the first time in over 70 years, Exciting Comics returns to stores! In this premiere title, Antarctic Press introduces the Superverse, a new shared universe that combines classic public domain characters such as Black Terror and the Heap with a host of new, original heroes!
In Shops: Feb 27, 2019
SRP: $1.99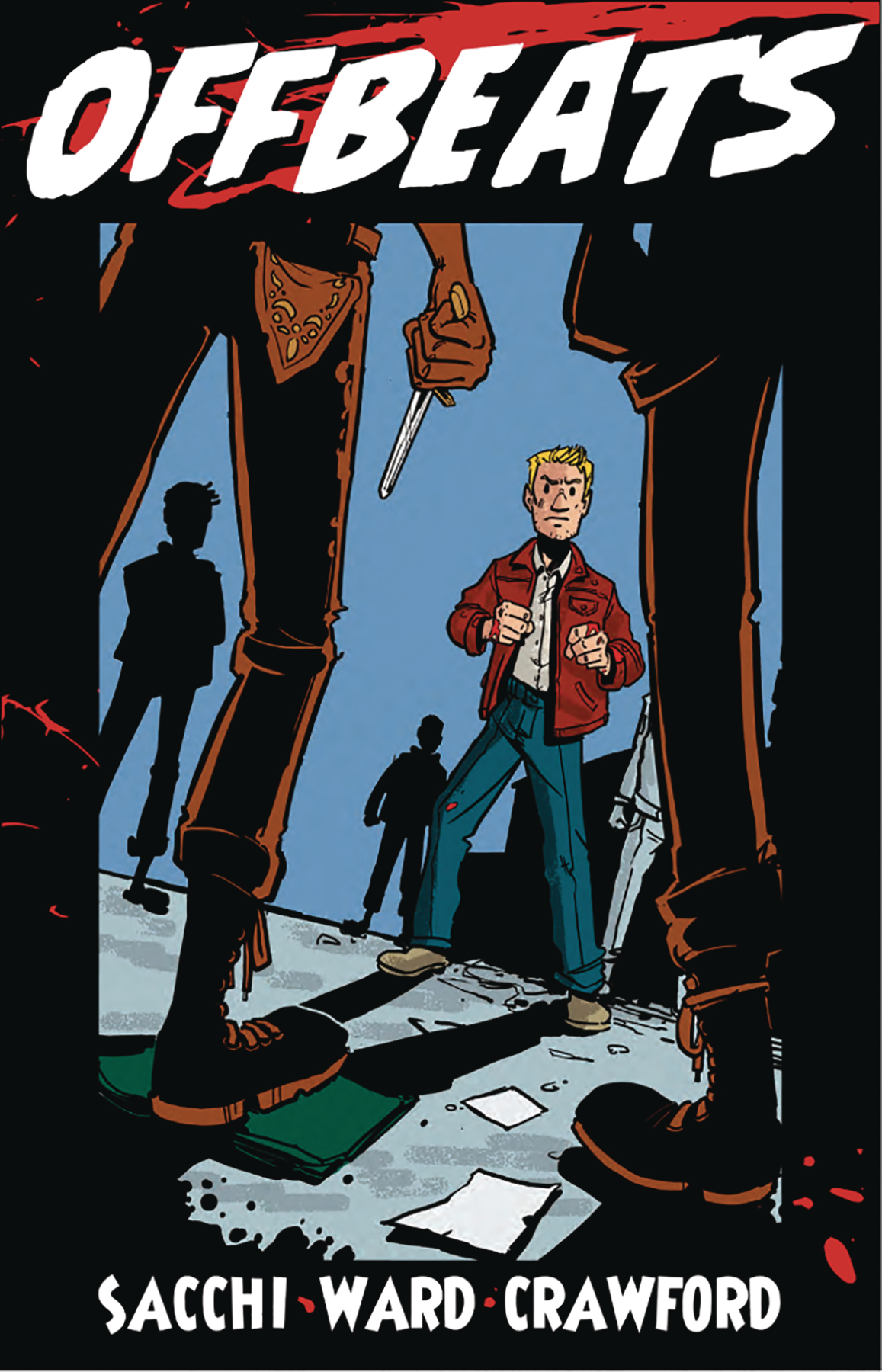 OFFBEATS #1
ANTARCTIC PRESS
DEC181564
(W) John Ward (A) Giles Crawford
It's Tintin meets Tarantino in this 1950's crime noir! A young man tries to save a woman from a vicious street gang, but ends up needing to be rescued by a petty crook who introduces him to a whole new world!
In Shops: Feb 27, 2019
SRP: $3.99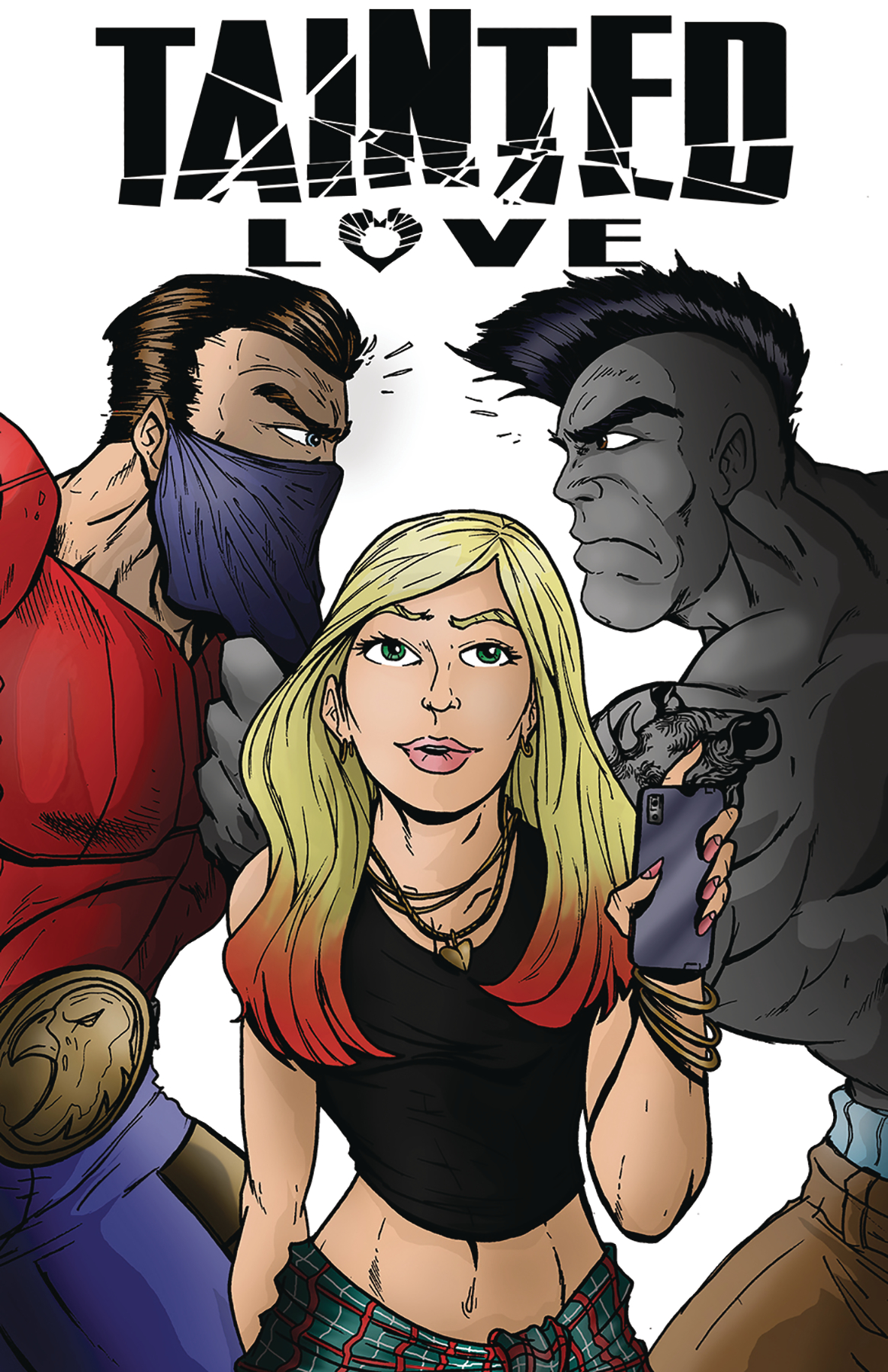 TAINTED LOVE #1 (OF 4)
ANTARCTIC PRESS
DEC181571
(W) Arthur Bellfield (A) Flavio B. Silva
Arthur Bellfield, writer of War's Chosen (OGN) (Arcana Comics) and God Cell: Gate of the Gods (Advent Comics), shows us that some girls really DO prefer bad guys.
Chloe Anderson is a troubled woman who dates super villains and often calls upon them to help her solve cases as a crisis manager for superhuman millennials. Her life has led her to give up on love, so now she dates only men to whom she won't form an attachment. Then she meets the one: American One, a superhero. In the middle of a date, he gets into a superhuman fight and disappears. Chloe discovers he's been taken to a secret military complex and been shot!
In Shops: Feb 27, 2019
SRP: $3.99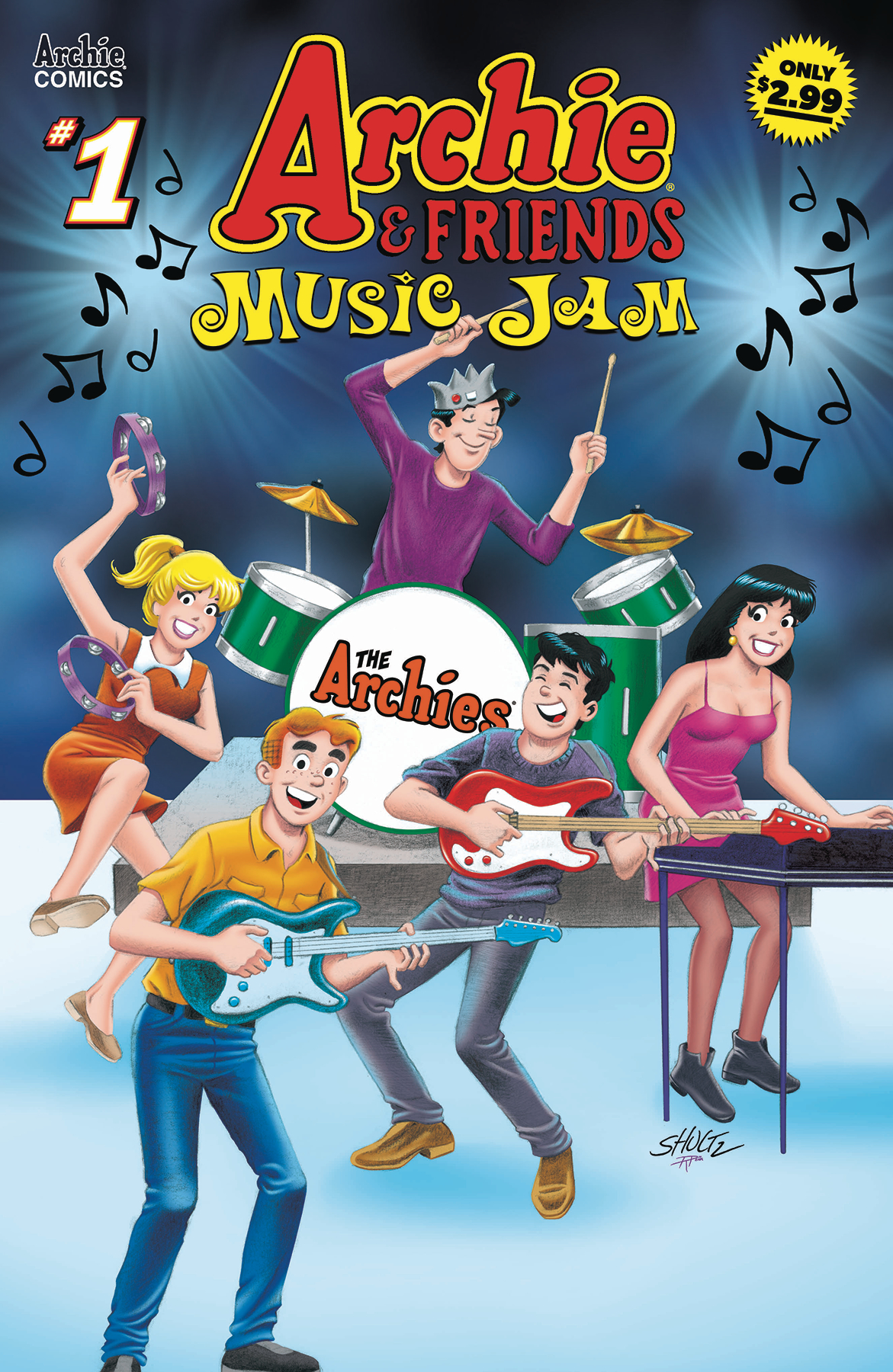 ARCHIE & FRIENDS MUSIC JAM #1
ARCHIE COMIC PUBLICATIONS
DEC181611
(W) Dan Parent (A) Jim Amash, Bob Smith (CA) Jeff Schultz
Archie and his friends present a collection of quarterly classic-style stories sure to be music to your ears! Follow Archie from the record store to the recording studio to the music awards in this collection of stories of musical mishaps and mirthful melodies!
In Shops: Feb 13, 2019
SRP: $2.99
ARTIFACT ONE #1 CVR A MORANELLI (O/A)
ASPEN MLT INC
DEC181628
(W) J. T. Krul, Vince Hernandez (A/CA) Romina Moranelli
Introducing Remi, a young and energetic explorer and relic hunter, whose boundless curiosity leads to a startling discovery beyond anything she could have imagined!
When tragedy strikes at the center of her world, Remi is forced to leave behind everything she holds dear in order to discover the truth behind her life's upheaval-all while escaping the near infinite resources of the ruling clerics of faith that seek to not only bring her to justice-but end all traces of her existence!
An all-new Aspen Comics action-adventure epic debuts from the mind of creators Vince Hernandez (Michael Turner's Fathom: Kiani, Charismagic) and J.T. Krul (Michael Turner's Soulfire, Jirni) with breathtaking illustrations from newcomer Romina Moranelli!
In Shops: Feb 27, 2019
SRP: $3.99 ASPEN VISIONS FATHOM SPINNING OUR FATE #1 CVR A MARIA
ASPEN MLT INC
DEC181619
(W) Blake Northcott (A/CA) Michael Sta. Maria
In the tradition of DC's Elseworlds and Marvel's "What If?" classic stories comes Aspen's most mind-bending concept ever-ASPEN VISIONS!
The second thrilling chapter continues here as part of a special three part mini-series spanning across Aspen's most popular titles-Fathom, Soulfire and Executive Assistant Iris! Just how does Executive Assistant Iris encounter Fathom's preeminent heroine, Aspen Matthews, for the first time ever-and how does it all take place in the Victorian Era?! You'll have to discover for yourself in the pages of this second of a three-part event in the pulse-pounding launch of the all-new ASPEN VISIONS line of books that will shatter everything you know about Aspen's most popular characters!
In Shops: Feb 06, 2019
SRP: $3.99
DAMSELS IN EXCESS VOL 2 #1 CVR A RENNA
ASPEN MLT INC
DEC181622
(W) Vince Hernandez (A/CA) Marco Renna
Five realms.
Five princesses.
Zero men...No Longer!
Return to the land of the Five Realms, where the existence of men has long since been evaporated from the hearts and minds of women-Until now! The men have returned, and the Five Princesses tasked with ruling their respective kingdoms in their stead must deal with the ensuing chaos! However, following the events of Volume One, these ladies still have a war amongst themselves to finish!
From the team behind Aspen Universe: Decimation, creator/writer Vince Hernandez (Fathom: Kiani, Charismagic) and Marco Renna (Fathom) comes the thrilling second chapter to one of Aspen's most popular fantasy franchises filled with adventure, magic, talking creatures and surprises in every realm!
In Shops: Feb 13, 2019
SRP: $3.99
NOBODY IS IN CONTROL #1 (OF 4)
BLACK MASK COMICS
DEC181687
(W) Patrick Kindlon (A/CA) Paul Tucker
When Richard sees a man run through his yard, he follows him out of concern. This deep in the woods, he must be lost... must be in trouble. Bust soon it's Richard in peril, as this stranger drags him into a deep, twisted web of conspiracy going back hundreds of years.
In Shops: Feb 27, 2019
SRP: $3.99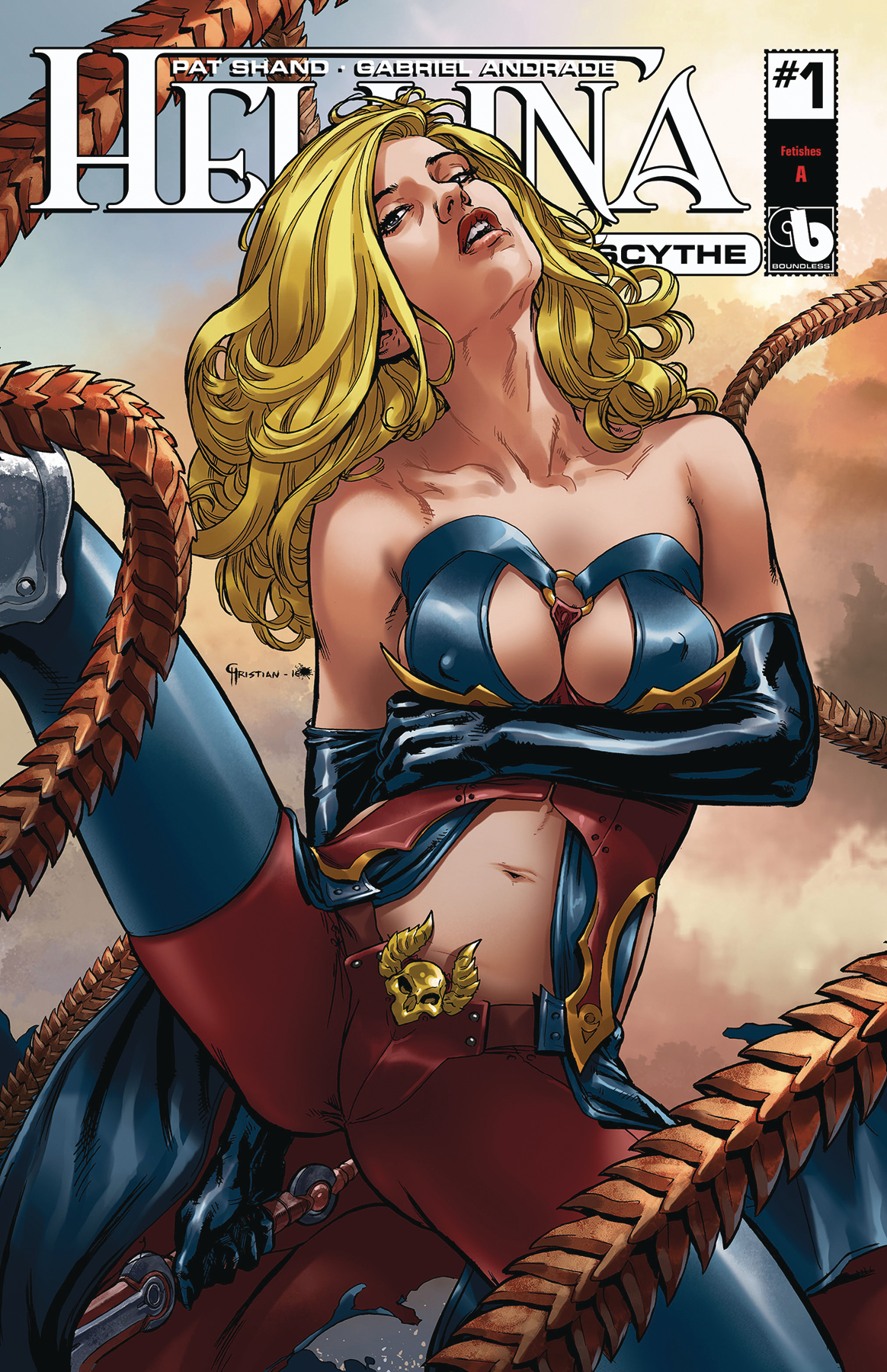 HELLINA SCYTHE #1 FETISHES A (MR)
BOUNDLESS COMICS
DEC181735
(W) Pat Shand (A) Gabriel Andrade (CA) Christian Zanier
For the first time ever, we offer Costume Change sets as single covers! Each will ship in a bag and board, and in all cases fewer than 100 copies remain. All drawn by Christian Zanier!
In Shops: Feb 27, 2019
SRP: $8.99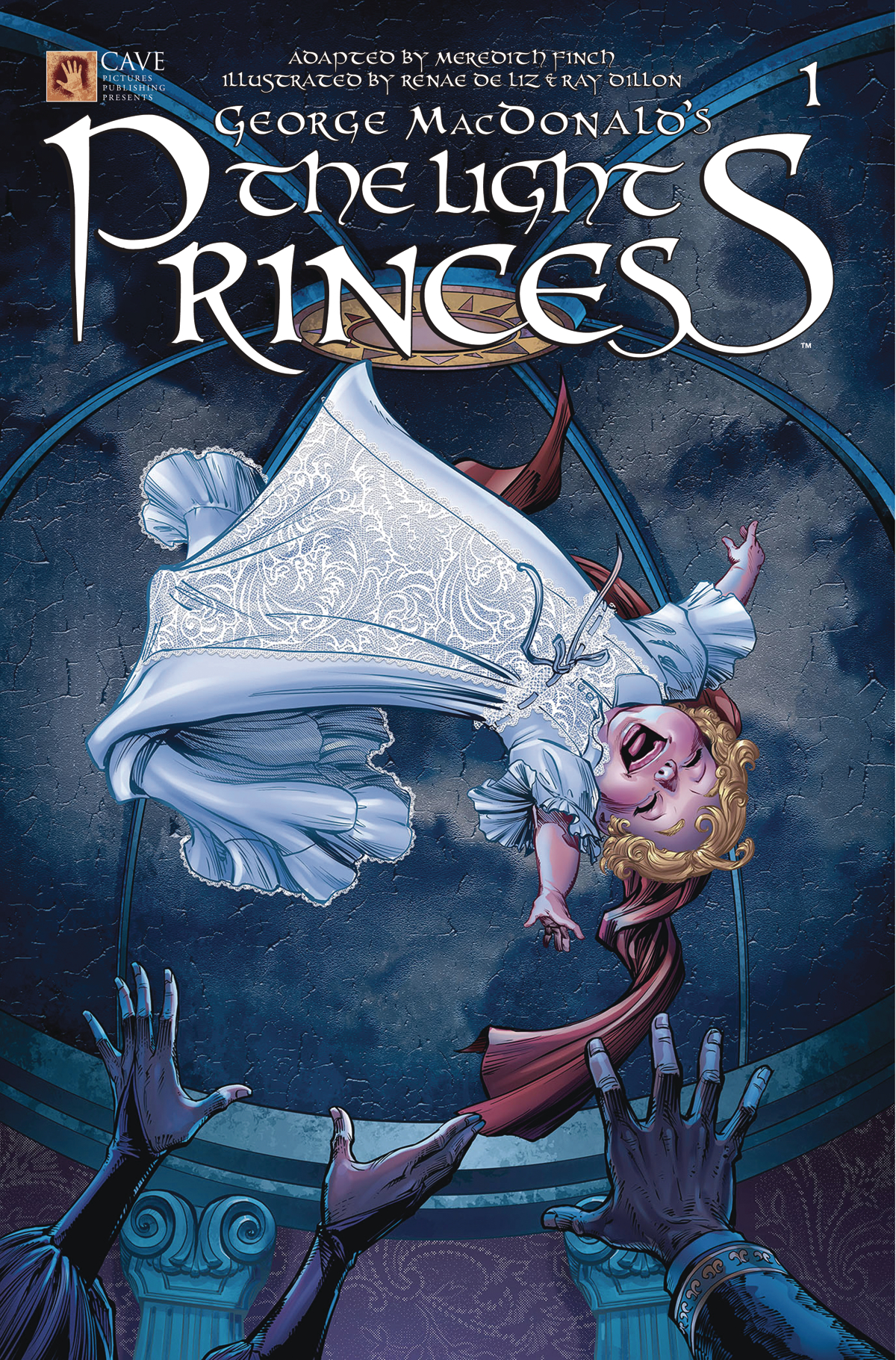 GEORGE MCDONALDS LIGHT PRINCESS #1
CAVE PICTURES PUBLISHING
DEC181766
(W) George McDonald, Meredith Finch (A/CA) Renae De Liz
A benevolent king and his beautiful queen long for a child but bravely face the heartbreak as their regal friends across the land welcome children of their own. The queen proposes a great self-sacrifice in order to provide an heir, which the king hesitatingly accepts. But when their longed-for child finally arrives, the king's wicked sister, covetous of his throne, secretly curses the new royal babe.
In Shops: Feb 27, 2019
SRP: $3.99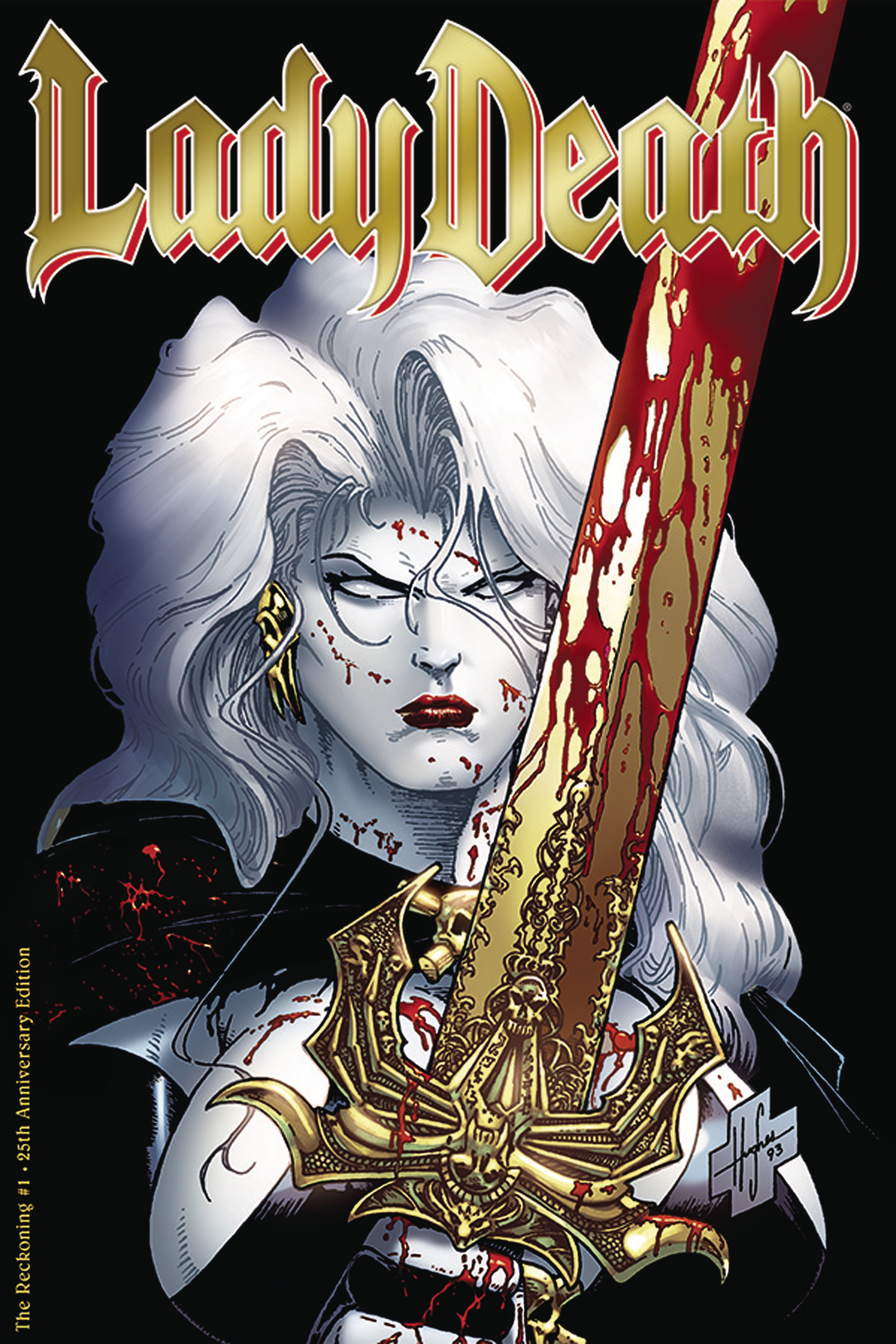 LADY DEATH THE RECKONING #1 25TH ANNIV ED (MR)
COFFIN COMICS
DEC181781
(W) Brian Pulido (A/CA) Steven Hughes
This 25th anniversary edition of the legendary
Lady Death: The Reckoning
#1 has been intimately re-mastered: re-scanned color pages, lettering restoration, and features a never-before-seen behind the scenes sketchbook section, interviews with Brian Pulido, Steven Hughes, and Jeson Jensen, and little seen art. Learn how a medieval girl named Hope renounced her humanity to save her mother's soul in Hell, only to be transformed by insurmountable circumstances into Lady Death, the diva of death!
In Shops: Feb 27, 2019
SRP: $4.99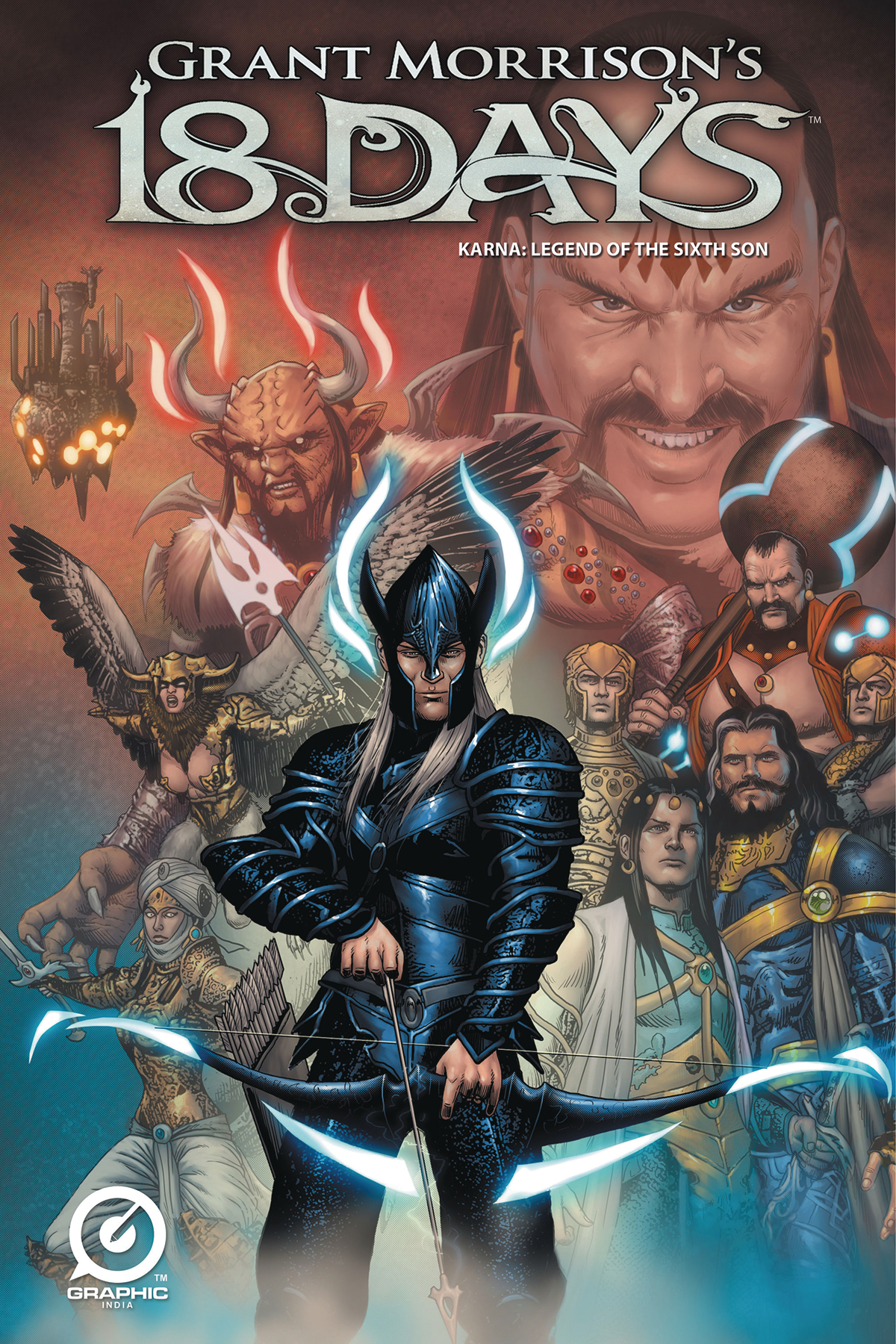 GRANT MORRISONS 18 DAYS KARNA LEGEND 6TH SON #1 (OF 1) MAIN
GRAPHIC INDIA PTE. LTD
DEC181888
(W) Sarwat Chadda (A/CA) Marc Borstel
18 Days
returns with this self-contained one-shot story which is the perfect jumping on point for any new reader into the
18 Days
universe. Karna, the dark hero of
18 Days
, is unleashed by King Duryodhana to force all nations to bow before him. Countless of kings have already taken the knee but one kingdom remains defiant and Karna, scion of the sun god and warrior without peer, promises to conquer it... alone. Yet this may be one conquest too far, for this is a kingdom not of men but of monsters, ruled by the dread demon king, Jarasandh. One mortal against a city of demons. Certain death to anyone... anyone but Karna.
In Shops: Feb 27, 2019
SRP: $3.99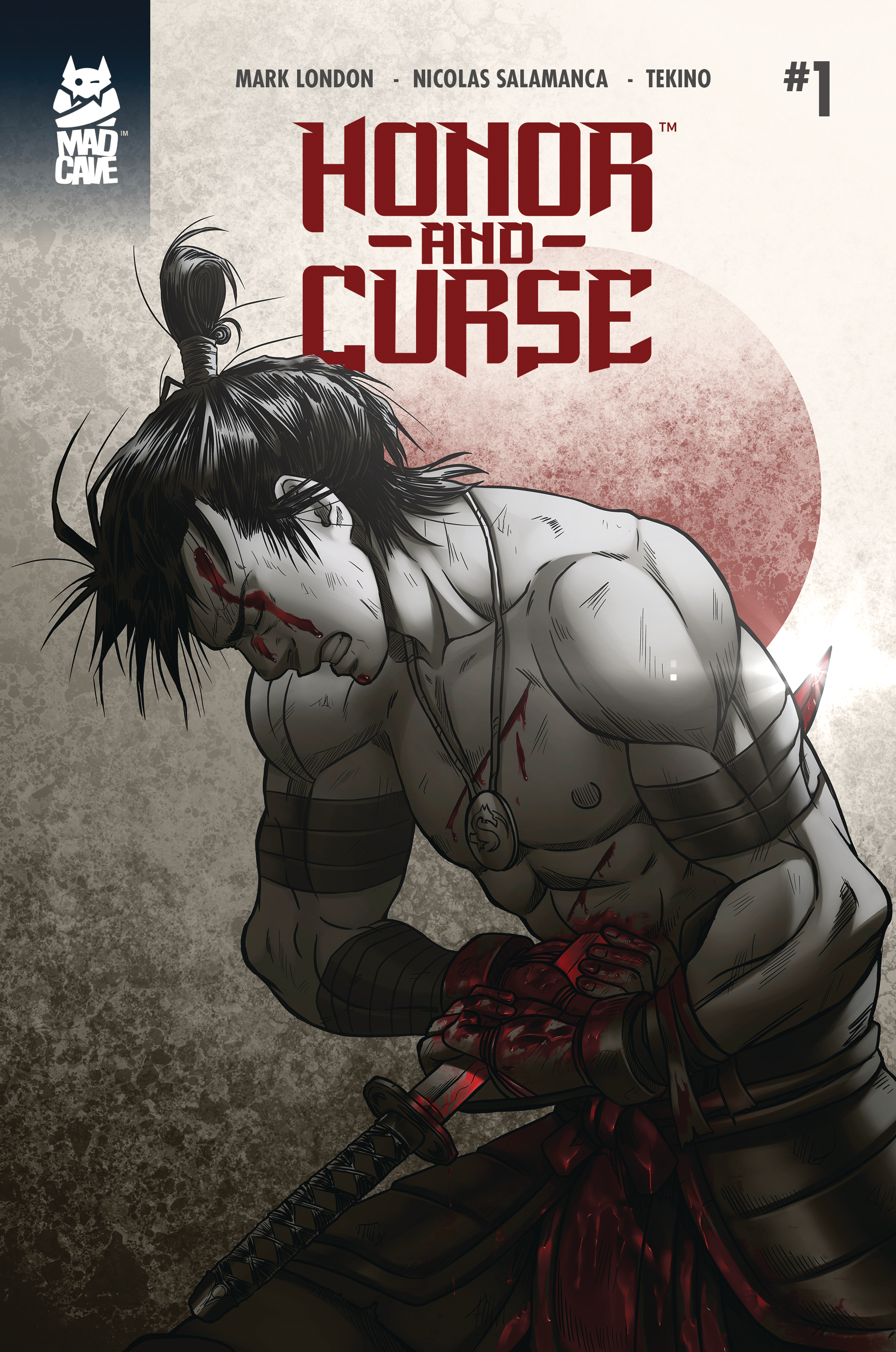 HONOR AND CURSE #1 (OF 18)
MAD CAVE STUDIOS
DEC181951
(W) Mark London (A/CA) Nicolas Salamanca
Orphaned as a young boy, Genshi Sakagura was adopted by the Iga clan after witnessing the murder of his parents. Now, Genshi is a promising young
shinobi
with dreams of marrying Lord Haruki's beautiful daughter, Akemi, and leading the Iga clan warriors into battle. Genshi's future was promising, until his past came back to torment him in the form of an evil mountain spirit known as a Tengu. This demon relentlessly haunts Genshi's dreams and bends reality around him, but nothing compares to when the Tengu consumes him; Genshi transforms into an unstoppable force of nature incapable of remorse!
In Shops: Feb 20, 2019
SRP: $3.99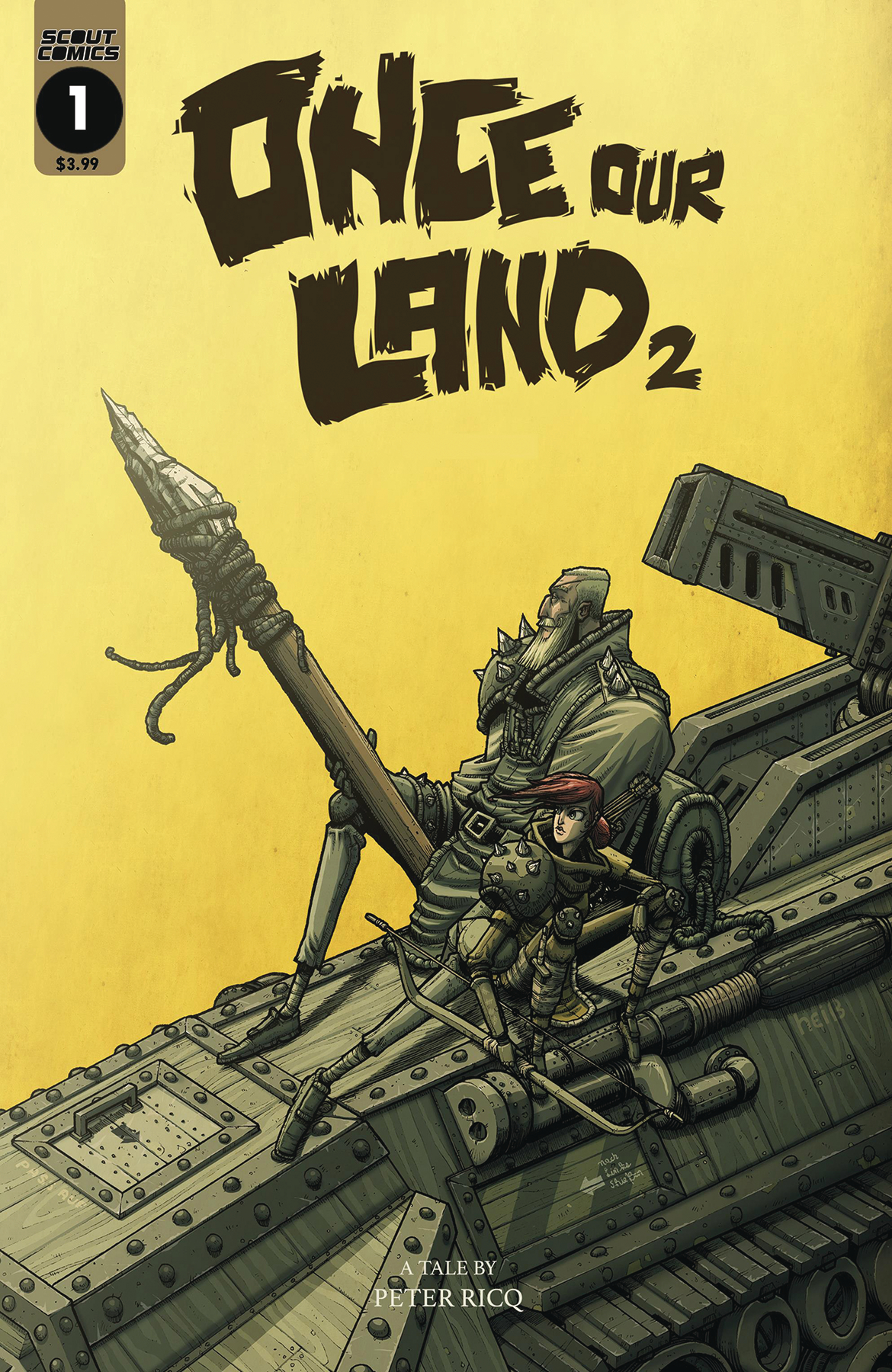 ONCE OUR LAND BOOK TWO #1
SCOUT COMICS
DEC182031
(W) Peter Ricq (A/CA) Peter Ricq
Giant-sized first issue!
The long-awaited sequel to the post-apocalyptic break-out hit! Set in 1830's Germany where creatures from another world have conquered our land. Six years have passed since Ingrid and Fritz have ventured out of their hometown. After their long search for other survivors, they finally make their discovery. The problem is, the survivors are worse than the monsters that roam the land. A fantasy, sci-fi, action, period piece rolled into one epic package. A tale for little and big ones.
In Shops: Feb 27, 2019
SRP: $4.99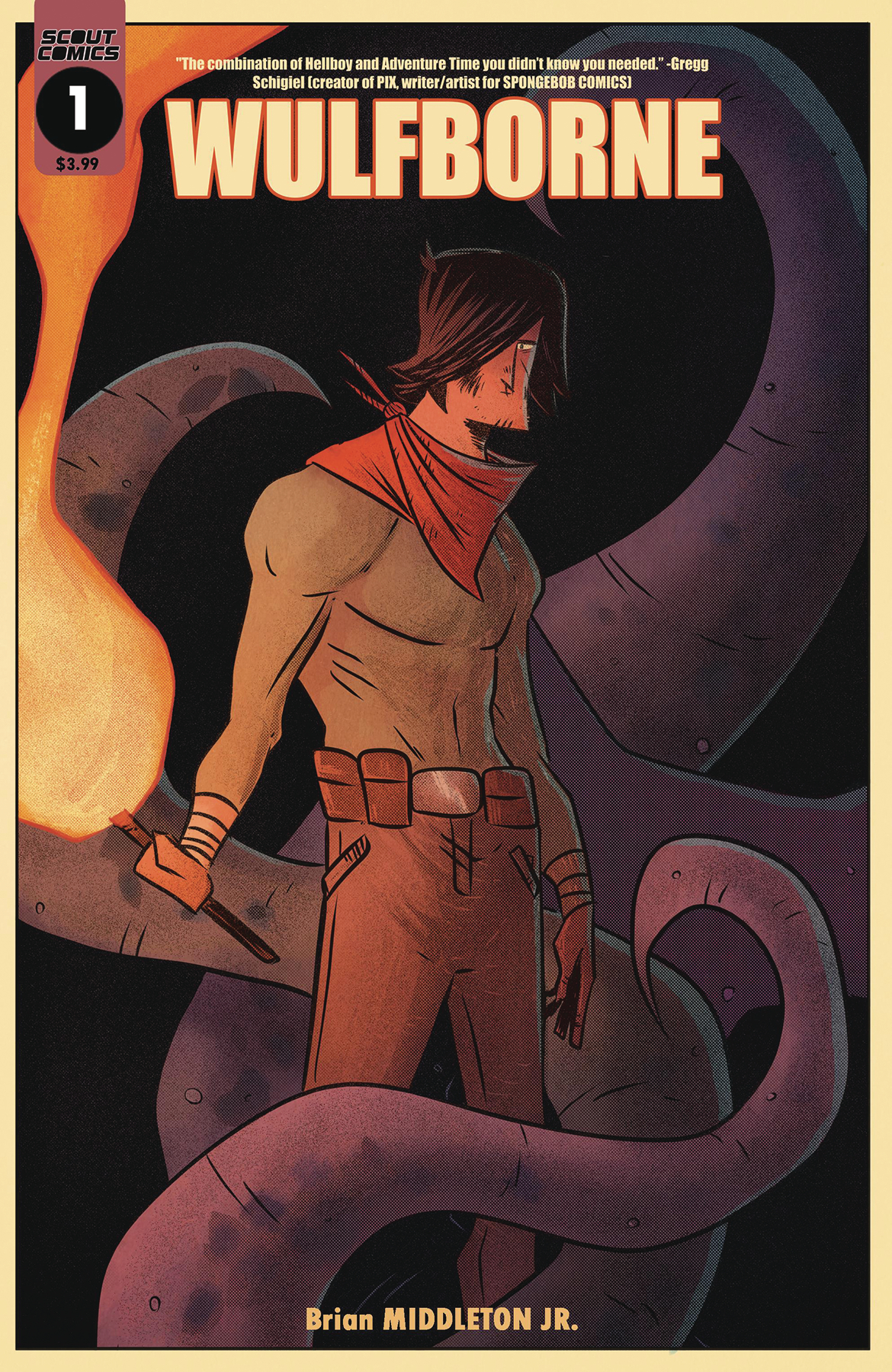 WULFBORNE #1
SCOUT COMICS
DEC182035
(W) Brian Middleton (A) Brian Middleton
"Come to me and I will heal your broken heart." These words, spoken by a sweet-voiced angel, lead Wulfborne into a dark and creature-filled underworld. As he battles his way through minotaurs, fish creatures and other strange monsters we learn that Wulfborne has lost the love of his life, Luna. He is now torn between dealing with the angel who has whispered that she will heal his broken heart and a promise that he made to Luna. Wulfborne the Adventurer travels the Underworld in an attempt to heal his broken heart! Monstrous adversaries block his way! Strange Travelers warn him back! But the bitter swordsman is determined to see this through...no matter the cost! Will he find what he seeks at the bottom of the Underworld or does something far deadlier lie in wait? The combination of
Hellboy
and
Adventure Time
you didn't know you needed.
In Shops: Feb 27, 2019
SRP: $3.99 MAGICAL BEATDOWN #1 (MR)
SILVER SPROCKET
DEC182039
(W) Jenn Woodall (A/CA) Jenn Woodall
Hyper violent street harassment revenge fantasy in the style of Sailor Moon about about an average schoolgirl who transforms into a foul-mouthed and rage-fuelled Magical Girl. Watch in awe as she swiftly disposes of street harassers and uses her array of magical weapons, printed in fluorescent pink and blue.
In Shops: Feb 27, 2019
SRP: $6.00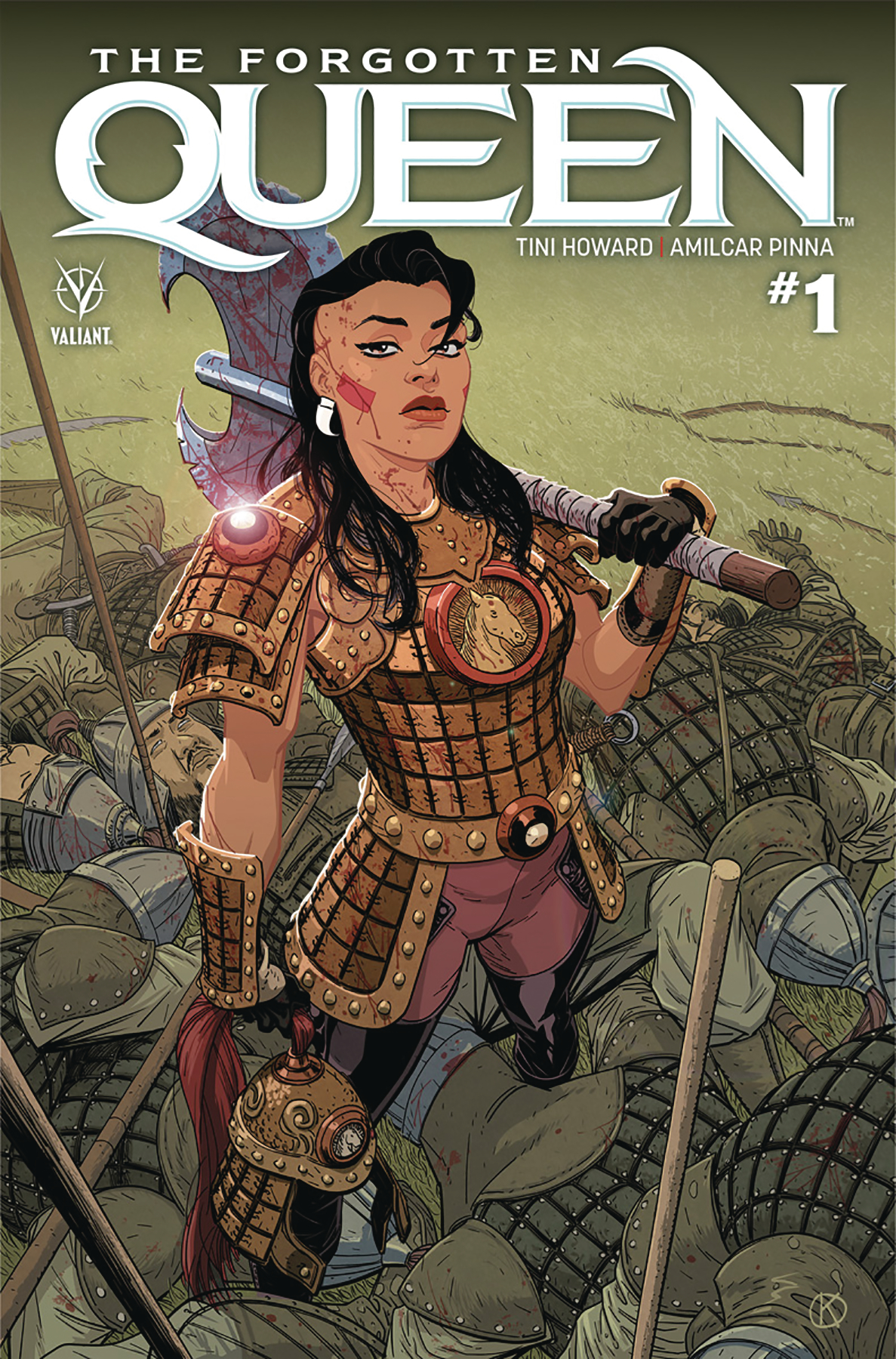 FORGOTTEN QUEEN #1 CVR A KANO
VALIANT ENTERTAINMENT LLC
DEC182126
(W) Tini Howard (A) Amilcar Pinna (CA) Kano
Long ago, the mighty generals of the Mongol Empire rode from Siberia to Carpathia and conquered all who stood in their way. Legends tell of a witch who walked with them, who could infect the hearts of any warriors in her midst with an unquenchable thirst for battle and bloodshed... a War Monger. And now she is walking again.
This winter, an ancient evil will stir as rising star writer Tini Howard (Captain America Annual #1, Assasinistas) and powerhouse artist Amilcar Pinna (Generation X) unleash hell in a brand-new saga of honor, love, and savagery that's centuries in the making!
In Shops: Feb 27, 2019
SRP: $3.99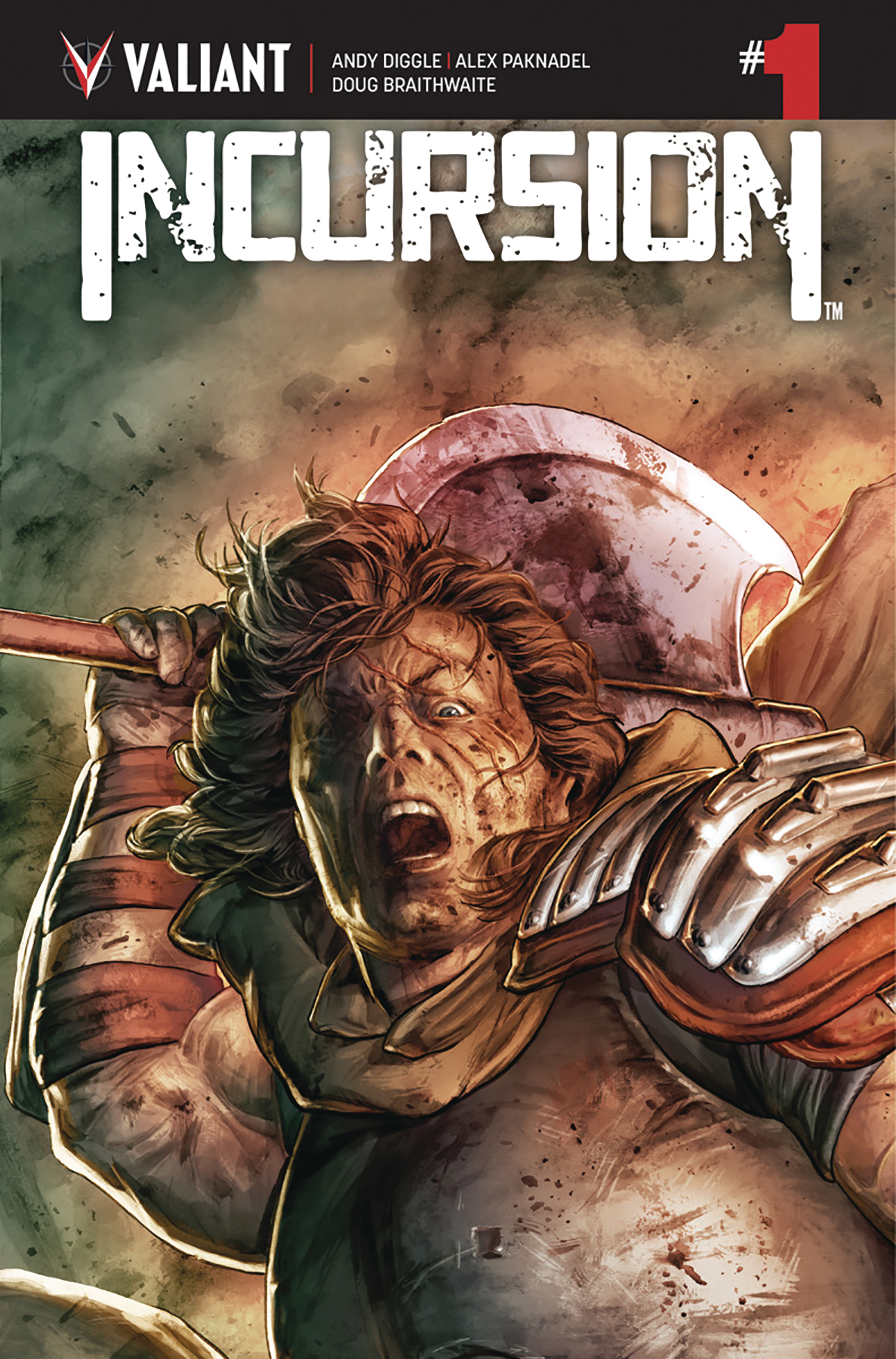 INCURSION #1 CVR A BRAITHWAITE
VALIANT ENTERTAINMENT LLC
DEC182121
(W) Andy Diggle, Alex Paknadel (A/CA) Doug Braithwaite
Beyond the margins of human reason lies a realm known as the Deadside, where the souls of the dearly departed linger - and where demons wait for us in the dark. For countless ages, Earth's chosen protectors have guarded the veil between both worlds - but there are other doors to the Deadside, through which gruesome terrors from galaxies untold can trespass... With the planet's freedom at stake, can the reigning Geomancer and her steadfast Eternal Warrior stand together against an invasion unlike any they've ever witnessed?
From celebrated writer Andy Diggle (SHADOWMAN), rising star writer Alex Paknadel (Friendo), and legendary artist Doug Braithwaite (X-O MANOWAR) comes a story that will rock the Valiant Universe across dimensions!
In Shops: Feb 20, 2019
SRP: $3.99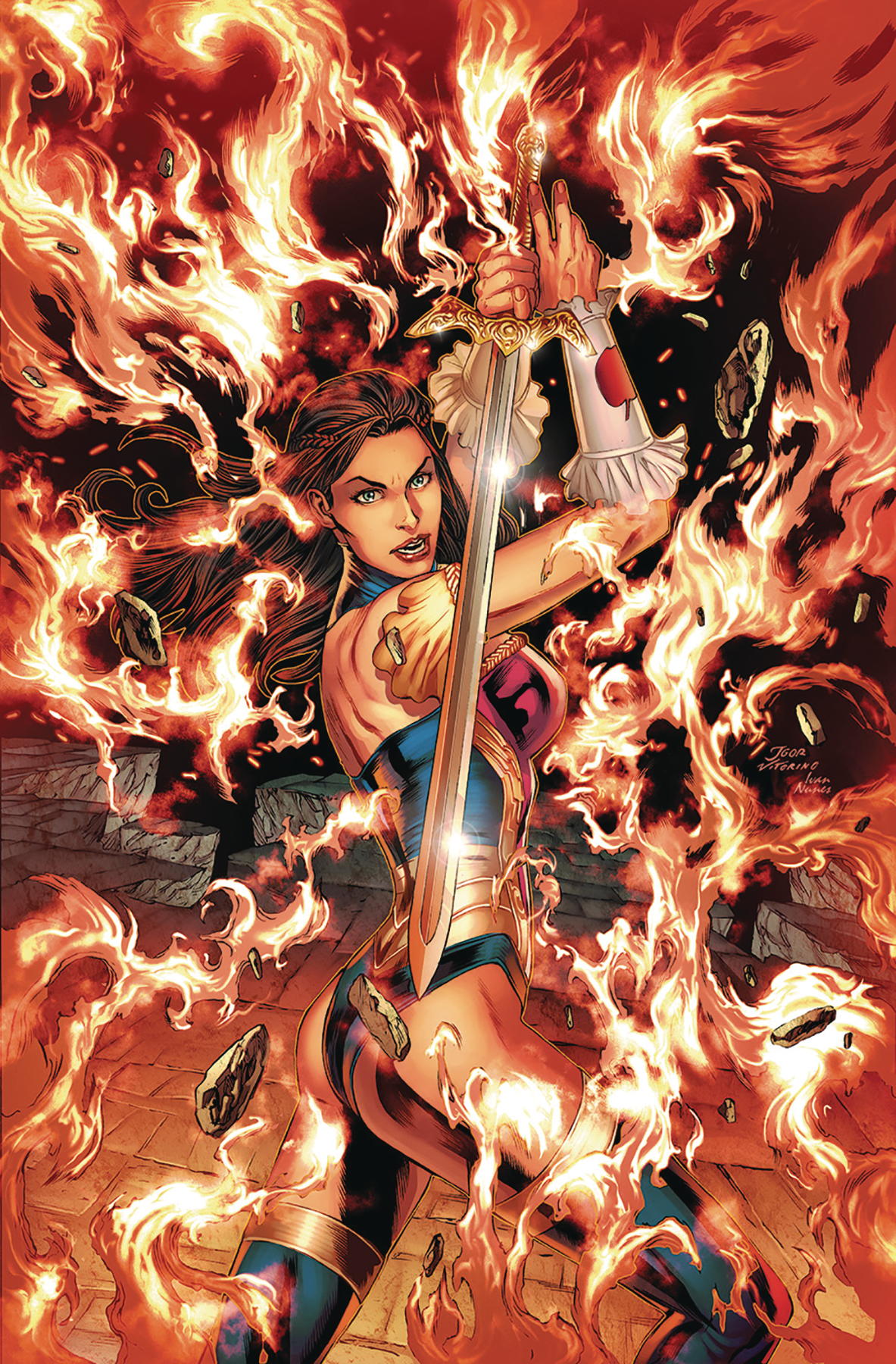 GRIMM FAIRY TALES 2019 GIANT SIZE #1 CVR A VITORINO
ZENESCOPE ENTERTAINMENT INC
DEC182168
(W) Joe Brusha (CA) Igor Vitorino
With the full power of the grail at his command, Merlin has transformed himself into the most powerful being in the Grimm Universe. Now, his plan is to unleash the forces of Tarot on the earth and conquer it for himself. His knights attack targets around the globe, and one by one as each hero that faces him falls, it looks like nothing can stop Merlin from taking over the world.
Don't miss the exciting conclusion to the War of the Grail storyline!
In Shops: Feb 20, 2019
SRP: $5.99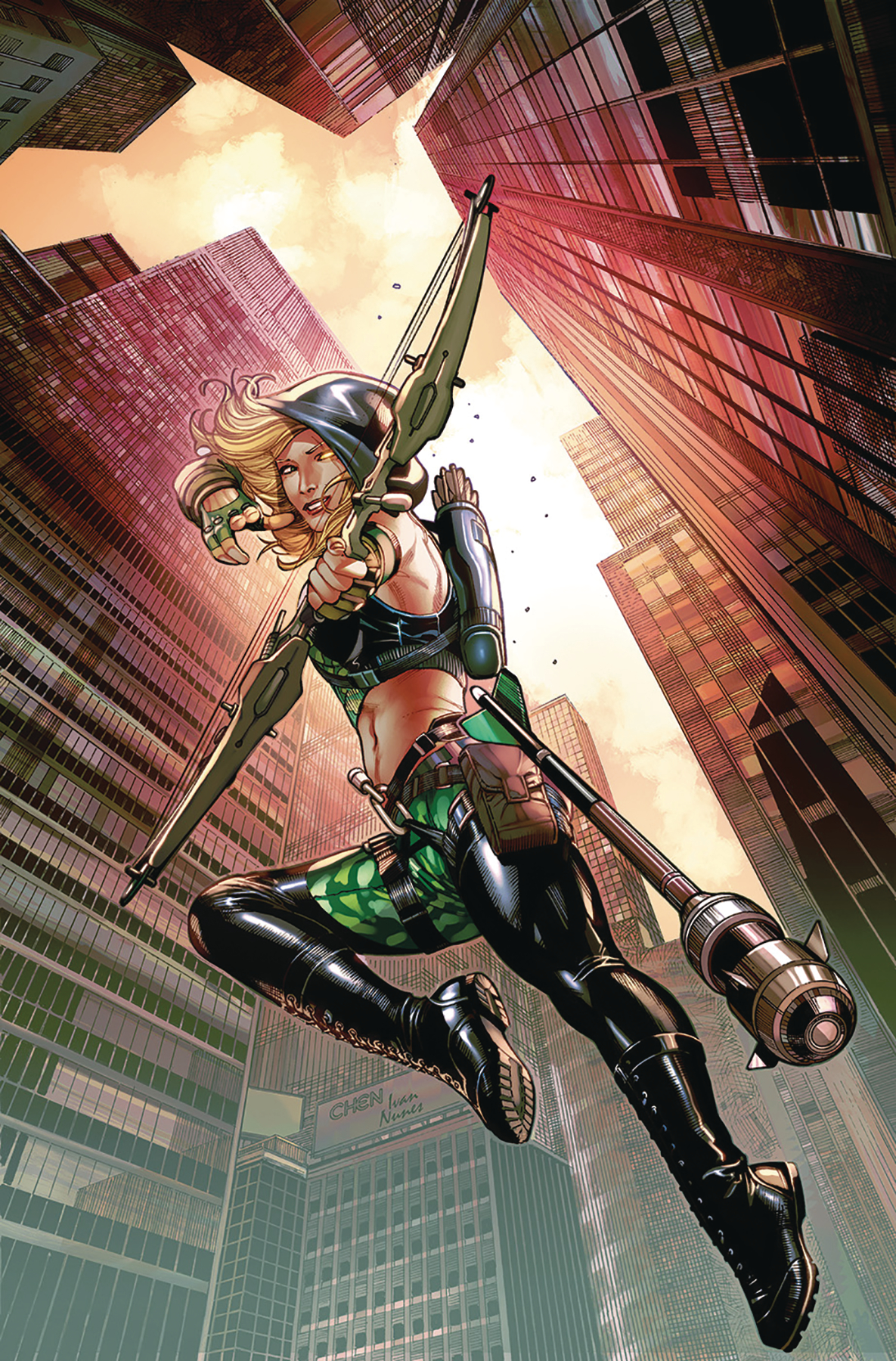 ROBYN HOOD OUTLAW #1 CVR A CHEN
ZENESCOPE ENTERTAINMENT INC
DEC182156
(W) Ralph Tedesco, Joe Brusha, Dave Franchini (CA) Sean Chen
Returning from her last adventure, Robyn is back in New York, and looking for some sort of normalcy. But not everyone feels she deserves any, the universe included. After a close friend is attacked, Robyn must take it upon herself to get to the bottom of this mystery as she is pitted against her greatest adversary yet, when she becomes public enemy number one, to the city she calls home. Don't miss this fast paced bare-knuckle, new series, Robyn Hood: Outlaw!
In Shops: Feb 13, 2019
SRP: $3.99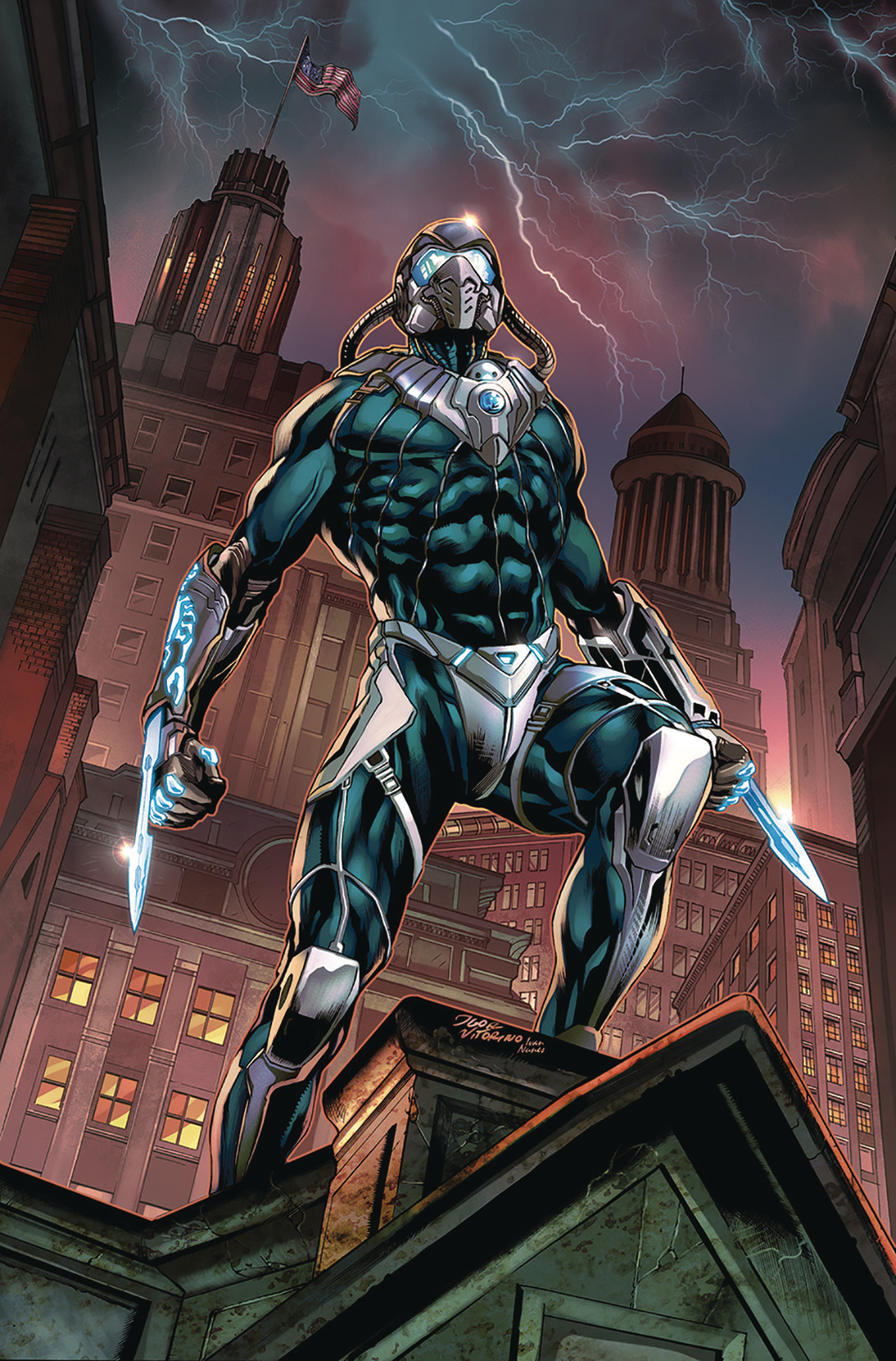 ZODIAC #1 CVR A VITORINO
ZENESCOPE ENTERTAINMENT INC
DEC182162
(W) Joe Brusha (CA) Igor Vitorino
As the war between Camelot and the Order of Tarot wages Merlin the Magician looks to give himself an advantage...by eliminating all of his Tarot's biggest threats. And he has the perfect man for the job, a deadly magical warrior who was born to kill. Don't miss this 3 issue limited series introducing the deadliest assassin to ever exist in the Grimm Universe...Zodiac.
In Shops: Feb 27, 2019
SRP: $4.99