BOOM! STUDIOS GHOSTED IN LA #1 CVR A MAIN KEENAN
BOOM! STUDIOS
MAY191212
(W) Sina Grace (A/CA) Siobhan Keenan
In Los Angeles, finding an apartment is killer-unless you live with the dead. Rycroft Manor may be old. It may be abandoned. It may even be haunted. But Daphne Walters doesn't care about any of that-it has a pool and the rent is free. New to LA, coming off of a bad breakup and having a pretty terrible week, Daphne might need to crash on this haunted couch for a while, but having undead roommates might be more than she bargained for! Will the dead be able to help Daphne find the life she's been missing in the big city? From GLAAD Award-nominated Sina Grace (Iceman) and illustrator Siobhan Keenan (Clueless, Jem and the Holograms) comes a story about learning how to make friends, find love, and live to the fullest with a little help from some friends whose lives didn't end at death.
In Shops: Jul 10, 2019
SRP: $3.99
DARK HORSE COMICS BLACK HAMMER JUSTICE LEAGUE #1 (OF 5) CVR A WALSH
DARK HORSE COMICS
MAY190203
(W) Jeff Lemire (A/CA) Michael Walsh
DC Comics and Dark Horse Comics present the ultimate superhero crossover event of 2019!
A strange man arrives simultaneously on Black Hammer Farm and in Metropolis, and both worlds are warped as Starro attacks! Batman, Green Lantern, Flash, Wonder Woman, Superman, and more crossover with Golden Gail, Colonel Weird, and the rest of the Black Hammer gang!
In Shops: Jul 03, 2019
SRP: $3.99 CRITICAL ROLE VOX MACHINA ORIGINS SERIES II #1 (OF 6)
DARK HORSE COMICS
MAY190213
(W) Jody Houser (A) Olivia Samson, Msassyk (CA) Fiona Staples
The unlikely heroes of Vox Machina are back in action! Join familiar faces from Critical Role's smash-hit first campaign as their escapades in Stilben lead them toward new adventure-and a dire threat to Grog when he goes missing in the night. Tracking him down will see the party lose one member, gain another, and reveal parts of Grog's secret past. But first, his friends have to actually find him. From award-nominated writer Jody Houser (Orphan Black, Stranger Things) and first series author Olivia Samson, with colorist Msassyk (Isola, Gotham Academy) and letterer Ariana Maher (James Bond, Xena)!
In Shops: Jul 10, 2019
SRP: $3.99
MANOR BLACK #1 (OF 4) CVR A CROOK
DARK HORSE COMICS
MAY190215
(W) Cullen Bunn, Brian Hurtt (A/CA) Tyler Crook
From the creators of Harrow County and The Sixth Gun comes this gothic horror fantasy about a family of sorcerers in crisis. Roman Black is the moribund patriarch of a family of powerful sorcerers. As his wicked and corrupt children fight over who will take the reins of Manor Black and become representative of the black arts, Roman adopts a young mage whom he gifts his powers to with the hope that someone good will take his place against the evil forces out to bring down his family and legacy.
In Shops: Jul 31, 2019
SRP: $3.99 NO ONE LEFT TO FIGHT #1 (OF 5)
DARK HORSE COMICS
MAY190237
(W) Aubrey Sitterson (A/CA) Fico Ossio
They've saved the planet countless times, but what happens after the final battle has been won? Creators Aubrey Sitterson (The Comic Book Story of Professional Wrestling, G.I. Joe) & Fico Ossio (Spider-Man, Revolution) take inspiration from the legendary Dragon Ball to tell a story of regret, resentment, and growing older, one that asks, "What does a fighter do when there's no one left to fight?"
In Shops: Jul 03, 2019
SRP: $3.99 ORVILLE NEW BEGINNINGS #1 (OF 2)
DARK HORSE COMICS
MAY190214
(W) David Goodman (A) Michael Atiyeh (A/CA) David Cabeza
On their way to a fleet conference via shuttle, Ed and Gordon pick up a distress signal from a century-old buoy belonging to a Union ship and decide to investigate. Meanwhile, back on the Orville, Kelly tries to mediate when Bortus insists on enrolling Topa into school even though he is only a few months old.
o Picks up where season one left off!
o Written by The Orville Executive Producer David A. Goodman!
In Shops: Jul 17, 2019
SRP: $3.99 STARCRAFT SURVIVORS #1 (OF 4)
DARK HORSE COMICS
MAY190268
(W) Jody Houser (A) Michael Atiyeh (A/CA) Gabriel Guzman
Jody Houser and Gabriel Guzmán continue the tale of StarCraft: Scavengers! After surviving a murderous dark templar's rampage, a terran space engineer named Caleb is forced to do the protoss's bidding: infiltrating a munitions factory in the Umojan Protectorate to find a mysterious source of power. This official expansion of the StarCraft universe in comics is based on an original story by Jody Houser and Blizzard Entertainment's StarCraft game team!
In Shops: Jul 24, 2019
SRP: $3.99
SWORD DAUGHTER #1 CVR A (O/A)
DARK HORSE COMICS
MAY190243
(W) Brian Wood (A) Mack Chater (CA) Lauren Affe
The Forty Swords came at night and murdered the entire village, save for two people: the infant Elsbeth and her grief-stricken father, Dag. Setting off on a revenge quest that will span the width of Viking Age Europe, they find the key to repairing their damaged relationship lies in the swords they carry. Created by Brian Wood (Northlanders, The Massive, DMZ) and Mack Chater (Briggs Land, Lazarus), Sword Daughter is a visually stunning, emotionally poignant story of parental guilt and acceptance of loss.
In Shops: Jun 19, 2019
SRP: $4.99
DC COMICS BATMAN CURSE OF THE WHITE KNIGHT #1 (OF 8)
DC COMICS
MAY190356
(W) Sean Murphy (A/CA) Sean Murphy
In this explosive sequel to the critically acclaimed blockbuster BATMAN: WHITE KNIGHT from writer/artist Sean Murphy, The Joker recruits Azrael to help him expose a shocking secret from the Wayne family's legacy-and to run Gotham City into the ground! As Batman rushes to protect the city and his loved ones from danger, the mystery of his ancestry unravels, dealing a devastating blow to the Dark Knight. Exciting new villains and unexpected allies will clash in this unforgettable chapter of the White Knight saga-and the truth about the blood they shed will shake Gotham to its core!
In Shops: Jul 24, 2019
SRP: $4.99 DOOM PATROL THE WEIGHT OF THE WORLDS #1 (MR)
DC COMICS
MAY190367
(W) Gerard Way, Jeremy Lambert (A) James Harvey (CA) Nick Derington
All hail the Supreme Shape! Gerard Way and the World's Strangest Superheroes return in an all-new series that takes them beyond the borders of time and space! Featuring artwork by acclaimed cartoonist James Harvey, this issue finds the Doom Patrol facing off against the fanatical fitness fiends of planet Orbius and the Marathon Eternal! Meanwhile, Cliff Steele, formerly known as Robotman, must come to terms with his new body of flesh and bone...yet the real test turns out to be something far more frightening: his mom.
In Shops: Jul 03, 2019
SRP: $3.99 BATMAN UNIVERSE #1 (OF 6)
DC COMICS
MAY190362
(W) Brian Michael Bendis (A/CA) Nick Derington
Available to comics shops for the first time! Following the theft of a priceless Fabergé egg, the Riddler leads the Dark Knight on a wild hunt after its true owner: Jinny Hex, descendant of Jonah Hex! Guest-starring Deathstroke, Green Arrow and dozens of Riddler look-alikes in stories by Brian Michael Bendis with art by Nick Derington, originally published in BATMAN GIANT #3 and #4!
In Shops: Jul 10, 2019
SRP: $4.99 JIMMY OLSEN #1 (OF 12)
DC COMICS
MAY190369
(W) Matt Fraction (A/CA) Steve Lieber
Jimmy Olsen must die! Wait, we're getting ahead of ourselves. Jimmy Olsen lives! Superman's best friend and Daily Planet photographer Jimmy Olsen tours the bizarre underbelly of the DC Universe in this new miniseries featuring death, destruction, giant turtles and more! It's a centuries-spanning whirlwind of weird that starts in Metropolis and ends in Gotham City. And then we kill Jimmy.
In Shops: Jul 17, 2019
SRP: $3.99
LOIS LANE #1 (OF 12)
DC COMICS
MAY190371
(W) Greg Rucka (A/CA) Mike Perkins
On the road and out of Metropolis-and carrying a secret that could disrupt Superman's life-Lois Lane embarks on a harrowing journey to uncover a threat to her husband and a plot that reaches the highest levels of international power brokers and world leaders. Critically acclaimed and best-selling author Greg Rucka and master storyteller Mike Perkins team up for a tale of conspiracy, intrigue and murder that pushes even Lois to her limits.
In Shops: Jul 03, 2019
SRP: $3.99 SUPERMAN UP IN THE SKY #1 (OF 6)
DC COMICS
MAY190363
(W) Tom King (A) Sandra Hope (A/CA) Andy Kubert
Available to comics shops for the first time! Following a home invasion that ends in murder, Superman is put on the trail of a Metropolis mystery by Batman-but can even the Man of Steel discover the truth behind these tragic deaths, or their ties to the far-off world of Rann? These stories by Tom King with art by Andy Kubert guest-starring Green Lantern and other heroes were originally published in SUPERMAN GIANT #3 and #4.
In Shops: Jul 03, 2019
SRP: $4.99 WONDER WOMAN COME BACK TO ME #1 (OF 6)
DC COMICS
MAY190364
(W) Amanda Conner, Jimmy Palmiotti (A) Chad Hardin (CA) Amanda Conner
Available to comics shops for the first time! When Steve Trevor is called in for a test flight of an experimental new aircraft, he winds up lost in the Bermuda Triangle-and it's up to Wonder Woman and Etta Candy to follow his trail to a mysterious, savage island! These stories written by Amanda Conner and Jimmy Palmiotti with art by Chad Hardin were originally published in JUSTICE LEAGUE GIANT #3-4!
In Shops: Jul 17, 2019
SRP: $4.99 COLLAPSER #1 (OF 6) (MR)
DC COMICS
MAY190365
(W) Mikey Way, Shaun Simon (A/CA) Ilias Kyriazis
There's a voice in the head of Liam James questioning everything he does-from his job at the nursing home to keeping his relationship with his girlfriend afloat. Liam suffers from anxiety, and the only thing that quiets it is music, which makes a weekly DJ gig his one saving grace. But Liam's life changes forever when he receives a black hole in the mail (yes, you read that right), one that takes up residence in his chest, grants him insane superpowers, turns him into a celebrity and draws him into a cosmic conflict beyond his wildest imagination. Where did this black hole come from? Why Liam? Is power the cure? Or will superstardom turn Liam into a black hole himself? Find out in COLLAPSER, a superhero story that could only come from DC's Young Animal!
In Shops: Jul 17, 2019
SRP: $3.99
DYNAMITE ENTERTAINMENT VAMPIRELLA #1 CVR A CHO
DYNAMITE
MAY190996
(W) Christopher Preist (A) Ergun Gunduz (CA) Frank Cho
In July 1969, the world was first introduced to Vampirella. 50 years later, she doesn't look a day older!!!! Now, to celebrate her gold anniversary, Dynamite is launching a brand-new, ongoing series featuring the talents of Christopher Priest (Black Panther, Deathstroke, Quantum & Woody, Justice League) and European star/American star-in-the-making, Ergün Gündüz (Tales of the Great War, Taxi Tales)! You'll experience the first, mysterious taste of things to come in Vampirella Free Comic Book Day #0, and the story continues here!!!
In Shops: Jul 17, 2019
SRP: $3.99 CHARLIES ANGELS VS BIONIC WOMAN #1 CVR A STAGGS
DYNAMITE
MAY191037
(W) Cameron Deordio (A) Soo Lee (CA) Cat Staggs
When Charlie's Angels pick up an assignment to steal a dangerous patent and put it back in the hands of its mysterious inventor, they encounter their toughest counterspy yet: The Bionic Woman, Jaime Sommers. This new series follows two of television's top teams after their programming run and into the 1980s. When the Office of Scientific Investigation is privatized and its patents sold off to the highest bidder, a military contractor looks to take bionics to the battlefield. Will the Bionic Woman be able to protect the patent from the would-be thieves, or will the Angels prevail, mothballing the formula's military applications in favor of medical uses?
In Shops: Jul 03, 2019
SRP: $3.99 VAMPIRELLA #1 1969 REPLICA ED
DYNAMITE
MAY191179
(W) Forrest J. Ackerman, Don Glut, Nicola Cuti (A) Various (CA) Frank Frazetta
Dynamite Superstar Vampirella got her start in 1969 as a Horror comic 'hostess,' and she's gone through 50 years of story evolution since to become the iconic character that we all know and love! While we're celebrating her illustrious career, we're also taking a look back at where this blood-sucking babe got her start! This Limited Replica Edition of Vampirella #1 is exactly what it says on the tin, a magazine-sized, 66-Page celebration of the Daugher of Draculon's first time in print! This special reprint includes every story and even advertisements exactly as they looked half a century ago! Warren's sharp-eyed editors assembled the best talents across the world to write and draw timeless stories. This first issue features a diverse range of masters, including Neal Adams (Batman, Green Lantern), Reed Crandall (Blackhawk, EC Comics), longtime Jack Kirby inker Mike Royer, and other greats such as Tom Sutton, Ernie Colon and Tony Tallarico. All under an unforgettable cover by Frank Frazetta.
Check out the Vampirella Archive HC series for more Warren-Era Vampirella!
In Shops: Jul 17, 2019
SRP: $6.99
IDW PUBLISHING SONIC THE HEDGEHOG TANGLE & WHISPER #1 CVR A STANLEY
IDW PUBLISHING
MAY190595
(W) Ian Flynn (A/CA) Evan Stanley
Tangle the Lemur's got a problem: there's not enough action in her life! Whisper the Wolf's also got a problem: she's hunting down an incredibly dangerous enemy named Sonic the Hedgehog! Can Tangle and Whisper help each other solve their problems, or will they just make things worse? A new mini-series featuring two of the most popular new Sonic the Hedgehog characters! Tangle & Whisper are a classic odd-couple in this adventurous team-up!
In Shops: Jul 31, 2019
SRP: $3.99 CARE BEARS #1 (OF 3) CVR A GARBOWSKA
IDW PUBLISHING
MAY190614
(W) Matthew Erman, Nadia Shammas (A/CA) Agnes Garbowska
Welcome to the Silver Lining, a mystical realm full of mirth and magic! The Care Bears, along with their pals the Whiffles, protect this realm from the negative influence of the mischievous Bluster and his Bad Crowd! With engaging, unique characters and an irreverent and heartwarming sense of humor, this new series is perfect for anyone looking for more magic in their lives! Spinning out of the new hit Boomerang cartoon!
In Shops: Jul 17, 2019
SRP: $3.99 GEARS OF WAR POP ONE-SHOT #1 CVR A PENA
IDW PUBLISHING
MAY190638
(W) Georgia Ball (A/CA) Nico Pena
Gears Pop! brings together iconic Gears characters in a cute Funko Pop! style. It's the perfect slice of mobile mayhem. Experience all-new adventures-and laughs-from the colorful characters of the Gears Pop! mobile game in this one-shot special. A whole new spin on the Gears of War franchise! The official Gears Pop! comic book arrives July 2019!
In Shops: Jul 24, 2019
SRP: $4.99
GLOW SUMMER SPECIAL ONE-SHOT #1 CVR A STERLE
IDW PUBLISHING
MAY190556
(W) Devin Grayson (A/CA) Lisa Sterle
It's the Gorgeous Ladies of Wrestling versus... nuclear war?! Real-life tensions simmering between Russia and America explode into the ring in this spectacular summer issue! Zoya, Liberty Belle, Nuke, Ozone, a cage match, existential dread, and glitter, so much glitter-looks like this Cold War's about to heat up! Devin Grayson (Nightwing) and Lisa Sterle (Submerged) enter the ring in their GLOW debut!
In Shops: Jul 17, 2019
SRP: $3.99 HG WELLS THE ISLAND OF DR MOREAU #1 (OF 2) CVR A RODRIGUEZ
IDW PUBLISHING
MAY190548
(W) Ted Adams, Gabriel Rodriguez (A/CA) Gabriel Rodriguez
IDW founder and Diablo House writer/co-creator Ted Adams joins Locke & Key artist/co-creator Gabriel Rodr guez to present an all-new adaptation of H.G. Wells' classic science fiction novel. As relevant today as when Wells wrote it in 1896, The Island of Doctor Moreau addresses the question all scientists should ask themselves: "Just because we can do something, does that mean we should?" This bold adaptation gives us a new protagonist in the form of Ellen Prendick, whose point of view shines a new light upon the horrific events on the cursed island, providing unique insights into one of the world's favorite stories.
In Shops: Jul 31, 2019
SRP: $4.99 MARVEL ACTION CLASSICS HULK #1 CVR A SANTACRUZ
IDW PUBLISHING
MAY190600
(W) Paul Tobin (A) Alvin Lee, David Nakayama (CA) Juan Santacruz, Juan Santacruz
A double feature as everybody's favorite rage monster joins forces with the Marvel Universe's biggest heroes! First-Bruce Banner visits the doctor to get control of the Hulk-but Doctor Strange has problems of his own! Then-Hercules needs a helping hand, and that spells T-R-O-U-B-L-E for Hulk, Spider-Man, and Iron Man! Reprinting Marvel Adventures Hulk (2007) #5 and Marvel Adventures Super Heroes (2008) #1!
In Shops: Jul 03, 2019
SRP: $4.99 RAGNAROK BREAKING OF HELHEIM #1 (OF 6) CVR A SIMONSON
IDW PUBLISHING
MAY190550
(W) Walter Simonson (A/CA) Walter Simonson
In the end, the gods gathered together and met their foes on the Battle Plain of Vigrid. There, so the stories tell, the gods and their great enemies slaughtered each other, the stars fell from the sky, Midgard itself sank into the all-encompassing ocean, and the Nine worlds were destroyed. In this issue, Thor hears a voice out of the past and learns that not all the old stories are true, and that the path before him now leads to Helheim, the land of the Dead. Walter Simonson, legendary creator of Star Slammers, Manhunter and the Alien film adaptation (with Archie Goodwin), and the definitive version (after Stan and Jack) of Marvel's Thor, presents the next thrilling chapter of his own post-Ragnarok Thor saga!
In Shops: Jul 17, 2019
SRP: $4.99 STAR PIG #1 (OF 4) CVR A RICHARD
IDW PUBLISHING
MAY190557
(W) Delilah S Dawson (A) Francesco Gaston (CA) Sara Richard
Like many late-21st-century teens, geeky 16-year-old Vess gets packed off to spend her summer at Space Camp-which is literally in space. Tragically, a shuttle accident sends her and the rest of the passengers careening toward a cold, frosty death among the stars. But when a gigantic, space-faring water bear miraculously rescues Vess and her beloved retro Discman, it's the beginning of an extraordinary friendship and an incredible journey home, all set to the nostalgic tunes of Vess's 1990s-heavy playlist. From the mind of New York Times bestseller Delilah S. Dawson (Star Wars: Forces of Destiny, Marvel Action: Spider-Man) comes an inventive story about loss and resiliency. Nostalgia-tinged humor, perfect for fans of Saga and Guardians of the Galaxy. Series covers by totally radical artists Sara Richard, Paulina Ganucheau, Nicoletta Baldari, and Sara Alfageeh!
In Shops: Jul 24, 2019
SRP: $3.99 TMNT RISE OF TMNT SOUND OFF #1 (OF 3) CVR A THOMAS
IDW PUBLISHING
MAY190567
(W) Matthew K. Manning (A/CA) Chad Thomas
A new batch of mutant villains are in town and they've mastered the art of noiseless theft! The TMNT are powerless to stop them until they realize someone close to them shares a history with the bad guys: April O'Neil! Will she be able to overcome a case of stage fright and save the day? An exciting and hilarious adventure with an important message about learning to be comfortable speaking up!
In Shops: Jul 31, 2019
SRP: $3.99
IMAGE COMICS SEA OF STARS #1 CVR A GREEN
IMAGE COMICS
MAY190023
(W) Jason Aaron, Dennis Hallum (A/CA) Stephen Green
"LOST IN THE WILDS OF HEAVEN," Part One: Being a space trucker sounds like a cool job, but in reality, it can be boring as hell. So when recently widowed Gil gets a long-haul gig across the universe, he figures it's safe enough to bring his young son Kadyn along for the ride-that is, until their "big rig" gets bitten in half by a gigantic Space Leviathan! Now separated from his son-with a breached suit that's venting oxygen at an alarming rate-Gil must defy the odds and stay alive long enough to rescue Kadyn. But meanwhile, Kadyn seems to be getting all the help he needs from a talking Space Monkey riding a Space Dolphin... or maybe it's the strange powers he's suddenly manifesting?! From the writing duo of JASON AARON (SOUTHERN BASTARDS, Thor) and DENNIS HALLUM (Cloak & Dagger, Vader: Dark Visions), with dazzling art by STEPHEN GREEN (Hellboy and the B.P.R.D.) and cosmic colors by RICO RENZI (Spider-Gwen), comes a brand-new science fiction series with all the scope and heart of the The Neverending Story crossed with the imaginative weirdness of Miyazaki-an intense, galaxy-spanning adventure that's suitable for fans of all ages!
In Shops: Jul 03, 2019
SRP: $3.99 UNEARTH #1 CVR A RIVAS (MR)
IMAGE COMICS
MAY190025
(W) Cullen Bunn, Kyle Strahm (A/CA) Baldemar Rivas
SERIES PREMIERE! When a flesh-warping disease ravages a remote village in Mexico, a scientific task force travels to the inhospitable area to investigate the contamination. Tracing the source of the disease to a nearby cave system, the team discovers a bizarre, hostile ecosystem and a supernatural revelation from which they may never escape. This new subterranean nightmare is brought to you by writers CULLEN BUNN (REGRESSION) and KYLE STRAHM (SPREAD), and rising-star artist BALDEMAR RIVAS!
In Shops: Jul 10, 2019
SRP: $3.99 BITTER ROOT RED SUMMER SPEC #1 (ONE-SHOT)
IMAGE COMICS
MAY190036
(W) David Walker, Chuck Brown (A) Chris Brunner, Lisa K. Weber, Daniel Lish, Khary Randolph, Dietrich Smith (A/CA) Sanford Greene
The first story arc of BITTER ROOT introduced readers to a family unlike any other. In this special issue, the creators of the critically acclaimed series are joined by a star-studded group of artists for six short stories that explore the history of the Sangerye family. Travel into the past-and to different worlds-to get a special look at a very special family!
In Shops: Jul 10, 2019
SRP: $5.99 POSTAL DELIVERANCE #1 CVR A SEJIC (MR)
IMAGE COMICS
MAY190038
(W) Bryan Hill, Matt Hawkins (A) Raffaele Ienco (CA) Linda Sejic
NEW STORY ARC! POSTAL returns to find Mark struggling with the responsibilities and horrors of being the new Mayor of Eden, as the newest member of their community has brought his own personal war with him. Mark's mother, Laura Shiffron, tries to enjoy her retirement in Florida, but violence finds her... and violence might the the only way Laura Shiffron can find peace.
In Shops: Jul 03, 2019
SRP: $3.99
REAVER #1 (MR)
IMAGE COMICS
MAY190027
(W) Justin Jordan (A) Rebekah Isaacs, Alex Guimaraes (CA) Becky Cloonan
SERIES PREMIERE! The continent of Madaras once promised a new start for settlers, but 200 years after its discovery, the war rages on. Deep within this savage and untamed land, a darkness builds at that must be stopped at all costs. To do so, the Imperials assemble six of its most despicable prisoners-a turncoat, a skin eater, a sorcerer and his bodyguard, a serial killer, and the Devil's Son-the only ones who can stop the end of the new world. They are Hell's Half-Dozen. Join JUSTIN JORDAN (LUTHER STRODE) and REBEKAH ISAACS (Buffy the Vampire Slayer) for REAVER-a dark, grim fantasy for a post-Game of Thrones world.
In Shops: Jul 10, 2019
SRP: $3.99 SPACE BANDITS #1 (OF 5) CVR A SCALERA (MR)
IMAGE COMICS
MAY190028
(W) Mark Millar (A/CA) Matteo Scalera
MINISERIES PREMIERE! Thena Khole and Cody Blue are among the universe's most wanted felons. Each the leader of their own criminal ops, they run heists across the galaxies-hopping from ship to ship to fleece everyone inside. But when both women are betrayed by their crews, the bandits only have one thing on their minds: REVENGE.
In Shops: Jul 03, 2019
SRP: $3.99
MARVEL COMICS PUNISHER KILL KREW #1 (OF 5)
MARVEL COMICS
MAY190732
(W) Gerry Duggan (A) Juan Ferreyra (CA) Tony Moore
ONE MAN. TEN REALMS. TOTAL WAR!
* During the War of the Realms, Frank Castle made a promise of vengeance, and Frank Castle keeps his promises.
* A van full of orphans is about to make that promise a lot more complicated.
* How does a man kill gods and monsters?
Parental Advisory
In Shops: Jul 31, 2019
SRP: $3.99 AERO #1
MARVEL COMICS
MAY190752
(W) Zhou Liefen, Greg Pak (A) Pop Mhan (A/CA) Keng
CATCH THE WAVE! ALL NEW ONGOING SERIES! The breakout stars of WAR OF THE REALMS: AGENTS OF ATLAS debut in an oversized team-up book! Get ready for the English language debut of the first appearance of AERO, the high-flying Shanghaiese superheroine created for Marvel by Zhou Liefen and Keng! And in a brand new story written by PLANET HULK writer Greg Pak, Aero teams up with WAVE, Marvel's newest Filipina superheroine! What strange forces have turned the buildings of Shanghai into monstrous golems? And what is the SECRET ORIGIN OF WAVE?
Rated T
In Shops: Jul 03, 2019
SRP: $3.99 CAPTAIN AMERICA INVADERS BAHAMAS TRIANGLE #1
MARVEL COMICS
MAY190794
(W) Roy Thomas (A/CA) Jerry Ordway
March 1941. Assigned to safeguard President Roosevelt during a fishing trip in the Bahamas, the newly commissioned Cap endures his baptism under fire - while a German U-boat (carrying the Nazi super-soldier called Der Wunderkrieger (or Wonder Warrior) heads for the island chain's capital! His mission: to kidnap England's once-king, the Duke of Windsor, and sit him on the throne of a defeated Britain! But others happen to be in that part of the Atlantic as well - the once-bitter rivals the Sub-Mariner and the Human Torch!
Rated T
In Shops: Jul 03, 2019
SRP: $4.99
DEATHS HEAD #1 (OF 4)
MARVEL COMICS
MAY190748
(W) Tini Howard (A) Kei Zama (CA) Nick Roche
Rising stars Tini Howard & Kei Zama take on Marvel UK's hottest character, Death's Head, in a new miniseries! When a job goes wrong, intergalactic mech merc Death's Head wakes up half-assembled at a punk show! And if the crowd full of deodorant-eschewing youths wasn't enough, the Young Avengers show up! Well, half of them anyway. Hulkling and Wiccan face down the best freelance peacekeeping agent in this universe!
Parental Advisory
In Shops: Jul 31, 2019
SRP: $3.99 FANTASTIC FOUR PRODIGAL SUN #1
MARVEL COMICS
MAY190780
(W) Peter David (A) Francesco Manna (CA) Mico Suayan
CHAPTER 1 OF 3! The first of three interconnected special issues featuring the FANTASTIC FOUR, the SILVER SURFER and the GUARDIANS OF THE GALAXY! Introducing PRODIGAL, a strange alien being who has crash-landed in the Savage Land. When he becomes worshipped by a race of swamp-dwelling barbarians, Ka-Zar and Shanna call upon the Fantastic Four to aid them in stopping the barbarians' plans to conquer the entirety of their world. Join Prodigal on his lengthy journey to try to return home to settle old scores.
Rated T+
In Shops: Jul 03, 2019
SRP: $4.99 FEARLESS #1 (OF 3)
MARVEL COMICS
MAY190735
(W) Seanan McGuire, Leah Williams, More (A) Claire Roe, More (CA) Yasmin Putri
THE FIERCEST LADIES OF THE MARVEL UNIVERSE - ON AND OFF THE PAGE! Straight off her silver-screen debut, Captain Marvel takes the world by storm! And speaking of the weather, Storm of the X-Men faces a problem only a goddess could solve. Add the Invisible Woman, and you've got an unstoppable trio in a story by Hugo-nominated novelist and SPIDER-GWEN: GHOST-SPIDER writer Seanan McGuire! Then, Leah Williams takes us back to the golden days of romance with Millie the Model! PLUS: Get your dose of herstory with profiles on classic and contemporary creators!
Rated T+
In Shops: Jul 10, 2019
SRP: $4.99 GIANT SIZED X-STATIX #1
MARVEL COMICS
MAY190778
(W) Peter Milligan (A/CA) Michael Allred
They're back and more alive than ever for this special one-shot! But what new threat is so grave that only the most famous mutant celebrities can fight it? And who is the new U-Go-Girl? Only the original X-Statix creative team Peter Milligan, Michael Allred and Laura Allred know for sure!
Parental Advisory
In Shops: Jul 10, 2019
SRP: $4.99 HISTORY OF MARVEL UNIVERSE #1 (OF 6)
MARVEL COMICS
MAY190714
(W) Mark Waid (A) Javier Rodriguez (CA) Steve McNiven
ALL-NEW STORY BY LEGENDARY CREATOR MARK WAID! Everything you ever wanted to know about the Marvel Universe - in one lavishly illustrated series! From the Big Bang to the twilight of existence, HISTORY OF THE MARVEL UNIVERSE chronicles completely, for the first time, everything that was, is or will be! Lushly illustrated text tells the complete story of the Marvel Universe, revealing previously unknown secrets and serving as the ultimate reference book for Marvel fans! Witness the greatest tale ever told - and be prepared for some shocking revelations!
Rated T
In Shops: Jul 24, 2019
SRP: $4.99 HOUSE OF X #1 (OF 6)
MARVEL COMICS
MAY190690
(W) Jonathan Hickman (A/CA) Pepe Larraz
FACE THE FUTURE! Superstar writer Jonathan Hickman (SECRET WARS, AVENGERS, FANTASTIC FOUR) takes the reins of the X-Men universe! Since the release of Uncanny X-Men #1, there have been four seminal moments in the history of the X-Men. Giant-Sized X-Men. X-Men. Age of Apocalypse. New X-Men. Four iconic series that introduced a new era for Marvel's mutants and revolutionized the X-Men. In House of X, Charles Xavier reveals his master plan for mutantkind...one that will bring mutants out of the shadow of mankind and into the light once more.
Rated T+
In Shops: Jul 24, 2019
SRP: $5.99 INVISIBLE WOMAN #1 (OF 5)
MARVEL COMICS
MAY190740
(W) Mark Waid (A) Mattia De Iulis (CA) Adam Hughes
Fresh from the pages of FANTASTIC FOUR, for the first time Susan Storm-Richards stars in her own limited series - and the secrets about her past revealed therein will shake readers' perceptions of the Invisible Woman forevermore! Years ago, she undertook an espionage mission for S.H.I.E.L.D. - and now it's up to her to save her former partner from death at the hands of international terrorists!
Rated T
In Shops: Jul 10, 2019
SRP: $3.99 LOKI #1
MARVEL COMICS
MAY190720
(W) Daniel Kibblesmith (CA) Ozgur Yildirim
EARTH'S MIGHTIEST HERO! ALL-NEW ONGOING SERIES! After dying a grisly death in THE WAR OF THE REALMS, Loki learned a valuable lesson in warmongering: Don't get caught. But now he has a whole new set of responsibilities - and his brother Thor is not about to let him walk away from them this time. Late Show and BLACK PANTHER VS. DEADPOOL writer Daniel Kibblesmith takes the god of mischief in a thrilling new direction!
Rated T+
In Shops: Jul 17, 2019
SRP: $3.99 MARVEL SUMMER SPECIAL #1
MARVEL COMICS
MAY190808
(CA) Adam Hughes
A classic Marvel tradition gets a spin in a sun-splashed Marvel summer special! To honor Marvel's 80th anniversary, it's a throwback to the knockout 90s! Today's writers and artists take Marvel's biggest characters to the beach and back for a romp even your mother will love. Even heroes deserve a day off in this summertime extravaganza. Whether you're trying to beat the heat or beat up Sandman, this book is the only beach read you'll need the summer.
Rated T+
In Shops: Jul 31, 2019
SRP: $4.99 POWERS OF X #1 (OF 6)
MARVEL COMICS
MAY190703
(W) Jonathan Hickman (A/CA) R. B. Silva
FEAR THE FUTURE! Superstar writer Jonathan Hickman (INFINTY, NEW AVENGERS, FF) continues his revolutionary new direction for the X-Men. Intertwining with HOUSE OF X, POWERS OF X reveals the secret past, present and future of mutantkind, changing the way you look at every X-Men story before and after. You do not want to miss the next seminal moment in the history of the X-Men!
Rated T+
In Shops: Jul 31, 2019
SRP: $5.99 STAR WARS TARGET VADER #1 (OF 6)
MARVEL COMICS
MAY190928
(W) Robbie Thompson (A) Marc Laming (CA) Nic Klein
THE HUNTER! DARTH VADER is on the hunt for a mysterious criminal syndicate operating outside of THE EMPIRE's rule. But little does he know he's being hunted by a group of the galaxy's deadliest bounty hunters, hired by the syndicate to take out Vader once and for all. Led by fallen Imperial Officer BEILERT VALANCE, this ragtag group of assassins will stop at nothing to kill the biggest bounty of their lives.
Rated T
In Shops: Jul 03, 2019
SRP: $3.99 SWORD MASTER #1
MARVEL COMICS
MAY190757
(W) Shuizhu, Greg Pak (A) Kris Anka (A/CA) Gunji
MIGHTY MARVEL MARTIAL ARTS DOUBLE TROUBLE! ALL NEW ONGOING SERIES! You saw him tear through Fire Goblins in WAR OF THE REALMS with his big, damn magic sword! Now learn the mysterious origins of LIN LIE, A.K.A. SWORD MASTER, Marvel's newest Chinese superhero, in the English language debut of the original series written by Shuizhu and drawn by Gunji! Haunted by dreams of demons, Lin Lie hunts for his missing archeologist father - and for the secret of the black sword he left behind. And in a brand new story written by Greg Pak (NEW AGENTS OF ATLAS), Sword Master teams up with SHANG-CHI! What happens when an undisciplined, untrained kid with a magic sword tangles with the one and only, undisputed MASTER OF KUNG FU? (Spoiler alert: they will indeed drive each other crazy, with huge ramifications for the Marvel Universe!)
Rated T
In Shops: Jul 24, 2019
SRP: $3.99 VALKYRIE JANE FOSTER #1
MARVEL COMICS
MAY190727
(W) Jason Aaron, Al Ewing (A) CAFU (CA) Mahmud A. Asrar
JANE FOSTER STARS IN AN ALL-NEW NEW ONGOING SERIES! A new hero emerges straight from the pages of THE WAR OF THE REALMS! For years, you knew her as Dr. Jane Foster, one of Thor's most steadfast companions. Then you knew her as Thor, the Goddess of Thunder, who took up the mantle when no other hero - god or human - was worthy. Now Jane takes on a new role as Valkyrie, guide and ferrywoman to the dead! But her days of punching are far from over. WAR OF THE REALMS master architect Jason Aaron and superstar Al Ewing (IMMORTAL HULK) join forces with rising star artist CAFU for the book that'll have everyone talking!
Rated T+
In Shops: Jul 24, 2019
SRP: $3.99 WEB OF VENOM FUNERAL PYRE #1
MARVEL COMICS
MAY190842
(W) Cullen Bunn (A) Alberto Jimenez Alburquerque, Joshua Cassara (CA) Declan Shalvey
For weeks, the serial killer called Carnage has been hunting former symbiote hosts and killing them. Next on his list is ANDI BENTON, formerly MANIA, who's back to living in Philadelphia and without any symbiote to save her...
The path of bodies that leads to ABSOLUTE CARNAGE continues here!
Rated T+
In Shops: Jul 24, 2019
SRP: $4.99 WOLVERINE AND CAPTAIN AMERICA WEAPON PLUS #1
MARVEL COMICS
MAY190782
(W) Sacks, Ethan (A) Diogenes Neves (CA) Skan
THE SECRET HISTORY BEHIND THEIR ORIGINS REVEALED! In 1940, scientists attempted to make a man into the perfect weapon, a Super-Soldier. They failed and made him a legend instead. Before the turn of the century, they tried again for the tenth time. They failed, making a man into death incarnate. At long last, ETHAN SACKS (OLD MAN HAWKEYE, STAR WARS: GALAXY'S EDGE) and DIOGENES NEVES (GREEN ARROW, DEATHSTROKE) reveals the shadowy connections between Captain America, Wolverine and many more of the Marvel U's Super-Soldiers... including some surprises! The conspiracy begins here!
Rated T+
In Shops: Jul 10, 2019
SRP: $4.99 WOLVERINE VS BLADE SPECIAL #1
MARVEL COMICS
MAY190799
(W) Marc Guggenheim (A) Dave Wilkins
Two of the deadliest hunters ever to have stalked the night face off! Wolverine vs. Blade - 'nuff said!
Parental Advisory
In Shops: Jul 10, 2019
SRP: $5.99 MARVEL TALES HULK #1
MARVEL COMICS
MAY190806
(W) Peter David, Stan Lee, Al Milgrom (A) Al Milgrom, John Buscema, Dale Keown (CA) Jen Bartel
The Hulk smashes his way into the celebration of the House of Ideas' 80th anniversary with the latest issue of the era-spanning MARVEL TALES! This anthology series shines a spotlight on fan-favorite characters, features timeless stories and highlights some of the most impressive talent from the past eight decades. First, the Hulk returns to his original gray form in Al Milgrom's status quo-shattering INCREDIBLE HULK (1968) #324! Then, a blood transfusion from cousin Bruce Banner gives attorney Jennifer Walters a raging transformation of her own in SAVAGE SHE-HULK #1 - by the powerhouse team of Stan Lee and John Buscema! And Doc Samson manages to merge the Hulk's personas, creating the super-intelligent "Professor" Hulk in INCREDIBLE HULK (1968) #377 - a pivotal issue of Peter David's epic run, illustrated by superstar Dale Keown!
Rated T
In Shops: Jul 24, 2019
SRP: $7.99 X-MEN #1 FACSIMILE EDITION
MARVEL COMICS
MAY190763
(W) Stan Lee (A/CA) Jack Kirby
Stan Lee and Jack Kirby introduce the mighty mutants to the Marvel Universe! Training to fight for a world that hates and fears them, they are the Uncanny X-Men! Cyclops! Beast! Iceman! Angel! And their newest recruit, Marvel Girl! Professor Charles Xavier brings together these Children of the Atom to teach them to use their mutant powers to protect mankind - and they're quickly forced into action when Magneto, the Master of Magnetism, strikes! The X-Men are a pop-culture phenomenon, and this is the story that birthed the legend! It's one of the all-time great Marvel comic books, boldly re-presented in its original form, ads and all! Reprinting X-MEN (1963) #1.
All-Ages
In Shops: Jul 10, 2019
SRP: $3.99
INDIE VYDAVATEĽSTVÁ SUPERBABES STARRING FEMFORCE #1
AC COMICS
MAY191272
(W) Andrew Hawnt, Mark G. Heike (A) Mark G. Heike, Jeff Austin, Javier Lugo (CA) Silvano Beltramo, Stephanie Heike
Strong and glamorous women in action! Full color premiere of the new quarterly ongoing series! The Femforce must deal with a mysterious crashed spacecraft. Are the occupants friend or foe? Find out in "Headhunter's Wake." Comicdom's foremost all-female superteam in color on glossy paper for the first time!
In Shops: Jul 31, 2019
SRP: $5.95 KNIGHTS TEMPORAL #1 CVR A GALAN
AFTERSHOCK COMICS
MAY191307
(W) Cullen Bunn (A/CA) Fran Galan
When Auguste de Riviere returned from the Crusades, he was ashamed and horrified by the things he had done. Hoping to reclaim his soul, he pledges to root out evil wherever it might be found. But when he pursued a vile sorcerer into a forbidden forest, his life was shattered. Au-guste ventured into the dark forest, but emerged in the modern world. Accompanied now by the enigmatic Jane Fool, Auguste hunts a madman while trying to piece together the mystery of his very existence.
In Shops: Jul 31, 2019
SRP: $3.99 SECOND COMING #1 CVR A CONNER (MR)
AHOY COMICS
MAY191323
(W) Mark Russell (A) Richard Pace (CA) Amanda Connor
AHOY is proud to present-for the first time anywhere-the series everyone's talking about, by award-winning writer Mark Russell (
Snagglepuss
,
The Flintstones
) and artist Richard Pace (
Pitt
,
New Warriors
)! God commands Earth's mightiest super-hero, Sunstar, to accept Jesus as his roommate and teach him how to use power in a... more powerful way. Jesus, shocked at the way humans have twisted his message over two millennia, vows to straighten them out. This deluxe first issue features 30 pages of story!
In Shops: Jul 10, 2019
SRP: $3.99 ADV OF MR CRYPT & BARON RAT #1 (OF 3)
ALTERNA COMICS
MAY191331
(W) Troy Vevasis (A/CA) Aleksandar Jovic
Readers of all ages rejoice! Fan favorites Mr. Crypt and Baron Rat are back in an all-new series! In this issue, the friendly duo search for a mysterious creature in the woods that has been terrorizing the local townsfolk. Expect the unexpected!
In Shops: Jul 31, 2019
SRP: $1.50 MONSTER WORLD GOLDEN AGE #1 (OF 6) CVR A KOWALSKI
AMERICAN GOTHIC PRESS
MAY191341
(W) Philip Kim, Holly Interlandi (A/CA) Piotr Kowalski
Private detective Hank Barrymore stumbled upon the occult when he investigated a murder case on the World Studios movie set. Now, in his quest to find the witch he fell reluctantly in love with, Hank enlists the help of Nybbas, the demon of knowledge, and follows his clues to the plains of Oklahoma, where a strange farm boy is planting fear into the hearts of monsters and townspeople alike!
In Shops: Jul 24, 2019
SRP: $3.99 AM ARCHIVES LAUREL & HARDY #1 CVR A 1967 MAIN
AMERICAN MYTHOLOGY PRODUCTIONS
MAY191356
(W) Various (A) Various
Well that's another fine mess you've gotten us into! American Mythology is proud to bring a classic Laurel & Hardy comic issue back to fans. Back in 1967 Gold Key re-introduced the loveable duo to comic audiences and we are thrilled to present that issue in its entirety to a brand-new generation of readers! AM Archives Laurel & Hardy #1 1967 is available with two editions - Main and a 350 copy Ltd Edition retro cover!
In Shops: Jul 31, 2019
SRP: $3.99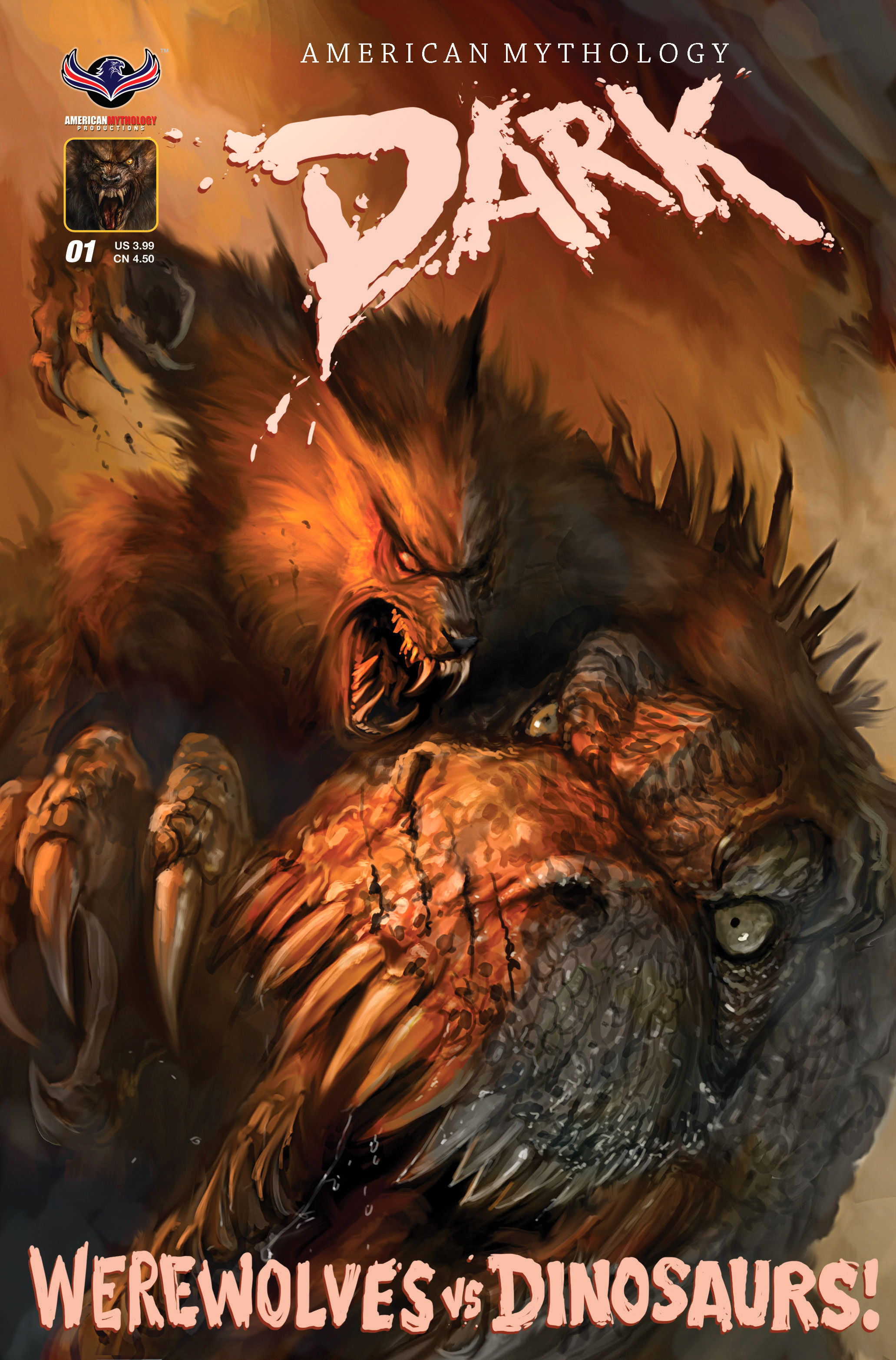 AM DARK WEREWOLVES VS DINOSAURS #1 FEROCIOUS CVR (O/A)
AMERICAN MYTHOLOGY PRODUCTIONS
MAY191366
(W) Eric Dobson (A/CA) Chris Scalf
American Mythology supports your local comic book shop with this exclusive edition only available to fans that subscribe to the series at the store.
In Shops: Jun 26, 2019
SRP: $3.99 BEWARE THE WITCHS SHADOW #1 CVR A CALZADA
AMERICAN MYTHOLOGY PRODUCTIONS
MAY191376
(W) Jason Pell, S.A. Check, James Kuhoric (A) Rich Bonk, Eliseu Zeu Gouveia (CA) Puis Calzada
Is the hair on the back of your neck standing up? Do you feel like someone just walked over your grave? That's not paranoia, it's the midnight witching horror and you've stumbled upon the House of Cackling Horror! There's a witch that lives deep in the woods, feeding upon those foolish enough to disturb her machinations. These are her tales told as the life drains from her victims. In this issue Jason Pell and Richard Bonk deliver a story to chill your bones in "Snow Day" and novelist SA Check and Zeu Gouveia deliver "Snips and Snails," a tale of growing up with monsters. House of Cackling Horror is available with three covers: Main by Puis Calzada, Creepy by Richard Bonk, and a Risqué Cover also by Calzada.
In Shops: Jul 31, 2019
SRP: $3.99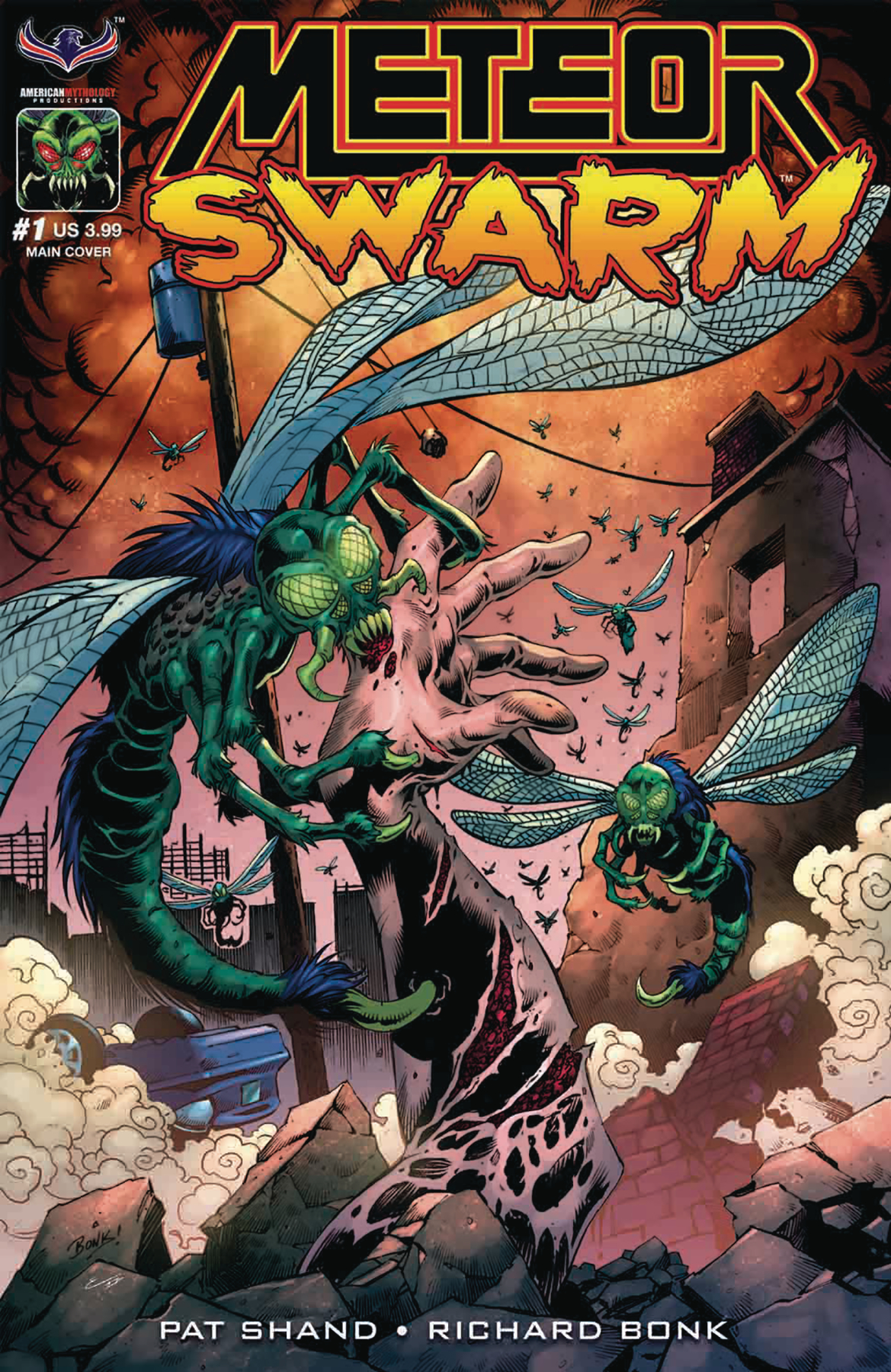 METEOR SWARM #1 BONK MAIN CVR (O/A)
AMERICAN MYTHOLOGY PRODUCTIONS
MAY191364
(W) Pat Shand (A/CA) Rich Bonk
While NASA warns of the potentially devastating consequences of a meteor storm closing in on the planet, it's the horrors that hide inside the falling debris that present the real danger. An unstoppable horde of terrifying space hornets has descended upon Earth and they are going to eat their way through every living thing in their path. This is big screen drive-in grindhouse at its best! Devastating meteor impacts, diabolical alien hordes, and only one person with a chance to end the terror before Earth becomes a hive of swarming death! Meteor Swarm comes with three covers - Main and Parody by series artist Richard Bonk, and a special Infestation Retailer Incentive Cover!
In Shops: Jun 26, 2019
SRP: $3.99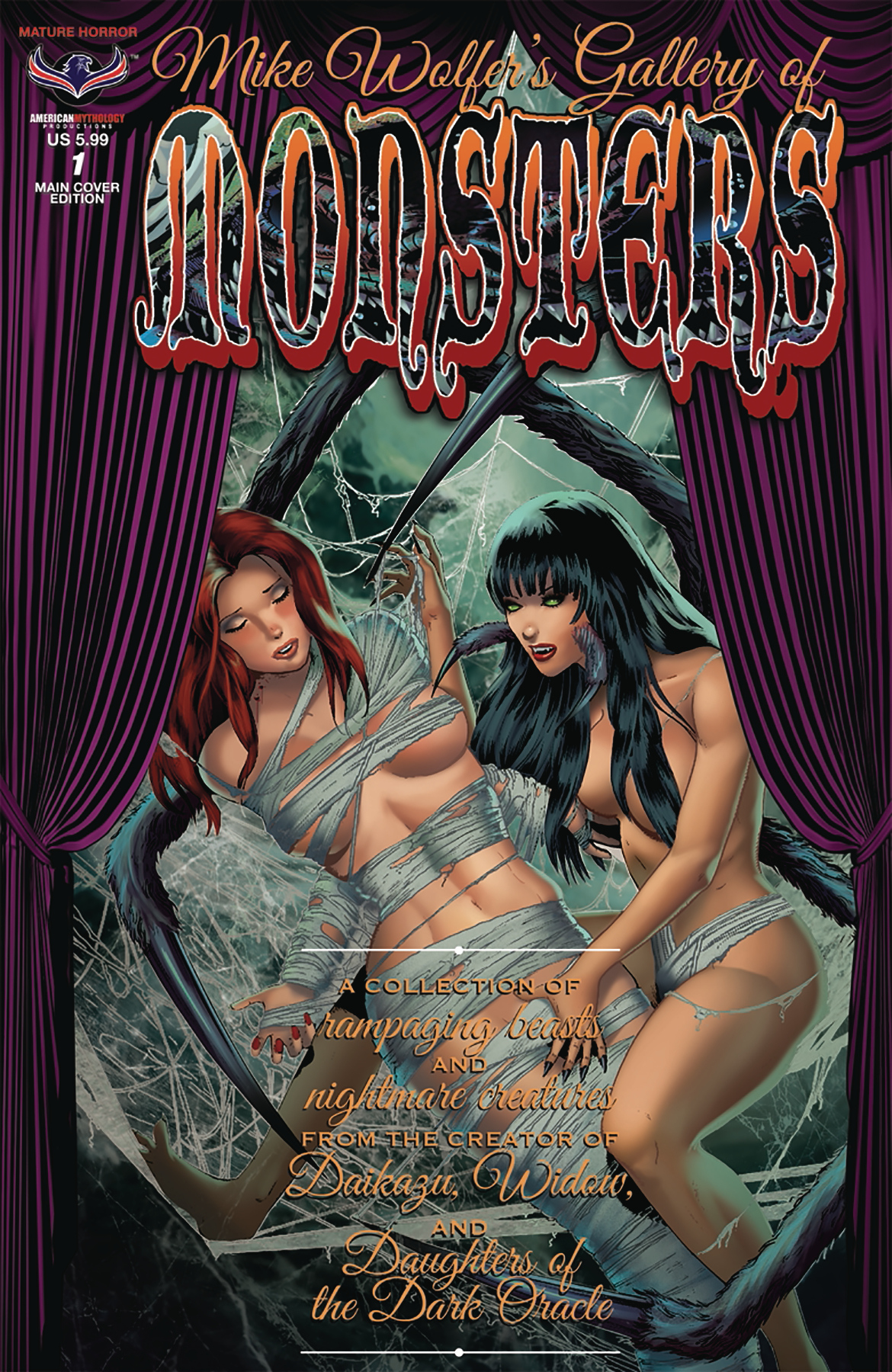 MIKE WOLFERS GALLERY OF MONSTERS #1 (O/A) (MR)
AMERICAN MYTHOLOGY PRODUCTIONS
MAY191374
(W) Mike Wolfer (A) Mike Wolfer, Ceci de la Cruz
The master of erotic, indie horror comics returns with another selection of delectable and horrifying visions of monsters most foul in Mike Wolfer's Gallery of Monsters! Featuring 23 full-color pin-ups, this unique gallery of pin-up and cover art features Wolfer's creations from Widow, Daughters of the Dark Oracle, his cult-classic, giant monster opus Daikazu, and a few saucy, new pieces that have to be seen to be believed. This exhibition is for mature viewers only, and contains some violence and nudity. Available in both a Main Cover edition and Nude Cover variant.
In Shops: Jun 26, 2019
SRP: $5.99 PELLUCIDAR WINGS OF DEATH #1 CVR A MARTINEZ
AMERICAN MYTHOLOGY PRODUCTIONS
MAY191348
(W) Mike Wolfer (A) Bruno Bull (CA) Roy Allen Martinez
The immersive environment of Pellucidar comes to life amazing detail as we visit the tale that spun out of the Fear on Four Worlds event. The underground cities of the Mahars, the Sagoths, and the Horibs collide with savage repercussions in this beautiful new series illustrated by Bruno Bull and written by horror icon, Mike Wolfer. The Edgar Rice Burroughs' Universe expands into this first full length Pellucidar solo story with a surprise ending! Pellucidar Wings of Death #1 comes with three covers - Main by Roy Allan Martinez, Warrior Cvr by Mike Wolfer, and 350-copy limited-edition Virgin Art cover also by Martinez.
In Shops: Jul 31, 2019
SRP: $3.99 ROCKY & BULLWINKLE BEST OF PEABODY & SHERMAN #1 CVR A
AMERICAN MYTHOLOGY PRODUCTIONS
MAY191354
(W) Various (A) Various
Jump in the WABAC machine and come with us to some of Mr. Peabody's most notorious points in history. Want to know the true story behind the Trojan horse? Curious about George Washington's wooden teeth? There's only one way to find out...by traveling with a genius dog and his boy back in time to witness history being made! These are some of the best classic Peabody & Sherman stories of all time. Rocky & Bullwinkle: Best of Peabody & Sherman comes with two choices: Main and Limited-Edition Retro Animation covers.
In Shops: Jul 31, 2019
SRP: $3.99 VAMPIRE PA BITE OUT OF CRIME #1 CVR A TUCCI
AMERICAN MYTHOLOGY PRODUCTIONS
MAY191379
(W) J. C. Vaughn (A) Brendon Fraim, Brian Fraim (CA) Billy Tucci
Dean, Scuba Dave, and Dee are back with their crusade to rid suburban Pittsburgh of the undead. Standing in their way, as always, is vampire queen Jocelyn and a new challenger to her power... Could it actually be Al Capone? Find out in this brand-new Vampire, PA one-shot that's packed with 28 pages of story and art! Cover by superstar artist Billy Tucci!
In Shops: Jul 31, 2019
SRP: $3.99
VOLCANOSAURUS #1 MAIN MANGUM CVR (O/A)
AMERICAN MYTHOLOGY PRODUCTIONS
MAY191361
(W) S.A. Check (A) Scottie Watson (CA) Andrew Mangum
More terrifying that a hurricane of flying sharks! More bone chilling than an invasion of giant snow scorpions! And more destructive than gargantuan slithering snakes throwing down! Erupting from the very Earth comes an unimaginable threat - giant lava breathing dinosaurs! Some horrors can't be unseen and the terror of this schlockfest will leave you smoldering. Join the refuges escaping the scorching vengeance of the Volcanosaurus! Trust us, you'll lava it.
In Shops: Jun 26, 2019
SRP: $3.99 ZORRO RISE OF THE OLD GODS #1 CVR A KALUTA
AMERICAN MYTHOLOGY PRODUCTIONS
MAY191345
(W) Jason Pell (A) Puis Calzada (CA) Michael William Kaluta
Horror rises from the deep as the denizens of dread Cthulhu herald the return of the old gods! Antiguo Camino is a small fishing town, nondescript and quiet. But when the horrors of the depths begin to crawl from the muck and terrorize the pueblo, Zorro must save the unsuspecting townsfolk and uncover the insidious force behind the monstrous uprising. This series celebrates the swashbuckling heroics of Zorro and the impending dread of H.P. Lovecraft in a unique and terrifying tale! Zorro Rise of the Old Gods #1 is available with four covers - Main Cover by living legend Michael Kaluta, Lovecraftian Horror by interior artist Puis Calzada, and a Limited Edition 1/350 Pulp cover also by Calzada!
In Shops: Jul 31, 2019
SRP: $3.99
ROMAN RITUAL VOL 2 #1 (MR)
AMIGO COMICS
MAY191384
(W) El Torres (A/CA) Jaime Martinez
The acclaimed book of terror and exorcisms is back in this long-awaited sequel from El Torres and Jaime Mart nez. The Devil's work never rests and nun Sister Claire, a child survivor of the Rwandan massacres, will again feel the stifling grip of evil. When the seniors at the nursing home in her care begin to behave strangely, are they demented or possessed?
In Shops: Jul 24, 2019
SRP: $3.99 COOKIE & KID #1
ANTARCTIC PRESS
MAY191401
(W) Alex Kosakowski (A) Alex Kosakowski
Presenting the first issue of a delightful (and delicious) all-ages adventure! In a hidden faerie kingdom, Cookie, a young misfit elf, is facing big worries for a wee folk: He just wants to eat his favorite food-cookies from the human world-in peace, but other critters are stealing them, after HE stole them fair and square! And now this lost human child and her dog have stumbled into his life, sparking an unexpected journey for them both!
In Shops: Jul 31, 2019
SRP: $3.99 WILLIAM LAST SHADOWS OF CROWN #1
ANTARCTIC PRESS
MAY191402
(W) Brian Shearer (A) Brian Shearer
ALL AGES! As William and company make their way out of the city, he is troubled by imagery in a dream that pushes him down a dangerous path.
In Shops: Jul 31, 2019
SRP: $3.99 ARCHIE VS PREDATOR 2 #1 (OF 5) CVR A HACK
ARCHIE COMIC PUBLICATIONS
MAY191404
(W) Alex De Campi (A/CA) Robert Hack
Betty, Veronica, and Predator-Archie have been left in the wreckage of their town, all their friends dead. Normally, they'd just go down Memory Lane and get home again where everything's okay, but that's no longer an option. It isn't until they find an undamaged car and drive it down a different road where they can finally return to Riverdale-but their hometown feels different. And it's made even more bizarre when they come face-to-face with a few people they'd never expect: themselves. Only different, newer versions. Little do they know, Predators on Mars are watching them-planning their next attack.
In Shops: Jul 24, 2019
SRP: $3.99 LOLA XOXO VOL 3 #1 CVR A
ASPEN MLT INC
MAY191434
(W) Siya Oum (A/CA) Siya Oum
It's mayhem in The Wasteland as Siya Oum's best-selling Lola XOXO reaches its pivotal third volume! Lola has spent the better part of her life attempting to reunite with her long-lost parents following a catastrophic nuclear level event in The United States. But, like all things in the apocalyptic "Wasteland," the truth always comes with a price-and oftentimes that means violence - or worse, death! Superstar creator Siya Oum provides a thrilling first issue debut with her riveting story and gorgeous illustrations for the beginning of this climactic Lola XOXO Volume 3!
In Shops: Jul 10, 2019
SRP: $3.99 UBER INVASION #1 CENTURY A (MR)
AVATAR PRESS INC
MAY191456
(W) Kieron Gillen (A) Daniel Gete (CA) Canaan White
First time in Previews! These awesome Century covers are limited to just 100 copies each!
In Shops: Jul 31, 2019
SRP: $19.99 HELLINA #1 (OF 3) KS COSTUME CHANGE A (MR)
BOUNDLESS COMICS
MAY191580
(W) Jai Nitz (A) Gabriel Andrade (CA) Christian Zanier
We've cracked open Costume Change sets from years past, available as single covers for the first time! Each will ship in a bag and board, and every cover is drawn by the master himself, Christian Zanier!
In Shops: Jul 31, 2019
SRP: $8.99 STRANGELANDS #1 CVR A MCKONE
HUMANOIDS INC
MAY191746
(W) Magdalene Visaggio, Darcie Little Badger (A) Vanesa R. Del Rey (CA) Mike McKone
The Humanoids H1 Universe brings you another smash series! Adam Land, an indigenous American, and Elakshi Land, a British-Asian, have what some might call "a love-hate relationship." They'd probably be better off without one another, except for the fact that they have superpowers that cause mass destruction whenever they are separated. Now, their greatest challenge is to stay together-even if it tears the world apart.
In Shops: Jul 10, 2019
SRP: $3.99 X LIEFELDS #1 CVR A NIKOLAKAKIS
KEENSPOT ENTERTAINMENT
MAY191780
(W) Rob Potchak (A/CA) Rob Nikolakakis
Rob Liefeld is beloved for creating some of comics' most memorable characters of the last quarter-century... but he also created some forgettable ones. In this twisted tale of spoofery from the creator of
Junior High Horrors
, Liefeld's rejected, forgotten creations find inspiration from their creator's own stories and travel back in time to jealously stop his greatest characters from ever becoming popular. Join BludStayn, Pytbull, Treadmill, Yardwaste, and X-Tra as they attempt to prevent Livestreme, Checker and the man known as Coax from achieving pop culture immortality. This parody is so Extreme, it's Awesome!
In Shops: Jul 31, 2019
SRP: $4.99
CATALYST PRIME SEVEN DAYS #1 (OF 7) MAIN CVR
LION FORGE
MAY191790
(W) Gail Simone (A) Jos? Luis, Jonas Trindade, Michelle Madsen (CA) Stjepan Sejic
DAY ONE: Lorena Payan was the first to realize a meteor was hurtling towards Earth two years ago. Now, she's the first to realize the Earth is in danger once more from something equally cosmic but far more sinister. As a mystery figure dubbed, the Obsidian Men, begin appearing silently all over the globe our heroes Noble, Summit, and Accell join together to investigate.
In Shops: Jul 03, 2019
SRP: $3.99 DARK AGE #1
RED 5 COMICS
MAY191885
(W) Don Handfield (A) Leonardo Rodrigues
Featured on Free Comic Book Day, from the creator of
The Rift!
In the near future all metal on earth suddenly turns to worthless piles of rust and dust. With no technology, no guns, no computers, humanity reverts to a violent feudal system. Each pocket of civilization is ruled by knights of wood & glass & concrete. This is the new Dark Age.
In Shops: Jul 24, 2019
SRP: $3.95 RED WINTER #1
SCOUT COMICS
MAY191899
(W) Michael Gordon (A) Francisco Munoz
Eli Winter is a former NYPD Detective in his 50s, now living in Kapotnya, the most crime-ridden district of Moscow. Eli is employed by local crime boss, Nikolai Dubrovsky, without whom Eli would likely be rotting in an American prison. Eli hates Kapotnya, but sees a chance for redemption when he is enlisted to investigate the destruction of one of Dubrovsky's meth labs. His men have been killed and all their blood money and merchandise have been stolen. Eli soon finds out the crime was committed by his estranged son, Joseph, as part of a rival gang initiation. Now Joseph needs his father's help, as he's in way over his head. Will Eli make the choice to protect his son from the vicious gang he works for and.is everything as it appears with Joseph Winter?
In Shops: Jul 31, 2019
SRP: $3.99 BOSTON METAPHYSICAL SOCIETY #1
SOURCE POINT PRESS
MAY191907
(W) Madeleine Holly-Rosing (A) Emily Hu
The year is 1895. Imagine an alternate Steampunk history where ghosts and demons are a normal part of life. Families known as the "Great Houses" control the economy of the Great States of America and the middle- and lower-class Irish's sole purpose is to not only serve them, but to rid their lives of supernatural beings. This is the story of an ex-Pinkerton detective, a spirit photographer, and a genius scientist who work together to battle these supernatural forces. They are the
Boston Metaphysical Society
. Wish them luck. They are going to need it.
In Shops: Jul 31, 2019
SRP: $3.99 DEAD END KIDS #1
SOURCE POINT PRESS
MAY191908
(W) Frank Gogol (CA) Nenad Cvitcanin
It's 1999. Ben, Murphy, Tank, and Amanda are four screwed-up kids from broken homes... but they have had each other. When Ben is murdered, Murphy and his friends set out to find who killed him and find themselves in the cross-hairs!
Dead End Kids
is a dark coming-of-age murder mystery set in the '90s, from the creative team behind 2018's critically acclaimed
Grief
.
In Shops: Jul 24, 2019
SRP: $3.99 LOVE SHE OFFERED #1
SOURCE POINT PRESS
MAY191909
(W) Glenn Moane (A) Tirso Llaneta
Six weeks ago, Brian Thompson's daughter Julia was murdered, stabbed several times with a knife and left for dead right outside her home. The police questioned her ex-boyfriend Sean, but he was never charged. Brian, however, is convinced that Sean is the killer. He
knows
it. And he wants justice for his daughter. Together with his brother Earl and his best friend Ross, Brian comes up with a plan. They kidnap Sean and bring him to a remote cabin. Their goal: To make Sean confess his crime. Everything goes to hell from there...
In Shops: Jul 31, 2019
SRP: $3.99 BLADE RUNNER 2019 #1 CVR A ARTGERM (MR)
TITAN COMICS
MAY191932
(W) Michael Green, Mike Johnson (A) Andres Guinaldo (CA) Artgerm
In the neo-noir city of Los Angeles, 2019, Ash, a veteran Blade Runner, is grappling with a new case: a billionaire's wife and child, apparently kidnapped by Replicants for dark purposes... An all-new ongoing comic series from the pen of Academy Award-nominated screenwriter Michael Green (Blade Runner 2049, Logan, American Gods), with longtime co-writer Mike Johnson (Batman/Superman, Supergirl, Star Trek), illustrated by Andres Guinaldo (Justice League Dark, Captain America). The first comic to tell original, in-canon stories set in the Blade Runner universe!
In Shops: Jul 17, 2019
SRP: $3.99 WATCH DOGS #1 CVR A DAGNINO ART
TITAN COMICS
MAY191937
(W) Simon Kansara (A) Horne (CA) Fernando Dagnino
In Shops: Jul 03, 2019
SRP: $5.99 STREET FIGHTER AKUMA VS HELL #1 CVR A VRIENS
UDON ENTERTAINMENT INC
MAY192126
(W) Ken Siu-Chong (A/CA) Joe Vriens
After his encounter with the demonic Darkstalkers, Akuma chose to remain in the hellish Makai dimension to take his training to terrifying new levels. Alone in a demonic landscape, Akuma battles unearthly creatures, giant monstrosities, and an undead ghost from his past!
In Shops: Jul 31, 2019
SRP: $3.99 KILLERS #1 (OF 4) CVR A MEYERS
VALIANT ENTERTAINMENT LLC
MAY192008
(W) B. Clay Moore (A) Fernando Dagnino (CA) Jonboy Meyers
Five deadly assassins are recruited into a game of cat and mouse by the mysterious Jonin!
But what does the Jonin want from them, and what do they gain out of helping him?
Each of these assassins can channel their ki in different ways, granting them incredible abilities!
In Shops: Jul 31, 2019
SRP: $3.99 RESONANT #1 CVR A (MR)
VAULT COMICS
MAY192035
(W) David Andry (A/CA) Alejandro Aragon
A decade has passed since the first Waves hit, unleashing humanity's darkest impulses and plunging the world into chaos. Paxton, a single father of three, must venture from the secluded haven they've built to restock the medicine his chronically-ill youngest son needs to survive. When the somewhat routine trip goes awry, Paxton and his children-now separated-will battle everything in their path to reunite.
In Shops: Jul 17, 2019
SRP: $3.99 SERA & ROYAL STARS #1 CVR A
VAULT COMICS
MAY192037
(W) Jon Tsuei (A/CA) Audrey Mok
Civil war rages in the Empire of Parsa, and famine has struck. As the seasons refuse to turn, Princess Sera receives a vision from the deity Mitra telling her to find the Royal Stars and restore them to the heavens. Despite her kingdom and her troops' need of her command, Sera embarks on a quest to find the fallen stars-now trapped on earth-and save her people from dearth and death.
In Shops: Jul 17, 2019
SRP: $3.99 BELLE OATH OF THORNS #1 CVR A VITORINO
ZENESCOPE ENTERTAINMENT INC
MAY192050
(W) Dave Franchini (CA) Igor Vitorino
Belle is back! After her life was recently turned upside down, things have finally begun to settle for Anabelle "Belle" DiMarco. Now, working with the organization known as C.H.I.P. she has more allies than she has ever had in her war against the beasts who threaten mankind. But, with her new allies comes a new mission, and the price she will be asked to pay may not be worth the cost. Get ready to be pulled back into Belle's world as she learns more secrets of her family and is put to the test in this new limited series, Belle: Oath of Thorns!
In Shops: Jul 03, 2019
SRP: $3.99 GFT PRESENTS SWIMSUIT EDITION 2019 ONE SHOT #1 CVR A REYES
ZENESCOPE ENTERTAINMENT INC
MAY192061
(W) Dave Franchini (CA) Alfredo Reyes
Just in time for summer, comes the Grimm Fairy Tales 2019 Swimsuit Special! Get ready to check out all of your favorite Grimm Universe heroines and villainesses, soaking up the sun while wearing the season's hottest swimsuit fashions! Some of the industry's top artists contribute gorgeous pin-ups of the Grimm Universes' most popular female characters in this stunning collection. Also includes a never before published Grimm Fairy Tales short story!
In Shops: Jul 03, 2019
SRP: $5.99