BOOM! STUDIOS GO GO POWER RANGERS FOREVER RANGERS #1 MAIN
BOOM! STUDIOS
APR191201
(W) Ryan Parrott (A) Eleonora Carlini (CA) Dan Mora
Everything in Go Go Power Rangers has been leading to THIS MOMENT! Don't miss the epic conclusion as The Power Rangers face off against Alpha 1 and the reveal of Rita's true plan; a familiar newcomer whose arrival in Angel Grove will change everything.
In Shops: Jun 19, 2019
DARK HORSE COMICS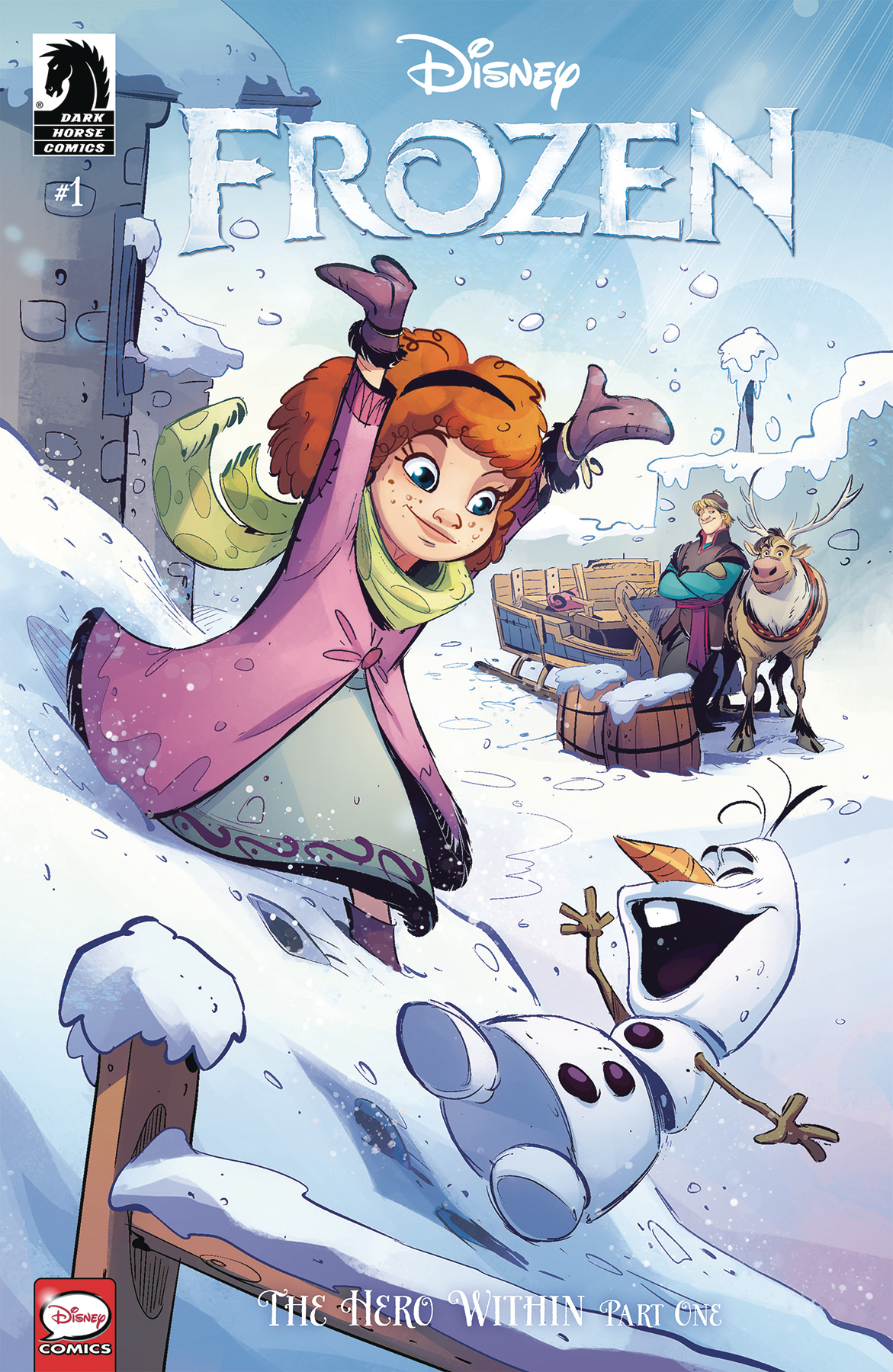 DISNEY FROZEN HERO WITHIN #1 KAWAII CREATIVE STUDIO
DARK HORSE COMICS
APR190215
(W) Joe Caramagna (A/CA) Kawaii Creative Studio
Olaf's friend from the orphanage, Hedda, receives a personal invitation to Arendelle Castle. Although she has an amazing imagination, this is something she never dreamed would happen, especially with the way some of the other kids treat her. But as Kristoff knows and tells, life at an orphanage can be unpredictable and full of surprises . . .
o Meet Hedda, a new character in the Frozen comic book series, who has a wild imagination!
o Hear a story from Kristoff's past!
o Frozen 2 in theaters fall 2019!
In Shops: Jun 05, 2019
SRP: $3.99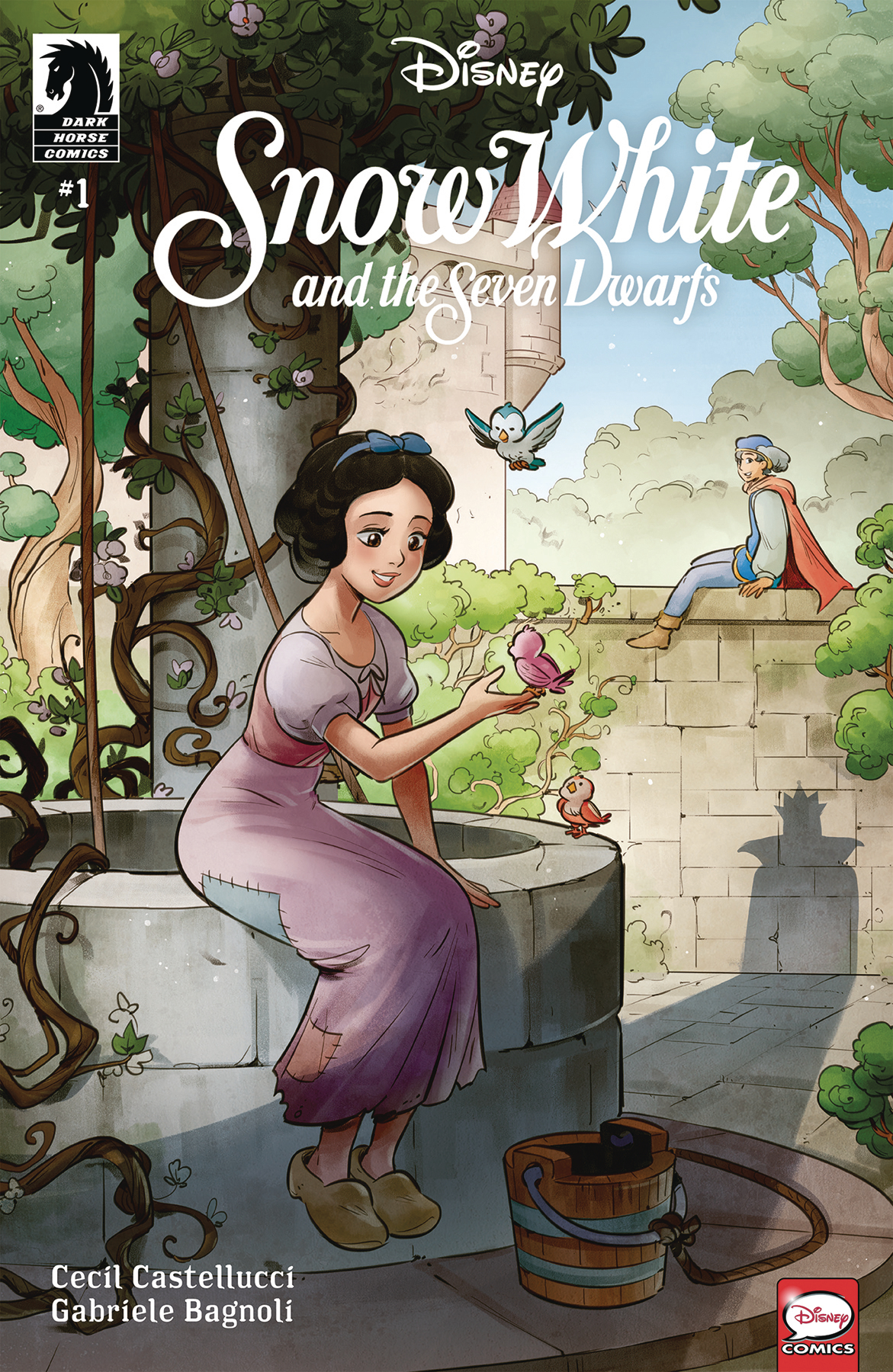 DISNEY SNOW WHITE AND SEVEN DWARFS #1 (OF 3)
DARK HORSE COMICS
APR190317
(W) Cecil Castellucci (A/CA) Gabriele Bagnoli
Relive the classic Disney fairy tale through the first-person perspective of Snow White herself in this comic retelling. Snow is more than a damsel in distress; she possesses a heart and soul that yearn for knowledge, love, and acceptance. But confined to the castle with her stepmother the queen, is life beyond only a dream?
o The classic tale of Snow White told through the perspective of Snow herself!
In Shops: Jun 19, 2019
SRP: $3.99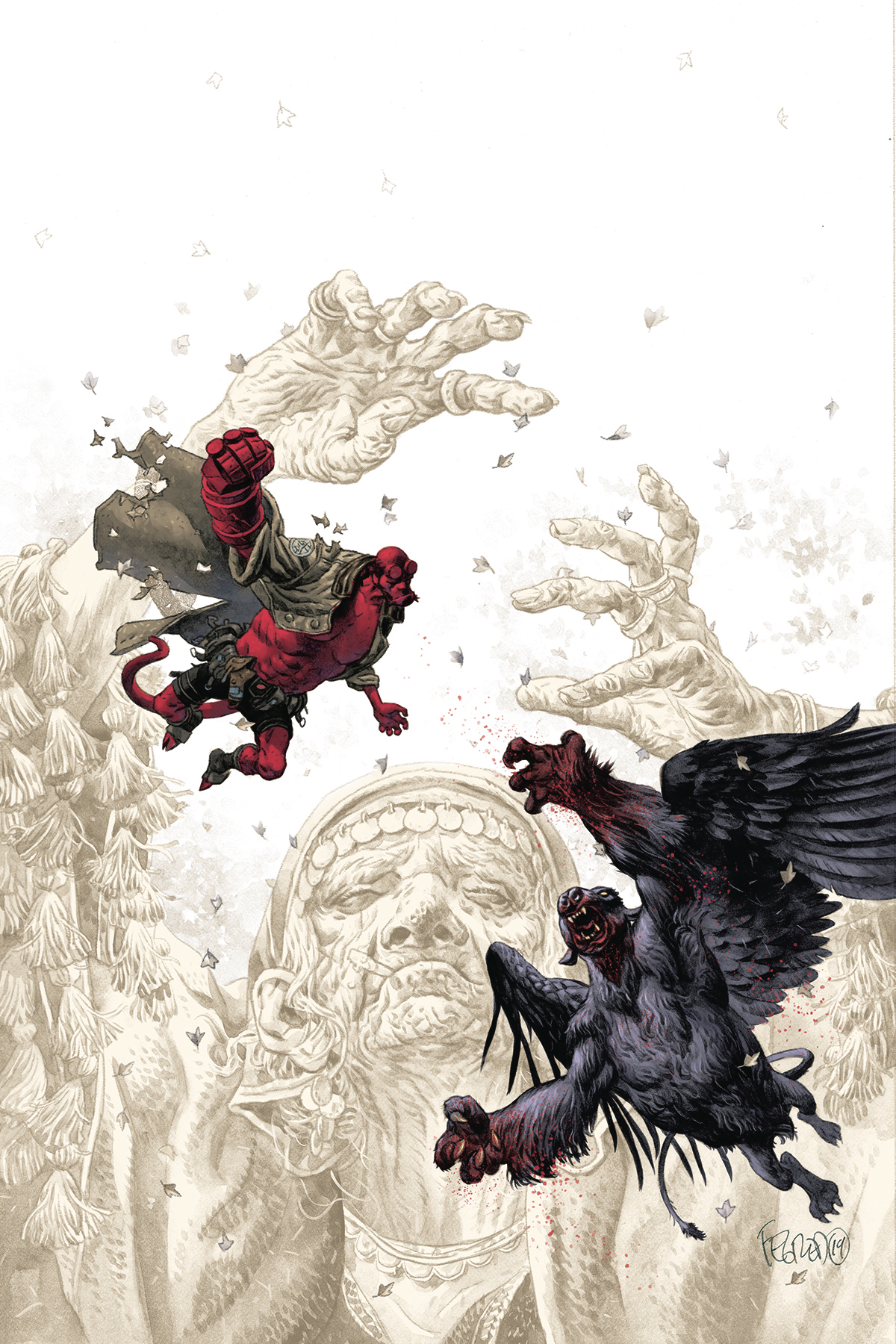 HELLBOY AND BPRD BEAST OF VARGU CVR A FEGREDO
DARK HORSE COMICS
APR190224
(W) Mike Mignola (A) Dave Stewart (A/CA) Duncan Fegredo
Mike Mignola and fan-favorite artist Duncan Fegredo reunite in this all-new one-shot! This first issue in a new era of Hellboy and the B.P.R.D. sees Mignola and Fegredo send Hellboy to Romania for a pair of tales set in a small village with a centuries-old curse and a man-eating monster which culminate in a sinister puppet show and a demigod's ill-fated dinner.
In Shops: Jun 19, 2019
SRP: $3.99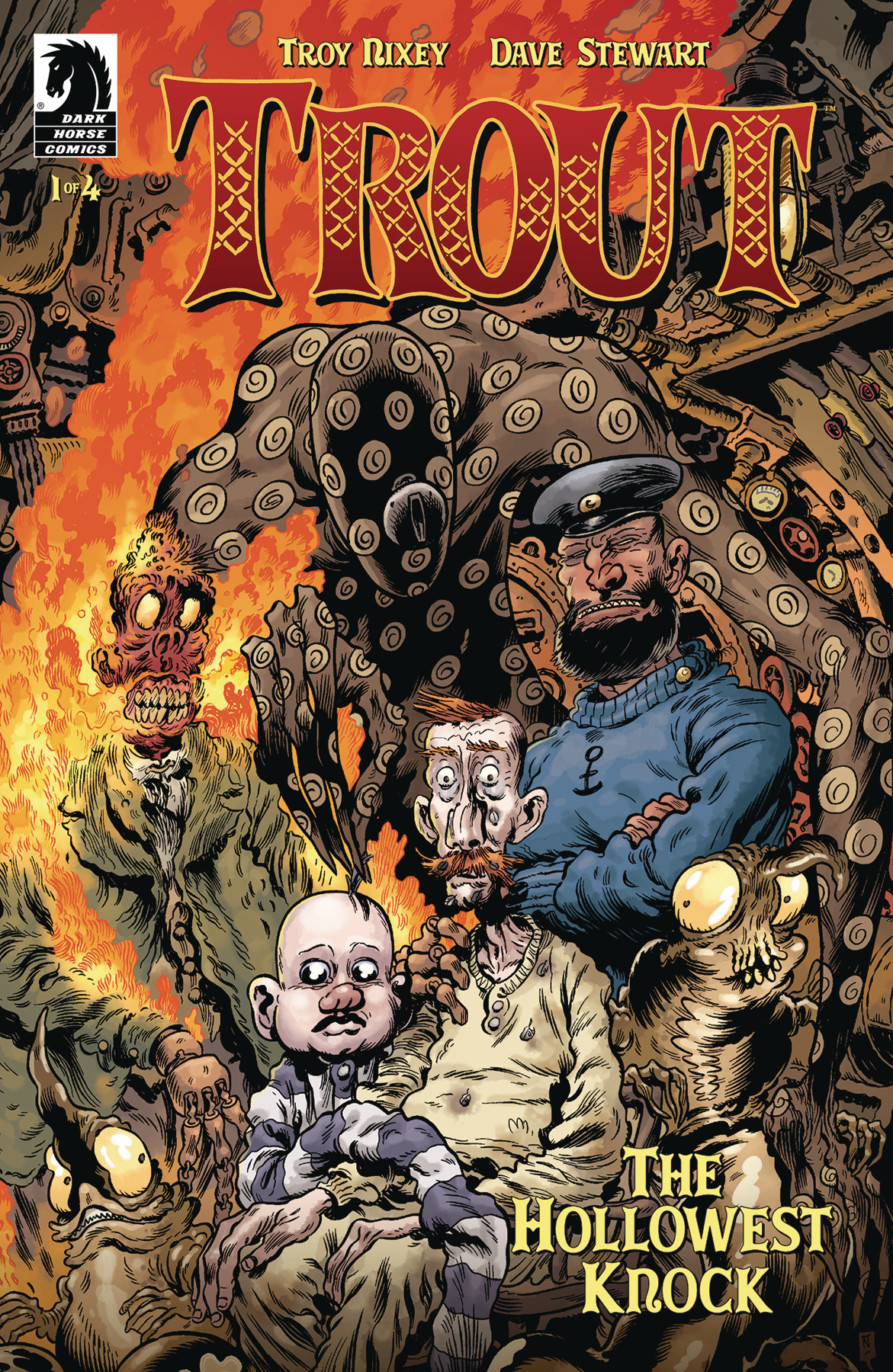 TROUT HOLLOWEST KNOCK #1 (OF 4)
DARK HORSE COMICS
APR190308
(W) Troy Nixey (A) Dave Stewart (A/CA) Troy Nixey
Blaming him for the loss of the children of lower Upton, the townsfolk burn down Giuseppe's turnip factory and run him and Trout out of town. Sick and distraught, the two have no other recourse but to travel across the ocean to Giuseppe's childhood village. Trout is lost along the way, and Giuseppe is forced to deal with his brother's meddling in order to find the mysterious little boy he's sworn to protect. Can Giuseppe find him before Trout meets his fate at the hands of the god of the sea?! And who is the shadowy figure trapped in a giant shark egg who is struggling to keep Trout alive?! One thing's for certain: for better or worse, Trout will never be the same again.
In Shops: Jun 19, 2019
SRP: $3.99
DC COMICS EVENT LEVIATHAN #1 (OF 6)
DC COMICS
APR190430
(W) Brian Michael Bendis (A/CA) Alex Maleev
The groundbreaking and always-inventive team of writer Brian Michael Bendis and artist Alex Maleev (Jinxworld's SCARLET, Marvel's Daredevil) reunite on a mystery thriller that stretches across the DC Universe and touches every character from Batman to Superman to the Question to Talia al Ghul. With startling ease, a newly dangerous and aggressive Leviathan wipes out all its competition and now turns its sights to molding the world into its vision of order. Can the new threat's growth be stopped...and who's guiding its new agents of chaos?
RATED T+
Includes a code for a free digital download of this issue.
In Shops: Jun 12, 2019
SRP: $3.99 SUPERMAN YEAR ONE #1 (OF 3) MILLER COVER (MR)
DC COMICS
APR190433
(W) Frank Miller (A) Danny Miki, John RomitaJr (CA) Frank Miller
From the burning world of Krypton to the bucolic fields of Kansas, the first chapter of SUPERMAN YEAR ONE tracks Clark Kent's youth in Kansas, as he comes to terms with his strange powers and struggles to find his place in our world. DC BLACK LABEL is proud to present the definitive origin of Superman as rendered by the legendary comics creators Frank Miller and John Romita Jr.!
PRESTIGE FORMAT
MATURE READERS
In Shops: Jun 19, 2019
SRP: $7.99 SUPERMAN YEAR ONE #1 (OF 3) ROMITA COVER (MR)
DC COMICS
APR190432
(W) Frank Miller (A/CA) Danny Miki, John RomitaJr
From the burning world of Krypton to the bucolic fields of Kansas, the first chapter of SUPERMAN YEAR ONE tracks Clark Kent's youth in Kansas, as he comes to terms with his strange powers and struggles to find his place in our world. DC BLACK LABEL is proud to present the definitive origin of Superman as rendered by the legendary comics creators Frank Miller and John Romita Jr.!
PRESTIGE FORMAT
MATURE READERS
In Shops: Jun 19, 2019
SRP: $7.99
DYNAMITE ENTERTAINMENT RED SONJA BIRTH OF SHE DEVIL #1 CVR A PARRILLO
DYNAMITE
APR190987
(W) Luke Lieberman (A) Sergio Davila (CA) Lucio Parrillo
An early tale of the She-Devil! Explore the early years of the wild and untamed Sonja the Red, before she because the scourge of Hyboria - Red Sonja! Retaining her trademark armor and flame-filled hair - and temper, writer Luke Liberman (Red Sonja: Doom of the Gods) and artist Sergio Davila (Conan) deliver high adventure and horror as they introduce the demon conqueror Raka and his devil's brew, which turns men against their fellow men (and everyone in their way!). Also featuring the return of Sonja's early mentor, Ozzyus!
Look for a trio of incredible covers: Master Painter Lucio Parillo, interior artist Sergio Davila and the return of cosplaying favorite, Shannon Kingston!
In Shops: Jun 12, 2019
SRP: $3.99 WARLORD OF MARS ATTACKS #1 CVR A JOHNSON
DYNAMITE
APR191002
(W) Jeff Parker (A) Dean Kotz (CA) Dave Johnson
JEFF PARKER (Aquaman, Future Quest) and DEAN KOTZ (Dungeons & Dragons) invite you to behold the battle between the dashingly heroic John Carter Of Mars and the never-endingly power-hungry little green men of Mars Attacks! HOW has John encountered never encountered these Martians before!? WHY do these cackling monsters want to conquer Mars? And WHAT happens when the war spills over to Earth!? Find out in the stunning first chapter, ATTACK FROM SPACE!
In Shops: Jun 19, 2019
SRP: $3.99
IDW PUBLISHING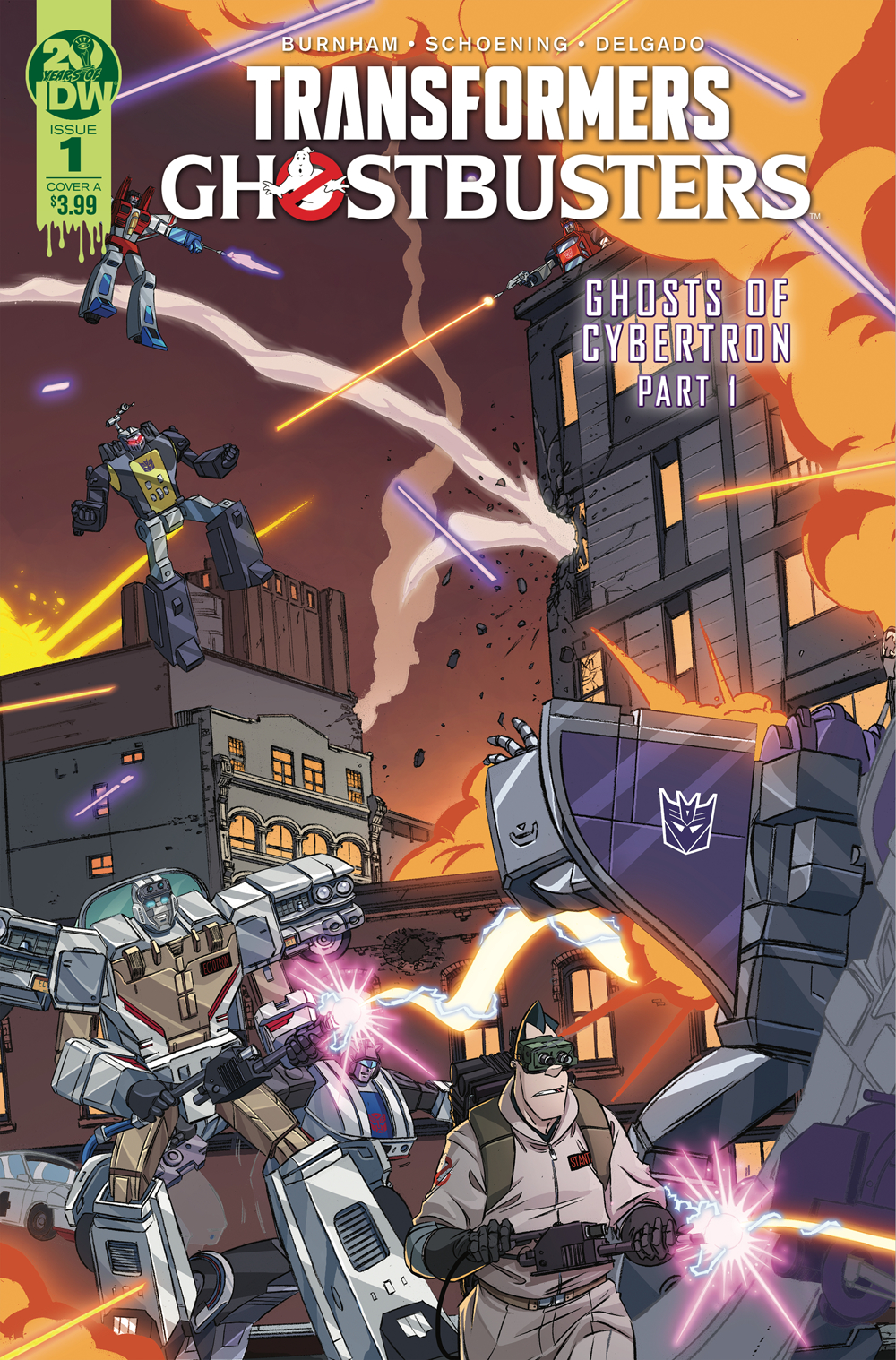 TRANSFORMERS GHOSTBUSTERS #1 CVR A SCHOENING
IDW PUBLISHING
APR190595
(W) Erik Burnham (A/CA) Dan Schoening
"GHOSTS OF CYBERTRON" PART 1! After years of civil war, the Autobots fled Cyberton, leaving their home planet in the evil clutches of Megatron and his Decepticons. Years later and millions of miles away, the Autobots pick up a Cybertronian distress signal from a mysterious planet called Earth. The ghostly signal shouldn't exist, and it'll bring Optimus Prime and his team-including brand-new Autobot ECTOTRON-face-to-face with... the GHOSTBUSTERS!
Crossing the streams after 35 years!
Written and illustrated by the long-time fan-favorite Ghostbusters creative team of Erik Burnham, Dan Schoening, and Luis Antonio Delgado!
Five action-packed interconnecting covers from series artist Dan Schoening!
The series will also include covers from superstar artists like Nick Roche, Alex Milne, Paulina Ganucheau, Priscilla Tramontano, and more!
In Shops: Jun 19, 2019
SRP: $3.99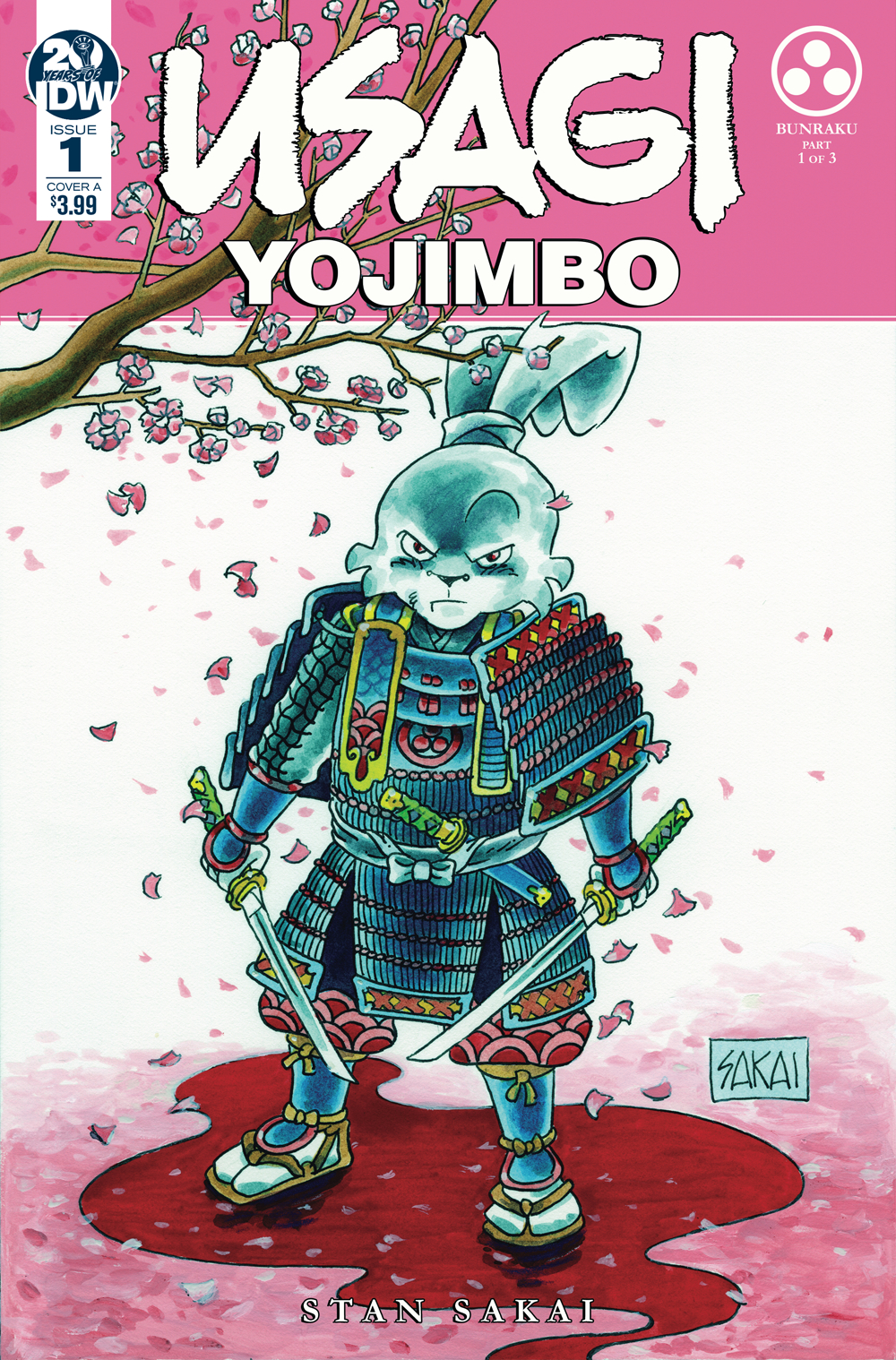 USAGI YOJIMBO #1 CVR A SAKAI
IDW PUBLISHING
APR190591
(W) Stan Sakai (A/CA) Stan Sakai
Follow the adventures of rabbit r?nin Miyamoto Usagi as he wanders Edo period Japan on his warrior's journey. In the start of this three-part story, Usagi becomes embroiled in a puppet drama where the players are not quite what they seem! Written, drawn, and lettered by comics legend Stan Sakai! Colors by Tom Luth (Groo the Wanderer)!
The start of an exciting new chapter in the epic ongoing saga of Usagi, now published by IDW!
Exciting retail incentive variants are offered for the serialized Usagi Yojimbo series for the first time!
This series will be in all color!
In Shops: Jun 19, 2019
SRP: $3.99
CANTO #1 (OF 6) CVR A ZUCKER
IDW PUBLISHING
APR190645
(W) David M. Booher (A/CA) Drew Zucker
Canto's adventure begins! Enslaved for generations, Canto's people once had hearts. Now they have clocks. When slavers damage a little tin girl's clock beyond repair, Canto must brave his strange and fantastic world to bring back her heart. Can he overcome the dangers that await to save the one he loves?
An all-ages fable inspired by Wizard of Oz and Dante's Inferno.
Part fantasy. Part adventure. All heart.
In Shops: Jun 26, 2019
SRP: $3.99
CROW HACK SLASH #1 CVR A SEELEY
IDW PUBLISHING
APR190642
(W) Tim Seeley (A) Jim Terry (A/CA) Tim Seeley
The crow flies.
A soul is brought back.
But something is wrong.
Angeles Cero won't stop killing on her quest for revenge, and the bodies are piling up.
Now, slasher hunter Cassie Hack and her monstrous partner Vlad are on the trail of the Crow Killer, assuming her to be one of the masked murderers they've hunted for years.
But they aren't the only force trying to make the universe right again.
From writer/artist, Tim Seeley (Green Lanterns, Nightwing, Shatterstar).
Featuring an all-new Crow unlike any you've read before!
In Shops: Jun 19, 2019
SRP: $3.99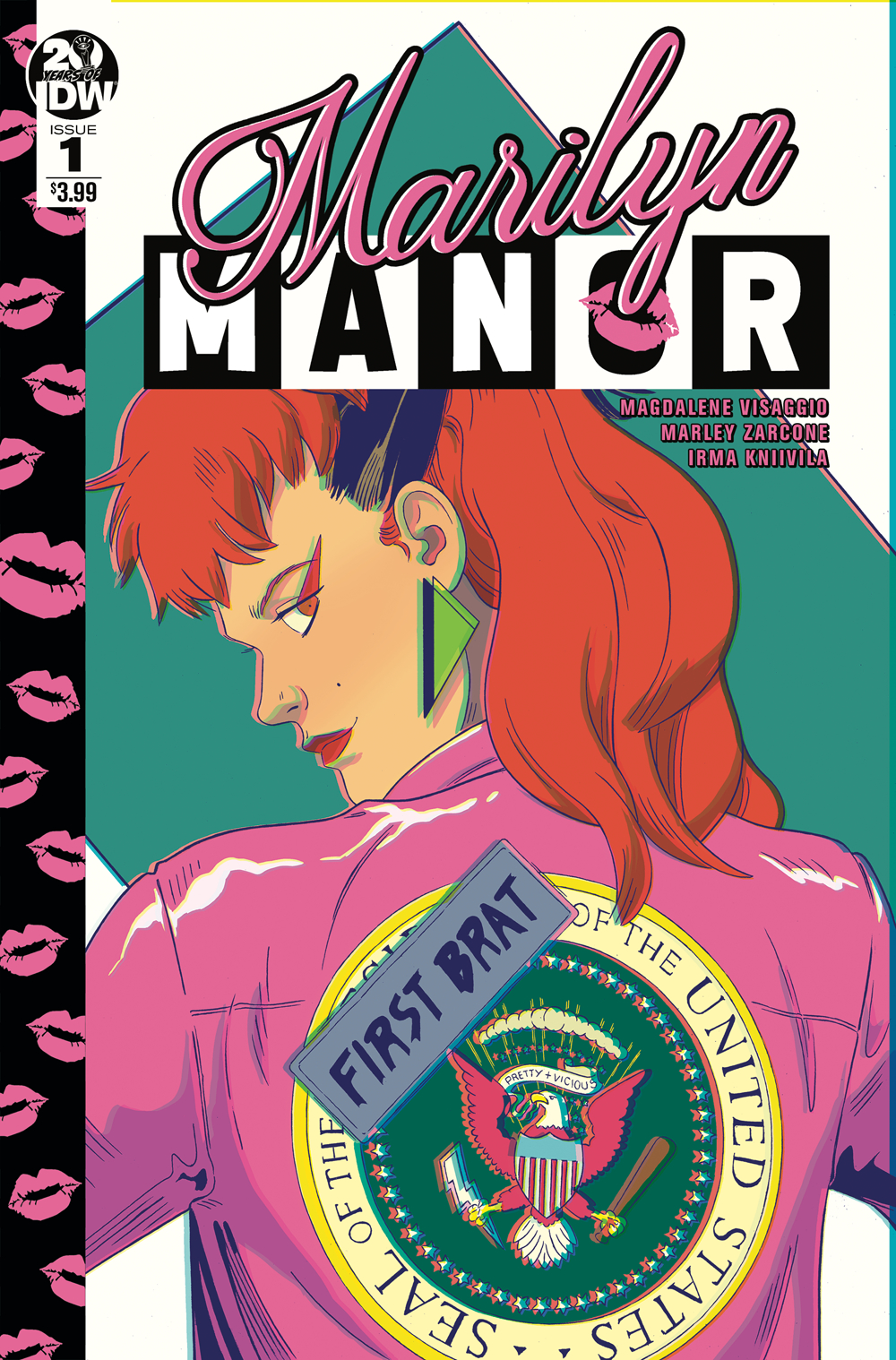 MARILYN MANOR #1 CVR A ZARCONE
IDW PUBLISHING
APR190702
(W) Magdalene Visaggio (A/CA) Marley Zarcone
Where were you in '81? When the White House goes dark for 17 days in August, the president's spoiled daughter and her best friend Abe-who claims to be possessed by the spirit of Abe Lincoln-throw a rager at 1600 Pennsylvania Avenue, unearthing long dead historical figures and government secrets that are better off buried. Sex, drugs, rock 'n' roll séances, and secret passageways lead to time-bending mystical romps where past and present collide. But at what cost to Marilyn Kelleher, the world at large, and music television?
Uniting the red-hot Eisner-nominated talents of writer Magdalene Visaggio (Eternity Girl, Kim and Kim) and artist Marley Zarcone (Shade, the Changing Girl, Effigy) for the first time, MARILYN MANOR explores identity, classism, appropriation, and friendship. It's a rollicking, neon party gone out of bounds when we need it most-set just in time for the greatest pop cultural marriage to date: MTV.
"We've been trying to capture the feel, the excitement, the energy of the rise of the New Romantics, of the decade that embraced excess and excitement in hugely over-the-top ways, and filled it with chaos and insanity. This is the weirdest thing I've ever written in the best way possible, like an apocalypse directed by John Hughes."
In Shops: Jun 26, 2019
SRP: $3.99 MARVEL ACTION CLASSICS CAPTAIN AMERICA CVR A HENRY
IDW PUBLISHING
APR190628
(W) Scott Gray, Roger Langridge (A) Craig Russeau, Matteo Lolli (CA) Clayton Henry
Four tales for the price of one! Captain America, living legend of World War II, battles spies in Hollywood and M.O.D.O.K.'s predecessor P.R.O.D.O.K.... but nothing prepares him for spending the next few decades frozen in ice! When he comes to in the present day, Hydra strikes and Cap learns the action hasn't let up-the Marvel Action, that is!
Classic Captain America tales from the legendary vault of heroes!
All-ages action in the past and present!
Reprints Marvel Adventures Super Heroes #8 and #12!
In Shops: Jun 12, 2019
SRP: $4.99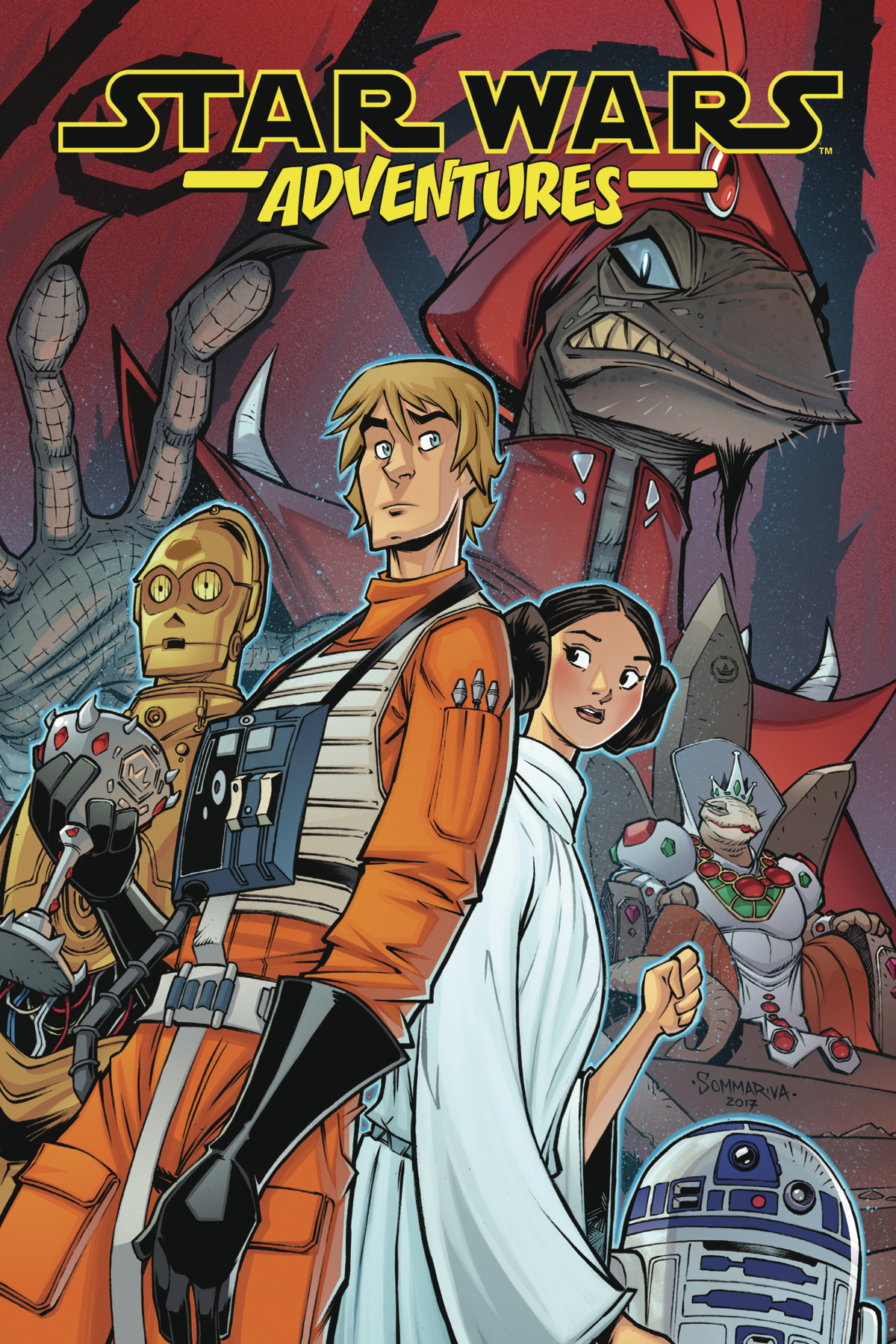 STAR WARS ADVENTURES TREASURY EDITION ORIGINAL TRILOGY
IDW PUBLISHING
APR190663
(W) Various (A) Various (CA) Jon Sommariva
Revisit your favorite Star Wars Adventures stories in a giant-sized format fit for a Wookiee! Join Luke, Leia, Han, and the rest of your favorite rebels on their exploits during the trilogy that started it all!
In Shops: Jun 26, 2019
SRP: $9.99
IMAGE COMICS RIDE BURNING DESIRE #1 (OF 5) CVR A HUGHES (MR)
IMAGE COMICS
APR190014
(W) Doug Wagner (A) Daniel Hillyard (A/CA) Adam Hughes
THE RIDE celebrates its 15th anniversary with a five-part story from the award-winning team of PLASTIC, plus a special backup feature from ADAM HUGHES! After serving a hard 15 years in prison on a murder plea, former Atlanta P.D. detective Samantha Vega now makes her living as a bouncer at an exotic dance club. But life on the outside isn't easy, especially when enemies have scores to settle...
In Shops: Jun 12, 2019
SRP: $3.99 THUMBS #1 (OF 5) (MR)
IMAGE COMICS
APR190011
(W) Sean Lewis (A/CA) Hayden Sherman
Imagine someone like, say, Mark Zuckerberg created his own army of tech-obsessed teens and directed them to take on the government. What would the fallout be? Charley "Thumbs" Fellows is a member of just such an army. Poor and raised by the influential MOM app, he finds himself in the center of a war. The Social Network meets Blade Runner in this big event book from the team that brought you the hit series THE FEW!
In Shops: Jun 05, 2019
SRP: $4.99 SONATA #1 CVR A HABERLIN & VAN DYKE (MR)
IMAGE COMICS
APR190019
(W) David Hine, Brian Haberlin (A/CA) Brian Haberlin, Geirrod Van Dyke
"THE FALL"-In this all-new series from DAVID HINE (THE BULLETPROOF COFFIN), BRIAN HABERLIN (WITCHBLADE), and GEIRROD VAN DYKE (SPAWN, MEDIEVAL SPAWN/WITCHBLADE), two cultures clash on a planet they each believe is their Promised Land. The Rans are a peace-loving people, but the Tayans are a race of warriors who seek to colonize and control. The mysterious Sleeping Giants also call this place home, though no one knows if they're monsters or the gods of legend. And amidst all this, a young woman named Sonata is willing to break all the rules to find her place in this world-and she's not about to let sleeping gods lie.
In Shops: Jun 12, 2019
SRP: $3.99 WEATHERMAN VOL 2 #1 CVR A FOX (MR)
IMAGE COMICS
APR190204
(W) Jody LeHeup (A/CA) Nathan Fox
Nathan Bright has no memory of his alleged role in the terrorist attack that killed 18 billion people, but that isn't stopping him from trying to atone for the actions of his past self. Hunted by literally everyone in the galaxy, Nathan's quest for redemption takes him to the scene of the crime-where he discovers that Earth's not lifeless at all... it's monstrous! This summer, writer JODY LEHEUP (SHIRTLESS BEAR-FIGHTER!), artist NATHAN FOX (HAUNT, DMZ), and colorist MORENO DINISIO (BLACK SCIENCE) return with the hotly anticipated second chapter of their jaw-dropping, critically acclaimed sci-fi sensation!
In Shops: Jun 26, 2019
SRP: $3.99
MARVEL COMICS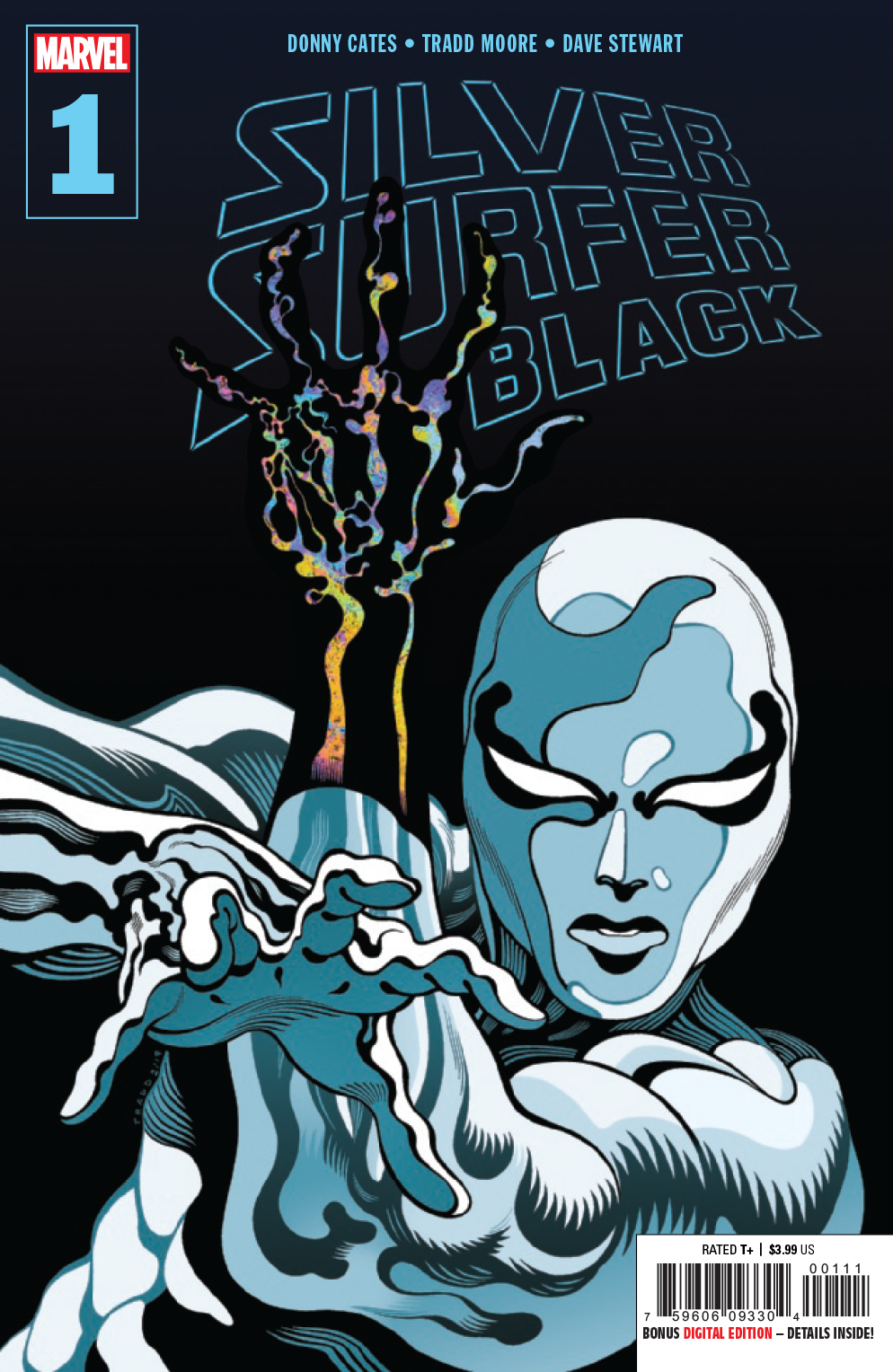 SILVER SURFER BLACK #1 (OF 5)
MARVEL COMICS
APR190783
(W) Donny Cates (A/CA) Tradd Moore
Spinning out of GUARDIANS OF THE GALAXY #1, almost the entire galaxy's defenders have been blown through a black hole, including the Silver Surfer! But the story doesn't end there... In order to fight back the oblivion, Surfer will have to fight to save his own soul and not lose himself to the void. Follow the Sentinel of the Spaceways on a journey that will change him forever!
From superstars Donny Cates (VENOM, GUARDIANS OF THE GALAXY) and Tradd Moore (ALL-NEW GHOST RIDER, VENOM)!
Rated T+
In Shops: Jun 12, 2019
SRP: $3.99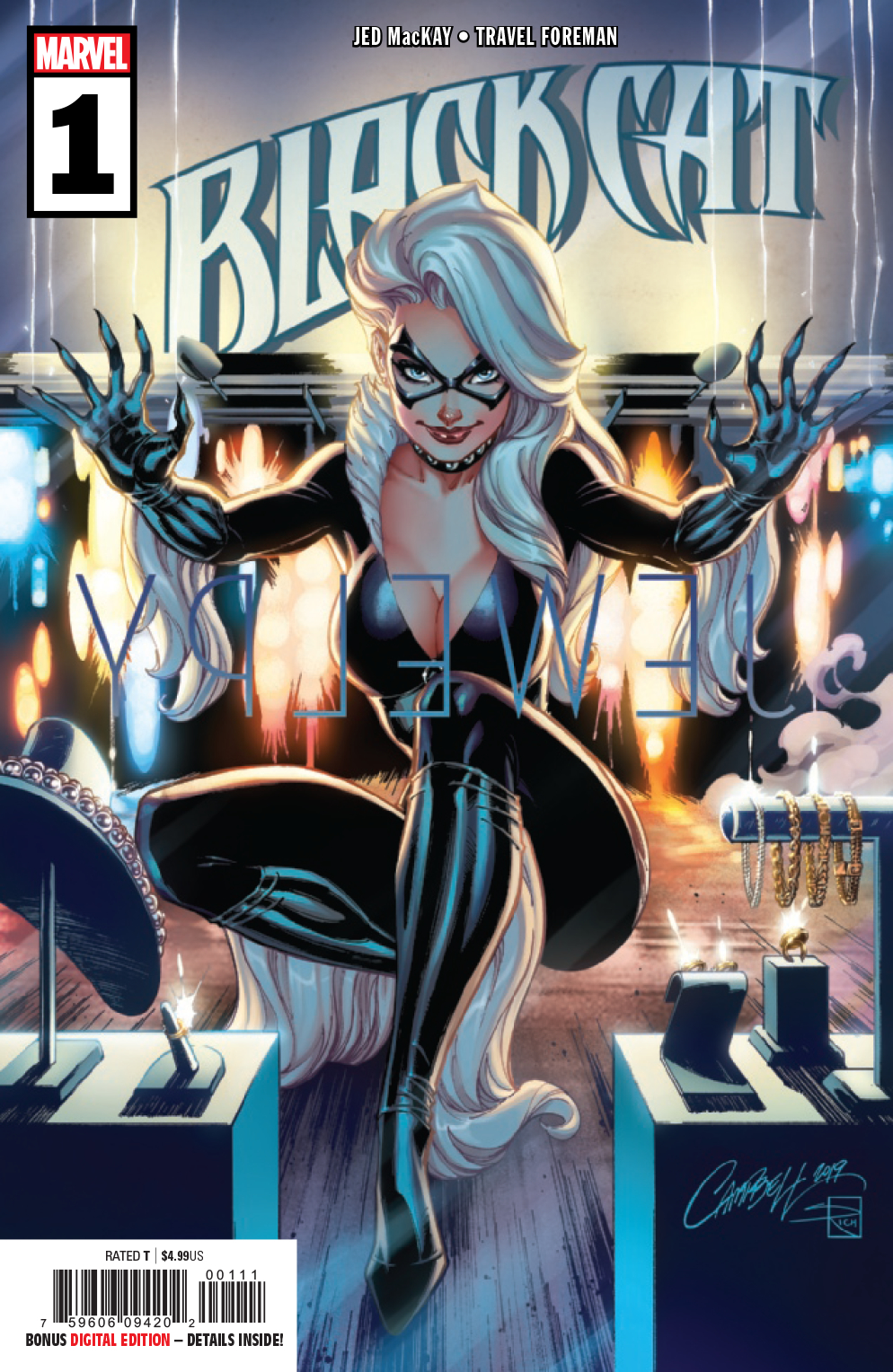 BLACK CAT #1
MARVEL COMICS
APR190773
(W) Jed MacKay (A) Travel Foreman (CA) J. Scott Campbell
SPINNING OUT OF THE PAGES OF AMAZING SPIDER-MAN!
ALL-NEW ONGOING SERIES!
The Black Cat is back and starring in her first ever ongoing series! Felicia Hardy has a taste for the finer things in life and a certain set of skills that can get her into any mansion, vault or museum to...procure said finer things. But due to her actions in AMAZING SPIDER-MAN, Felicia's not only on the run from the police but also by the New York Theives Guild and their boss ODESSA DRAKE! High-octane heists, climactic chases and twist after twist that will keep you on the edge of your seat like a cat on a perch. IN THIS ISSUE: Find out a secret from Cat's past in a bonus story that sets a foundation for the future! All this and an all-new MARVEL MEOW short story by Nao Fuji!
Rated T
In Shops: Jun 05, 2019
SRP: $4.99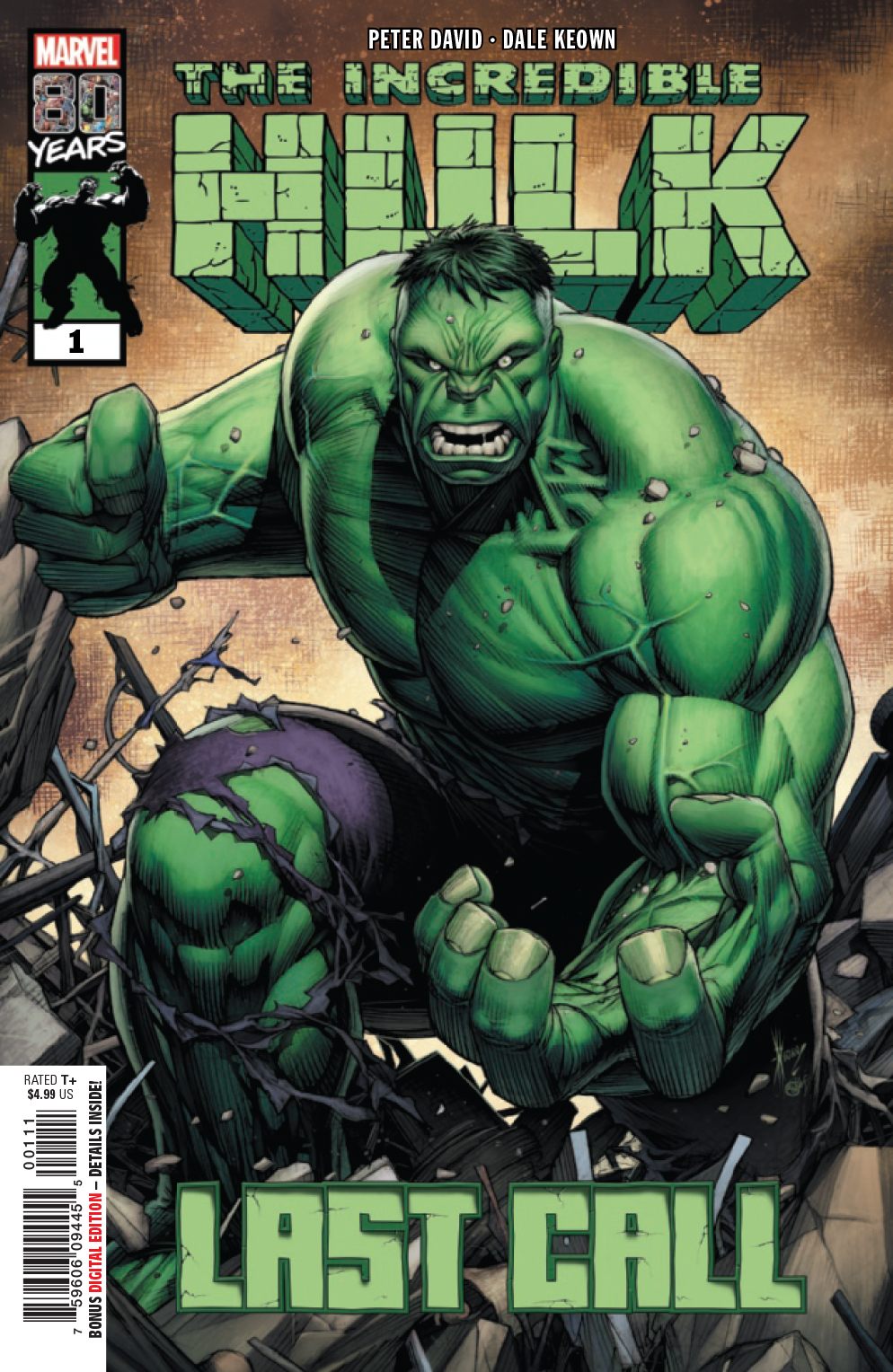 INCREDIBLE HULK LAST CALL #1
MARVEL COMICS
APR190789
(W) Peter David (A/CA) Dale Keown
HULK LEGENDS, PETER DAVID & DALE KEOWN, REUNITE!
In his twelve-year stint on THE INCREDIBLE HULK, Peter David redefined the Green Goliath for generations of fans and creators. Artist Dale Keown drew some of that run's most beloved and influential issues. Now the pair return to their incredible collaboration for a special oversized one-shot issue! Bruce Banner is tired of being the Hulk. Heck, he's tired of being. But just when he's about to lose all hope, a miracle occurs: a fight worthy of the Incredible Hulk.
Rated T+
In Shops: Jun 05, 2019
SRP: $4.99 MARVEL TALES SPIDER-MAN #1
MARVEL COMICS
APR190814
(W) Stan Lee, Archie Goodwin, Al Milgrom (A) John RomitaSr, Don Heck, More (CA) Jen Bartel
Spider-Man swings into onto the stage as we celebrate the 80th Anniversary of the House of Ideas with the era-spanning MARVEL TALES! This anthology series shines a spotlight on fan-favorite characters, features timeless stories, and highlights some of our most impressive talent from the past eight decades. First, Spidey faces the mind-bending madness of Mysterio in a classic showdown from the boundless imaginations of Stan Lee, John Romita Sr. and Don Heck - the villain's special effects have never been bigger than in AMAZING SPIDER-MAN (1963) #66! Then meet Jessica Drew, the startlingly different Spider-Woman in in MARVELSPOTLIGHT (1971) #32 - to know her is to fear her! And finally, with the webslinger missing, the Black Cat steals the spotlight! Can frantic Felicia Hardy find her Spider - or will she find adventure? Surprises are in store in SPECTACULAR SPIDER-MAN (1976) #90!
Rated T
In Shops: Jun 12, 2019
SRP: $7.99
WOLVERINE EXIT WOUNDS #1
MARVEL COMICS
APR190884
(W) Chris Claremont, Larry Hama, Sam Keith (A) Salvador Larroca, Sam Keith, More (CA) Ryan Stegman
WOLVERINE LEGENDS, Chris Claremont, Larry Hama & Sam Keith REUNITE!
He goes by many names... Patch...Weapon X...Logan...but most just call him THE WOLVERINE. Join Marvel's greatest storytellers for three brand-new untold tales of the X-Men's deadliest member. Blood, broads, and blades... you asked for it, bub!
Rated T
In Shops: Jun 26, 2019
SRP: $4.99 SPIDER-MAN REPTILIAN RAGE #1
MARVEL COMICS
APR190841
(W) Ralph Macchio (A) Christopher Allen (CA) Todd Nauck
PETER PARKER's got a real shot - a chance for a spot in a competitive Empire State University program as a high school student. Nothing's going to keep him from his goal...unless the old Parker luck strikes again! And a crime boss's interference with an experiment of DR. CURT CONNORS threatens to do just that, as an unexpected run-in heralds the return of the deadly LIZARD! But if SPIDER-MAN is going to save the day, does that mean Peter Parker will have to sacrifice his future? A tale of great power and the cost of responsibility in the mighty Marvel manner!
Rated T
In Shops: Jun 26, 2019
SRP: $3.99
INDIE VYDAVATEĽSTVÁ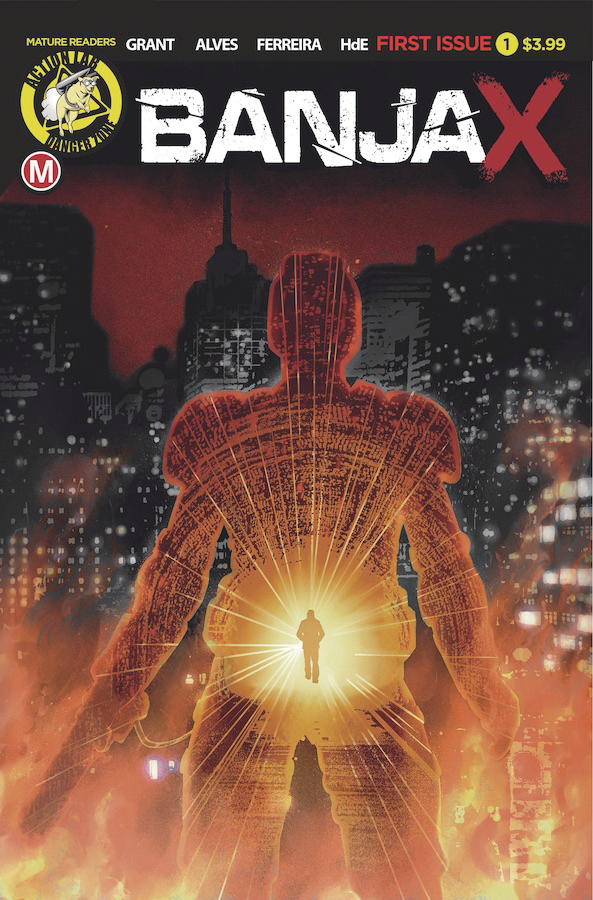 BANJAX #1 CVR A ALVES (MR)
ACTION LAB - DANGER ZONE
APR191268
(W) Rylend Grant (A/CA) Fabio Alves
Chapter 1: The Cure. A wholly original and delightfully twisted deconstruction of the superhero genre by Hollywood screenwriter/Aberrant-scribe Rylend Grant. Liard Mason, a disgraced former superhero, is diagnosed with terminal cancer, brought on by years of using his powers. Defending what he has deemed an ungrateful and ultimately unworthy city is literally killing him. With just months to live and a legacy hanging in the balance, Mason launches a violent and misguided Death Wish-like campaign to purge the city of supervillains before he dies.
In Shops: Jun 05, 2019
SRP: $3.99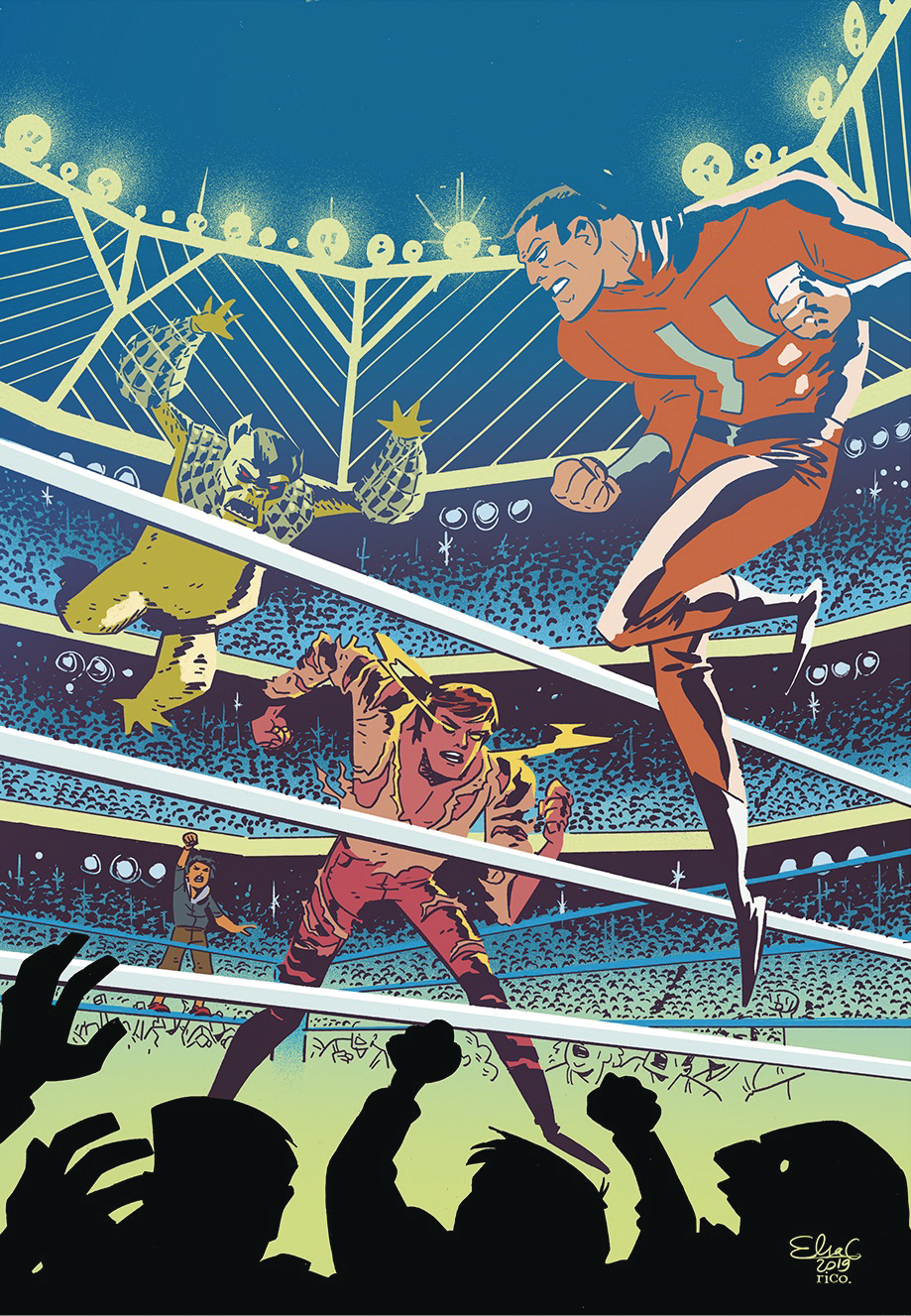 STEEL CAGE #1
AHOY COMICS
APR191332
(W) Mark Waid, Tom Peyer, Stuart Moore, Alan Robinson (A) Lanna Souvanny, Peter Gross (CA) Elsa Charretier
Three dazzling short "pilot" stories from AHOY's finest - and
you
get to vote on which series continues! In "Noah Zark" by Mark Waid and Lanna Souvanny, an alien boy is kidnapped into an interplanetary zoo-and becomes the protector of the animals. In "True Identity" by Tom Peyer and Alan Robinson, we learn what secret anguish drives the most beloved superhero on Earth! And Stuart Moore and Peter Gross's "Bright Boy" tells the grim tale of the world's smartest human and the havoc he leaves in his wake.
In Shops: Jun 26, 2019
SRP: $3.99 PRINCESS OF VENUS #1 MAIN CVR LE
AMERICAN MYTHOLOGY PRODUCTIONS
APR191355
(W) Pat Shand (A/CA) Alfret Le
At last, Duare, the Princess of Venus gets her own comic book origin story! The mysterious princess has prover herself a capable fighter alongside Carson Napier in the Edgar Rice Burroughs Universe, but how she obtained her fighting prowess has been a mystery... Until now! Before a strange Earthman named Carson crashed upon Amtor, a swashbuckling princess was forged, evolving from coddled royalty into a fiery fighter. Princess of Venus is available with three covers - Main Cover by interior artist Alfret Le, Venus Rising Cvr by Mike Wolfer, and Limited Edition 1/350 Pulp cover also by Le!
In Shops: Jun 12, 2019
SRP: $3.99 ROCKY & BULLWINKLE SEEN ON TV #1 MAIN ROPP CVR
AMERICAN MYTHOLOGY PRODUCTIONS
APR191369
Hey, look! There's New Adventures of Rocky & Bullwinkle on that internetty TV thing, and they're right here in comics, too! It's the return of one of the smartest and funniest cartoon comics ever created, featuring our two favorite goofball friends and those no-goodnik spies, Boris and Natasha. Today's riveting episode is "Journey to Just Below the Surface of the Earth" in which Rocky and Bullwinkle assist a Wossamatta U archaeologist in discovering the lost city of Atlantis in the darnedest place, the first chapter of an incredible, three-issue epic! Then, Mr. Peabody and his boy Sherman travel back in time to inspire the sculptor Rodin, and Fractured Fairy Tales presents the story of the Ant and the Grasshopper! You'll get all this, plus a classic reprint adventure in Rocky & Bullwinkle As Seen On TV #1, available with three covers - Main by Adrian Ropp, Dudley Do Right by Jacob Greenawalt, and a 350 copy Limited-Edition Retro Animation variant.
In Shops: Jun 05, 2019
SRP: $3.99 ZORRO MASTERS ALEX TOTH #1 MAIN CVR TOTH
AMERICAN MYTHOLOGY PRODUCTIONS
APR191367
(A/CA) Alex Toth
Celebrate 100 years of Zorro with stories illustrated by one of the all-time comics legends: Alex Toth! This special series delivers some of Toth's best, classic Zorro work and is a virtual master class in comic art, composition, and storytelling. If you're a fan of Zorro, a fan of comics, or even a fan of fine art, this series is not to be missed!
In Shops: Jun 19, 2019
SRP: $3.99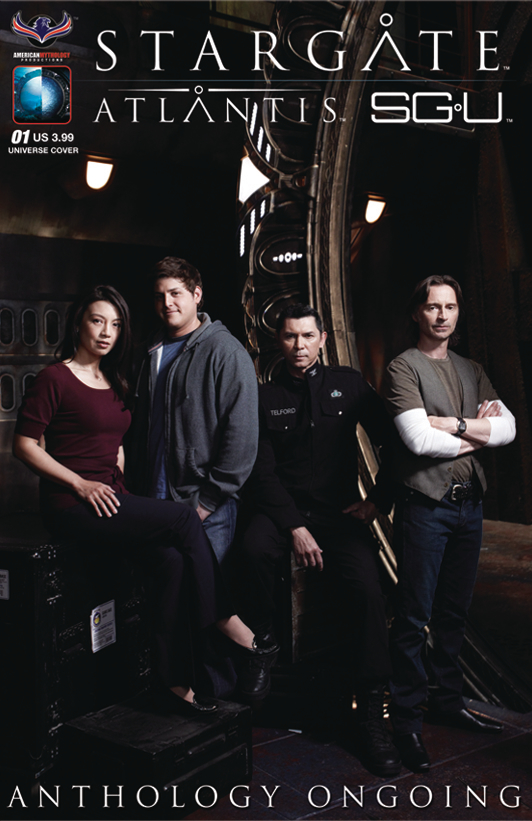 STARGATE ATLANTIS UNIVERSE ANTHOLOGY ONGOING #1 SGA PHOTO CV
AMERICAN MYTHOLOGY PRODUCTIONS
APR191380
(W) Mark L. Haynes, J. C. Vaughn (A) Eliseu Zeu Gouveia
Every issue of Stargate: Anthology is available again! Many of these editions are in short supply, so get yours while they're still available!
In Shops: May 29, 2019
SRP: $3.99 KONNICHIWA KAIJU KUN #1 (OF 6)
ANTARCTIC PRESS
APR191396
(W) LiLac (A/CA) LiLac
Prepare for a J-Popzilla blend of retro-manga delight! Japan, the early 1970s: The idol phenomenon has begun, and the competition between talents in the industry is very intense. One top group, a trio of sisters, is eager for promised fame and fortune, but first must follow an odd order from their CEO: Join the Earth Defense Force and titanic hero Ultra38 to protect Earth from giant monsters!
In Shops: Jun 26, 2019
SRP: $3.99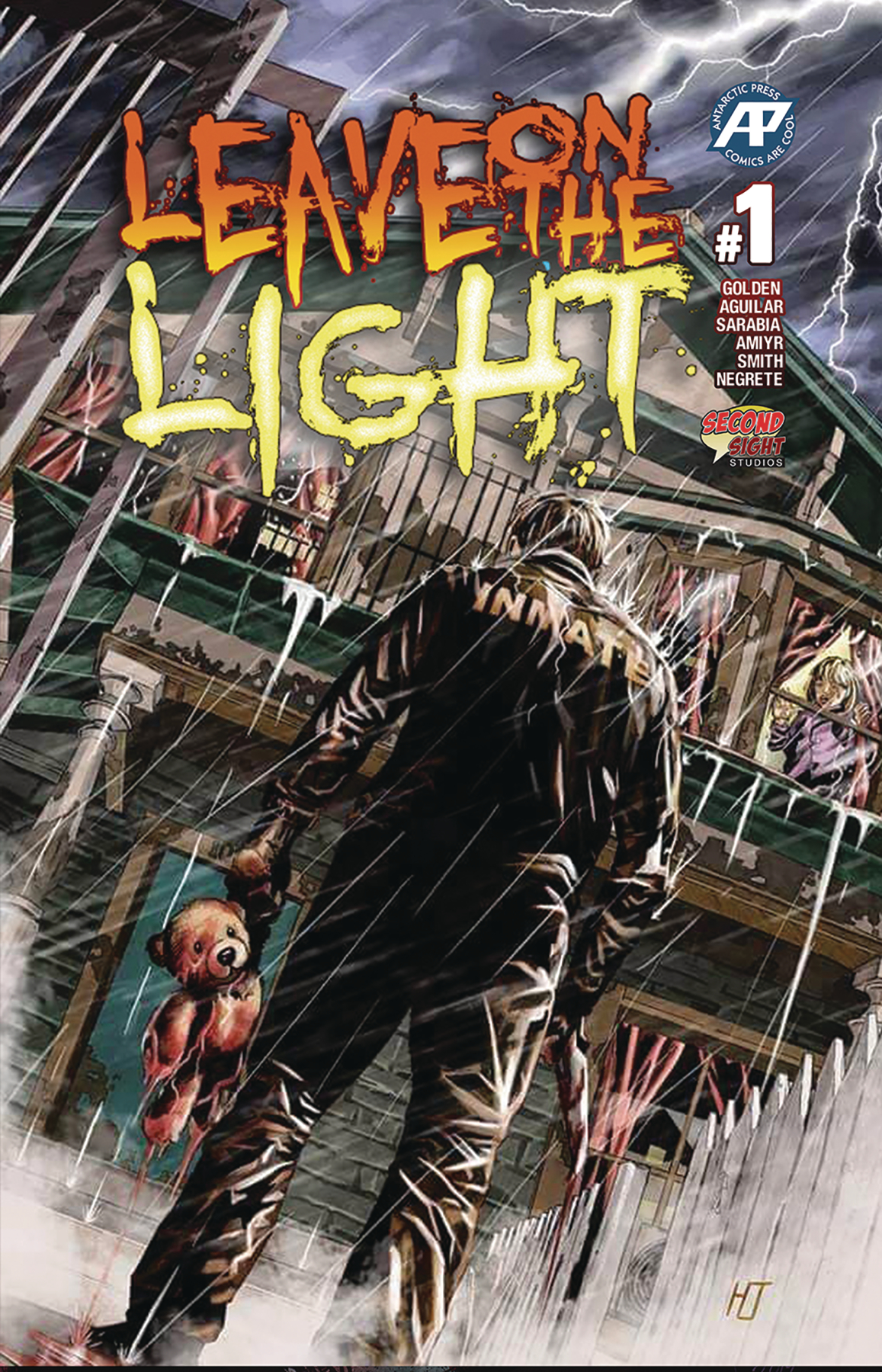 LEAVE ON THE LIGHT #1 (OF 3) MAIN CVR
ANTARCTIC PRESS
APR191400
(W) Bradley Golden, George Aguilar (A) Alex Sarabia (CA) Helmut Racho, Oscar Pinto
Brace yourself for a shocker of a horror story! In a small town near New York, an undead serial killer has begun claiming the lives of children by using the city's electrical system.
In Shops: Jun 26, 2019
SRP: $3.99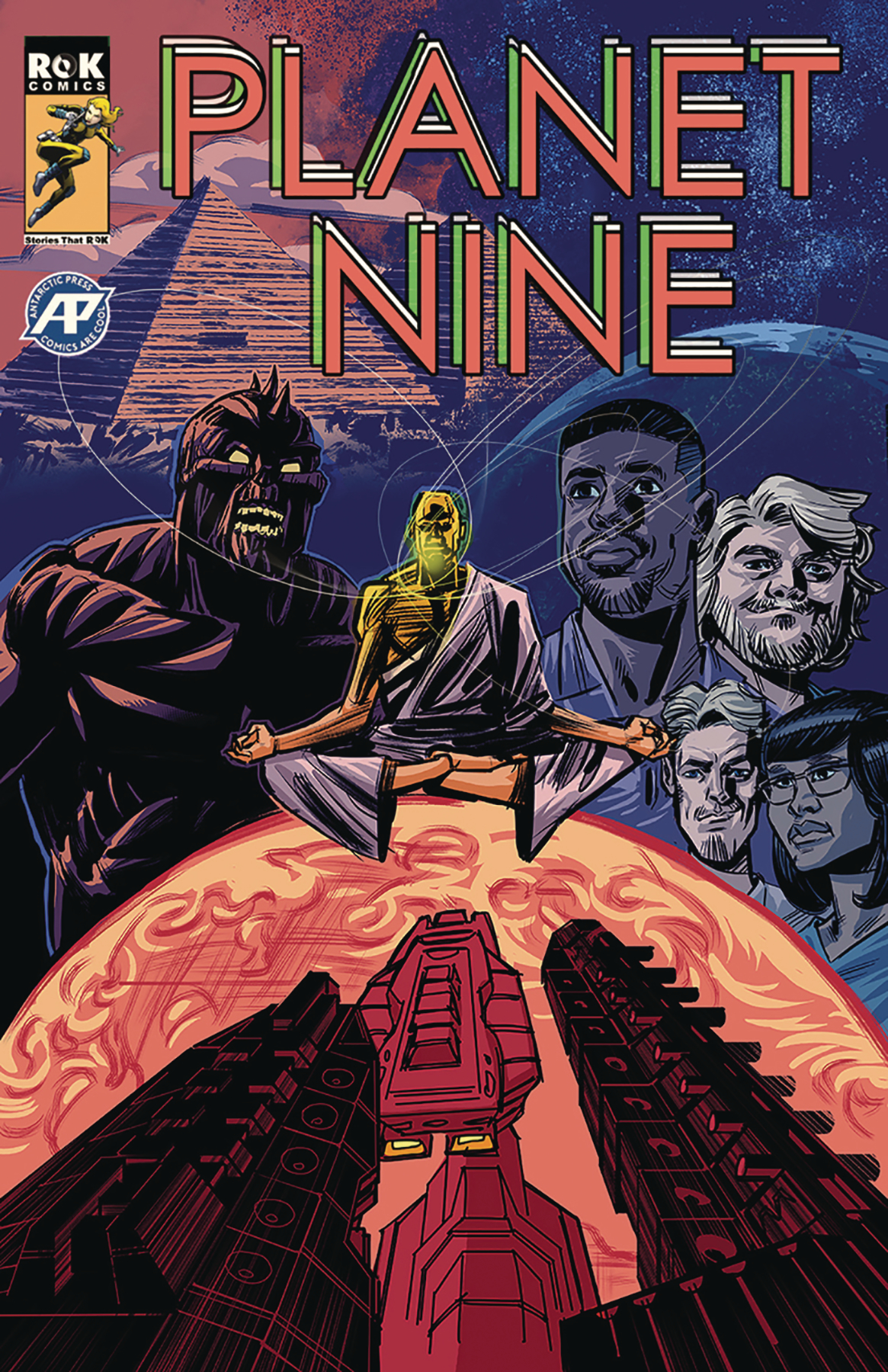 PLANET 9 #1 (OF 4)
ANTARCTIC PRESS
APR191394
(W) Matthew Spradlin (A) Tariq Hassan
A mysterious planet on the far side of the galaxy has come back into Earth's view after thousands of years. Its visitors want our help in order to preserve their way of life, but their true motives will bring our very existence toward dark conclusions. Our biggest questions about who we are and what lies ahead once we pass on to the other side will be answered. But be careful of the answers you seek... the answers may be terrifying!
In Shops: Jun 26, 2019
SRP: $3.99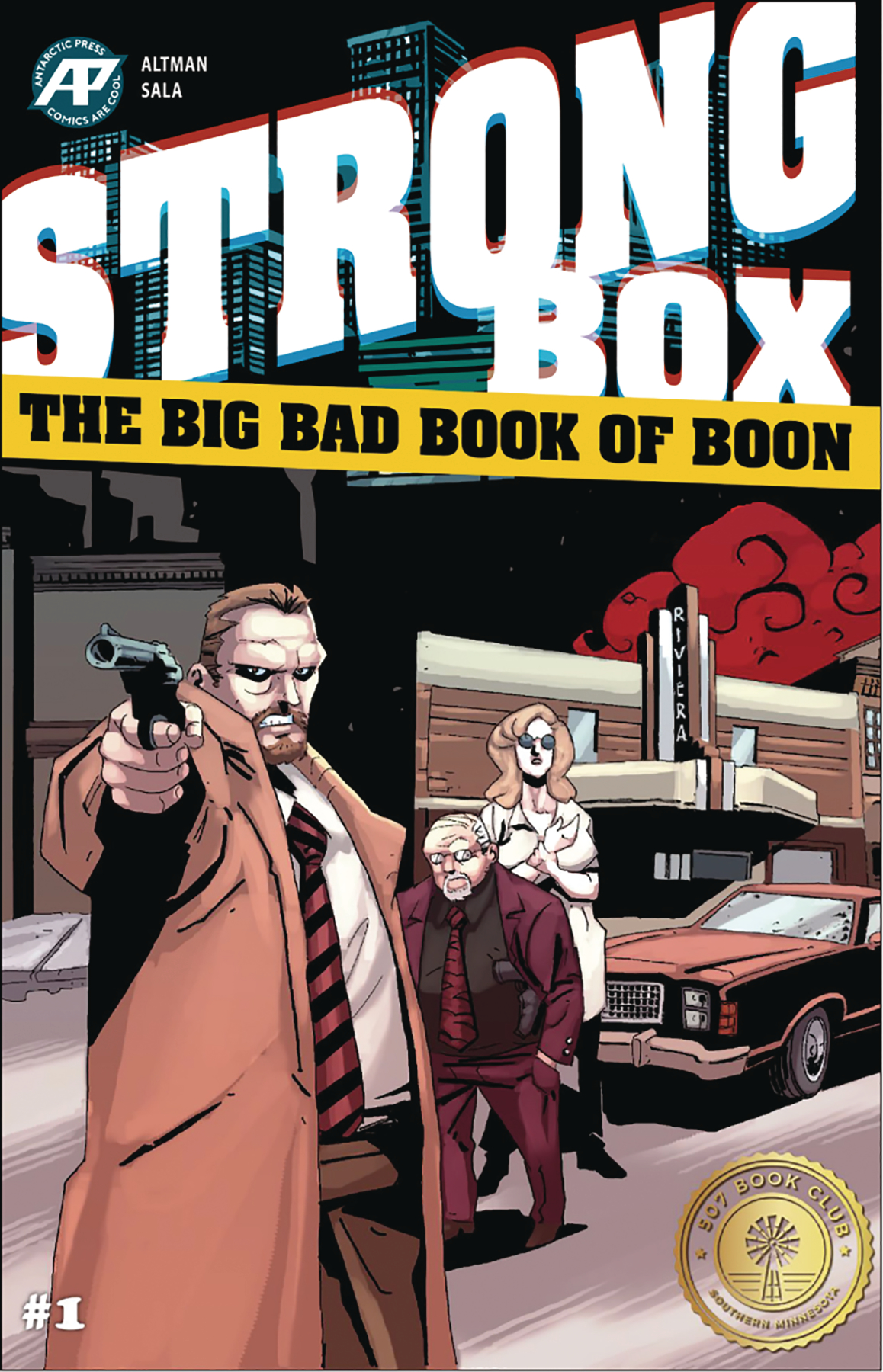 STRONG BOX BIG BAD BOOK OF BOON #1 (OF 8)
ANTARCTIC PRESS
APR191399
(W) H Thomas Altman (A) Sebastian Sala
Marked 4 Murder! 1980. A jogger is dead, killed very strangely. With fists and fury grizzled homicide detective Frank Boon must team up with inter-dimensional beings to battle through the back alleys and bureaucracy of Chugwater County, U.S.A. and solve the case!
In Shops: Jun 26, 2019
SRP: $3.99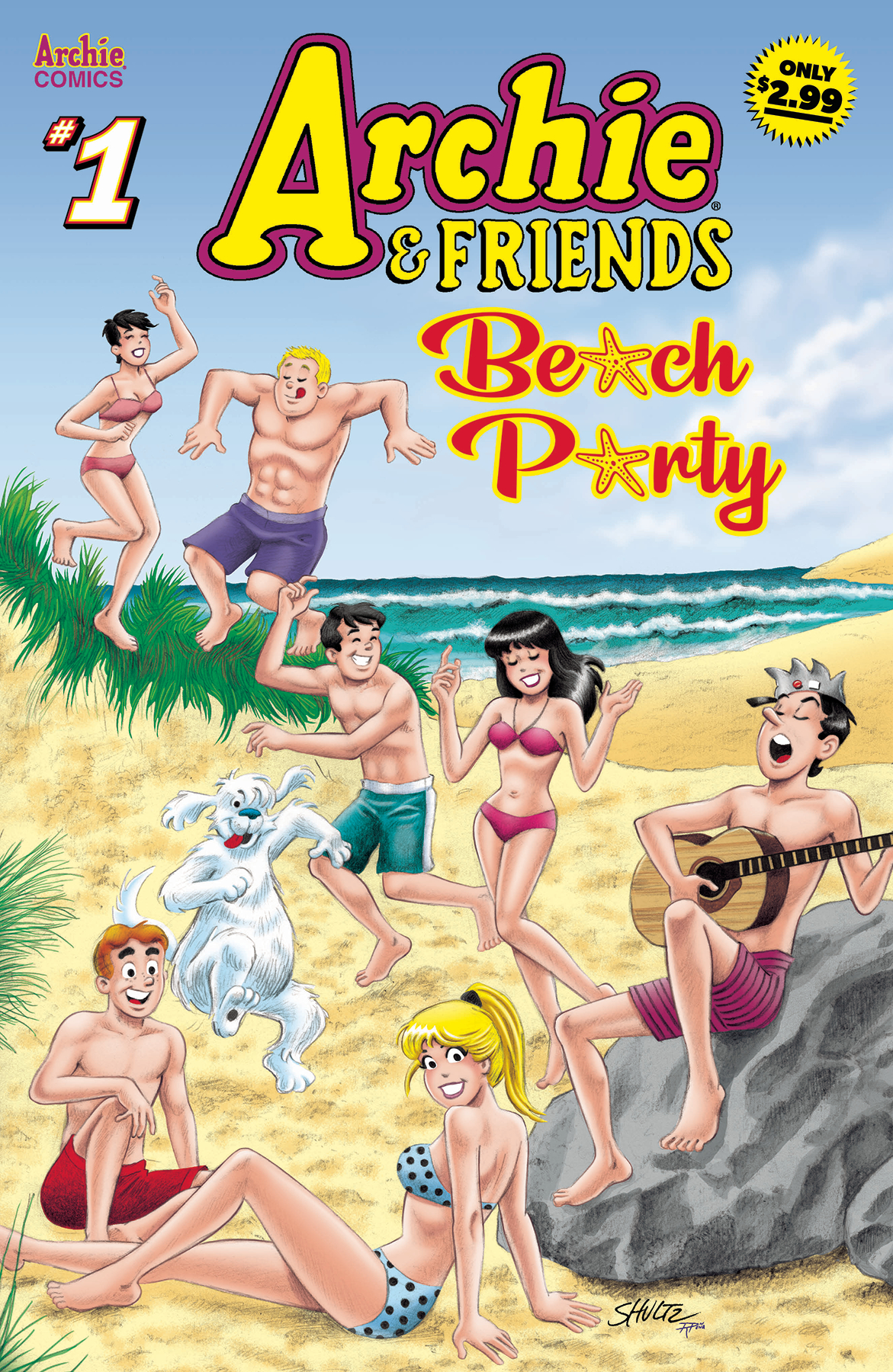 ARCHIE & FRIENDS BEACH PARTY #1
ARCHIE COMIC PUBLICATIONS
APR191431
(W) Dan Parent (A) Various (CA) Jeff Shultz
Get ready for fun in the sun with Archie and his pals 'n' gals! This new issue of Archie and Friends features an epic beach party with an unexpected guest, a water skiing mishap, a beach movie starring none other than Archie Andrews... and more in this collection of classic-style summer stories!
In Shops: Jun 12, 2019
SRP: $2.99 JUGHEAD TIME POLICE #1 CVR A CHARM
ARCHIE COMIC PUBLICATIONS
APR191413
(W) Sina Grace (A/CA) Derek Charm
BRAND NEW SERIES! When Jughead messes up his Riverdale Annual Bake-Off pie recipe so terribly, he is disqualified and banned from all future Bake-Offs! Jug goes to unthinkable lengths to fix his error: time travel! Even Riverdale's most erudite teenager can't manage the delicate dance of going back in time, and poor Juggie lands himself in an epic battle to keep the time stream intact!
In Shops: Jun 12, 2019
SRP: $3.99 SOULFIRE VOL 8 #1 CVR A FORTE
ASPEN MLT INC
APR191436
(W) J. T. Krul (A/CA) Raffaele Forte
Soulfire is back with its biggest story-and greatest challenge to its heroes ever!
Grace and Malikai have fought together to bring magic back to a world of technology, but now Grace is convinced that there is only room for one all-powerful source of energy. Magic. New battle lines are drawn. New enemies. New Allies. Fighting for the very future of the world itself. Behold The Battle of the Light!
Veteran Soulfire scribe J.T. Krul (Soulfire, Jirni) returns and teams up with rising star Raffaele Forté and colorist Valentina Taddeo (Aspen Visions: Soulfire) in this magical world-shattering new volume that will change the face of everything you know about the Soulfire Universe!
In Shops: Jun 26, 2019
SRP: $3.99 CROSSED PSYCHOPATH #1 (OF 7) PHOENIX (MR)
AVATAR PRESS INC
APR191486
(W) David Lapham (A) Raulo Caceres (CA) Jacen Burrows
Never before offered Crossed special editions! Special warehouse finds that we are serving up in Previews for the first time, all first printings, and very limited!
In Shops: Jun 26, 2019
SRP: $5.99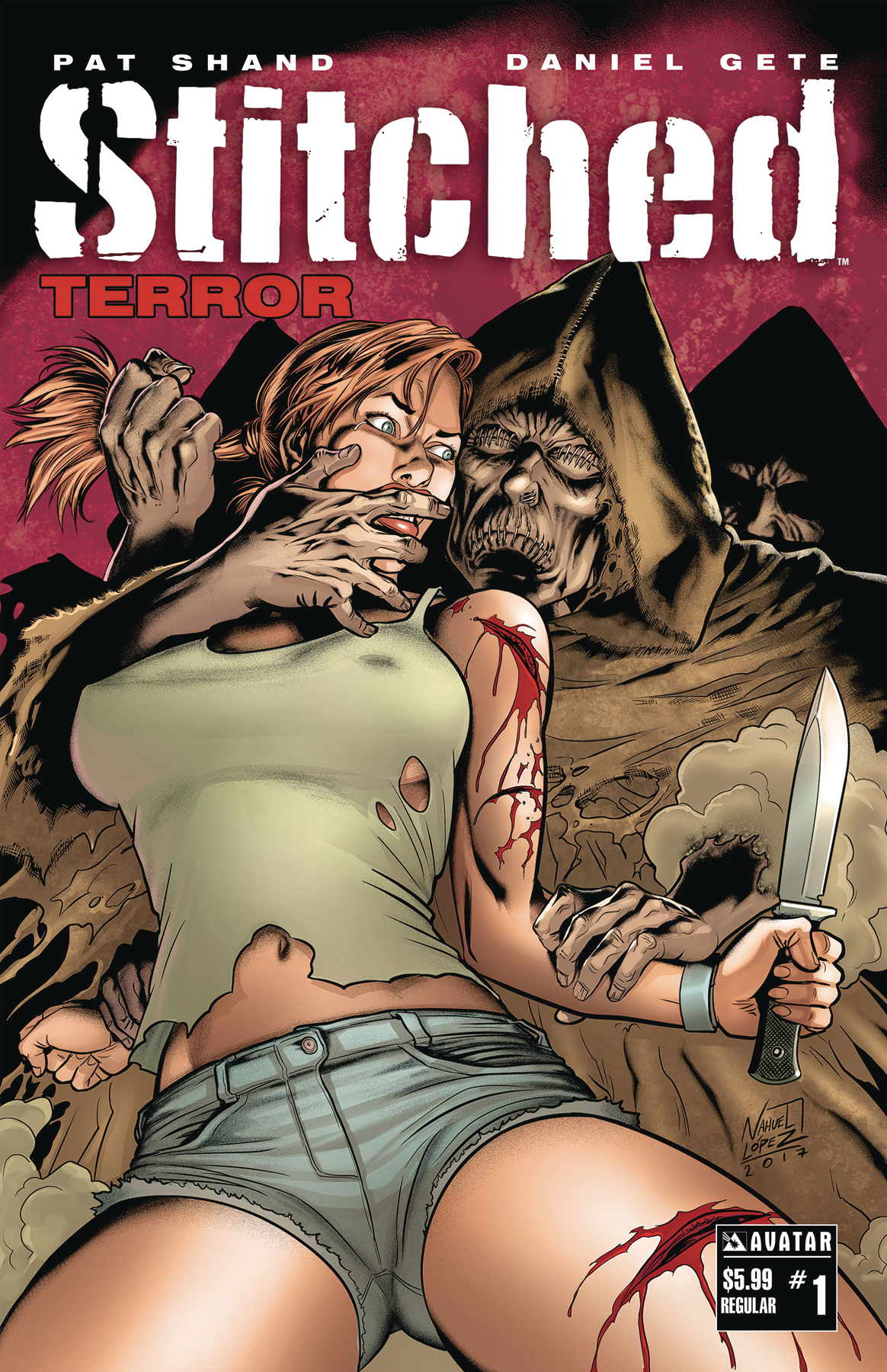 STITCHED TERROR #1 (RES) (MR)
AVATAR PRESS INC
APR191458
(W) Pat Shand (A) Daniel Gete (CA) Nahuel Lopez
All three issues of the Stitched: Terror epic are re-solicted for this month. All the contents are now done, and they will ship twice-monthly . Even better, we've now made all issues ad-free and added another story, by the same creators, telling the origin of this sleeper cell! The undead horror returns, and now unleashed in America in double-sized issues! Sheriff Kat Noble keeps the peace on a quiet border town. But as young girls start to go missing, she's pulled into a supernatural slaughterhouse and stumbles into the makings of the ultimate terror plot - Stitched loose in the streets of the USA! Pat Shand and Daniel (Uber) Gete make America scared again! Available with all-star cover art: Regular by Nahuel Lopez, Wraparound by Raulo Caceres, Gore by Matt Martin, Brutal and POV by Renato Camilo, Lurking by Christian Zanier , and topped off with Fifty Shades Intense, and Fifty Shades Torture covers by Camilo, each limited to 50 copies!
In Shops: Jun 26, 2019
SRP: $5.99
BENITEZ PRODUCTIONS
APR191492
(W) Joe Benitez, M. M. Chen (A) Martin Montiel (A/CA) Brian Ching, Joe Benitez
Lady Mechanika journeys to the Spanish countryside to hunt a demonic creature allegedly stalking the local bar n's son, but she quickly begins to suspect there's more to the case than meets the eye. What dark secrets are the Bar n and his wife so desperately trying to hide? Features a main story drawn by guest artist Brian Ching (Supergirl, Star Wars) with a prologue by Benitez and Montiel.
In Shops: Jun 05, 2019
SRP: $3.99 SPACE RIDERS VORTEX OF DARKNESS #1 (MR)
BLACK MASK COMICS
APR191498
(W) Carlos Giffoni (A/CA) Alexis Ziritt
It's been twenty years since the riders defeated the DESTROYER GOD OF EVIL and saved the galaxy. But when THE MOTHER OF ALL EVIL GODS appears and threatens to take control of every dimension and every strain of possible reality, the now cybernetically-enhanced ex-riders will come together and travel into her mind to ASSASSINATE HER SOUL!
It's a suicidal mission into an infinite vortex of blood and death!
In Shops: Jun 26, 2019
SRP: $3.99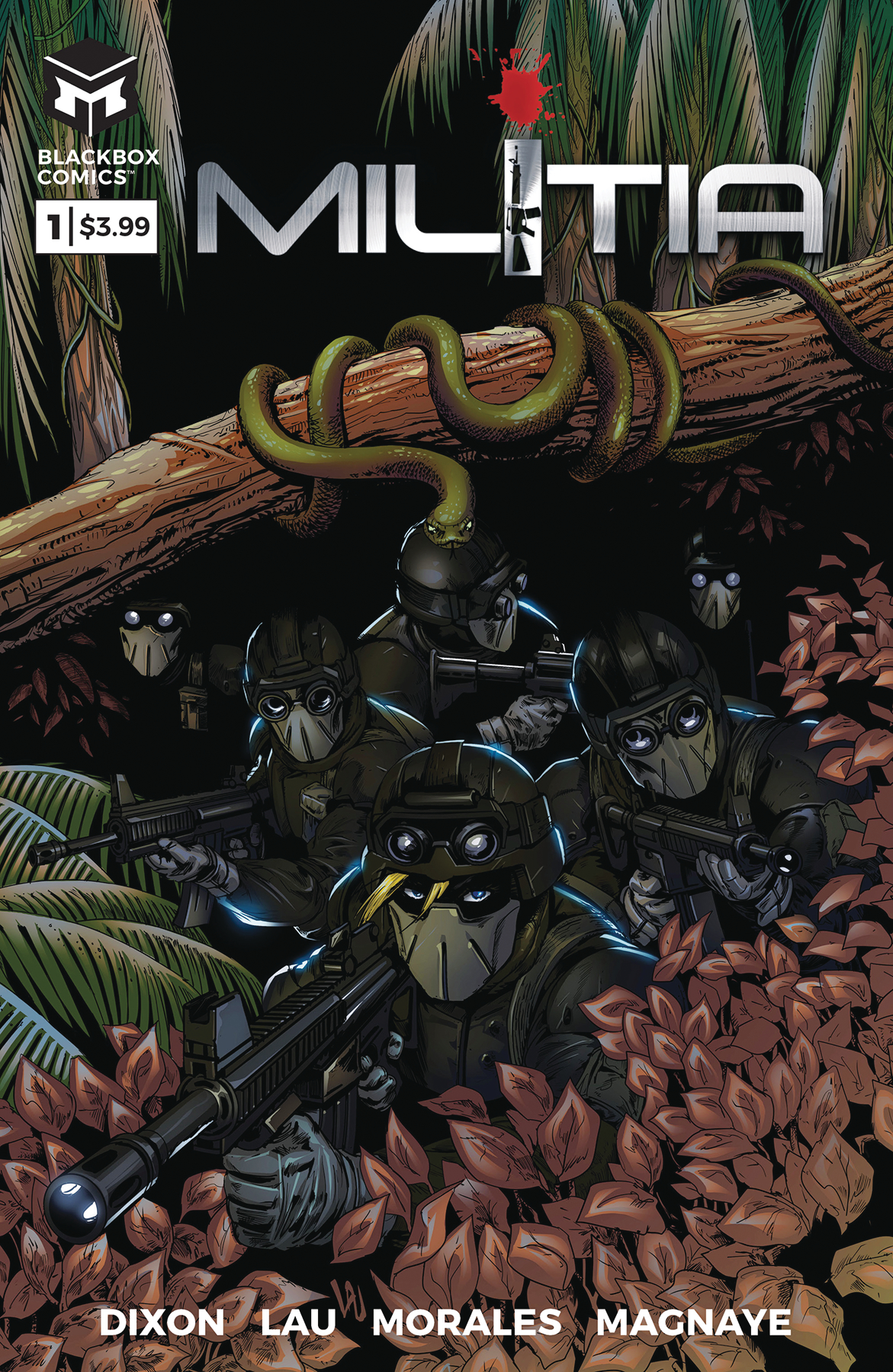 MILITIA #1
BLACKBOX COMICS
APR191500
(W) Chuck Dixon (A) Jethro Morales (CA) Jonathan Lau
When 40 young girls become pawns in a bloody civil war, the stakes are high. A special-forces unit is sent to show the world how it's done. Terror's worst nightmare, a woman with a gun.
In Shops: Jun 05, 2019
SRP: $3.99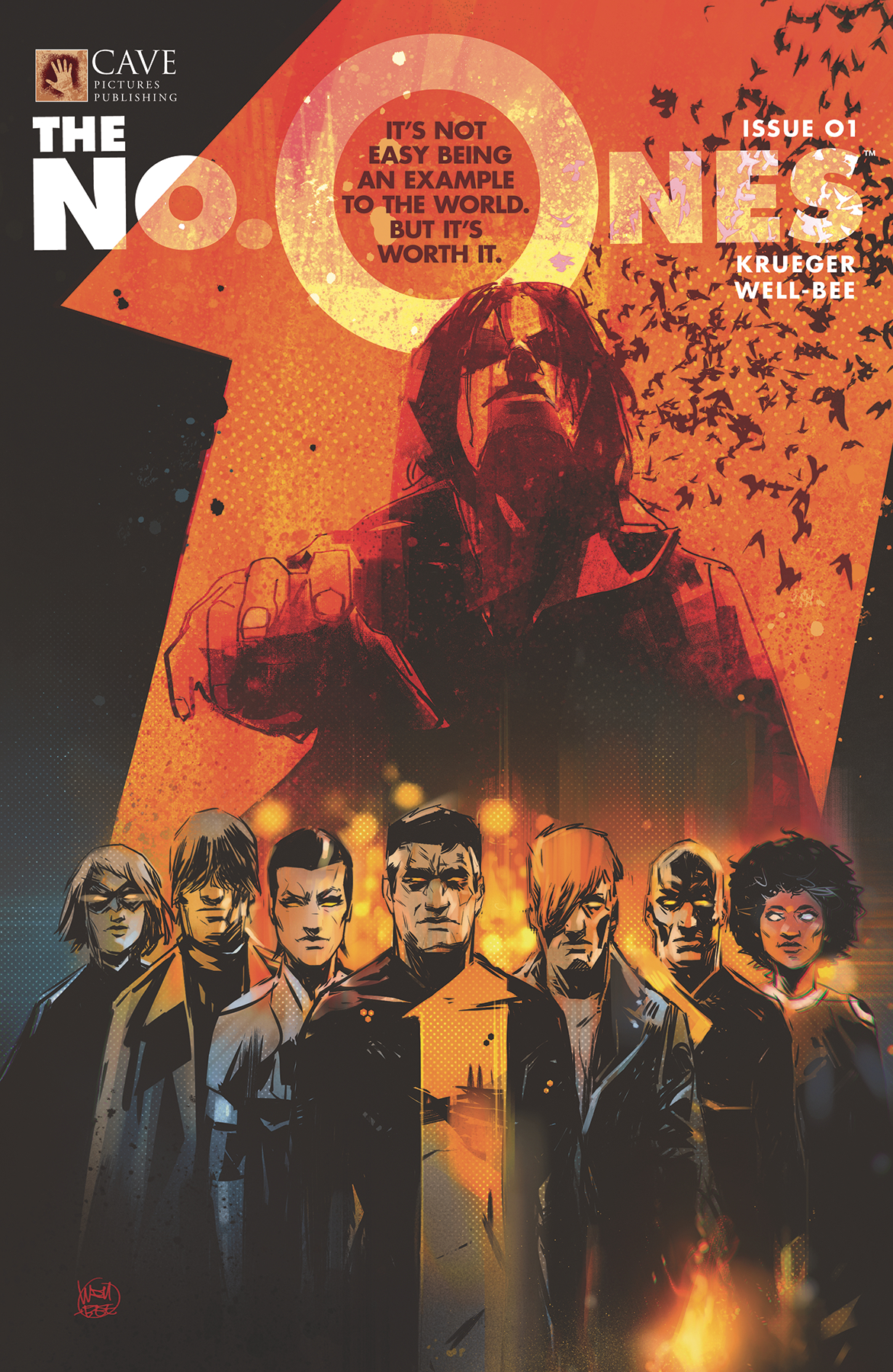 NO ONES #1
CAVE PICTURES PUBLISHING
APR191614
(W) Jim Krueger (A/CA) Well-Bee
The Bastions are superheroes at the height of fame and fortune-their brand has captured the world... and corrupted their souls. When they accidentally kill a man and cover up the crime to save their reputation, their corruption becomes a curse that erases their very existence.
In Shops: Jun 26, 2019
SRP: $3.99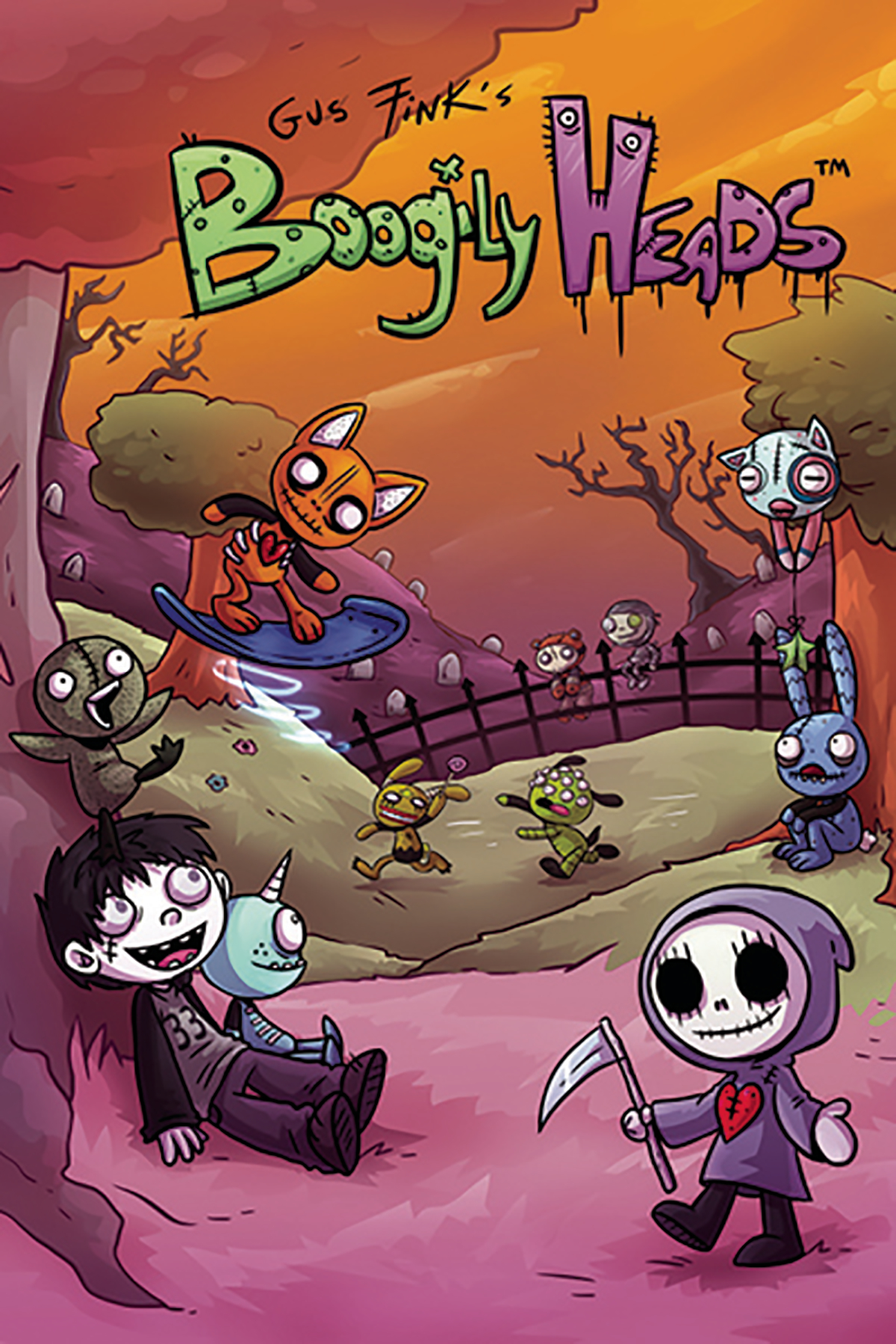 BOOGILY HEADS #1 (OF 4)
DEVILS DUE /1FIRST COMICS, LLC
APR191636
(W) Gus Fink (A/CA) Laura Pendl
Artist and rising instagram star Gus Fink brings his all ages spookfest to Devil's Due! Follow the misadventures of a boy accidentally sent to a mysterious, creepy realm, cre-ated by his own imagination, where he must find his way home with the help of creatures both friendly and fearsome!
In Shops: Jun 26, 2019
SRP: $4.50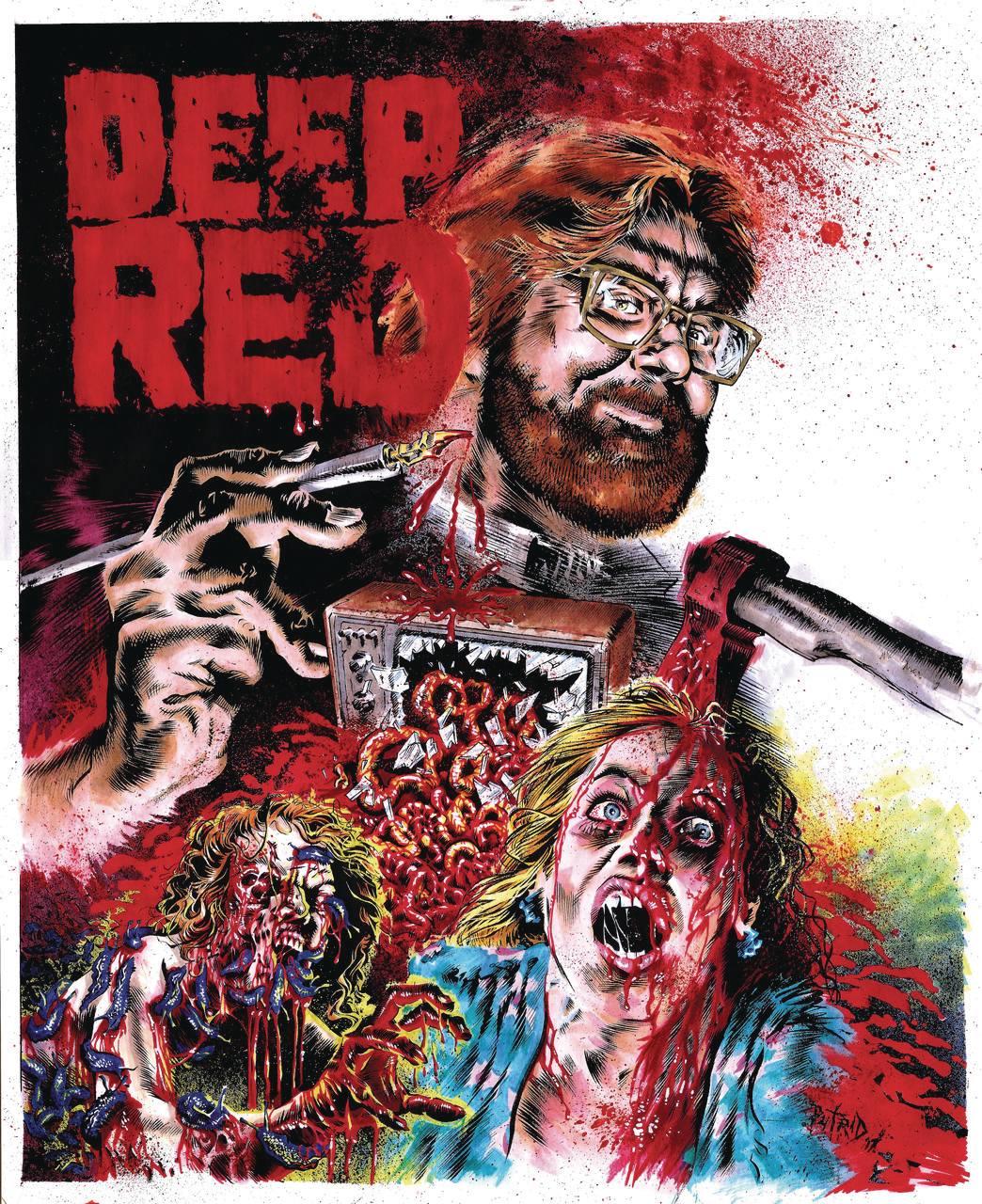 DEEP RED VOL 4 #1
FANTACO ENTERPRISES INC.
APR191708
(A) Stephen R. Bissette (CA) Matt Carr
Chas Balun's legendary horror film publication returns under the editorial leadership of John Szpunar (
Xerox Ferox
)! All new art and articles by the original
Deep Red
staff! New art and lengthy article by Stephen R. Bissette, new full color cover illustration by Ghastly Award-winning artist, Matt Carr.
In Shops: Jun 26, 2019
SRP: $20.00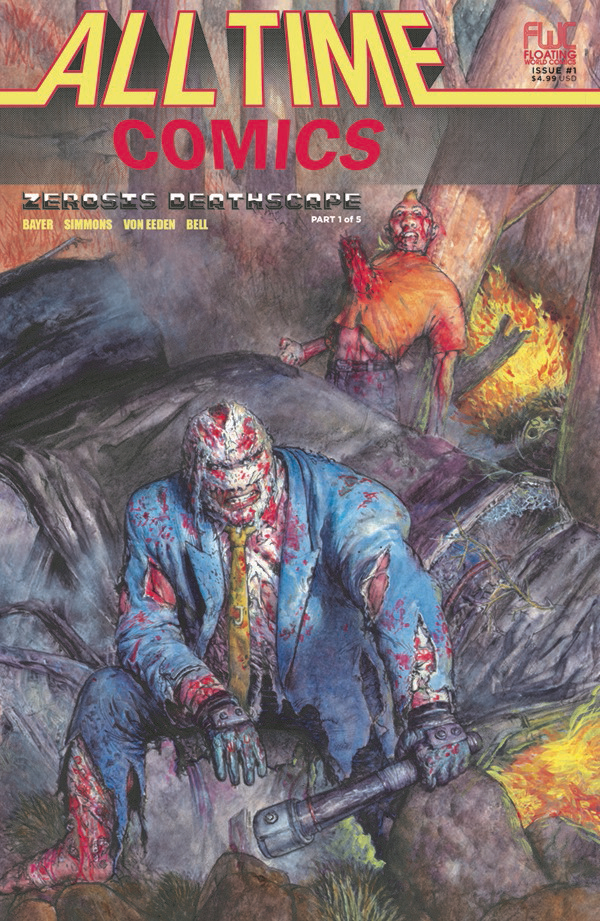 ALL TIME COMICS ZEROSIS DEATHSCAPE #1 (OF 5) (MR)
FLOATING WORLD COMICS
APR191755
(W) Josh Bayer, Josh Simmons (A) Josh Simmons, Ken Landgraf (CA) Das Pastorus
Part 1 of 5. The Beggar terrorizes Optic City while The Daylight Savings Time Killer stabs his way to glory. Blind Justice meets a new level of street brutality. Time Vampire Scientist meddles! Toby Whey's tweaking! Bullwhip + Crime Destroyer! Face-melting art by Trevor Von Eeden And Gabrielle Bell!
In Shops: Jun 05, 2019
SRP: $4.99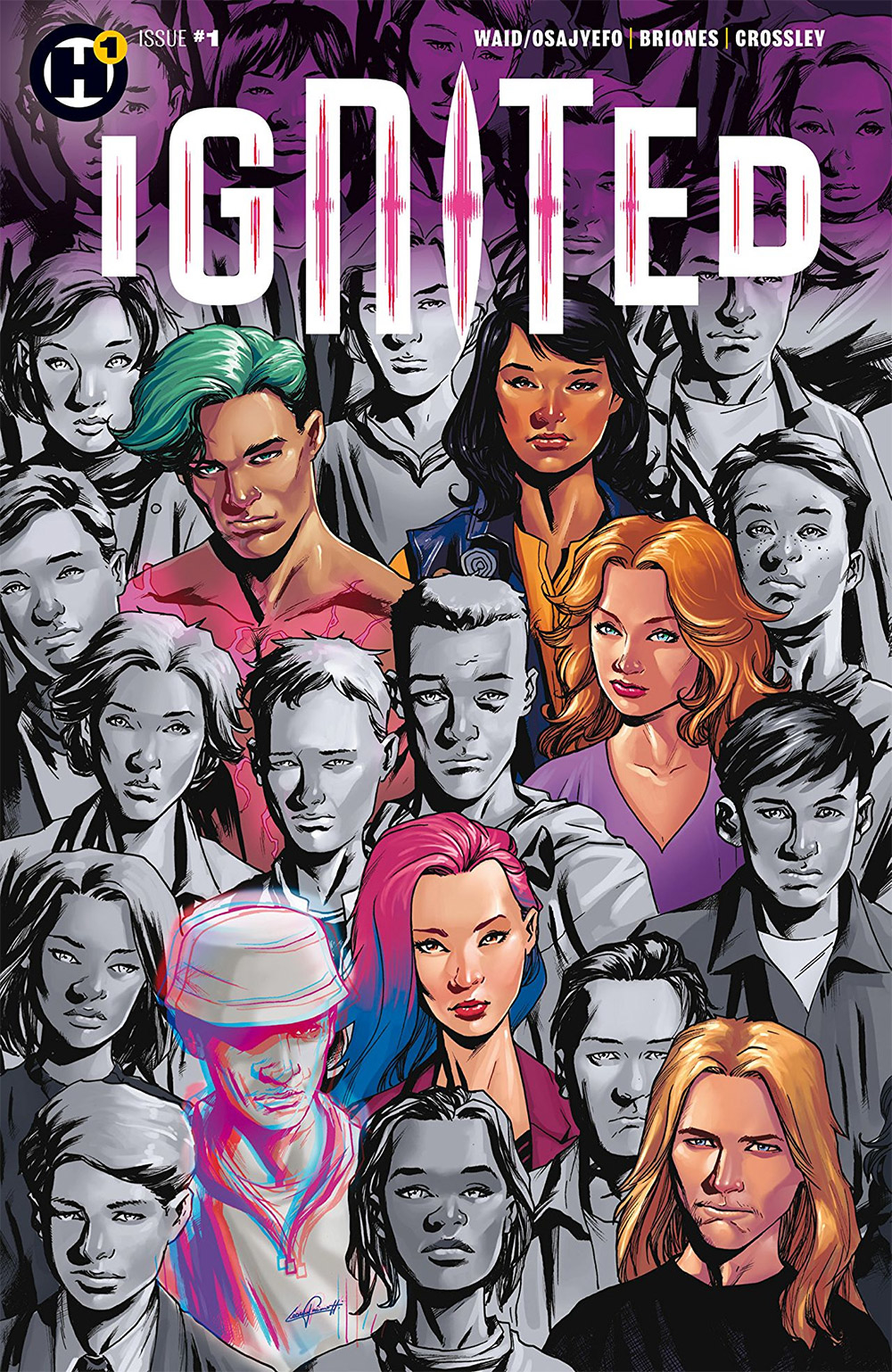 IGNITED #1 CVR A PAQUETTE (MR)
HUMANOIDS INC
APR191783
(W) Mark Waid, Kwanza Osajyefo (A) Philippe Briones (CA) Yanick Paquette
Welcome to the H1 Universe and
Ignited
, Humanoids' first ever ongoing super-powered series-brought to you by an explosive team: writers Mark Waid (
Kingdom Come
) and Kwanza Osajyefo (
Black AF
), and artist Phil Briones (
Aquaman
), with covers by John Cassaday and Yanick Paquette! It's the first day back at Phoenix Academy High, but this year there's no back to school excitement in the air as returning students and faculty are haunted by memories of last year's horrific attack. So many friends and colleagues were lost, and some of those who survived underwent changes; they Ignited, gaining supernatural abilities they barely understand. Little do they know this is just the beginning!
In Shops: Jun 05, 2019
SRP: $3.99 AT THE END OF YOUR TETHER #1 (OF 3)
LION FORGE
APR191817
(W) Adam Smith (A) Vv Glass (CA) Deena So'Oteh
Nervous about having to see his ex, Ludo Carre gives her a phone call to explain he'll be returning to the old base they grew up on. Big laughs and a familiar sort of cadence in Arlo's voice don't just instantly calm him down they make him excited to see her. That excitement only hurts him more when they show up the next day and find out Arlo has been missing...for the last week.
In Shops: Jun 26, 2019
SRP: $4.99 RICK & MORTY PRESENTS MR MEESEEKS #1 CVR A
ONI PRESS INC.
APR191862
(W) James Asmus, Jim Festante (CA) Josh Perez (A/CA) CJ Cannon
A message from Mr. Meeseeks: You ASKED for it, and we're obligated to deliver! That's what Meeseeks DO, after all! But WAIT... who the asked us to find the MEANING OF LIFE?!? If you make this hard for us, things are gonna get reeeaaal ugly for YOU...!
In Shops: Jun 12, 2019
SRP: $4.99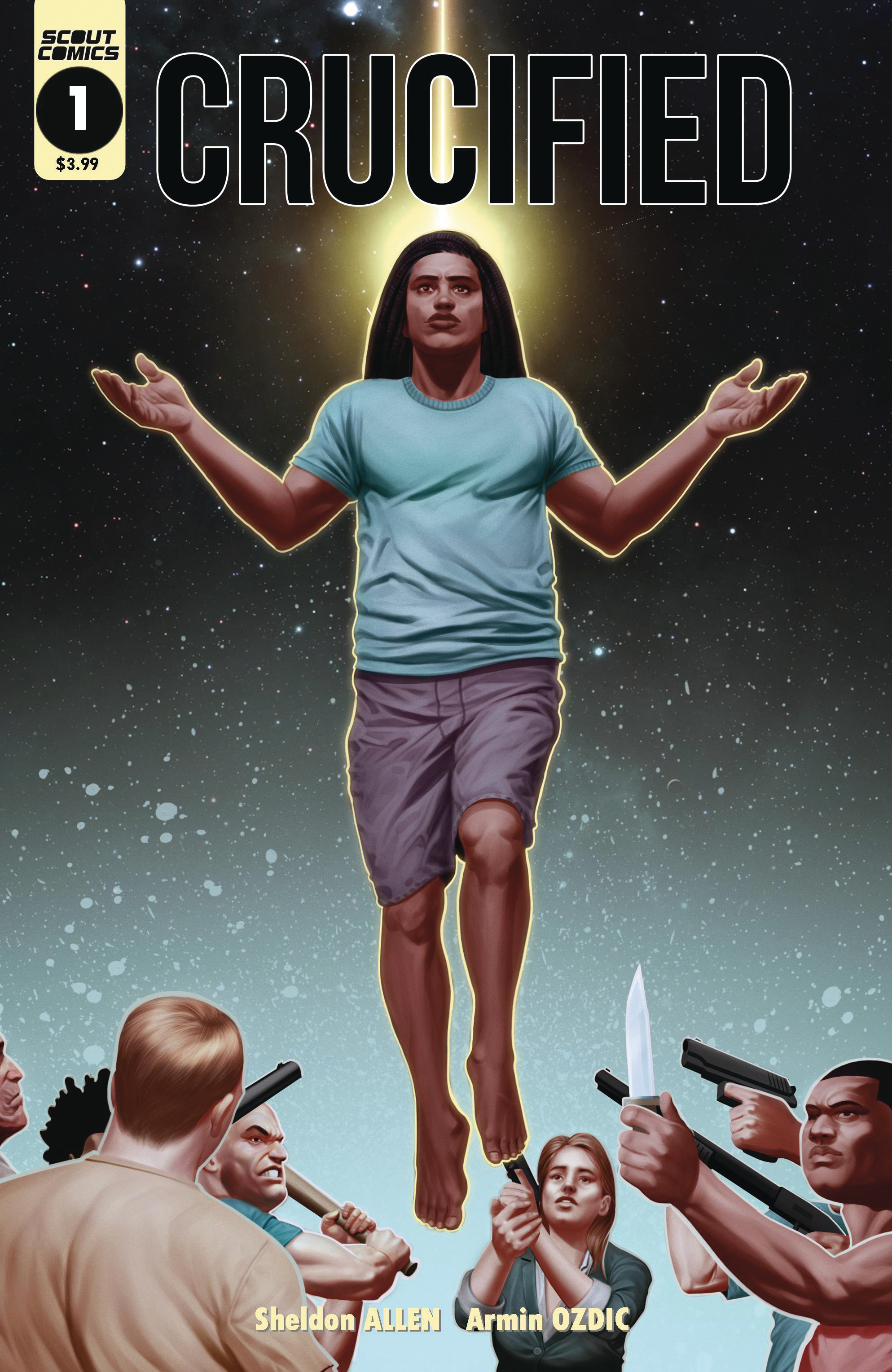 CRUCIFIED #1
SCOUT COMICS
APR191923
(W) Sheldon Allen (A) Armin Ozdic
The world's deadliest contract killer just received his next target: A man some believe to be the modern Jesus Christ. Lucas Blank, a gun for hire, finds himself contracted by a powerful NGO to execute a figure known only as the Messiah, who recently stopped a Los Angeles race riot with a single word. Lucas is a professional and it's just another job until he has his finger on the trigger and is about to complete the job, that is, until the Messiah sees him and he suffers a crisis of conscience. The NGO becomes more desperate than ever to see the Messiah dead at any costs, including sacrificing those that Lucas holds most dear. One bullet. One kill. A billion consequences.
In Shops: Jun 26, 2019
SRP: $3.99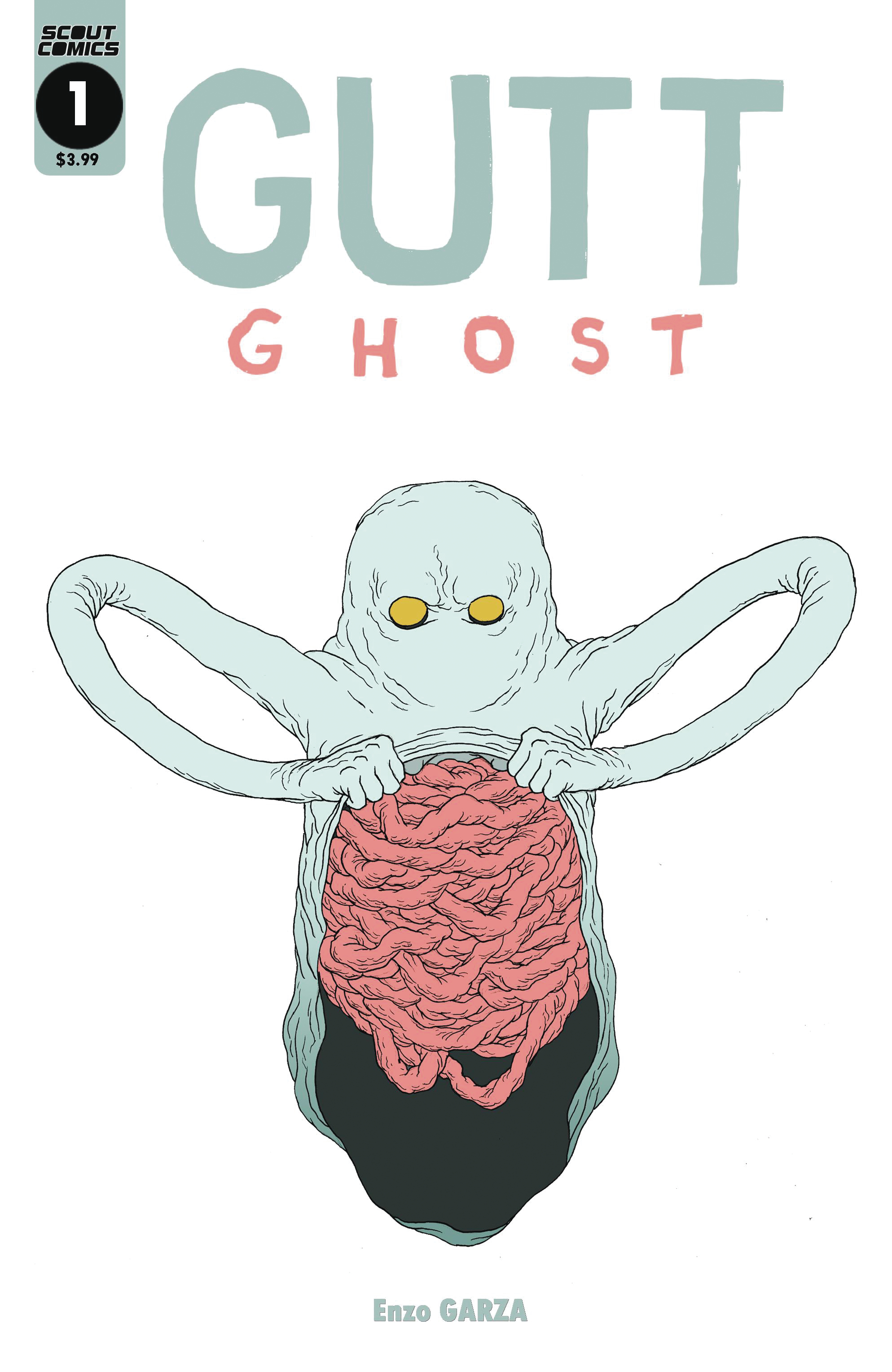 GUTT GHOST TILL WE MEET AGAIN #1 (OF 1)
SCOUT COMICS
APR191924
(W) Enzo Garza (A) Enzo Garza
Who is Gutt Ghost and what's he all about? The reality is he's just like you and me. Navigating the same ups and downs that life has to offer. He works a job he doesn't like, has a car that breaks down, pays bills and deals with the same headaches that come from being a ghost with guts. Things like an ex-girlfriend and her obnoxious runt of a creature new boyfriend, flakey friends and the troubles with resurrecting dead ones, confrontations with a stranger and accidentally eating them alive. It's normal stuff we all deal with and he's no stranger to it. Plus there's sure to be some inside out people, a cult and someone's car gets broken into. All completely normal and relatable stuff!
In Shops: Jun 26, 2019
SRP: $3.99
SAMURAI GRANDPA #1
SOURCE POINT PRESS
APR191942
(W) Eastin DeVerna (A) Shawn Daley
After retiring the blade and putting the way of the samurai behind him, Ojichan returns home from the mountains to find his family visited by disaster, and his granddaughter kidnapped by one of his greatest foes from the past. Now Ojichan must set out one last time into a mysterious and magical world and face enemies new and old, in order to bring his granddaughter back.
In Shops: Jun 26, 2019
SRP: $3.99
TRAVELLER #1 (RES) (MR)
T PUB
APR191955
(W) Neil Gibson, Tasos Anastasiades (CA) Tasos Anastasiades
The Traveller
is a steampunk adventure story set at the turn of the 19th century. Made using cutting-edge 3D modelling combined with traditional hand inking, the story focuses on the greater good and the price we are prepared to pay for it.
In Shops: TBD
SRP: $3.99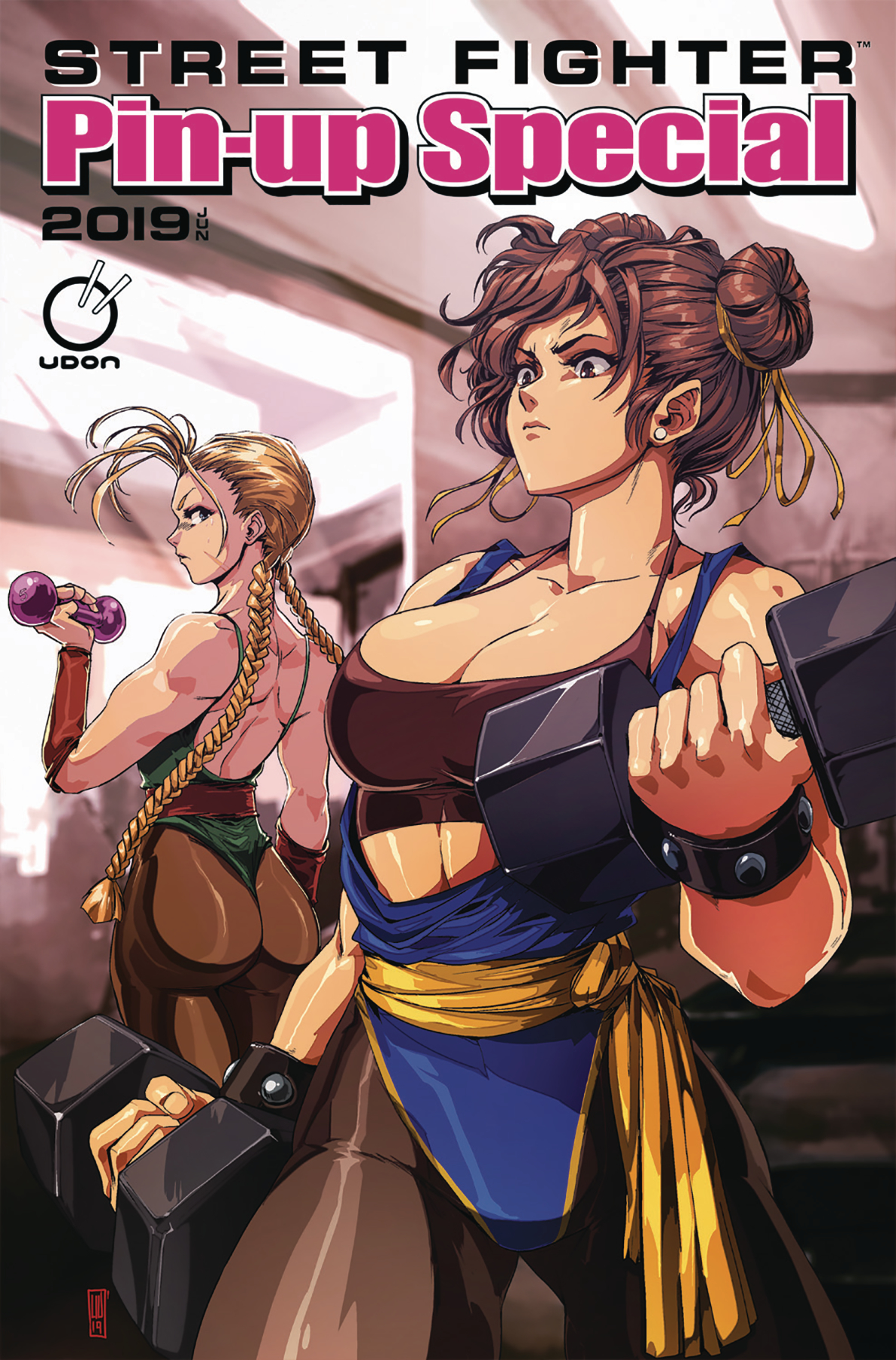 STREET FIGHTER 2019 PINUP SPECIAL #1 CVR A LIU
UDON ENTERTAINMENT INC
APR192149
(A) Various (CA) David Liu
Laura! Juri! Blanka! Cody! The girls and guys of Street Fighter enjoy the summer in this playful pin-up special! See 22 artists new to UDON show their love of Street Fighter with their first-ever UDON illustrations!
In Shops: Jun 05, 2019
SRP: $3.99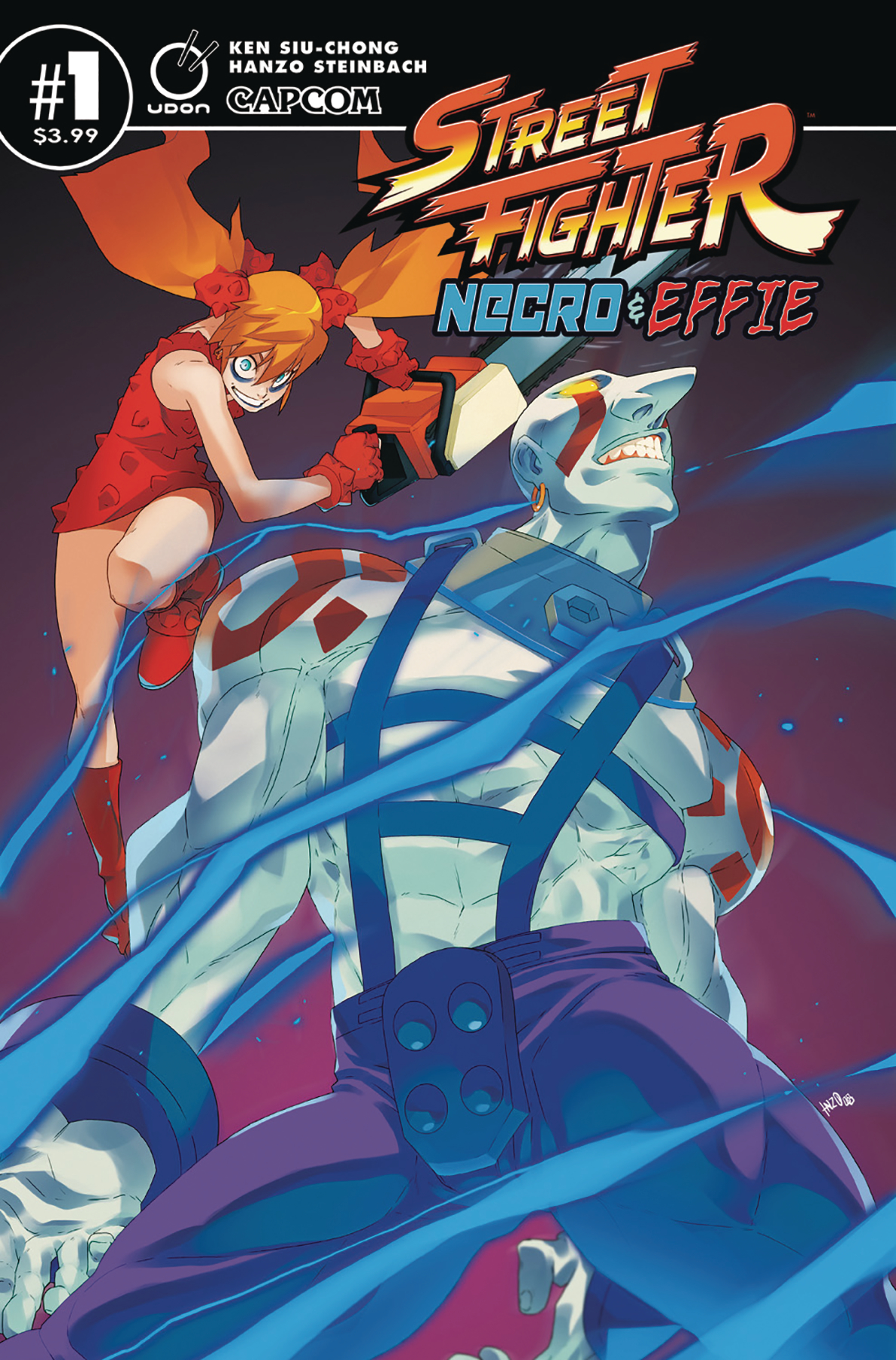 STREET FIGHTER NECRO & EFFIE #1 CVR A STEINBACH
UDON ENTERTAINMENT INC
APR192146
(W) Ken Siu-Chong (A) Panzer (CA) Hanzo Steinbach
Meet Necro and Effie, the screws-loose, madly-in-love mutant couple of the Street Fighter universe! On the run from Urien, Kolin, Nash, and the whole Secret Society, this pair of lunatic lovebirds will need to jump through heaps of harrowing hoops to stay alive!
In Shops: Jun 26, 2019
SRP: $3.99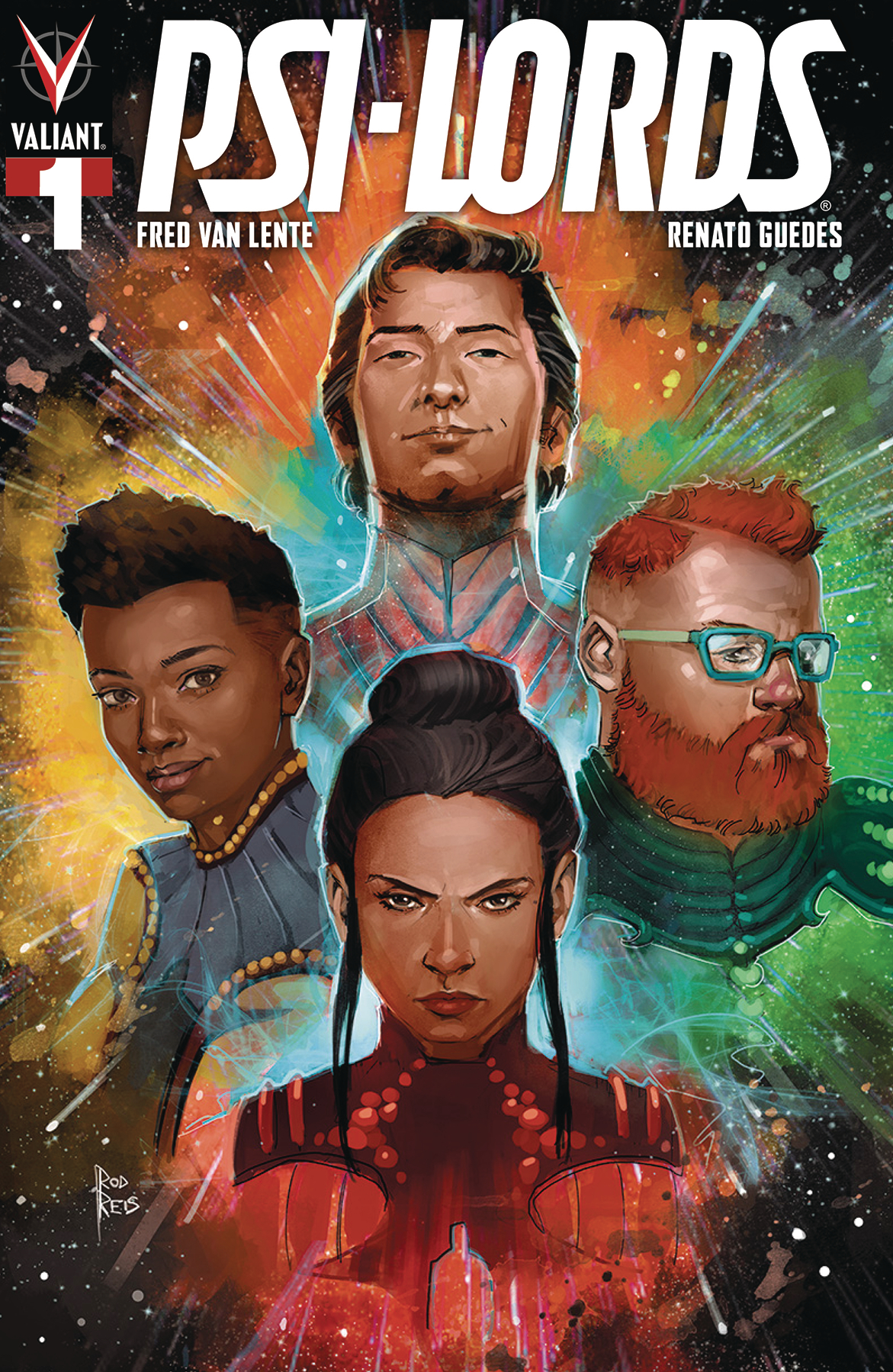 PSI-LORDS #1 CVR A REIS
VALIANT ENTERTAINMENT LLC
APR192032
(W) Fred Van Lente (A) Renato Guedes (CA) Rod Reis
Who are the cosmic beings known only as the Psi-Lords? And how will they change the course of the Universe in this brand-new ongoing series?
Four astronauts awake in an otherworldly prison with no memory of how they got there! What is their connection to the Psi-Lords? And how will they escape?
Fred Van Lente is crafting a lively sci-fi mystery, and Renato Guedes' art is (literally) out of this world.
In Shops: Jun 19, 2019
SRP: $3.99
TEST #1 CVR A (MR)
VAULT COMICS
APR192064
(W) Christopher Sebela (A/CA) Jen Hickman
Aleph Null is a lot of things: An orphan, a human guinea pig undergoing medical tests for cash, a bodyhacker, a hardcore future junkie, and a corporate asset. But now, Aleph is on the run from their old life, in search of a mythical, Midwestern town named Laurelwood-where they're test-marketing the future with tech that can't possibly exist yet, and won't for decades.
From Eisner-nominated Chris Sebela (Crowded, High Crimes) and Jen Hickman (Moth & Whisper) comes the story of a town out of time, full of mysteries, and populated by guinea pigs in need of liberation by the misfit least likely to be their savior.
In Shops: Jun 26, 2019
SRP: $3.99