BOOM! STUDIOS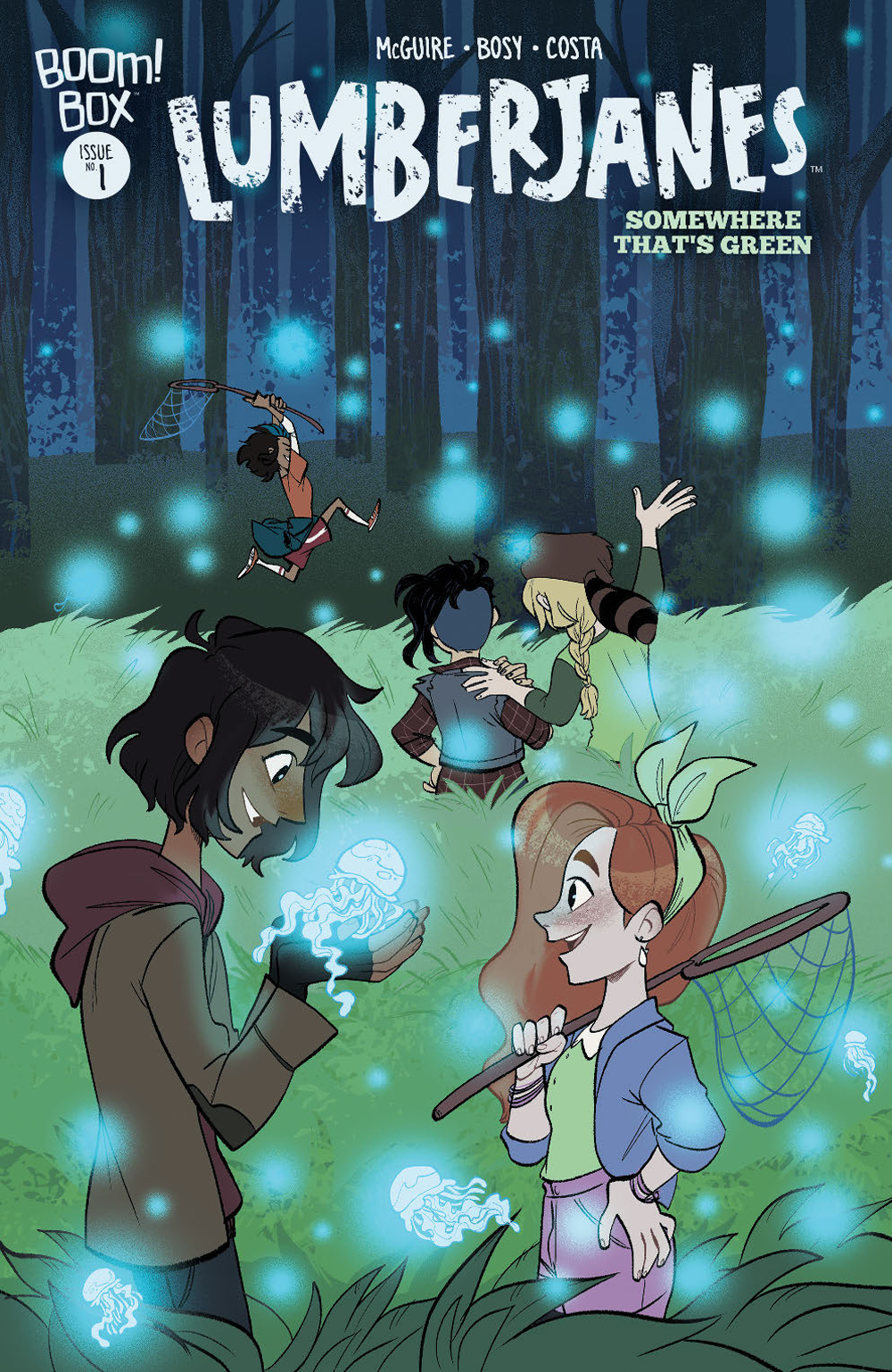 LUMBERJANES SOMEWHERE GREEN #1
BOOM! STUDIOS
MAR191299
(W) Seanan McGuire (A/CA) Alexa Bosy
When Jo, April, Mal, Molly and Ripley stumble upon several muddy, spiky, cactus kittens in the woods, they take on the sacred mission of bringing the kittens back to their home. However, when they reach the garden menageries and it fs Dryad tender, they find that there is a deeper problem at the heart of the garden.and the Roanokes are the only ones who can help! Writer Seanan McGuire (Spider-Gwen) and artist Alexa Bosy team up for an entirely new Lumberjanes story!
In Shops: May 29, 2019
SRP: $7.99
DARK HORSE COMICS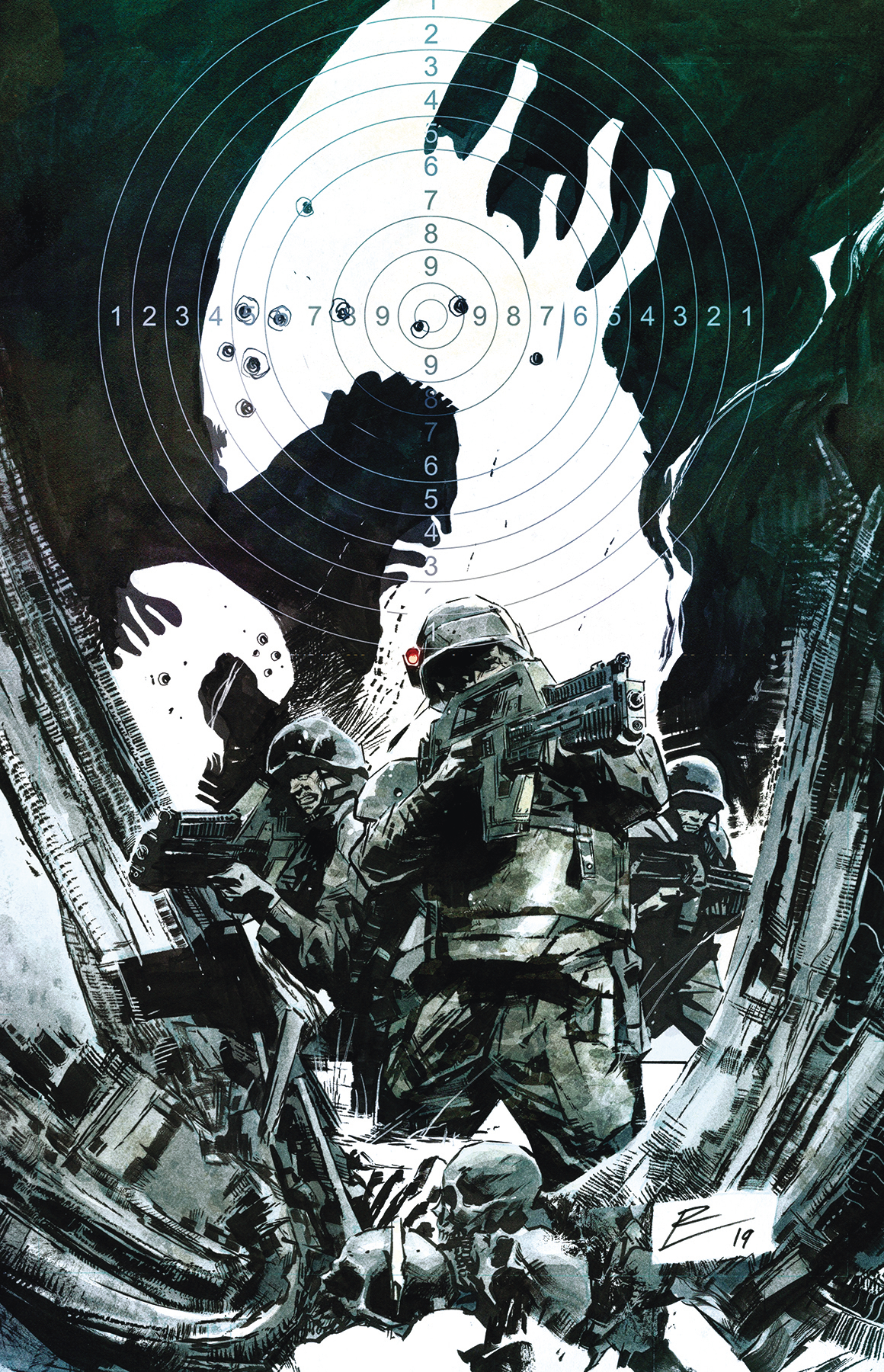 ALIENS RESCUE #1 CVR A DE LA TORRE
DARK HORSE COMICS
MAR190274
(W) Brian Wood (A) Kieran McKeown, JL Straw (CA) Roberto De La Torre
Following the events of Aliens: Resistance, Alec Brand, the colonist rescued by Amanda Ripley and Zula Hendricks, has grown up into an elite Colonial Marine. A secret mission brings him back to the alien-infested moon where he was rescued . . . and face to face with the past.
o Written by Brian Wood of Aliens: Defiance and Aliens: Resistance.
o Find out the fate of Amanda Ripley after Aliens: Resistance.
o Zula Hendricks and Alec Brand return!
In Shops: May 22, 2019
SRP: $3.99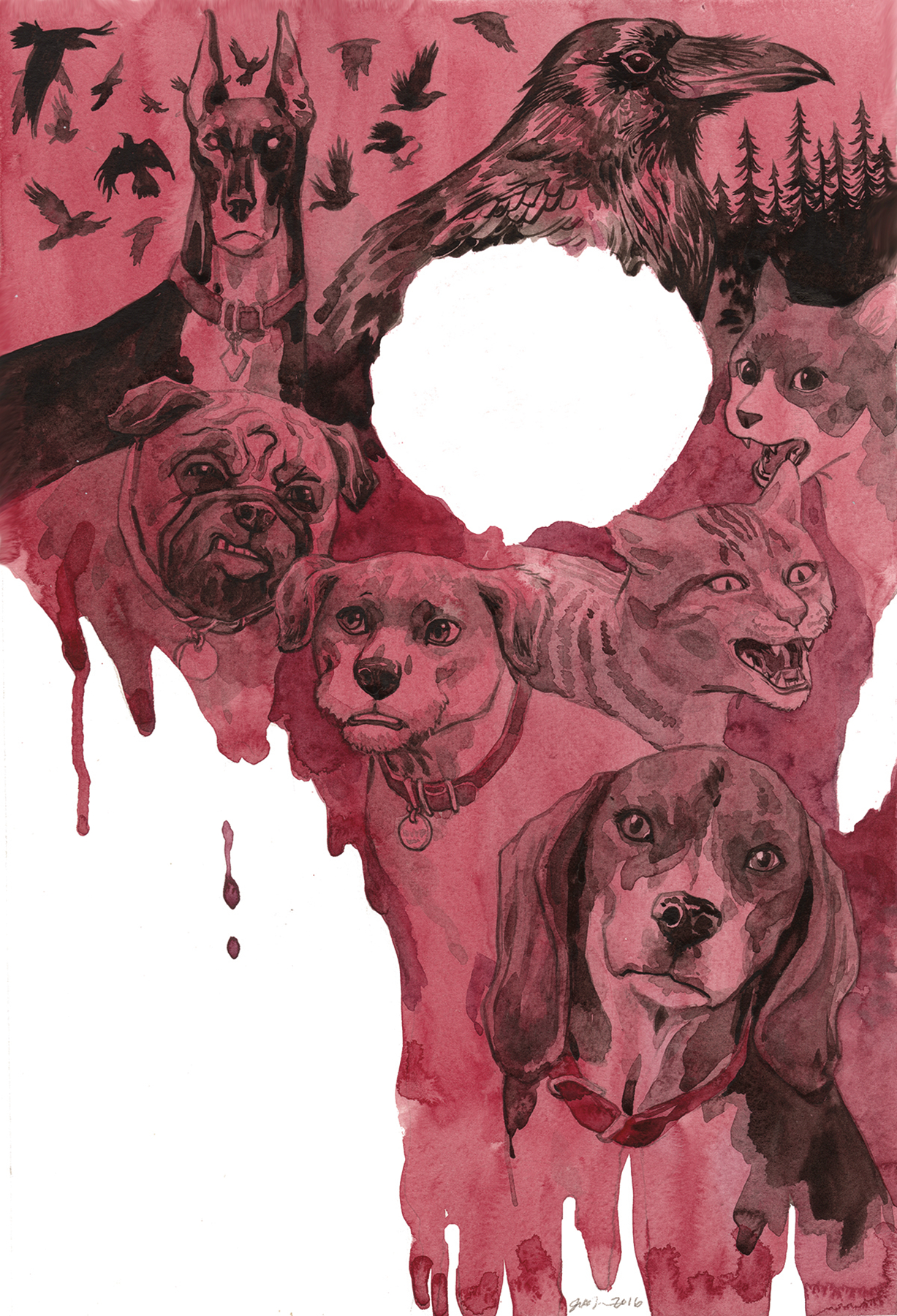 BEASTS OF BURDEN PRESENCE OF OTHERS #1 (OF 2)
DARK HORSE COMICS
MAR190338
(W) Evan Dorkin (A/CA) Jill Thompson
A team of paranormal investigators poking around Burden Hill disturb the graveyard where the "Master" lies, setting off a chain of events that will have serious consequences for the animal defenders of the haunted town.
In Shops: May 01, 2019
SRP: $3.99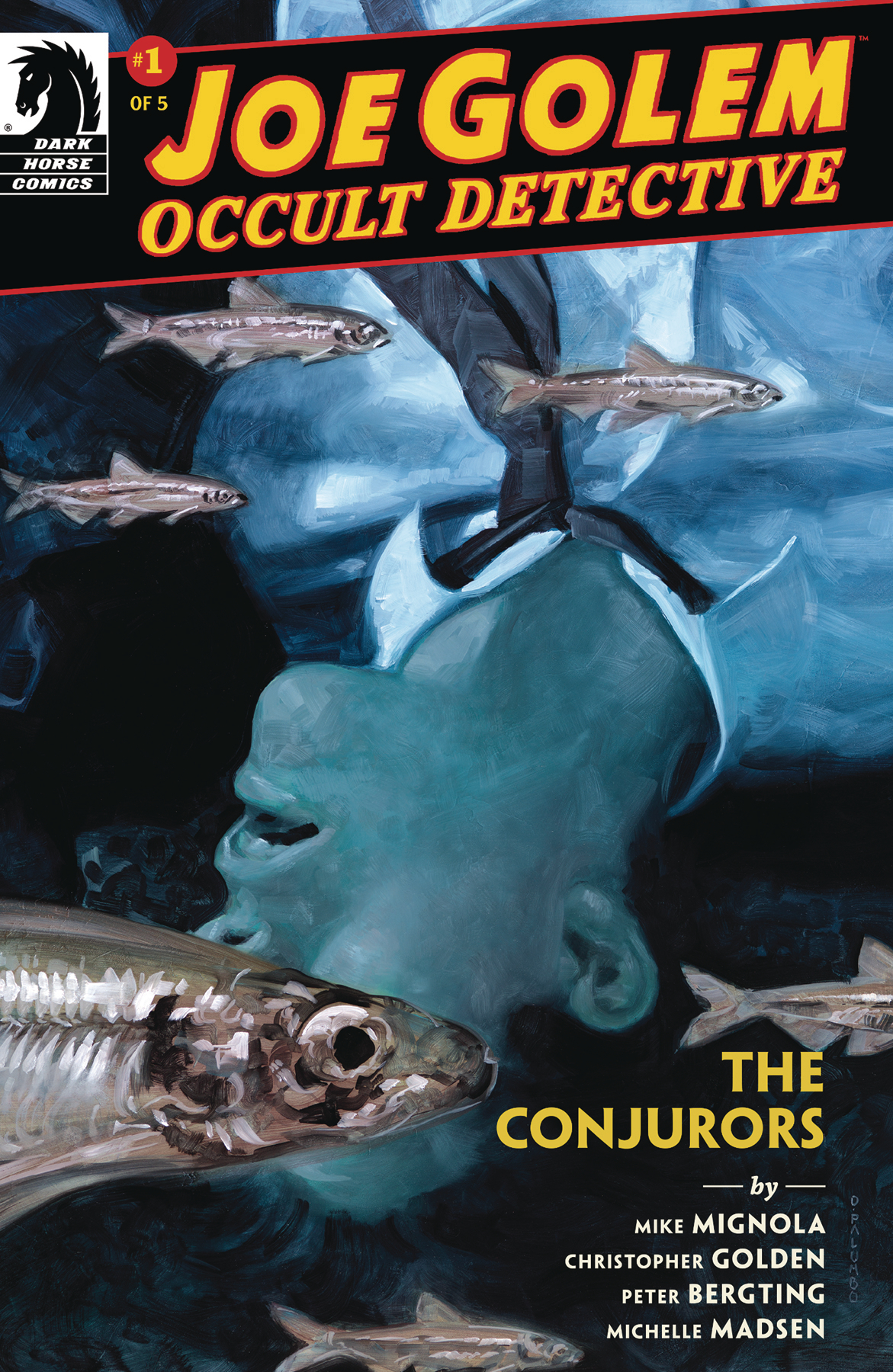 JOE GOLEM OCCULT DETECTIVE CONJURORS #1
DARK HORSE COMICS
MAR190348
(W) Mike Mignola, Chris Golden (A) Peter Bergting, Michelle Madsen (CA) David Palumbo
Joe Golem is dead. Or is he? Simon Church is fading fast in the city above and Molly is held captive by Dr. Cocteau's gas-men below, but something stirs in the tunnels. How much of the golem is still in the man, or the man in the golem? And can either be enough to stop Dr. Cocteau once he has the artifact he seeks?
In Shops: May 15, 2019
SRP: $3.99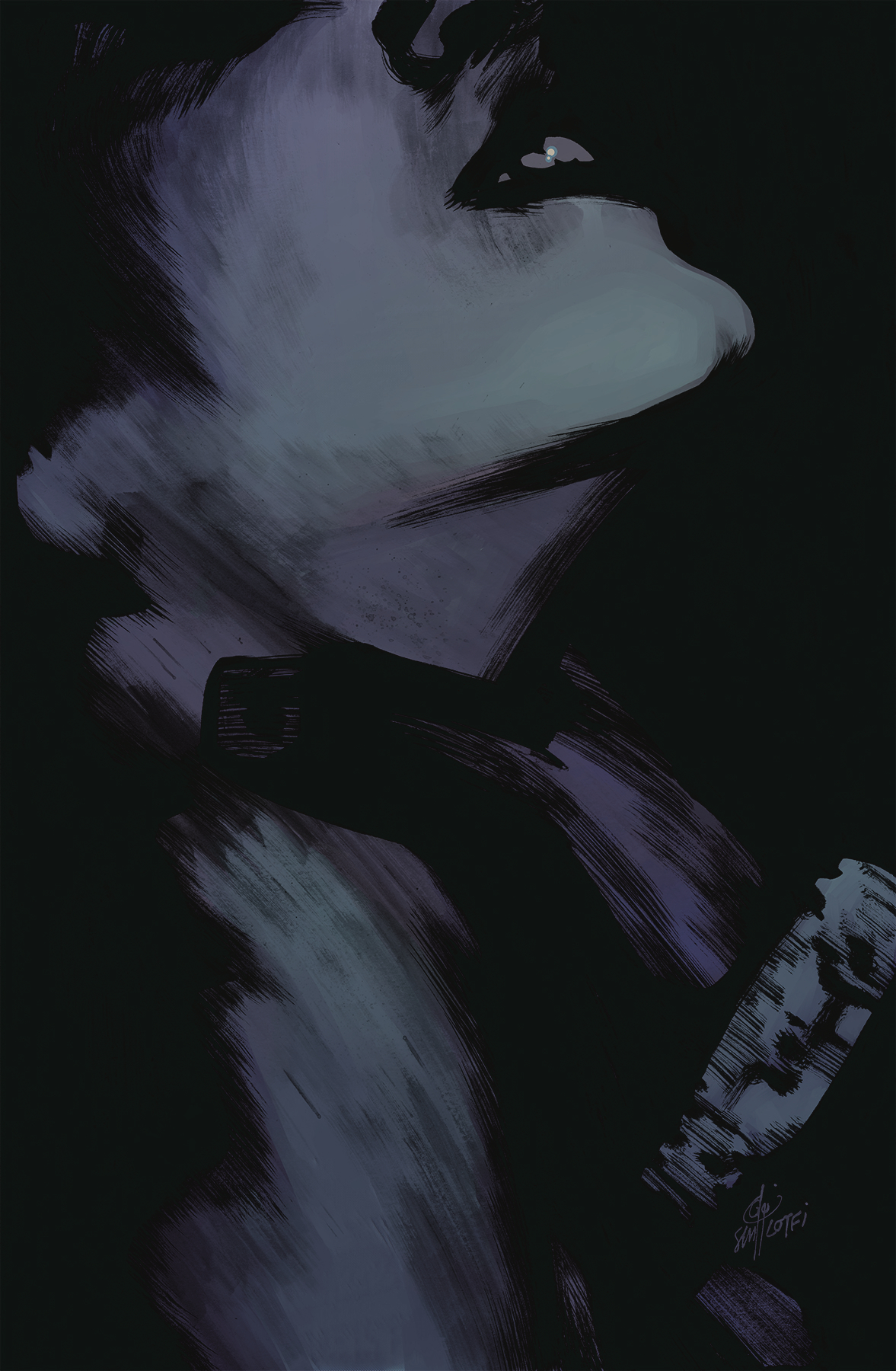 LAST STOP ON RED LINE #1
DARK HORSE COMICS
MAR190302
(W) Paul Maybury (A) John Rauch (A/CA) Sam Lotfi
Detective Migdalia Torres investigates a vicious strangling on a Boston subway car with no feasible leads. As potential evidence produces dead ends, Migdalia inadvertently takes in a vagrant named Yusef who may have a supernatural connection to the crime at hand.
o Writer Paul Maybury and illustrator Sam Lotfi bring a horrific murder mystery to Dark Horse!
In Shops: May 08, 2019
SRP: $3.99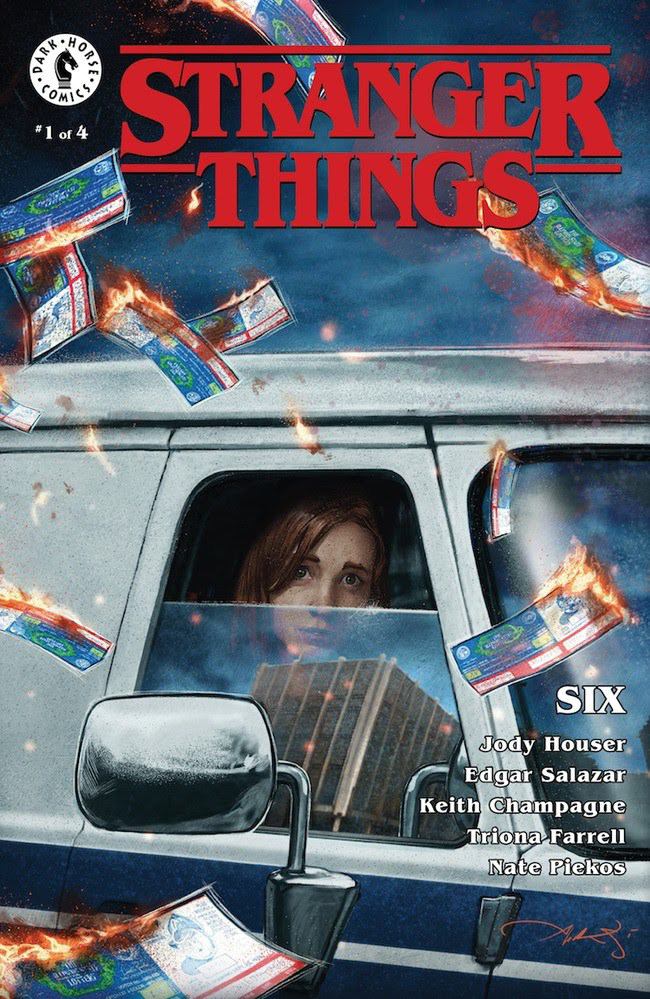 STRANGER THINGS SIX #1 CVR A BRICLOT
DARK HORSE COMICS
MAR190270
(W) Jody Houser (A) Edgar Salazar, Keith Champagne, Triona Farrell (CA) Aleksi Briclot
A teenage girl with precognitive abilities, has struggled through a lifetime of exploitation only to end up the pawn of a government agency that wants to harness her powers for its own ends. You've seen the show Stranger Things, but this is your first glimpse of the strangeness that happened before the series began!
In Shops: May 29, 2019
SRP: $3.99
DC COMICS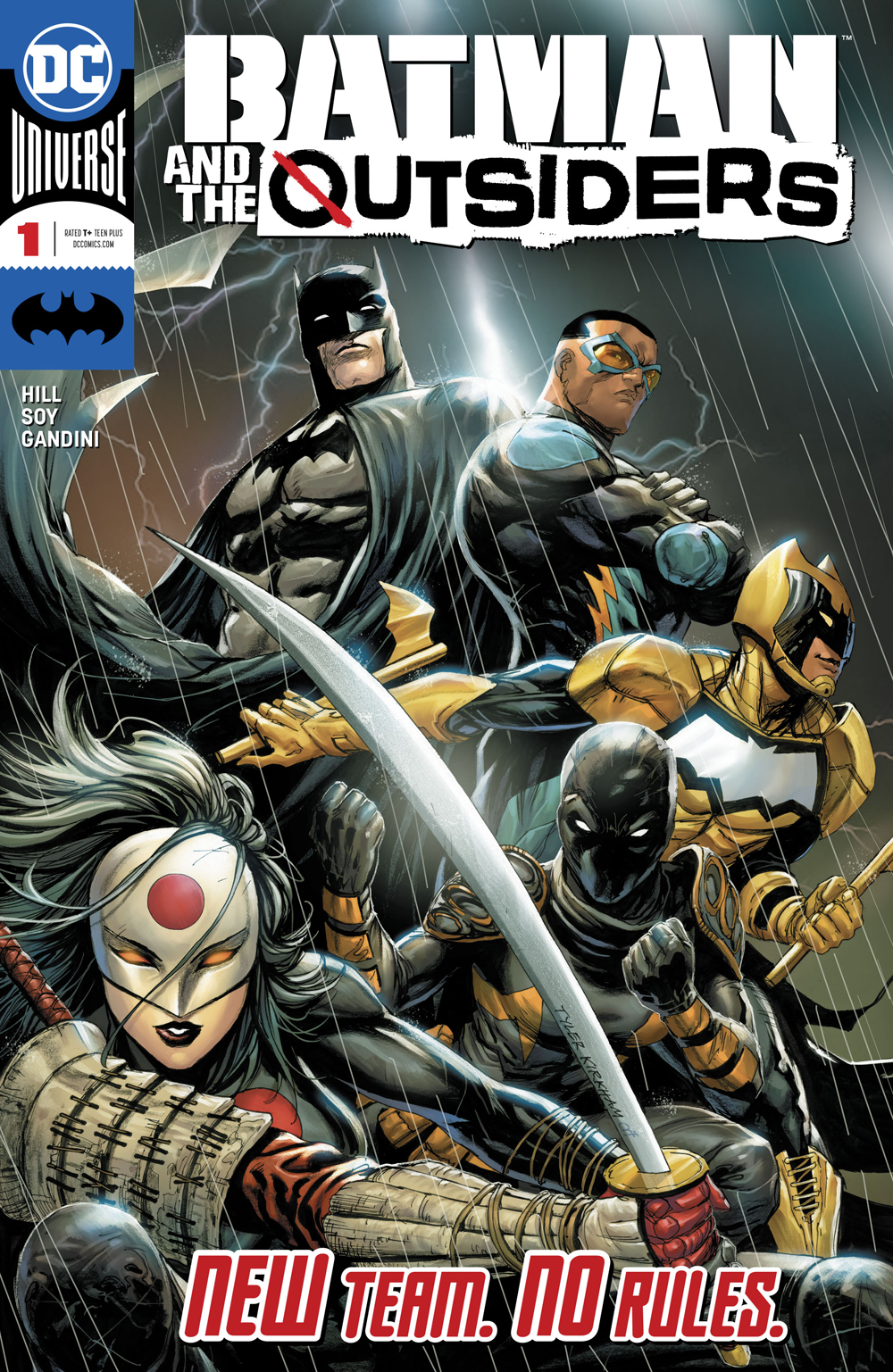 BATMAN AND THE OUTSIDERS #1 (RES)
DC COMICS
MAR190467
(W) Bryan Hill (A) Dexter Soy (CA) Tyler Kirkham
When the quest for justice drives Batman into some morally ambiguous areas, he calls in the most moral man he knows: Jefferson Pierce, a.k.a. Black Lightning, and his team of operatives known as the Outsiders!
Several years ago Batman personally put the Barrera family into hiding after they suffered through terrible experiments at the hands of an organization called the Ark. Now all but one of them have turned up dead...and Batman needs to locate Sofia Barrera before the wrong people get their hands on her-and her surprising power! But it wouldn't be Batman without a hidden agenda, would it? And when Black Lightning, Katana, the Signal and Orphan find out what Batman is really up to, their every loyalty will be called into question.
In Shops: May 08, 2019
SRP: $3.99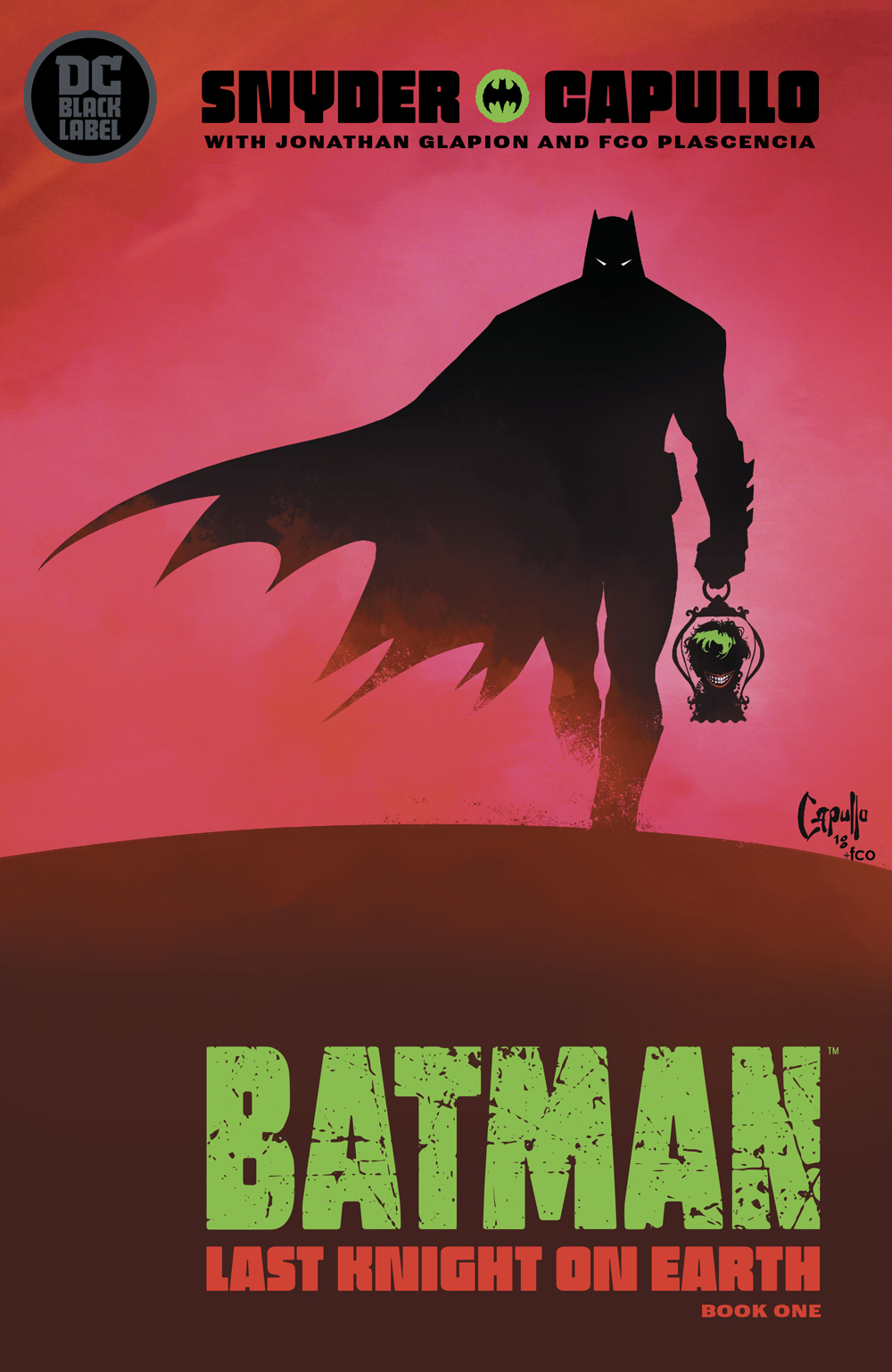 BATMAN LAST KNIGHT ON EARTH #1 (OF 3) (MR)
DC COMICS
MAR190458
(W) Scott Snyder (A) Jonathan Glapion (A/CA) Greg Capullo
Bruce Wayne wakes up in Arkham Asylum. Young. Sane.
And...he was never Batman.
So begins this sprawling tale of the Dark Knight as he embarks on a quest through a devastated DC landscape featuring a massive cast of familiar faces from the DC Universe. As he tries to piece together the mystery of his past, he must unravel the cause of this terrible future and track down the unspeakable force that destroyed the world as he knew it...
From the powerhouse creative team of writer Scott Snyder and artist Greg Capullo, the team that reinvented Batman from the emotional depths of "Court of Owls" to the bombastic power of DARK NIGHTS: METAL, DC Black Label is proud to present the bimonthly, three-issue miniseries BATMAN: LAST KNIGHT ON EARTH, published at DC's standard comic trim size.
This could be the last Batman story ever told...
In Shops: May 29, 2019
SRP: $5.99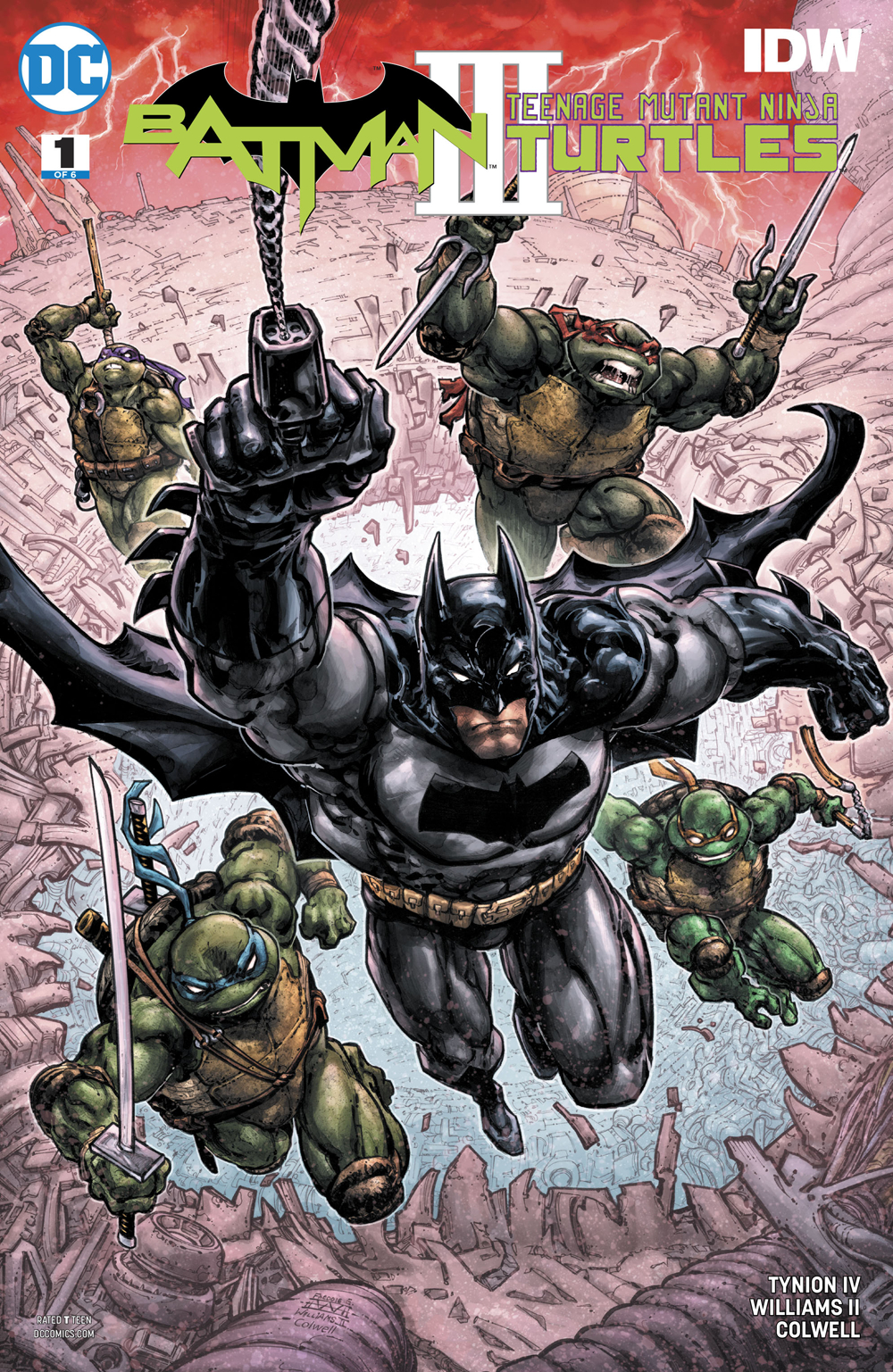 BATMAN TEENAGE MUTANT NINJA TURTLES III #1 (OF 6)
DC COMICS
MAR190456
(W) James TynionIV (A/CA) Freddie Williams II
The 80th anniversary of Batman collides with the 35th anniversary of the Teenage Mutant Ninja Turtles in this stunning concluding miniseries to the BATMAN/TEENAGE MUTANT NINJA TURTLES trilogy. Our heroes have battled the evil of the Foot Clan in Gotham City and Bane in New York, but now Krang has gotten his hands on the most dangerous technologies in the DC Universe-and no universe is safe from his wrath! Co-published with IDW.
In Shops: May 01, 2019
SRP: $3.99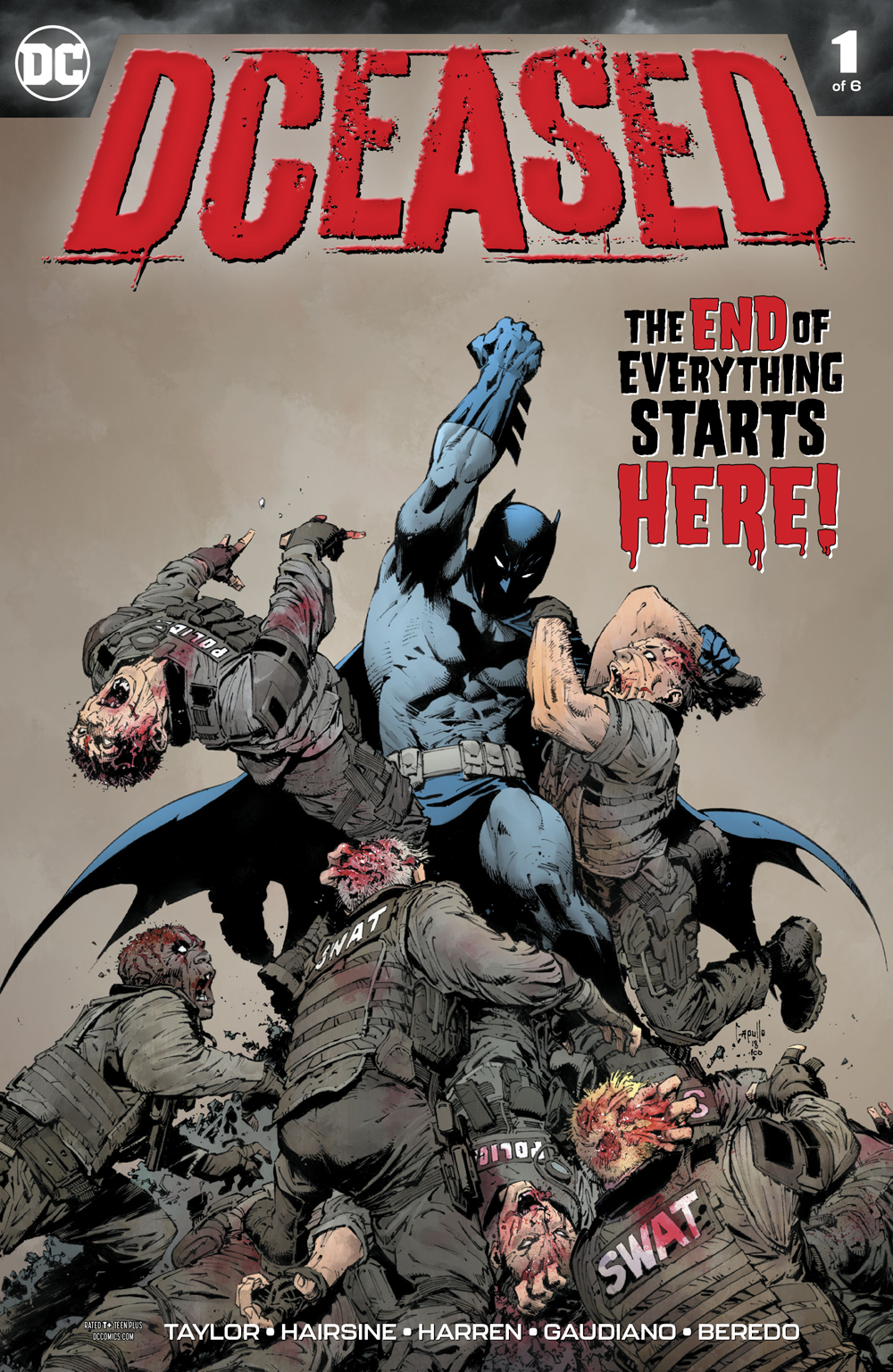 DCEASED #1 (OF 6)
DC COMICS
MAR190464
(W) Tom Taylor (A) Trevor Hairsine, James Harren, Stefano Guadiano (CA) Greg Capullo
"I looked, and there before me was a pale horse! Its rider was Death, and Hades was following close behind him."
-Revelation 6:8
A mysterious techno-virus has been released on Earth, infecting 600 million people and turning them instantly into violent, monstrous engines of destruction.
The heroes of the DCU are caught completely unprepared for a pandemic of this magnitude and struggle to save their loved ones first...but what happens to the World's Greatest Heroes if the world ends?
New York Times best-selling writer Tom Taylor (INJUSTICE) returns with a terrifying new tale and is joined by artists Trevor Hairsine (LEGENDS OF THE DARK KNIGHT) and Stefano Gaudiano (The Walking Dead).
In Shops: May 01, 2019
SRP: $3.99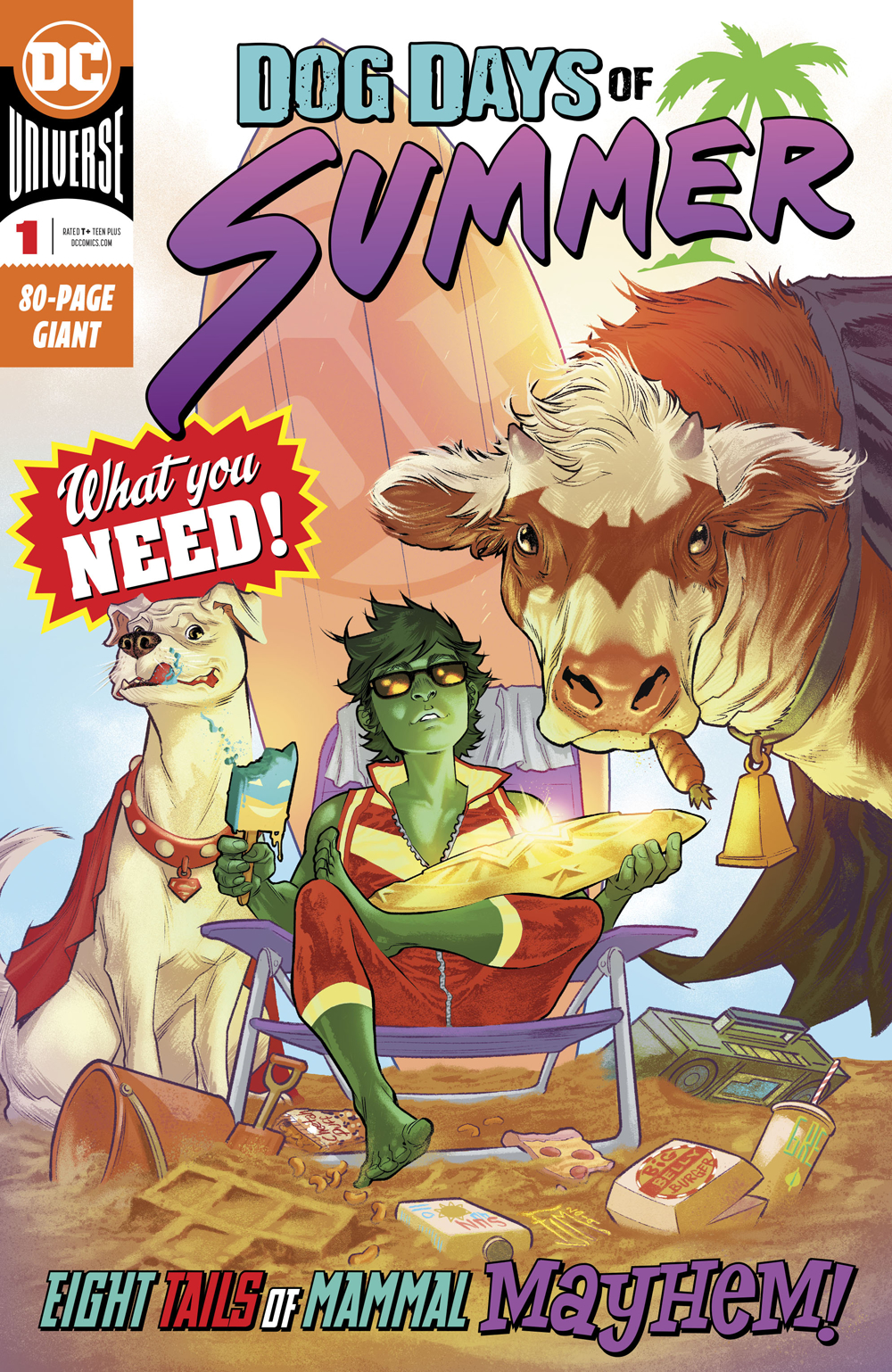 DOG DAYS OF SUMMER #1
DC COMICS
MAR190475
(W) G. Willow Wilson, Joshua Williamson, Mariko Tamaki, Dan DiDio, Collin Kelly, Jackson Lanzing, Others (A) Stejpan Sejic, Tom Raney, Cully Hamner, Kyle Hotz, Cian Tormey, Others (CA) Francis Manapul
"Who let the dogs out?" DC does this summer as we unleash the beast within and join Krypto and Superman, Bat-Cow and Batman, Wonder Woman and Ferdinand and many more for eight sun-kissed stories in this can't-miss animal-sized spectacular!
In Shops: May 29, 2019
SRP: $9.99
DYNAMITE ENTERTAINMENT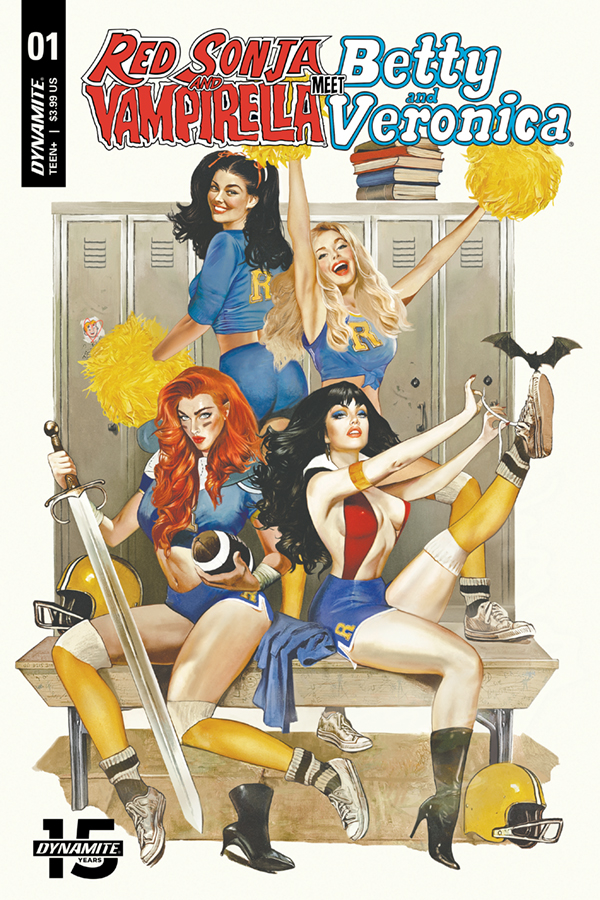 RED SONJA VAMPIRELLA BETTY VERONICA #1 CVR A DALTON
DYNAMITE
MAR191040
(W) Amy Chu (A) Maria Sanapo (CA) Fay Dalton
Mystery, murder, and mayhem descends on Riverdale as four of your favorite comic book women meet for the first time. A string of paranormal, unsolved murders leads the vampire hunter Vampirella and her sword-wielding barbarian partner Red Sonja to the small, sleepy town where things always seem to happen... There they discover Betty and Veronica, investigative reporters for the high school newspaper, also hot on the trail of the same killer.
In Shops: May 08, 2019
SRP: $3.99
IDW PUBLISHING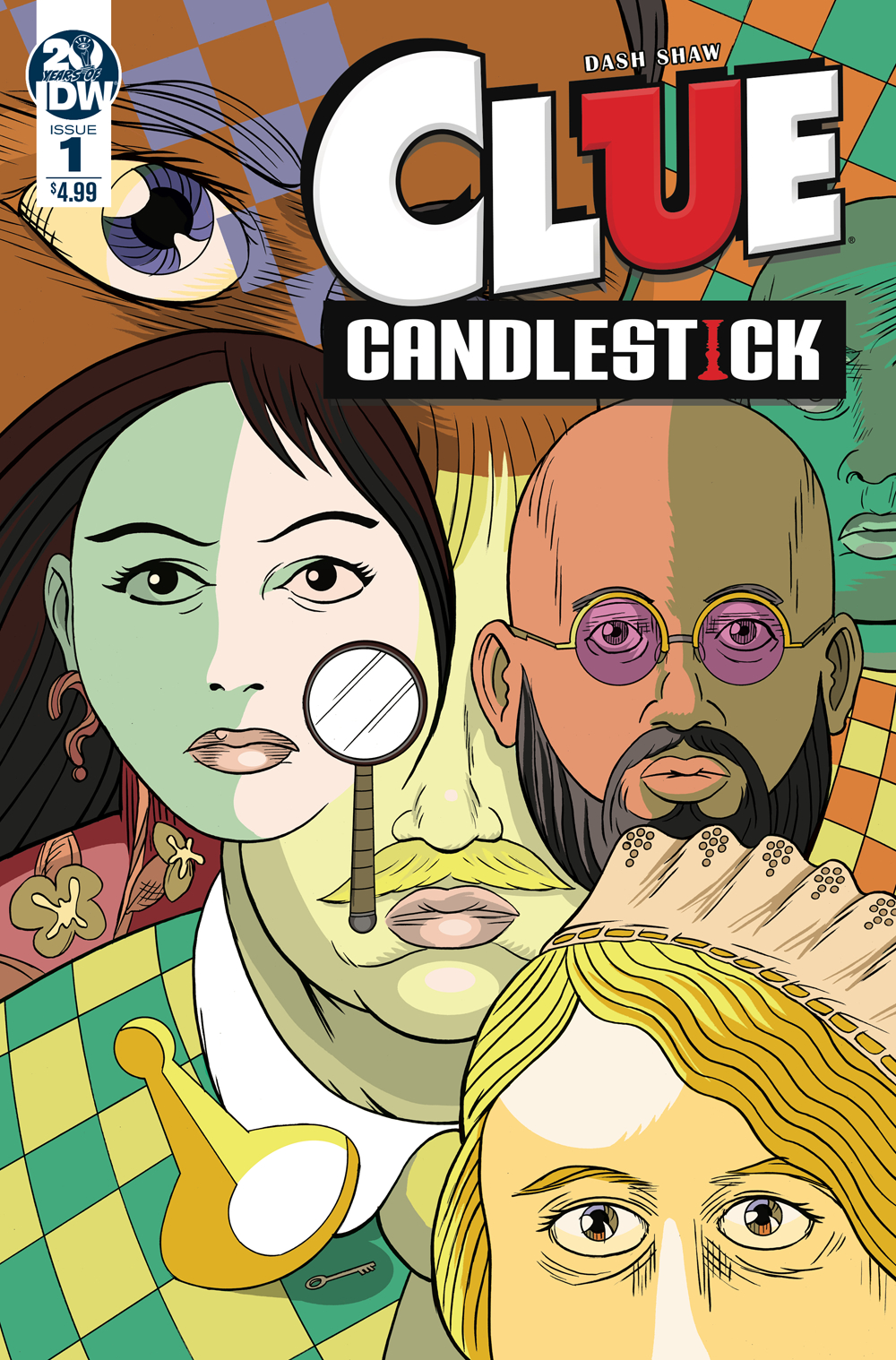 CLUE CANDLESTICK #1 CVR A SHAW
IDW PUBLISHING
MAR190723
(W) Dash Shaw (A/CA) Dash Shaw
All of your favorite suspicious characters are back in this new brain twister based on the timeless detective game. Ripe with puzzles, secrets, and lies, in CLUE: CANDLESTICK everyone's a suspect! Cartoonist auteur Dash Shaw unleashes his murderous imagination on the quirky, thrilling and mysterious world of Clue!
From the creative mind that brought you the animated movie, My Entire High School Sinking Into the Sea! Visionary creator Dash Shaw re-imagines the world of Clue in this suspense-filled, murder mystery! Each extra-length issue also features brand new Clue game cards based on the comic!
In Shops: May 22, 2019
SRP: $4.99 MARVEL ACTION CLASSICS SPIDER-MAN TWO IN ONE #1 SCHERBERGER
IDW PUBLISHING
MAR190633
(W) Marc Sumerak, Peter David (A) David Nakayama, Mike Norton (CA) Patrick Scherberger
Two classic Spider-Man tales, pulled from the legendary Vault of Heroes! First-a chance encounter with the Enchantress pits Spidey against Thor-with the whole of Asgard right behind! Then, when Flash Thompson gets a bite from a werewolf, Spidey seeks the aid of the sorcerer supreme-Doctor Strange!
In Shops: May 08, 2019
SRP: $4.99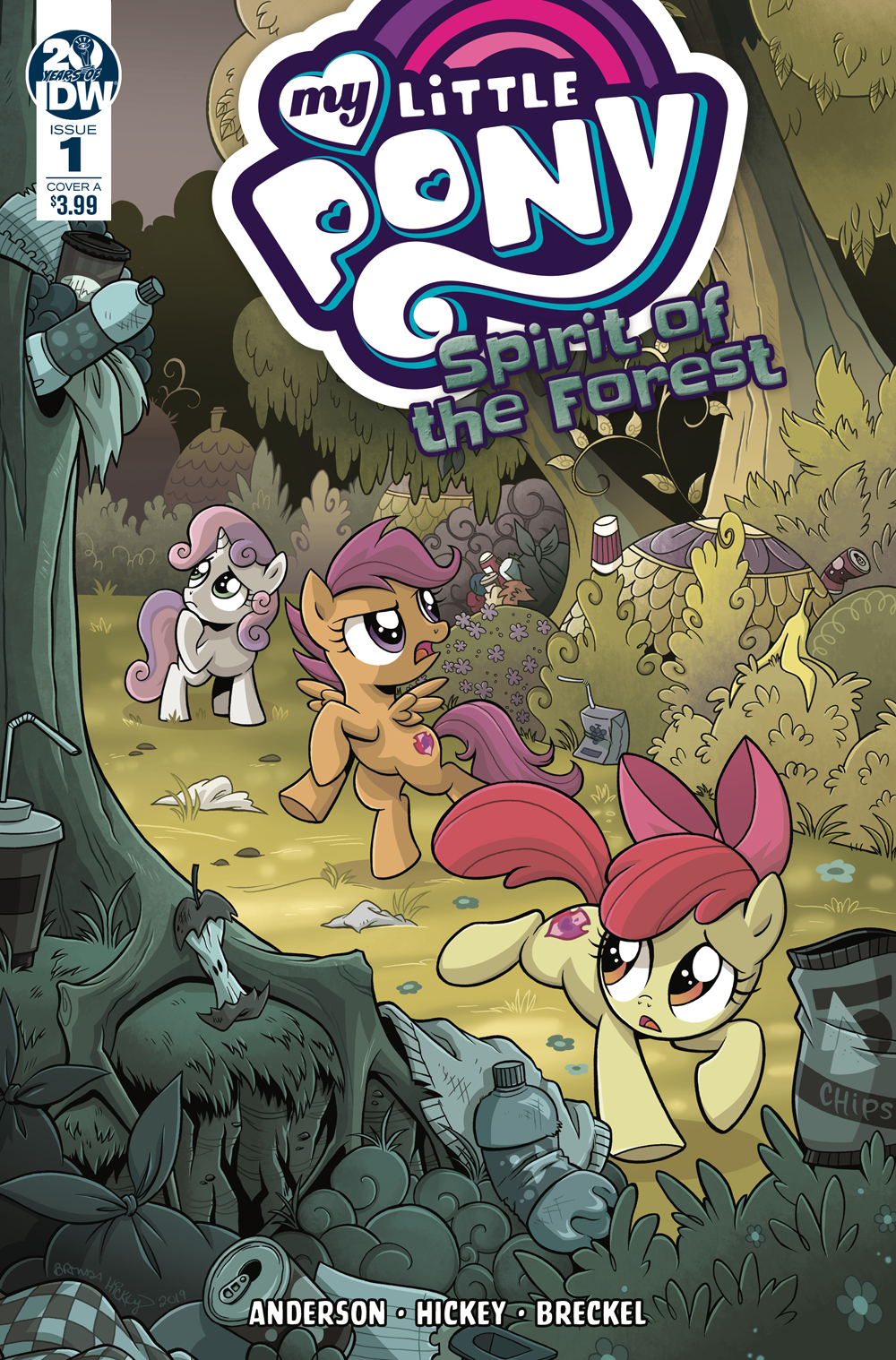 MY LITTLE PONY SPIRIT OF THE FOREST #1 (OF 3) CVR A HICKEY (
IDW PUBLISHING
MAR190663
(W) Ted Anderson (A/CA) Brenda Hickey
The Cutie Mark Crusaders are back! When Apple Bloom, Scootaloo, and Sweetie Belle take a trip into the woods, they find a forest filled with trash! Just what could be causing this mess?! Looks like it's another mystery for our favorite fillies to solve-and one where not everything is as it seems...
In Shops: May 29, 2019
SRP: $3.99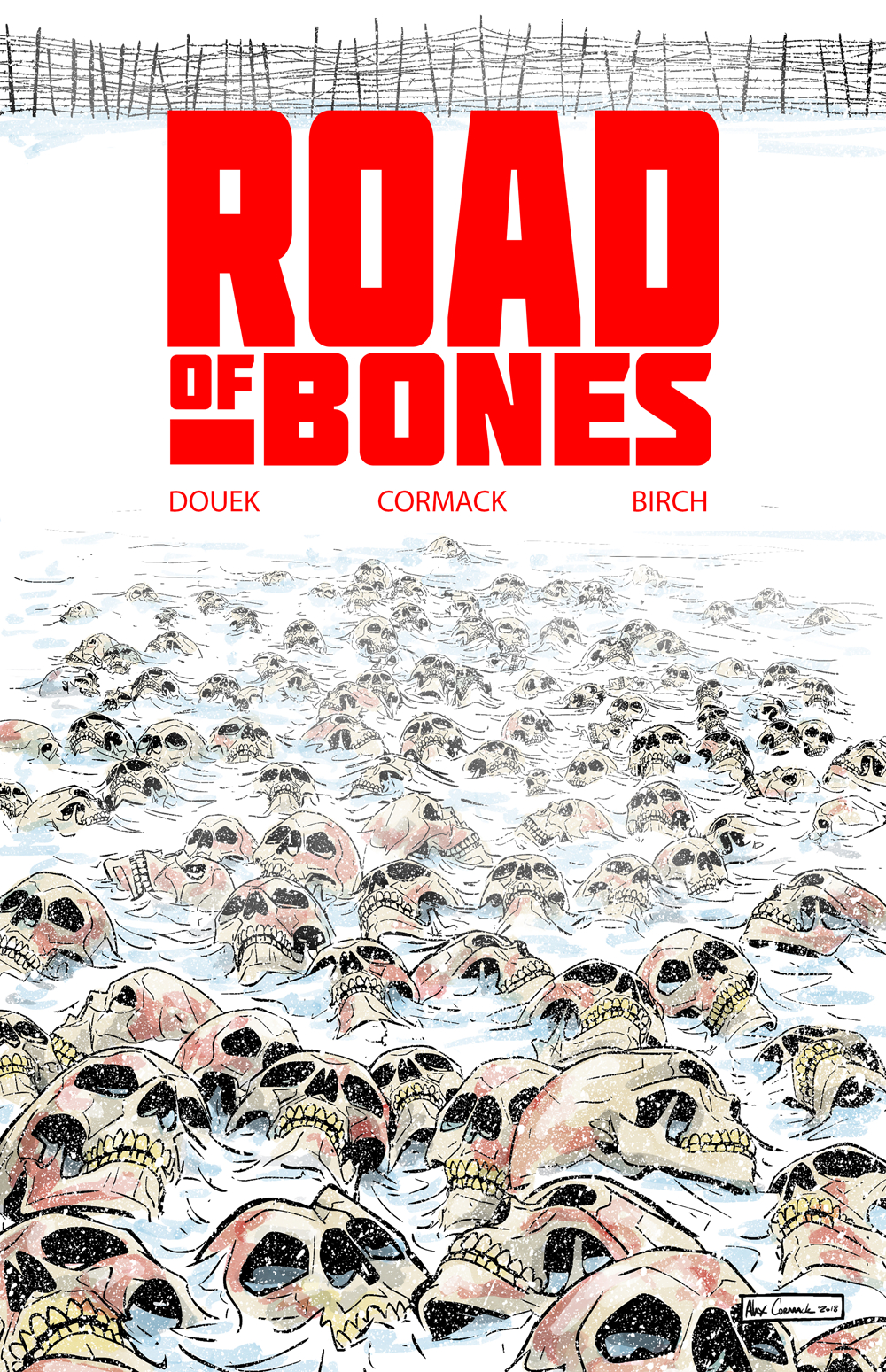 ROAD OF BONES #1
IDW PUBLISHING
MAR190729
(W) Rich Douek (A/CA) Alex Cormack
In 1953, the Siberian Gulag of Kolyma is hell on Earth-which is why Roman Morozov leaps at the chance to escape it. But even if they make it out, Roman and his fellow escapees still have hundreds of miles of frozen tundra between them and freedom. With the help of a mysterious being straight out of his childhood fairy tale stories, Roman just might make it-or is the being simply a manifestation of his brutal circumstances driving him insane?
From writer Rich Douek (Gutter Magic) and artist Alex Cormack (Sink), Road of Bones will carve a path of unrelenting dread right into your heart. Horror, history, and Russian folklore collide in this brutal survival tale, where the worst prison in the world is merely the gateway to even darker horrors.
In Shops: May 22, 2019
SRP: $3.99
IMAGE COMICS
MAR190016
(W) Brandon Thomas (A/CA) Khary Randolph, Emilio Lopez
Spencer Dales was born into a world of magic. His father belongs to the Aegis, a secret society of black magicians ordered by their unseen masters to better the lives of others-those with greater potential-but never themselves.
Now it's time for Spencer to follow in his father's footsteps, but all he sees is a broken system in need of someone with the wand and the will to change it. But in this fight for a better future, who will stand beside him?
KHARY RANDOLPH (We Are Robin, Noble, Black, TECH JACKET) and BRANDON THOMAS (HORIZON, The Many Adventures of Miranda Mercury, Noble, Voltron) ignite a generational war in this action-fantasy series, made entirely by creators of color, and committed to one truth above all others-Excellence is Real.
In Shops: May 08, 2019
SRP: $3.99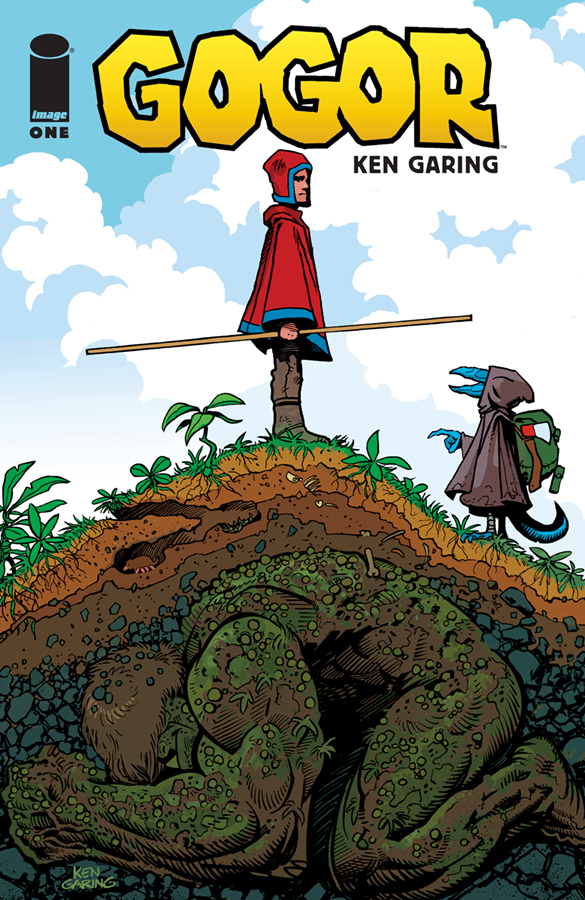 GOGOR #1
IMAGE COMICS
MAR190024
(W) Ken Garing (A/CA) Ken Garing
From KEN GARING, the writer/artist of the acclaimed series PLANETOID, comes an all-new ongoing series of wonderfully weird high fantasy! Deep underground, among the floating islands of Altara, the mystical Gogor sleeps. But trouble brews above ground as soldiers of the Domus impose their will across the land. Now, a young student named Armano must awaken Gogor and begin his quest to protect the culture of Altara. This debut issue kicks off with 28 pages of story!
In Shops: May 01, 2019
SRP: $3.99
MARVEL COMICS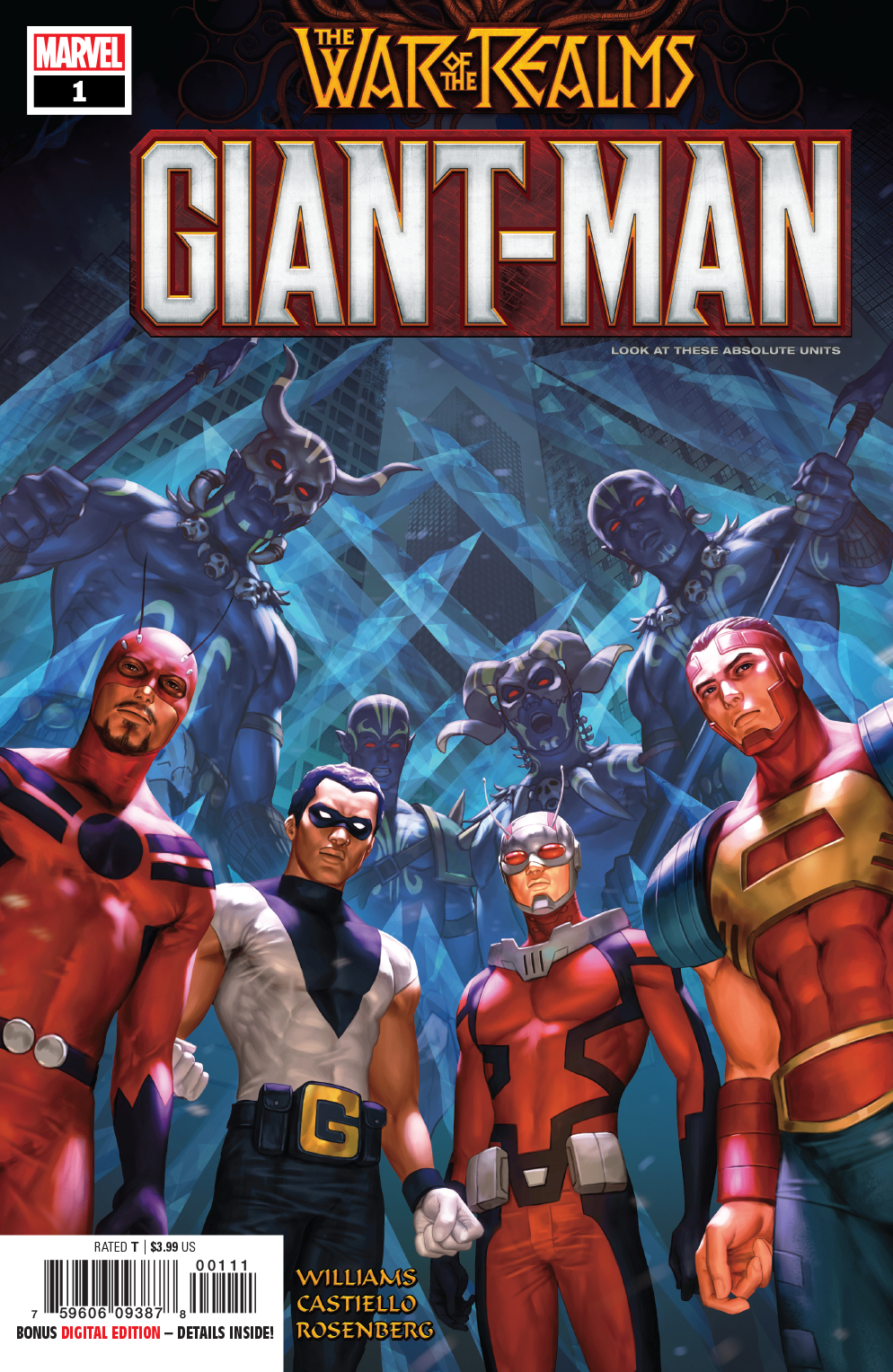 GIANT MAN #1 WR
MARVEL COMICS
MAR190809
(W) Leah Williams (A) Marco Castiello (CA) Woo Cheol
WAR OF THE REALMS TIE-IN! ON THE SHOULDERS OF GIANTS!
At the behest of All-Mother Freyja, four men must rise to monstrous heights and infiltrate the most savage territory of New Jotunheim: Florida!
Rated T
In Shops: May 15, 2019
SRP: $3.99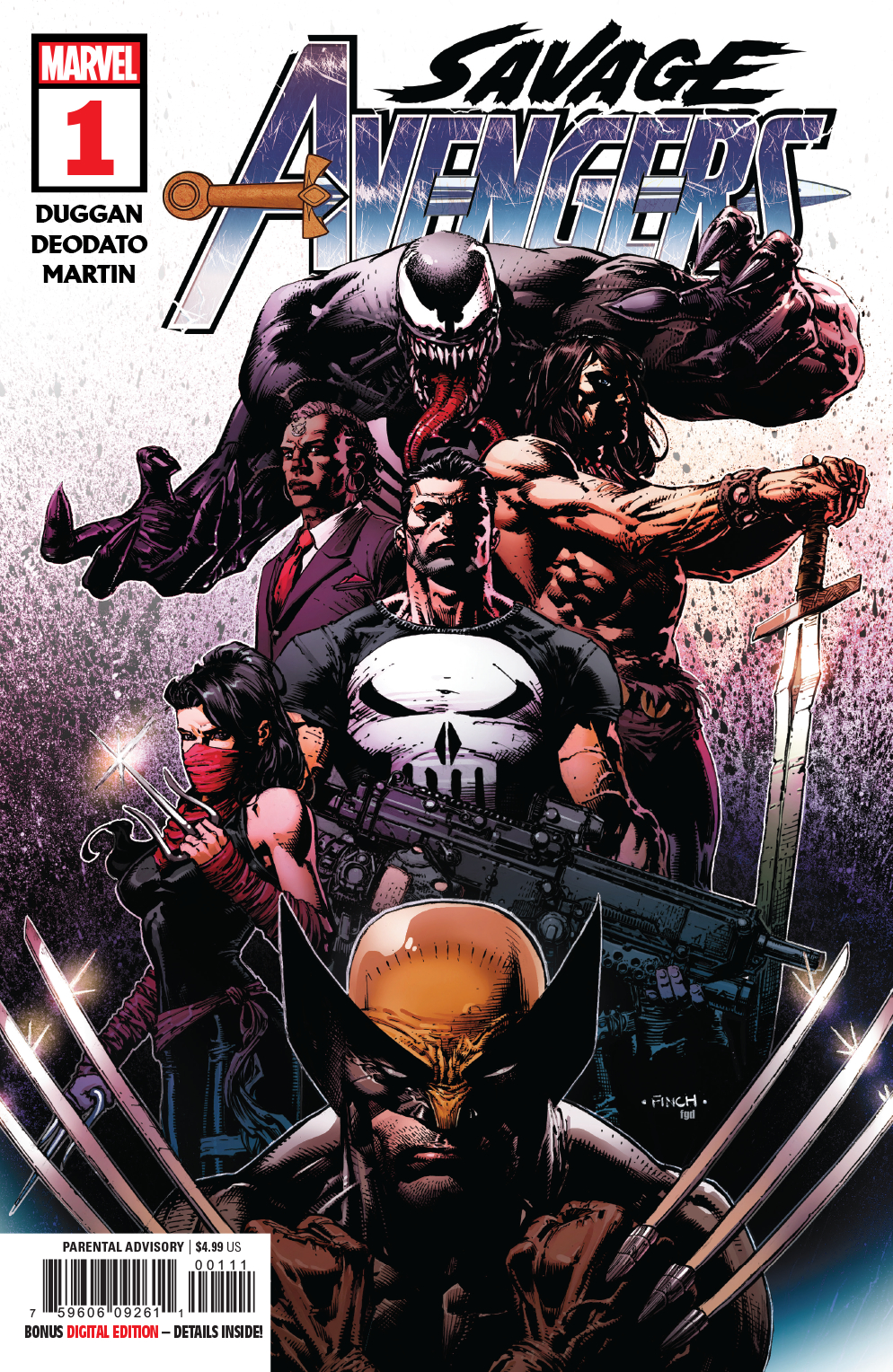 SAVAGE AVENGERS #1
MARVEL COMICS
MAR190757
(W) Gerry Duggan (A) Mike Deodato (CA) David Finch
The most savage, most unkillable team of characters in the Marvel Universe is assembled! Wolverine! Venom! Elektra! Punisher! And in their midst - Conan the Barbarian! Conan has returned to the Marvel Universe and his new adventures begin here. What is the City of Sickles? Who is the Marrow God? How is the Hand involved? The roughest and most dangerous characters rumble through this new title starting with...Conan vs. Wolverine? 'Nuff said.
Rated T+
In Shops: May 01, 2019
SRP: $4.99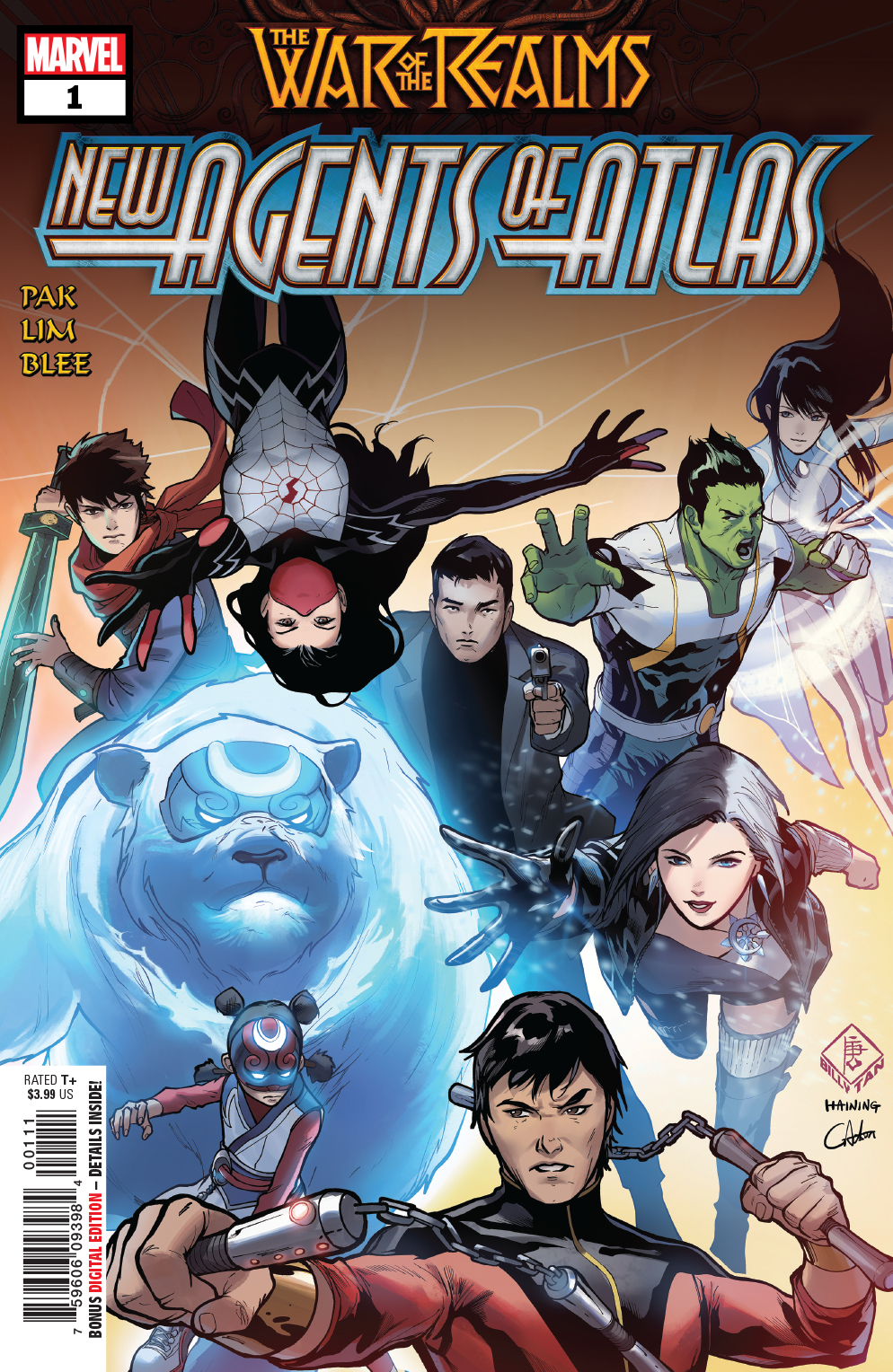 WAR OF REALMS NEW AGENTS OF ATLAS #1 (OF 4) WR
MARVEL COMICS
MAR190793
(W) Greg Pak (A) Lim, Gang Hyuk (CA) Billy Tan
FEATURING MARVEL'S NEWEST HEROES WAVE, AERO & SWORD MASTER!
A "War of the Realms" tie-in series! As Sindr, Immortal Queen of Muspelheim, and her legions of Fire Demons march on Asia, it's time for a new band of heroes to unite to protect the Pacific Rim. Having brought together a ragtag team of heroes to defend the Earth from an alien invasion in the past, can Amadeus Cho reassemble his "protectors" -- Shang-Chi, Silk and Jimmy Woo to save the world from incineration? And where is Kamala Khan? And just who are Crescent, Io and Luna Snow??? Featuring Marvel's newest heroes from China, Aero and Sword Master, and a mysterious new Filipino heroine named WAVE!
Rated T+
In Shops: May 08, 2019
SRP: $3.99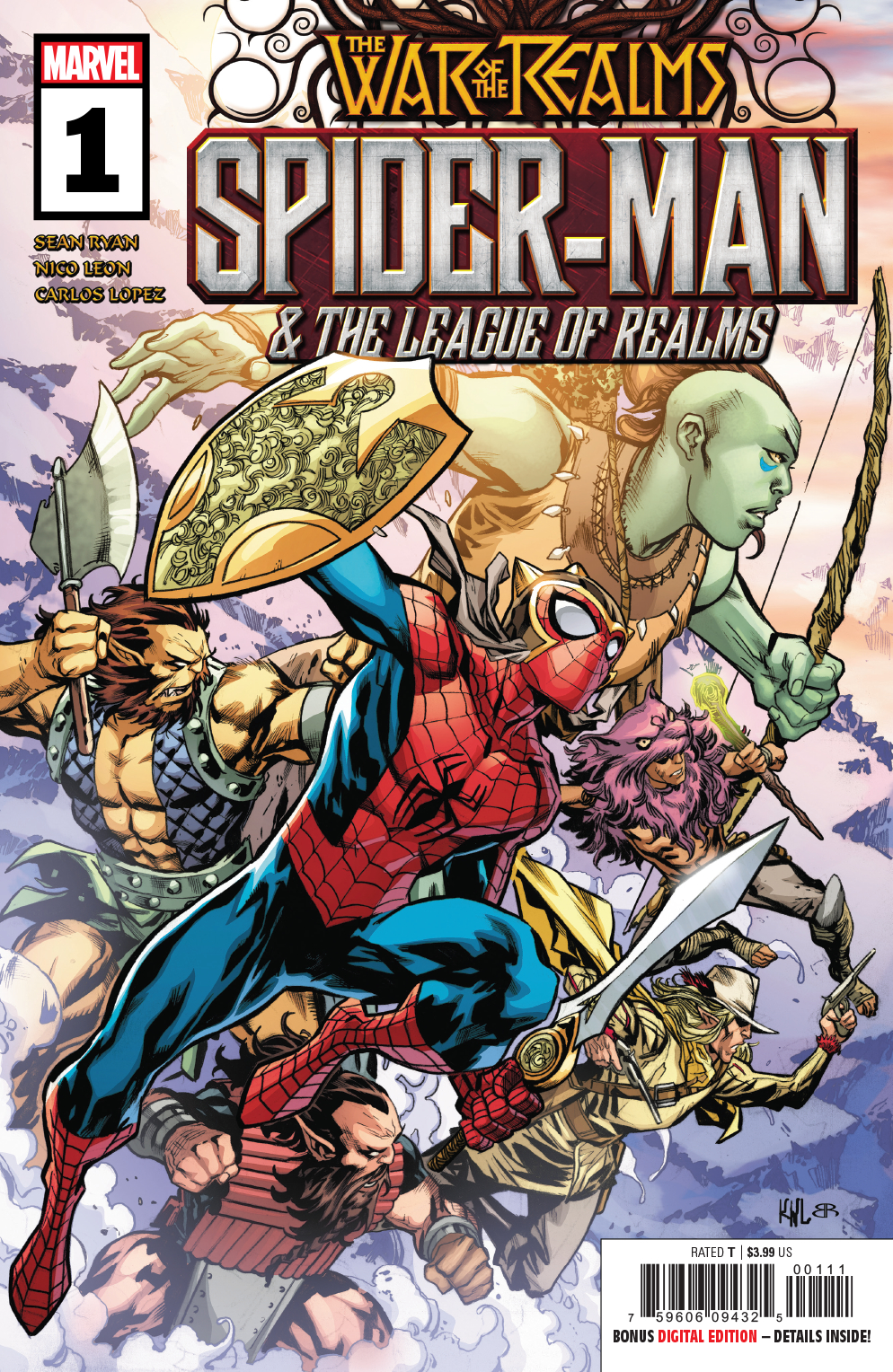 WAR OF REALMS SPIDER-MAN & LEAGUE OF REALMS #1 (OF 3) WR
MARVEL COMICS
MAR190786
(W) Sean Ryan (A) Nico Leon (CA) Ken Lashley
WAR OF THE REALMS TIE-IN!
• In order to win the War of the Realms, we need a LEAGUE OF REALMS!
• Thor once led this team with one representive from each fantastical realm, but the League has a NEW leader and representative of Midgard- SPIDER-MAN!
• Spider-Man must Frodo-Up and lead this ragtag group of SCREWBEARD THE DWARF, UD THE TROLL, RO BLOODROOT THE WIZARD, SIR IVORY HONEYSHOT THE LIGHT ELF and TITANYA THE MOUNTAIN GIANT! But who will represent ASGARD?!
• And, as Spidey is a terrible leader, could this team possibly achieve ANYTHING?!
Rated T
In Shops: May 15, 2019
SRP: $3.99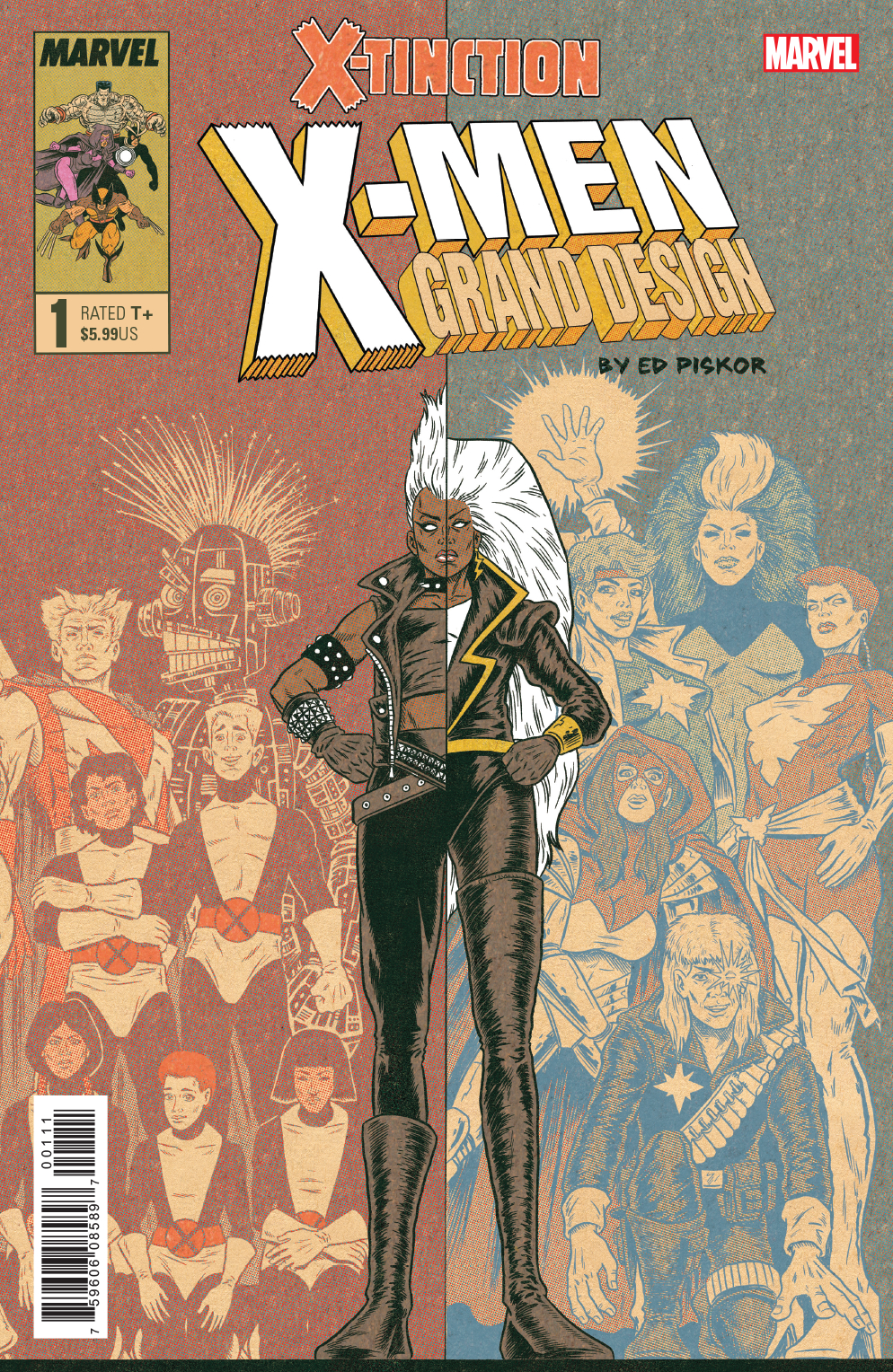 X-MEN GRAND DESIGN X-TINCTION #1 (OF 2)
MARVEL COMICS
MAR190928
(W) Ed Piskor (A/CA) Ed Piskor
The series that has critics and fans raving returns for its final installment! The ruination of the X-Men revisited! Re-live the now-classic storylines like Mutant Massacre and The Fall of the Mutants. With appearances by Longshot, Cable, and The Marauders! Created soup to nuts by comic book superstar Ed Piskor in the Mighty Marvel Manner!
Rated T+
In Shops: May 29, 2019
SRP: $5.99
INDIE VYDAVATEĽSTVÁ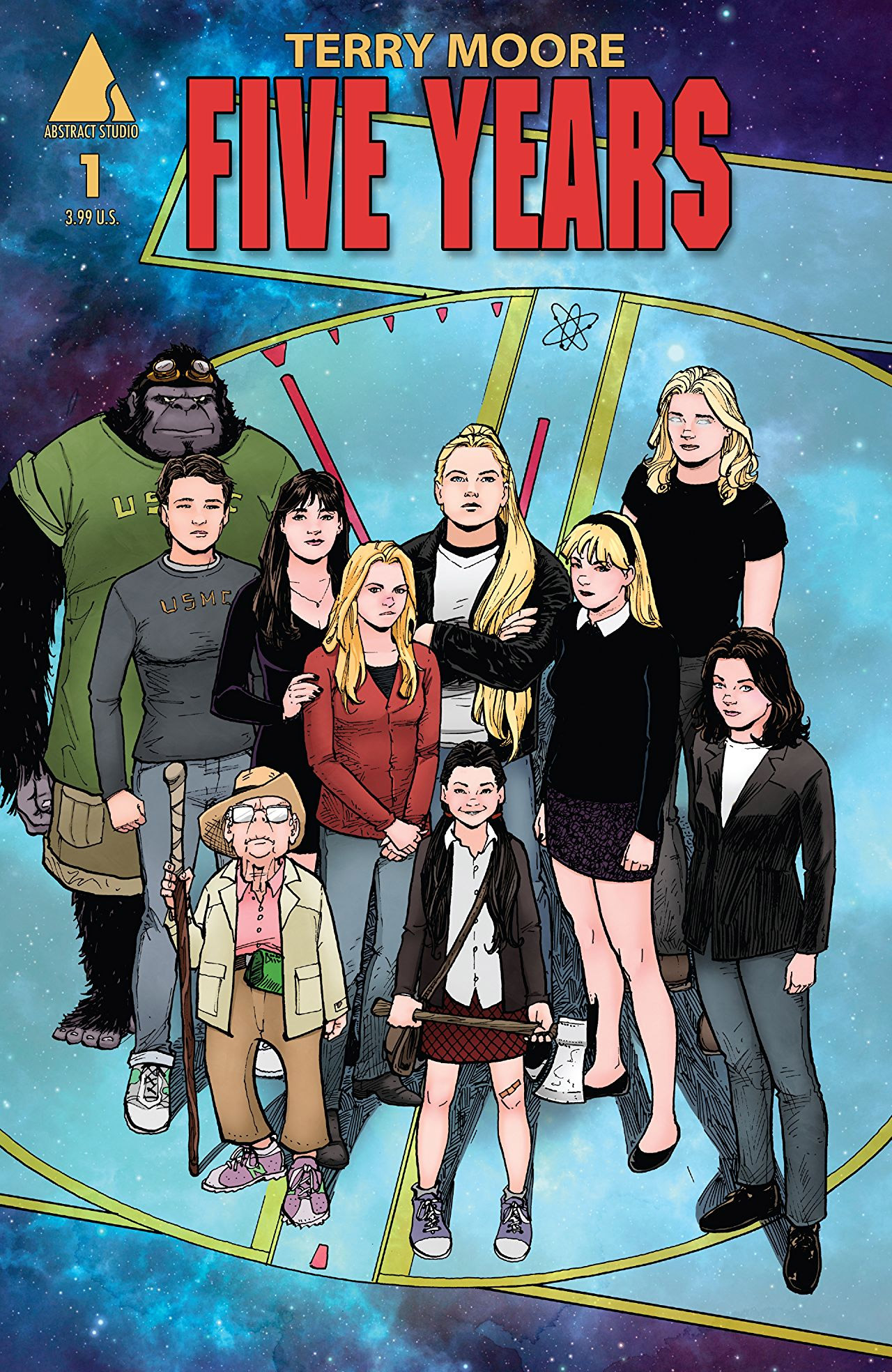 FIVE YEARS #1
ABSTRACT STUDIOS
MAR191321
(W) Terry Moore (A/CA) Terry Moore
Five Years weaves the many strands of the "Terryverse" into one epic saga, years in the making!
A dangerous paper written by Lilith has been leaked to the nations of the world containing a formula for the ultimate weapon, and now labs around the globe are attempting to build and test the Phi Bomb. Tambi, in an all-out effort to find the labs and stop them, has enlisted the help of Ivy Raven, Julie Martin, Rachel and Zoe. Meanwhile, Katchoo and Francine have moved their household - including the kid's new bodyguard, Samantha Locklear - to the beach where Katchoo devises her own solution to the problem...
In Shops: May 29, 2019
SRP: $3.99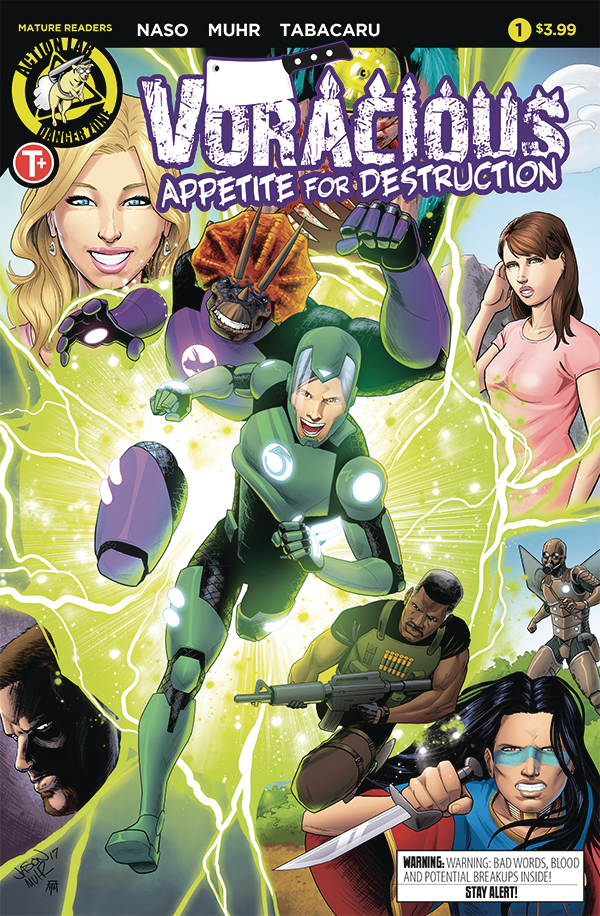 VORACIOUS APPETITE FOR DESTRUCTION #1 CVR A MUHR
ACTION LAB - DANGER ZONE
MAR191332
(W) Jason Muhr (A/CA) Jason Muhr
Chef Nate Willner's dinosaur hunts in an alternate dimension reignited his passion for cooking and turned his life around. But traveling through time and space for prehistoric meat has consequences he never imagined. He's damaged another universe, fractured the trust of the people he cares for most, and unleashed a flesh-hungry monster on his hometown. Can Nate and his friends put aside their differences long enough to save Blackfossil? Featuring a "Bone to Pick" variant cover by Valentin Ramon (
Z
,
D4VE
), limited to 250 copies!
In Shops: May 29, 2019
SRP: $3.99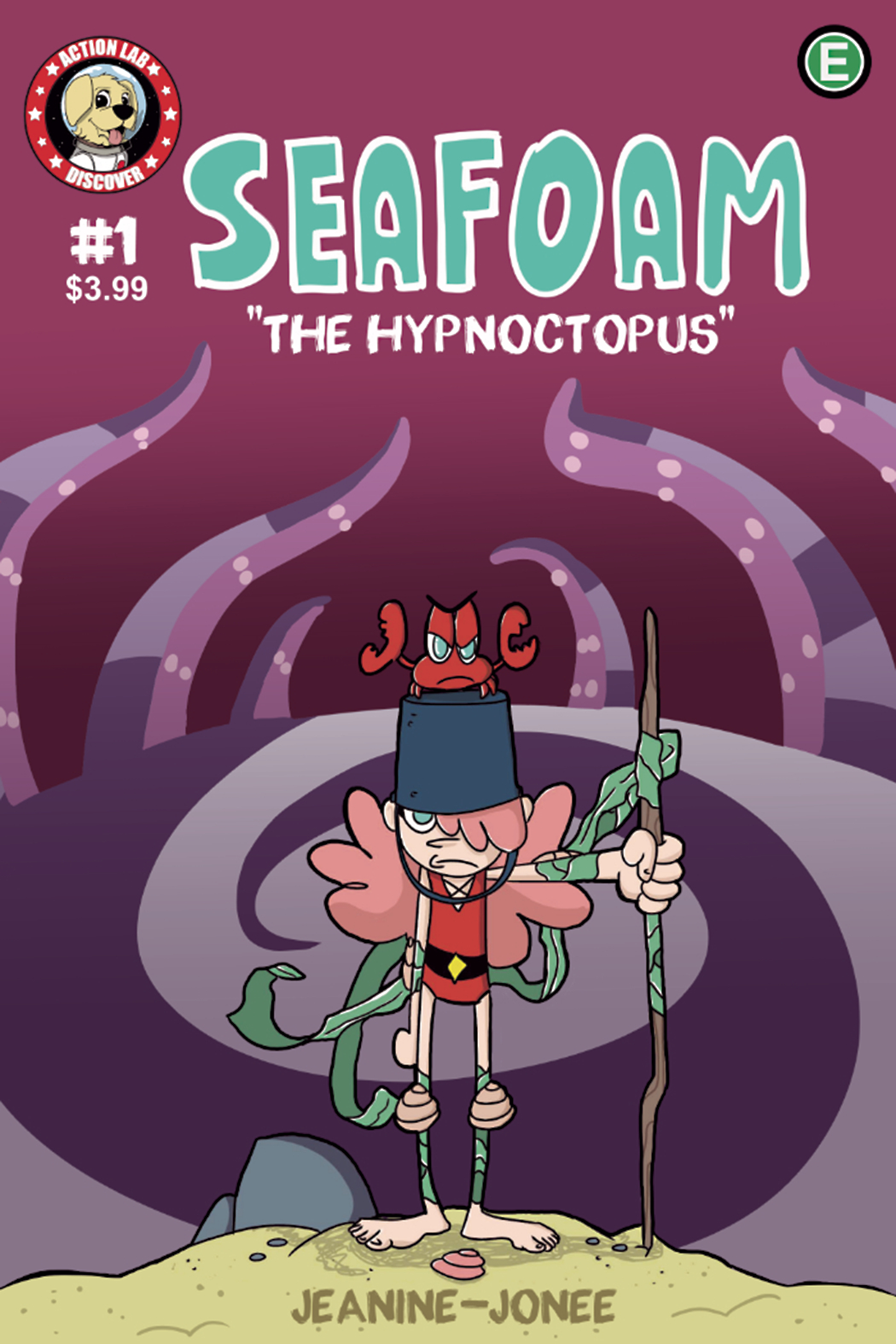 SEAFOAM FRIEND FOR MADISON #1 CVR A
ACTION LAB ENTERTAINMENT
MAR191327
(W) Jeanine Jonee (A) Kyle Holland (A/CA) Jeanine Jonee
Seafoam follows the adventures of Madison, a spunky 9-year-old girl who is granted passage to a beach full of mystical and nautical themed creatures after helping a beached narwhal. There she befriends a stand-offish boy she calls Blue, who has a few secrets of his own. In their first adventure, the kids face off against the Hypnoctopus, a vulgaris with the ability to control minds.
In Shops: May 29, 2019
SRP: $3.99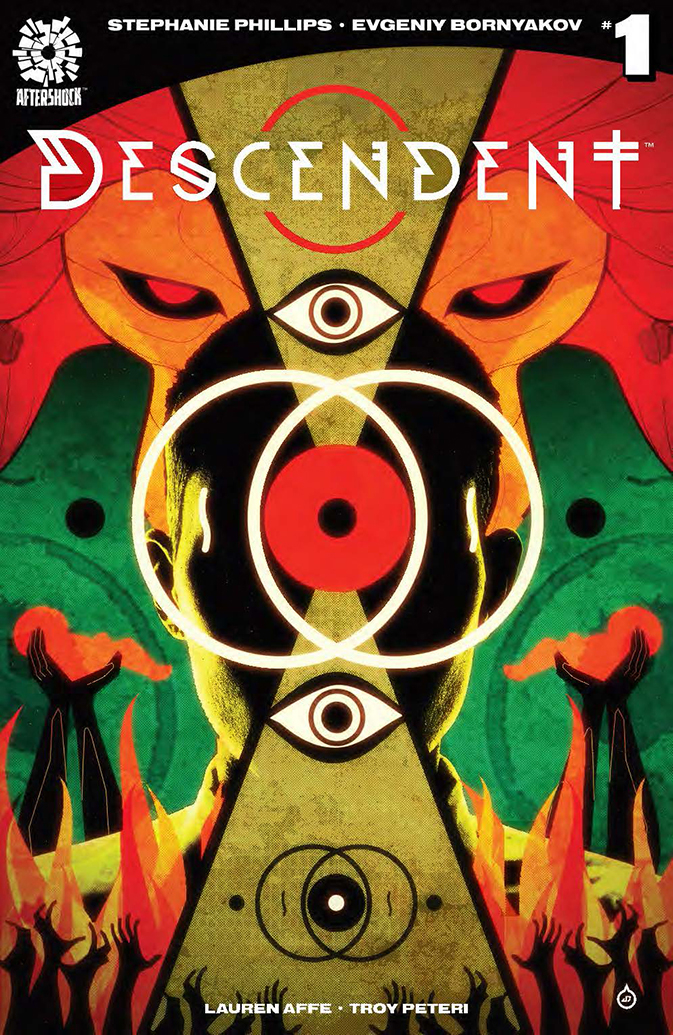 DESCENDENT #1 CVR A DOE
AFTERSHOCK COMICS
MAR191362
(W) Stephanie Phillips (A) Evgeny Bornyakov (CA) Juan Doe
WANTED: Information as to the whereabouts of JACKSON E. MILLER, Son of Senator Carter Miller. The child was kidnapped from his home in Washington, DC between 4 and 6 a.m. on Tuesday, March 1, 2018.
Address all communications to FBI representative Joanna Hernandez, writer Stephanie Phillips (Devil Within, Kicking Ice), artist Evgeny Bornyakov, colorist TBD, or letterer Troy Peteri. All communications will be treated in confidence. Please, no more calls about secret government conspiracies or ancient cults. Conspiracy theories, government corruption, and a really good mix of Prince drives David Corey to help solve the mysterious disappearance of a famous politician's son. When David realizes that the truth is much more dangerous than a kidnapping, he must battle ancient secrets that have endangered the lives of children for centuries. This conspiracy-fueled adventure story looks at the darker side of American history through the eyes of an unlikely team of heroes. If they fail, the American government and its people may not survive.
In Shops: May 01, 2019
SRP: $3.99
KILLER GROOVE #1 CVR A MARRON
AFTERSHOCK COMICS
MAR191360
(W) Ollie Masters (A/CA) Eoin Marron
In 1970s Los Angeles, Jonny is one of the thousands of musicians trying to make it big while working a crummy bar job, and getting drunk with his whiskey soaked P.I. friend, Jackie. When Jonny gets tangled up with a local mob hitman, he not only finds a new and violent career, but maybe the inspiration for his music as well. From Ollie Masters (The Kitchen, Snow Blind) and Eoin Marron (HER INFERNAL DESCENT, Army of Darkness, James Bond) comes the next rock'n'roll crime sensation, with a beat that'll kill you dead.
In Shops: May 29, 2019
SRP: $3.99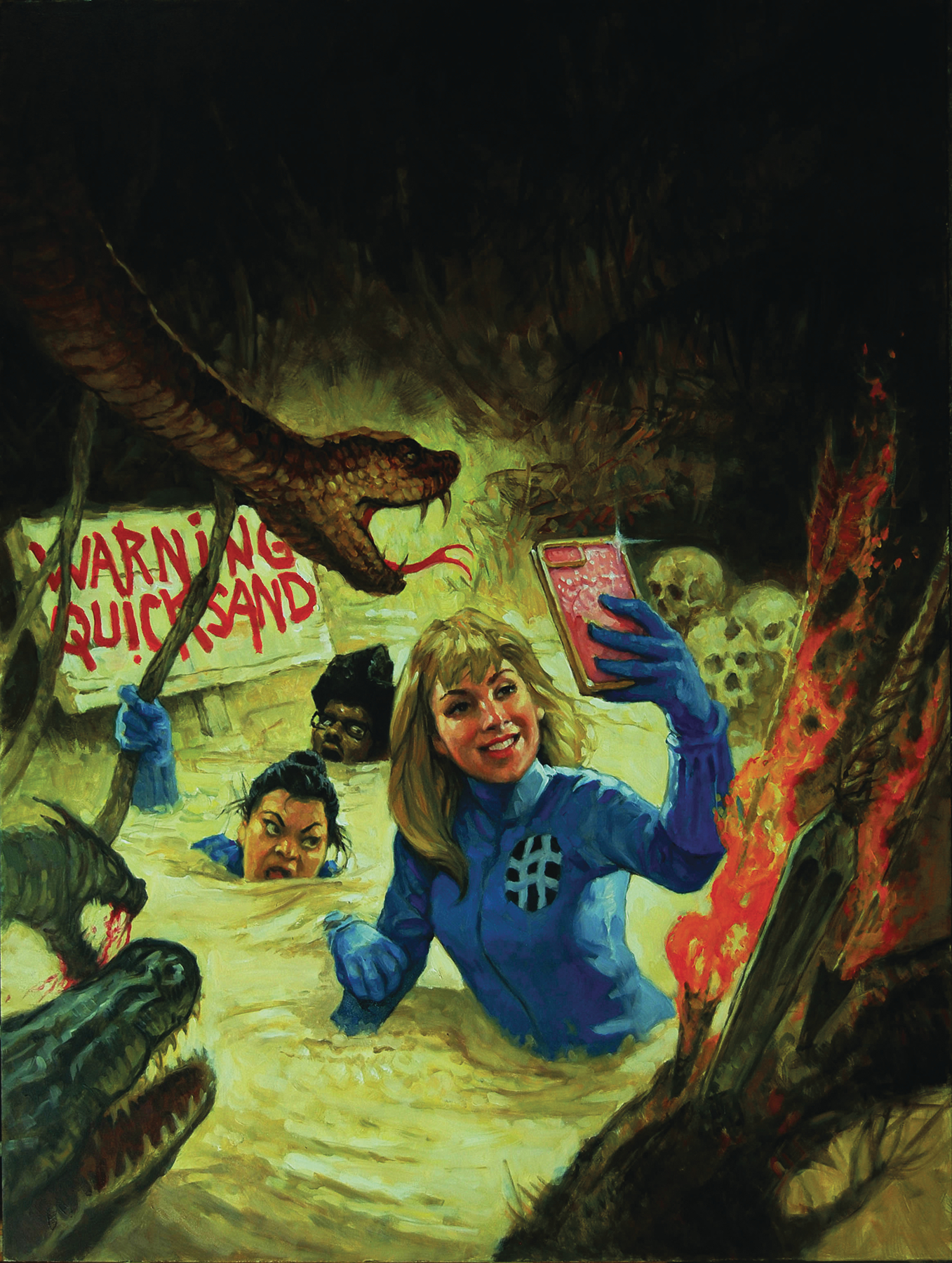 HASHTAG DANGER #1 (MR)
AHOY COMICS
MAR191382
(W) Tom Peyer, Paul Constant (A) Fred Harper, Chris Giarrusso (CA) Richard Williams
Three scientific adventurers face strange creatures, lost civilizations, and supernatural threats... when they're not too busy being complete jerks to each other. PLUS! Follow the depressing misadventures of Snelson, an over-the-hill comedian who peaked in the 90s. EXTRA! Pics, prose, and possibly poems! Painted cover by Richard Williams (MAD, Edgar Allan Poe's Snifter of Terror).
In Shops: May 01, 2019
SRP: $3.99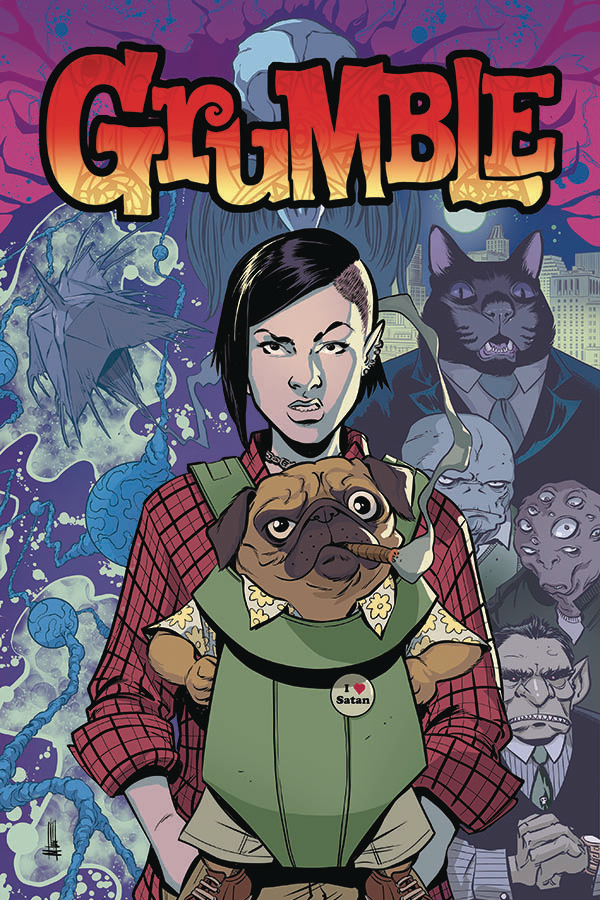 GRUMBLE #1 CVR A MIKE NORTON (O/A)
ALBATROSS FUNNYBOOKS
MAR191390
(W) Rafer Roberts (A/CA) Mike Norton, Marissa Louise
When the forces of good
and
evil are hunting you down, the only logical thing to do is disguise yourself as a dog and go on the run! Eddie is a low-rent hustler who got magically turned into a pug during a con gone wrong. Tala is Eddie's long-lost, part-demon daughter. When Tala finds herself the target of powerful inter-dimensional forces, she goes to Eddie for help-setting off a chain reaction of chaos and destruction that could threaten the very fabric of existence. Can Eddie and Tala put aside their differences long enough to survive the magical mayhem and madness that they started, or will they kill each other first?
In Shops: Apr 10, 2019
SRP: $3.99 AM ARCHIVES MARK OF ZORRO 1949 1ST APP #1 MAIN CVR
AMERICAN MYTHOLOGY PRODUCTIONS
MAR191405
(W) Johnston McCulley, Mick Dubin (A/CA) Bill Ely
Dell's classic Four Color #228 presented the first ever Zorro comic book back in 1949! In the issue Zorro must fight the corrupt governor and military while protecting his secret identity as Don Diego. When the beautiful Lolita spurns the attentions of Don Diego she sets her sights on the incomparable Zorro, not knowing they are one and the same! Celebrate Zorro's centennial with a look at his comic book origins with this special issue.
In Shops: May 15, 2019
SRP: $3.99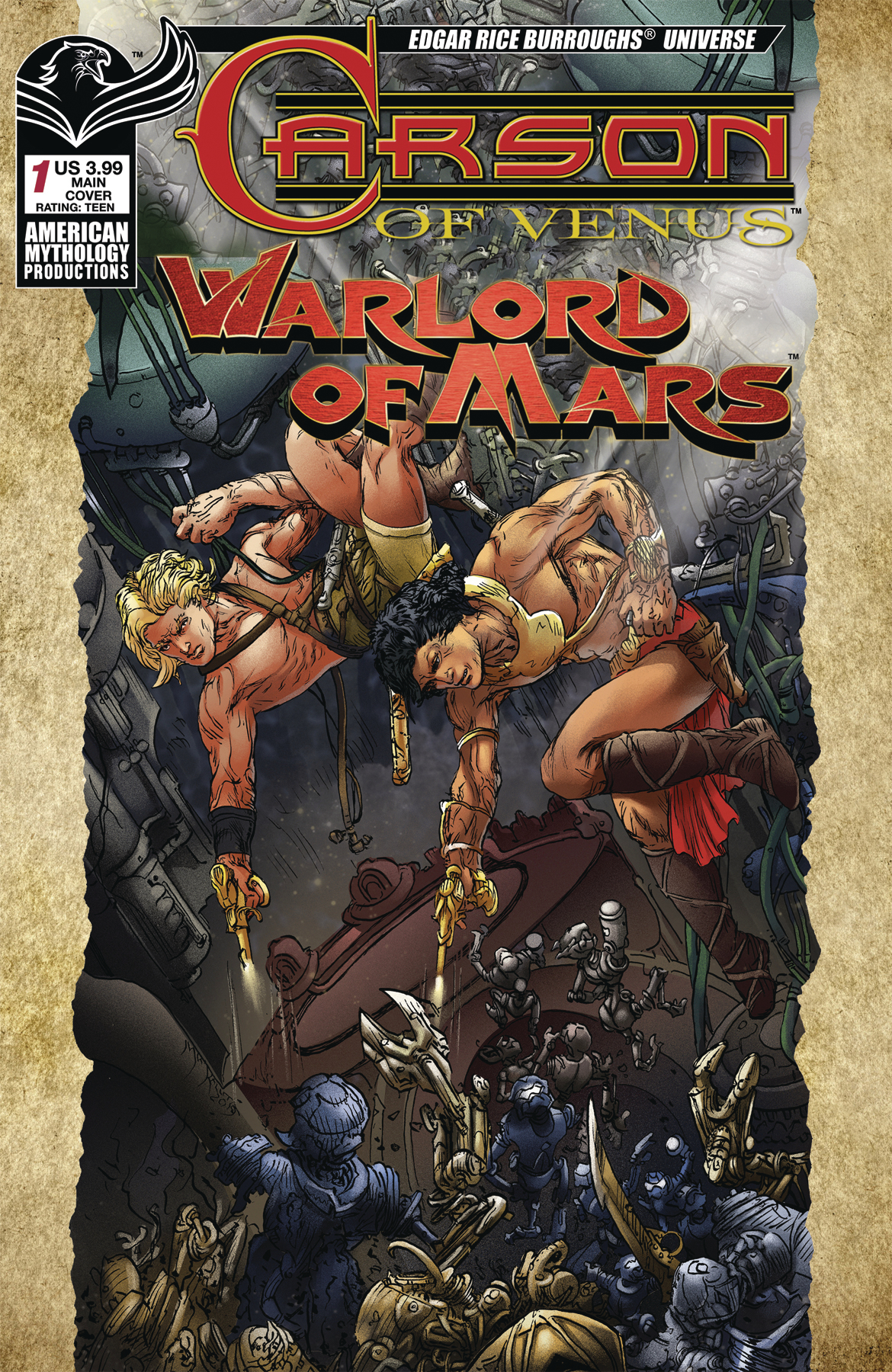 CARSON OF VENUS WARLORD OF MARS #1 MAIN CVR KALUTA
AMERICAN MYTHOLOGY PRODUCTIONS
MAR191397
(W) David Avallone (A) Cyrus Mesarcia (CA) Michael William Kaluta
Join us for an epic crossover as two of Edgar Rice Burroughs' classic sci-fi properties collide in this once-in-a-lifetime event! Carson Napier and John Carter find themselves embroiled in an alien scheme that pits them against a veritable army of deadly warriors, killer robots, and vile villains. With only their wits and skills to guide them, the unlikely partners face death on an unknown world far from their adapted home worlds. Fantasy and science fiction combine with incredible action and adventure to deliver the ERB event of the year! Carson of Venus / John CarterWarlord of Mars: The Princess in the Tower #1 is available with three covers - Main Cover by legendary comic artist, Michael Kaluta, Warriors Cvr by interior artist Cyrus Mesarcia, and Limited Edition 1/350 Character Design cover also by Mercia!
In Shops: May 29, 2019
SRP: $3.99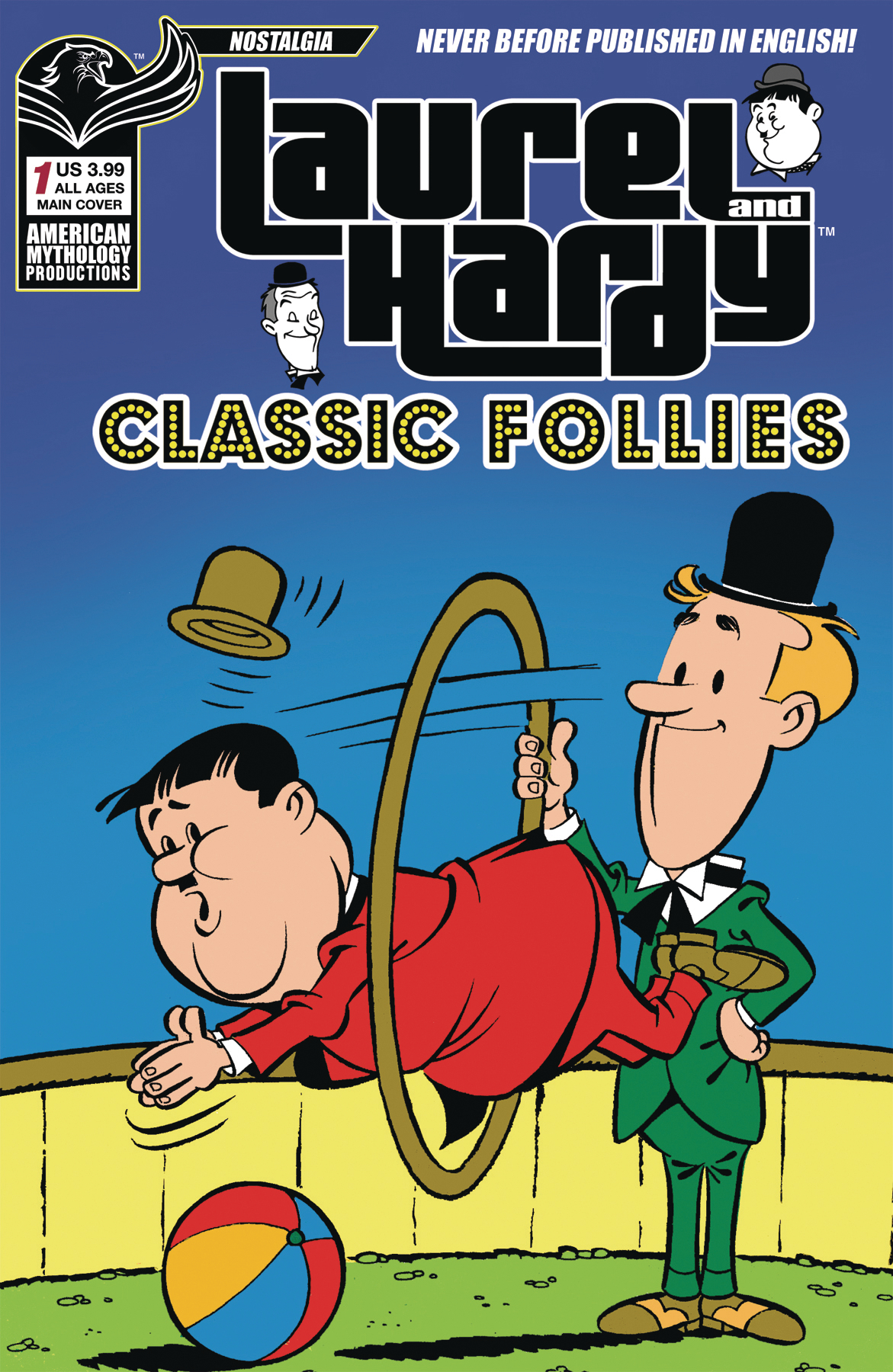 LAUREL & HARDY CLASSIC FOLLIES #1 MAIN CVR
AMERICAN MYTHOLOGY PRODUCTIONS
MAR191412
Laurel and Hardy have experienced worldwide notoriety for their comic adventures and American Mythology has uncovered some of their classic comic book follies that have never been seen in English! You can enjoy these lovingly crafted tales from yesteryear for the first time in this series.
In Shops: May 08, 2019
SRP: $3.99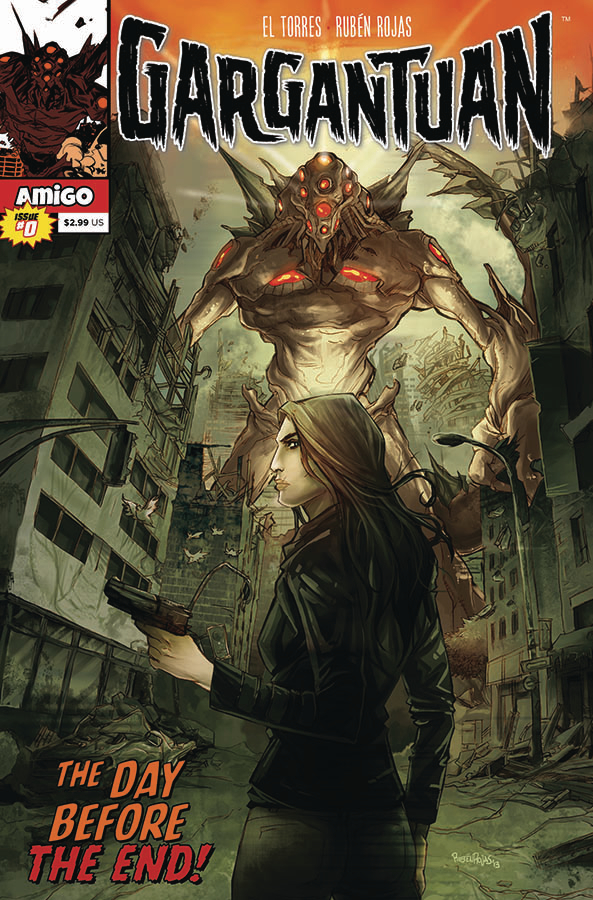 GARGANTUAN #0 (OF 5) (MR)
AMIGO COMICS
MAR191433
(W) El Torres (A/CA) Ruben Rojas
They were the Giants that once ruled the Earth. Now they only exist in nightmares like the Marshall Sarah Lozen has. And she doesn't know that her pursuit of the criminal rockstar Crius will end with the rise of The Gargantuan - and the end of the life on Earth as we know it!
In Shops: May 29, 2019
SRP: $2.99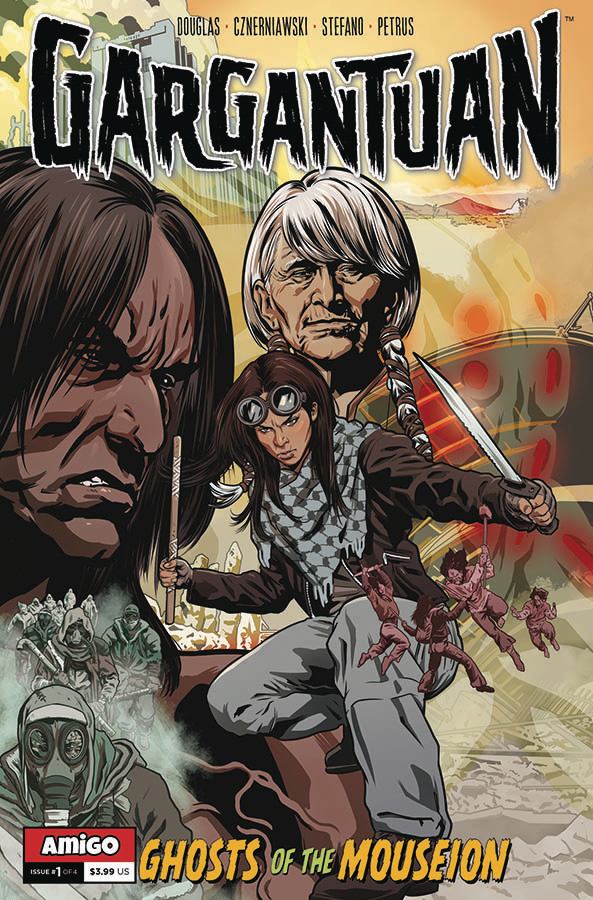 GARGANTUAN #1 (OF 5) (MR)
AMIGO COMICS
MAR191434
(W) Colleen Douglas (A) Luis Czerniawski (CA) Hugo Petrus
Sarah Lozen, a Native American US Marshal, now lives in a dystopian California. The criminal she is in pursuit of Crius Warner is the cause of the devastation. Though Sarah does not believe it, she is the spirit guardian not only for her people but the alien beings: Gargantuan, whose true natures are the "protectors or destroyers" of worlds.
In Shops: May 29, 2019
SRP: $3.99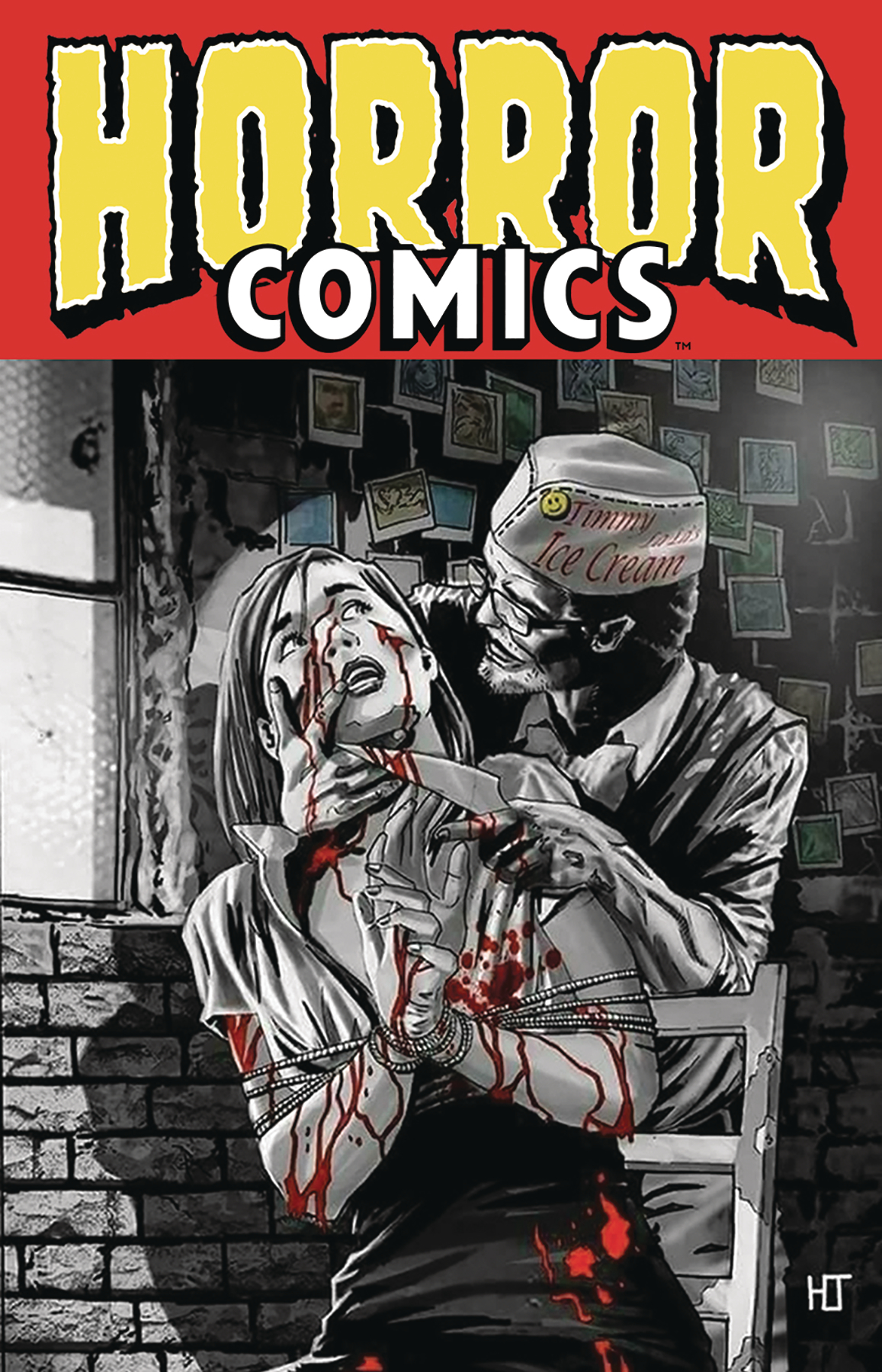 HORROR COMICS #1 MAIN CVR
ANTARCTIC PRESS
MAR191459
(W) Bradley Golden (A) Andrey Lunatik, Mickey Clausen
In a small town near Miami, Florida, Thomas Wright, the local ice cream man serves up sweet, delicious new ice cream flavors he makes himself....from the flesh of his murder victims! Timmy LaLa Ice Cream delivers the taste of terror with some ice-SCREAM treats!
In Shops: May 29, 2019
SRP: $3.99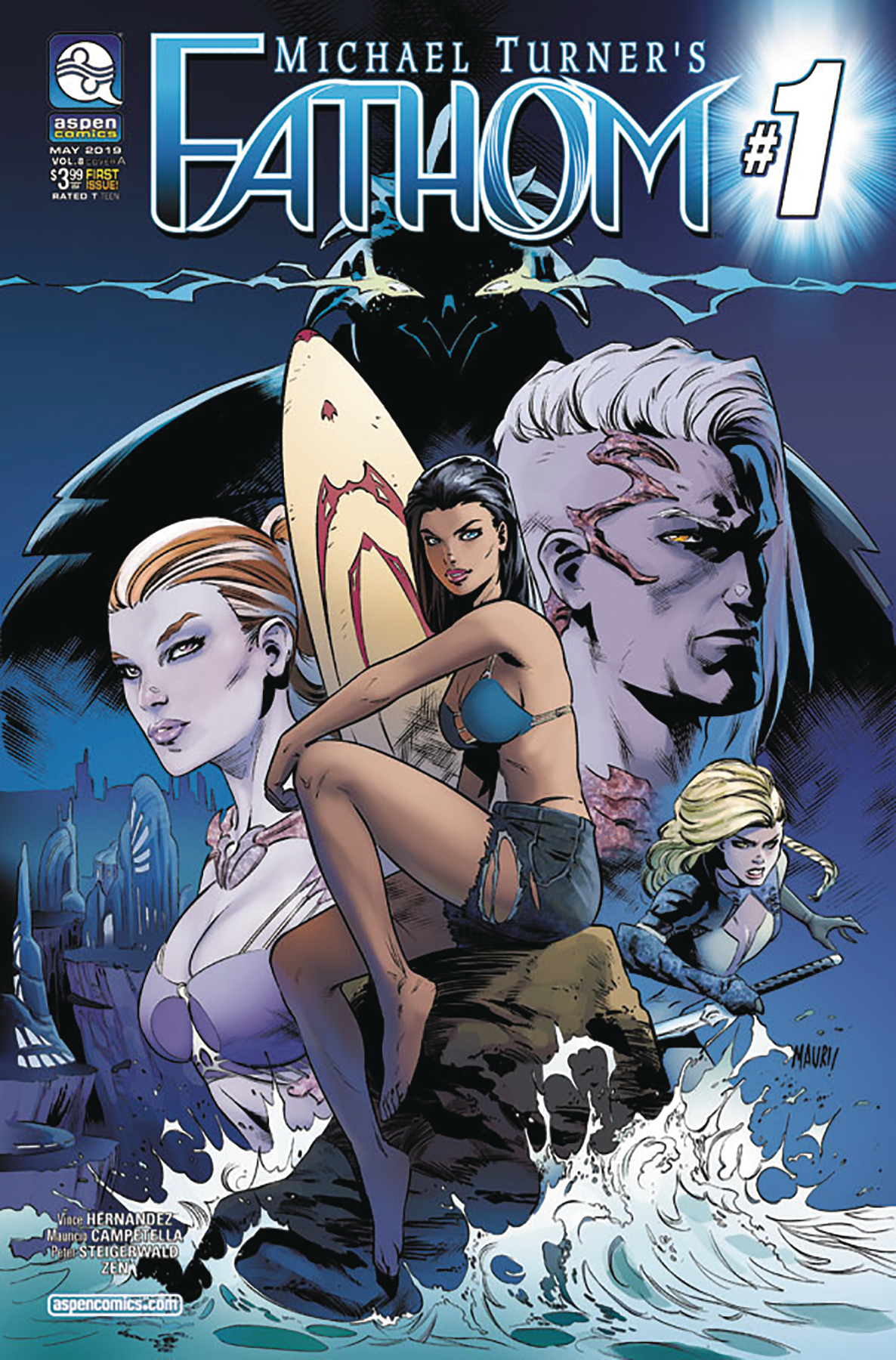 FATHOM VOL 8 #1 CVR A CAMPETELLA
ASPEN MLT INC
MAR191500
(W) Vince Hernandez (A/CA) Mauricio Camptella
The world below is no longer a secret and everything has led to this...
Aspen Matthews must restore the balance between both humans and The Blue as once again Fathom's preeminent villain, Killian, has returned to reclaim what he believes belongs to himself and his people! The stakes have never been higher as this volume returns Aspen's best-selling franchise for over 20 years to its roots, as Aspen must risk the fate of both worlds in order to stop Fathom's most dangerous foe!
Aspen's Vince Hernandez (Michael Turner's Fathom: Kiani, Charismagic, Dellec) marks his debut on Fathom's principal series alongside artist Mauricio Campetella (Jirni) and colorist Peter Steigerwald (Fathom, Superman/Batman), in a storyline that will define the Fathom universe for years to come!
In Shops: May 15, 2019
SRP: $3.99
UBER #1 IT ENDS (MR)
AVATAR PRESS INC
MAR191524
(W) Kieron Gillen (A) Canaan White (CA) Michael DiPascale
This ominous first printing cover is available here for the first time!
In Shops: May 29, 2019
SRP: $9.99 UNHOLY ARGENT VS ONYX #1 (MR)
BOUNDLESS COMICS
MAR191543
(W) Pat Shand (A) Nahuel Lopez (CA) Christian Zanier
The lethal ladies of UnHoly are back in action, only this time trying to kill each other! Fan-favorites Argent and Onyx are unleashed in a battle to the death, one that will draws loads of other folks into the conflict! A vs O - Fight! The second story in each issue is Project Argent about the debased lab that cloned Argent and all their experiments leading up to her. Each issue is topped off with the lead story Beautified! Available with these sexy covers: Regular (& Nude, Adult) + Wraparound (& Nude, Adult) + Brutal Adult (& Abused Adult, Adult Extreme) all by Christian Zanier - Femme Fatale (& Nude) + Killer Body (& Nude) + Stunning (& Nude) + Beach Babe (& Nude & Adult) by Renato Camilo - Sultry (& Nude, Adult) by Matt Martin - Attitude (& Nude) by Rick Lyon - Blown Away (& Nude, Adult) by Nahuel Lopez - Fifty Shades Onyx Nude and Fifty Shades Argent Nude by Camilo (lmt to 50 copies). To see the uncensored covers, please visit www.boundlesscomics.com.
In Shops: May 29, 2019
SRP: $5.99
WAILING BLADE #1 (OF 4)
COMIXTRIBE
MAR191670
(W) Rich Douek (A/CA) Joe Mulvey
The Headtaker, feared executioner and wielder of the legendary Wailing Blade, kills every man who meets his gaze. And, right now, he's looking at Tychon, an upstart bandit prince fighting to save his father from the chopping block. An oversized first issue with so much skull-splitting action, you're guaranteed to lose your head over it!
Wailing Blade
is high-adrenaline fantasy adventure, in the dark future of mankind, from the mad minds of Rich Douek (
Gutter Magic
,
TMNT
) and Joe Mulvey (
SCAM
). Available in eye-popping Silver and Gold foil enhanced covers.
In Shops: May 29, 2019
SRP: $4.99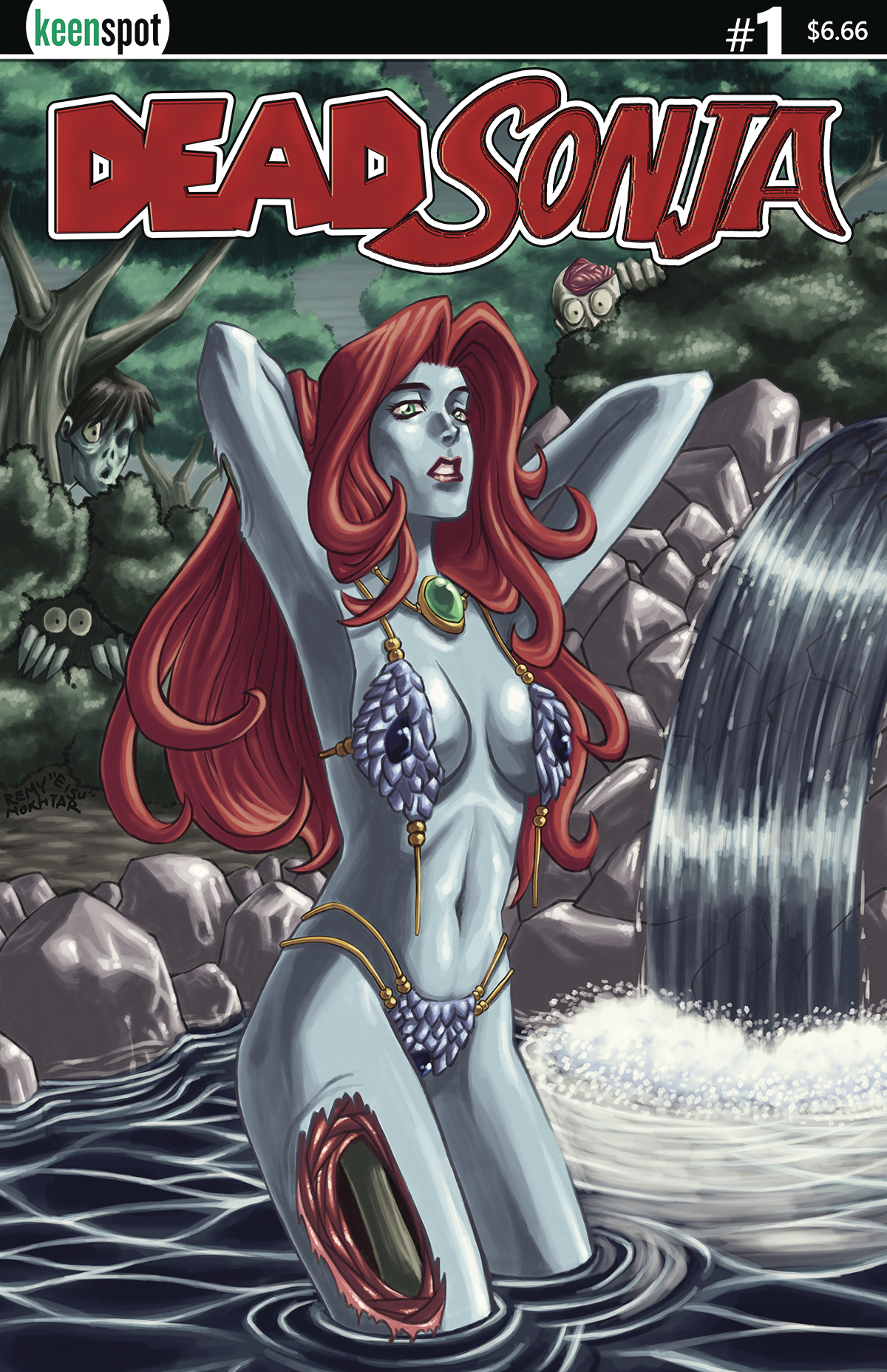 DEAD SONJA #1 CVR A DEAD SEXY
KEENSPOT ENTERTAINMENT
MAR191836
(W) Rob Potchak (A) Billy Parker
Double-sized, full color, and back from the dead with a vengeance! From the parodic pen of
Junior High Horrors
creator Rob Potchak with illustrations by
Rat Queens
artist Owen Gieni, this jam-packed comedic adventure skewers both Red Sonja and Conan The Barbarian. After her family is killed and she is taken advantage of by a pack of evil zombie mercenaries, young Dead Sonja is granted sword-wielding zombie superpowers by a mysterious undead Goddess. Now she may be a zombie, but she ain't no tramp! Vowing to never lay with another man unless defeated in fair combat, Dead Sonja wanders the mythic land of long ago, takin' names and eatin' brains.
In Shops: May 29, 2019
SRP: $6.66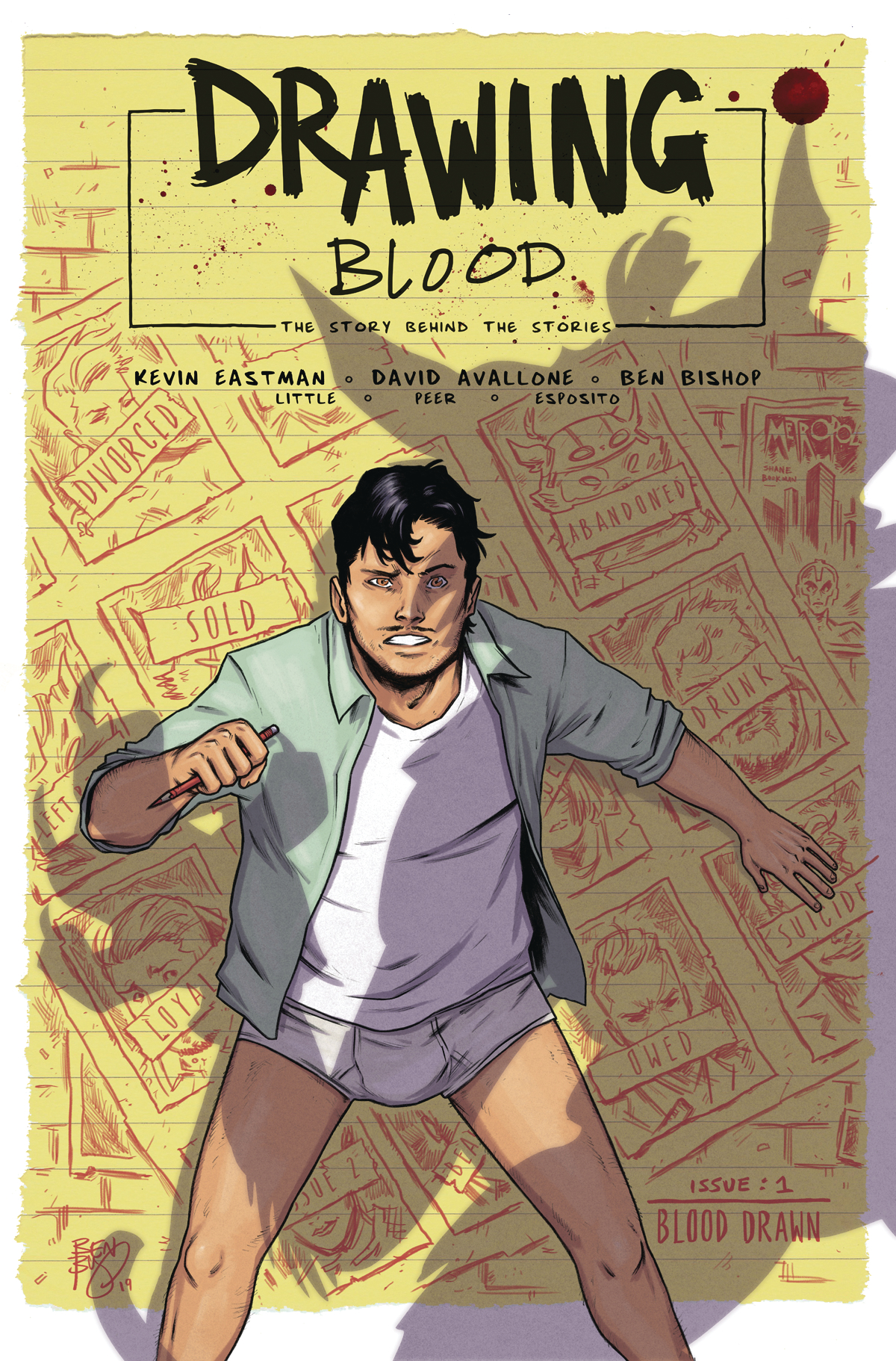 DRAWING BLOOD SPLILLED INK #1 (OF 4) CVR A BISHOP (MR)
KEVIN EASTMAN STUDIOS
MAR191847
(W) Kevin Eastman, David Avallone (A) Kevin Eastman, Troy Little (A/CA) Ben Bishop
Kevin Eastman (
TMNT
) returns to independent comics with a new creation: an inside look at the turbulent life and times of a once-successful cartoonist on the skids, Shane "Books" Bookman. Once upon a time, Books co-created
The Radically Rearranged Ronin Ragdolls
: a gritty, funny indie comic that became a billion dollar global franchise. Now, years later, the partnership dissolved, the corporate buy-out all spent, Books is struggling to recover from the hit-and-run driver called early success... and looking for the will and the joy to create something new again. Co-created by Kevin Eastman and David Avallone (
Elvira
,
Bettie Page
).
In Shops: May 08, 2019
SRP: $3.99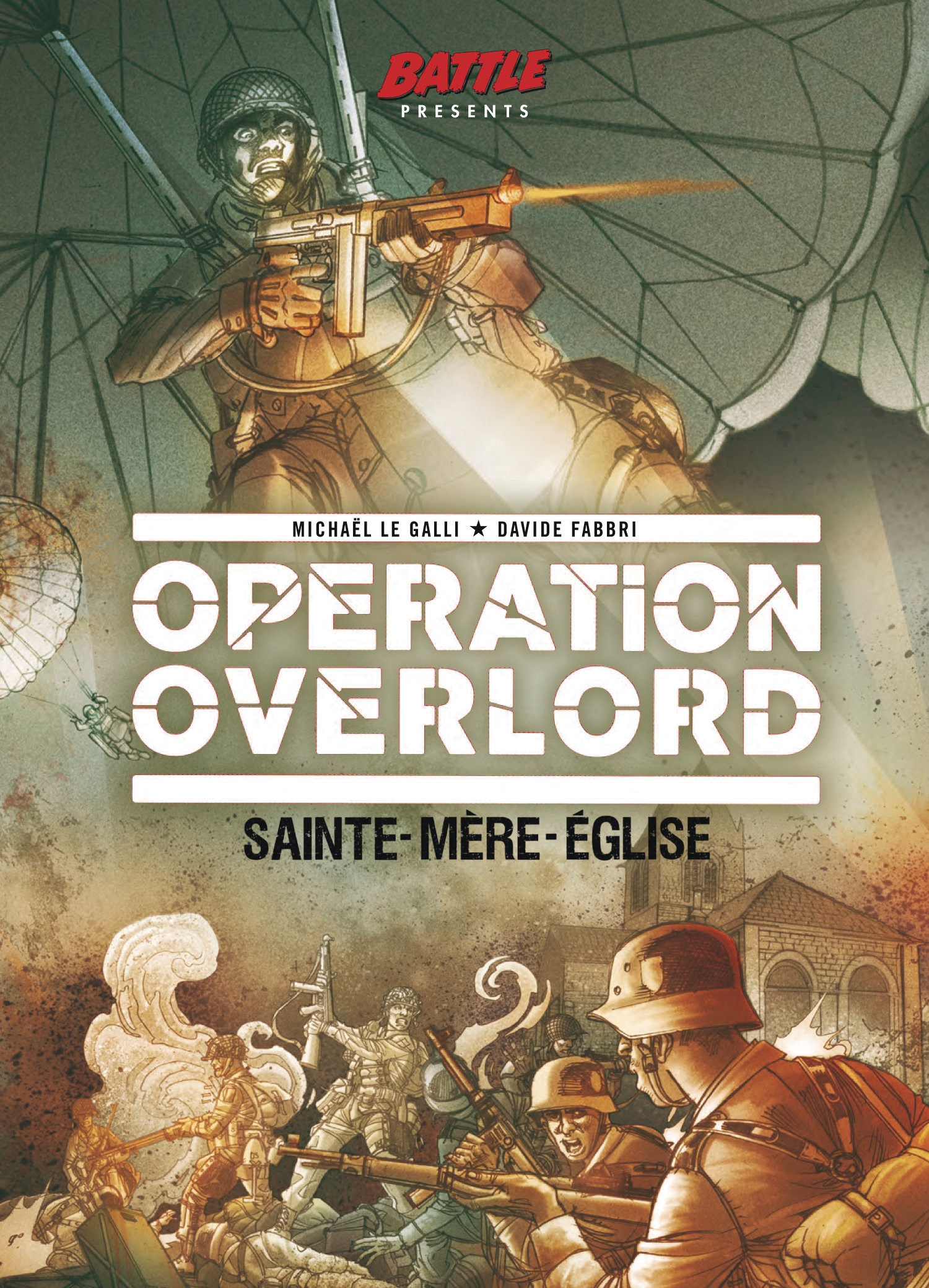 OPERATION OVERLORD #1
REBELLION / 2000AD
MAR191968
The international best-selling graphic novel series translated into English for the first time. Four extraordinary tales of heroism set during the World War II Normandy landings on D-Day, June 6, 1944, each 48 page issue is a stand-alone story. This first issue focuses on the fighting around the French town of Saint-Mere-Eglise. Featuring artwork by DC Comics and
Star Wars
artist David Fabbri.
In Shops: May 29, 2019
SRP: $6.99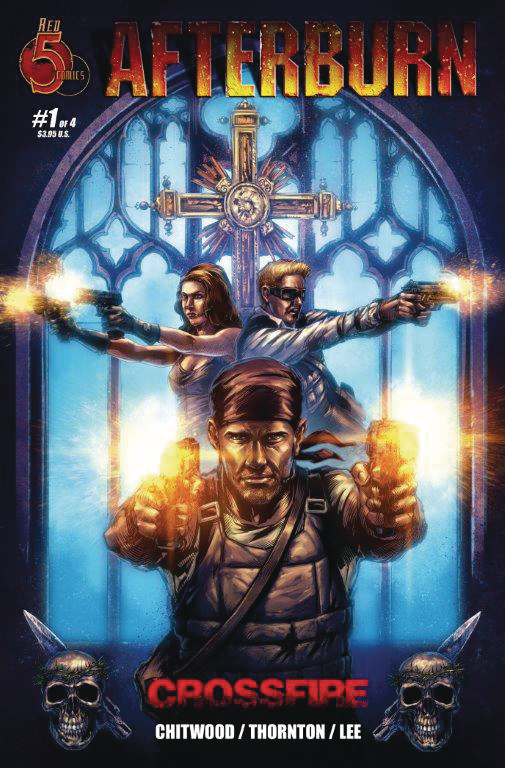 AFTERBURN CROSSFIRE #1 (OF 4)
RED 5 COMICS
MAR191974
(W) Scott Chitwood (A) Rod Thornton
Featured on Free Comic Book Day, Afterburn returns ahead of its major motion picture debut! After half the world is destroyed by a solar flare, Jake and his team find themselves in a race to recover as many first class relics from the Burn Zone as possible. But before they can they must face an old rival, hostile mutated survivors, and a ghost from the past long thought dead.
In Shops: May 08, 2019
SRP: $3.95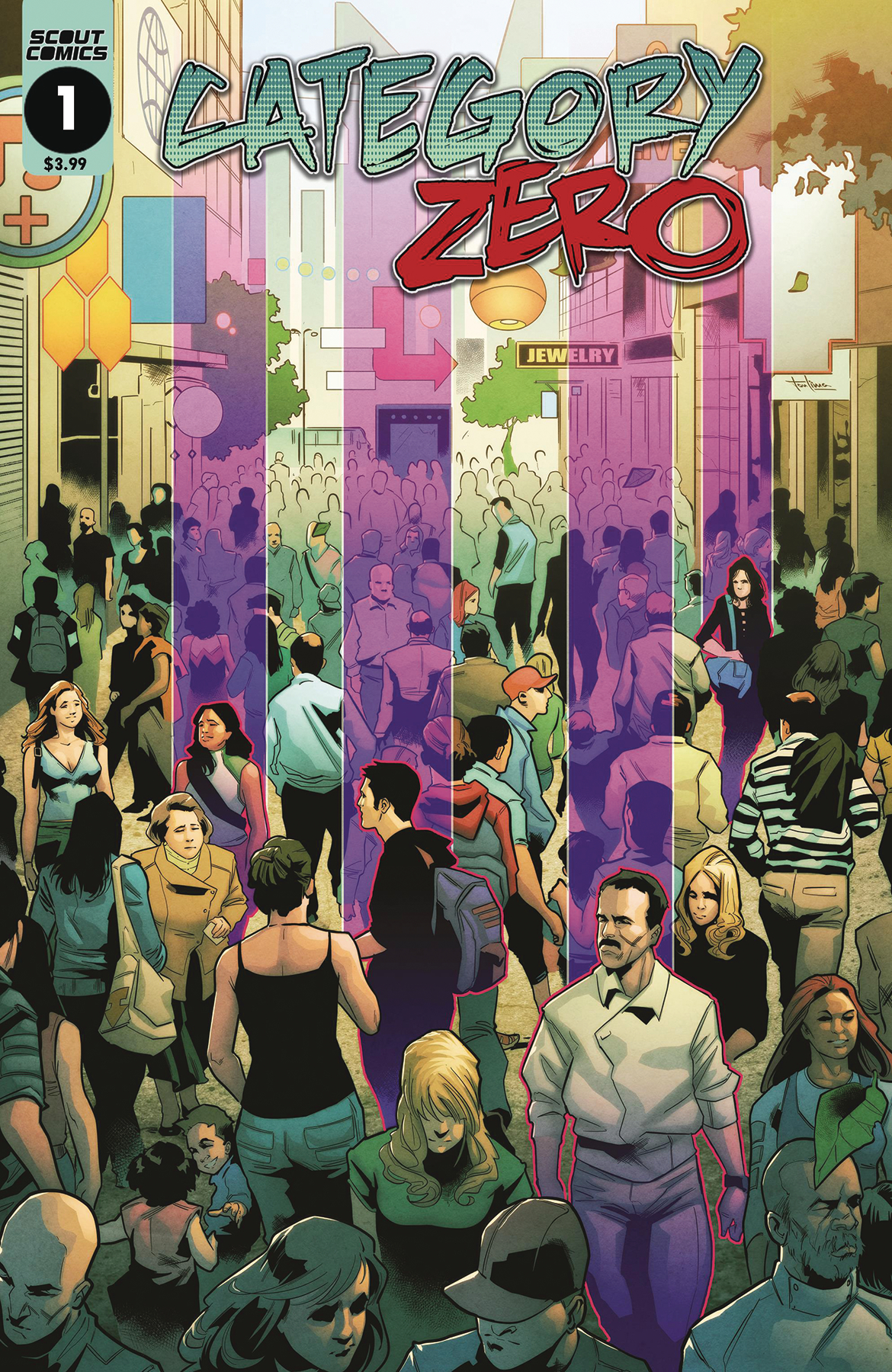 CATEGORY ZERO #1
SCOUT COMICS
MAR191980
(W) Adem Kiamil (A) Tom Lima
Earth's entire population has become infected with an airborne virus, but only one percent have the specific gene required to activate it. These individuals begin to develop unusual abilities due to the rare gene. In most cases these abilities are harmless, but in a few isolated cases they become extremely dangerous. Because of this threat, all One Percenters are forced into isolated facilities for further testing. Under the guise of being a research company searching for a cure, Sanaxus carries out barbaric tests on One Percenters with their own secret agenda in mind - until a cataclysmic event at a minimum security camp involving One Percenter Lenard Higgs, a former college professor, triggers the start of a war between the government and the One Percenters.
In Shops: May 29, 2019
SRP: $3.99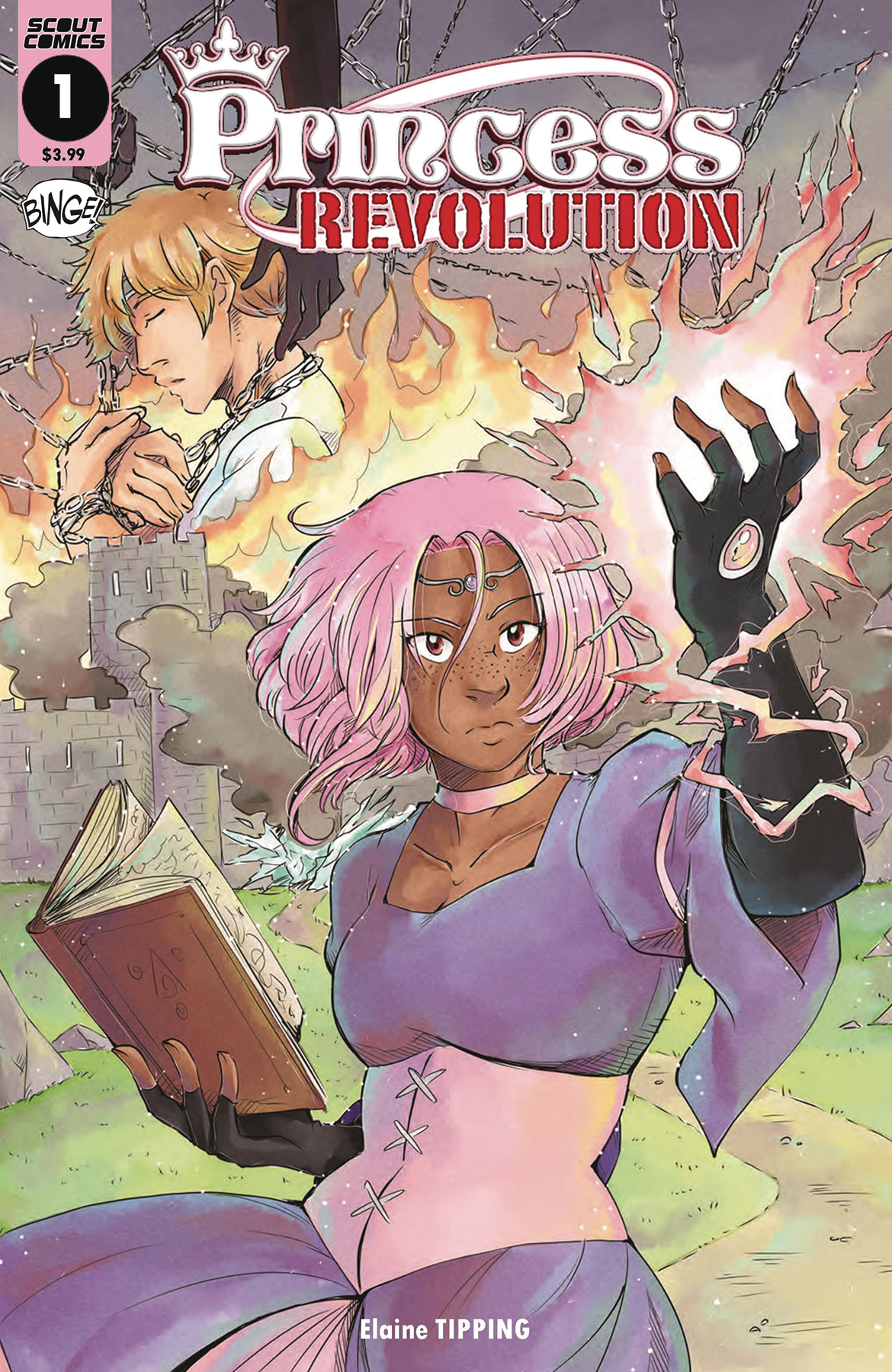 PRINCESS REVOLUTION #1
SCOUT COMICS
MAR191982
(W) Elaine Tipping (A) Elaine Tipping
The next entry in the new BINGE! Imprint where Scout releases a World Premiere issue followed by the entire story a few months later in one volume. Princess Ceylse's birthday is not off to an auspicious start, given the foreboding dream from which she wakes. Following a lovely day with her betrothed, Prince Eten, her world is rocked when the dream comes true and Eten is abducted. Celyse sets out to rescue her love from the evil queen who took him and meets up with two other princesses, Linne and Hana, who are on the same quest. The three women must work together to overcome everything in their way, defeat the queens, and rescue those they love.
In Shops: May 29, 2019
SRP: $3.99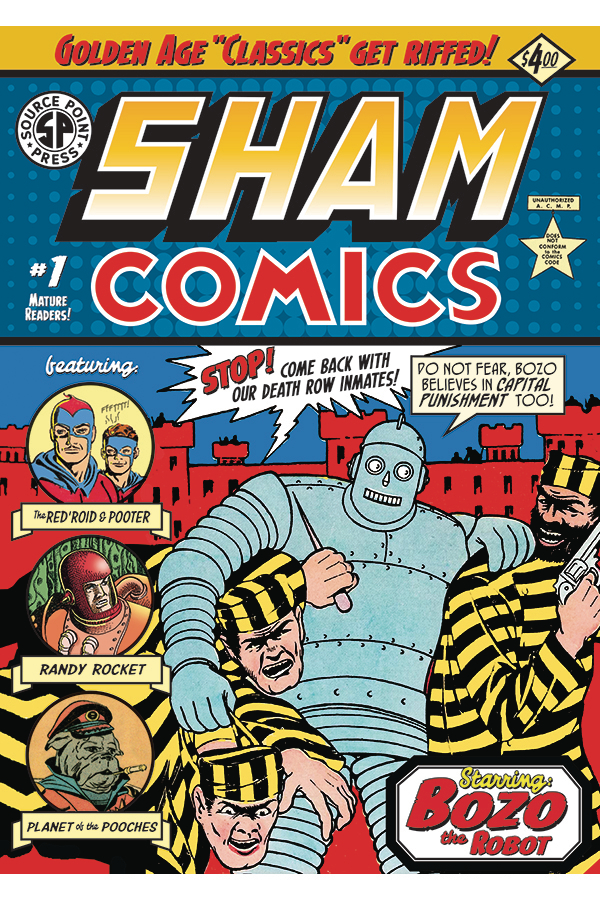 SHAM #1 (MR)
SOURCE POINT PRESS
MAR192000
(W) Tim Fuller (A) Various
Did you ever wonder what happens when copyrights run out? In this case, it means irreverent cartoonist, Tim Fuller, can take public domain funny books from the 40s and 50s and rewrite them with hilarious results. New stories for you, the hip, cynical reader. (You know who you are.) This issue features a malfunctioning robot out to destroy the human race, a cryptic warning from beyond the grave, a flatulent super duo battles a shady psychic, a lonely astronaut looking for lovin', a time traveler trapped on a strange planet, and more!
In Shops: May 29, 2019
SRP: $4.00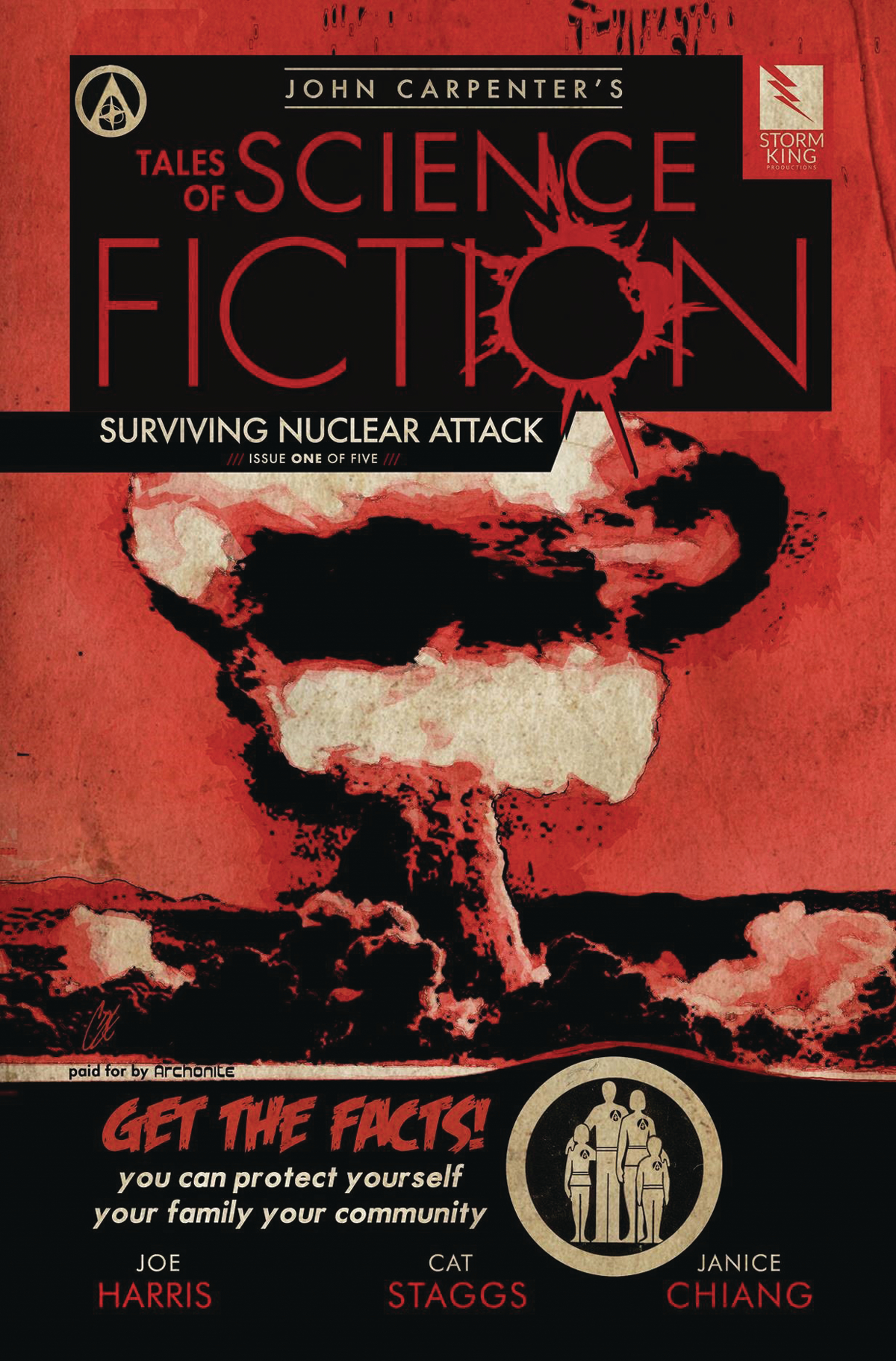 CARPENTER TALES SCI FI NUCLEAR ATTACK #1 (MR)
STORM KING PRODUCTIONS, INC
MAR192007
(W) Joe Harris (A/CA) Cat Staggs
As the Cold War rose in the 1950s, military hero, Cpt. George Kutter and his family trained to be legacy survivors in the event of an atomic exchange with the Soviet Union. Prepared to wait out the aftermath of nuclear war, they were subjected to numerous simulations, scenarios, and stresses in hopes of helping salvage something of their family, their country and humanity from the ashes of a conflict with the Russians that never happened. But when a group of lost hunting buddies stumble upon a seemingly abandoned fallout shelter in the present-day Pennsylvania wilderness, they'll uncover secrets best left buried. What was the nature of the secret Archonite initiative? What lengths did the United States go to in order to prepare for all-out war and its aftermath? What did the Kutter Family endure in preparation for their duty? And if World War III never broke out... why are they still down there?
In Shops: May 29, 2019
SRP: $3.99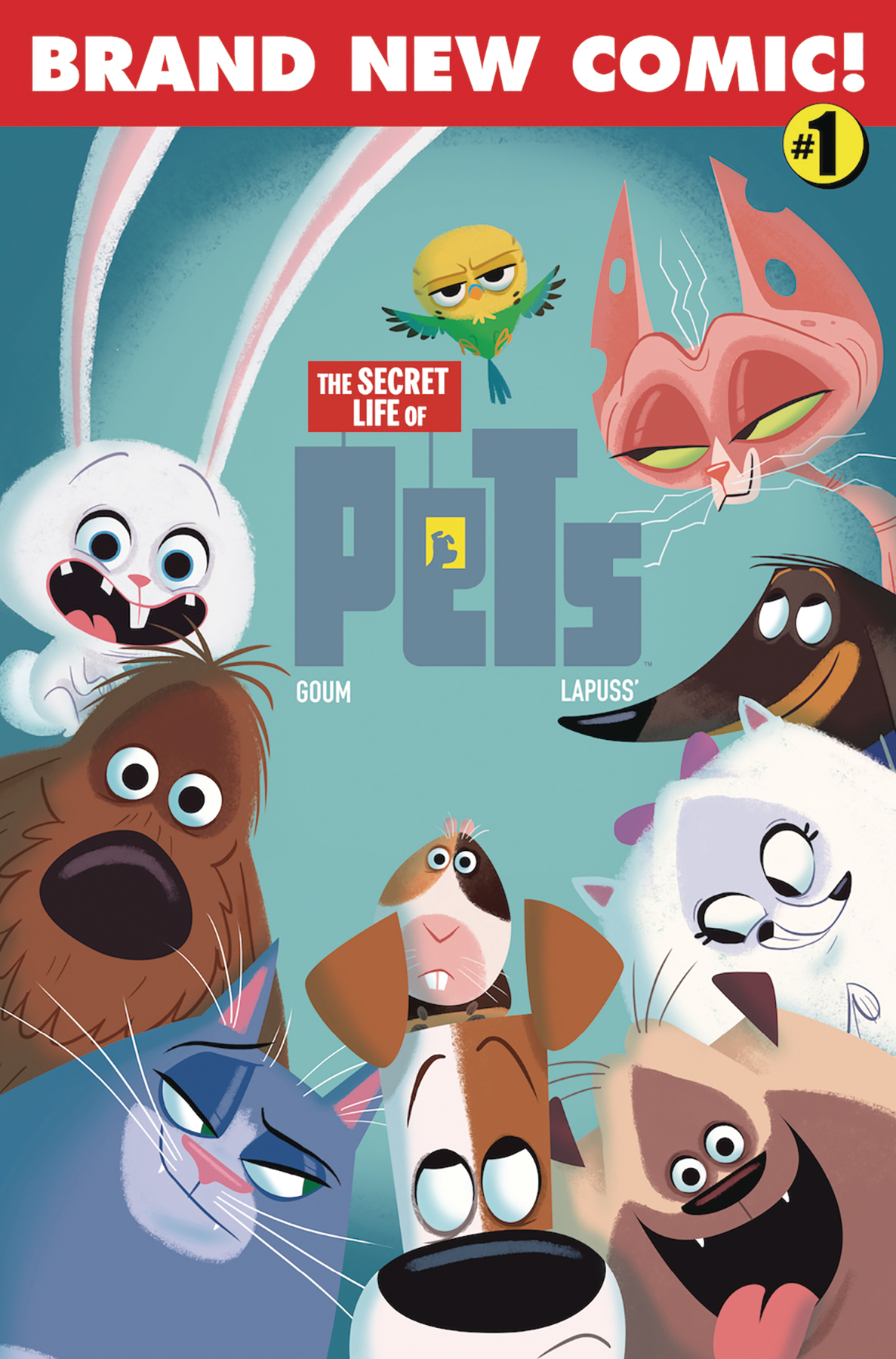 SECRET LIFE OF PETS #1 CVR A GOUM
TITAN COMICS
MAR192013
(W) Stephane Lapuss (A/CA) Goum
Ever wonder what your pets get up to when you're not home? Find out in this hilarious new kids comic series based on The Secret Life of Pets, the award-winning Universal Studios animated comedy! The Secret Life of Pets 2 hits theatres on June 7, 2019!
In Shops: May 22, 2019
SRP: $3.99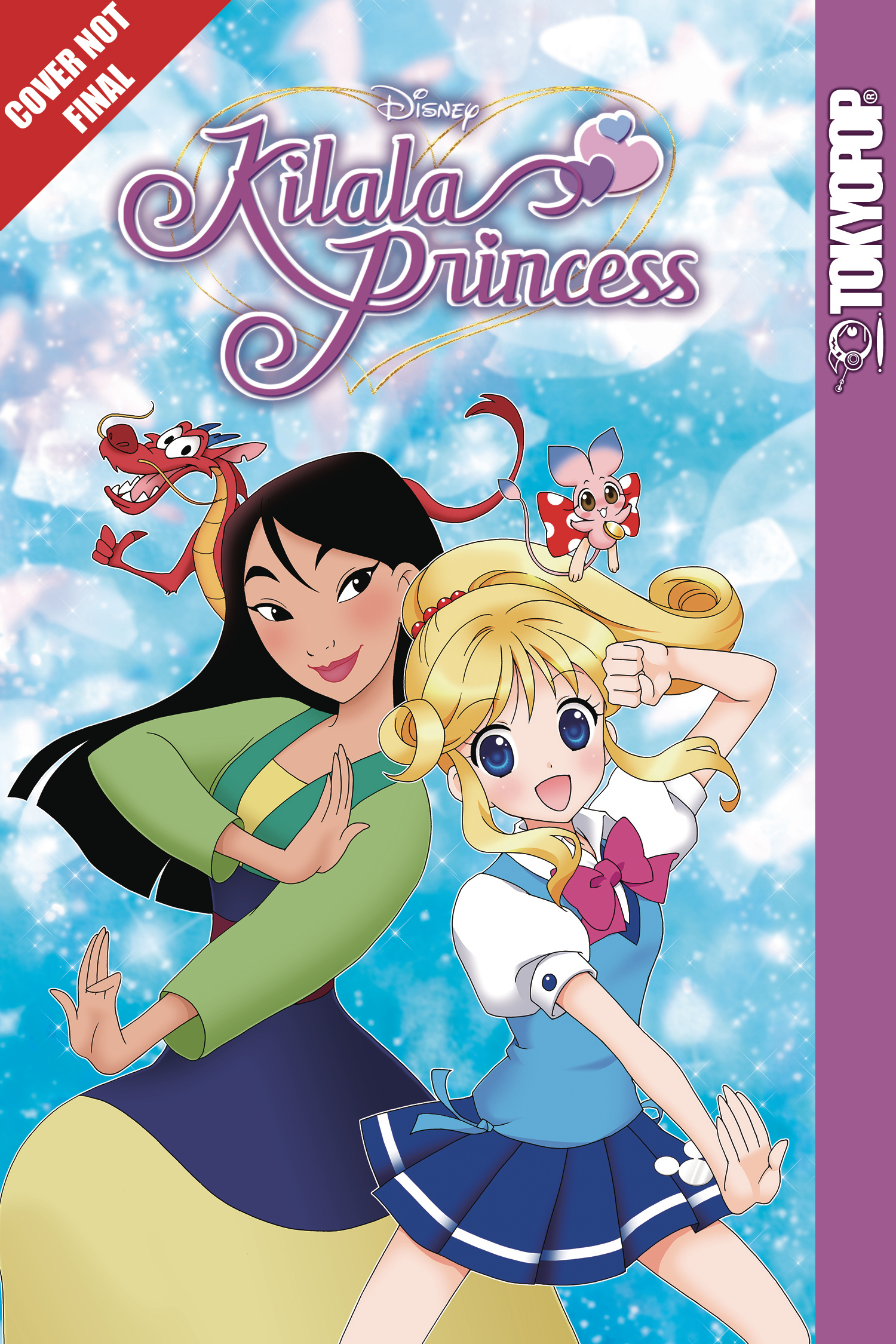 DISNEY MANGA KILALA PRINCESS MULAN #1
TOKYOPOP
MAR192148
(W) Mallory Reaves (A) Saa (CA) Nao Kodaka
Kilala was an ordinary girl living an ordinary life, until a magical tiara and a miraculous portal led her on an incredible journey through the worlds of her favorite Disney princesses, and gave her the strength she needed to save a kingdom and become a true princess.
But being a princess isn't easy, and Kilala's tiara sends her on a new quest... this time to ancient China's greatest warrior, Mulan! Bandits are storming the countryside, and Mulan and Shang are on an imperial mission to help the villagers relocate to safer grounds. Kilala and her friends stop to help, but when they're overpowered by a team of bandits they must all work together to free themselves.
In Shops: May 29, 2019
SRP: $3.99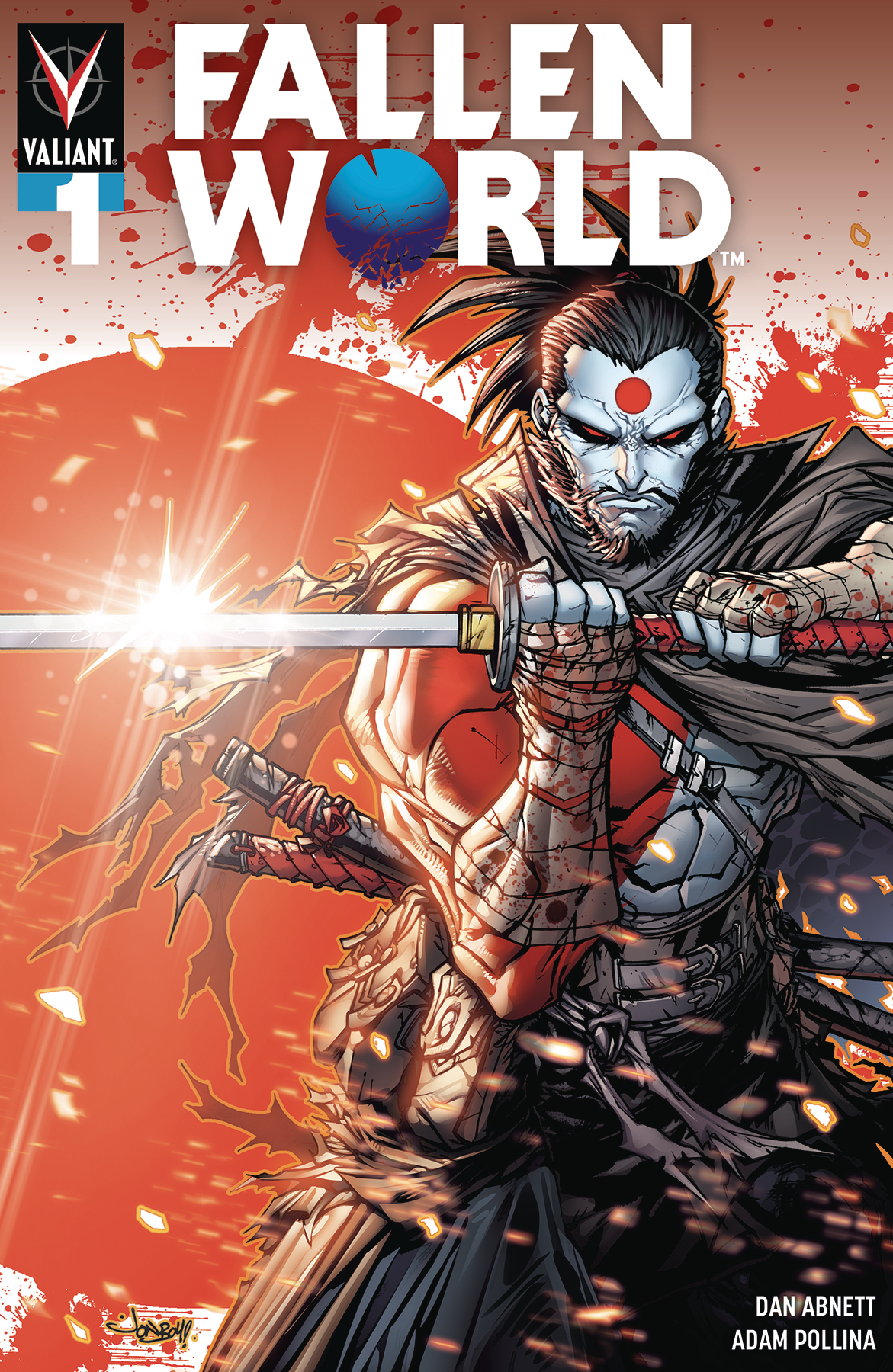 FALLEN WORLD #1 (OF 5) CVR A MEYERS
VALIANT ENTERTAINMENT LLC
MAR192061
(W) Dan Abnett (A) Adam Pollina (CA) Jonboy Meyers
In the year 4002, a cyborg samurai named Rai struggles to find his morality, while the nanite-filled supersoldier Bloodshot is on a mission to save the citizens of Earth. Will they work together for the greater good? All signs point to no.
Oh, and did we mention there are also dinosaurs on the loose and powerful animal-human hybrid mutants? Good luck with that, Rai.
Love smart sci-fi and engrossing world-building? Dan Abnett (Aquaman) and Adam Pollina's (X-Force) FALLEN WORLD has you covered.
In Shops: May 01, 2019
SRP: $3.99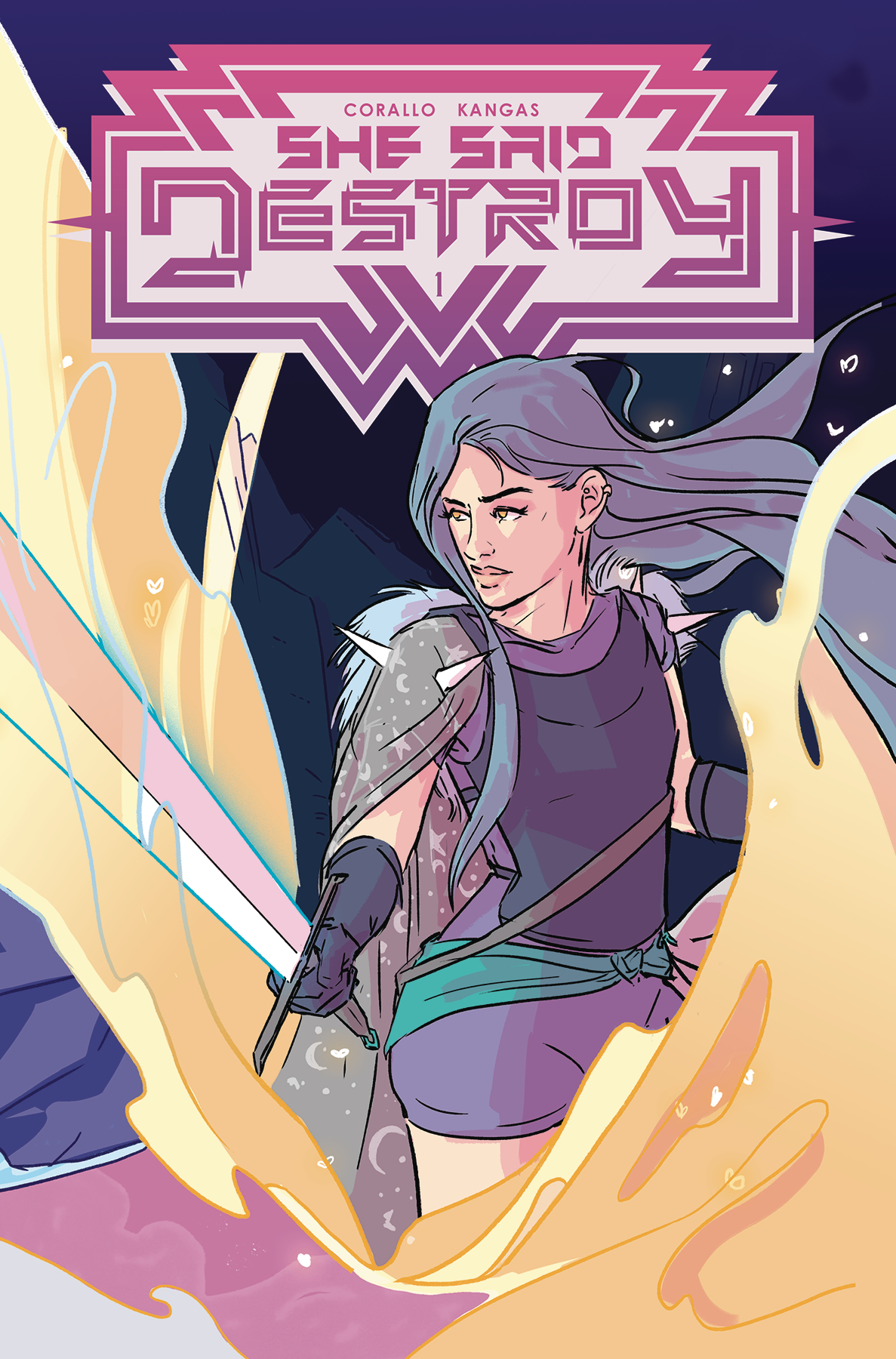 SHE SAID DESTROY #1 CVR A
VAULT COMICS
MAR192091
(W) Joe Corallo (A/CA) Liana Kangas
Over millennia, Brigid, Goddess of theSun, has conquered and converted the entire solar system into worshipping her and her alone, save one space colony. The witches of Fey are the last believers of The Morrigan, Goddess of Death, Brigid's sister and the only other God left. As Brigid's forces prepare for one final battle, The Morrigan prepares to do what she does best: Destroy!
In Shops: May 29, 2019
SRP: $3.99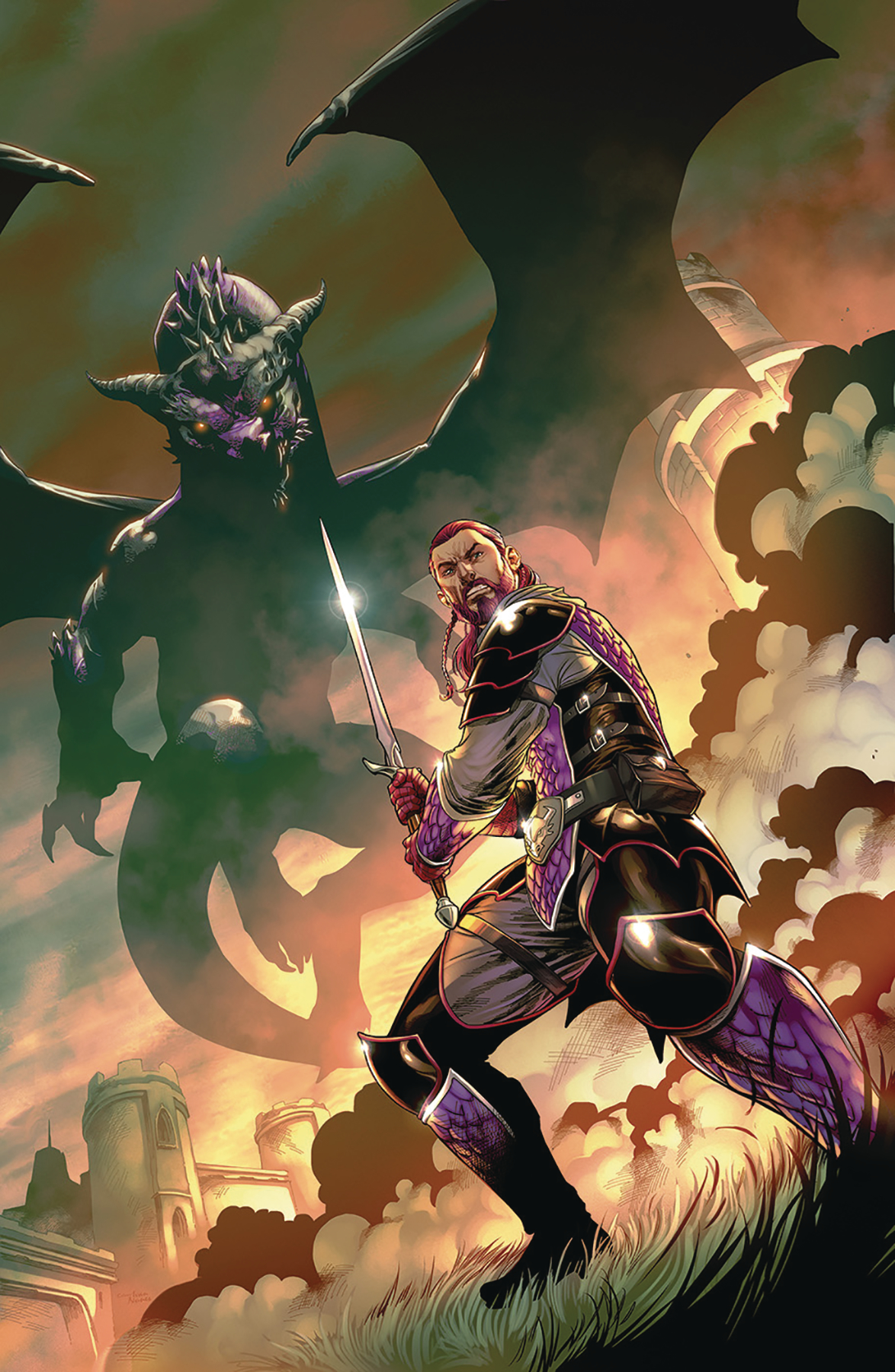 DRAGONSBLOOD #1 (OF 4) CVR A COCCOLO
ZENESCOPE ENTERTAINMENT INC
MAR192102
(W) Nick Bermel (A) Jason Muhr (CA) Martin Coccolo
Many generations ago, the Völsung clan was tasked with slaying the dragon, Fafnir. Sigurd, the last of his clan, must now take up the fight against his family's ancient and terrible foe. Follow his quest in Zenescope's newest series!
In Shops: May 01, 2019
SRP: $3.99