BOOM! STUDIOS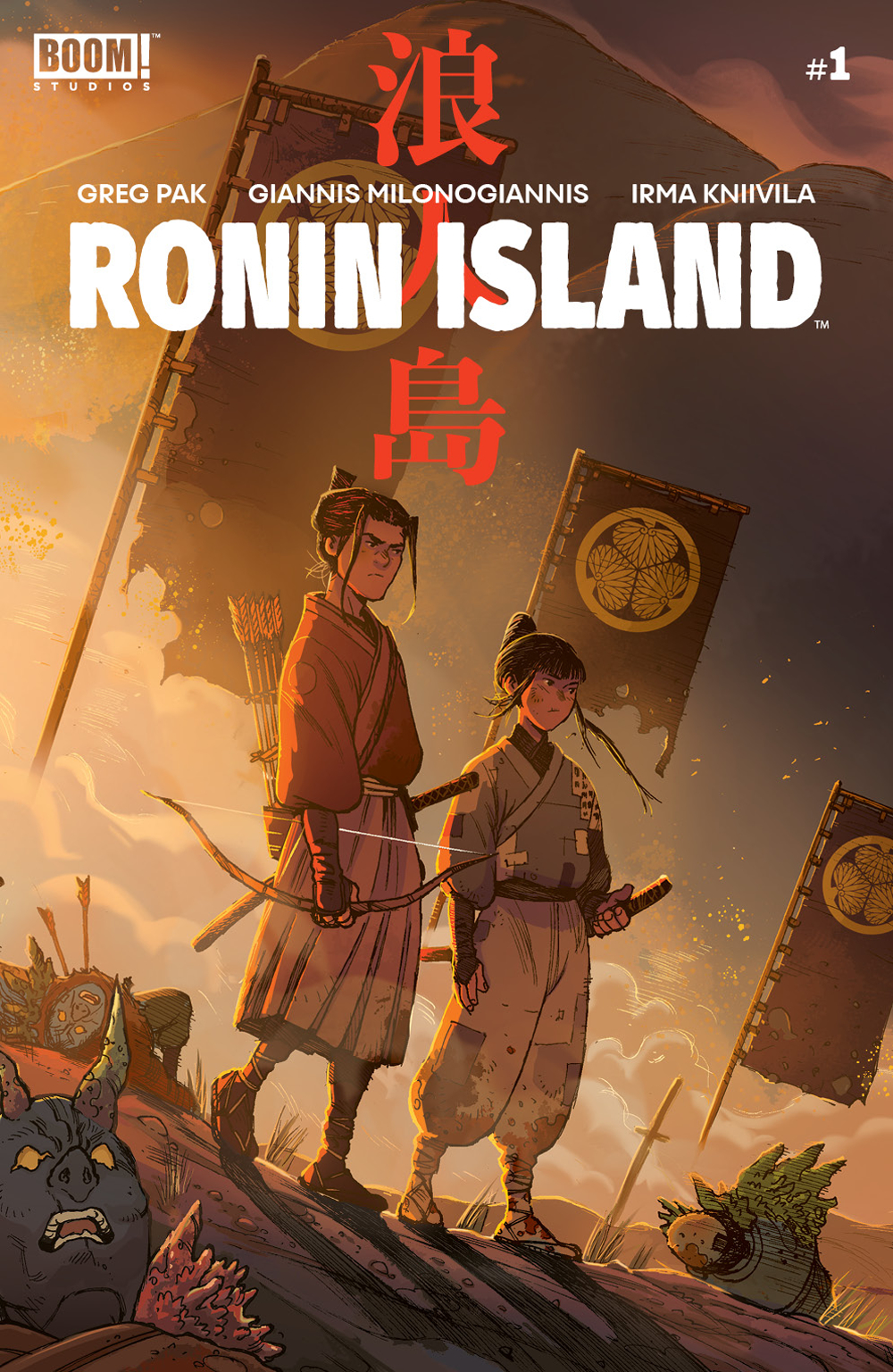 RONIN ISLAND #1 MAIN
BOOM! STUDIOS
JAN191363
(W) Greg Pak (A/CA) Giannis Milonogiannis
After a mysterious attack wipes out the major cities of 19th century Japan, Korea, and China, survivors from all three lands find refuge on a hidden island and build a new society.
Hana, the orphaned daughter of Korean peasants, and Kenichi, son of a great samurai leader, have little in common except for a mutual disdain for the other. But these young warriors will have to work together when an army invades the island with shocking
news:
there is a new Shogun and the Island is expected to pay fealty in exchange for protection from a new enemy...a mutated horde that threatens to wipe out all humanity.
In Shops: Mar 06, 2019
SRP: $3.99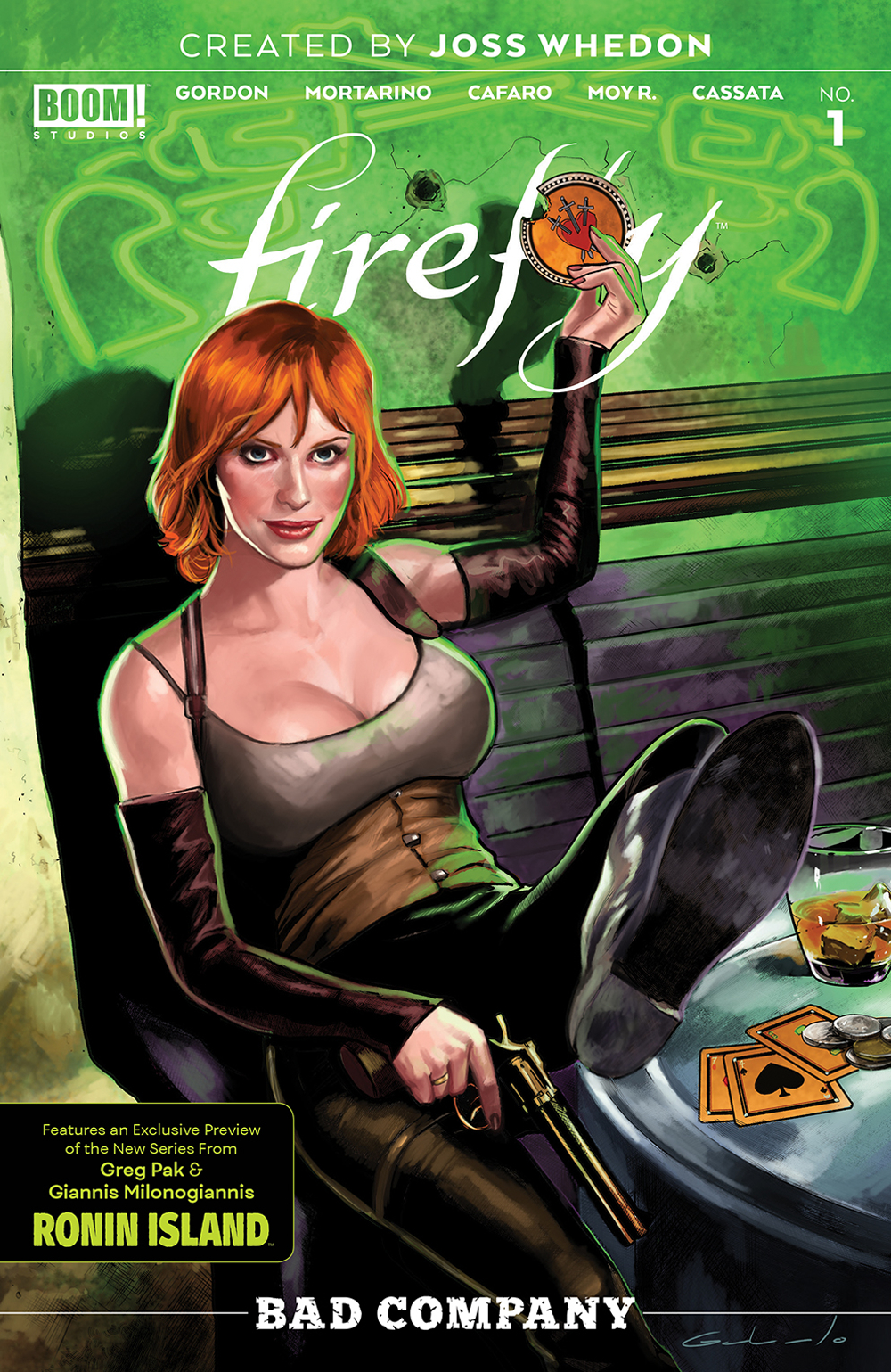 FIREFLY BAD COMPANY #1
BOOM! STUDIOS
JAN191354
(W) Josh Lee Gordon (A) Francesco Mortarino (CA) Diego Galindo
In this 40 page celebration, take a look into the never-before-seen history of one of the most beloved
Firefly characters in the 'Verse-SAFFRON! Journey through the early days of Saffron's life, from before her
fateful meeting/marriage to Mal. This is an origin story no Firefly fan is sure to forget!
In Shops: Mar 20, 2019
SRP: $7.99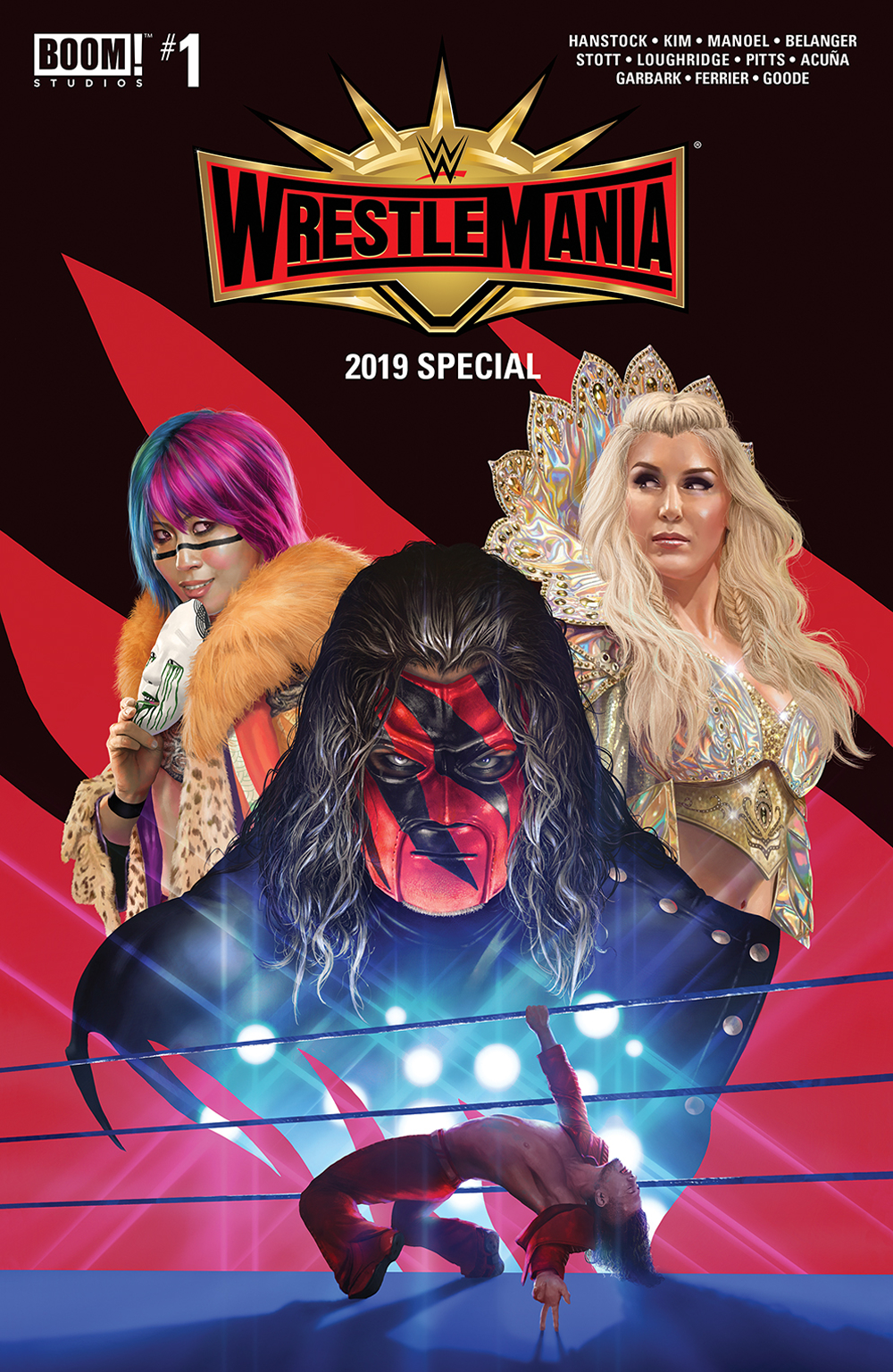 WWE WRESTLEMANIA 2019 SPECIAL #1 MAIN
BOOM! STUDIOS
JAN191386
(W) Bill Hanstock, Andy Belanger, Kevin Panetta (A) Hyeonjin Kim, Andy Belanger, Kendall Goode (CA) Rahzzah
The biggest event in Sports Entertainment returns to comics! This jam-packed special includes stories about the Kane/Undertaker clash at Wrestlemania 20, Asuka and Charlotte Flair's battle at Wrestlemania 34, and more!
In Shops: Mar 27, 2019
SRP: $7.99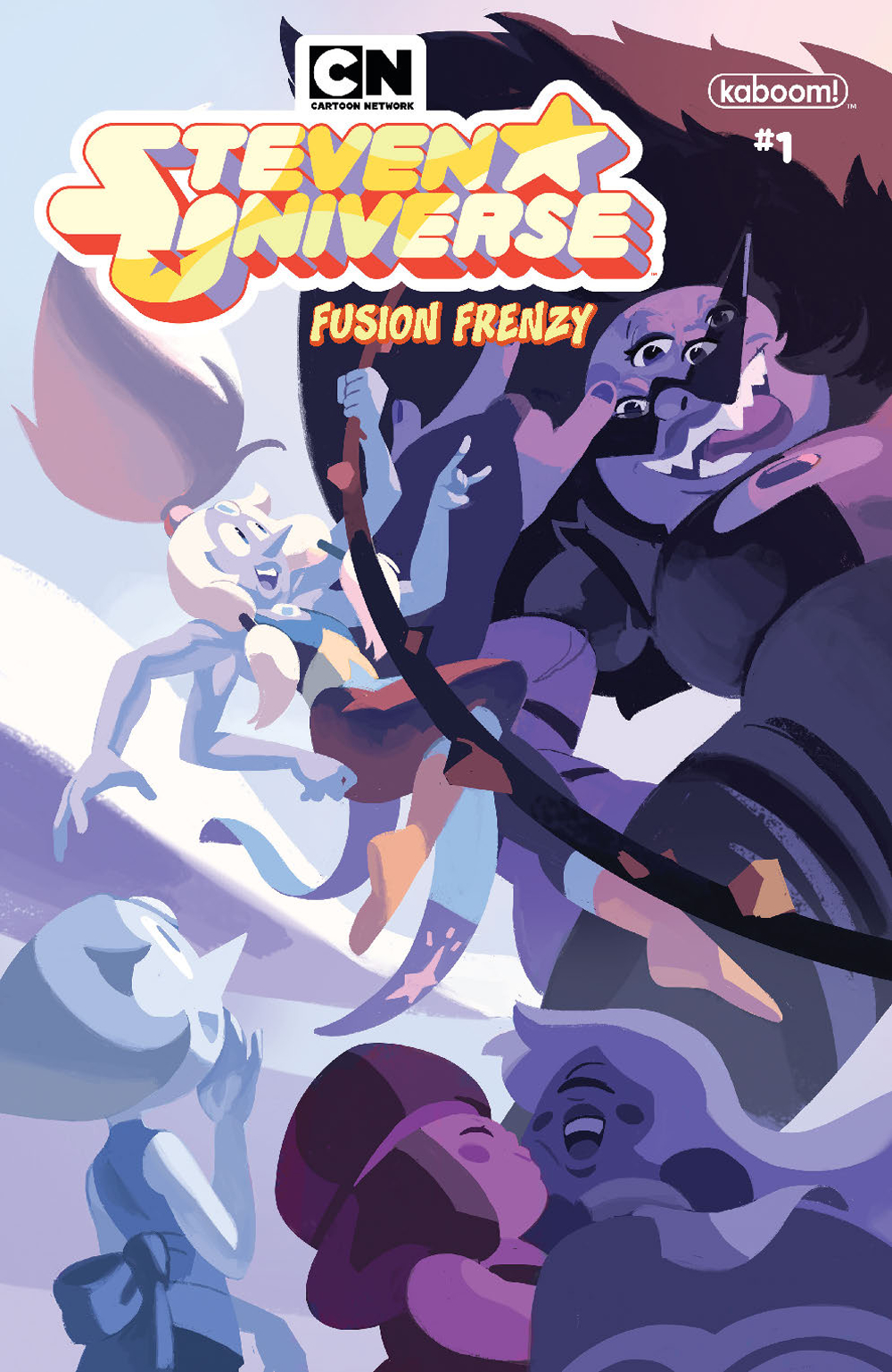 STEVEN UNIVERSE FUSION FRENZY #1 MAIN CVR A CONNECTING
BOOM! STUDIOS
JAN191403
(W) Various (A) Various (CA) Abigail Dela Cruz
It's time for the fusions to shine in this 40-page special! The fan favorite Steven Universe fusions get the spotlight as Stevonnie, Garnet, Smoky Quartz, Opal, and Sugilite take Beach City on in five fantastic tales!
In Shops: Mar 13, 2019
SRP: $7.99
DARK HORSE COMICS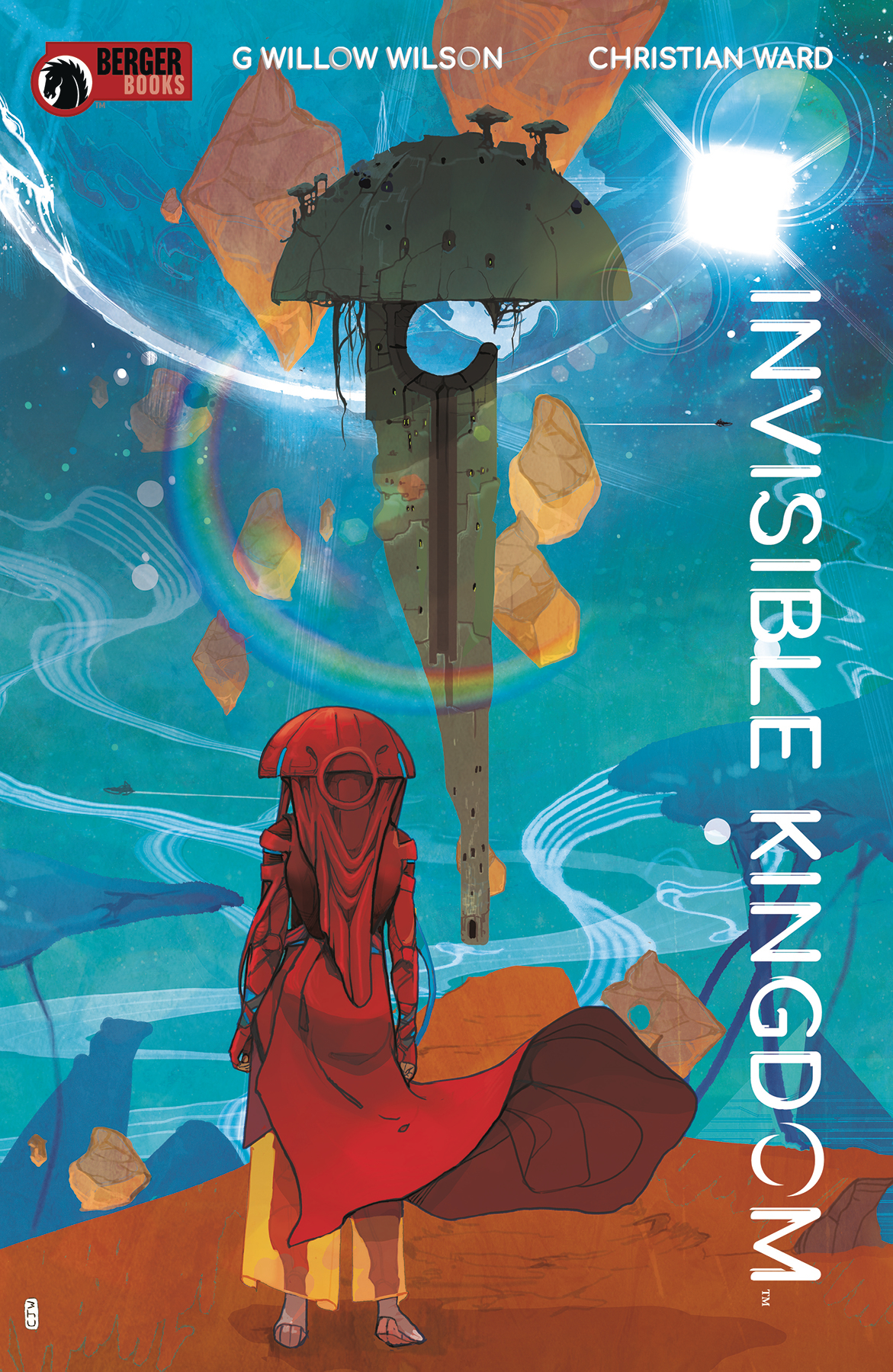 INVISIBLE KINGDOM #1
DARK HORSE COMICS
JAN190409
(W) G. Willow Wilson (A/CA) Christian Ward
Set in a in a far-flung star system, this new epic sci-fi monthly saga tells the tale of two women-a young religious acolyte and a hard-bitten freighter pilot-who separately uncover a vast conspiracy between the leader of the system's dominant religion and the mega-corporation that controls society. On the run from reprisals on both sides, this unlikely pair of rebels risk plunging the world into anarchy if they reveal the truth. But when your beliefs betray you, what choice is there left?
By Hugo Award-winning writer G. Willow Wilson (Wonder Woman, Ms. Marvel) and Eisner Award-winning artist Christian Ward (Black Bolt, ODY-C).
In Shops: Mar 20, 2019
SRP: $3.99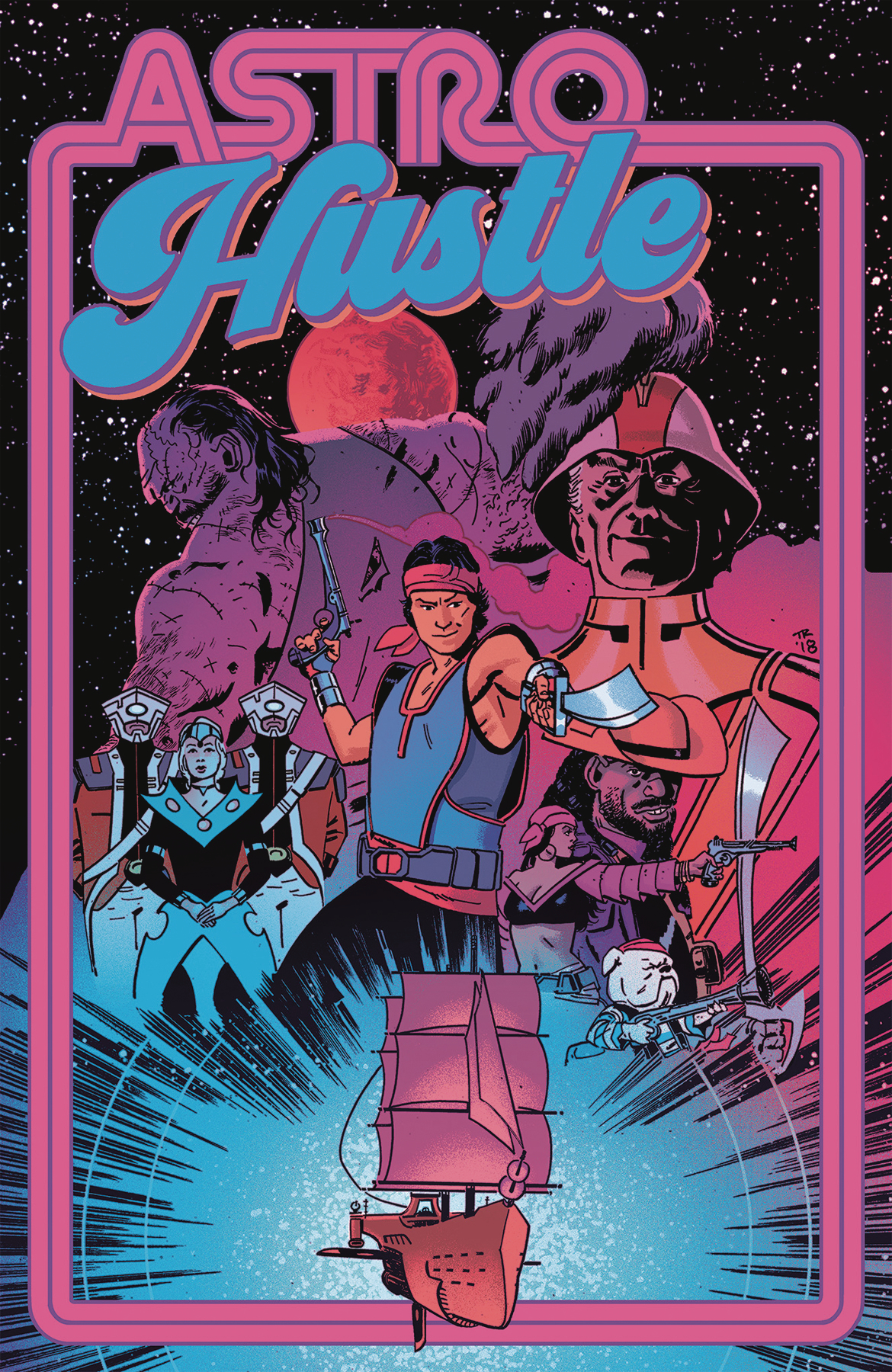 ASTRO HUSTLE #1 CVR A REILLY
DARK HORSE COMICS
JAN190432
(W) Jai Nitz (A/CA) Tom Reilly
Chen Andalou, the black sheep of a prominent activist family, returns after being accidentally put in cryo-stasis for sixty years. Chen, a cosmic criminal, wakes up to find his younger brother is now the President of the Galaxy. Chen does what he knows best: he steals stuff and causes a problem.
In Shops: Mar 06, 2019
SRP: $3.99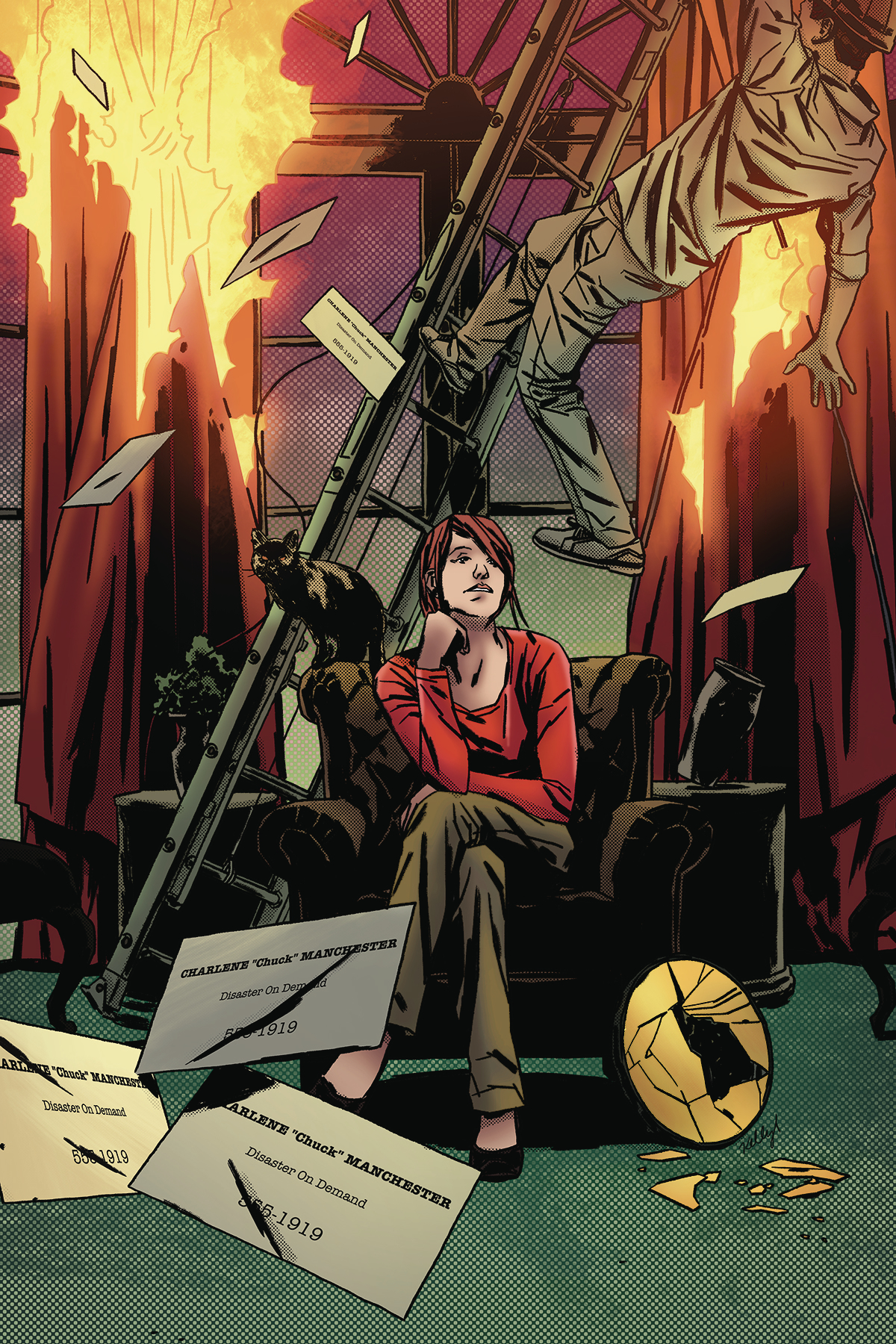 BAD LUCK CHUCK #1
DARK HORSE COMICS
JAN190458
(W) Lela Gwenn (A) Kelly Fitzpatrick (A/CA) Matthew Dow Smith
She'll need more than a rabbit's foot to get through this. Cursed at birth, Charlene "Chuck" Manchester hires out her own bad luck, providing disaster where someone else can profit. She can get you that insurance payout fortune-for a price. But bad luck doesn't always go as planned, and when Chuck gets stuck between a dissatisfied crime boss client, a cult leader, and a dogged insurance-fraud investigator, things get... explosive. Everything that could go wrong does-and only about half of it by accident.
In Shops: Mar 27, 2019
SRP: $3.99
BLACK HAMMER 45 FROM WORLD OF BLACK HAMMER #1 CVR A KINDT
DARK HORSE COMICS
JAN190412
(W) Jeff Lemire, Ray Fawkes (A) Sharlene Kindt (A/CA) Matt Kindt
During the Golden Age of superheroes, an elite Air Force crew called the Black Hammer Squadron was formed to fight the Axis powers. With occult threats from the German side, this team must save a family of scientists from the Nazi's, but the mysterious and dangerous Ghost Hunter is hot on their trail. From the World of Black Hammer comes a truly gripping tale of war and intrigue!
In Shops: Mar 06, 2019
SRP: $3.99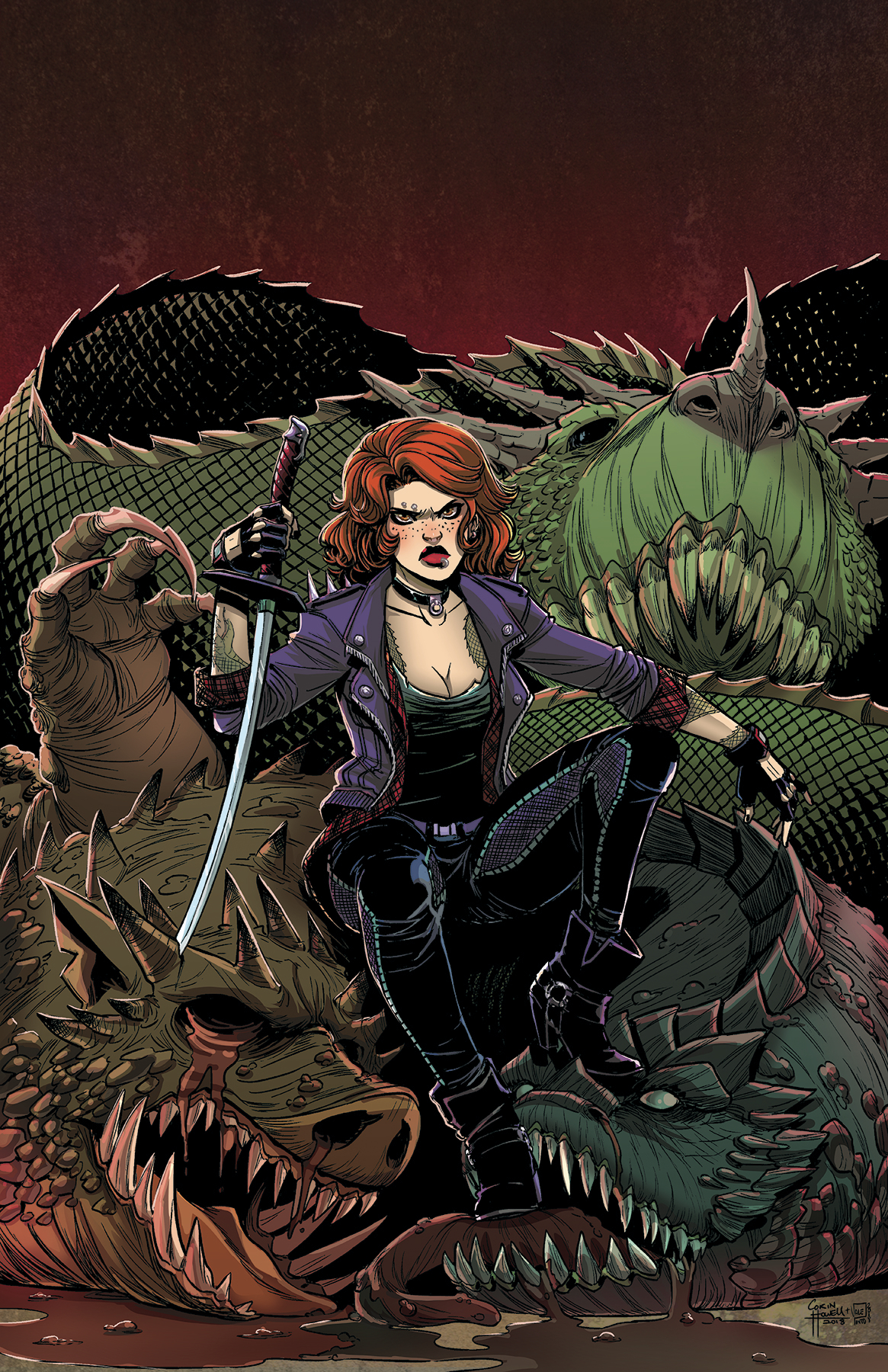 CALAMITY KATE #1 CVR A HOWELL PINTO
DARK HORSE COMICS
JAN190461
(W) Magdalene Visaggio (A/CA) Corin Howell, Valentina Pinto
Kate Strand reboots her destructive life and moves to LA to be the superhero she always wanted to be-Calamity Kate: gun-toting monster killer. With her latest career change, she faces new challenges, relationships, and competition; desperate to show she's worth a damn in a world overrun by zombies, vampires, demons, goblins, and the ultimate monster bounty: the Seven Fabled Beasts of Yore.
From the Eisner and GLAAD Media Award-nominated writer of the breakout hit Kim & Kim and DC Comics' Eternity Girl with Gerard Way and artist on IDW's Ghostbusters and X-Files comes this modern day, adventure of heroes and monsters.
In Shops: Mar 13, 2019
SRP: $3.99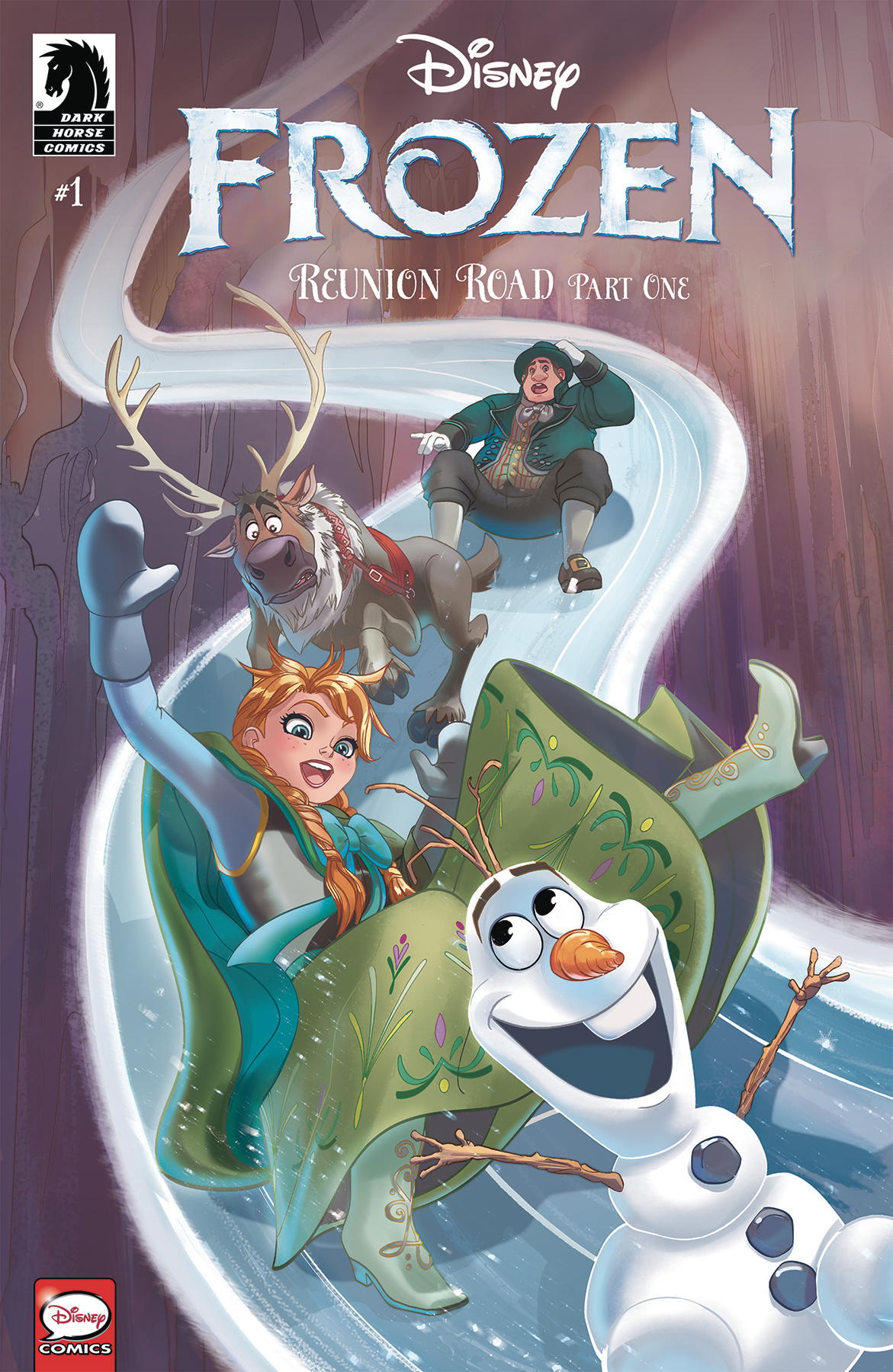 DISNEY FROZEN REUNION ROAD #1 CVR A
DARK HORSE COMICS
JAN190476
(W) Joe Caramagna (A) Eduard Petrovich, Nastia Beloushova, Yana Chinstova (CA) Eduardo Francisco
Anna and Elsa are invited to a harvest festival in the kingdom of Snoob! As they wonder about this faraway kingdom, they discover that Kai has a long-lost brother-in Snoob! This sets them on an adventure to reunite the two brothers . . . Join the Arendelle sisters, with Kai, Olaf, Kristoff, and Sven, on a road to reunion, where surprises await at every twist and turn!
In Shops: Mar 06, 2019
SRP: $3.99
DC COMICS
DETECTIVE COMICS #1000
DC COMICS
JAN190542
(W) Peter J. Tomasi, Brian Michael Bendis, Paul Dini, Warren Ellis, Geoff Johns, Tom King, Dennis O'Neil, Christopher Priest, Kevin Smith, Scott Snyder, Others (A) Doug Mahnke, Neal Adams, Greg Capullo, Tony S. Daniel, Steve Epting, Kelley Jones, Andy Kubert, Alex Maleev, Dustin Nguyen (CA) Scott Williams (A/CA) Jim Lee
After 80 years, it's here-the 1,000th issue of DETECTIVE COMICS, the title that literally defines DC! This 96-page issue is stacked with an unbelievable lineup of talent that will take you on a journey through Batman's past, present and future...plus a sensational epilogue that features the first-ever DC Universe appearance of the deadly Arkham Knight! But who is under the mask? And why do they want Batman dead? The incredible future of Batman adventures begins here!
In Shops: Mar 27, 2019
SRP: $9.99
DIAL H FOR HERO #1 (OF 6)
DC COMICS
JAN190556
(W) Sam Humphries (A/CA) Joe Quinones
Miguel, a teen daredevil, becomes the newest wielder of the Hero Dial-a rotary phone-like device that grants the user superpowers for one hour when they dial H-E-R-O. Will he rise as a new hero in the DC Universe or crumble under the weight of responsibility the dial thrusts upon him? This blistering new six-issue miniseries joins the Wonder Comics lineup with stories by award-winning fan favorite Sam Humphries (HARLEY QUINN) and art by Joe Quinones (Howard the Duck).
In Shops: Mar 27, 2019
SRP: $3.99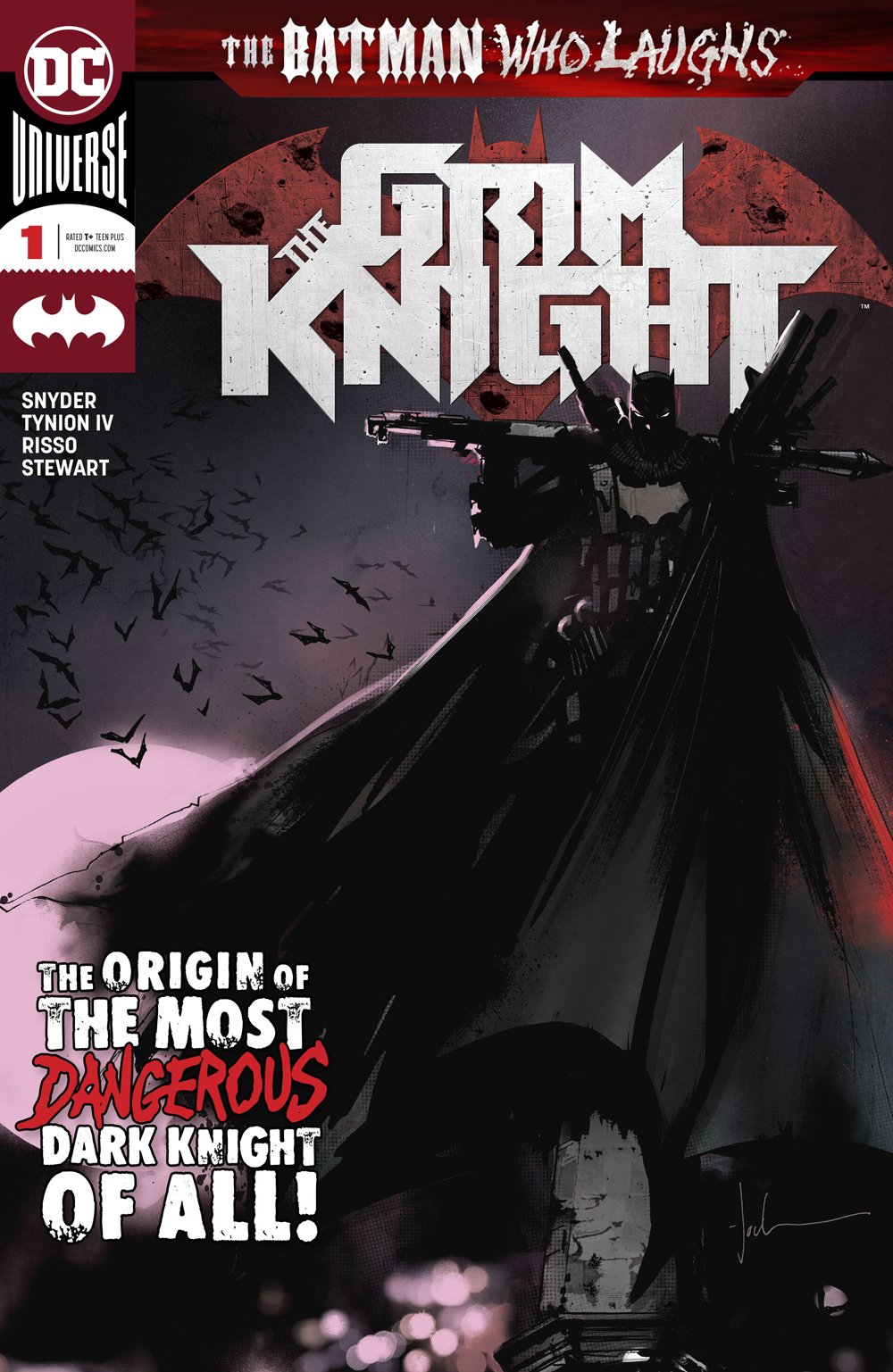 BATMAN WHO LAUGHS THE GRIM KNIGHT #1
DC COMICS
JAN190535
(W) Scott Snyder, James TynionIV (A) Eduardo Risso (CA) Jock
Ripped from Batman's greatest nightmares, the Grim Knight is his world's most dangerous vigilante, unafraid to use any weapon and go to any lengths to stop those whom he deems worthy of death. Trained with the finest arsenal Wayne money can buy, learn the secret origin of the second-deadliest Batman, hand selected by the Batman Who Laughs to bring his dark plans to fruition. This one-shot has a big 28-page story!
In Shops: Mar 13, 2019
SRP: $4.99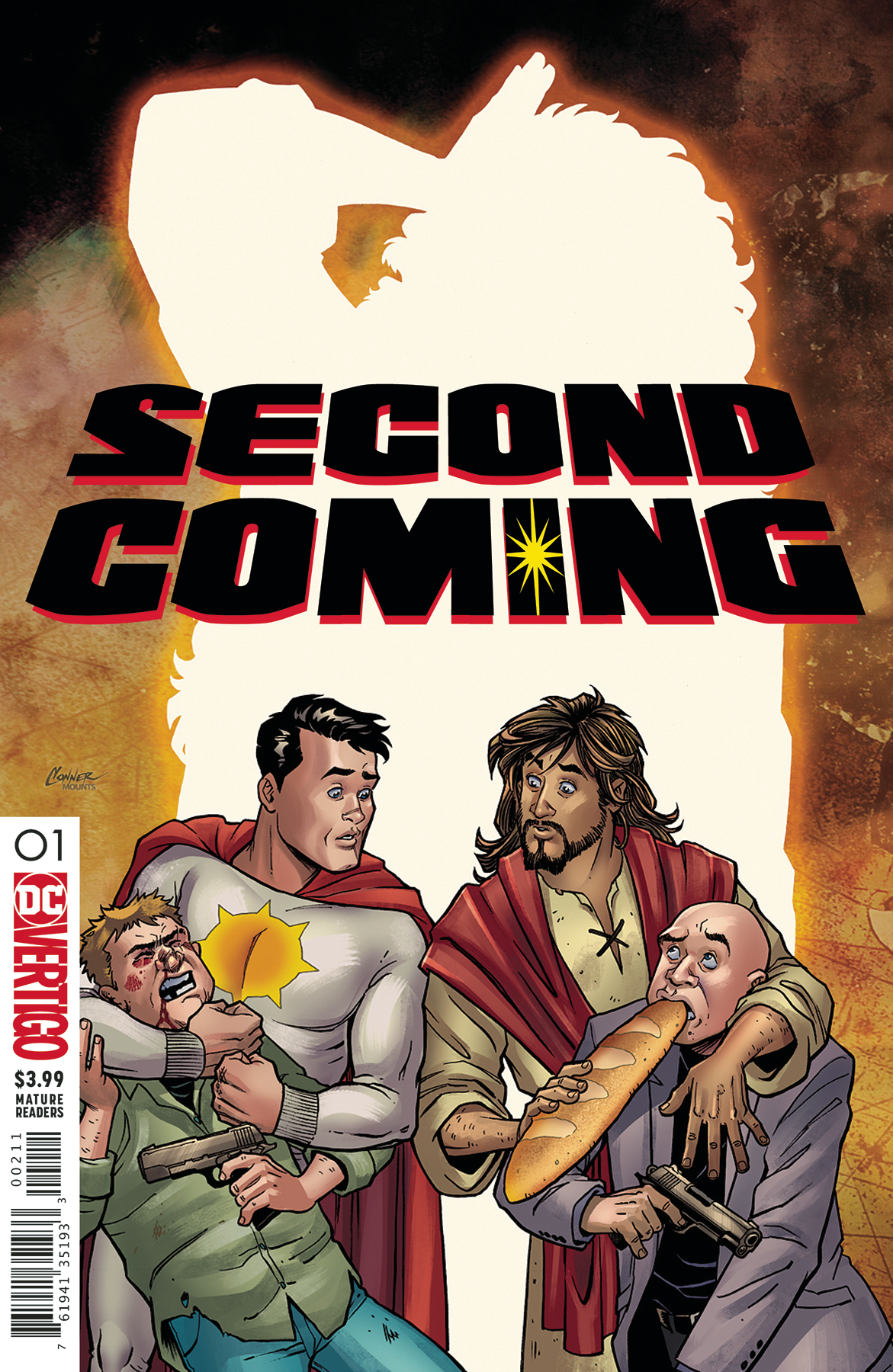 SECOND COMING #1 (OF 6) (MR)
DC COMICS
JAN190564
(W) Mark Russell (A) Richard Pace (CA) Amanda Conner
Witness the return of Jesus Christ, as He is sent on a most holy mission by God to learn what it takes to be the true messiah of mankind by becoming roommates with the world's favorite savior: the all-powerful super hero Sun-Man, the Last Son of Krispex! But when Christ returns to Earth, he's shocked to discover what has become of his gospel-and now, he aims to set the record straight.
In Shops: Mar 06, 2019
SRP: $3.99
DYNAMITE ENTERTAINMENT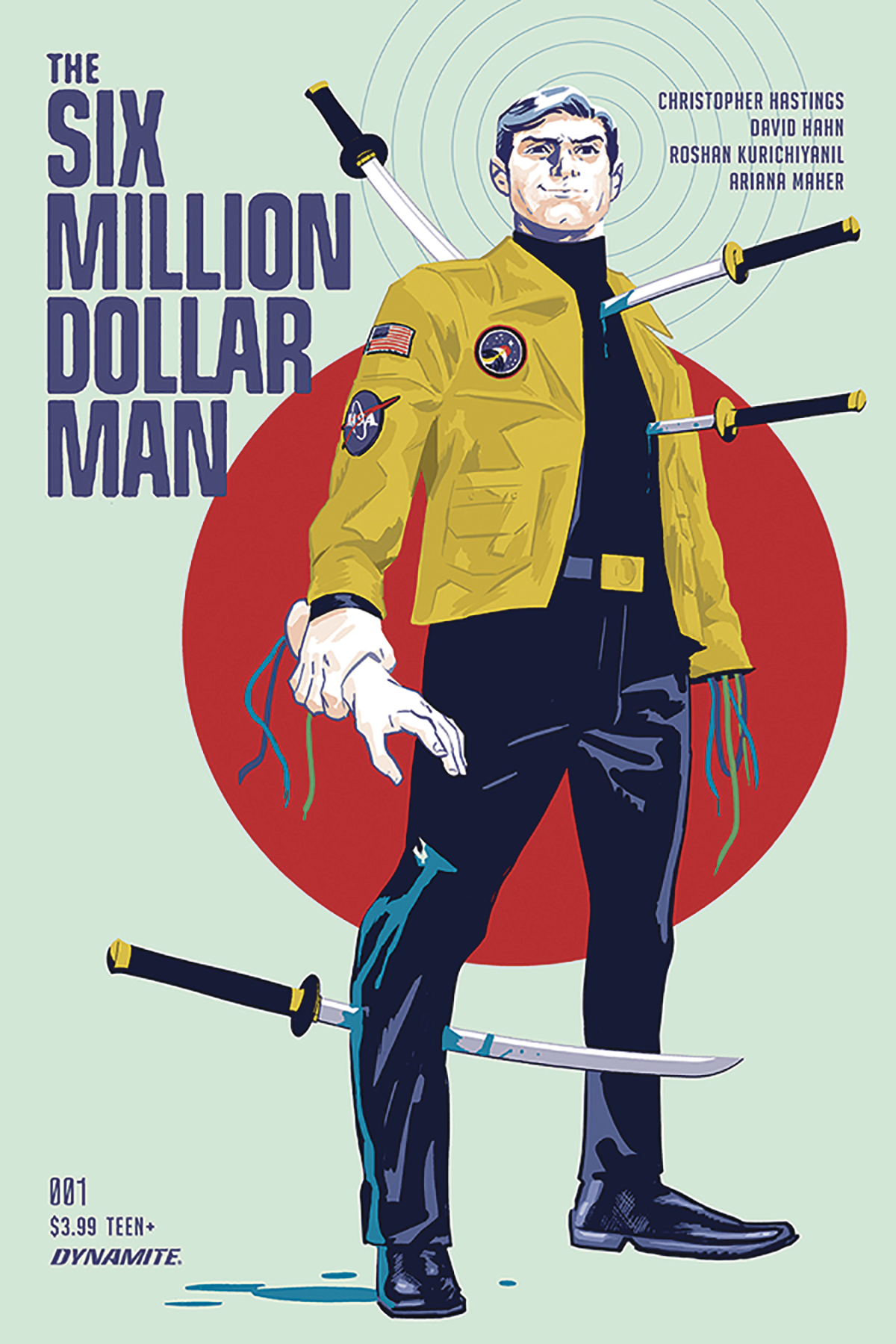 SIX MILLION DOLLAR MAN #1 CVR A WALSH
DYNAMITE
JAN191131
(W) Christopher Hastings (A) David Hahn (CA) Michael Walsh
CHRISTOPHER HASTINGS (The Unbelievable Gwenpool! Secret Agent Deadpool! Adventure Time! I Am Groot!) and DAVID HAHN (Batman '66! Bombshells: United!) proudly present a story from a time when there wasn't internet, but there WERE cyborgs!
It's the 1970s. Things are going great. Steve Austen (used to be an astronaut, now has robo-parts & a laser eye) heads to Japan to help Secret Agent Niko Abe stop a madman with missiles. Steve figures, no sweat. But then...sweat. How's Steve going to complete his mission, when his fancy $6,000,000 body starts (DRASTICALLY) depreciating in value!?
In Shops: Mar 06, 2019
SRP: $3.99
IDW PUBLISHING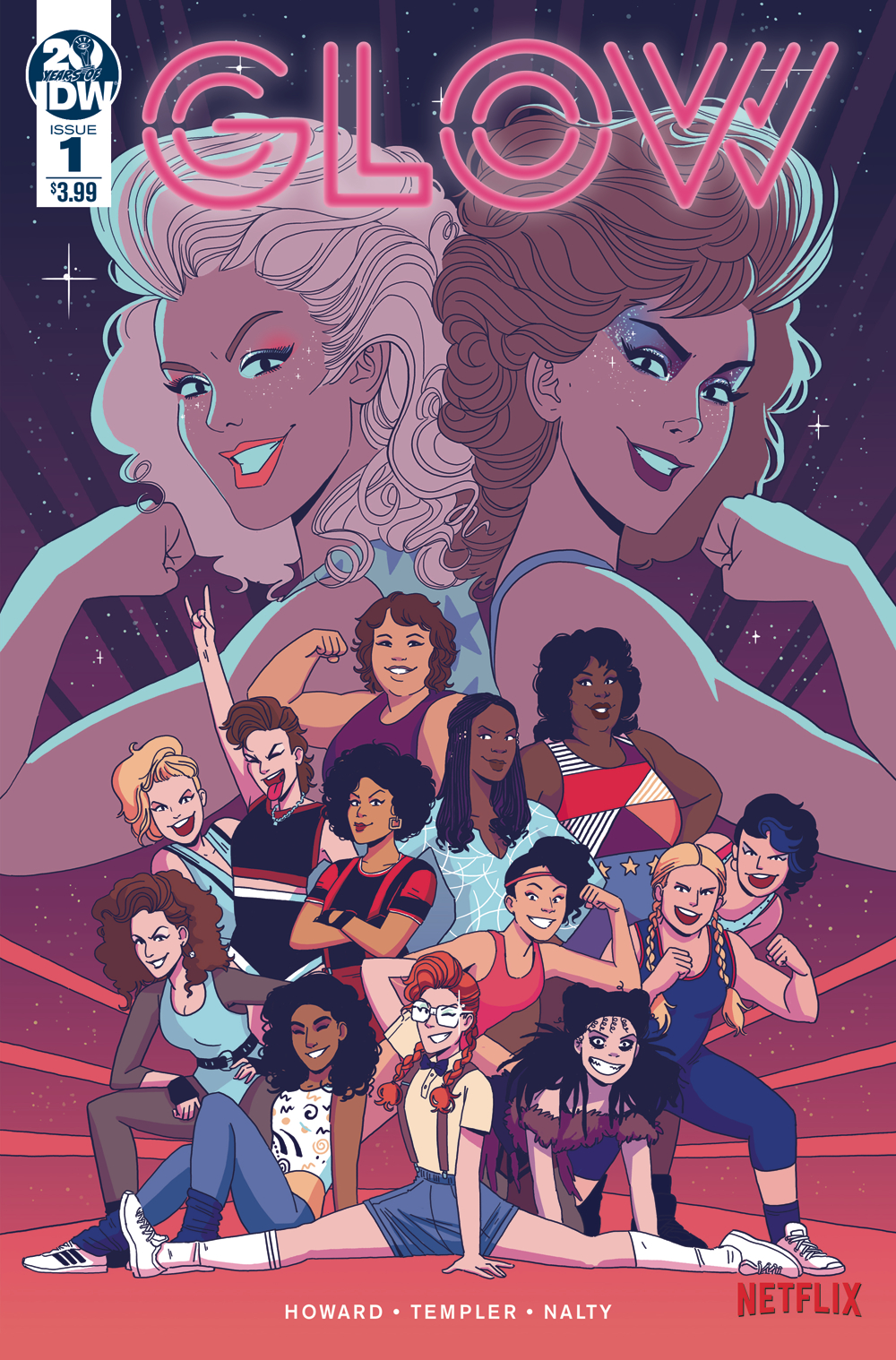 GLOW #1 CVR A TEMPLER
IDW PUBLISHING
JAN190741
(W) Tini Howard (A/CA) Hannah Templer
The Gorgeous Ladies of Wrestling are ready to take on the world-or at least LA-in this comic based on the hit Netflix series! When the unthinkable happens and the women of GLOW find themselves ahead of schedule, Sam ruins the promise of a wrestling-free weekend with... more wrestling! Robbed of blissful relaxation and forced to raise money to fund their way to the event, the GLOW team is less-than-prepared for their opponents: real gorgeous lady wrestlers. What could possibly go wrong?!
In Shops: Mar 27, 2019
SRP: $3.99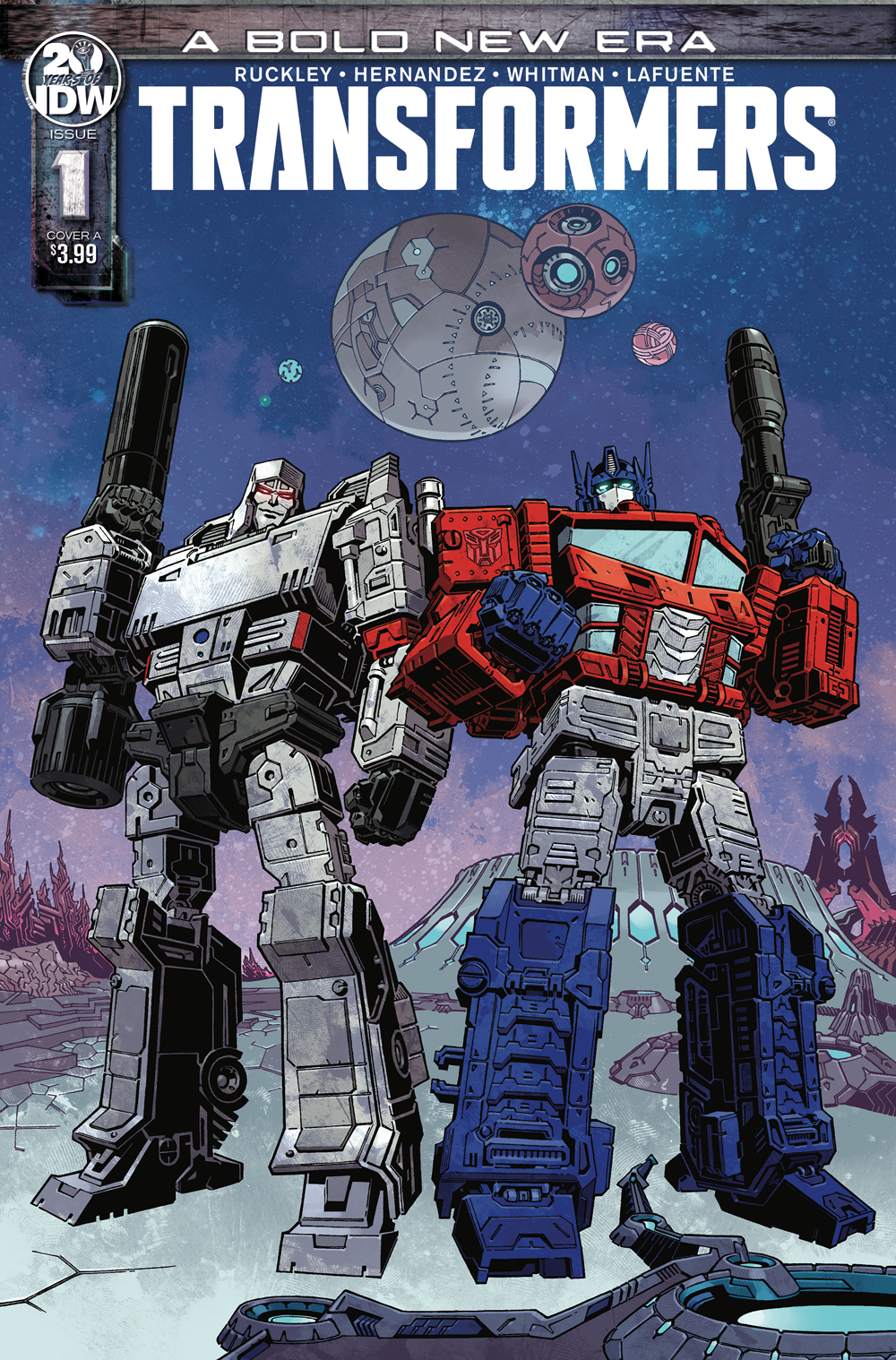 TRANSFORMERS #1 CVR A RODRIGUEZ
IDW PUBLISHING
JAN190714
(W) Brian Ruckley (A) Angel Hernandez, Ron Joseph (CA) Gabriel Rodriguez
A NEW ERA DAWNS! In the infinite universe, there exists a planet like no other: Cybertron! Home to the Transformers, and a thriving hub for inter-stellar commerce, it is a world brimming with organic and constructed diversity. Immense structures line its landscape. Mechanical giants roam across its surface. Starship-sized titans orbit its skies, keeping a constant protective watch above and below. Ancient Transformers merge into its very fabric. Small, mysterious creatures skulk in its shadows. It is a truly amazing realm, long untouched by war, and exuberantly reaching for the stars. This is the Cybertron that Optimus Prime and Megatron vie for in this bold new origin-a world of seemingly endless peace! All that changes when Bumblebee and Windblade take a newly-forged Cybertronian on his first voyage through this world of wonders-they are confronted by the hard reality of the first murder to have occurred on Cybertron in living memory!
All that changes when Bumblebee and Windblade take a newly-forged Cybertronian on his first voyage through this world of wonders-they are confronted by the hard reality of the first murder to have occurred on Cybertron in living memory!
In Shops: Mar 13, 2019
SRP: $3.99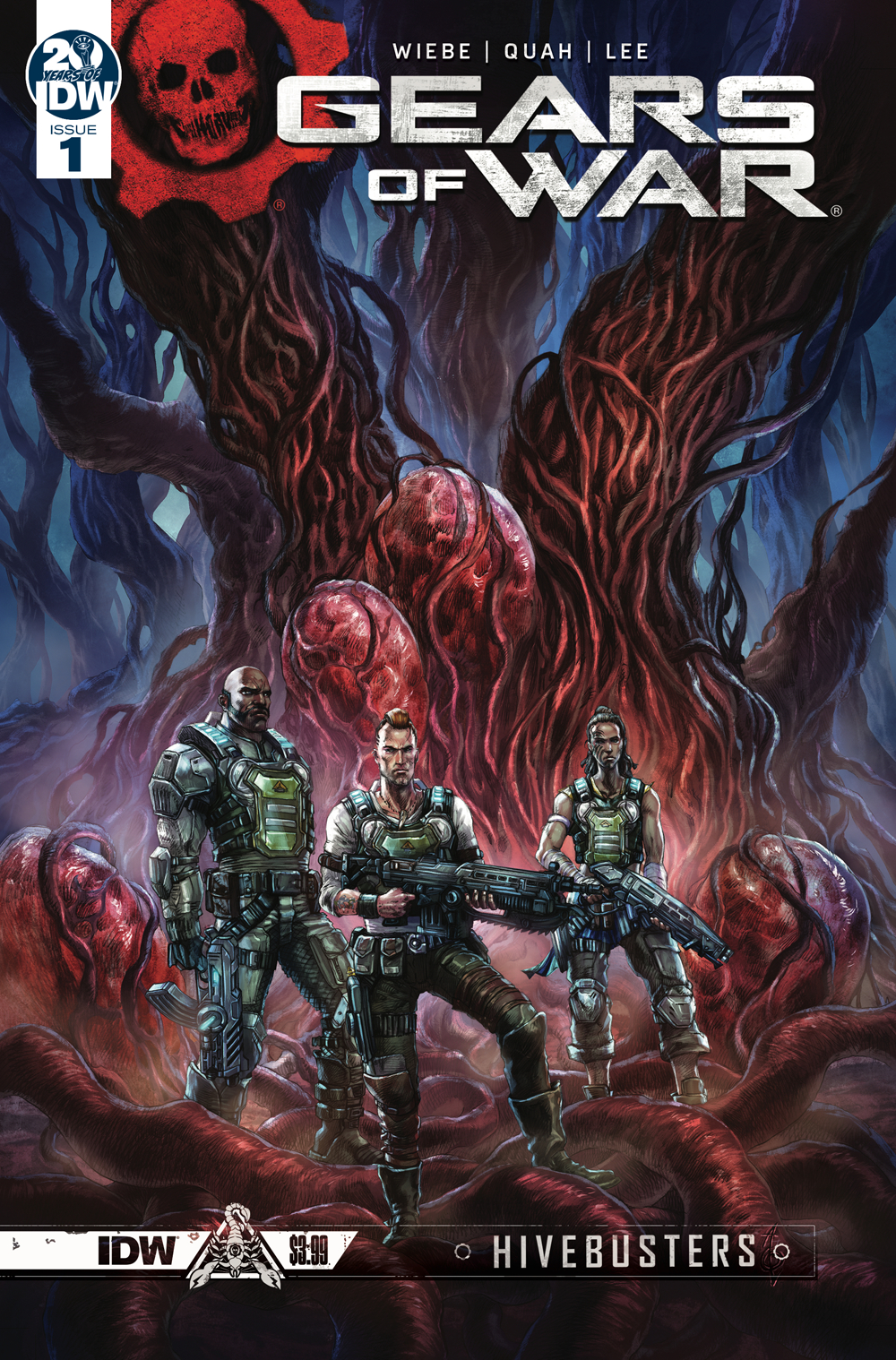 GEARS OF WAR HIVEBUSTERS #1
IDW PUBLISHING
JAN190745
(W) Kurtis J. Wiebe (A/CA) Alan Quah
From the creators of Gears of War and Kurtis Wiebe, the writer of the hit Rise of RAAM miniseries, comes a pulse-pounding new mission with a whole new squad-Team Scorpio! After successfully busting a Swarm hive on the remote island of Pahanu, this suicide squad will face their most dangerous mission yet-going after the Swarm that decimated the home settlement of one of their own!
In Shops: Mar 27, 2019
SRP: $3.99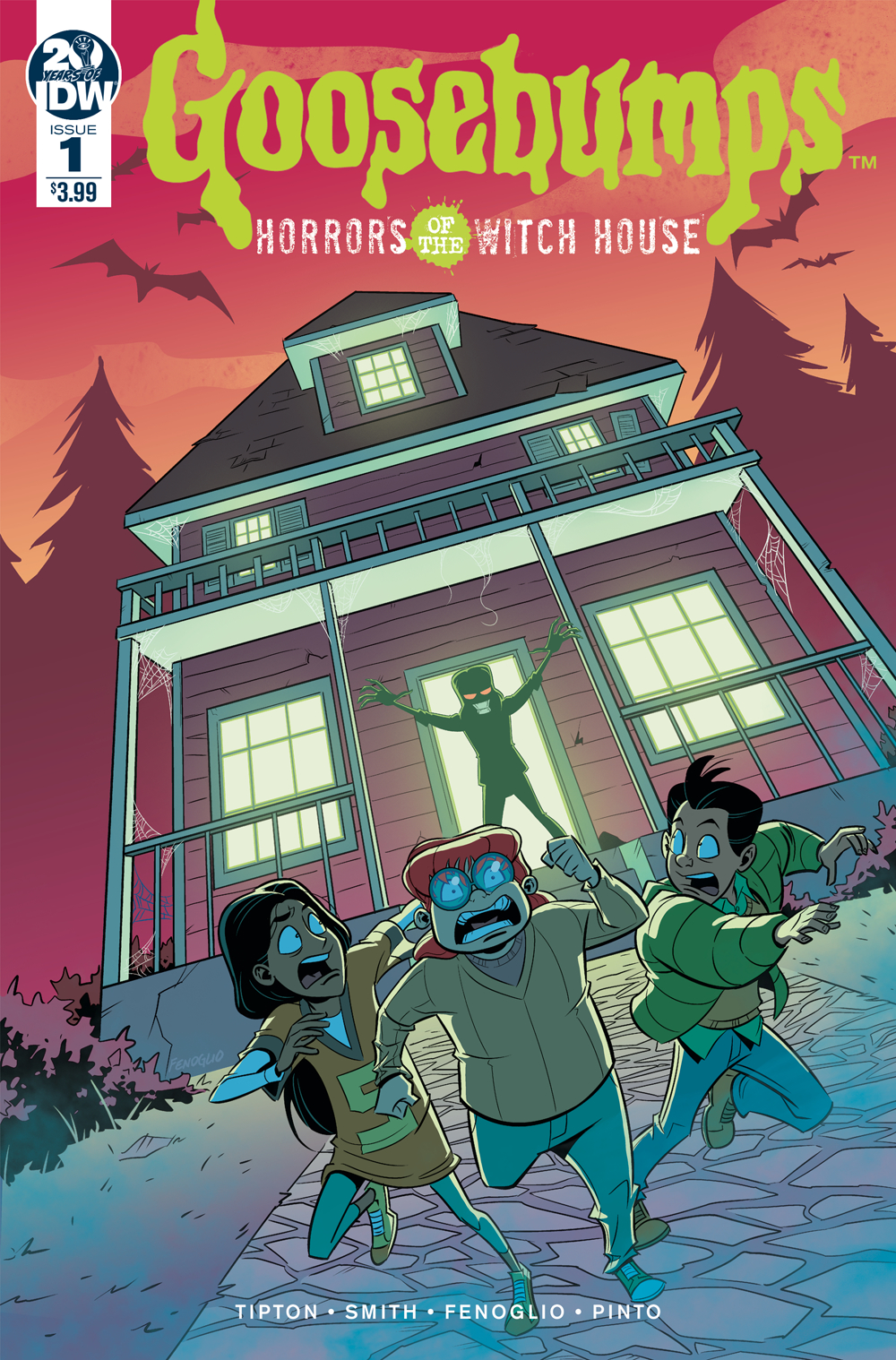 GOOSEBUMPS HORRORS OF THE WITCH HOUSE #1 FENOGLIO
IDW PUBLISHING
JAN190829
(W) Denton J. Tipton, Matthew Dow Smith (A/CA) Chris Fenoglio
When young tech entrepreneur Veruca Curry buys the old Whaley House, the kids in town are worried the ghosts who haunt it will get her. But when they discover Veruca's horrible secret, it will turn their world upside-down!
In Shops: Mar 27, 2019
SRP: $3.99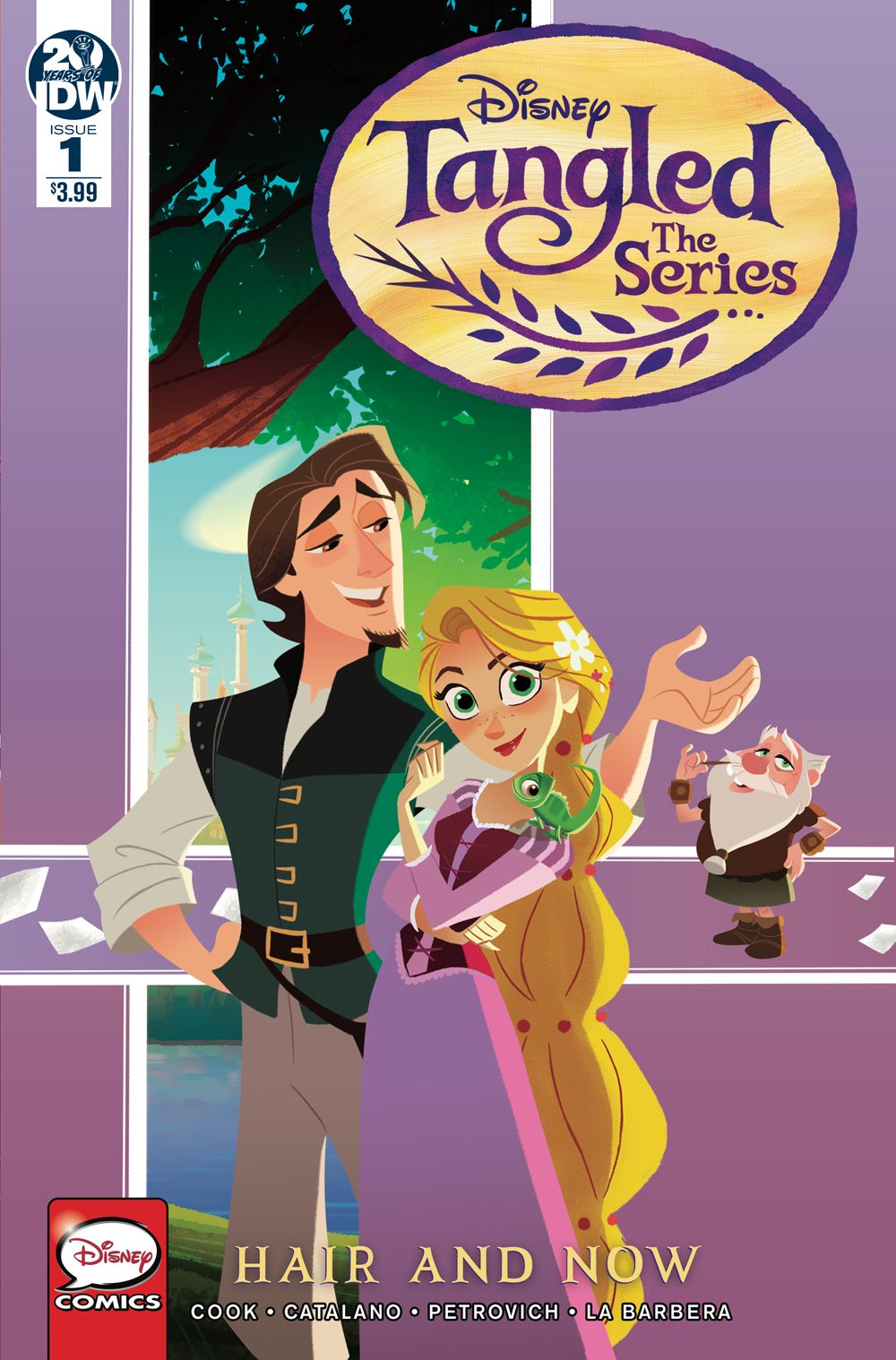 TANGLED THE SERIES CORONA CAPERS #1 PETROVICH & LA BARBERA (
IDW PUBLISHING
JAN190831
(W) Katie Cook (A) Diogo Saito (A/CA) Eduard Petrovich, Rosa La Barbera
It's another series of brand-new Tangled stories! Join Rapunzel, Eugene, and all their friends in "The Corona Caper" and "Curtain Call." The final series of Tangled: The Series comics begins this month! All stories are written by fan-favorite Katie Cook! Three more stunning RI covers by Disney artist Gabby Zapata!
In Shops: Mar 13, 2019
SRP: $3.99
IMAGE COMICS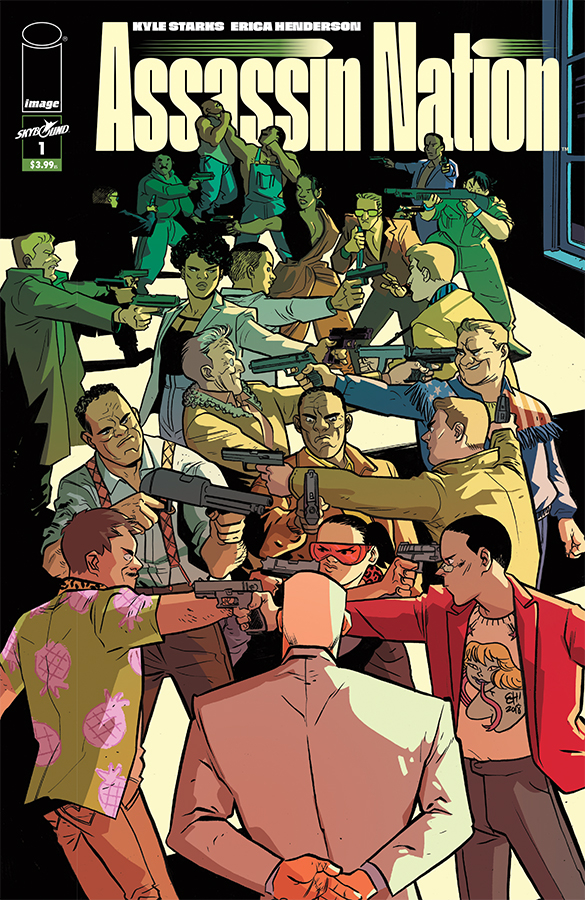 ASSASSIN NATION #1 (MR)
IMAGE COMICS
JAN190122
(W) Kyle Starks (A/CA) Erica Henderson
SERIES PREMIERE! Hot off her breakout success at Marvel, two-time Eisner award winner ERICA HENDERSON (The Unbeatable Squirrel Girl, Jughead) teams up with KYLE STARKS (writer of sales beast Rick and Morty) for a hilarious twist on the hitman trope that will have readers laughing in the aisles over ASSASSIN NATION.
The World's Former Greatest Hitman hires the 20 best assassins in the world to be his bodyguards. These mean-as-hell hired guns and murderers must work together to keep the new crime boss safe while attempting to solve the mystery of who's trying to off him.
With the same laugh-until-you-cry spirit of action-comedies like Hot Fuzz, Tropic Thunder, and Deadpool, ASSASSIN NATION is the bombastic, side-splitting murder-fest you've been waiting for.
In Shops: Mar 13, 2019
SRP: $3.99
LITTLE BIRD #1 (OF 5) (MR)
IMAGE COMICS
JAN190099
(W) Darcy Van Poelgeest (A/CA) Ian Bertram
MINISERIES PREMIERE!
Director/screenwriter DARCY VAN POELGEEST boasts a long list of awards and accolades for his storytelling prowess and brings the same writing finesse to IAN BERTRAM's breathtakingly detailed artwork in the gorgeous, hyper-detailed miniseries LITTLE BIRD.
With the same limitless scope as a new EAST OF WEST or SAGA and the drama and surrealism of Akira, LITTLE BIRD follows a young resistance fighter who battles against an oppressive American Empire and searches for her own identity in a world on fire.
In Shops: Mar 13, 2019
SRP: $3.99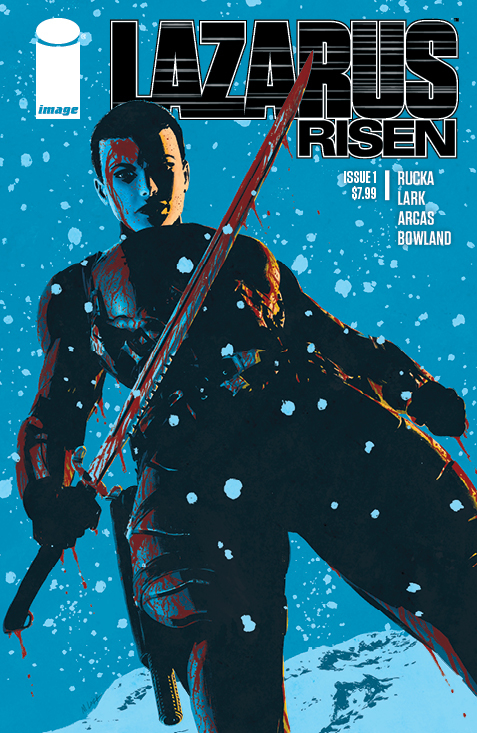 LAZARUS RISEN #1 (MR)
IMAGE COMICS
JAN190126
(W) Greg Rucka (A/CA) Michael Lark
NEW STORY ARC!
"FRACTURE I," Part One
LAZARUS returns in an all-new prestige format! New series, new story arc, new size, and a new quarterly schedule!
Introducing a new ongoing LAZARUS series-at 64 pages, perfect bound, LAZARUS: RISEN continues the story of Forever and the Carlyle Family... featuring an oversized, 44-page story by Eisner winners GREG RUCKA and MICHAEL LARK, an all-new short story exploring the larger world of LAZARUS by Eisner-nominated writer LILAH STURGES, an all-new supplement to the Modern Age: World of Lazarus Roleplaying Game by Green Ronin, original design artifacts and art supplements, and more!
Two years have passed since the Carlyle Family was betrayed in battle, and the Conclave War encroaches on every side. As a new era dawns, Johanna Carlyle goes on the attack to ensure the survival of her Family, relying on the loyalty and support of the Carlyle Lazarus-her sister, Forever-remaining at her side. And while their united front may be enough to turn the tide, the cracks are beginning to show...
In Shops: Mar 20, 2019
SRP: $7.99
MARVEL COMICS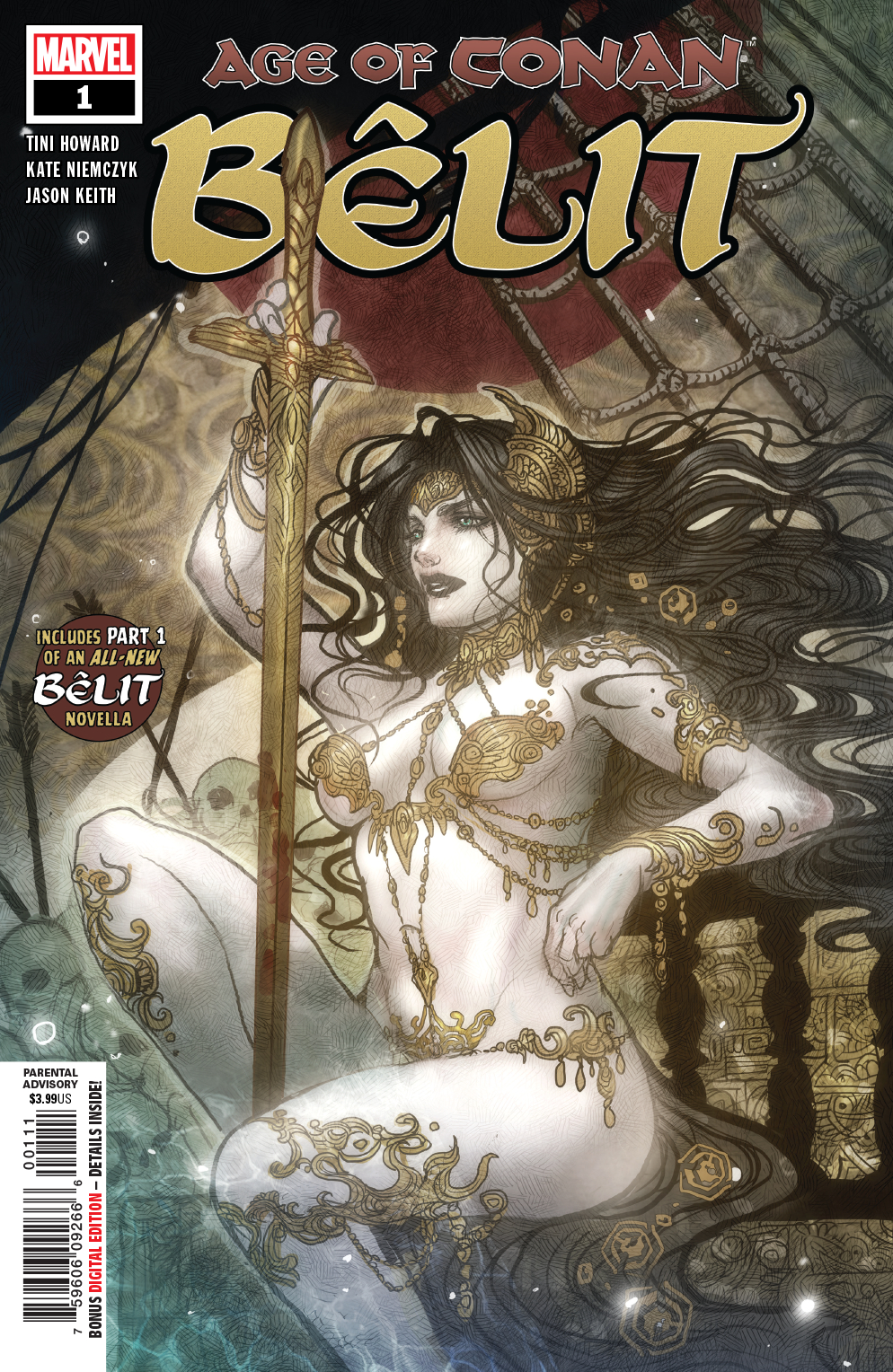 AGE OF CONAN BELIT #1 (OF 5)
MARVEL COMICS
JAN190904
(W) Tini Howard (A) Kate Niemczyk (CA) Sana Takeda
THE SHE-DEVIL OF THE SEA WHO WOULD BE QUEEN!
BÊLIT. The name alone conjures fear up and down the coasts of the Hyborian Age. And the sight of her ship, the Tigress, is an omen of despair for any town in the pirate queen's path!
The AGE OF CONAN kicks off with one of Conan's most formidable - and memorable - female compatriots, in an all-new story revealing how she became the undisputed QUEEN OF THE BLACK COAST!
The teenage Bêlit, obsessed with the sea - as well as the monsters and treasures she thinks are summoning her there - stows away on the ship of the dread Admiral ATRAHASIS into a deadly adventure even she could not predict!
PLUS: The first chapter in an all-new BÊLIT prose novella, presented here for the first time!
Parental Advisory
In Shops: Mar 13, 2019
SRP: $3.99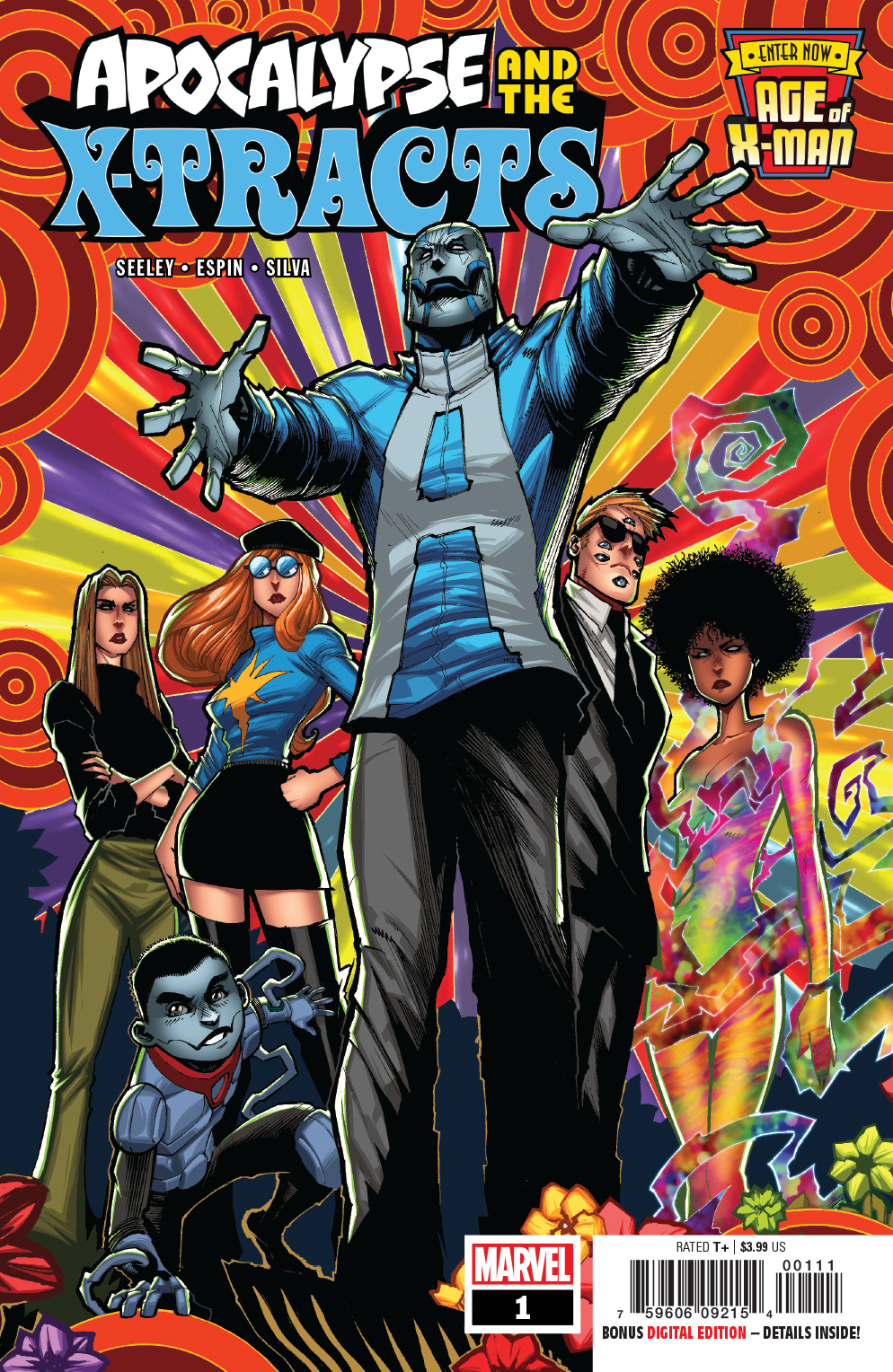 AGE OF X-MAN APOCALYPSE AND X-TRACTS #1 (OF 5)
MARVEL COMICS
JAN190959
(W) Tim Seeley (A) Salva Espin (CA) Gerardo Sandoval
ENTER THE AGE OF X-MAN!
X-Man has created a utopia for mutants...a utopia where no one knows love. Thankfully, a hero rises up to lead the rebellion against this way of life and teach the ways of family and romance, and he goes by the name...EN SABAH NUR?! Join Apocalypse and his rebel X-Tracts as they strive to teach the world to love again!
Rated T+
In Shops: Mar 13, 2019
SRP: $3.99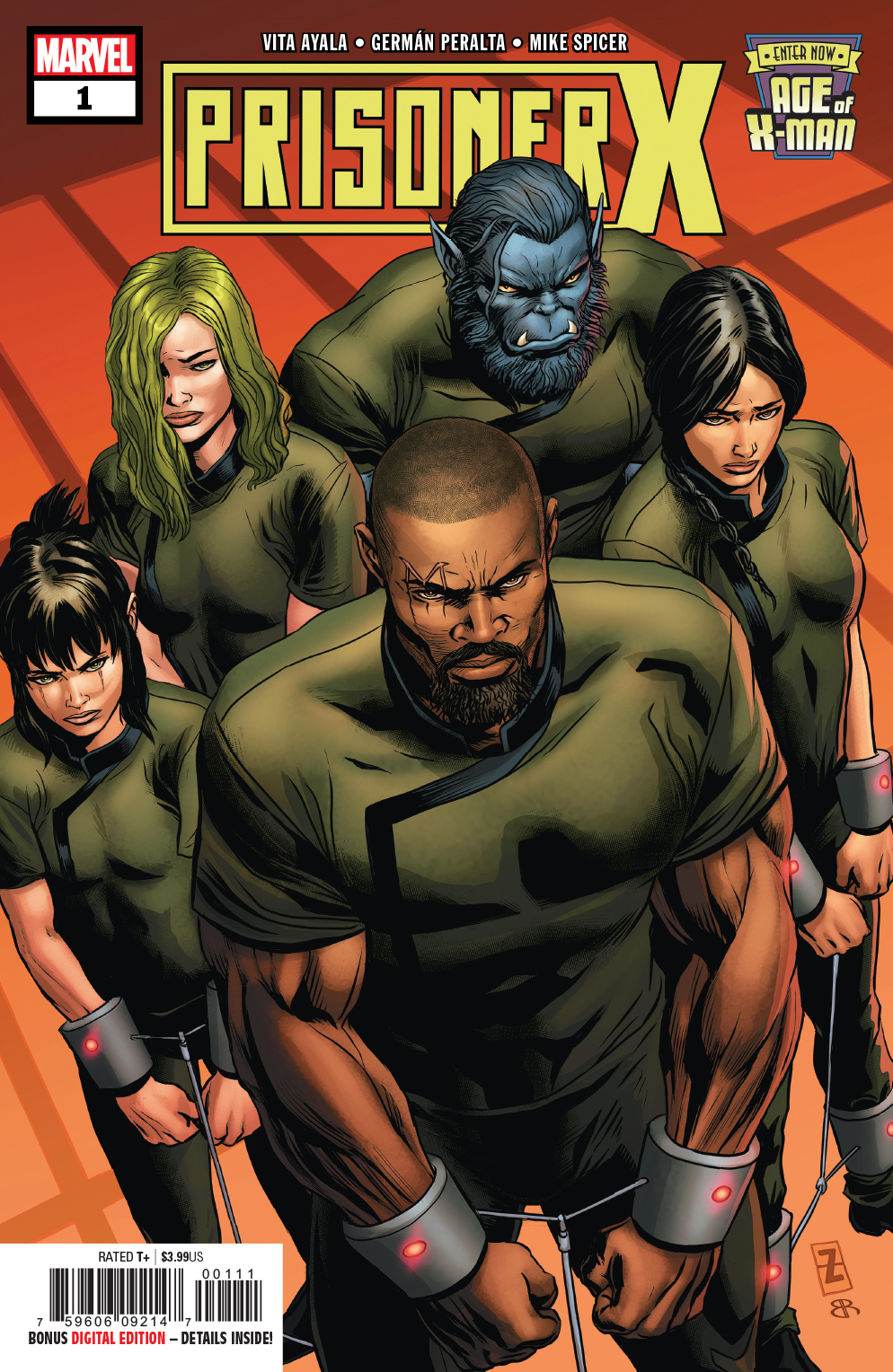 AGE OF X-MAN PRISONER X #1 (OF 5)
MARVEL COMICS
JAN190953
(W) Vita Ayala (A) German Peralta (CA) Patrick Zircher
ENTER THE AGE OF X-MAN!
In the Age of X-Man, when you break the law, you aren't sent to just any prison. You're sent to the Danger Room...a penitentiary filled with the roughest and meanest mutants that don't fit into X-Man's utopia. They each have a reason for being there. And they're all ready to kill each other. But that's about to change, because the newest prisoner just arrived...Lucas Bishop!
Rated T+
In Shops: Mar 06, 2019
SRP: $3.99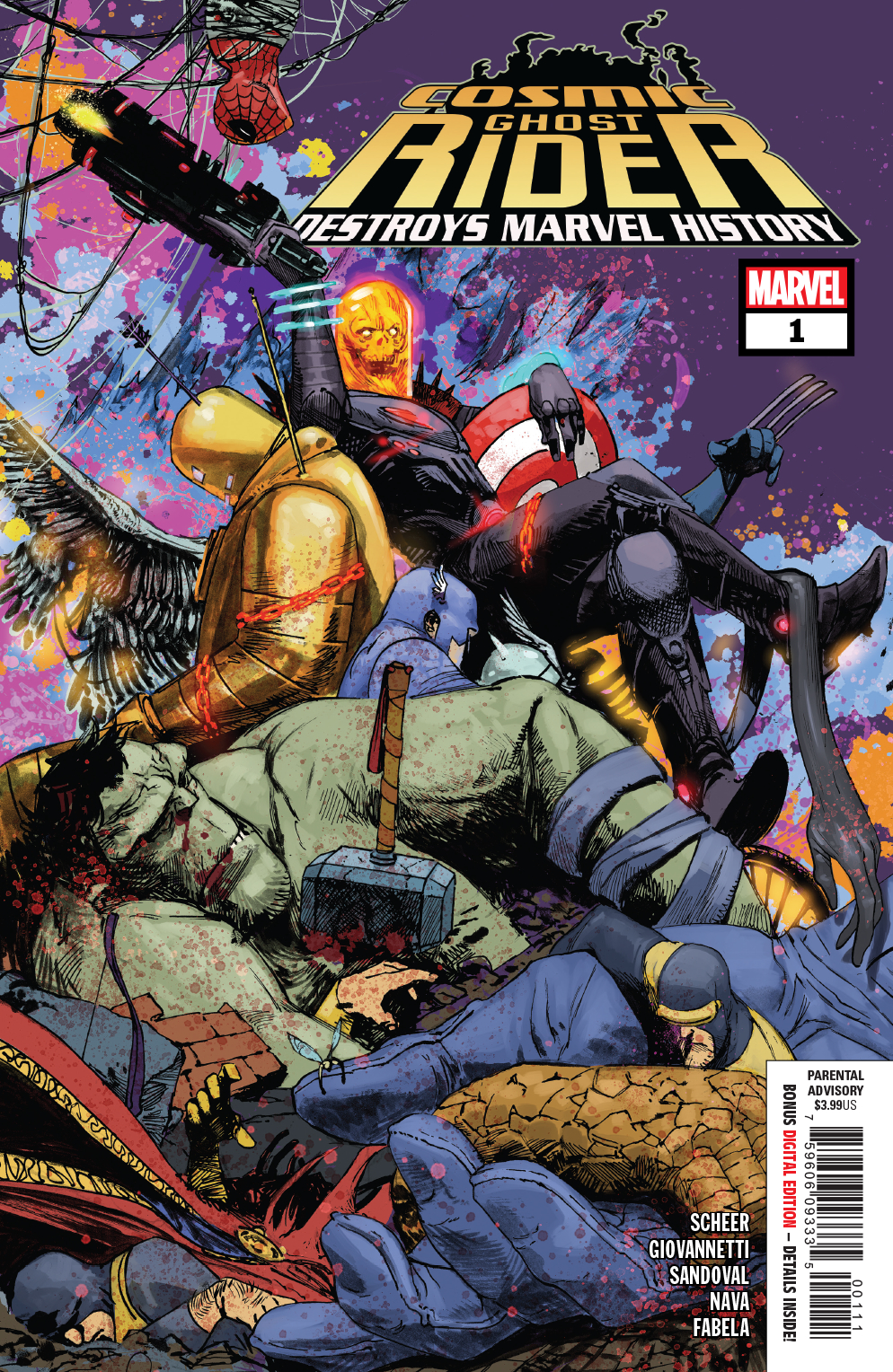 COSMIC GHOST RIDER DESTROYS MARVEL HISTORY #1 (OF 6)
MARVEL COMICS
JAN190946
(W) Paul Scheer, Nick Giovannetti (A) Gerardo Sandoval (CA) Gerardo Zaffino
The Cosmic Ghost Rider is stuck in the past, so he might as well have some fun with the origins of the Marvel Universe, right?! After going back in time and trying to kill Thanos as a baby, Frank Castle has sworn off trying to alter history. But when he arrives in Earth's past at the birth of the Fantastic Four, how can he resist jumping in on the fun?!
Parental Advisory
In Shops: Mar 06, 2019
SRP: $3.99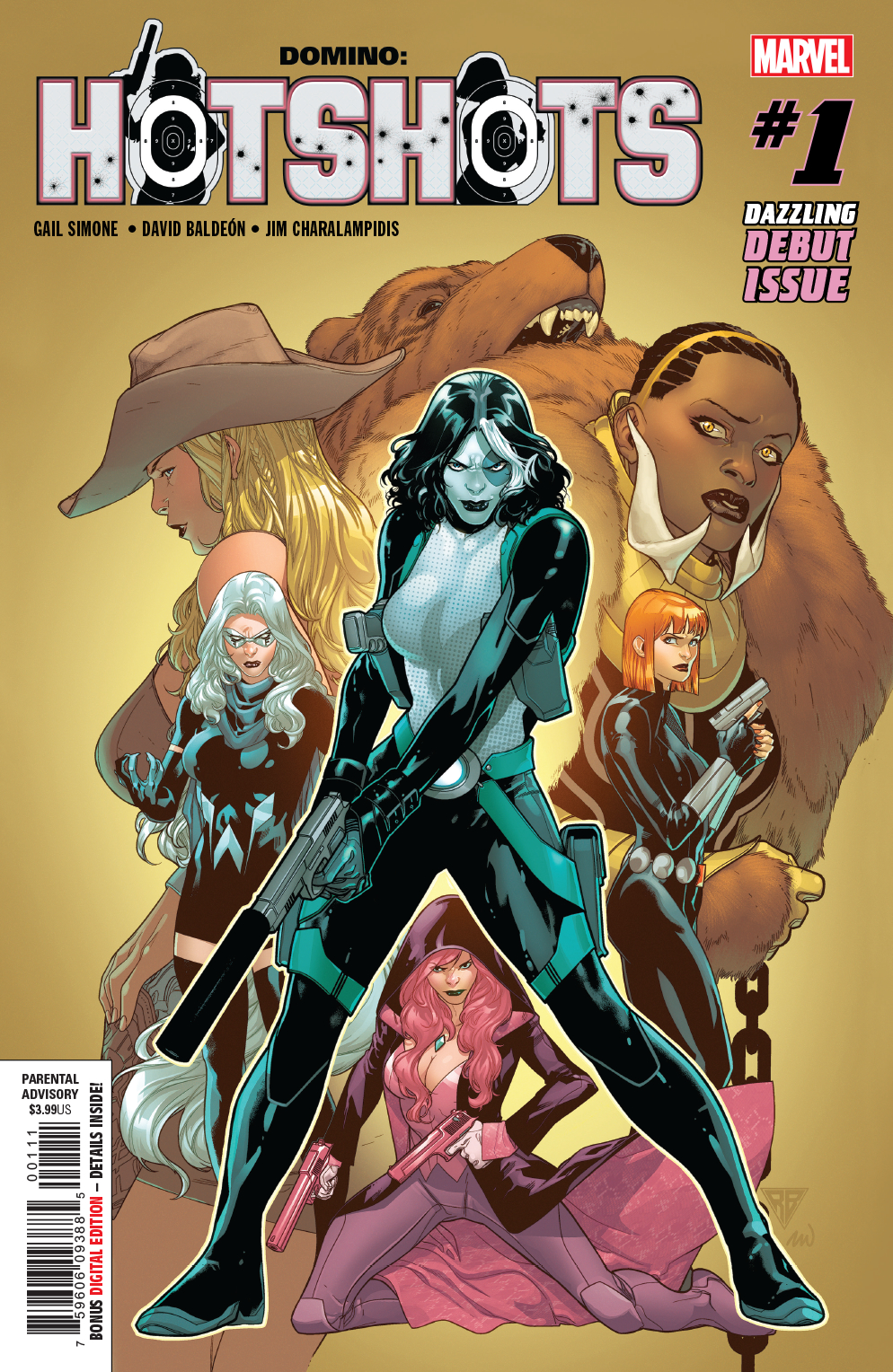 DOMINO HOTSHOTS #1 (OF 5)
MARVEL COMICS
JAN190942
(W) Gail Simone (A) David Baldeon (CA) R. B. Silva
BULLY, BRAWLER, MERCENARY, SPIES: THE MARVEL UNIVERSE'S HOTTEST TEAM IS HERE!
• Domino and her pals Outlaw and Diamondback are caught between warring nations! And it'll take a whole new crew of international women of mystery to sort it out!
• Featuring the titanic talents of Gail Simone (Birds of Prey) and David Balde n (Spirits of Vengeance)!
Rated T+
In Shops: Mar 06, 2019
SRP: $3.99
MAGNIFICENT MS MARVEL #1
MARVEL COMICS
JAN190931
(W) Saladin Ahmed (A) Minkyu Jung (CA) Eduard Petrovich
MS. MARVEL IS BACK!
ALL-New ongoing series from Eisner Award-winning writer Saladin Ahmed!
But it's not business as usual in Jersey City. Aliens are wreaking havoc in Kamala's corner of the world, and they seem weirdly interested in Ms. Marvel...and her family. Eisner Award-winner Saladin Ahmed (BLACK BOLT, EXILES) and rising star Minkyu Jung (Batgirl, Nightwing) take the reigns of one of Marvel's most beloved new characters! You won't want to miss this shocking start of a new era!
Rated T+
In Shops: Mar 13, 2019
SRP: $3.99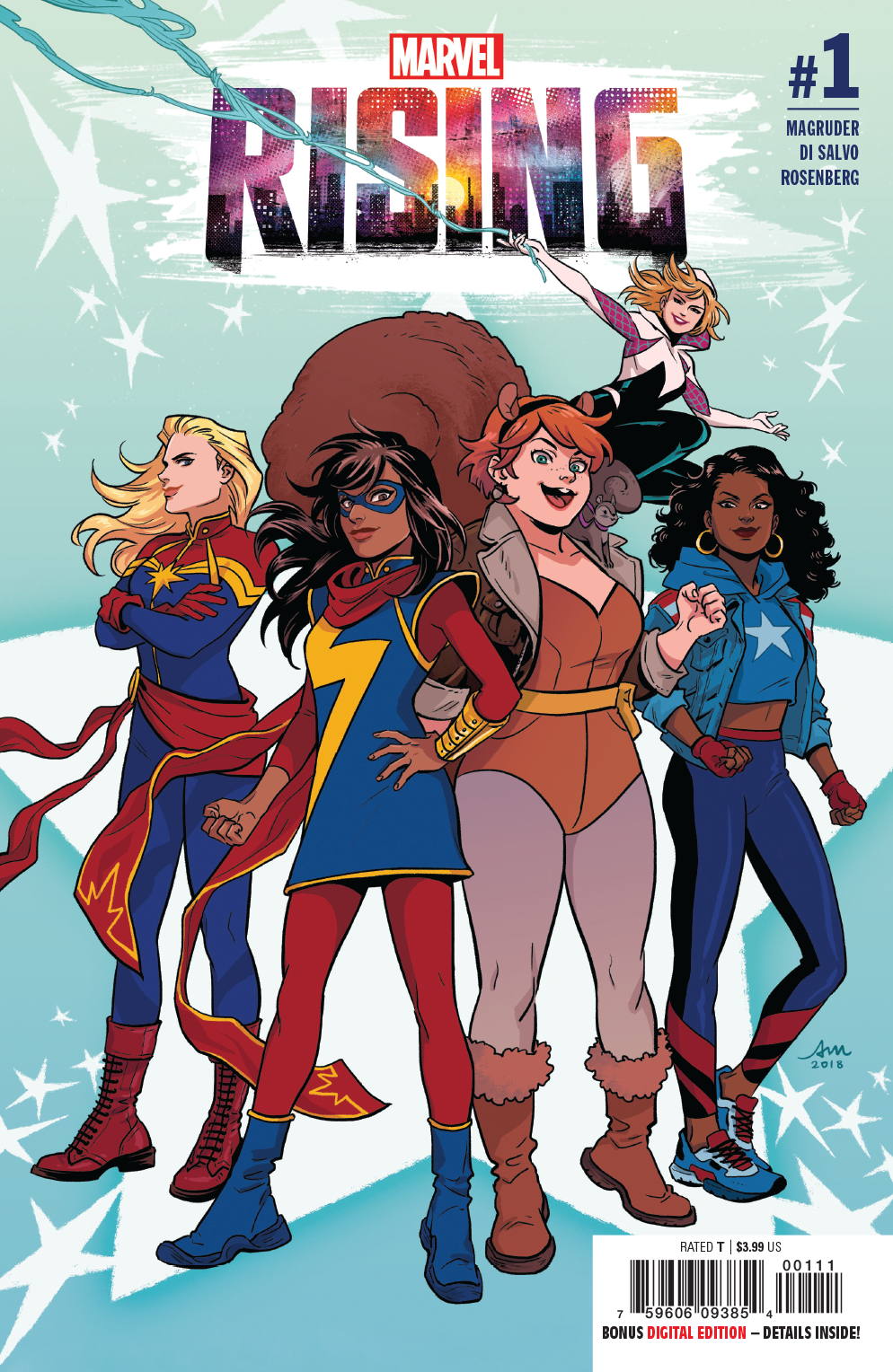 MARVEL RISING #1 (OF 5)
MARVEL COMICS
JAN191077
(W) Nilah Magruder (A) Roberto Di Salvo (CA) Audrey Mok
HEROES OF THE ROUNDTABLE!
With the powers of GIRL and the powers of SQUIRREL on their side, Kamala Khan and Doreen Green are an unbeatable team! But that title is about to be seriously challenged - because New Jersey has been invaded by a swarm of knights in shining...suits?! Driving cars armed with javelins?! Uh-oh. Kamala and Doreen are gonna need allies to help protect their home turf - and they know just who to call. Don't miss the return of the team-up that's got everyone talking!
Rated T
In Shops: Mar 27, 2019
SRP: $3.99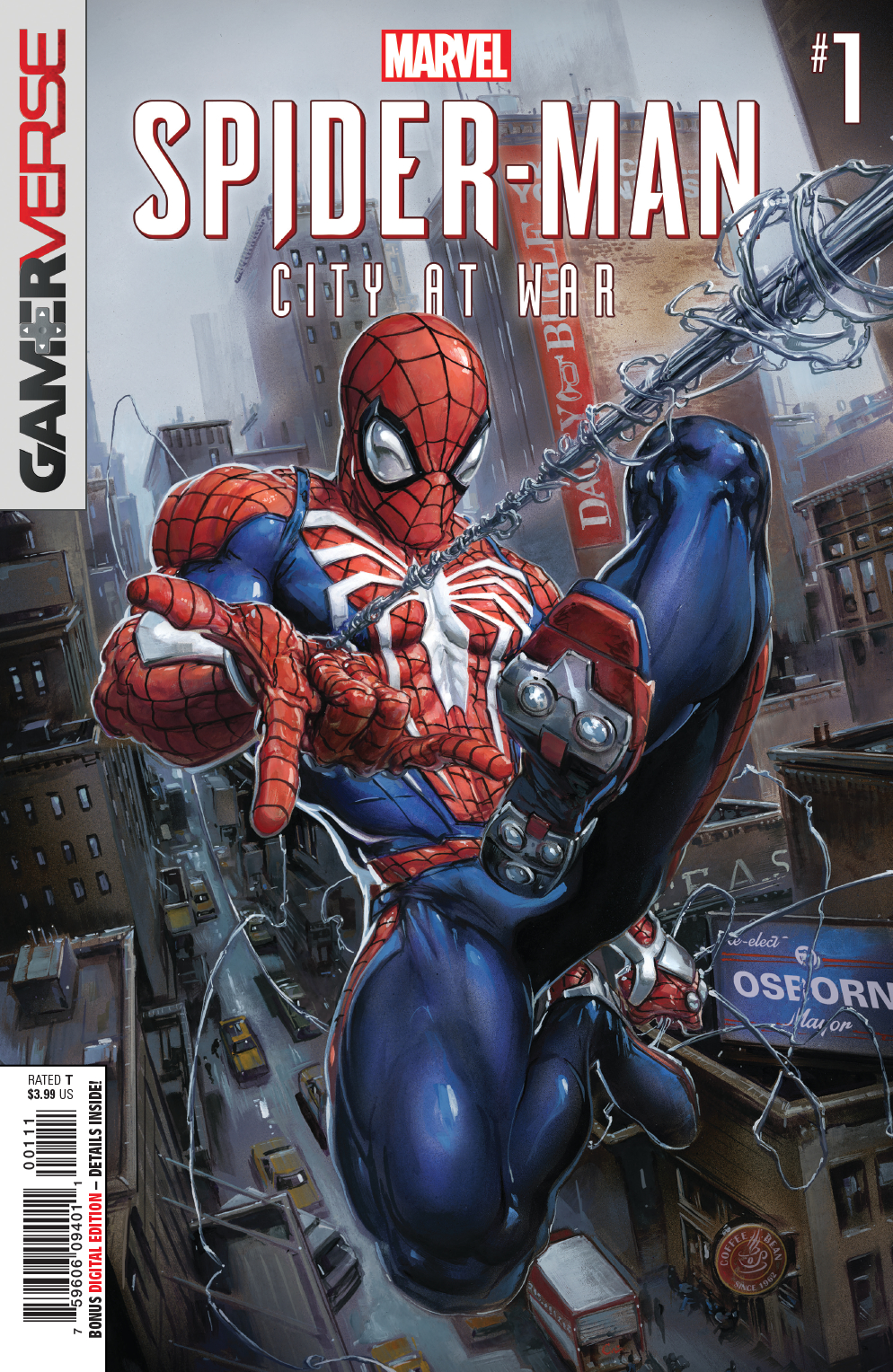 MARVELS SPIDER-MAN CITY AT WAR #1 (OF 6)
MARVEL COMICS
JAN190967
(W) Dennis Hopeless (A) Michele Bandini (CA) Clayton Crain
PRESS START ON A BRAND-NEW MARVEL UNIVERSE!
Showered with worldwide acclaim, the blockbuster Marvel's Spider-Man has everyone's spider-sense buzzing! Now you can experience the emotional and shock-filled story that takes favorite characters (including Mary Jane, Aunt May, Norman Osborn, Otto Octavius and Miles Morales) and spins them into an all-new and unexpected web of drama, spectacle, and classic Spidey action in the Mighty Marvel Manner...with more original stories to come!
After years of seeing Wilson Fisk escape criminal prosecution, the wise-cracking web-slinger finally has the opportunity to team with the PDNY to help them arrest his fearsome foe. But when the Kingpin of Crime is removed from the mean streets of the Big Apple, how will the mysterious Mister Negative's ascent to power bring Peter Parker's civilian world and Spider-Man's superhuman worlds crashing together?
Plus: All-new story moments never seen in the game and bonus behind-the-scenes content!
Rated T
In Shops: Mar 20, 2019
SRP: $3.99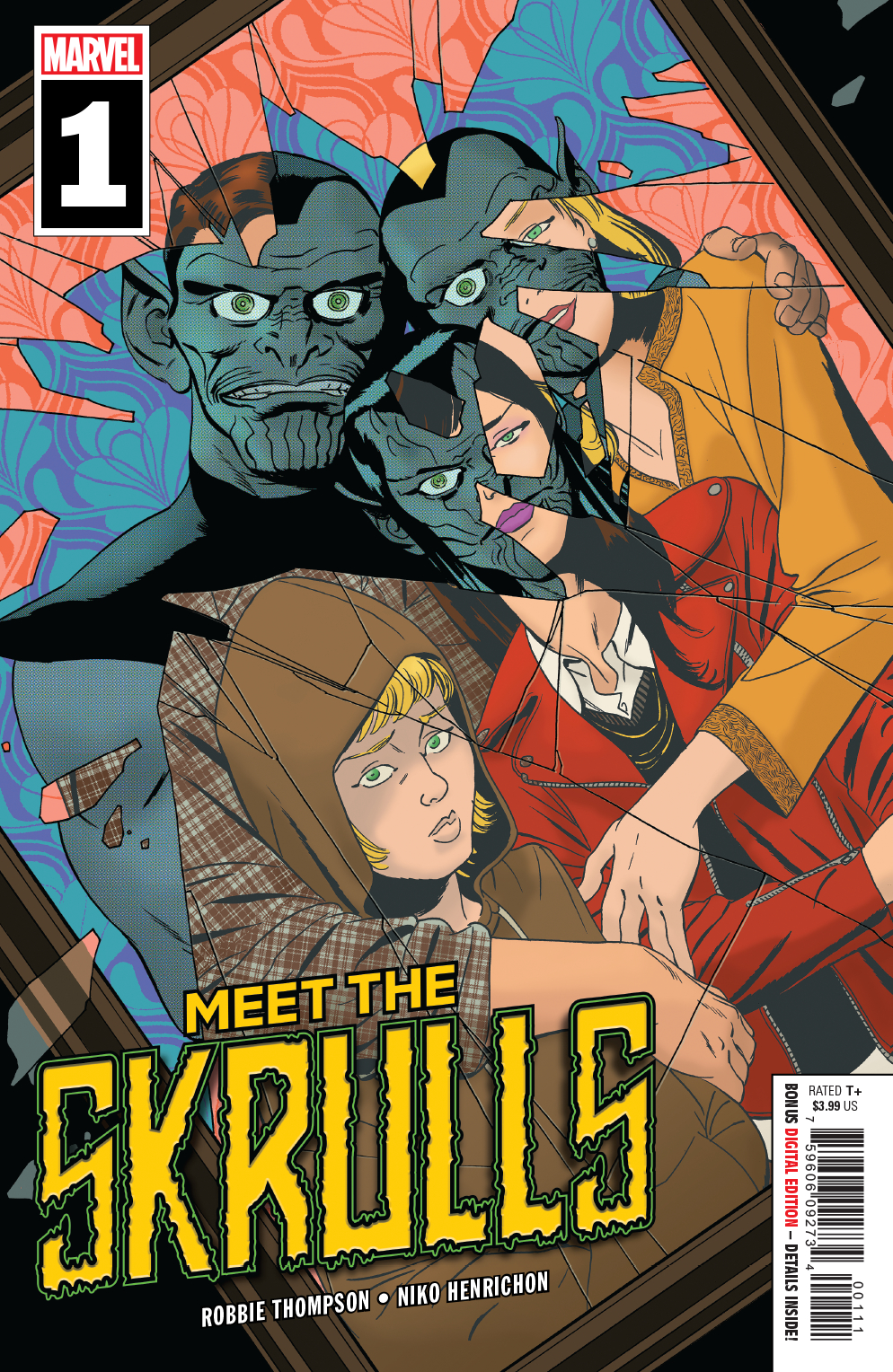 MEET THE SKRULLS #1 (OF 5)
MARVEL COMICS
JAN190935
(W) Robbie Thompson (A) Niko Henrichon (CA) Marcos Martin
WHO DO YOU TRUST?
The Warners are your typical family. Dad works at Stark. Mom works in a senator's office. Jennifer and Alice are students at Stamford High School. The only thing that makes them different is that they're shape-shifting Skrulls and have infiltrated our society to pave the way for a Skrull invasion. Robbie Thompson (SPIDER-MAN/DEADPOOL) and Niko Henrichon (DOCTOR STRANGE, Pride of Baghdad) bring the Marvel Universe down to earth with a bold new look at the Skrulls that will test even YOUR loyalty.
Rated T+
In Shops: Mar 06, 2019
SRP: $3.99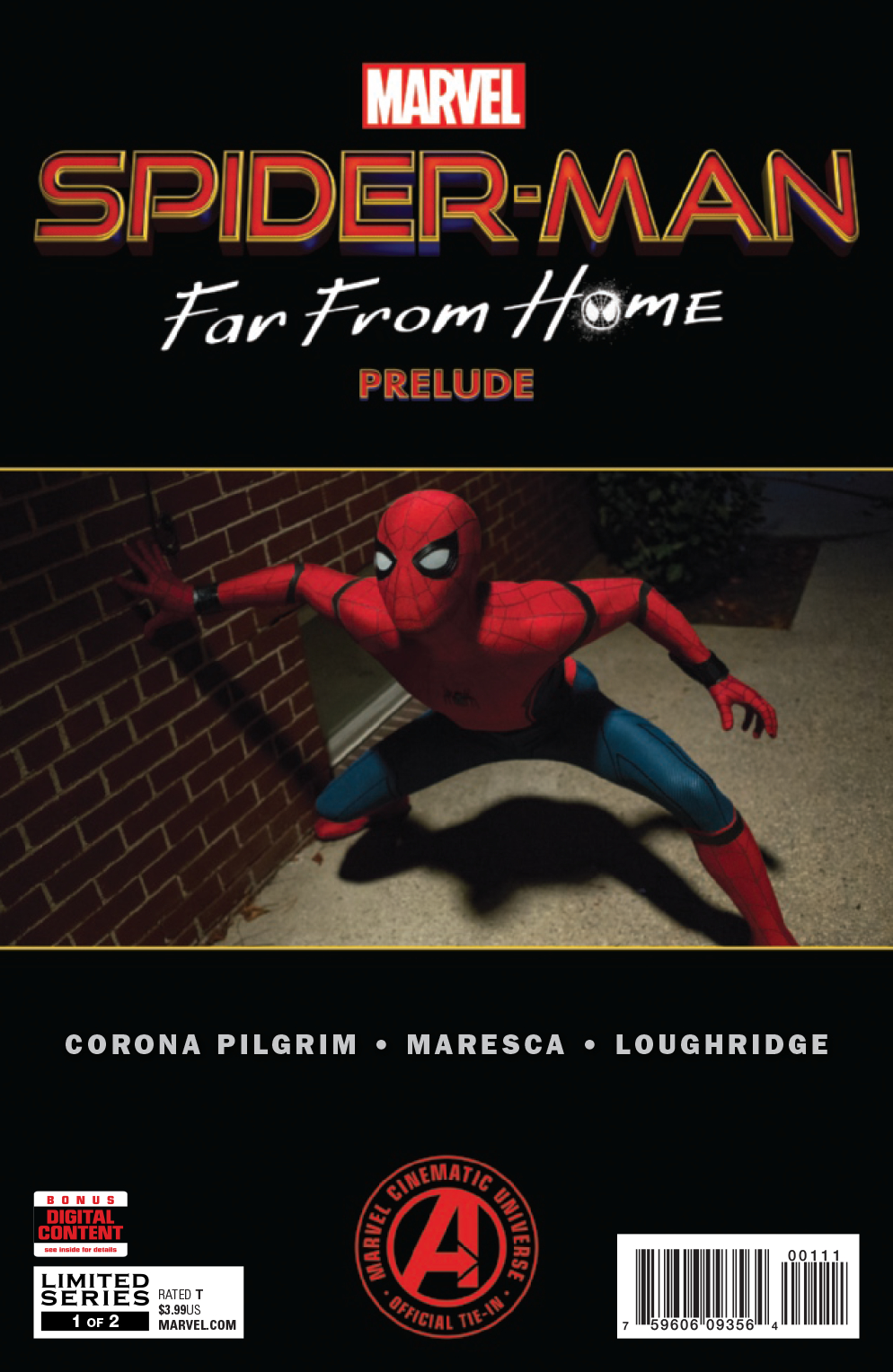 SPIDER-MAN FAR FROM HOME PRELUDE #1 (OF 2)
MARVEL COMICS
JAN190995
(W) Will Corona Pilgrim (A) Luca Maresca
DOES WHATEVER A SPIDER CAN!
PETER PARKER has already fought with the AVENGERS, but now he faces his biggest challenge: HIGH SCHOOL! Having the proportionate strength and agility of a spider doesn't help Peter fit in, but when a piece of alien CHITAURI technology falls into the wrong hands, his abilities just may be the only thing standing between New York City and annihilation! Well, that and the expert tutelage of one TONY STARK, A.K.A. IRON MAN! Get ready for this summer's SPIDER-MAN: FAR FROM HOME with this adaptation of the smash-hit SPIDER-MAN: HOMECOMING!
Rated T
In Shops: Mar 27, 2019
SRP: $3.99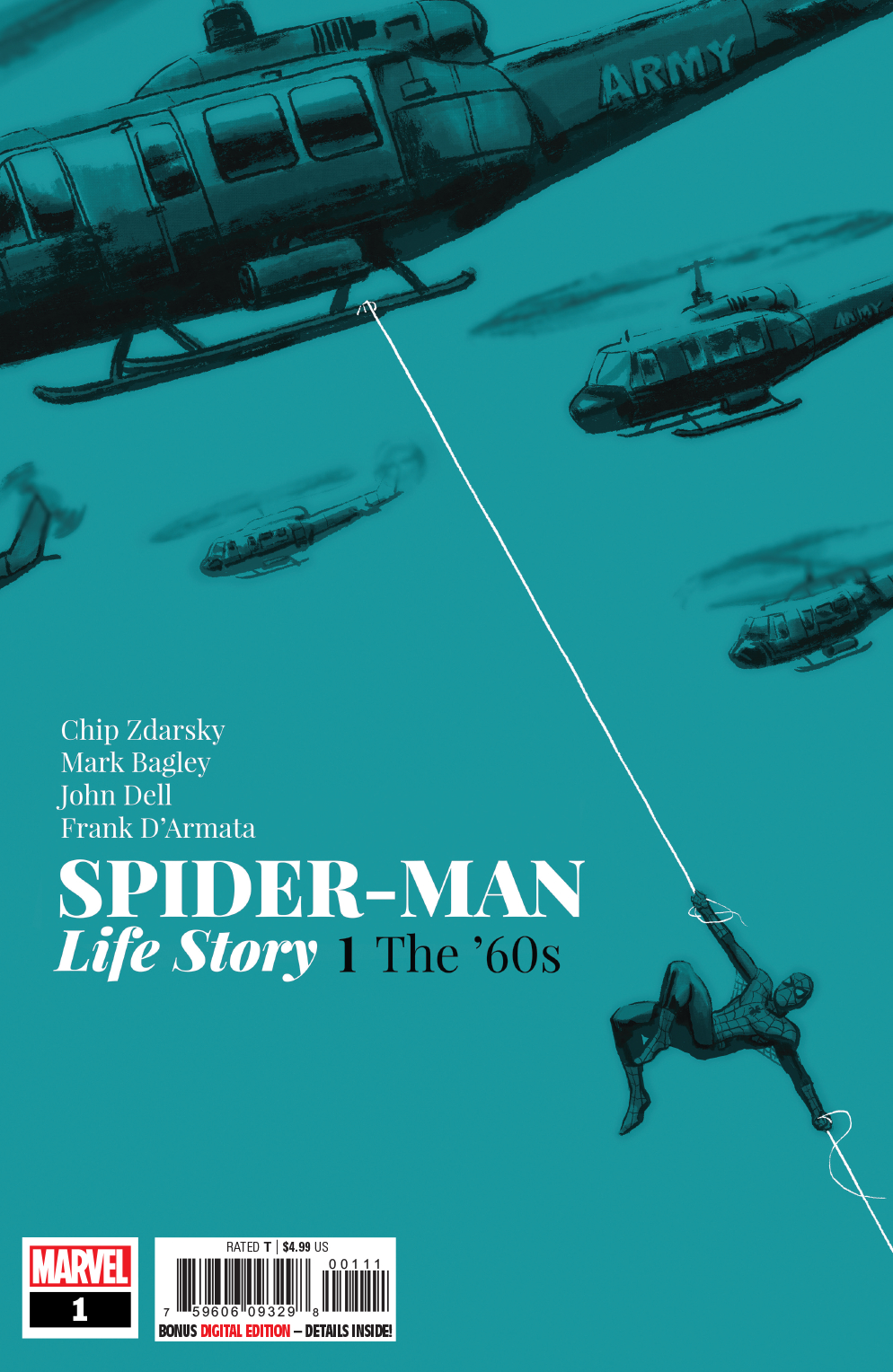 SPIDER-MAN LIFE STORY #1 (OF 6)
MARVEL COMICS
JAN190927
(W) Chip Zdarsky (A) Mark Bagley (CA) Chip Zdarsky
In 1962, in AMAZING FANTASY #15, 15-year-old Peter Parker was bitten by a radioactive spider and became the Amazing Spider-Man! Fifty-seven years have passed in the real world since that event - so what would have happened if the same amount of time passed for Peter as well?
A special high-end limited series that's a part of the celebration of Marvel's 80th anniversary, SPIDER-MAN: LIFE STORY combines the talents of Chip Zdarsky (SPECTACULAR SPIDER-MAN, MARVEL 2-IN-ONE) and Mark Bagley (AMAZING SPIDER-MAN, ULTIMATE SPIDER-MAN) to tell the entire history of Spider-Man from beginning to end, set against the key events of the decades through which he lived!
In this first oversized issue, when Flash Thompson is drafted to serve during the Vietnam War, Spidey must weigh the question of where his responsibility truly lies!
Rated T
In Shops: Mar 20, 2019
SRP: $4.99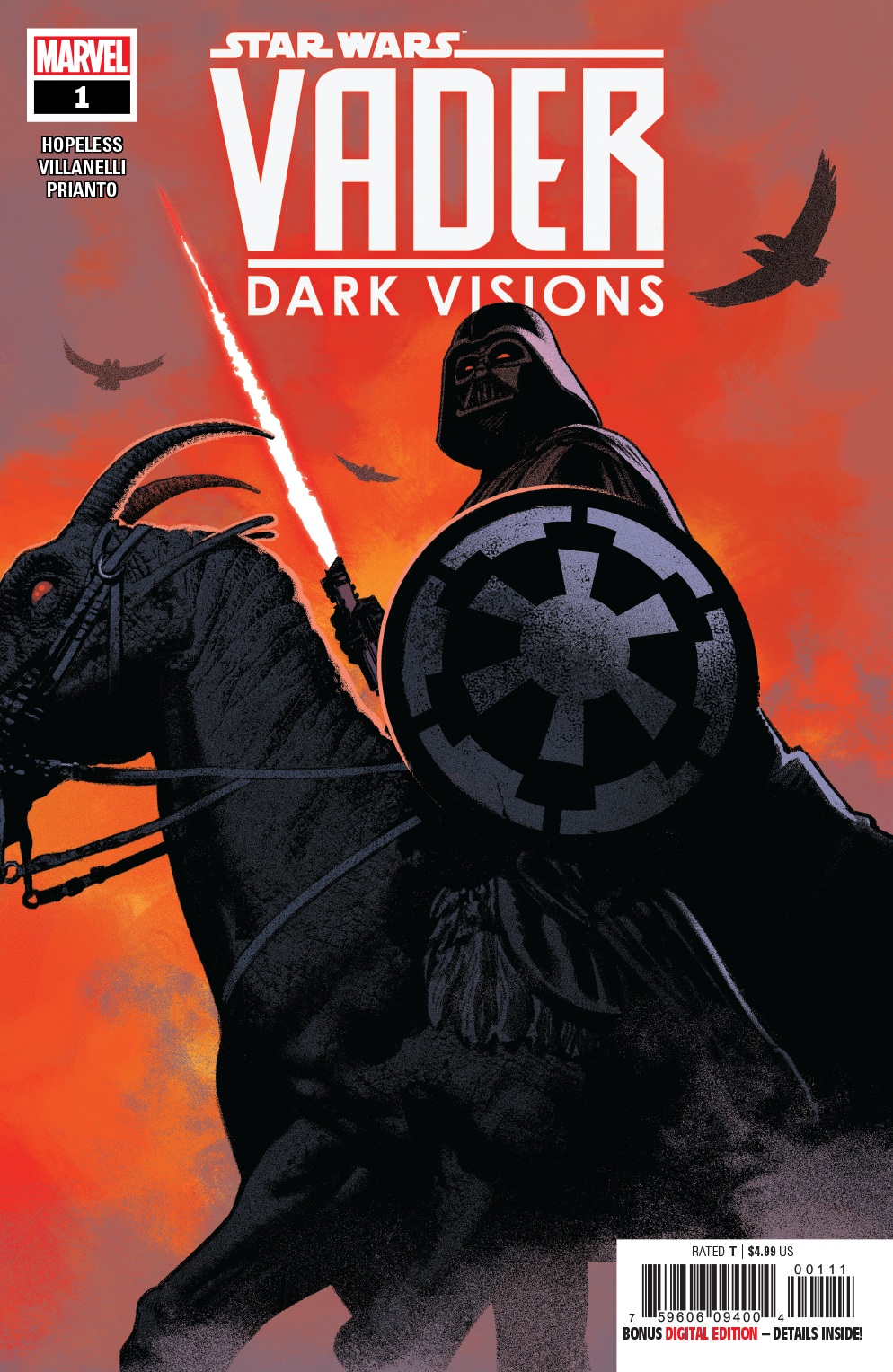 VADER DARK VISIONS #1 (OF 5)
MARVEL COMICS
JAN191054
(W) Dennis Hopeless (A) Paolo Villanelli (CA) Greg Smallwood
WHO IS DARTH VADER?
He has been many things: a SITH warrior, a commander, a destroyer. DARTH VADER is to many throughout the GALACTIC EMPIRE a symbol of fear and mysterious, otherworldly power. But there are some who have seen the DARK LORD in a different light. There are some corners of the galaxy so dark and desperate that even Vader can be a knight in shining armor. The first issue of a new STAR WARS limited series, writer Dennis Hopeless (CLOAK AND DAGGER, JEAN GREY) sheds new light on the many sides of the galaxy's greatest villain.
Rated T
In Shops: Mar 06, 2019
SRP: $4.99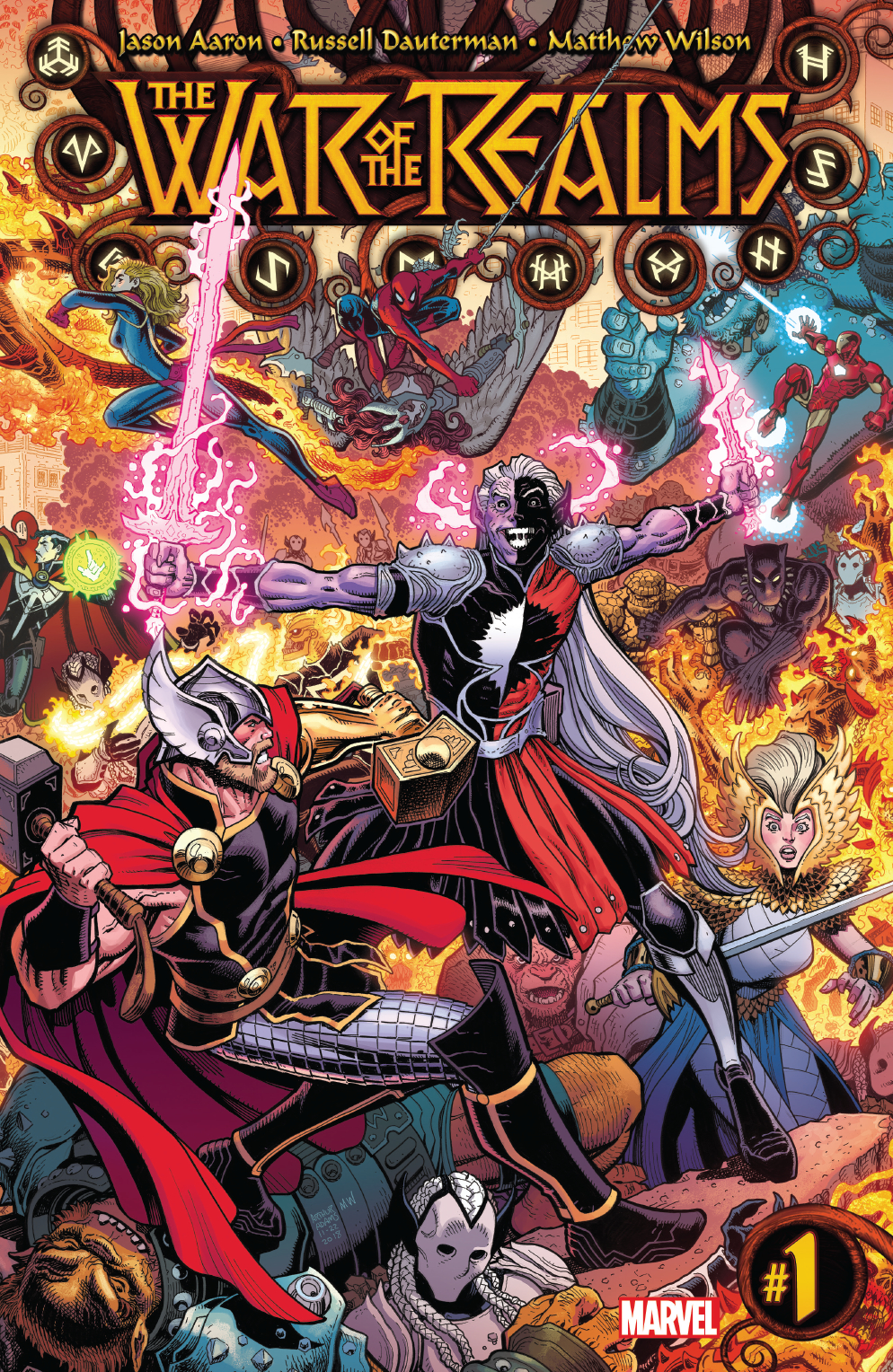 WAR OF REALMS #1 WR
MARVEL COMICS
JAN190870
CLASSIFIED!
In Shops: Apr 03, 2019
SRP: $5.99
MARVEL TALES THOR #1
MARVEL COMICS
JAN190925
(W) Stan Lee, Larry Lieber, More (A) Jack Kirby, John Buscema, Walter Simonson (CA) Jen Bartel
Journey into mystery with the Mighty Thor as we celebrate the 80th anniversary of the House of Ideas with the era-spanning MARVEL TALES! This anthology series shines a spotlight on fan-favorite characters, features timeless stories and highlights some of Marvel's most impressive talent from the past eight decades. Reprinting the dastardly debut of the eternal thorn in Thor's side - his devious stepbrother Loki - in JOURNEY INTO MYSTERY (1952) #85! Titans clash as the Thunder God faces Hercules, the Lion of Olympus, in JOURNEY INTO MYSTERY ANNUAL #1! The Avengers are taught a mighty lesson by the Asgardian Valkyrie and her Lady Liberators in AVENGERS (1963) #83! And Walter Simonson's legendary run begins with the status quo-smashing arrival of Beta Ray Bill in THOR (1966) #337!
Rated T
In Shops: Mar 13, 2019
SRP: $7.99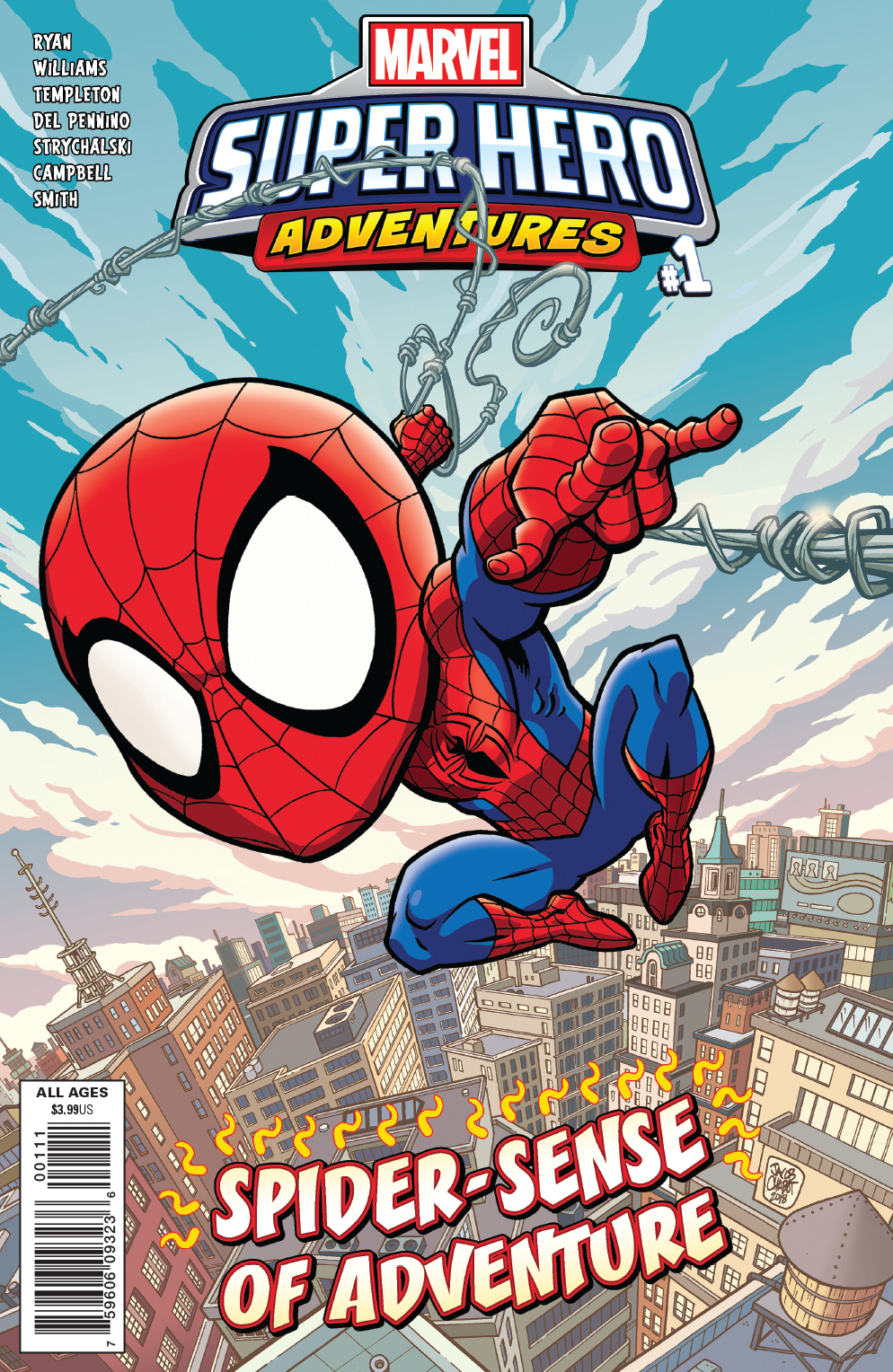 MSH ADVENTURES SPIDER-MAN SPIDER-SENSE OF ADVENTURE #1
MARVEL COMICS
JAN191080
(W) Sholly Fish, Ty Templeton, More (A) Mario Delpennino, Ty Templeton, More (CA) Jacob Chabot
Being a Friendly Neighborhood Spider-Man means friends and foes alike! But whether Spidey's slinging jokes or slinging webs, he's sure to bring a smile to the faces of readers of all ages! Come discover your Spider-Sense of adventure in the latest issue of this bombastic series that's got everyone from one to 100 talking!
All Ages
In Shops: Mar 06, 2019
SRP: $3.99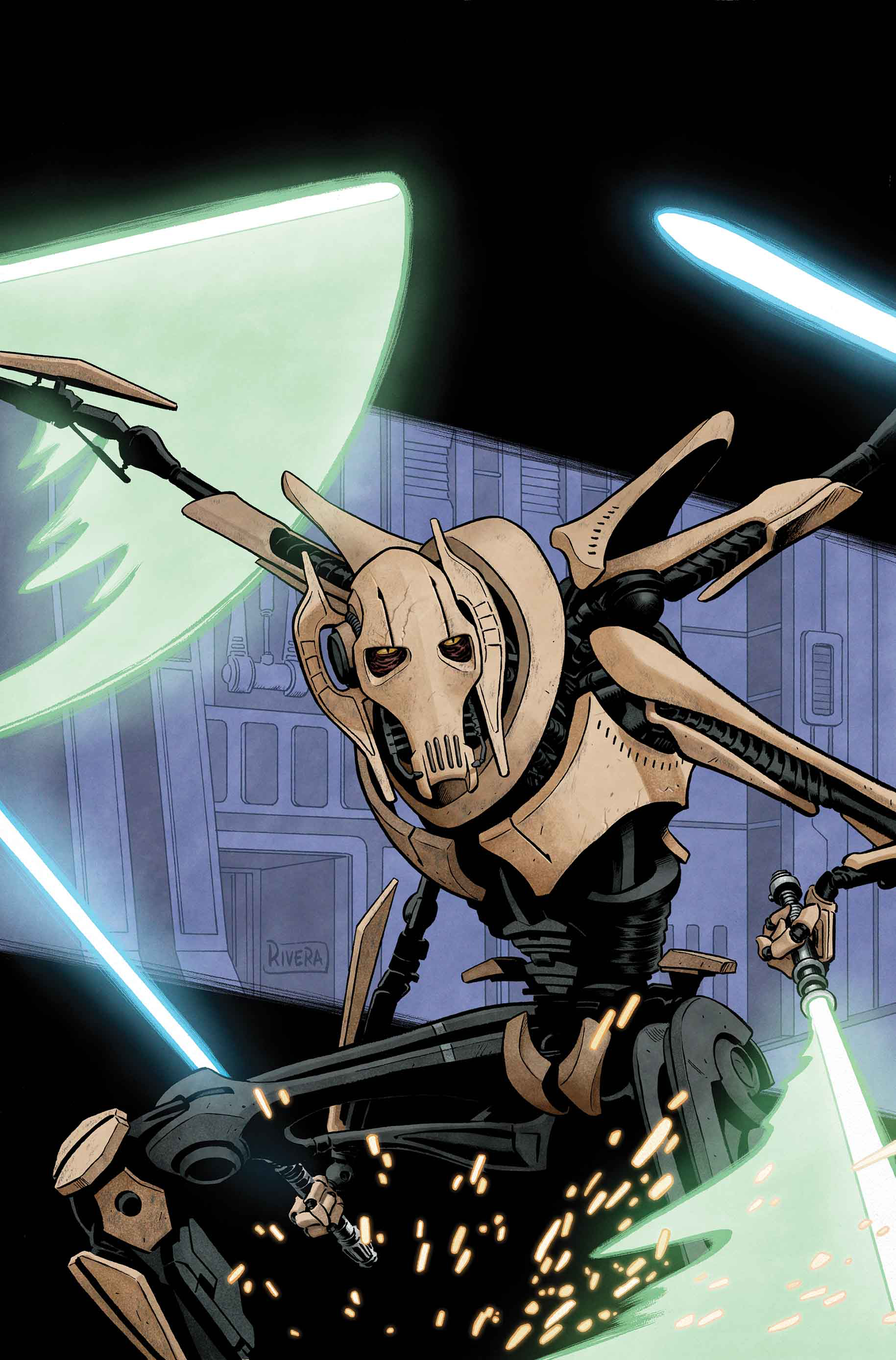 STAR WARS AOR GENERAL GRIEVOUS #1
MARVEL COMICS
JAN191067
(W) Jody Houser (A) Luke Ross (CA) Paolo Rivera
THE FEARSOME SEPARATIST GENERAL STRIKES!
• In his hunt to kill Jedi, GRIEVOUS stumbles across a power greater than he imagined.
• What secrets will the killer cyborg find inside a lost Jedi temple?
• Can Grievous strike a blow against the very FORCE itself?
Rated T
In Shops: Mar 13, 2019
SRP: $3.99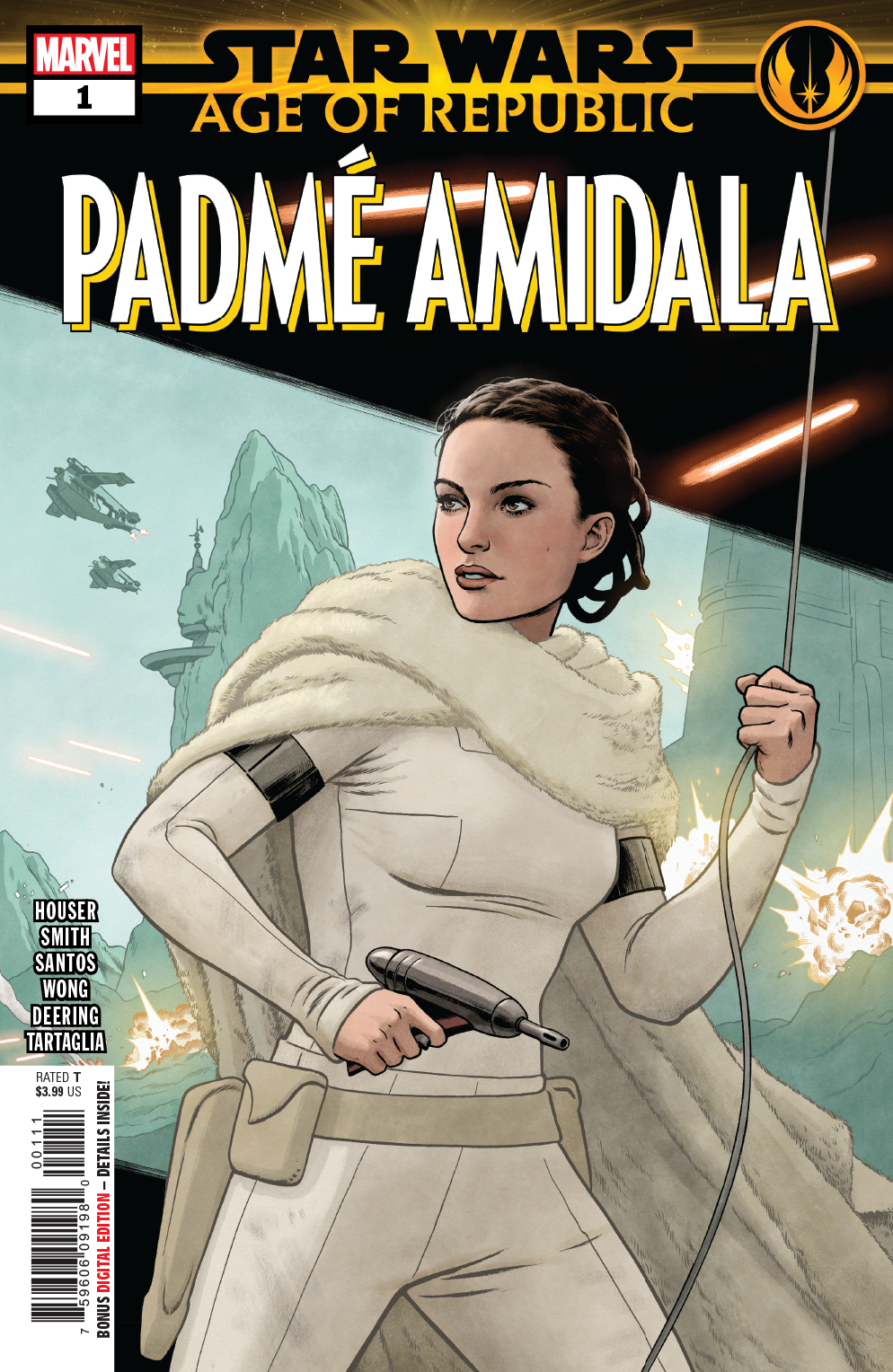 STAR WARS AOR PADME AMIDALA #1
MARVEL COMICS
JAN191063
(W) Jody Houser (A) Cory Smith (CA) Paolo Rivera
A DESPERATE DIPLOMATIC MISSION FOR SENATOR AMIDALA!
• PADMÉ sets out in secret to try to bring a neutral world into the Republic fold.
• Is this a genuine offer of alliance, or another trap for the outspoken Senator?
• And will rejecting the help of the JEDI be a deadly mistake?
Rated T
In Shops: Mar 06, 2019
SRP: $3.99
INDIE VYDAVATEĽSTVÁ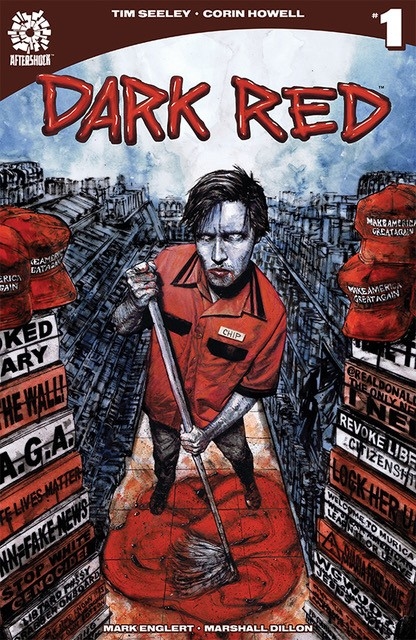 DARK RED #1 AARON CAMPBELL CVR
AFTERSHOCK COMICS
JAN191458
(W) Tim Seeley (A) Corin Powell (CA) Aaron Campbell
Charles "Chip" Ipswich isn't one of those coastal elites with a liberal arts degree and a job at a social media start-up who knows where all the best brunch places are...
No, Chip is one of the "forgotten men." He lives in a rural area in the middle of the country where Jesus still has a place at the dinner table and where factories send jobs to Calcutta.
Chip is also a vampire.
Stuck working the last shift at a gas station, Chip is lonely and bored...and then his dull, bleak life is turned upside down when SHE comes to town.Tim Seeley (BRLLIANT TRASH) and Corin Powell (Ghostbusters, X-Files Origins: Scully, Bat-Mite) bring you a contemporary and horrifying tale of vampirism in the heart of America - one that'll make you jump right out of your boots.
In Shops: Mar 20, 2019
SRP: $3.99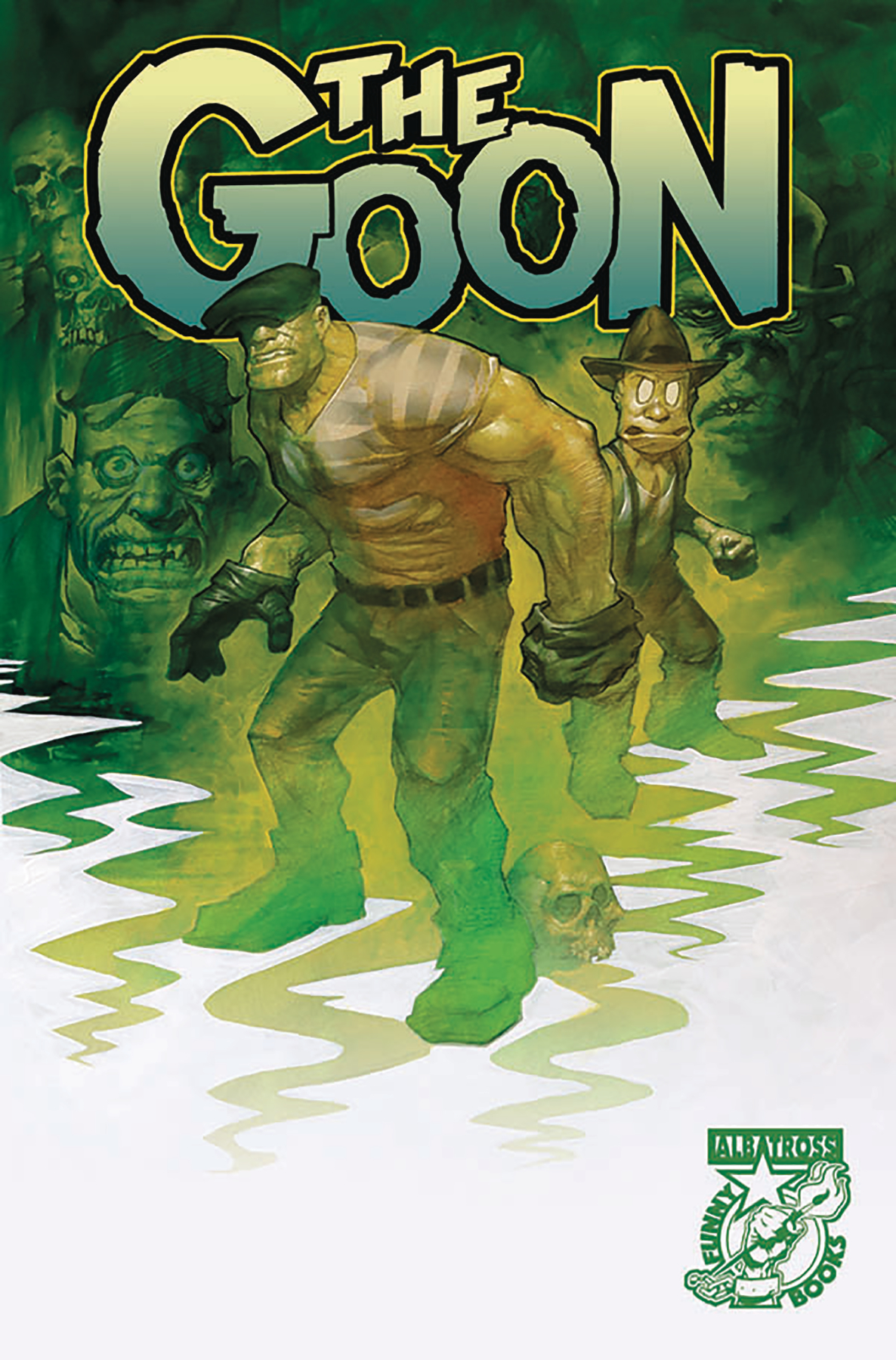 GOON #1
ALBATROSS FUNNYBOOKS
JAN191512
(W) Eric Powell (A/CA) Eric Powell
The next era in the legacy of The Goon starts here! This all new series marks The Goon's return to Albatross Funnybooks and is just in time to commemorate the 20th anniversary of the book. Eric Powell takes the series to its humor-based roots as Goon & Franky return from strange adventures abroad to find a horde of unsavory characters have filled the void left in his absence from Lonely Street.
In Shops: Mar 13, 2019
SRP: $3.99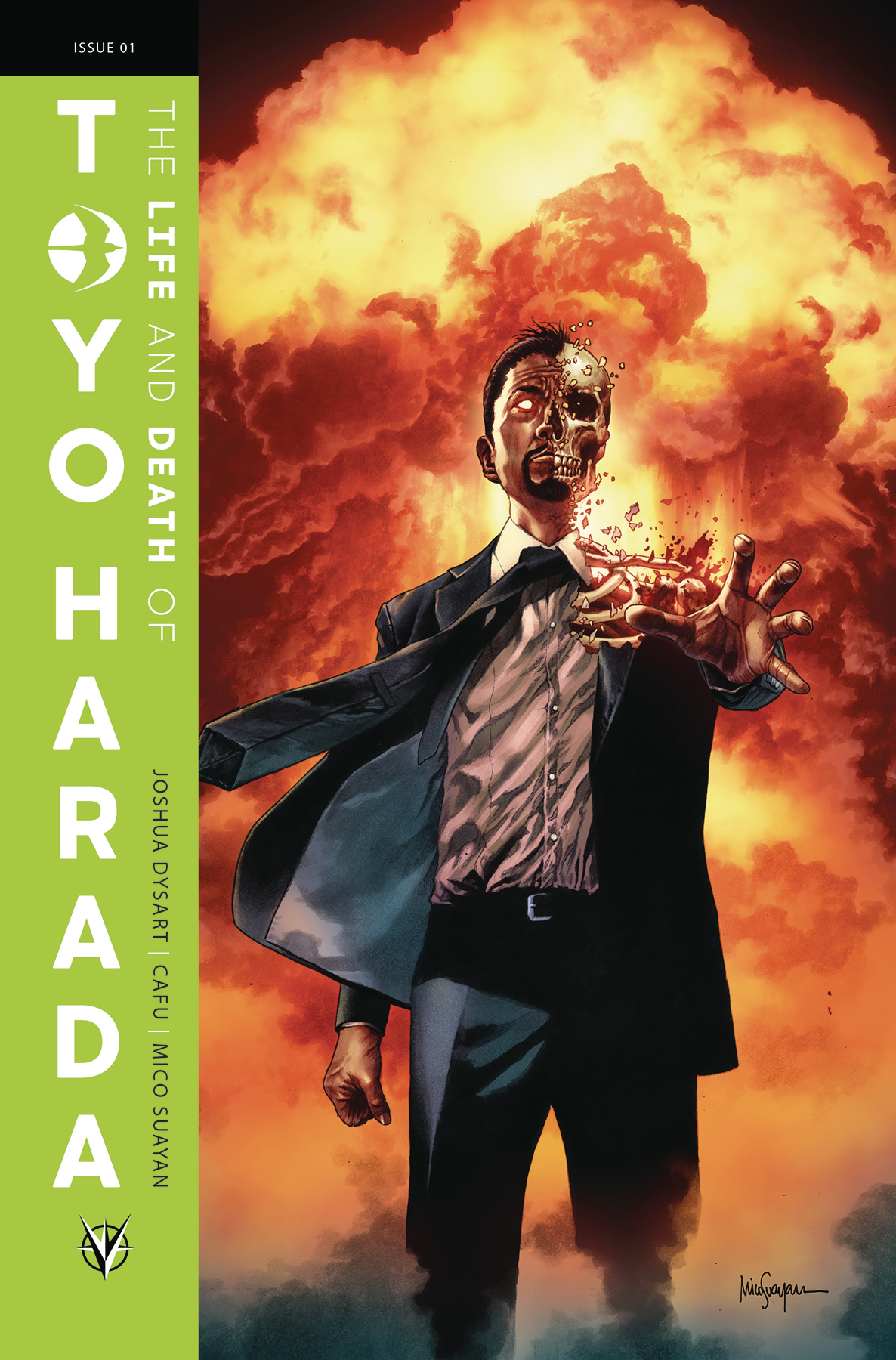 LIFE & DEATH OF TOYO HARADA #1 (OF 6) CVR A SUAYAN
VALIANT ENTERTAINMENT LLC
JAN192176
(W) Joshua Dysart (A) CAFU (A/CA) Mico Suayan
Eisner Award-winning writer Joshua Dysart (HARBINGER, HARBINGER WARS) returns to the Valiant Universe to continue crafting Toyo Harada's controversial mission to save humanity from itself. Presented in an oversized format and featuring a lineup of all-star artists, including Mico Suayan (BLOODSHOT SALVATION), CAFU (RAI), and more, THE LIFE AND DEATH OF TOYO HARADA will place the planet's most powerful man in the spotlight as he strives to control the course of history. But with the menacing mastermind's resources dwindling after the downfall of the Harbinger Foundation and a target on his head, will the formidable psiot re-emerge as humanity's greatest hero...or its most dangerous villain?
In Shops: Mar 13, 2019
SRP: $4.99
MORNING IN AMERICA #1 CVR A
ONI PRESS INC.
JAN192008
(W) Magdalene Visaggio (A/CA) Claudia Aguirre
The year is 1983. A series of disappearances afflicts Tucker, Ohio following the opening of a mysterious new factory. But when the town finds itself under siege from strange monsters, it's up to intrepid girl gang of no-account teen delinquents to try and figure out what's happening-and save everyone's lives before it's too late.
In Shops: Mar 06, 2019
SRP: $3.99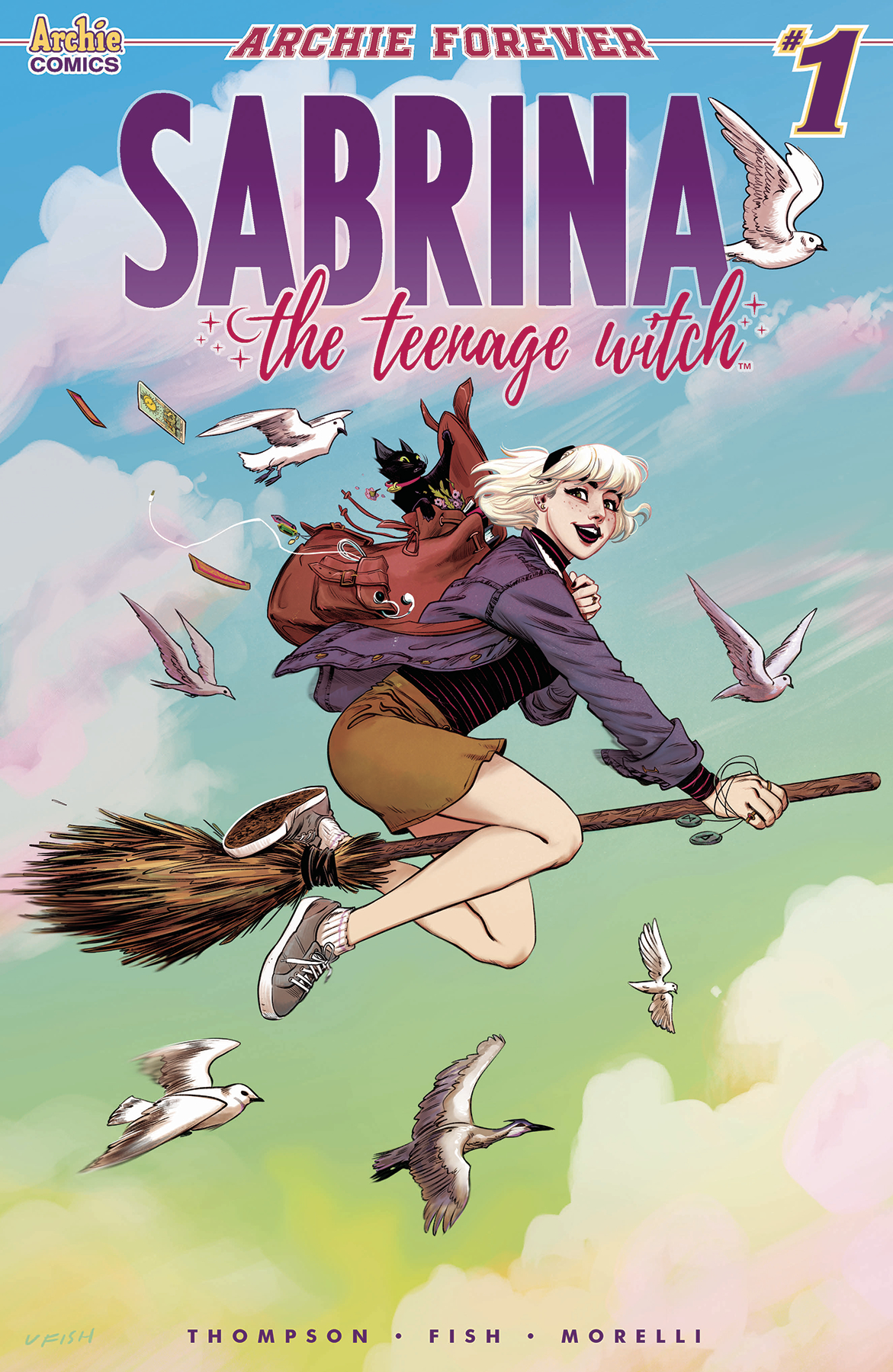 SABRINA TEENAGE WITCH #1 (OF 5) CVR A FISH
ARCHIE COMIC PUBLICATIONS
JAN191586
(W) Kelly Thompson (A/CA) Veronica Fish
BRAND NEW SERIES! Sabrina is a teen witch who's struggling with balancing the double life of high school and her burgeoning powers. Newly relocated to Greendale with her aunts Hilda and Zelda (also witches), Sabrina is trying to make the best of being the new girl in town which so far includes two intriguing love interests, an instant rivalry, a couple of misfits that could turn into BFFs, and trying to save the high school (and maybe the world) from crazy supernatural events. NBD!
In Shops: Mar 27, 2019
SRP: $3.99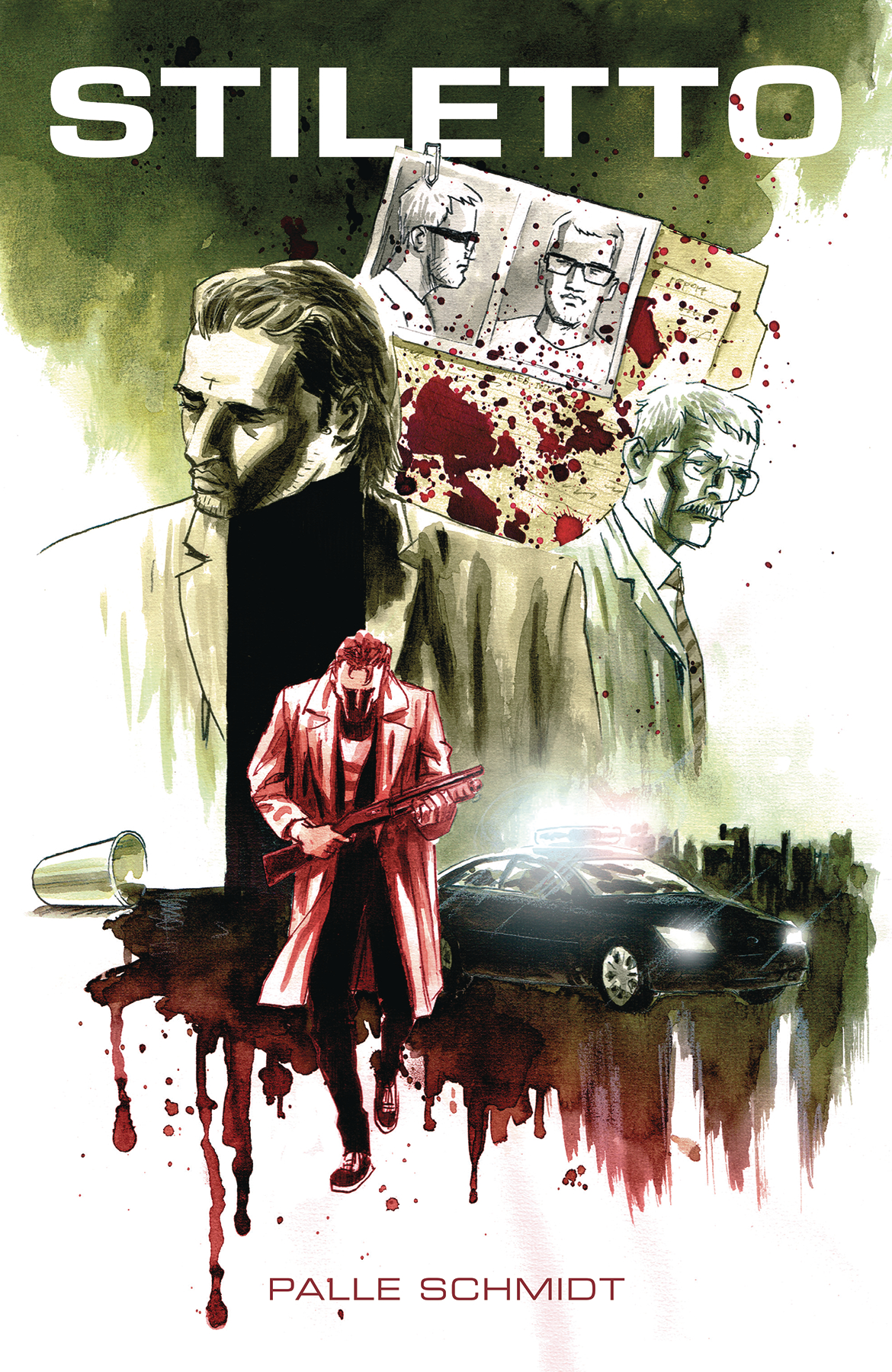 STILETTO #1 (OF 3) OFFICER DOWN
LION FORGE
JAN191962
(W) Palle Schmidt (A/CA) Palle Schmidt
A crime story with a twist. The brutal slaying of two police officers guarding a material witness pin detectives Alphonse and Maynard against their toughest adversary yet. But as they get further into their investigation, they uncover a leak inside the police department known only as "Stiletto."
In Shops: Mar 27, 2019
SRP: $5.99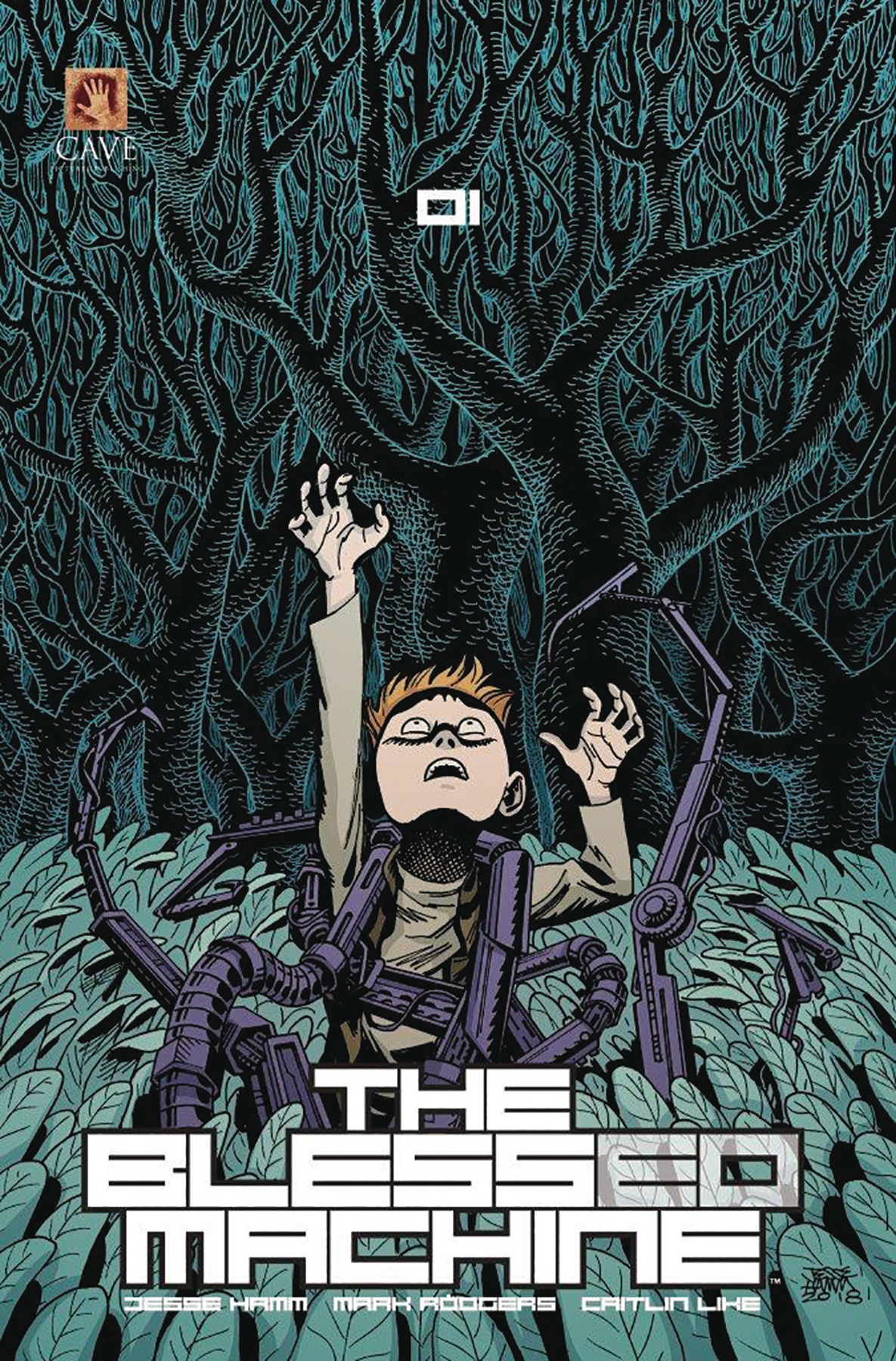 BLESSED MACHINE #1
CAVE PICTURES PUBLISHING
JAN191785
(W) Jesse Hamm, Mark Rodgers (A/CA) Jesse Hamm
Jacob, son of Administrator Anna A3644, is revisited by the recurring dreams that plagued his youth. He believes the dreams indicate that the earth's surface, once rendered uninhabitable by a horrific malfunction of the Large Hadron Collider, is now safe. But can he convince those who live underground with him? And at what cost?
In Shops: Mar 27, 2019
SRP: $3.99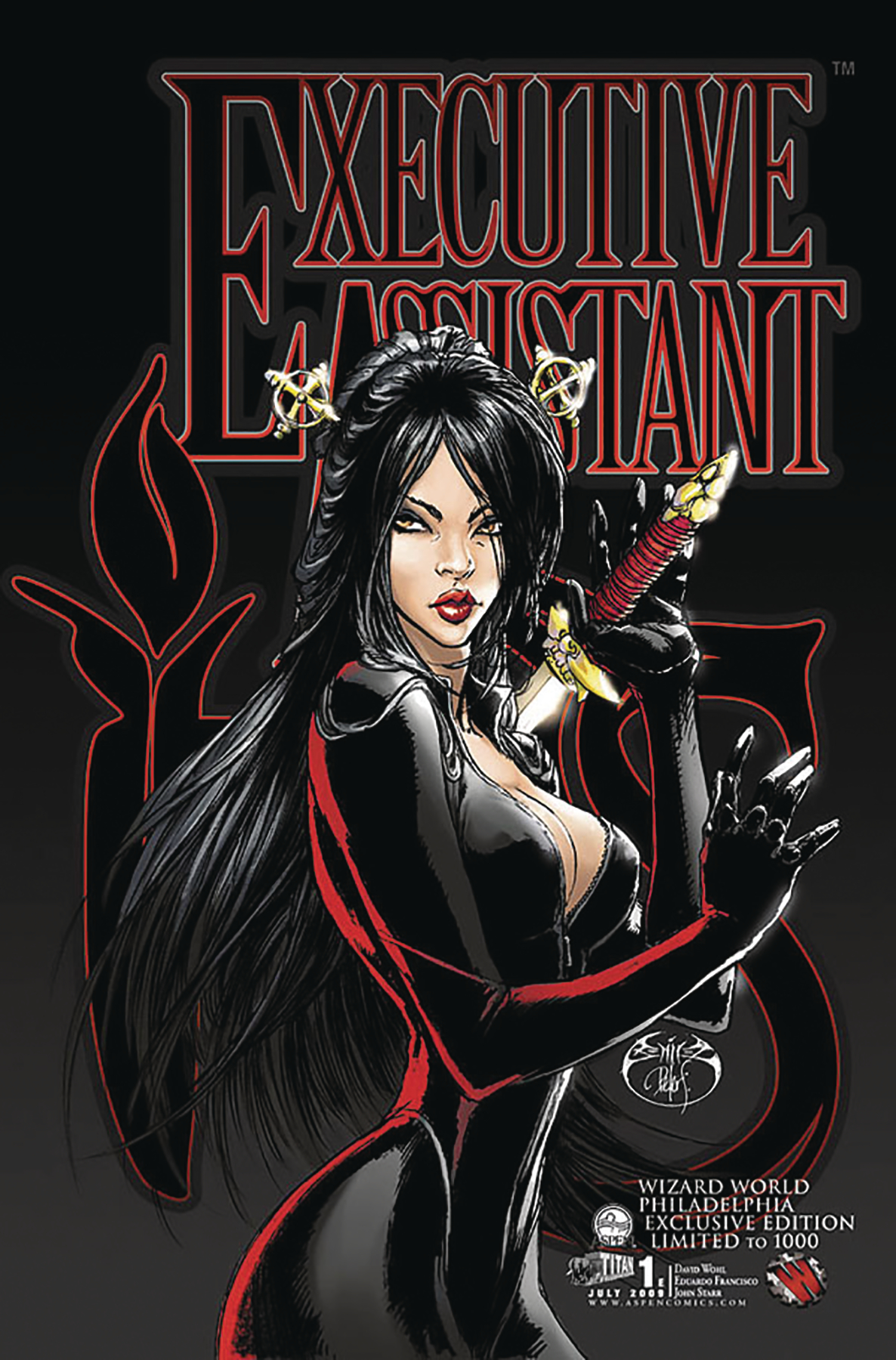 EXECUTIVE ASSISTANT IRIS #1 WW PHILLY 2009 CVR
ASPEN MLT INC
JAN191620
(W) David Wohl (A) Eduardo Francisco (CA) Joe Benitez
Rare Aspen Comics' Convention Exclusive Variant covers offered for the very first time!
In Shops: Mar 20, 2019
SRP: $14.99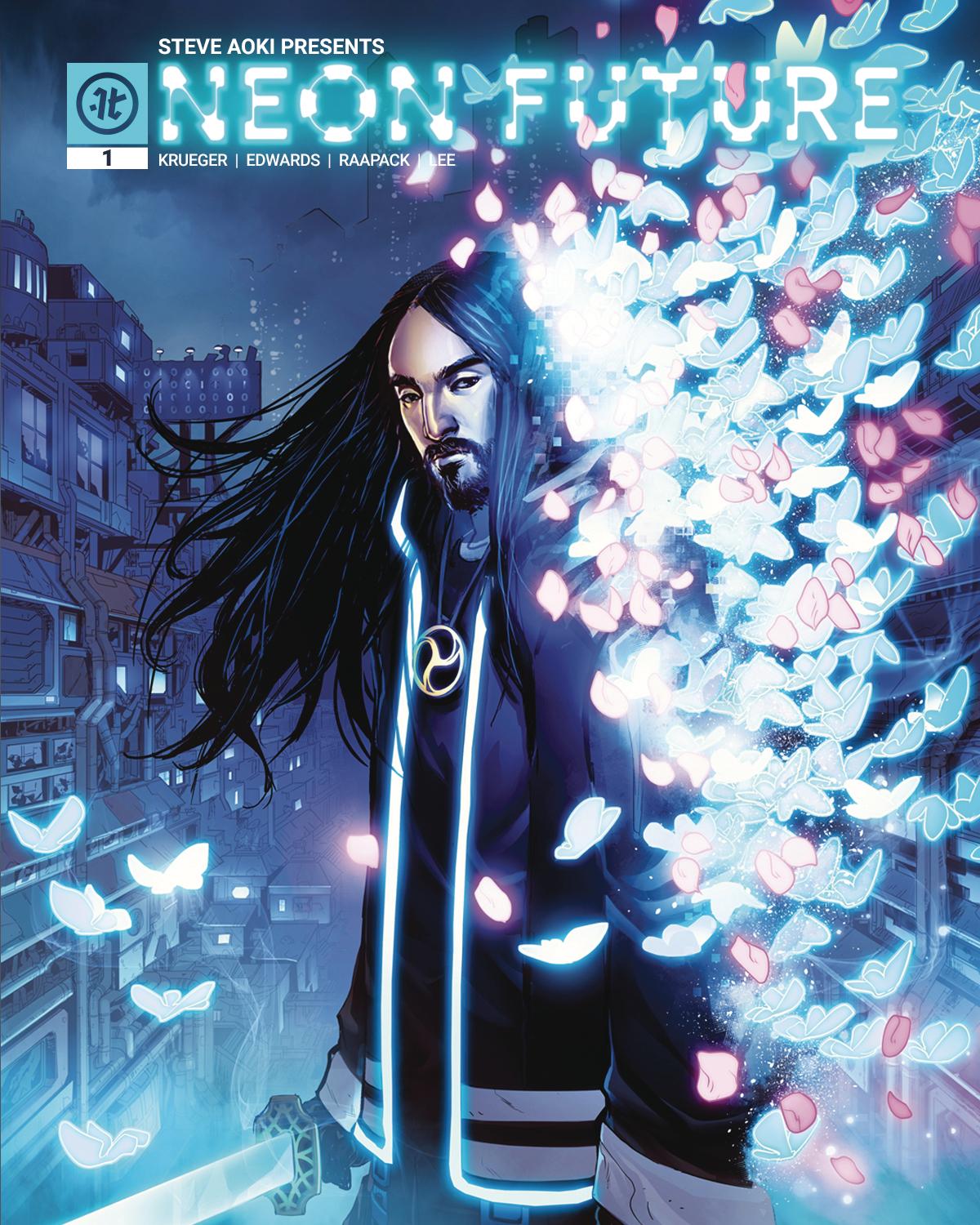 NEON FUTURE #1 (OF 6) CVR A RAAPACK (MR)
IMPACT THEORY, LLC
JAN191944
(W) Jim Krueger, Tom Bilyeu, Steve Aoki, Matt Colon, Samantha Levenshus, Dana Brawer (A) Neil Edwards (A/CA) Jheremy Raapack
The world is in the grips of an economic crisis. Due to mass unemployment, advanced technology has been outlawed. The world is now divided between those with implanted technology and those without. When the world's most famous anti-tech crusader dies and is resurrected using the illegal technology he has sworn to eliminate, he must decide who to fight with his terrifying new powers. From visionary Grammy-nominated producer and DJ, Steve Aoki, and Eisner award-winning writer Jim Krueger, with art by Neil Edwards and Jheremy Raapack.
In Shops: Mar 20, 2019
SRP: $3.99
RIVERDALE SEASON 3 #1 CVR A PITILLI
ARCHIE COMIC PUBLICATIONS
JAN191601
(W) Micol Ostow (A) Joe Eisma (A/CA) Thomas Pitilli
Take a deeper dive into some of the skeletons buried in and around Riverdale as well as hidden and unexpected connections to the Farm and the Game. Everyone is hiding something in this companion to the third season of the massive hit CW series Riverdale, by Scholastic writer Micol Ostow and Riverdale artists Thomas Pitilli and Joe Eisma.
In Shops: Mar 13, 2019
SRP: $3.99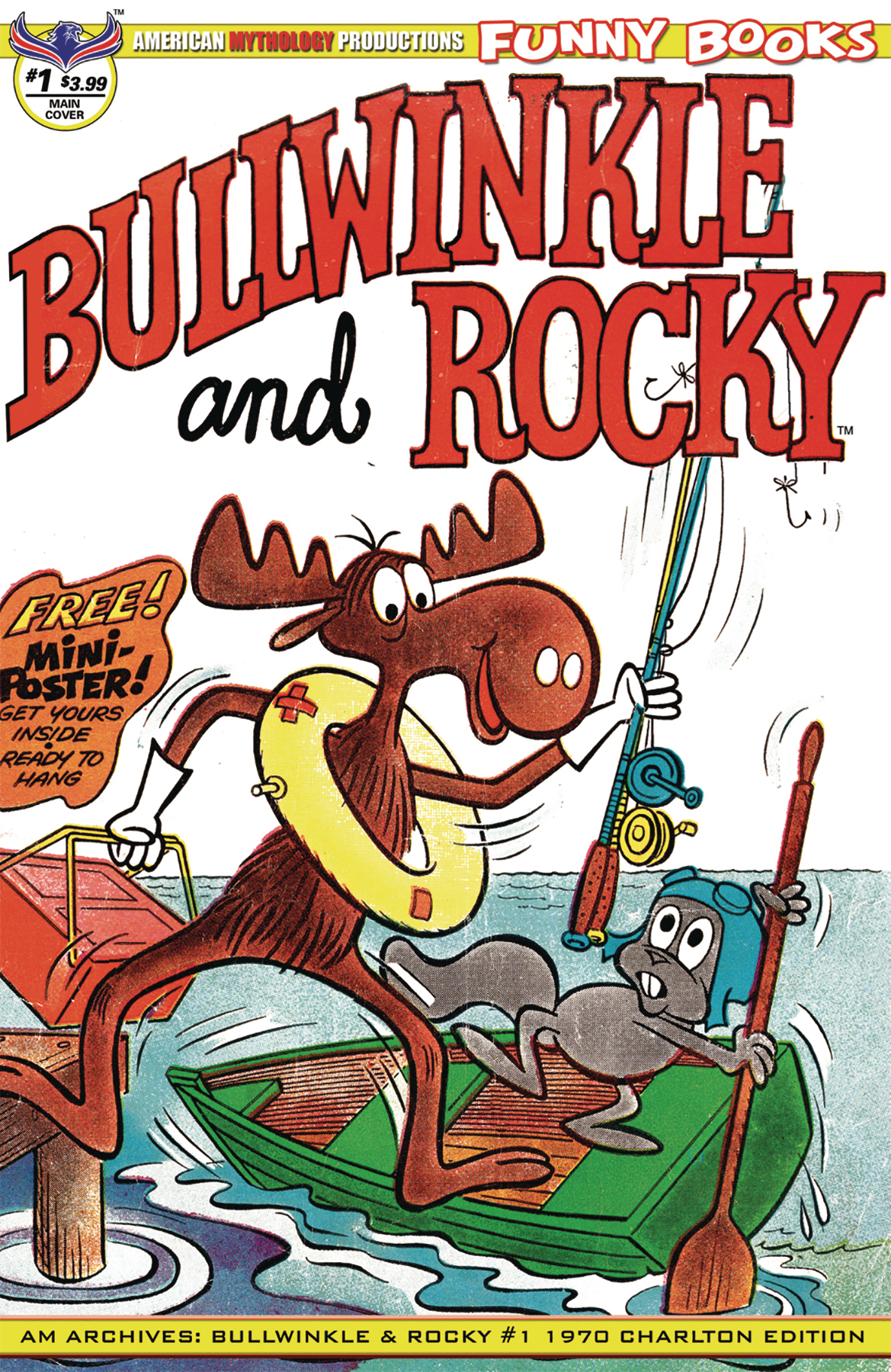 AM ARCHIVES BULLWINKLE & ROCKY #1 CHARLTON ED
AMERICAN MYTHOLOGY PRODUCTIONS
JAN191532
(W) Various (A) Various
Hey Rocky, watch me pull a classic comic outta my hat. Presto! It's the AM Archive Edition of Rocky & Bullwinkle #1! Jump in the WABAC time machine and join us for that first Charlton Comics issue from July of 1970. Holy smokes, Mister Peabody, that's almost 50 years ago!! Classic tales like "They Lost Their Marbles" and "I'll String Along With You" are waiting for you to discover them here for the first time! Don't miss our next exciting episode with two covers!
In Shops: Mar 27, 2019
SRP: $3.99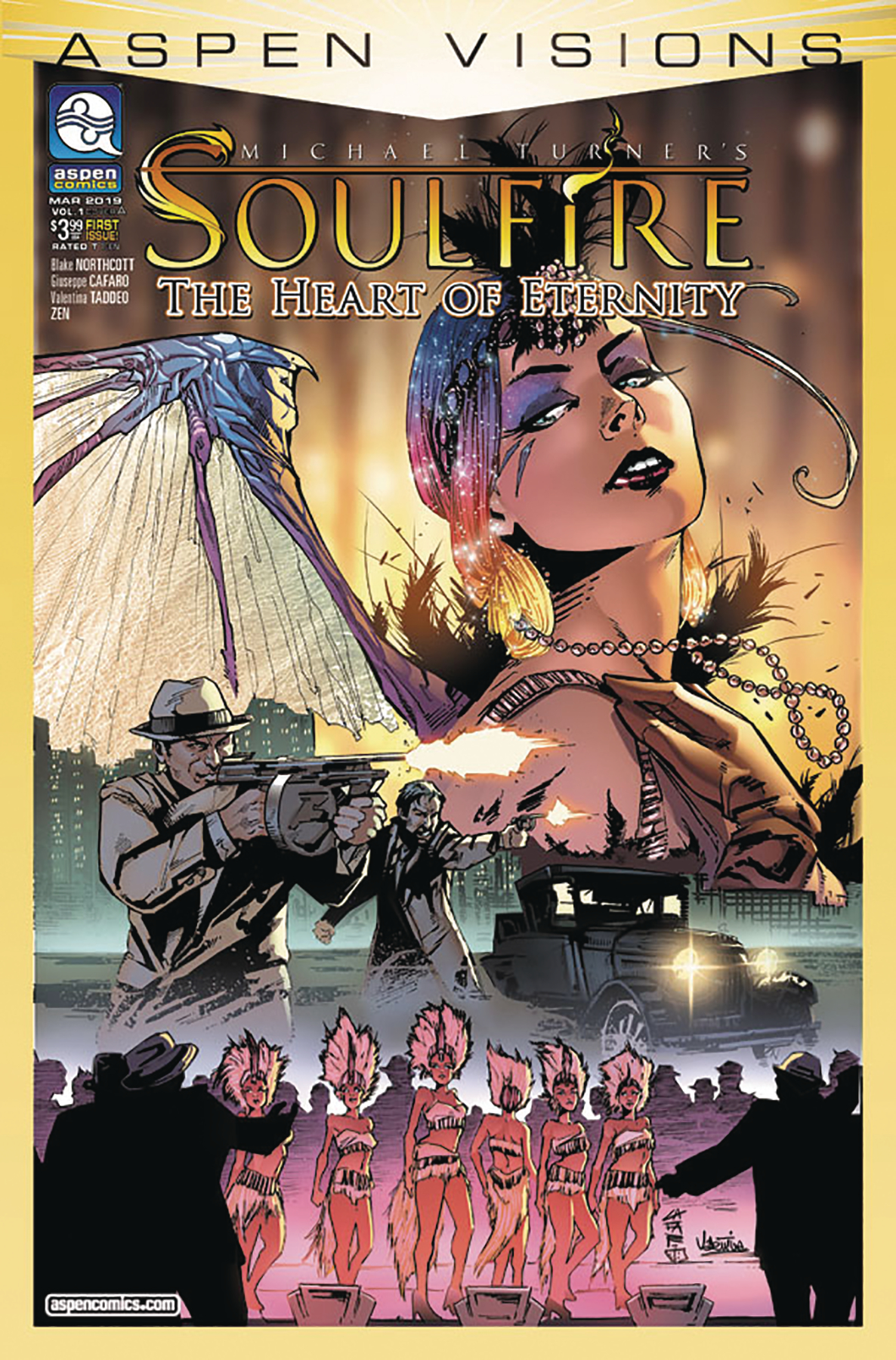 ASPEN VISIONS SOULFIRE HEART OF ETERNITY #1 CVR A CAFARO
ASPEN MLT INC
JAN191610
(W) Giuseppe Cafaro, Blake Northcott (A) Giuseppe Cafaro
In
the tradition of DC's Elseworlds and Marvel's "What If?" classic stories comes Aspen's most mind-bending concept ever-ASPEN VISIONS!
The third chapter and CONCLUSION to the special three part mini-series spanning across Aspen's most popular titles-Fathom, Soulfire and Executive Assistant Iris!
The setting switches to The Soulfire Universe, as the eco-war monger, Nestor, continues to put all of humanity in his crosshairs in his quest to save the dragons! Aspen Matthews and Executive Assistant Iris attempt to thwart his plan far in the future, but several magical challenges stand in their way!
The all-new ASPEN VISIONS line of books will shatter everything you know about Aspen's most popular characters!
In Shops: Mar 06, 2019
SRP: $3.99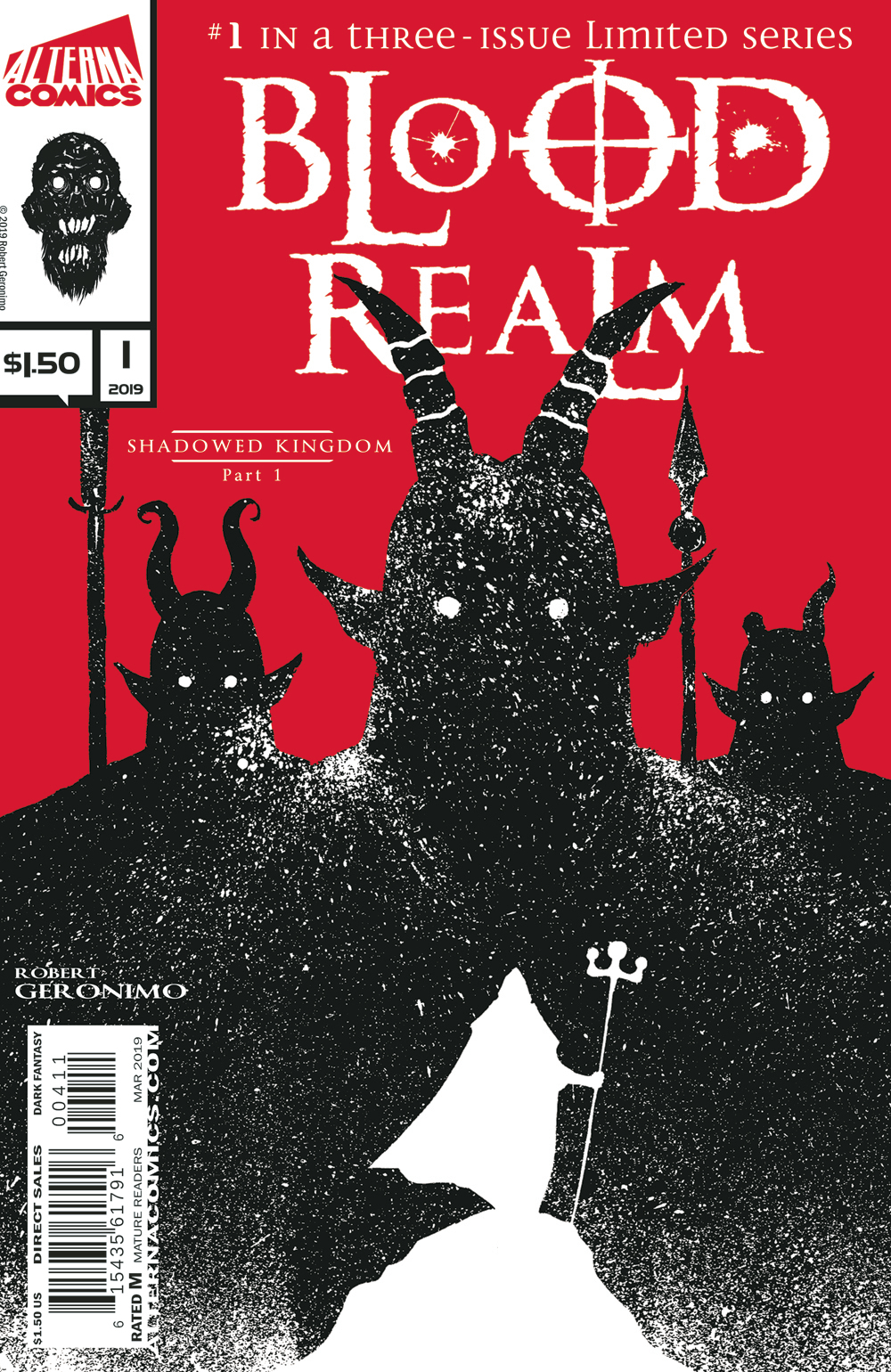 BLOOD REALM VOL 2 #1 (OF 3) (MR)
ALTERNA COMICS
JAN191518
(W) Robert Geronimo (A/CA) Robert Geronimo
During General Gorn's quest for the Black Heart, a team of Saytrian warriors are sent on a treacherous mission across the lands of Mhordrin and to the Hollow Fortress. There they must uncover the whereabouts of a missing Saytrian battalion... and a secret more terrifying than their darkest nightmares.
In Shops: Mar 27, 2019
SRP: $1.50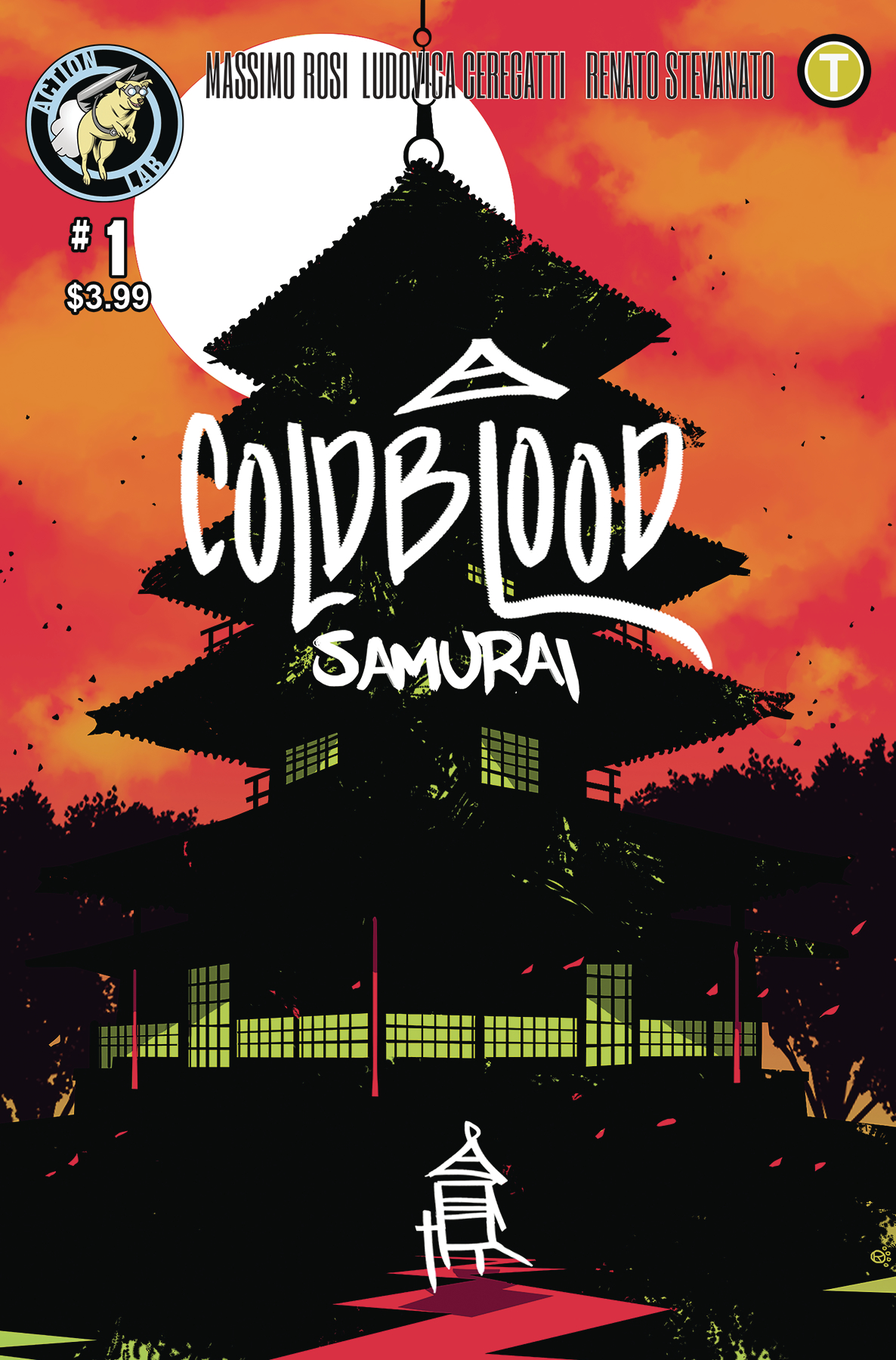 COLD BLOOD SAMURAI #1
ACTION LAB ENTERTAINMENT
JAN191432
(W) Massimo Rosi (A/CA) Ludovica Ceregatti
"We are the last warriors, the last pacifists of that school, and I leave her inheritance in your hands... you are a Gaijin." A feudal Japan with anthropomorphic and samurai animals inspired by Homer's poem on "War of Mice and Frogs," Batrachomyomachia. As in the classic poem, one tells of the futility of war and the desire for peace by Gaijin, a foreign salamander in a Japan of frogs invaded by lizards.
In Shops: Mar 27, 2019
SRP: $3.99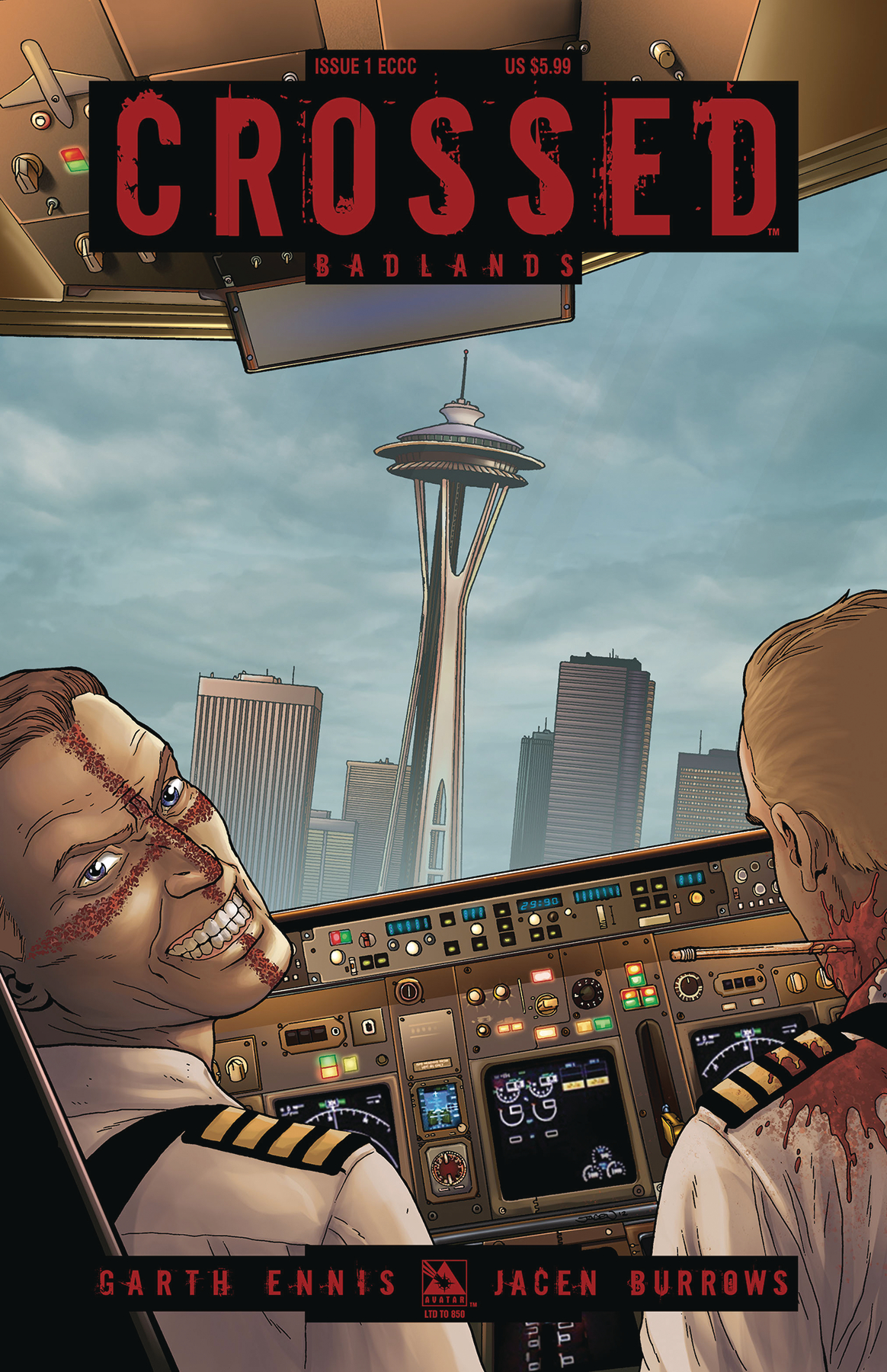 CROSSED BADLANDS #1 EMERALD CITY (MR)
AVATAR PRESS INC
JAN191645
(W) Garth Ennis (A/CA) Jacen Burrows
Never before offered Crossed special editions! Special warehouse finds that we are serving up in Previews for the first time, all first printings, and very limited!
In Shops: Mar 27, 2019
SRP: $5.99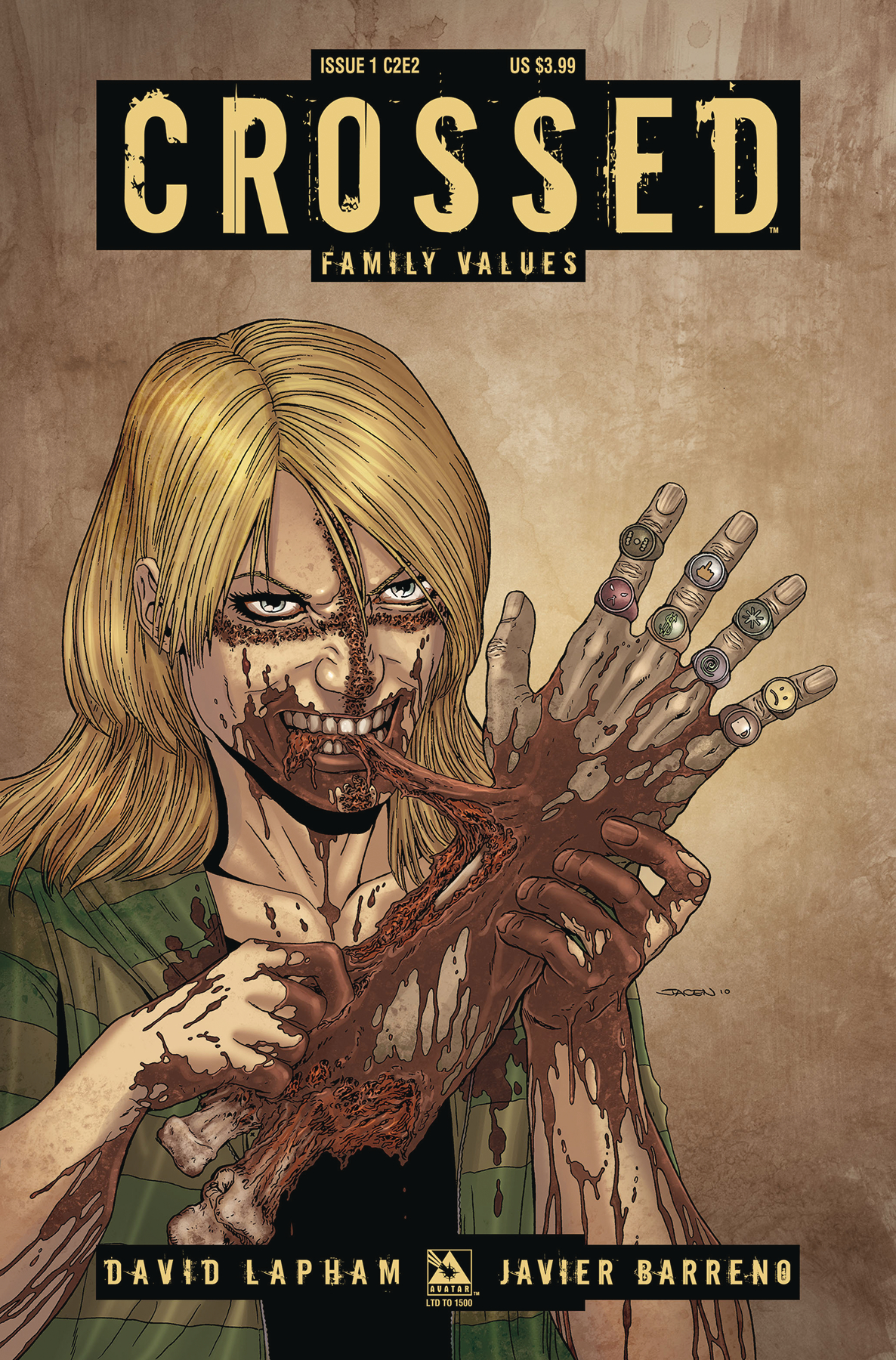 CROSSED FAMILY VALUES #1 (OF 7) C2E2 ED (MR)
AVATAR PRESS INC
JAN191644
(W) David Lapham (A) Javier Barreno (CA) Jacen Burrows
Never before offered Crossed special editions! Special warehouse finds that we are serving up in Previews for the first time, all first printings, and very limited!
In Shops: Mar 27, 2019
SRP: $3.99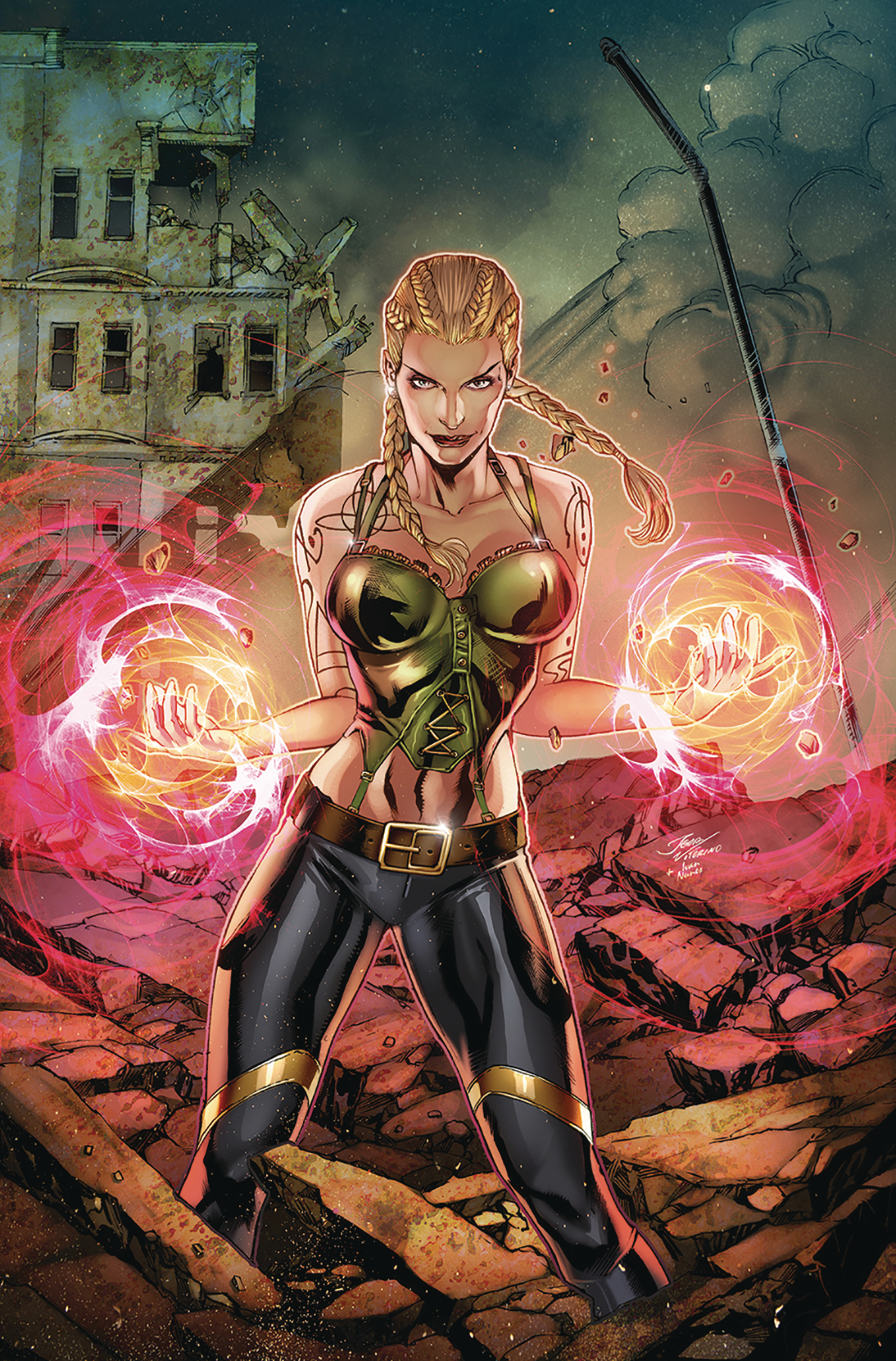 GRETEL #1 CVR A DIAZ (MR)
ZENESCOPE ENTERTAINMENT INC
JAN192208
(W) Ben Meares (CA) Netho Diaz
Gretel's story has been more nightmare than fairy tale ever since the tragic events of her childhood involving her brother and a maniacal witch. These events have left her cursed with a life that will span centuries.
Picking up directly after her heart-wrenching debut in Grimm Universe Presents. After consuming the heart of a psychic witch, Gretel has been gifted the power of premonition. But when she has a psychic vision foretelling the end of the world, Gretel must open old wounds if she wants to try and prevent it from coming true.
Introducing a new corner of the Grimm Universe, this will be one series you won't want to miss!
In Shops: Mar 20, 2019
SRP: $3.99
JUNGLE COMICS #1 DENHAM VAR
ANTARCTIC PRESS
JAN191580
(W) Chuck Dixon (A) Kelsey Shannon (CA) Brian Denham
At long last, the return of a classic Golden Age comics genre! JUNGLE COMICS is back, kicking and screaming, brought to you by Chuck Dixon and Kelsey Shannon! It's a comic filled with pulpy adventures set deep in the steamiest jungles, where death lurks just around the corner! A place where men were men and women were HOT!
In Shops: Mar 27, 2019
SRP: $9.99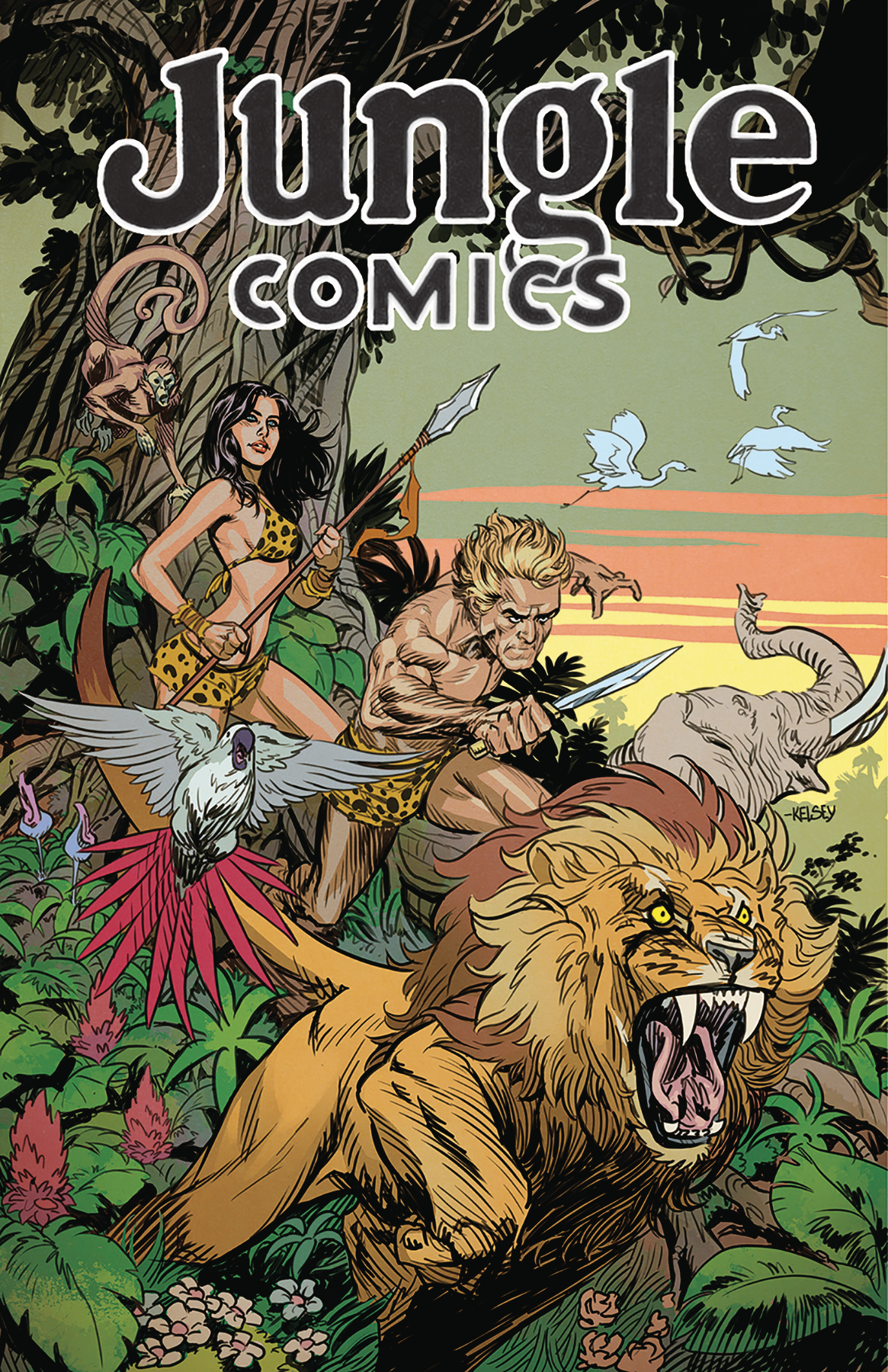 JUNGLE COMICS #1 MAIN CVR
ANTARCTIC PRESS
JAN191578
(W) Chuck Dixon (A) Kelsey Shannon, Kelsey Shannon
At long last, the return of a classic Golden Age comics genre! JUNGLE COMICS is back, kicking and screaming, brought to you by Chuck Dixon and Kelsey Shannon! It's a comic filled with pulpy adventure set deep in the depth of the steamiest jungles, where death lurks just around the corner! A place where men were men and women were HOT! ALL NEW STORIES AND ART! NEVER BEFORE SEEN!!!
In Shops: Mar 27, 2019
SRP: $3.99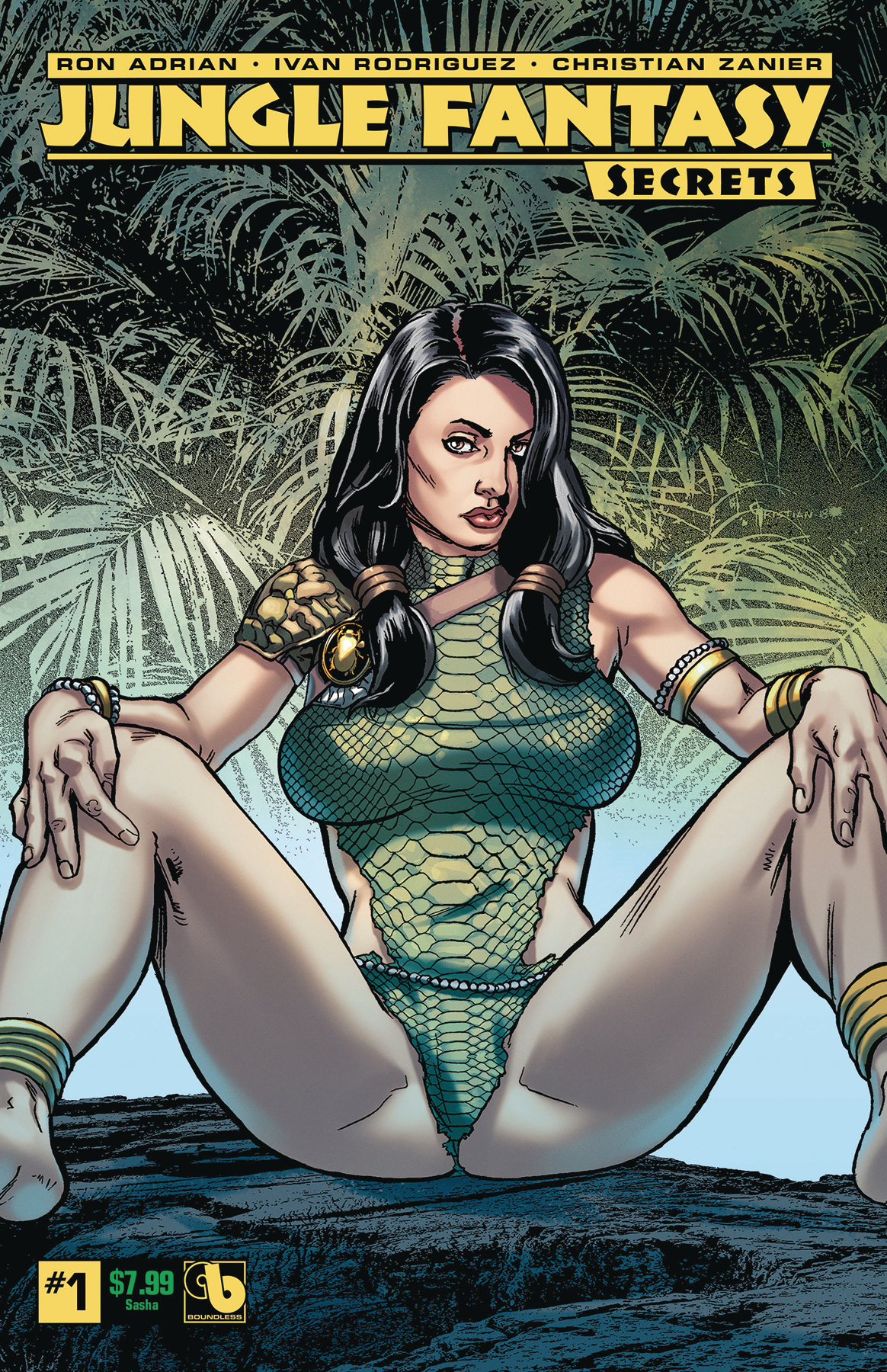 JUNGLE FANTASY SECRETS #1 SASHA (MR)
BOUNDLESS COMICS
JAN191767
(A) Ron Adrian, Di Amorim (A/CA) Christian Zanier
Tasty JFan Secrets covers, offered for the first time!
In Shops: Mar 27, 2019
SRP: $7.99
LAB RAIDER #1 (OF 4) (MR)
BLACK MASK COMICS
JAN191662
(W) Matt Miner (A/CA) Creees Lee
A pair of young vigilantes break into a black market laboratory where illegal tests are being run on animals. What at first seems like a simple rescue mission becomes more dangerous when they stumble on secret military experiments, discovering to their horror that the animals they sought to help have been turned into something different, something monstrous... and, once the cages are opened, the rescuers quickly become the prey of these weaponized beasts. This high-octane action comic blends vigilante heroics with sci-fi horror for a brutal new adventure.
In Shops: Mar 27, 2019
SRP: $3.99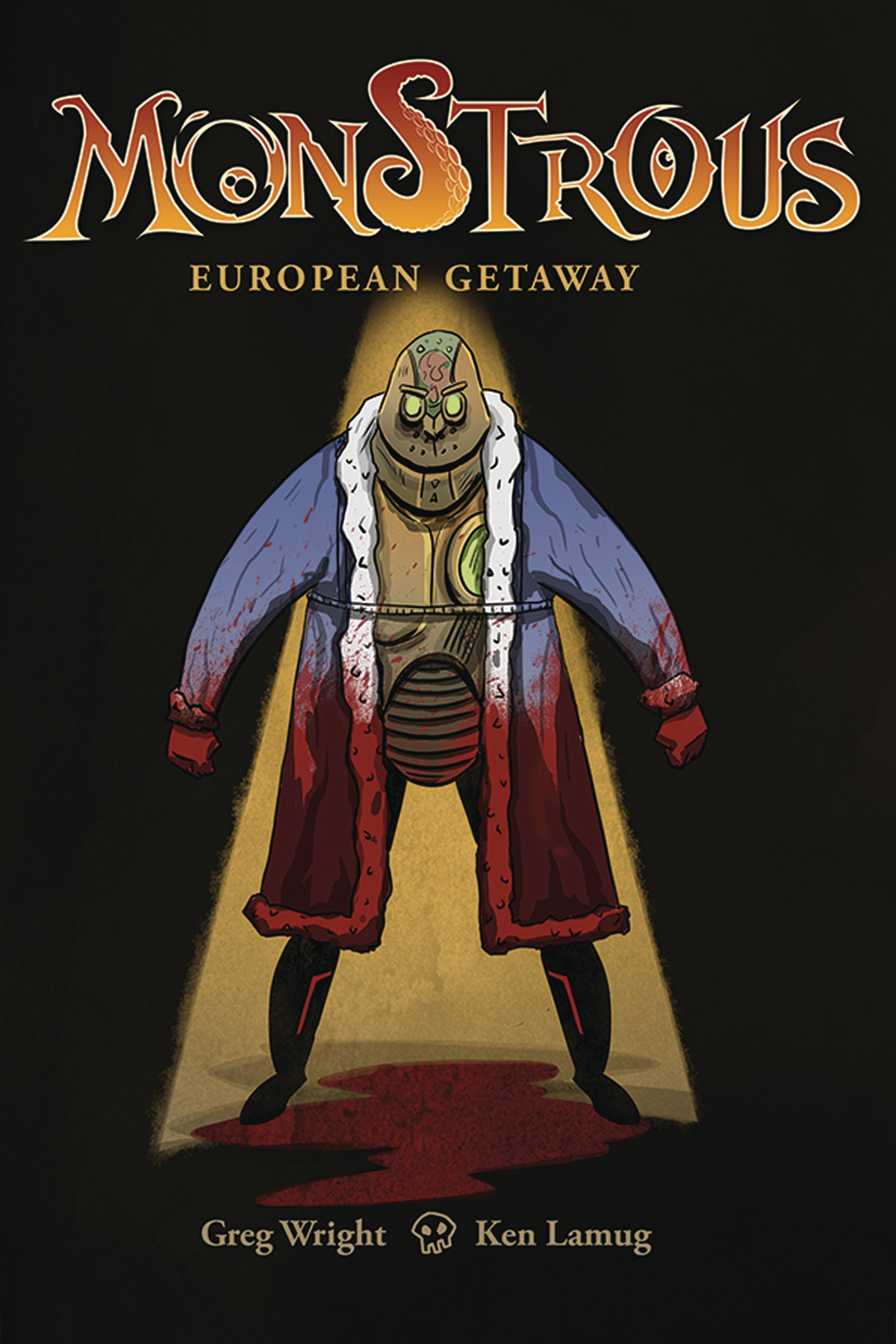 MONSTROUS EUROPEAN GETAWAY #1 (OF 4)
SOURCE POINT PRESS
JAN192087
(W) Gregory Wright (A) Ken Lamug
In Frankenstein's Europe, ravaged by the battles between monsters and steam-powered robots, Doctor Frankenstein has been found dead, and all evidence points to Hans as the cause. While Hans is on the run, looking for a way to clear his name, Ilsa and Gruber have become crewmates on a monster pirate ship. And they're not exactly making friends... Will our heroes make it through this European getaway? Or will their fate be nothing short of monstrous?
In Shops: Mar 20, 2019
SRP: $3.99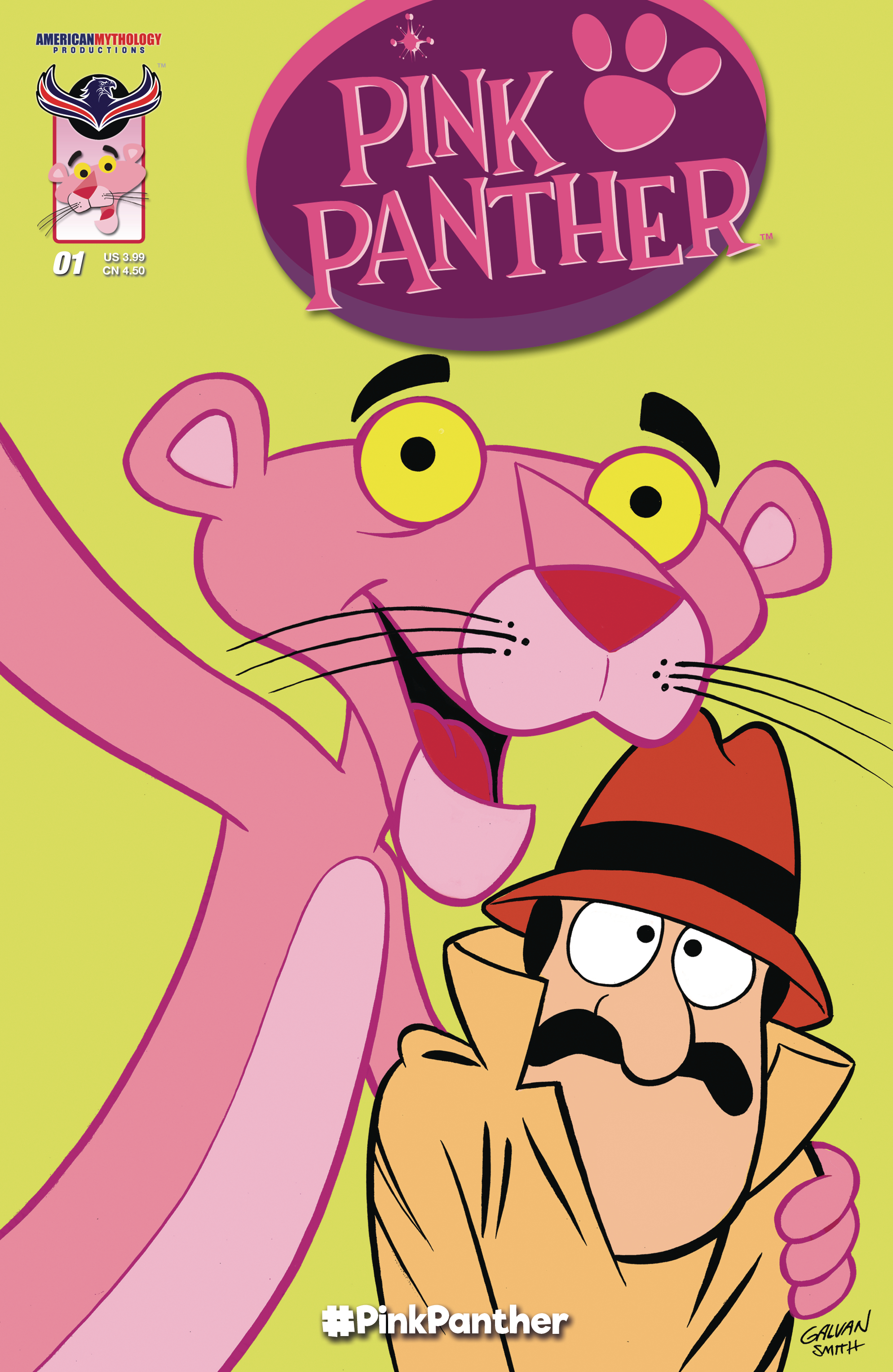 PINK PANTHER #1 MAIN CVR (O/A)
AMERICAN MYTHOLOGY PRODUCTIONS
JAN191539
(W) S.A. Check, Adrian Ropp (A) Adrian Ropp (A/CA) Bill Galvan
The cool cat is back! Generations of kids grew up loving the Pink Panther's unique style and wit on Saturday morning cartoons. And now today's best writers and artists are delivering original comic book stories that bring the trademark Pink Panther flair for confounding The Inspector and The Little Man to legions of new fans! Each issue is packed full-a pink with several new stories, original shorts, and even a few classic comic tales! We're cramming in 28 pages of comic goodness here so you get more pink for your green with American Mythology's new Pink Panther series! Join the Pink Panther, The Ant and the Aardvark, The Inspector, and a host of other favorite cartoons for the all-ages comic book event of the year!
In Shops: Jan 23, 2019
SRP: $3.99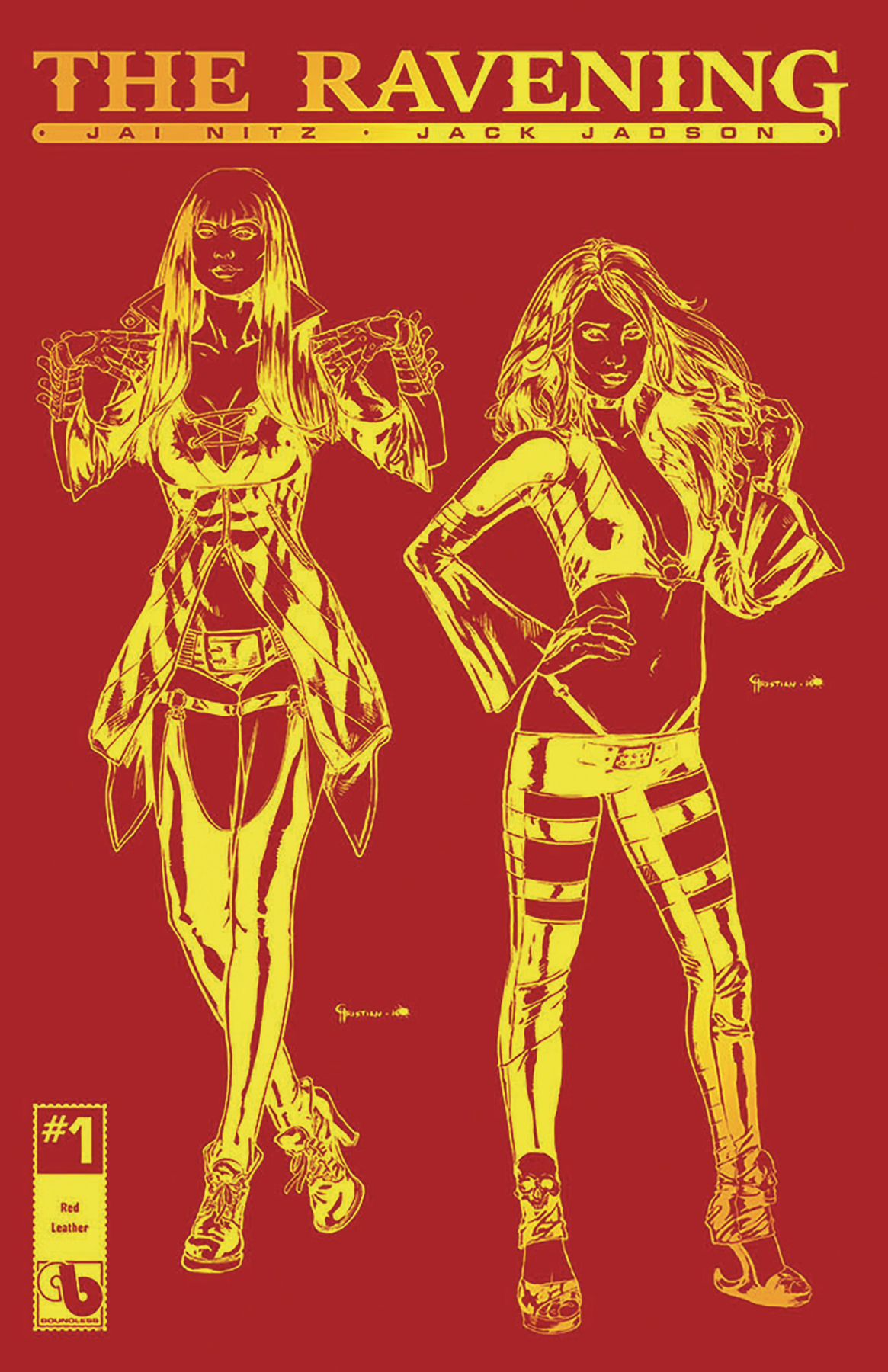 RAVENING #1 (OF 4) RED LEATHER (MR)
BOUNDLESS COMICS
JAN191773
(W) Jai Nitz (A) Jack Jadson (CA) Christian Zanier
From the very first Ravening, this ultra-limited leather edition of just 250 copies printed, is now available!
In Shops: Mar 27, 2019
SRP: $19.99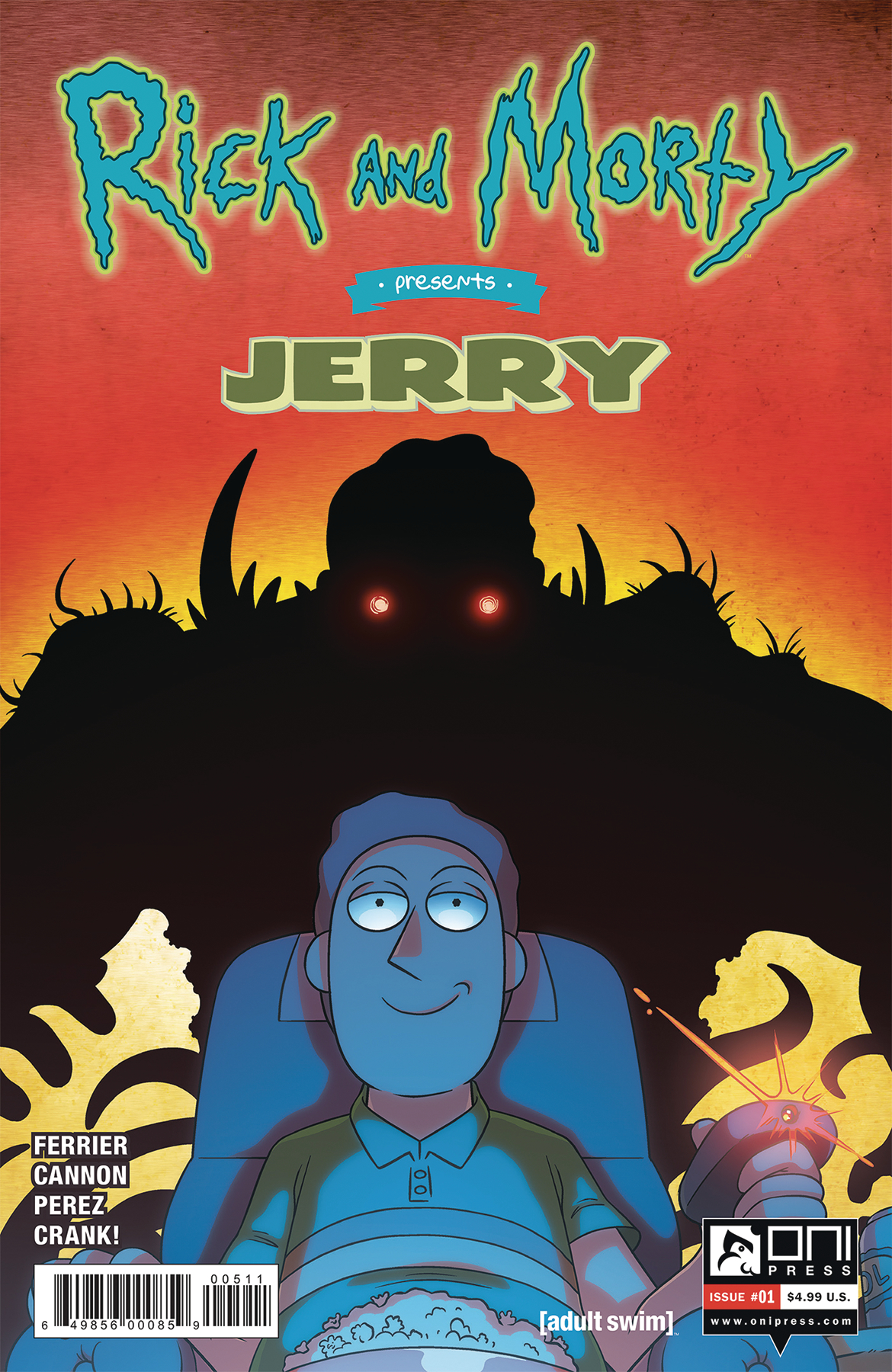 RICK & MORTY PRESENTS JERRY #1 CVR A
ONI PRESS INC.
JAN192010
(W) Ryan Ferrier (CA) Josh Perez (A/CA) CJ Cannon
Rick and MortyTM Presents is back by popular demand! Jerry's wisely blaming all his marital issues on his Dad-bod. When he goes to Rick for a quick fix, things go so poorly, it's...demonic. Written by Ryan Ferrier (Batman/Teenage Mutant Ninja Turtles, Regular Show, D4VE, and more!),with series artists CJ Cannon and Joshua Perez!
In Shops: Mar 13, 2019
SRP: $4.99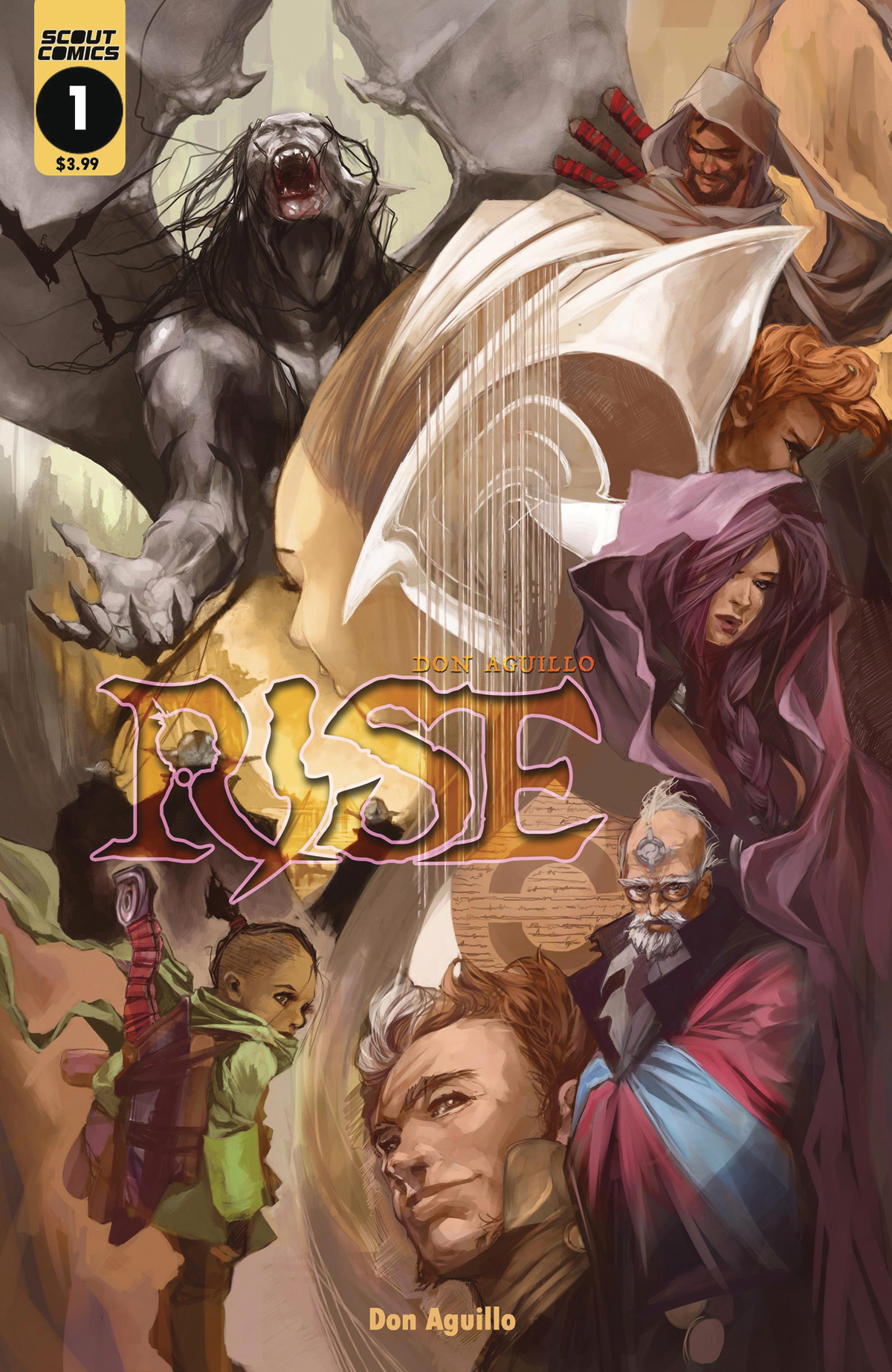 RISE #1 CVR A
SCOUT COMICS
JAN192072
(W) Don Aguillo (A/CA) Don Aguillo
Nine-year-old royal orphan Zakaiah falls heir to the throne of the broken post-apocalyptic kingdom of Pacifica, and must endure the Trials of the House of Jasser, a series of tests designed to prepare her to occupy the seat of the kingdom. Recently orphaned and reluctant to embark on a set of trials to teach and test her on the responsibilities that now rest on her shoulders, she is guided on this tumultuous path by soldiers and strangers, plagued by their own struggles, pasts and hidden agendas. Embarking on the journey on a dark road with strangers who now answer to her and inexperienced in carrying the weight of the world, she's left the only home she's ever known to explore the realm she now has the responsibility to rule. Behind them, the empty throne is at the mercy of a ruling class that threatens to usurp it for their own dark agendas, and just beyond the shadows ahead, the emergence of an ancient evil threatens to halt their journey dead in its tracks.
In Shops: Mar 27, 2019
SRP: $3.99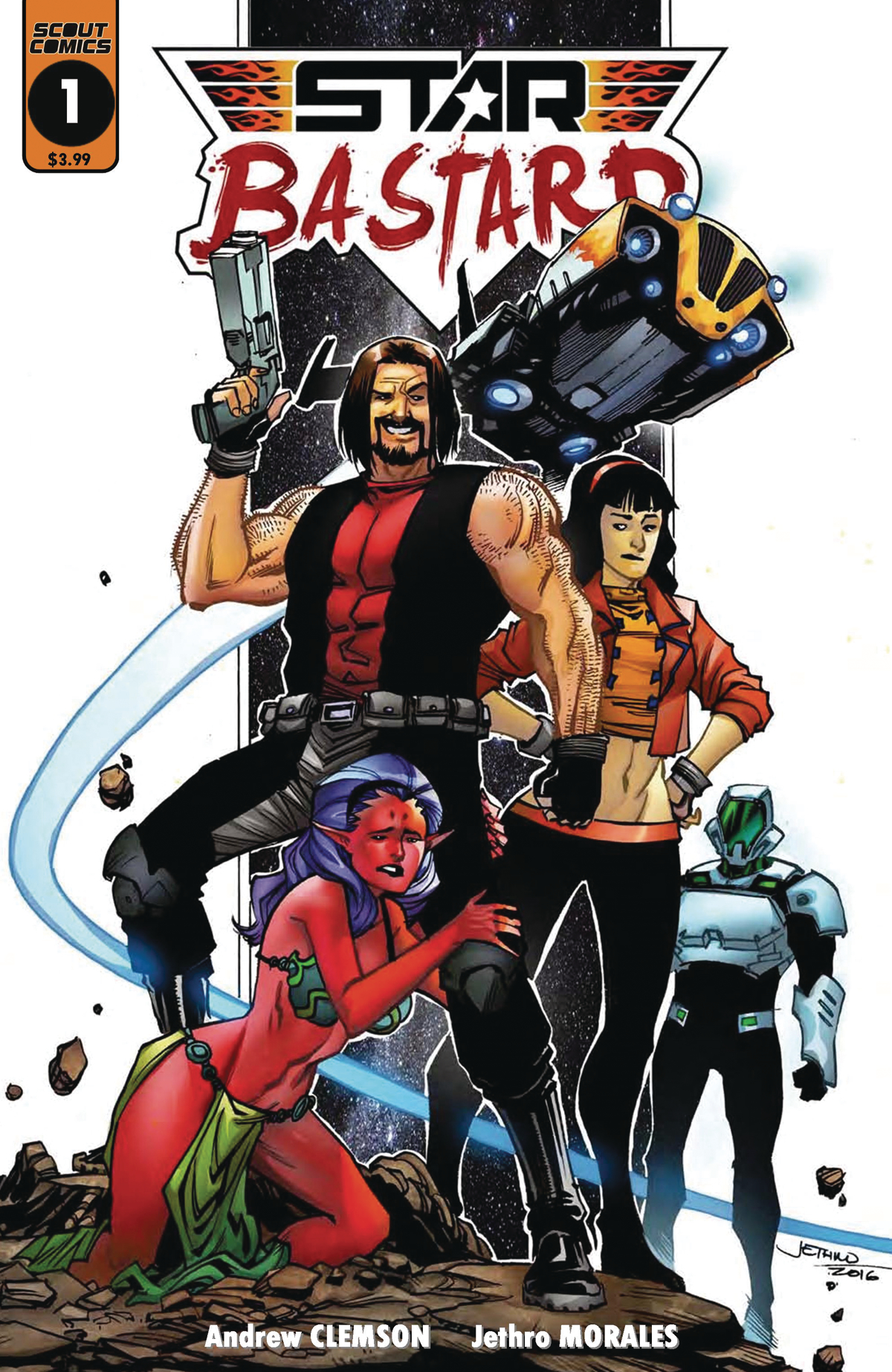 STAR BASTARD #1 CVR A
SCOUT COMICS
JAN192076
(W) Andrew Clemson (A/CA) Jethro Morales
A foul-mouthed, over-the-top Sci-Fi romp, equal parts
Red Dwarf
and grain alcohol,
Star Bastard
follows a long suffering mercenary crew as they stumble through the universe under the clumsy command of the loud, obnoxious (and invulnerable) Captain Greeves. Searching for clues to Greeves' shadowy past, they leave a trail of lizard bounty hunters, angry alien empires and unpaid bar tabs in their wake.
In Shops: Mar 27, 2019
SRP: $3.99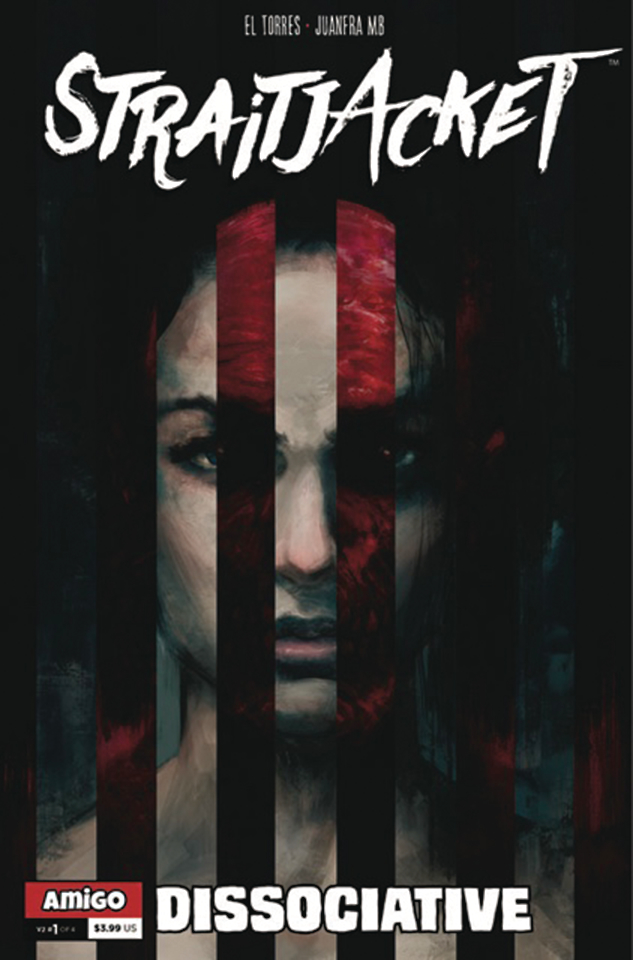 STRAITJACKET VOL 2 #1 (MR)
AMIGO COMICS
JAN191560
(W) El Torres (A/CA) Juanfra Mb
Alex Wagner escaped from the psychiatric ward and now wanders the streets of Detroit in a never-ending war against the Feeders. But she soon discovers that hers is a pointless war; they are everywhere, feeding on the weak sanity of mankind. And Alex faces the risk of losing her twin brother forever to the Other Side.
In Shops: Mar 27, 2019
SRP: $3.99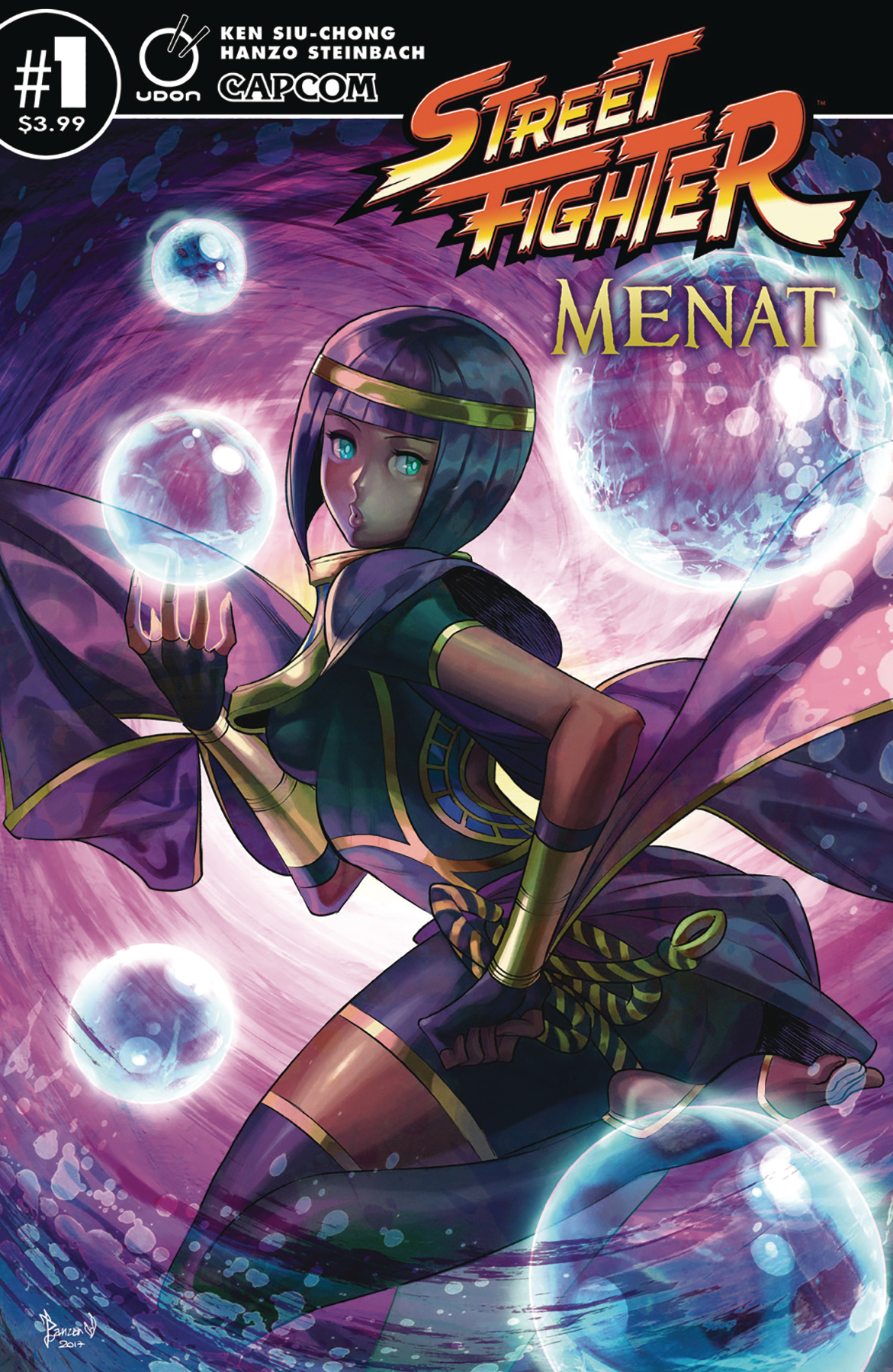 STREET FIGHTER MENAT #1 CVR A PANZER
UDON ENTERTAINMENT INC
JAN192262
(W) Ken Siu-Chong (A) Hanzo Steinbach (CA) Panzer
The first in a series of new Street Fighter one-shot comics! Meet Menat, the enigmatic Egyptian fortune teller on a quest to avenge her master's death. But it's not just any villain Menat is seeking... it's the Dark Lord of Shadaloo himself - M.Bison!
In Shops: Mar 27, 2019
SRP: $3.99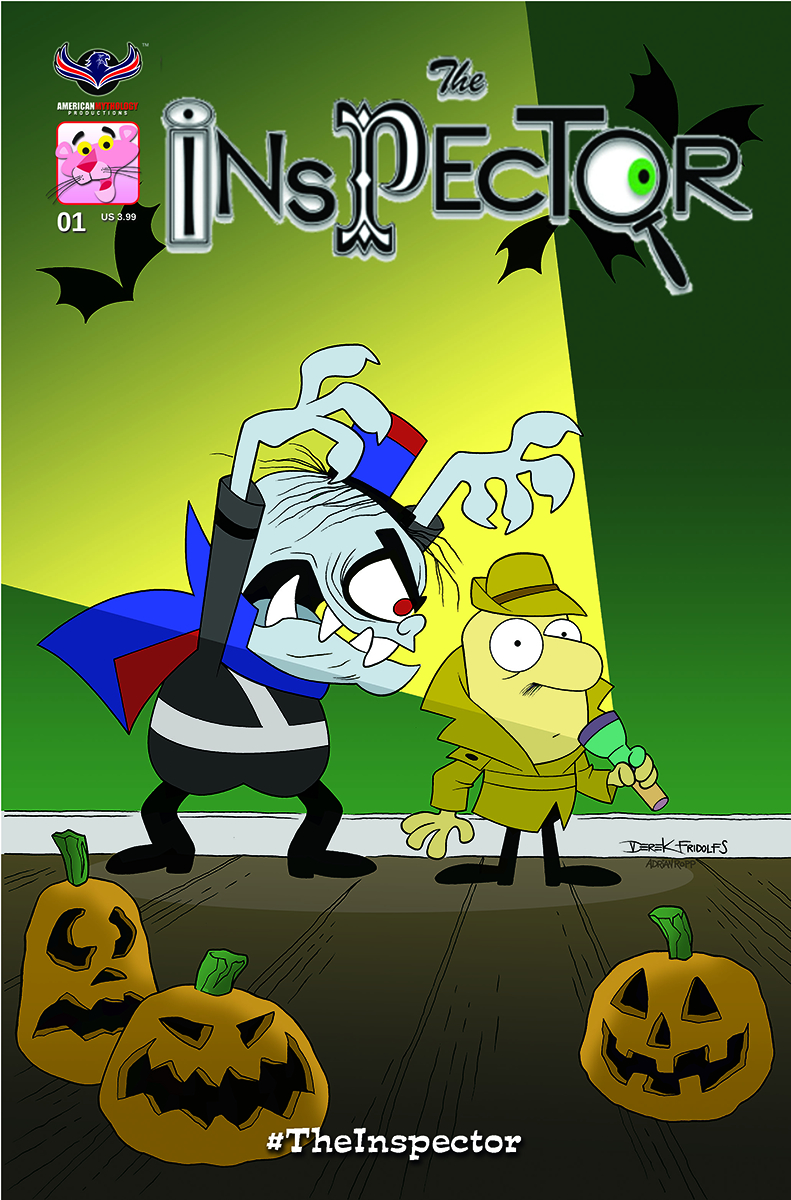 THE INSPECTOR PINK FILES #1 MAIN CVR (O/A)
AMERICAN MYTHOLOGY PRODUCTIONS
JAN191550
(W) Derek Fridolfs, John Gallagher (A) John Gallagher, Adrian Ropp (A/CA) Derek Fridolfs
Pink Panther fans demanded it and now everyone's favorite bumbling Inspector is back in his own hilarious comic! With the colorful rogues' gallery of Crime Inc. villains on the loose, the Commissioner must reopen The Pink Files and turn to his most trusted agent. And when she isn't available, only the Inspector is left to make a mess of the case. With his trusted sidekick Sergeant Deux-Deux at his side, no criminal is safe from the long arm of the law. Main cover by Derek Fridolfs, Subscription cover by Adrian Ropp, Deux-Deux cover by S.L. Gallant, and a special Inspector Clouseau Retailer Animation Incentive Cover.
In Shops: Jan 16, 2019
SRP: $3.99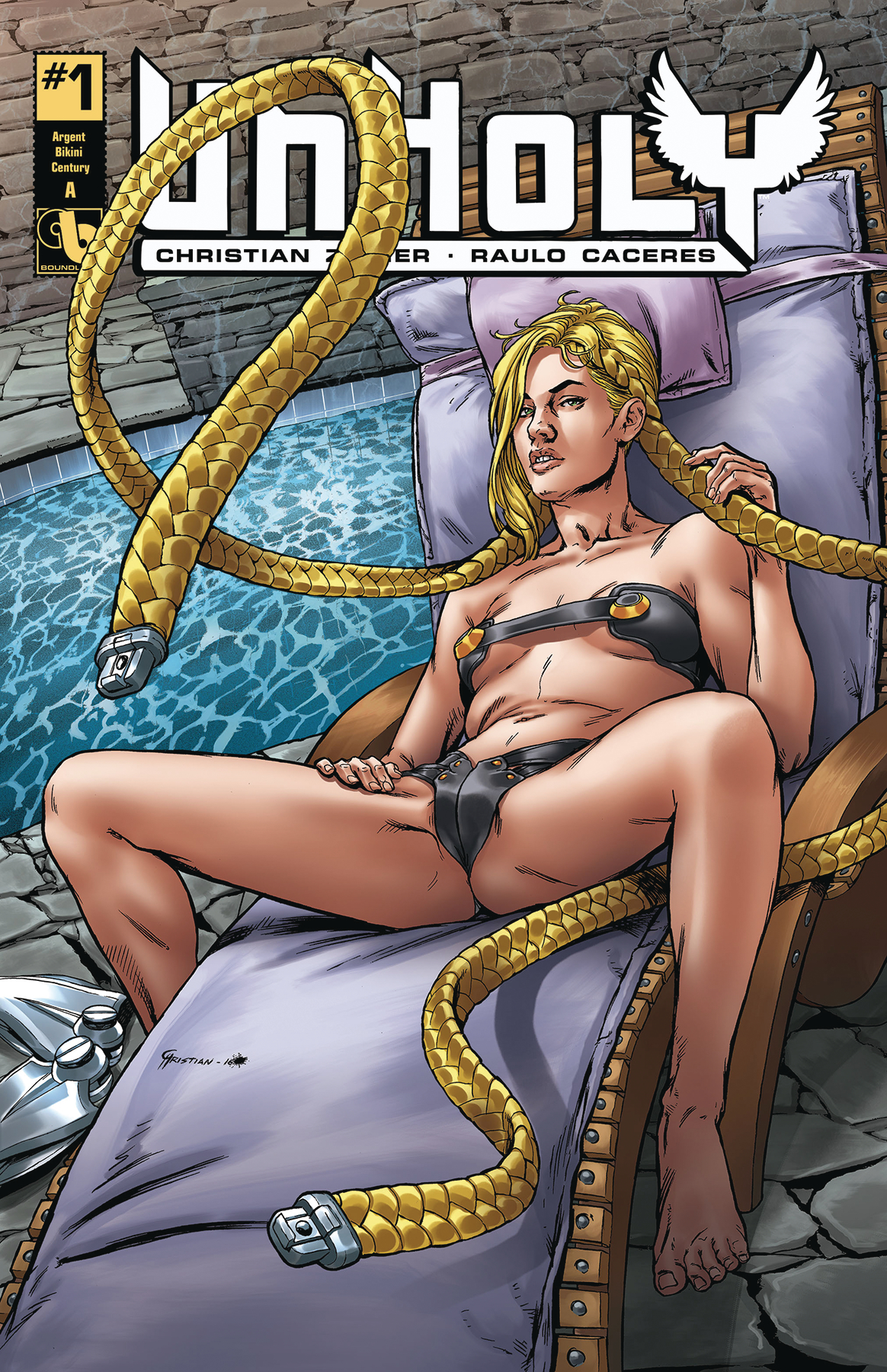 UNHOLY #1 BIKINI CENTURY A (MR)
BOUNDLESS COMICS
JAN191737
(W) Christian Zanier (A) Raulo Caceres (A/CA) Christian Zanier
The awesome Argent Bikini Century set is now available as single cover, only 100 copies of each cover printed!
In Shops: Mar 27, 2019
SRP: $29.99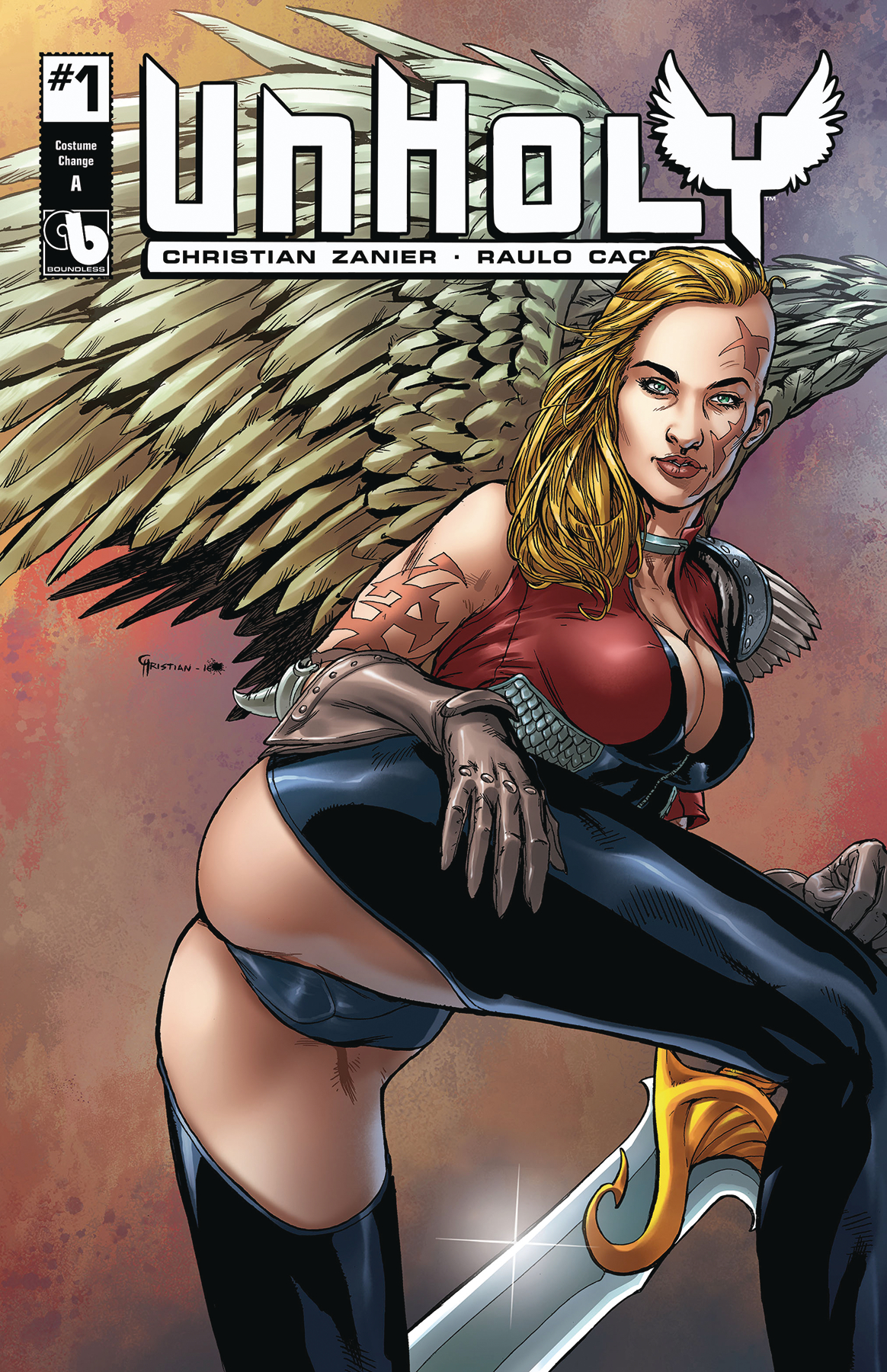 UNHOLY #1 COSTUME CHANGE A (MR)
BOUNDLESS COMICS
JAN191731
(W) Christian Zanier (A) Raulo Caceres (A/CA) Christian Zanier
We've cracked open Costume Change sets from years past, available as single covers for the first time! Each will ship in a bag and board, and every cover is drawn by the master himself, Christian Zanier!
In Shops: Mar 27, 2019
SRP: $8.99