BOOM! STUDIOS B B FREE #1 (OF 12) CVR A DUNLAP
BOOM! STUDIOS
SEP191263
(W) Gabby Rivera (A/CA) Royal Dunlap
* b.b. free broadcasts her underground radio show from her remote swamp community, and she has no idea she's actually the chosen one.
* It's been over a hundred years since the Plague That Ate Greed wiped out half the population, and it's the only world that b.b. has ever known. But when b.b. rebels against her overbearing father, she realizes that everything she believes in could be a lie.
* On the run from her own family, b.b. will learn the truth about the world she lives in, and about the power she never knew she had.
* Writer Gabby Rivera and debuting artist Royal Dunlap present an adventure for fans of Blackbird and "mysterious destiny" heroic fiction like Naomi about finding your family when the whole world is against you.
In Shops: Nov 06, 2019
SRP: $3.99 FOLKLORDS #1 (OF 5) CVR A SMITH
BOOM! STUDIOS
SEP191261
(W) Matt Kindt (A/CA) Matt Smith
* From Narnia to Harry Potter, we've seen our hero leave the real world for a fantasy world-but in Ansel's world of monsters and magic he's haunted by visions of our world with tailored suits and modern technology!
* Ansel embarks on his Quest to find the mysterious Folklords, hoping they can explain his visions...but looking for the Folklords is punishable by death. What will Ansel risk to find out about the world he has never truly belonged in?
* Eisner Award-nominated writer Matt Kindt (Grass Kings, Black Badge) teams with acclaimed artist Matt Smith (Hellboy And The B.P.R.D.) challenge everything you know about the line between fantasy and reality in a new series for fans of Die, Middlewest and Fables.
In Shops: Nov 13, 2019
SRP: $3.99 HEARTBEAT #1 (OF 5) CVR A LLOVET (MR)
BOOM! STUDIOS
SEP191265
(W) Maria Llovet (A/CA) Maria Llovet
* Eva, a high school outcast, finds herself witness to a horrible secret: the most popular boy in school enjoys the taste of blood and will kill to get his hands on it.
* Horrified and intrigued, Eva lets herself be pulled into Donatien 's macabre world. He offers the escape she has been looking for but how much is Eva willing to betray her moral code in order to find something that gives her life meaning? And will she.or Donatien.ever find redemption?
* Maria Llovet ( Faithless) presents a dark, violent, decadent, disturbing story, in which life and death, blood, and love are inextricably intertwined.
In Shops: Nov 20, 2019
SRP: $3.99 MAGICIANS #1 (OF 5) CVR A KHALIDAH (MR)
BOOM! STUDIOS
SEP191259
(W) Lilah Sturges, Lev Grossman (A) Pius Bak (CA) Qistina Khalidah
MEET THE NEW CLASS OF BRAKEBILLS COLLEGE!
* Series creator Lev Grossman returns to BOOM! Studios for an all-new story in the world of The Magicians with Lilah Sturges and artist Pius Bak that features the first appearance of the next generation of heroes and villains!
* Long after Quentin Coldwater has graduated from Brakebills, Dean Fogg welcomes the first class in Brakebills history to include hedge magicians, who are known for being dangerous practitioners of unsanctioned magic.
* As these two student bodies clash to prove their superiority, everyone at Brakebills is forced to take a side - not realizing a new threat has targeted them all!
* But the reason for this change at Brakebills will rock them to their core - and shock longtime fans of The Magicians!
In Shops: Nov 06, 2019
SRP: $3.99
DARK HORSE COMICS ELFQUEST STARGAZERS HUNT #1 (OF 6)
DARK HORSE COMICS
SEP190234
(W) Wendy Pini, Richard Pini (A) Sonny Strait (CA) Wendy Pini
When ElfQuest: The Final Quest concluded, it ended the hero's journey of Cutter Kinseeker, chief of the Wolfriders. But that was only the start of a new adventure for Cutter's "brother in all but blood," Skywise. Now the stargazer elf, who thought he knew everything about Cutter, discovers how mistaken he was. That, combined with a tragic accident involving his daughter Jink, sends Skywise on a quest of his own, from the elves' ancestral Star Home through uncharted space, and back to the World of Two Moons.
Stargazer's Hunt has story by ElfQuest co-creators Wendy and Richard Pini, with script by Wendy Pini. Veteran Elfquest alumnus Sonny Strait returns at full force as the artist and colorist for the new series.
o All-new material for an established character.
In Shops: Nov 13, 2019
SRP: $3.99 WITCHFINDER REIGN OF DARKNESS #1 (OF 5)
DARK HORSE COMICS
SEP190254
(W) Mike Mignola, Chris Roberson (A/CA) Christopher Mitten
Sir Edward Grey takes on London's most famous serial killer! But he's the only one who thinks Jack the Ripper's murders have an occult purpose. When Scotland Yard turns its back on him, Grey finds an ally in American occult adventurer Sarah Jewell. But the forces allied against their investigation are more powerful than either one of them imagines!
o Re-introduction to Rise of the Black Flame's Sarah Jewell.
o Rise of the Black Flame and Rasputin: Voice of the Dragon artist Christopher Mitten.
In Shops: Nov 27, 2019
SRP: $3.99 CRONE #1 (OF 5)
DARK HORSE COMICS
SEP190258
(W) Dennis Culver (A/CA) Justin Greenwood
The Sword Saviour and Champion of Men once known as BLOODY BLISS is now nothing more than a reclusive old CRONE. Does she have the strength to answer the call for one last adventure? Only Dennis Culver (Burnouts, E is for Extinction) and Justin Greenwood (Stumptown, The Last Siege) know for sure in this story that is equal parts Unforgiven and Xena: Warrior Princess.
o From Burnouts creator Dennis Culver and acclaimed artist Justin Greenwood!
One more battle for Bloody Bliss!
In Shops: Nov 06, 2019
SRP: $3.99
DC COMICS FAR SECTOR #1 (OF 12) (MR)
DC COMICS
SEP190441
(W) N.K. Jemisin (A/CA) Jamal Campbell
N.K. Jemisin, the acclaimed, award-winning author of The Broken Earth and Inheritance science fiction trilogies, makes her comic book debut with bestselling Naomi artist Jamal Campbell as they thrust you into a stunning sci-fi murder mystery on the other side of the universe!
For the past six months, newly chosen Green Lantern Sojourner "Jo" Mullein has been protecting the City Enduring, a massive metropolis of 20 billion people. The city has maintained peace for over 500 years by stripping its citizens of their ability to feel. As a result, violent crime is virtually unheard of, and murder is nonexistent.
But that's all about to change in this new maxiseries that gives a DC Young Animal spin to the legacy of the Green Lanterns!
In Shops: Nov 13, 2019
SRP: $3.99
DOLLHOUSE FAMILY #1 (OF 6) (MR)
DC COMICS
SEP190439
(W) Mike Carey, Joe Hill (A) Peter Gross, Vince Locke, Dan McDaid (CA) Jessica Dalva
On Alice's sixth birthday, her dying great-aunt sent her the birthday gift she didn't know she always wanted: a big, beautiful 19th-century dollhouse, complete with a family of antique dolls. In no time at all, the dollhouse isn't just Alice's favorite toy...it's her whole world. And soon, young Alice learns she can enter the house to visit a new group of friends, straight out of a heartwarming children's novel: the Dollhouse family. But while the Dollhouse family welcome her with open arms, in the real world, her family life is becoming much more complicated...and deep within the Dollhouse's twisting halls, the black room waits, with an offer to Alice. The house can fix all this, the black room says. All she has to do is say the words...
Longtime collaborators Mike Carey and Peter Gross (Lucifer, The Unwritten) are joined by Vince Locke (The Sandman), to bring their most horrifying vision yet to Hill House Comics-a story that echoes into centuries past, into Alice's tormented future, and into the beating heart of the madness that makes up our world...literally.
Plus, in chapter two of the "Sea Dogs" backup story written by Joe Hill, spymaster Benjamin Tallmadge's monstrous scheme is underway as his coerced crew of bloodthirsty colonial lycanthropes prepare to gut the Royal Navy from within!
In Shops: Nov 13, 2019
SRP: $3.99 GEN LOCK #1 (OF 7)
DC COMICS
SEP190444
(W) Collin Kelly, Jackson Lanzing (A) Carlo Barberi, Walden Wong (CA) Dan Mora
Earth is at war! The villainous Union has been steadily taking over more and more of the planet after initiating the Global Culture War. In an effort to stand its ground against the Union, the Polity turns to Dr. Weller and his team of five individuals who are "gen:Lock compatible," which allows them to transfer their minds to mech suits known as Holons! Spinning out of the first season of the hit Rooster Teeth animated series, gen:Lock follows Julian Chase and his team as they pick up the pieces of their lives after the death of Dr. Weller, leading them into a high-octane adventure in one of the Polity's last free countries, Japan!
In Shops: Nov 06, 2019
SRP: $3.99
GREEN LANTERN BLACKSTARS #1 (OF 3)
DC COMICS
SEP190452
(W) Grant Morrison (A) Xermanico (CA) Liam Sharp
What has Hal Jordan done? Following the catastrophic events of The Green Lantern #12, no Green Lanterns can be found patrolling their space sectors...and not a single power ring lights the darkness. Across the universe, once-familiar faces now wear a different uniform and enforce a new type of galactic law. The Green Lantern Corps is dead-long live the Blackstars! Who are they? What are they? Answers will be revealed as the unstoppable Blackstars set their sights on the demons of Ysmault, Mongul...and a tiny, backwater planet called Earth. A dangerous new chapter of the Green Lantern mythology starts now!
In Shops: Nov 06, 2019
SRP: $3.99 HE MAN AND THE MASTERS OF THE MULTIVERSE #1 (OF 6)
DC COMICS
SEP190454
(W) Tim Seeley (A) Dan Fraga, Richard Friend (CA) In-Hyuk Lee
The scourge of Anti-Eternia is unleashed on the Multiverse! Blazing a trail across the dimensions, he's devastating each version of Eternia and stealing its power. Now it's up to a ragtag team of surviving He-Men to recruit the one man in existence who might save them: Prince Keldor, the man who would be Skeletor! This all-new miniseries features the most iconic eras and beloved takes on the Masters of the Universe!
In Shops: Nov 20, 2019
SRP: $3.99 JOHN CONSTANTINE HELLBLAZER #1 (MR)
DC COMICS
SEP190456
(W) Si Spurrier (A) Aaron Campbell (CA) John Paul Leon
John Constantine is back in London, back to his old tricks-and just in time, as things have become very dark indeed in his old stomping grounds. A small-time gang lord has found himself dealing with a big-time outbreak of supernatural weirdness...and without any allies to call on and nothing left to call his own, John doesn't have much choice about taking a paycheck from one of London's worst, or accepting the help of one of the gang lord's would-be foot soldiers. But what should be an open-and-shut exorcism turns out to be nothing but...and the author of this madness may just be getting started on their terrible masterpiece!
The original Constantine is back in this series from Si Spurrier (The Dreaming) and Aaron Campbell (Infidel), with nothing to his name but decades of bad memories and an unearned second chance. How, exactly, will he squander it? There's only one way to find out...
In Shops: Nov 27, 2019
SRP: $3.99 QUESTION THE DEATHS OF VIC SAGE #1 (OF 4) (MR)
DC COMICS
SEP190466
(W) Jeff Lemire (A) Bill Sienkiewicz, Bill Sienkiewicz (A/CA) Dennis Cowan
For years, Vic Sage has worn the faceless mask of the Question to clean up the streets of Hub City by sheer force of will. He knows right from wrong. He knows black from white. But what happens when he is drawn into a conspiracy that reaches from the heights of Hub City power to the depths of its underground tunnels? What happens when things stop being black-and-white and start getting a little gray? And what happens when, in a secret chamber deep beneath the city, Vic Sage meets his own end...and his new beginning? Eisner-winning writer Jeff Lemire joins forces with the legendary art team of Denys Cowan and Bill Sienkiewicz to resurrect Vic Sage, only to destroy him all over again...and again...
In Shops: Nov 20, 2019
SRP: $6.99 LEGION OF SUPER HEROES #1
DC COMICS
SEP190461
(W) Brian Michael Bendis (A/CA) Ryan Sook
Welcome to the 31st century! Inspired by the acts of and lessons learned from the greatest heroes of all time, the Legion of Super-Heroes have gathered together to stop a galaxy from repeating its past mistakes. The greatest lineup of heroes in comic book history returns with new, fresh, and reader-friendly stories!
Eisner Award-winning writer Brian Michael Bendis reteams with master artist Ryan Sook (Action Comics) for one of the most ambitious mainstream comic books ever created! Why have the Legion of Super-Heroes broken the cardinal rule of the United Planets and inducted Jon Kent, a.k.a. Superboy, into the Legion? What are they hiding? And what does it have to do with Aquaman's long-lost trident?
In Shops: Nov 06, 2019
SRP: $3.99
INFECTED KING SHAZAM #1
DC COMICS
SEP190459
(W) Sina Grace (A) Joe Bennett (CA) David Marquez
Billy Batson is a good kid. He helps his friends, loves his family, and tries to do the right thing. But Billy is about to have a run-in with the most dangerous serial killer in existence, and the Batman Who Laughs wants Billy to be bad. Spinning out of the events of Batman/Superman and "Year of the Villain," it's the tale of a hero whose soul has been turned black, and who has something to prove to the old guard. Buckle in for Shazam's journey to punch a bunch of so-called "gods" in the face and show the establishment exactly what the future looks like...
In Shops: Nov 06, 2019
SRP: $3.99 INFECTED SCARAB #1
DC COMICS
SEP190460
(W) Dennis Hopeless (A) Freddie Williams II (CA) David Marquez
When Jaime Reyes is in trouble, a powerful scarab transforms him into a super hero. Jaime never asked to be the Blue Beetle, but he's been doing his best to live up to the power within. Now the most sinister evil this or any other world has ever seen has his sights set on turning Jaime toward the darkness...and the Batman Who Laughs always gets what he wants. Spinning out of the events of Batman/ Superman and "Year of the Villain" comes the tale of a hero fighting the evil inside, and whose friends and family are about to pay the price...
In Shops: Nov 20, 2019
SRP: $3.99 BATMAN WHITE KNIGHT PRESENTS VON FREEZE #1
DC COMICS
SEP190437
(W) Sean Murphy (A) Klaus Janson (CA) Sean Murphy
The world of Batman: White Knight expands with this standalone tale! On the night of Bruce Wayne's traumatic birth, Victor Fries must intervene to save the lives of Martha Wayne and the future Batman. As the evening unfolds, Victor distracts Thomas with the incredible tale of his own father figures-one a Nazi, the other a Jew-and their complex connection to Wayne Laboratories. As the Third Reich roars into power, the deep friendship and working relationship between the Baron von Fries and his research partner, Jacob Smithstein, is in crisis. Ordered by Himmler to speed development of their cryotechnology in service of world domination, Smithstein is forced to go into hiding and compromise his moral code in order to save his wife and infant daughter, Nora, from persecution and certain death. When the S.S. ramps up surveillance over the project, young Victor begins to question his father's true allegiance. Both families are driven toward an impossible choice and a sinister standoff, and Victor makes a pact with Smithstein that will ripple through generations.
In Shops: Nov 20, 2019
SRP: $5.99 CRISIS ON INFINITE EARTHS GIANT #1
DC COMICS
SEP190451
Includes 24 pages of new stories plus classic reprints!
In Shops: Dec 18, 2019
SRP: $4.99 DC WAR GIANT #1
DC COMICS
SEP190449
Includes 32 pages of new stories plus classic reprints!
In Shops: Dec 11, 2019
SRP: $4.99 FAMOUS FIRST EDITION NEW FUN #1 HC
DC COMICS
SEP190591
(W) Various (A) Various (CA) Lyman Anderson
In celebration of its 85th anniversary, DC Comics reprints for the very first time its first-ever published comic book, New Fun #1, the comic that transformed the fledgling industry by being the first ongoing title made up of new stories instead of reprints of newspaper comic strips. First published in 1935, this landmark comic book carried a diverse set of original content features cowboys, spies, detectives, funny animals, space explorers, soldiers of fortune and more, including features that were written by Major Malcolm Wheeler-Nicholson, the founder of the company that would become DC Comics. This tabloid-size, black-and-white comic is reprinted as a commemorative hardcover and will include essays by comics historian Roy Thomas and Nicky Wheeler-Nicholson, grand-daughter of Major Malcolm Wheeler-Nicholson, and more. Collects New Fun #1.
In Shops: Jan 22, 2020
SRP: $19.99 TALES FROM THE DARK MULTIVERSE BLACKEST NIGHT #1
DC COMICS
SEP190468
(W) Tim Seeley (A) Kyle Hotz, Dexter Vines (CA) Lee Weeks
What could be blacker than the Blackest Night? From the pages of Dark Nights: Metal comes a Dark Multiverse retelling of the Green Lantern event that changed the DC Universe forever...only this time, the Black Lanterns win! Now, 23 days after the apocalypse, witness the rise of Sinestro as the Limbo Lantern! Trapped between life and death as a White and Black Lantern, Sinestro seeks to save the universe-or end his miserable life-once and for all! Joined by Dove, Lobo, and Mister Miracle, the last living beings in the universe will put everything on the line to give their world one final chance.
In Shops: Nov 13, 2019
SRP: $5.99 TALES FROM THE DARK MULTIVERSE INFINITE CRISIS #1
DC COMICS
SEP190469
(W) James TynionIV (A) Aaron Lopresti, Matt Ryan (CA) Lee Weeks
DC's mega-event "Infinite Crisis" saw the destruction of the Trinity, the rise of Alexander Luthor and Superboy-Prime, and the rebirth of the Multiverse...but it all started with Ted Kord, the Blue Beetle, who saw it all coming and died with secrets that could've saved the world. But...things happened differently in the Dark Multiverse! Not only does Blue Beetle survive- he thrives! And after killing Maxwell Lord himself, Ted sets off a chain of events that irreversibly alters the lives of the Justice League and his best friend, Booster Gold. In trying to prevent a crisis, Blue Beetle becomes the Crisis...and the Dark Multiverse will never be the same.
In Shops: Nov 27, 2019
SRP: $5.99
DYNAMITE ENTERTAINMENT KISS ZOMIBES #1 CVR A SUYDAM
DYNAMITE
SEP191028
(W) Sacks, Ethan (A) Rodney Buchemi (CA) Arthur Suydam
Decades after a zombie invasion has made humans an endangered species, the city of New Detroit is under siege. The people in charge have banned music, as the undead are attracted to sound, and have tried to rid the world of evidence that the greatest band in history have ever existed. Unwilling to live this way and take the leadership at their word, a group of teenagers set out on a dangerous trip to find KISS!
From Ethan Sacks (Old Man Hawkeye, Old Man Quill) and Rodney Buchemi (Death of Hawkman, Uncanny X-Men) comes a story of survival and rebellion in a post-apocalyptic landscape devoid of rock'n'roll!
In Shops: Nov 06, 2019
SRP: $3.99
IDW PUBLISHING STAR TREK PICARD COUNTDOWN #1 CVR A TBA
IDW PUBLISHING
SEP190652
(W) Mike Johnson, Kirsten Beyer
You've seen the trailer... now, witness the events leading to CBS All Access's Picard. Before he retired to his vineyard, Jean-Luc Picard was the most decorated admiral in Starfleet. Then one mission changed his life forever. The Countdown starts here!
In Shops: Nov 27, 2019
SRP: $4.99 CROW HARK THE HERALD #1 SEELEY
IDW PUBLISHING
SEP190728
(W) Tim Seeley (A) Meredith Laxton (CA) Tim Seeley
Every year, a group of six people gather for Christmas in a cabin in the far North Woods of Wisconsin. But this isn't your average bickering nuclear family-these are six of the most prolific killers in North America.
Now, last year's sins have risen from the grave, ready to deliver the gift of revenge. Guided by the Crow, Cecilia Rite will give six psychos a holiday hammer party.
In Shops: Nov 27, 2019
SRP: $4.99
DUNGEONS & DRAGONS INFERNAL TIDES #1 CVR A DUNBAR
IDW PUBLISHING
SEP190672
(W) Jim Zub (A/CA) Max Dunbar
A new Dungeons & Dragons adventure begins here!
Minsc and his friends are caught in the middle of devil-tainted corruption that has taken hold of Baldur's Gate. Unravelling the secret of its source will take our heroes to unexpected places and threaten the sanctity of their very souls. Even if they survive this perilous journey, there will be Hell to pay!
Infernal Tides continues the D&D comic odyssey written by Jim Zub (D&D: Evil at Baldur's Gate, D&D: Shadows of the Vampire, Avengers) with artwork by Max Dunbar (Avengers, D&D: Legends of Baldur's Gate)!
In Shops: Nov 20, 2019
SRP: $3.99 GLOW VS THE BABYFACE #1 CVR A FISH
IDW PUBLISHING
SEP190662
(W) Aimee Garcia, AJ Mendez (A) Hannah Templer (CA) Veronica Fish
The women of GLOW are preparing for an all-new sort of a foe... a news anchor! As they learn the art of the promo to convince the media that GLOW isn't a bad influence on children thank you very much, they discover a much bigger problem-a runaway who's been living under the ring!
In Shops: Nov 20, 2019
SRP: $3.99 RISING SUN #1
IDW PUBLISHING
SEP190665
Chiyoko of the Koi Clan leads a group of powerful warriors, the best each clan has to offer, on a mission to save Japan from dragons and monsters. But perhaps the greatest threat she faces is not the many monsters who are ravaging the country, but her own team...
In Shops: Nov 27, 2019
SRP: $4.99
IMAGE COMICS FAMILY TREE #1 (MR)
IMAGE COMICS
SEP190021
(W) Jeff Lemire (A/CA) Phil Hester, Ryan Cody, Eric Gapstur
SERIES PREMIERE! When an eight-year-old girl literally begins to transform into a tree, her single mom, troubled brother, and possibly insane grandfather embark on a bizarre and heart-wrenching odyssey across the back roads of America in a desperate search for a way to cure her horrifying transformation before it's too late.
But the farther they get from home, the more forces threaten to tear the family apart as fanatical cults, mercenaries, and tabloid Paparazzi close in, determined to destroy the girl-or use her for their own ends.
A new genre-defying series written by New York Times bestselling author JEFF LEMIRE (GIDEON FALLS, ASCENDER) and illustrated by acclaimed artist PHIL HESTER (Shipwreck, Green Arrow), FAMILY TREE combines mystery, action, and horror into an epic story about the lengths a mother will go to in order to keep her children safe.
In Shops: Nov 13, 2019
SRP: $3.99 UNDISCOVERED COUNTRY #1 (MR)
IMAGE COMICS
SEP190027
(W) Charles Soule, Scott Snyder (A) Daniele Orlandini (A/CA) Giuseppe Camuncoli
SERIES PREMIERE! This November, New York Times bestselling writers SCOTT SNYDER (WYTCHES, A.D.: AFTER DEATH) and CHARLES SOULE (CURSE WORDS, the forthcoming novel Anyone) will team up with artists GIUSEPPE CAMUNCOLI (The Amazing Spider-Man, Darth Vader, Hellblazer) and DANIELE ORLANDINI (Darth Vader) and 2019 Eisner Award-winning colorist MATT WILSON (THE WICKED AND THE DIVINE, PAPER GIRLS) to embark on an epic adventure in the brand-new ongoing series, UNDISCOVERED COUNTRY!
In this special oversized first issue, readers will journey into the near future, and an unknown nation that was once the United States of America-a land that's become shrouded in mystery after walling itself off from the rest of the world without explanation over thirty years ago. When a team seeking a cure for a global pandemic breaches U.S. borders, they quickly find themselves in a struggle to survive this strange and deadly lost continent!
In Shops: Nov 06, 2019
SRP: $3.99 HEART ATTACK #1 (MR)
IMAGE COMICS
SEP190037
(W) Shawn Kittelsen (A) Michael Garland (A/CA) Eric Zawadzki
SERIES PREMIERE! Superpowers and teenage romance collide in the newest Skybound original by SHAWN KITTELSEN (Mortal Kombat 11) and ERIC ZAWADZKI (The Dregs, Eternal)!
Gene therapy has saved Americans from disease-only to give birth to Variants: people with powers so unique, the government denies their human rights. But a rebellion has begun...
Charlie North is on the run from the police when he crosses paths with Jill Kearney. Instant attraction becomes mass destruction when they unlock powers neither knew they had. Now, the question isn't how to use them-but how far they're willing to go.
In Shops: Nov 20, 2019
SRP: $3.99 KILLADELPHIA #1 CVR A ALEXANDER (MR)
IMAGE COMICS
SEP190042
(W) Rodney Barnes (A/CA) Jason Shawn Alexander
SERIES PREMIERE! "SINS OF THE FATHER," Part One-Featuring the show-stopping talents of SPAWN series artist JASON SHAWN ALEXANDER and the writer behind such hit shows as Wutang: An American Saga, Marvel's Runaways, and Starz's American Gods-RODNEY BARNES.
When a small-town beat cop comes home to bury his murdered father-the revered Philadelphia detective James Sangster Sr.-he begins to unravel a mystery that leads him down a path of horrors that will shake his beliefs to their core. The city that was once the symbol of liberty and freedom has fallen prey to corruption, poverty, unemployment, brutality... and vampires.
Welcome to KILLADELPHIA.
In Shops: Nov 27, 2019
SRP: $3.99 OLYMPIA #1 (OF 5) CVR A DIOTTO & CUNNIFFE
IMAGE COMICS
SEP190047
(W) Curt Pires, Tony Pires (A/CA) Alex Diotto, Dee Cunniffe
MINISERIES PREMIERE! DOUBLE-SIZED FIRST ISSUE! Elon is a latchkey kid who spends his days alone reading comic books-until his favorite superhero, Olympian, comes crashing off the page and into reality! But as he nurses his wounded and delirious hero back to health, he discovers Olympian isn't the only thing that came through... something evil followed him.
A comedic yet heartfelt love letter to the comics medium, OLYMPIA is also a meditation on hope and loss, conceived by CURT PIRES (Wyrd) and his father, TONY PIRES, while Tony was undergoing treatment for cancer.
In Shops: Nov 20, 2019
SRP: $3.99
MARVEL COMICS 2099 ALPHA #1
MARVEL COMICS
SEP190821
(W) Nick Spencer (A) Viktor Bogdonovic (CA) Patrick Gleason
80 years ago, the Marvel Universe was born. 80 years from now, will it die?! THE FUTURE IS IN PERIL! Events of AMAZING SPIDER-MAN have been leading to this for months. Something is happening in 2099 that spans Nueva York and beyond and will shake up the official Marvel Future forever. This is not a drill!
Rated T
In Shops: Nov 20, 2019
SRP: $4.99 CONAN 2099 #1
MARVEL COMICS
SEP190825
(W) Gerry Duggan (A) Roge Antonia (CA) Geoff Shaw
EONS FROM HOME, THE BARBARIAN BATTLES THE CIVILIZATION OF 2099!
In the far flung future of 2099, will barbarism finally triumph over an endangered civilization? When CONAN THE BARBARIAN entered the Marvel Universe with the SAVAGE AVENGERS, he stayed to conquer and claim his kingship in modern times. Now cursed by a mystic to live beyond his years, when Conan's new kingdom is threatened, he swings his blade once more! But as the calamity in 2099 bears down on his secluded realm, will the future shock unseat the barbarian king? An unforgettable chapter unlike anything you've ever seen in the saga of Conan!
Parental Advisory
In Shops: Nov 27, 2019
SRP: $4.99 FANTASTIC FOUR 2099 #1
MARVEL COMICS
SEP190831
(W) Karla Pacheco (A) Steven Cummings (CA) Toni Infante
THE FUTURE BELONGS TO DOOM!
Heroes may be no more, but the legacy of Earth's greatest family lives on against impossible odds. But as this new quartet of champions takes on the mantle, what does it mean to be called Fantastic Four in a future ruled by Doom?
Rated T
In Shops: Nov 20, 2019
SRP: $4.99 PUNISHER 2099 #1
MARVEL COMICS
SEP190828
(W) Lonnie Nadler, Zac Thompson (A) Matt Horak (CA) Patrick Zircher
The future has arrived, but world peace certainly hasn't! In fact, with the streets of Nueva York more crime-ridden than ever, who will rise up to defend the vulnerable population from the corruption? Looks like it's up to Punisher 2099 to clean up the block - the only question is, who's behind the mask?
Don't miss out on your glimpse into the future from rising stars, LONNIE NADLER & ZAC THOMPSON (Age of X-Men, Guardians of the Galaxy Annual)!
Rated T
In Shops: Nov 27, 2019
SRP: $4.99 ANNIHILATION SCOURGE ALPHA #1
MARVEL COMICS
SEP190786
(W) Matthew Rosenberg (A) Juanan Ramirez (CA) Josemaria Casanovas
THE OPENING SALVO FOR DECEMBER'S MAIN EVENT!
Something is stirring in the Negative Zone...something that the Marvel Universe isn't ready for! Will Nova be able to assemble a team powerful enough to tackle this burgeoning threat, or is it already too late to stop its descent upon the galaxy? For the Cosmos's greatest heroes, ANNIHILATION is only the beginning...
Rated T+
In Shops: Nov 20, 2019
SRP: $4.99 DEADPOOL #1
MARVEL COMICS
SEP190835
(W) Kelly Thompson (A/CA) Chris Bachalo
Deadpool's newest mercenary job has him going after the King of Monsters, who has claimed a new kingdom for his monstrous subjects...on Staten Island! But you know what they say, when you come at the king, you better not miss! The Merc with a Mouth finds himself neck deep in political intrigue, monster law, and a monster hunter out for blood! It's like The Crown but with even more swords and monsters! Can Deadpool's smooth charisma and deft diplomacy allow him to keep his head, or will he be royally screwed?
Parental Advisory
In Shops: Nov 06, 2019
SRP: $4.99 FALLEN ANGELS #1 DX
MARVEL COMICS
SEP190769
(W) Bryan Edward Hill (A) Szymon Kudranski (CA) Ashley Witter
THE DAWN DOES NOT BREAK FOR ALL!
Psylocke finds herself in this new world of Mutantkind unsure of her place in it... but when a face from her past returns only to be killed, she seeks help from others who feel similar to get vengeance. Cable and X-23 join Kwannon for a personal mission that could jeopardize all Mutantkind!
Rated T+
In Shops: Nov 13, 2019
SRP: $4.99 FANTASTIC FOUR NEGATIVE ZONE #1
MARVEL COMICS
SEP190890
(W) Mike Carey, Ryan North (A) Stefano Caselli, Steve Uy (CA) Kim Jacinto
One of Reed Richards' greatest discoveries is the extradimensional Negative Zone that exists parallel to our own universe. But now, an experiment that Reed began many years ago has come back to roost-and the Fantastic Four will once more have to venture into this hostile expanse in order to put things right!
Plus! Ryan North and Steve Uy bring you the first adventure of those bizarre new heroes in the Baxter Building, the Fantastix!
Rated T
In Shops: Nov 27, 2019
SRP: $4.99 MORBIUS #1
MARVEL COMICS
SEP190841
(W) Vita Ayala (A) Marcelo Ferreira (CA) Ryan Brown
MORBIUS IS THE LIVING VAMPIRE...OR IS HE MORE?
ALL-NEW ONGOING SERIES!
For years, Nobel Prize winning biologist Michael Morbius has been struggling to cure himself of his vampirism, and now, for the first time in years, one may be within reach! But the path to it is littered with dangers and worse!
Rated T+
In Shops: Nov 13, 2019
SRP: $3.99 NEW MUTANTS #1 DX
MARVEL COMICS
SEP190749
(W) Jonathan Hickman, Ed Brisson (A/CA) Rod Reis
THE NEW GENERATION CLAIMS THE DAWN!
The classic New Mutants (Sunspot, Wolfsbane, Mirage, Karma, Magik, and Cypher) get together with a few new friends (Chamber, Mondo) to seek out their missing member and share the good news... a mission that takes them into space alongside the Starjammers!
Rated T+
In Shops: Nov 06, 2019
SRP: $4.99 PUNISHER SOVIET #1 (OF 6) (MR)
MARVEL COMICS
SEP190851
(W) Garth Ennis (A) Jacen Burrows (CA) Paolo Rivera
• Garth Ennis (Co-Creator of The Boys & Preacher) is back at Marvel and writing the Punisher again, this time with art phenom Jacen Burrows (MOON KNIGHT, 303, Crossed) at his side.
• A dozen Russian mobsters lie dead at the Punisher's feet and he wasn't the one who pulled the trigger.
• If you know Frank Castle, you know this doesn't necessarily set his mind at ease.
• Who is in New York City decimating the Russian mob and can it be long before they come into conflict with Frank?
Rated MAX
In Shops: Nov 13, 2019
SRP: $3.99 SPIDER-MAN & VENOM DOUBLE TROUBLE #1 (OF 4)
MARVEL COMICS
SEP190875
(W) Mariko Tamaki (A/CA) Gurihiru
• You've seen 'em duke it out in the Marvel Universe for years, but prepare to see Spidey and Venom as you never have before: as begrudging... buddies?
• It's fun of the freaky variety this time around, as an unexpected mind-swap sets Spidey and Venom in each other's bodies! But WHO swapped them, and why?!
• From Mariko Tamaki and Gurihiru comes an all-new take on your favorite arch-Frienemies in the MU - and now they've gotta work together to set things right!
Rated T
In Shops: Nov 06, 2019
SRP: $3.99 X-FORCE #1 DX
MARVEL COMICS
SEP190760
(W) Ben Percy (A) Joshua Cassara (CA) Dustin Weaver
THE HIGH PRICE OF A NEW DAWN!
X-Force is the CIA of the mutant world-one half intelligence branch, one half special ops. Beast, Jean Grey and Sage on one side, Wolverine, Kid Omega and Domino on the other. In a perfect world, there would be no need for an X-Force. We're not there...yet.
Rated T+
In Shops: Nov 06, 2019
SRP: $4.99
YONDU #1 (OF 5)
MARVEL COMICS
SEP190846
(W) Lonnie Nadler, Zac Thompson (A) John McCrea (CA) Cully Hamner
Yondu, lone Ravager and all-around scoundrel is about to hit the biggest pay day of his life when he stumbles upon a dangerous new weapon! But when this artifact turns out to be deadlier than he bargained for, will the reward outweigh the risk as Yondu finds himself targeted by a mysterious mercenary? Plus, when an unexpected visitor from the future turns up to stop Yondu, it begs the question: exactly how bad did he screw up?! Find out in this all-new miniseries from ZAC THOMPSON and LONNIE NADLER (AGE OF X-MAN, GUARDIANS OF THE GALAXY ANNUAL) and JOHN MCCREA (Dead Eyes)!
Rated T+
In Shops: Nov 06, 2019
SRP: $3.99 ABSOLUTE CARNAGE CAPTAIN MARVEL #1 AC
MARVEL COMICS
SEP190802
(W) Emily Lerner (A) Andrea Broccardo (CA) David Nakayama
• Chewie's been Carnagized, and Carol ain't happy about it!
• It's Earth's Mightiest Hero against a symbiotic space cat - what more could you need?!
Rated T+
In Shops: Nov 20, 2019
SRP: $4.99 ABSOLUTE CARNAGE WEAPON PLUS #1 AC
MARVEL COMICS
SEP190800
(W) Jed MacKay (A) Stefano Raffaele (CA) Skan
After one of the pilot missions of the sym-soldier program, Rex Strickland was given a highly classified mission by Nick Fury himself. Where exactly did the ancient symbiote know as the Grendel come from?
Decades later, Carnage is on a rampage that will connect him to Knull the symbiote god and only Weapon H can stop him - by picking up where Rex left off!
Rated T+
In Shops: Nov 06, 2019
SRP: $4.99 MARVEL TALES DOCTOR STRANGE #1
MARVEL COMICS
SEP190854
(W) Stan Lee, Roy Thomas, Chris Claremont (A) Steve Ditko, Dan Adkins, Marshall Rogers (CA) In-Hyuk Lee
By the hoary hosts of Hoggoth, Doctor Strange works his magic as we celebrate the 80th anniversary of the House of Ideas with the era-spanning MARVEL TALES! This anthology series shines a spotlight on fan-favorite characters, features timeless stories and highlights some of our most impressive talent from the past eight decades. First, the legendary pairing of Stan Lee and Steve Ditko debut the incomparable Stephen Strange as Earth's Sorcerer Supreme in STRANGE TALES (1951) #110! Then, in DOCTOR STRANGE (1968) #169-170, Roy Thomas and Dan Adkins offer their take on Strange's origin - and serve up a rematch with his first foe, the dream-manipulating Nightmare! And the skillful spellcaster called Clea joins the fight against the nefarious Nicodemus, who's out to steal the sorcerer's soul in a memorable tale from MARVEL FANFARE (1982) #5 by Chris Claremont and Marshall Rogers!
Rated T
In Shops: Nov 13, 2019
SRP: $7.99 SCREAM CURSE OF CARNAGE #1
MARVEL COMICS
SEP190805
(W) Clay McLeod Chapman (A) Chris Mooneyham (CA) Jim Cheung
OUT OF THE ASHES OF ABSOLUTE CARNAGE!
ALL-NEW ONGOING SERIES!
Patricia Robertson, Andi Benton, Donna Diego... it's all been leading to this as one of the original - and possibly strongest - offspring of the Venom symbiote at last stars in her own, self-titled ongoing series set in the Marvel Universe! But after the events of ABSOLUTE CARNAGE, what remains of the Scream symbiote as it was before? Does it even have a host? What are their intentions? And what will a pair of web-slinging wallcrawlers have to say about it's presence in New York?
Rated T+
In Shops: Nov 27, 2019
SRP: $4.99
INDIE VYDAVATEĽSTVÁ MIRKA ANDOLFOS UNSACRED #1 CVR A MIRKA ANDOLFO (MR)
ABLAZE
SEP191312
(W) Mirka Andolfo (A/CA) Mirka Andolfo
The extraordinary talent of Mirka Andolfo (Unnatural, DC Bombshells) brings to life a Heaven (and a Hell) filled with humor and lovable characters!
Angelina, a voluptuous angel, and Damiano, a mischievous devil, are madly in love. But, while she does not intend to give in to temptation, he would very much like to... This is the tale of their bizarre and spicy daily life!
A sex-positive--and incredibly funny--slice of life...full of angels, devils and gags!
In Shops: Nov 13, 2019
SRP: $3.99 21ST CENTURIONS #1
AC COMICS
SEP191342
(W) Stephanie Heike (A/CA) Mark G. Heike, Stephanie Heike
A modern, contemporary pop-culture action and angst take on superheroes in this offbeat series that stars naive teen heroes and an enigmatic mentor with questionable motives. First issue of a new AC Comics ongoing quarterly in full digital color on glossy paper by writer/artist Stephanie Heike and inker Mark Heike.
In Shops: Nov 27, 2019
SRP: $5.95 MR BEAVER #1 VERDUGO MUNOZ CVR A (MR)
ACTION LAB - DANGER ZONE
SEP191371
(W) Pablo Verdugo Mu?oz (A/CA) Pablo Verdugo Mu?oz
The world's most powerful crime organization, The Twelve, had managed to evade justice for far too long and, in desperation, the police reach out to the one individual who just might be able to turn things around. Enter special agent Mr. Beaver, returning to his hometown fresh from the Alpha Academy and itching to take down the dark underbelly... after taking care of his own rumbling belly, of course.
In Shops: Nov 06, 2019
SRP: $3.99 DRAGONFLY & DRAGONFLYMAN #1 (OF 5) (MR)
AHOY COMICS
SEP191411
(W) Tom Peyer (A) Peter Krause (CA) Jamal Igle
Following from AHOY's widely-read Free Comic Book Day edition, this prequel to
The Wrong Earth
follows gritty vigilante The Dragonfly and his innocent, campy counterpart Dragonflyman, before they became trapped on each other's Earths! Can two versions of the satanic Devil-Man corrupt both of their souls? EXTRA: Prose fiction and fact, beautifully illustrated.
In Shops: Nov 06, 2019
SRP: $3.99 CASPER CLASSIC CHRISTMAS #1 CVR A MAIN
AMERICAN MYTHOLOGY PRODUCTIONS
SEP191447
(W) Various (A) Various
Just in time for the holidays, Casper, Hot Stuff, and Wendy share these classic Christmas tales of friendship and mischief! Put some classic Harvey joy in your stocking this year with a comic crammed with yuletide hi-jinks. Casper's classic Christmas #1 comes with two covers main and a special 350 copy limited edition retro-animation cover!
In Shops: Nov 27, 2019
SRP: $3.99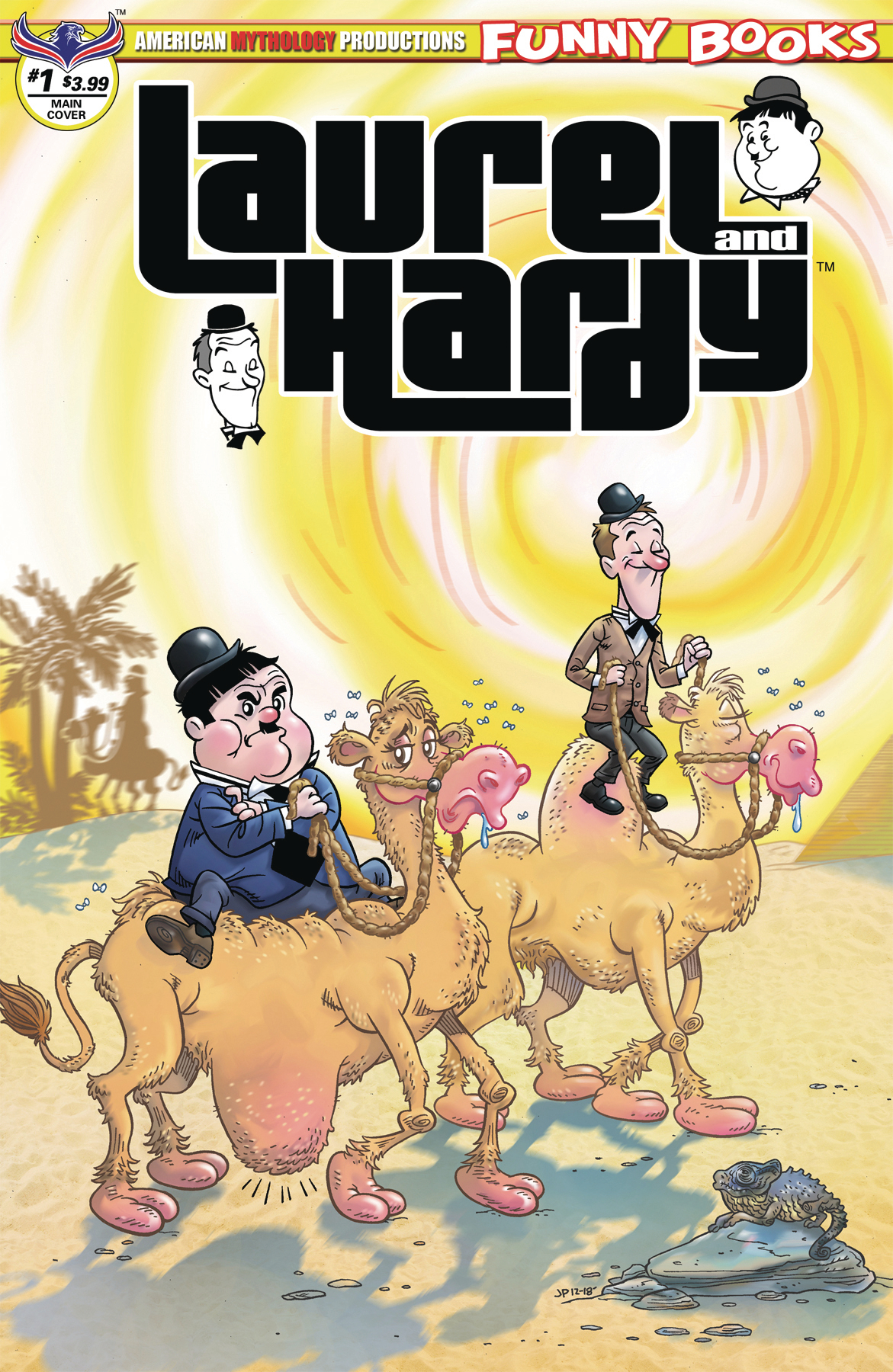 LAUREL & HARDY #1 PACHECO MAIN CVR (O/A)
AMERICAN MYTHOLOGY PRODUCTIONS
SEP191430
(W) Jordan Gershowitz (A) Jorge Pacheco
Laurel and Hardy have experienced worldwide notoriety for their comic adventures and American Mythology has uncovered some of their classic comic book follies that have never been seen in English! You can enjoy these lovingly crafted tales from yesteryear for the first time in this series.
In Shops: N/A
SRP: $3.99 LAUREL & HARDY MEET THREE STOOGES #1 CVR A SHANOWER
AMERICAN MYTHOLOGY PRODUCTIONS
SEP191425
(W) S.A. Check, James Kuhoric (A) Diego Tapie (CA) Eric Shanowar
Two of the most beloved comedy troupes of all time meet in a once in a lifetime special event! Laurel and Hardy meet The Three Stooges in an incredible story combining their unique comedic stylings into one blockbuster tale. In 'Movers & Shakers' Larry, Moe, and Curly are knucklehead handymen that run headfirst into movers Stan and Ollie in a no holds barred laugh-a-minute riot! These five funnymen are going to solve our homeowner's problems or bring the house down on top of them. Paying homage to the unique comedy stylings of both beloved groups. Laurel & Hardy Meet The Three Stooges #1 is available with three covers - Main Cover by Eisner Award Winning artist Eric Shanower, Laugh Time Cvr by Jorge Pacheco, and a Deluxe Limited Edition 1/350 Classic Cartoons Cvr!
In Shops: Nov 27, 2019
SRP: $3.99 VICTOR CROWLEY HATCHET HALLOWEEN TALES #1 CALZADA AM CVR (MR
AMERICAN MYTHOLOGY PRODUCTIONS
SEP191455
(W) James Kuhoric, S.A. Check, Jason Pell (A) Puis Calzada (A/CA) Cyrus Mesarcia
Spend Halloween with three creepy tales from Honey Island Swamp with a rare edition previously only available on the American Mythology website and limited to only 500 copies! Allocations may occur.
In Shops: Nov 27, 2019
SRP: $6.99 ANOMALY PRODUCTIONS PRESENTS COMIC BASICS #1
ANOMALY PRODUCTIONS LLC
SEP191473
(W) Brian Haberlin (A) Various (CA) Jay Anacleto
Tips, tricks and techniques from the pros who do comics for a living!
Comic
Basics focuses on cover layouts (Jay Anacleto), anatomy (Whilce Portacio), figure perspectives, eye movements and more! Watch and listen to to the creators in over two hours of Augmented Reality demos and commentary by the masters. Includes "Planes of the Head" model. It's an new way to learn using the most up-to-date technology and teaching methods. There's nothing else like it anywhere. Free downloadable Augmented Reality app.
In Shops: Nov 20, 2019
SRP: $9.99 ARCHIE & FRIENDS TRAVEL #1
ARCHIE COMIC PUBLICATIONS
SEP191508
(W) Dan Parent (A) Various (CA) Jeff Shultz
Travel 'round the globe with Archie and the gang! See the world--from The Archies on tour in the Philippines, to Raj's documentary in India, a quick layover with Reggie in Rome and finally B&V getting some royal treatment in Canada!
In Shops: Nov 20, 2019
SRP: $2.99 COSMO MIGHTY MARTIAN #1 (OF 5) CVR A YARDLEY
ARCHIE COMIC PUBLICATIONS
SEP191486
(W) Ian Flynn (A/CA) Tracy Yardley
BRAND NEW SERIES! An investigation on the asteroid Ceres quickly becomes a quest for survival when Cosmo becomes the target of the ingenious battle princess Shih! The troubles only grow more fearsome as the Martian crew learns that the Queen of Venus is planning an interplanetary invasion!
In Shops: Nov 13, 2019
SRP: $3.99 SHAPES #1
CAVE PICTURES PUBLISHING
SEP191662
(W) Jason Brubaker, Rick Rekedal (A/CA) Jason Brubaker
Tripp's 13th birthday is a bust: snatching defeat from the jaws of victory in his favorite video game, targeted by the school bully, reprimanded by the principal, and unable to celebrate with friends or family. But everything changes when he receives a strange gift from his long-missing father and is then visited by the three Shapes who guard all creation. They reveal that Tripp's incredible video game skills may be the key to saving the whole universe.
In Shops: Nov 27, 2019
SRP: $3.99 BREATHERS #1 CVR A MADSON
IT'S ALIVE
SEP191855
(W) Justin Madson (A/CA) Justin Madson
Breathers
follows a small cast of individuals as they struggle to make sense of the dystopian world they live in, as a virus is unleashed into the air, rendering it deadly to humans. Among them: a detective whose addiction to the drug known as "Filter K" takes over his life; a brother and sister who, due to recent events, start to wonder if the air really is deadly, or if it's all just a conspiracy; a mother and daughter who will do anything to keep their family together; and a breather salesman who is looking to make amends for his past mistakes. They are all survivors of this virus-plagued world. They are all "breathers." Variant cover collaboration between comic book superstars Jeff Lemire and Matt Kindt!
In Shops: Nov 27, 2019
SRP: $7.99 RV9 #1 (OF 5)
MAD CAVE STUDIOS
SEP191871
(W) Ben Goldsmith (A) Travis Mercer (CA) Nicolas Salamanca
Former assassin Velveteen is on the run from the Order of the 9, the organization that took her from her family and forced her into a life where all she knows is secrecy, violence, and death. Now, after years of running, she is bringing the fight to them. With help from an American hacker, Jasper, and a rookie officer with an attitude, Inspector Pazzi, Velveteen will use everything she was taught by the Order of the 9 against them.
In Shops: Nov 13, 2019
SRP: $3.99 RICK AND MORTY PRESENTS UNITY #1 CVR A CANNON (MR)
ONI PRESS INC.
SEP191889
(W) Tini Howard (A/CA) CJ Cannon
It takes a special kind of madness to capture and imprison Rick Sanchez - the kind of madness only an ex can deliver. Unity wants to make a play to take over the galaxy, and she'll need the best (and worst) of her exes in her clutches to do it. And Rick wants his Party Naked t-shirt back, she stole it when they broke up.
In Shops: Nov 06, 2019
SRP: $4.99 ANGELA DELLA MORTE #1 CVR A
RED 5 COMICS
SEP191944
(W) Salvador Sanz (A/CA) Salvador Sanz
Angela Della Morte works for Dr. Sibelius, the most brilliant mind of the century. Using a new technology, Sibelius Labs are capable of separate soul from body. Using this tech Angela's soul can get into other dead host and take control of their bodies in undercover missions. But as the souls travels the void to get into their new receptacles, they must elude a tenebrous lifeform. This creature feeds with the substance of which the soul is made. It is the most dangerous predator in this new ecosystem, and its name is: Death.
In Shops: Nov 13, 2019
SRP: $3.95 MACHINE GIRL #1 CVR A
RED 5 COMICS
SEP191948
(W) Matts (A) Sergio Monjes
In a galaxy far, far away... There is a planet full of exotic interplanetary people. All of them living together in a dangerous multicultural world. And right there in the middle there is Megan! A young human girl fighting her way up on the deadly arena of the Intergalactic Mixed Battling Arts as she searches for her origins and other beings like her while she is obsessed with a mysterious, long forgotten planet: Earth.
In Shops: Nov 20, 2019
SRP: $3.95 LAST STOP #1
SCOUT COMICS
SEP191956
(W) Trey Walker (A) Hoyt Silva
The newest entry in the new NONSTOP! Imprint where Scout releases a World Premiere issue followed by the entire story a few months later in one volume. Time is ticking for the World's last superhero. Disillusioned, Lincoln Adams (AKA Unstoppable) must make peace with the changing world around him-can there truly be a place for him in a world without Supers? After learning of his terminal disease, Lincoln sees an easy way out; however, the re-emergence of an old Arch-Nemesis, and a new shadowy masked figure, turn Lincoln's plans of an easy passing on their head. Can Lincoln stop this new threat before the disease stops him?
In Shops: Nov 27, 2019
SRP: $3.99 STABBITY EVER AFTER WONDERLAND #1 ONE SHOT
SCOUT COMICS
SEP191960
(W) Richard Rivera (A) Ryan Kincaid
Set outside the regular universe of the
Stabbity Bunny
regular series, this special alternative reality version takes Stabbity to the magical surroundings of Wonderland. As Stabbity and Grace find themselves in Wonderland, it almost appears that things are going smoothly, but of course, in this magical world everything isn't as it seems as the queen of hearts discovers Grace's magical powers and decides she wants them for herself. If you thought the carnage in Fairyland was shocking, you'd best be prepared to say farewell to a lot of your Wonderland favorites as Stabbity has the adventure of a lifetime.
In Shops: Nov 27, 2019
SRP: $3.99 WRETCHES #1
SCOUT COMICS
SEP191962
(W) James E Roche (A) Salo Farias
Alone on the tough streets of an alien city, far from the lifeless planet they once called home, siblings Shea and Sean spent their youth struggling to survive. Still suffering emotionally from the loss of everything they'd ever known and loved, Shea and Sean have nothing else in the universe but each other. Forever outrunning the horrors of their past, they survive the only way they know how- by hunting and killing sentient robots for profit! Now, when the rough path that they had no chance to follow finally catches up to them, will they be able to keep each other safe or will they lose the only important thing they have left, each other?
In Shops: Nov 27, 2019
SRP: $3.99 MISPLACED #1
SOURCE POINT PRESS
SEP191982
(W) Chris Callahan (A) Chris Callahan
From the mind of television graphic designer Chris Callahan comes the first of a 4-issue supernatural mystery miniseries that will leave you questioning the very existence of existence. What if paradise wasn't as it seemed? A tragic journey to the new world... Two souls separated by death... After a fatal shipwreck, James finds himself dissatisfied with the tedious machinations of eternity in the afterlife. A journey to discover the truth of his wife's disappearance reveals a terrible secret even Knowledge can't explain.
The Misplaced
is a dark supernatural tale of love and desperation that spans several planes of existence.
In Shops: Nov 20, 2019
SRP: $3.99 OGRES #1
SOURCE POINT PRESS
SEP191977
(W) Bob Salley (A) Shawn Daley
After a band of marauders called the Taesh'aar destroy their village, a group of young ogres hire an exiled dwarf to help track down these creatures and avenge their kind. The bickering crew is not alone as the dwarf has a prisoner of his own and a horde of savages hunting him down. Bob Salley and Shawn Daley bring us back into their fantasy world and show us the human condition in the harshness of decaying times for all mystical creatures.
In Shops: Nov 27, 2019
SRP: $3.99 TOUCHING EVIL #1
SOURCE POINT PRESS
SEP191981
(W) Dan Dougherty (A) Dan Dougherty
An attorney is given a curse from a mysterious prisoner that allows her to kill anyone instantly with just a touch of her hand... but only if they're evil. Her whole life is turned upside down in an instant as she is forced to question what evil
is
, who she can trust, and her own sanity. Get ready to meet a hero unlike anyone you've ever seen, and forgive her if she doesn't shake hands.
In Shops: Nov 27, 2019
SRP: $3.99 CAPRENTER TALES SCIFI REDHEAD #1 (MR)
STORM KING PRODUCTIONS, INC
SEP191991
(W) Duane Swierczynski (A) Jason Felix (CA) Tim Bradstreet
Marnie Young, an executive assistant in San Diego, is a sweet girl who wouldn't hurt a fly. She's also super lonely. But one night, without warning, Marnie has a violent seizure; co-workers recoil in horror as she writhes on the floor. Two days later, Marnie wakes up in a hospital room. As her vision comes into focus, she sees 17 doctors and nurses dead on the floor, blood splattered everywhere. Soon she discovers the shocking truth: Marnie has become lethal, and everyone who comes within three feet of her dies instantly! Which is really going to mess up her dating life (if she had one). Is there a cure? Can anyone get close enough to find out?
In Shops: Nov 27, 2019
SRP: $3.99
NIOBE SHE IS DEATH #1 CVR A NAM
STRANGER COMICS
SEP191992
(W) Sebastian A. Jones, Amandla Stenberg (A) Sheldon Mitchell (CA) Hyoung Taek Nam
With a world divided, who do you turn to? In the sequel to
Niobe: She is Life
, a bounty has been put on the young savior's head. When bad men come to collect, innocent girls are caught in the crossfire, and Niobe must go on the offensive.
In Shops: Nov 06, 2019
SRP: $3.99 DOCTOR WHO 13TH HOLIDAY SPECIAL #1 CVR A CARANFA
TITAN COMICS
SEP192003
(W) Jody Houser (A) Roberta Ingranata, Enrica Eren Angiolini (CA) Claudia Caranfa
There's no BBC Christmas Special this year - so we're bringing the fans what they want, in comic form! Can the Doctor save Christmas? Is Santa a myth, a man, or a Time Lord? Are chimneys bigger on the inside?! Two-part festive fun from Jody Houser (Stranger Things, Spider-Man: Renew Your Vows).
In Shops: Nov 13, 2019
SRP: $5.99 MINIONS VOL 4 #1
TITAN COMICS
SEP192014
The Minions return in hilarious new silent strips!
Travel the world with the stars of DESPICABLE ME!
In Shops: Nov 06, 2019
SRP: $3.99 RIVERS OF LONDON FEY & THE FURIOUS #1 CVR A DITTMAN (MR)
TITAN COMICS
SEP192006
(W) Ben Aaronovitch, Andrew Cartmel (A) Lee Sullivan (CA) Anna Dittman
The award-winning urban fantasy series Rivers of London begins a new story of fast cars and fairy queens, from series creator Ben Aaronovitch! When an English racecar washes up in the Netherlands, wizarding cop Peter Grant is called in to investigate its unusual cargo. Fresh from suspension, Peter infiltrates the street racing big leagues - but can he find the finish line when he's sucked into a real-life fairyland? A canonical story, set after bestselling novel Lies Sleeping!
In Shops: Nov 06, 2019
SRP: $3.99
FOR REAL #1
UNCIVILIZED COMICS
SEP192061
(W) James Romberger (A) James Romberger
Eisner nominated James Romberger (
7 Miles A Second
,
Post
York
) brings a short comic story, "The Oven," that melds two battles fought in different eras by the great cartoonist Jack Kirby, the most prolific American comic book creator of the 20th century. The first battle: his cancer diagnosis serves as a springboard for the other battle: one of his most harrowing experiences during World War II. "The Real Thing," an accompanying essay by elaborates on those issues in relation to Kirby's biography.
For Real
is a celebration and a nuanced look at one of America's greatest cartoonists! A must for Kirby Fans!
In Shops: Nov 06, 2019
SRP: $6.00 RAI (2019) #1 CVR A RYP
VALIANT ENTERTAINMENT LLC
SEP192063
(W) Dan Abnett (A/CA) Juan Jose Ryp
Welcome to the 41st century: New worlds, new characters, new adventures.
Valiant's critically celebrated cyborg ronin named Rai embarks on a thrilling quest to save the future.
Multiple New York Times bestselling and award-winning writer Dan Abnett (Guardians of the Galaxy) joins forces with breathtaking artist Juan José Ryp (X-O MANOWAR) to begin the essential sci-fi series of the next two thousand years!
In Shops: Nov 20, 2019
SRP: $3.99 BLACK STARS ABOVE #1 CVR A CHA (MR)
VAULT COMICS
SEP192092
(W) Lonnie Nadler (A/CA) Jenna Cha
A young fur trapper flees her overbearing family only to get lost in a dreamlike winter wilderness that harbours a cosmic threat.
The year is 1887 and a storm brews. Eulalie Dubois has spent her entire life tending to her family's trapline, isolated from the world. A chance at freedom comes in the form of a parcel that needs delivering to a nameless town north of the wilderness. Little does Eulalie know, something sinister hides in those woods and it yearns for what she carries. A chilling historical cosmic horror tale of survival from the deranged minds of Lonnie Nadler (The Dregs, Marvelous X-Men) and debut artist Jenna Cha.
In Shops: Nov 06, 2019
SRP: $3.99 HEIST HOW TO STEAL A PLANET #1 CVR A
VAULT COMICS
SEP192094
(W) Paul Tobin (A/CA) Arjuna Susini
Welcome to planet Heist! It's the cutthroat capital of the entire Nehring System, home to billions of the worst men and women in the galaxy. The Pan-Galactic government has no idea what to do with the planet, but conman Glane Breld and his band of thieves know exactly what to do with Heist-they're going to steal it. It's Ocean's Eleven in space, brought to you by writer Paul Tobin (Colder and Bandette) and Arjuna Susini (The Replacer)-the only minds crazy enough to steal an entire world.
In Shops: Nov 06, 2019
SRP: $3.99 ROBYN HOOD VIGILANTE #1 CVR A COCCOLO
ZENESCOPE ENTERTAINMENT INC
SEP192116
(W) Ben Meares (A) Babisu Kourtis (CA) Martin Coccolo
After recent events Robyn has found herself on the other side of the law. Hunted and unwelcome both on the streets of the city she calls home, and by the family of outlaws she made in the Underground. Robyn is dealing with her new status quo the only way she knows how, with a fistful of questions and bow full of arrows. Aimed at getting revenge on those who have turned her life upside down, she must seek out the answers to return things to the way they were or the closest thing to it by any means necessary.
Don't miss this redefining, new series, Robyn Hood: Vigilante!
In Shops: Nov 13, 2019
SRP: $3.99