DARK HORSE COMICS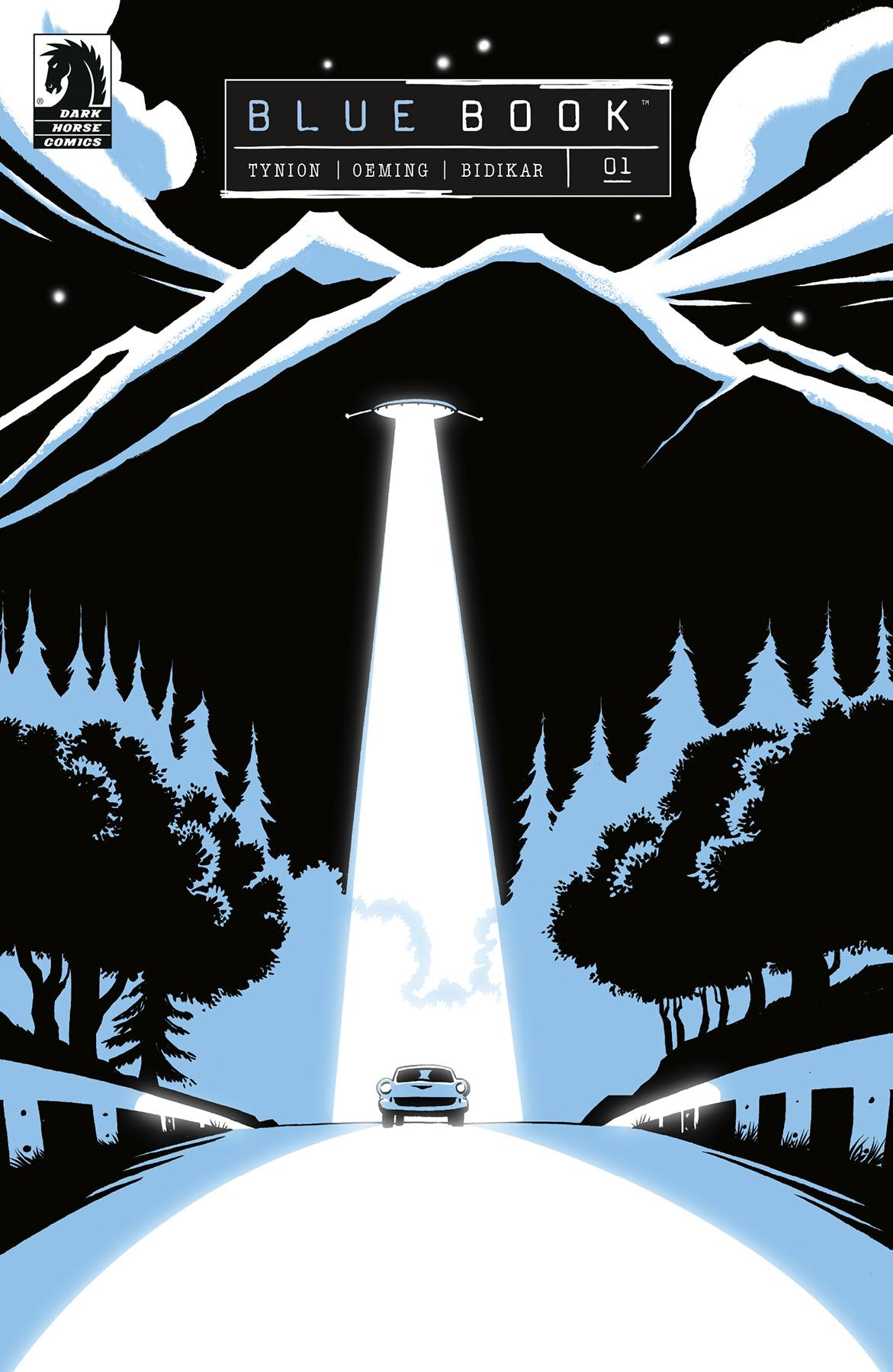 BLUE BOOK #1 (OF 5) CVR A OEMING
DARK HORSE COMICS
DEC220411
(W) James TynionIV (A) Klaus Janson (A/CA) Michael Avon Oeming
From the New York Times bestselling and award-winning cocreators of Something is Killing the Children, The Nice House on the Lake, The Department of Truth, and Powers comes this ambitious, nonfiction comic book experience depicting true stories of UFO abductions with an eye to capturing the strange essence of those encounters.

In this debut issue, Tynion presents what he calls his "True Weird" stories. Tales of ordinary people encountering the strange and the impossible. Teaming with artist Michael Avon Oeming, they retell some of the most popular UFO and alien encounter accounts starting with the infamous Betty and Barney Hill abduction-the widely publicized and very first abduction that went on to shape and influence all future encounter stories.

o Also includes the short "True Weird: Coney Island" by James Tynion IV, Klaus Janson, and Aditya Bidikar!
In Shops: Feb 22, 2023
SRP: $4.99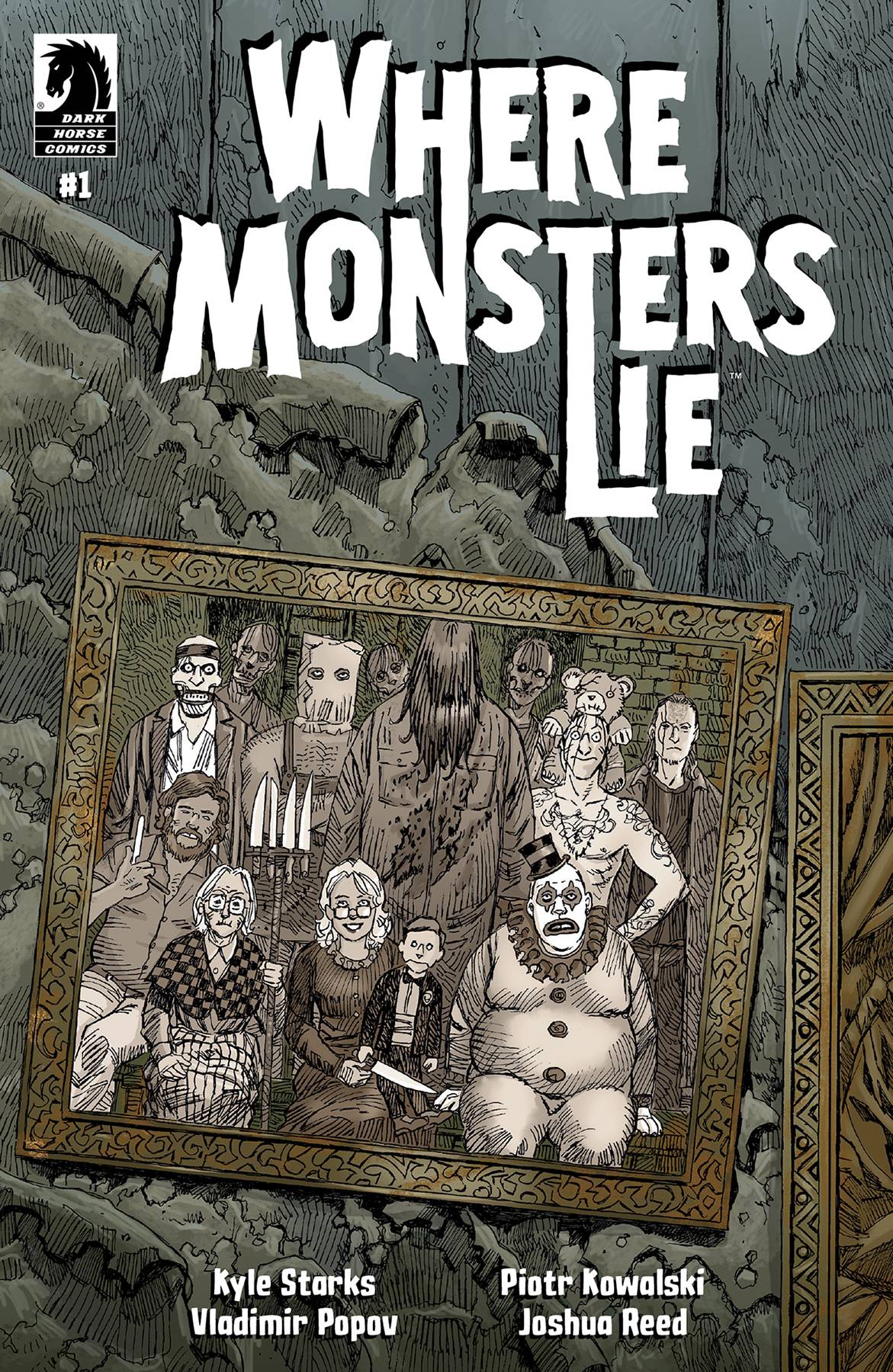 WHERE MONSTERS LIE #1 (OF 4) CVR A
DARK HORSE COMICS
DEC220419
(W) Kyle Starks (A/CA) Piotr Kowalski
Haven't you always wondered what slasher monsters-the masked home invasion family, the mindless unkillable monster, the serial killer trapped in a doll-what they do for those couple of years in-between their murder sprees? They're at Wilmhurst-a gated community in the middle of nowhere where they relax-or try to-until they get the call to go out and kill again.

Connor Hayes survived his first slasher in summer camp. A handful of years later he barely escaped a psychopath who built torture puzzles for his victims. Since then he's been training and planning for running into these creatures again. He's a respected special agent, and now he knows where the monsters lie and he's planning for war.

The latest creator-owned series from I Hate this Place's Kyle Starks!
In Shops: Feb 01, 2023
SRP: $3.99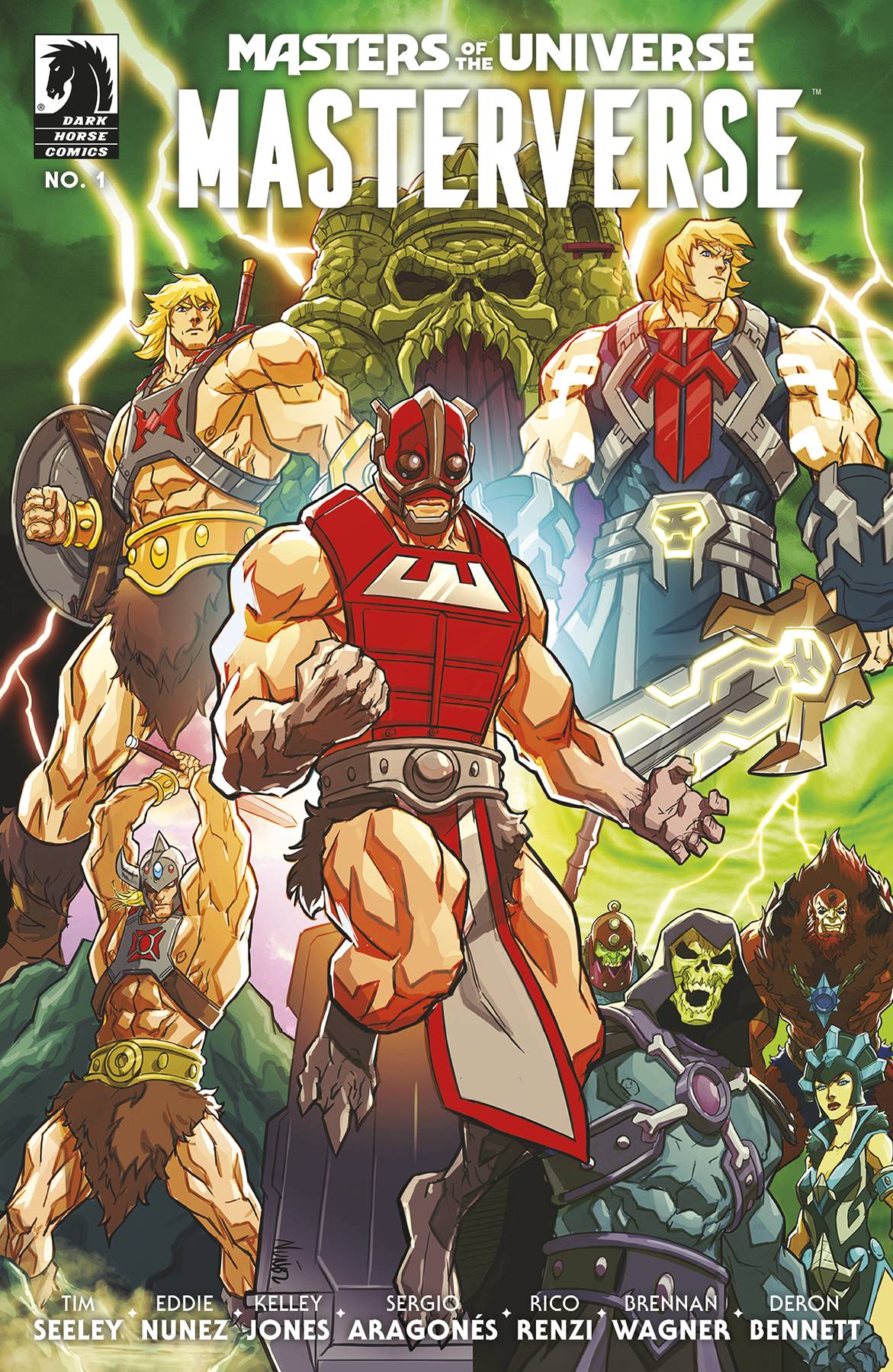 MASTERS OF UNIVERSE MASTERVERSE #1 (OF 4) CVR A NUNEZ
DARK HORSE COMICS
DEC220421
(W) Tim Seeley (A) Sergio Aragones (A/CA) Eddie Nunez
In the depths of Castle Grayskull, the Sorceress and Zodac debate the value of He-Man. To save the life of her champion, the Sorceress must take the Cosmic Enforcer on a tour of the multiverse! First, a tour across a world where a dim, barbaric He-Man bumbles through a world of annoying warrior goddesses and bored demons as he's pursued by a hungry green tiger in a tale drawn by the legendary Sergio Aragonés! Then, a stop in an Eternia where the power of Grayskull summons an entirely different warrior in a horrific ghost story illustrated by Kelley Jones! Written by MOTU alumni Tim Seeley (Injustice vs. Masters of the Universe, Masters of the Multiverse) with a framing story by Eddie Nunez, this is an anthology series not to be missed!

o A brand-new anthology series featuring art by Sergio Aragonés, Kelley Jones, Eddie Nunez, Fico Ossio, David Rub n, Claudia Balboni, and many more!
In Shops: Feb 15, 2023
SRP: $3.99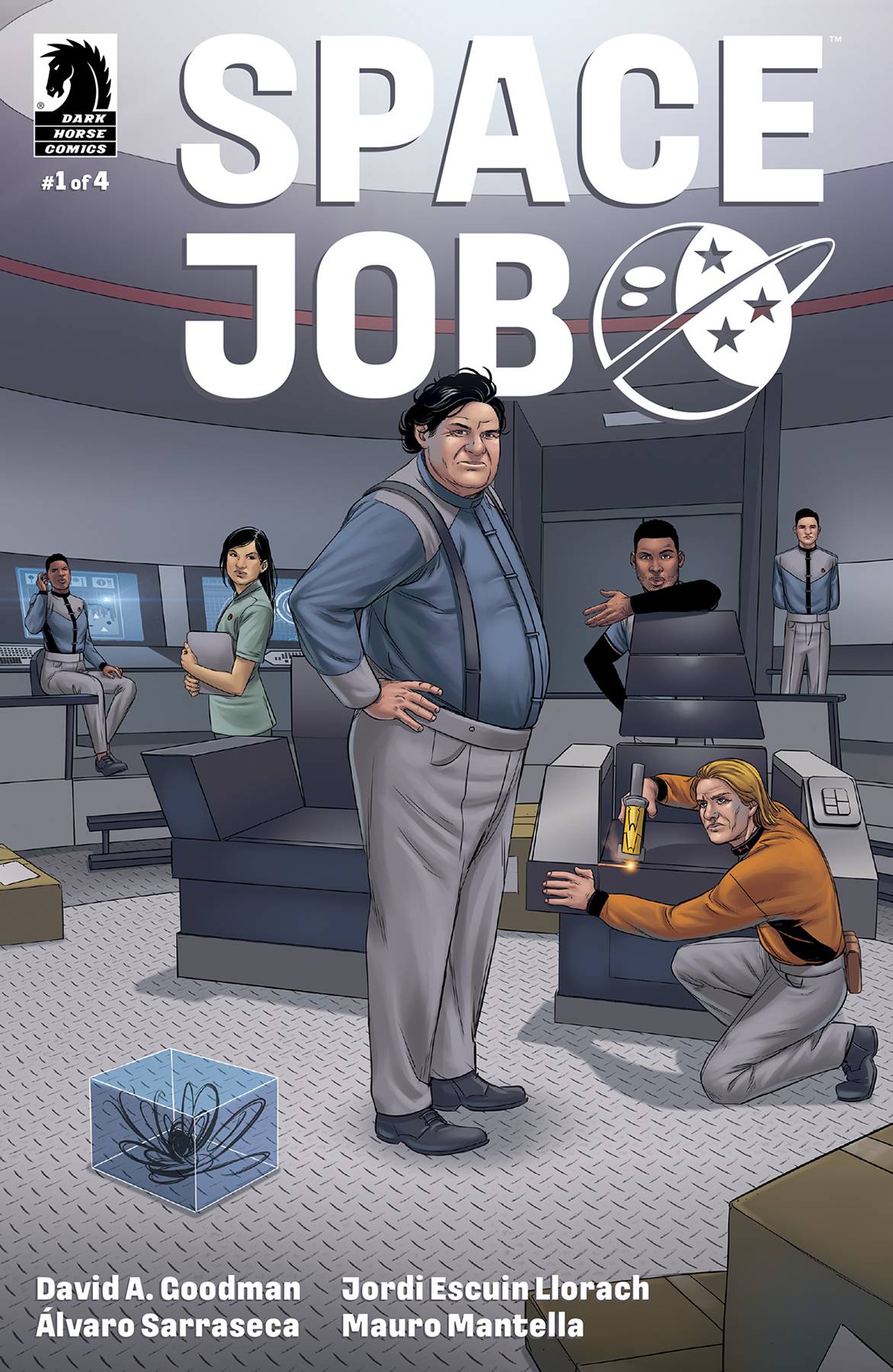 SPACE JOB #1 (OF 4)
DARK HORSE COMICS
DEC220429
(W) David Goodman (A/CA) Alvaro Sarraseca
After five long years of soul-crushing servitude as a chef's assistant, Danny Sheridan is getting his dream job in space as First Officer aboard the SS George H.W. Bush. But on his first day he finds himself crashing back to reality. Nothing seems right, the crew is subpar . . . something's going on, and First Officer Danny Sheridan is going to get to the bottom of it or die trying.
In Shops: Feb 08, 2023
SRP: $3.99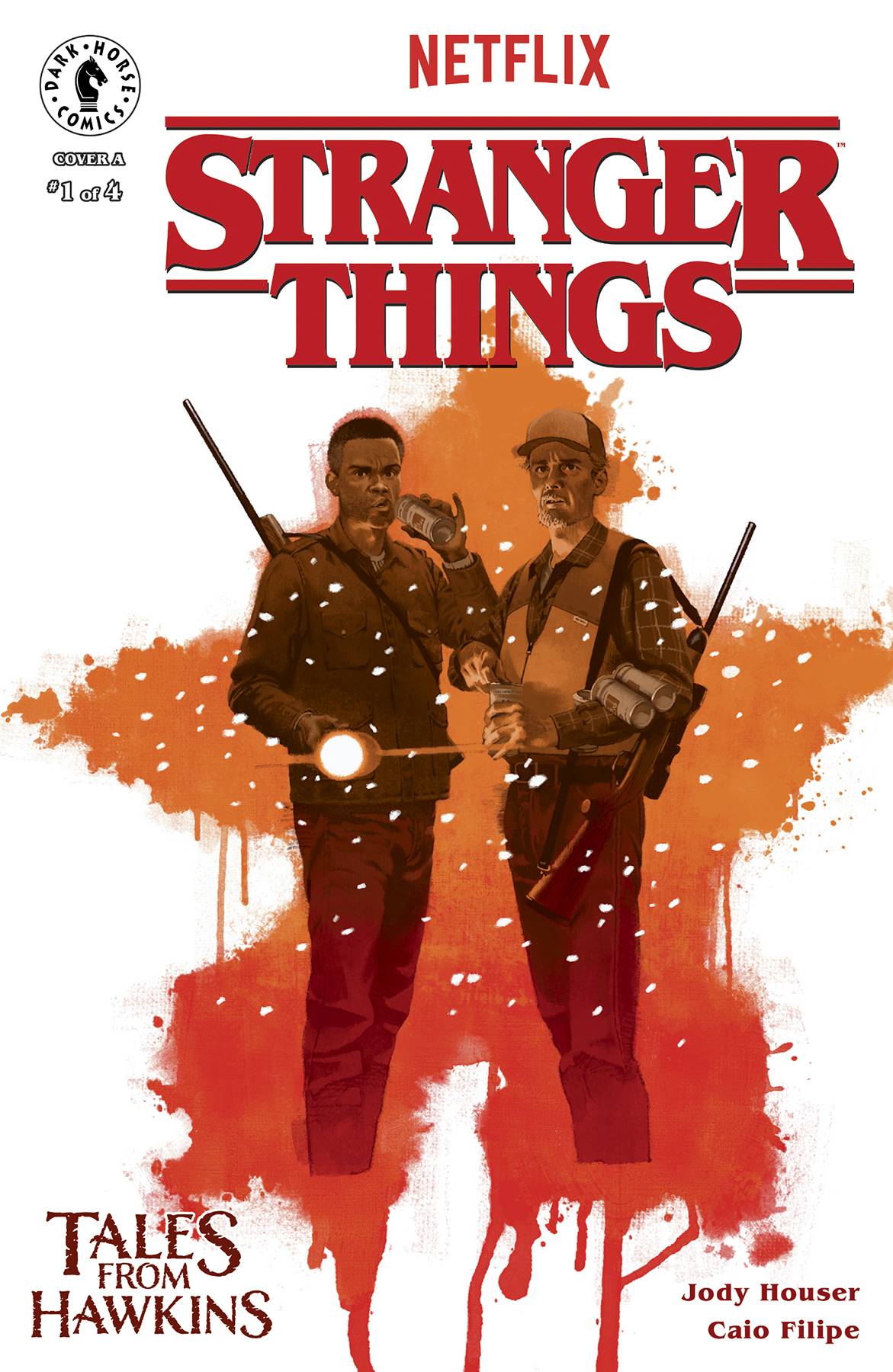 STRANGER THINGS TALES FROM HAWKINS #1 (OF 4) CVR A ASPINALL
DARK HORSE COMICS
DEC220425
(W) Jody Houser (A) Caio Filipe (CA) Marc Aspinall
On the surface, Hawkins seems like the kind of town where nothing bad could ever happen, but in the fall of '83 it is anything but safe. When two friends head out into the woods with their rifles and a six-pack, the would-be hunters find themselves the prey of a nightmarish beast who has claimed the wilderness around town and everything inside it, including them.

o Jody Houser returns to pen an anthology of spooky events woven into the larger tapestry of Netflix's hit show Stranger Things.
In Shops: Feb 08, 2023
SRP: $3.99

DC COMICS